What Is a Virtual Terminal & How to Use It
This article is part of a larger series on Payments.
A virtual terminal is a secure payment portal used by merchants to remotely process credit card and other non-cash payments on behalf of their customers. Most payment services providers include a virtual credit card payment terminal with every merchant account. Information is encrypted as the customer's payment details are digitally sent and received by the banks involved.
Virtual terminals can be accessed anywhere online and can be used without any additional hardware. Payment processing with virtual terminals is popular for businesses with customers who call, send emails, or communicate via instant messaging to place purchase orders and make payments.
How much does a virtual terminal cost? Most merchant services providers come with a free virtual terminal, so you don't have to pay a monthly fee. Transaction fees are based on keyed-in and online rates that range from 2.7% to 3.5%.
Types of Virtual Terminals
Any payment processed by the merchant on their customer's behalf is made from a virtual terminal. There are different types based on the platform being used:
Web-based: The most popular type of virtual terminal where merchants access the payment platform from a browser.
App screen: Merchants can also key-in their customer's payment information from the provider's mobile app. Some payment processors also offer desktop apps that can be downloaded on a computer.
Card machine screen: Some payment processors offer standalone payment terminals that are essentially portable card machines where merchants can process card-not-present payments for the customer.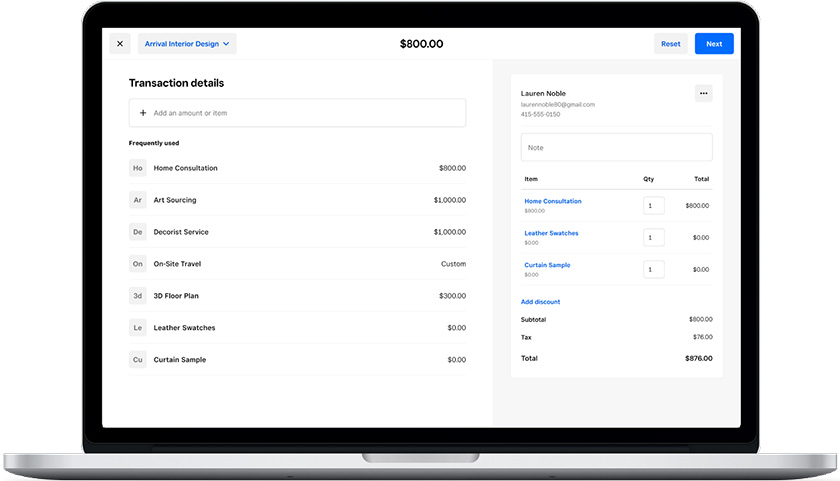 ---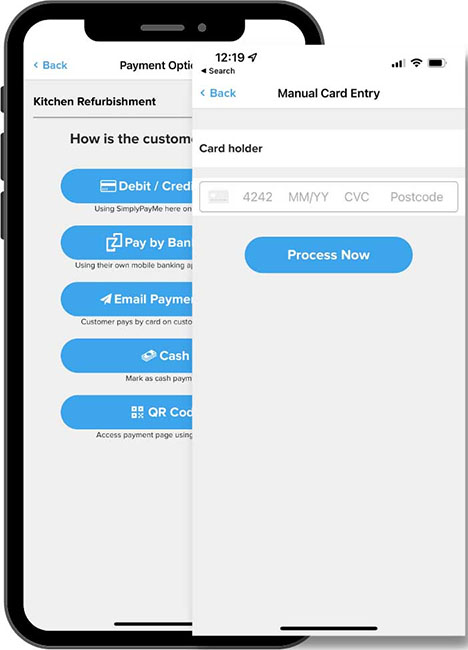 ---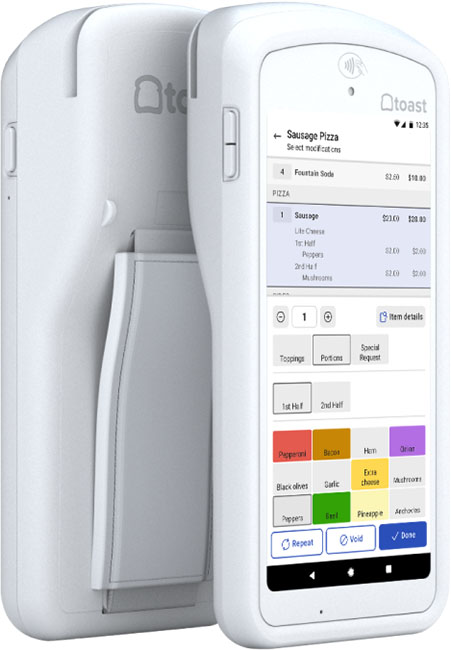 ---
How to Use a Virtual Terminal in 5 Steps
Step 1: Log in to your merchant account. You will need to have a merchant account with a merchant services or payment services provider that supports a virtual terminal. Note that most virtual terminals come free to use, and some even offer a free merchant account. Learn more about merchant accounts.
Step 2: Navigate to the virtual terminal platform. Once you have a compatible merchant account set up, you are ready to ring a sale using your virtual terminal. Log in to your merchant account and navigate to the virtual terminal platform. Some web-based applications may label it as "Draft orders," "Take a Payment" or "Manual Payments" while you may find it with a simple "Enter payment" prompt on mobile payment apps and handheld terminals.
For B2Bs selling out of a warehouse, you can set up a virtual terminal on a computer and add a credit card reader for clients who prefer to pay in person. This lowers the transaction fees and adds more security to the payment.
Step 3: Search or create your customer invoice or order. Virtual terminal payment tools can also be initiated from a customer invoice. You may have an existing invoice or you can create one on the spot while speaking to the customer about their purchase. Either way, make sure that the customer has a copy of the invoice.
Remote payments are highly susceptible to chargebacks, hence the higher transaction fees. Ensure that you get a written consent from the customer before processing any payment. Learn more about chargebacks.
Step 4: Initiate payment. Click on the payment button and enter the payment information provided by the customer. Note that most virtual terminals support additional payment methods, such as ACH and echecks, on top of credit card options.
Be sure to ask your merchant services provider about data security. The best virtual terminals are equipped with fraud prevention tools such as address verification, tokenization, and end-to-end encryption.
Step 5: Send a digital receipt to the customer. Once the payment is completed, the platform generates a receipt. Make sure to send this to the customer via email and/or send a printed copy through physical mail.
Benefits & Drawbacks of Virtual Terminals
PROS

CONS

Often free to use
Some payment processors charge additional fees to use the service
Does not require additional payment processing hardware
Transaction fees higher than in-person and online payments
Accessible from any browser
Some virtual terminals are limited to credit card transactions
Businesses That Use Virtual Terminals
You'll find point-of-sale (POS) systems and payment gateways equipped with virtual terminals so the possibilities for merchants' use are endless. So, in general, any business that accepts purchase orders and payments remotely over the phone, via email, mail order, or instant messaging will find virtual terminals useful.
However, virtual terminals are especially popular with:
Mail order/telephone order (MOTO) businesses: Companies that hire salespeople cold-calling or taking orders over the phone and via mail primarily use virtual terminals to process payments.
Remote freelancers and professionals: Remote solopreneurs and professionals such as consultants, instructors, accountants, writers, and graphic designers who send invoices to bill their clients can accept payments with a virtual terminal. Learn how to accept credit card payments online.
Retailers: Small retail businesses that do not require a complete POS system can make use of a virtual terminal set on the computer and/or mobile app to start accepting payments.
Catering and food delivery: Catering businesses that get paid via invoice and restaurants that take remote orders for takeouts, curbside pickup, and delivery can use a virtual terminal.
B2B companies: Some virtual terminals are equipped with Level 2 and 3 data processing to lower transaction costs. Ecommerce B2B merchants also benefit from payment gateways that come with a virtual terminal. Learn what Level 2 and 3 data processing is.
Mid- to high-risk businesses: Virtual terminals are popular for merchants that process payments over the phone and via mail orders which are often seen in medium- to higher-risk classified businesses such as travel agencies, accommodations, subscriptions, and telemarketing sales. Consider our recommended high-risk merchant services providers.
Bottom Line
The payments industry is driven by consumers that demand more remote and instant payments options—and virtual terminals are in the midst of this advancement for some business models. The best merchant services provider comes with a free virtual terminal, so regardless of your preference of a virtual terminal as a backup or primary mode of accepting payment, it is, by far, one of the most cost-effective solutions for merchants.
Not sure how to get started? Choose from our recommended virtual terminal providers.