There was a time when having a business website was considered a luxury. However, those days are long gone. Now, even local businesses depend on getting found online in order to drive in-store traffic. Whether you're starting a new business or looking to improve your existing website, it's always easier to draw inspiration from other sites. To help, we found the best small business website examples to kick-start your web design.
1. Architectural Firm – Stillwater Dwellings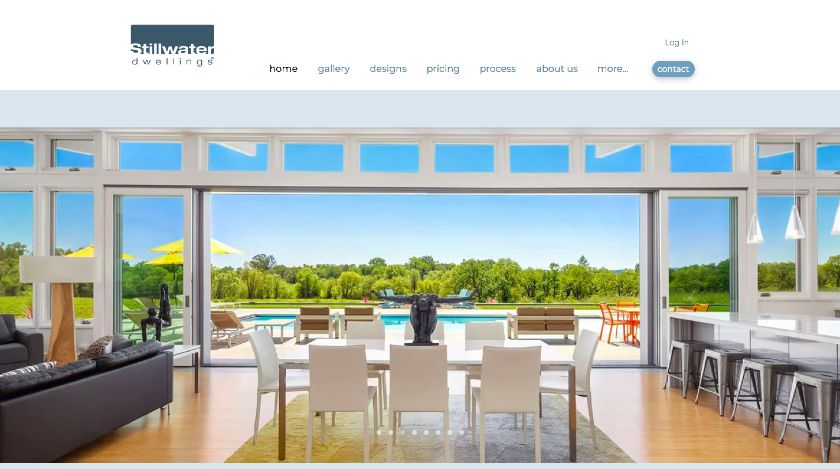 Stillwater Dwellings provides a good example of how a business can leverage their site to drive awareness. It not only ranks highly in search results, but it also serves its readers by providing a breadth of information about what the business offers, including pricing, a gallery (or portfolio), and their process. By providing all of this information, it helps qualify potential leads.
2. Web Design Agency – HTMLBurger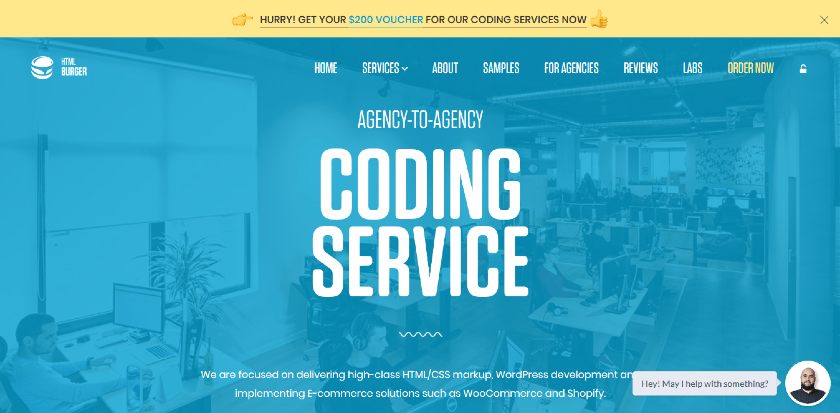 The best way to showcase your skills as a web design agency is to have an impressive website of your own. In this example, the HTMLBurger homepage alone shows how the look and feel of its flat design and the elements used equate to great web design skills. The layout is simple and easy to navigate, and the color scheme is light and easy on the eyes. Playful animations are eye-catching and can hold the attention of potential clients while they learn more.
If you're considering adding chat functionality to your website but aren't sure where to start, try using Freshchat. Freshchat is a conversational, artificial intelligence (AI)-powered chatbot that focuses on customer intent, precise answers, and instant resolution. With its advanced technology, you can give all of your site visitors a customized shopping experience while enhancing your lead generation, engagement, and support channels. Click here to start exploring Freshchat for free.
3. Cafe – Rise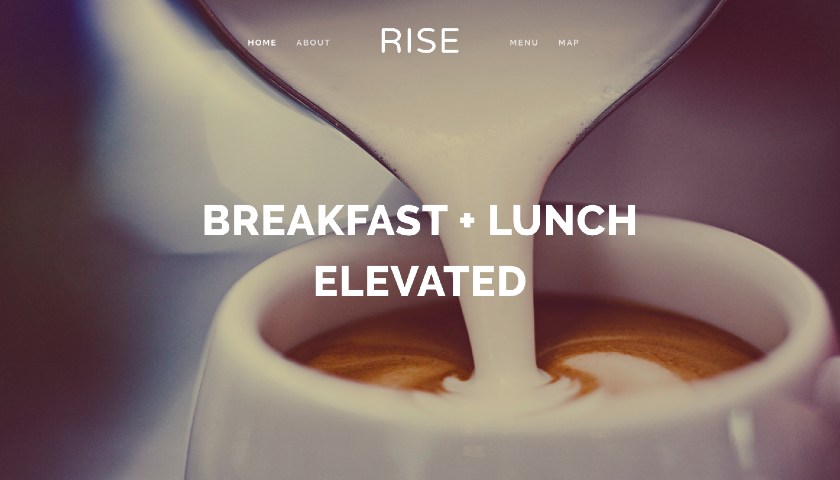 Rise, a Connecticut-based cafe, has a sleek and minimalist website that serves to provide basic information those visiting a cafe's website would want, such as a menu and directions so that readers can visit them in-person.
Want to build a streamlined site similar to this one? Use Squarespace and choose the "Atlantic" template listed under the "Restaurants" category.
4. Law Firm – Alston & Bird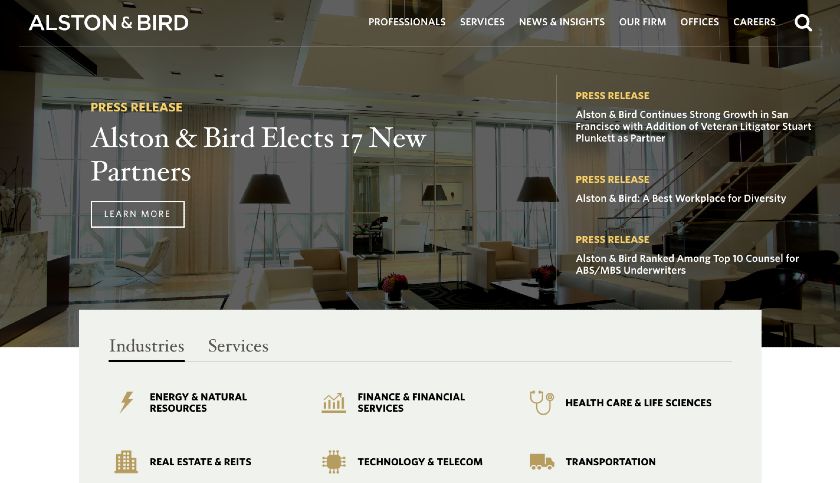 The legal field consists of a number of disciplines, and since it's an industry with a notoriously high cost of generating leads, it's not just about getting leads, but getting quality leads. The Alston & Bird does a good job of qualifying site visitors (aka potential leads) by putting services and industries at the forefront. This helps visitors understand whether or not this law firm might be a good fit for their legal needs.
Want to create a site like this? Try Wix, which is easy to use and offers a prebuilt template with a very similar layout, called "Law Firm."
5. Property Management – Cape House Caretakers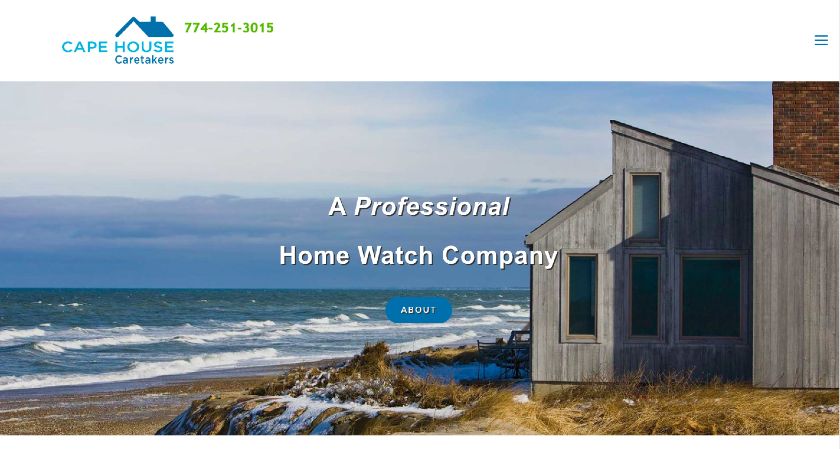 Cape House Caretakers, a Massachusetts-based property management business, has a very simple and clean website that serves to provide information its visitors are seeking: its services. This gives readers what they are looking for by visiting the site and the opportunity to understand whether it's a business they might want to work with.
6. Gardening Center – Treeland Nursery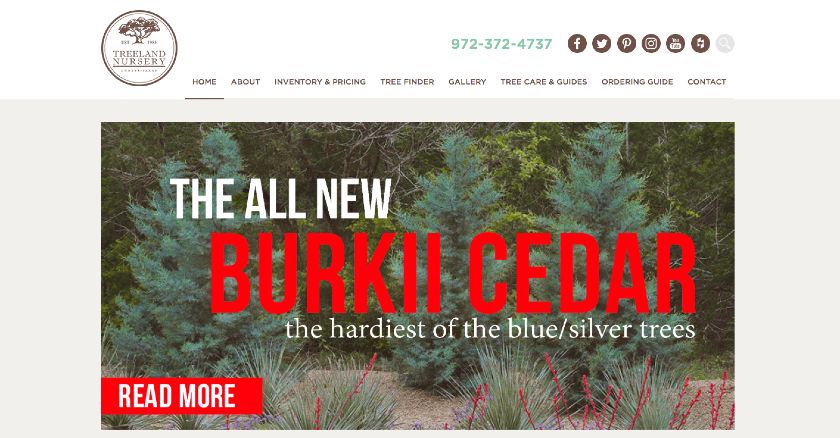 Treeland Nursery provides a good example of how a business can take a more strategic approach to their business website with comprehensive information backed by a unique tool, the "Tree Finder Tool," which helps visitors answer the difficult question of which type of trees and plants suit their needs based on the environment in which it will be planted. By making it easy for visitors to confidently make a decision, they are more likely to make a purchase.
7. Restaurant – Felix Trattoria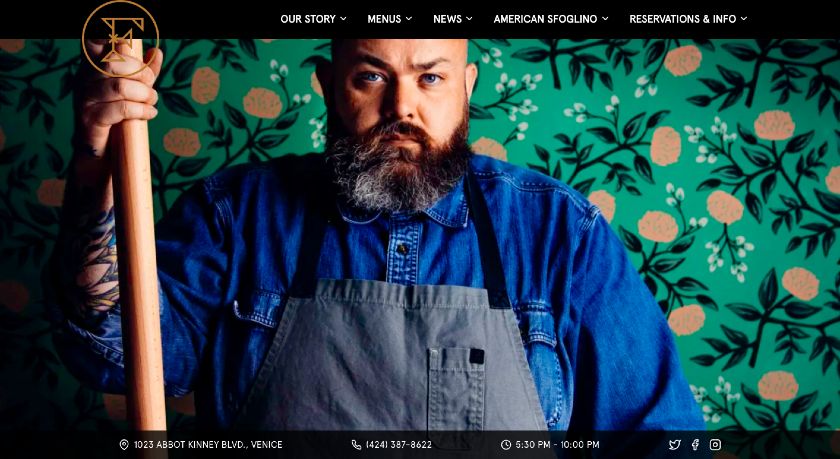 Felix Trattoria, a popular Los Angeles-based restaurant that is well-known for being difficult to get a table at, gives site visitors the opportunity to make a reservation online. Not only does this make it easy for people to reserve a table, but it also gives the business the opportunity to accept reservations outside of business hours, leading to more reservations and more patrons.
Want an ultra-easy way of building a restaurant site like this? GoDaddy is your best bet. It offers the most prebuilt restaurant templates, including one called "Lucy's," which is a very similar design and comes with the OpenTable integration for online reservations.
8. Medical Services – Corrective Chiropractic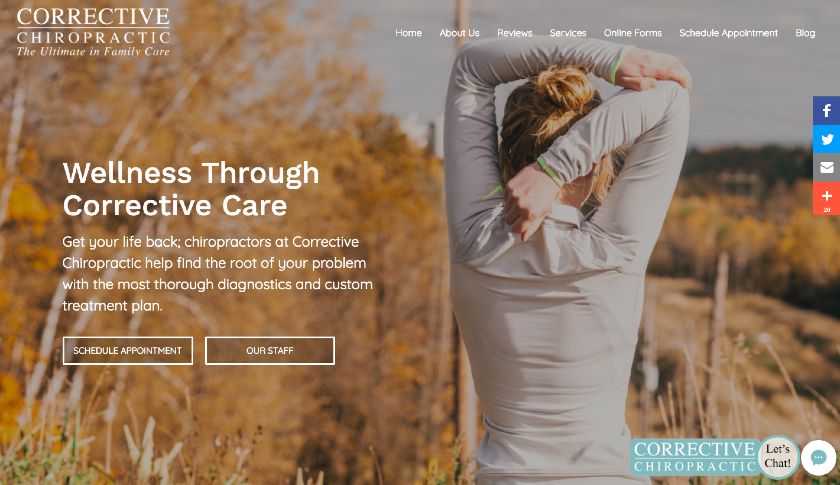 Corrective Chiropractic, an Atlanta-based chiropractic practice, uses its site as a marketing tool by giving visitors the ability to book an appointment online. Service-based businesses that use appointments should consider adding an online appointment booking tool. It not only helps to alleviate your staff's time spent on the phone, but it also makes it easier for people to make an appointment, and, in return, are making them more likely to.
9. Hair Salon – O2 Salon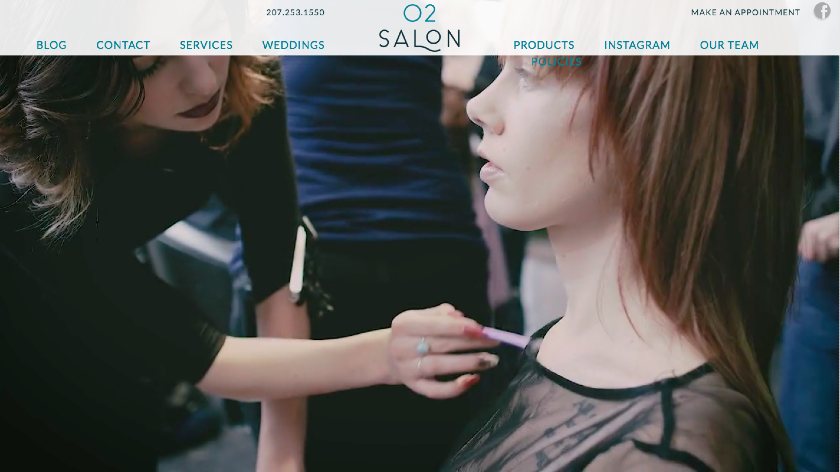 O2 Salon, a Portland-based hair salon, has a large menu of services available from a number of different staff members, but that doesn't stop them from using their site as a tool to generate offline sales by accepting appointments online. It not only opens the door to book appointments 24/7, but many people prefer to make appointments online as it gives them time to look at availability and compare it to their own schedules.
Want an easy way to build a website that includes an online booking system? Consider using GoDaddy Websites, which includes one of the best built-in online booking systems on the market.
10. Web Design – LLT Group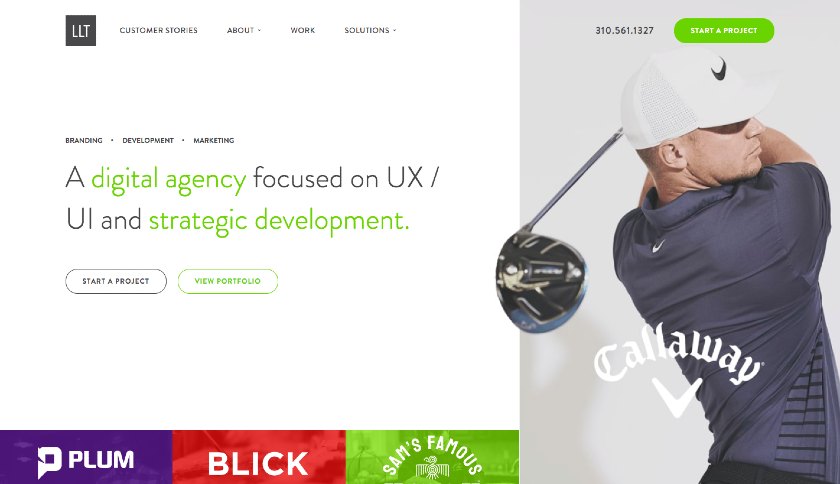 LLT Group, a web design company, takes a unique approach to its website layout by breaking it out into two uneven columns to showcase its notable clients while also providing a message and two call-to-action buttons. By putting recognizable clients on its homepage above the fold, it helps build social proof. Notice that it also uses a "Start a Project" call-to-action (CTA) button in two locations, so no matter where a visitor's eyes go, they will be given the option to convert.
11. Software as a Service (Saas) – Drip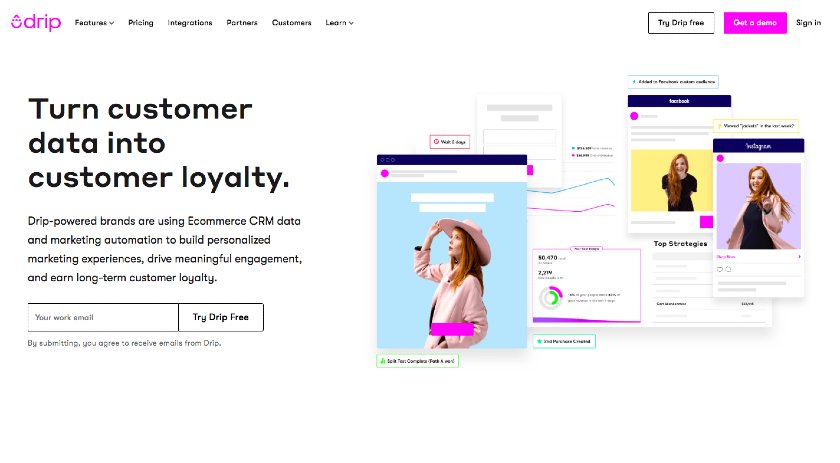 Drip, an email marketing platform, takes a modern approach to web design with its left-aligned navigation that gives space to promote two CTA buttons on the right-hand side of the header. It backs these two CTAs with a third on the left-hand side of the screen. In other words, no matter what the visitor's goal is, there's a CTA button for them to achieve said goal.
Looking to create a similar landing page to convert visitors to leads? Check out Leadpages, which makes it easy to create highly effective landing pages that help drive sales.
12. Business Consulting – Pitch Proper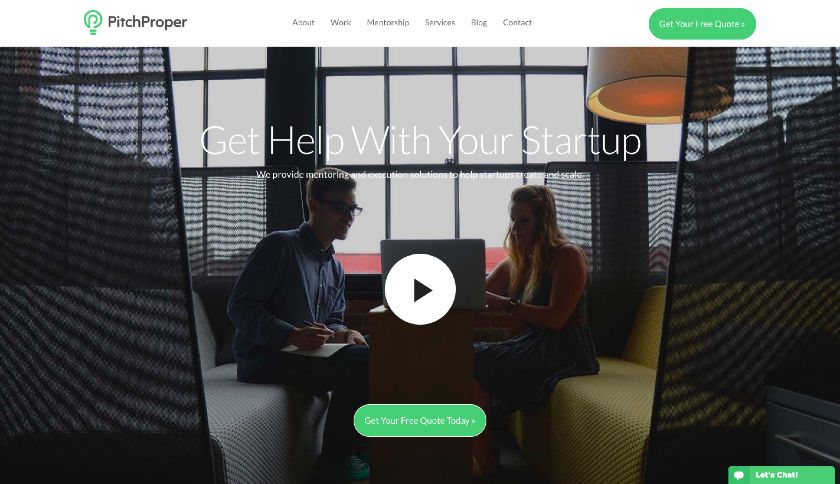 PitchProper, a startup consulting company, uses the right-hand side of its header for a CTA button and includes a full-width video, along with another CTA button front-and-center. Notice that the color of its CTA buttons and live chat match its logo color, making its branding cohesive and those elements stand out, and in return, generate more leads.
13. Senior Living – Parkway Place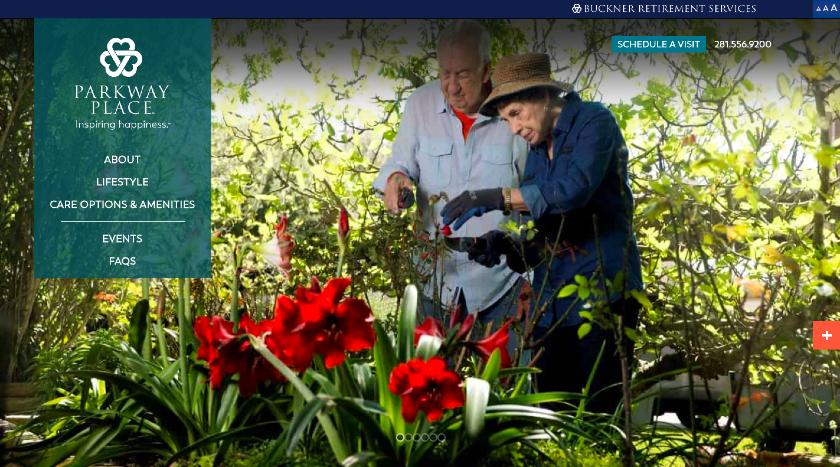 Parkway Place, a Houston-based assisted living facility, generates high-quality leads by using a CTA to "Schedule a Visit." Site visitors with the intent of finding an assisted living facility will likely click the CTA to schedule a visit, or those with questions (such as availability or types of insurance accepted) can click the phone number to get immediate assistance.
14. Restaurant – Spread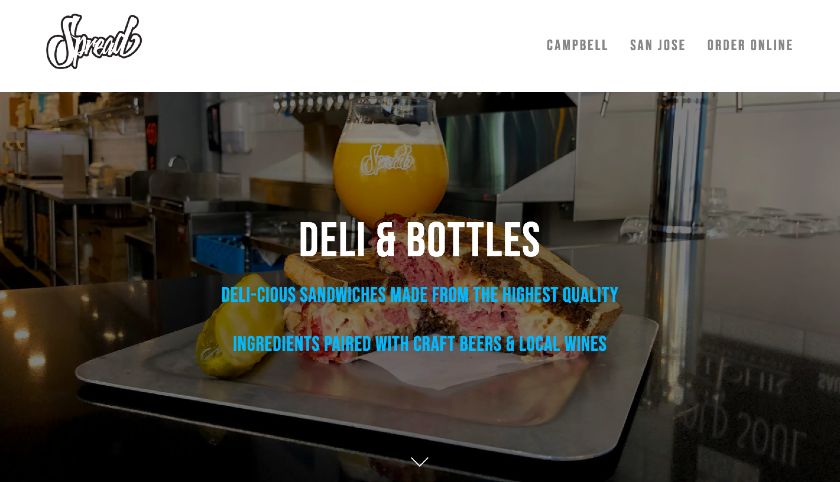 Spread, a San Jose-based deli, provides a good example of how a business with more than one location can handle their website—especially if menus and hours vary by location. Aside from creating one site for a business with multiple locations, it also includes an online ordering system to enable visitors to make a purchase.
15. Education – Small Hands Big Art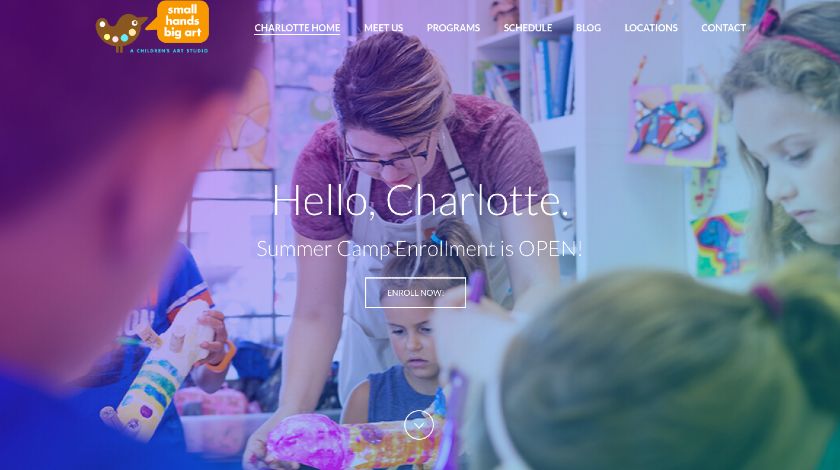 Small Hands Big Art, a Charlotte-based arts education business, generates sales online by giving site visitors the chance to enroll their child online. This helps parents and families achieve their goal that's on their mind at the moment, and in return, increases enrollment.
16. Online Retailer – Woofgang & Co.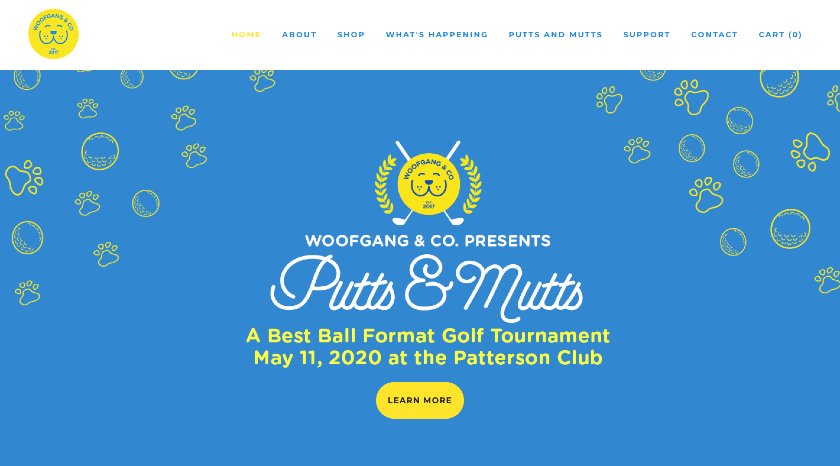 Woofgang & Co, a Connecticut-based dog treat business, has an ecommerce site with product listings to sell online. While the business' main sales channel may be through distributors or a local store, it gives visitors the option to buy online, giving it another opportunity to sell more products.
Looking to sell online? Check out these step-by-step instructions on how to start an online store.
17. Food Service – The Kitchen Eatery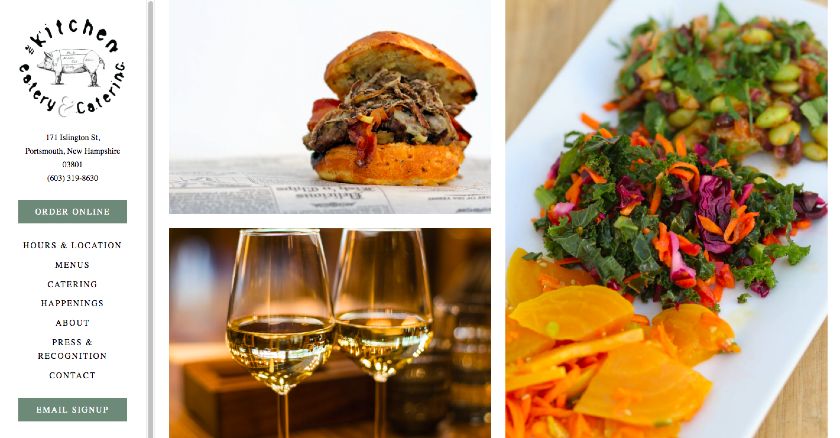 The Kitchen Eatery, a New Hampshire-based restaurant, includes a CTA button to place an order online, enabling visitors to take action and become a customer online. It also considers the end goal of a reader visiting a restaurant's website, and so it puts its address at the forefront of the site by placing it below its logo and before its navigation.
For a website with left-hand navigation, choose the "Farm to Table" template from Wix.
18. Digital Marketing – Haus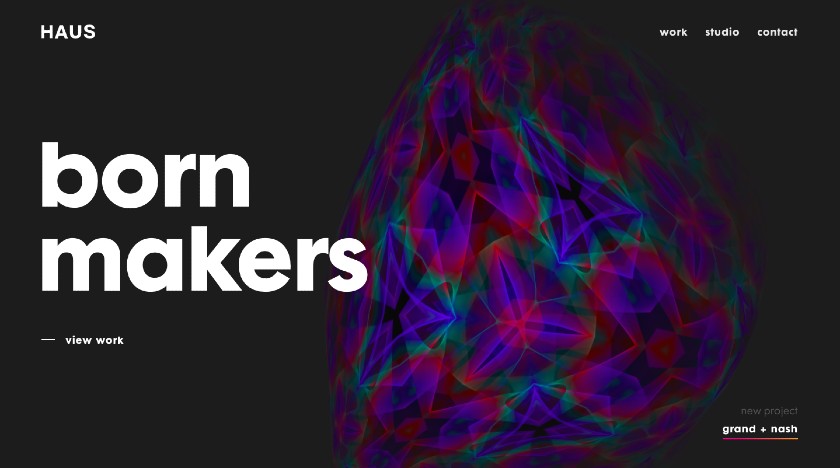 It's rare for us to find a website that's clean and still visually stimulating. Los Angeles-based brand development agency Haus has succeeded in presenting their firm's website in a highly engaging and entertaining fashion. They managed to reinvent the use of a carousel to make the layout simple yet appealing, with large animated photos that introduce you to their body of work. If you're looking for a website that puts emphasis on the visitor's experience, try following a similar design.
If you're interested in a modern-looking website similar to this, check out the "Digital Advertising Agency" template from Wix.
19. Ecommerce – Native Union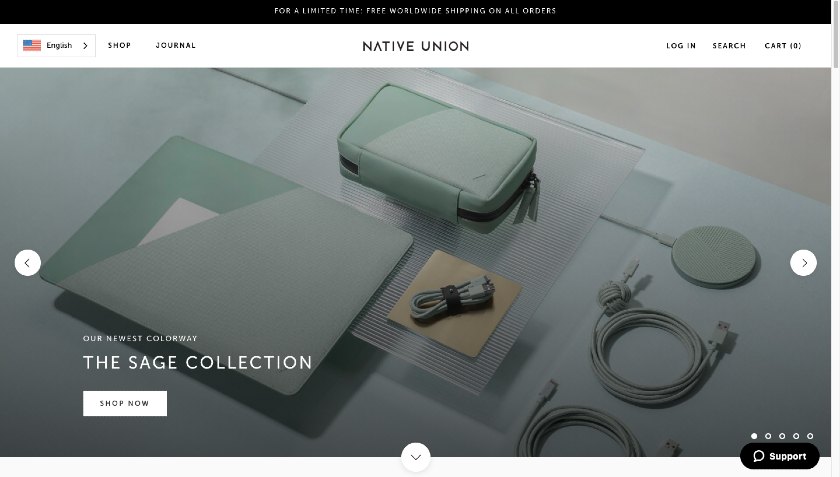 Native Union, an online store, does a good job of managing to present its numerous products without looking cluttered. The color scheme keeps the audience from feeling overwhelmed, which allows them to concentrate more on the products themselves. It has a search bar on the homepage, something we feel is crucial for any ecommerce website, as well as a sliding banner that makes it easy for users to navigate to the different pages.
To easily build an online store that looks like this, use Wix and choose the "Energy Snacks Store" template.
20. Home Services – JG Mechanical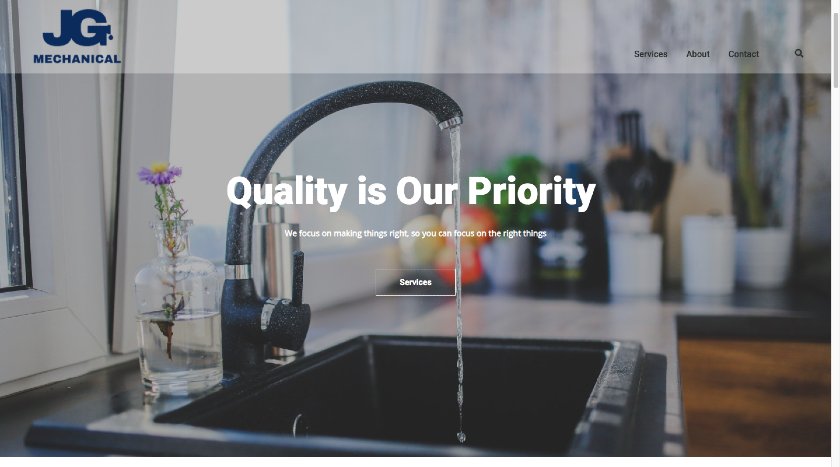 This website provides a good illustration of how important it is to use high-quality visuals. JG Mechanical's page successfully approaches a minimalistic web design that helps its messaging stand out and its site appear clean and professional. It goes a step further and reinforces its credibility by adding client testimonials, certifications, and accolades.
Want to build a site like this? Learn how to make a WordPress website using the leading page builder plugin, Elementor.
21. Educational Services – Play Street Museum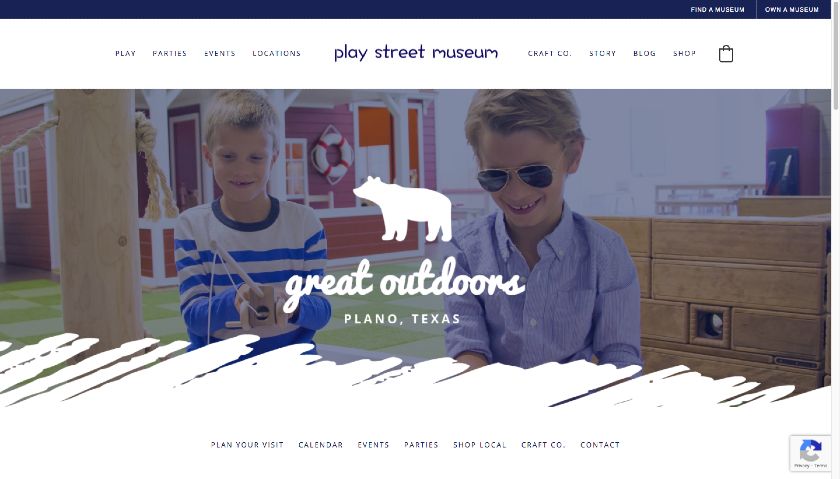 Play Street Museum of Plano, a museum for children, stays on brand by incorporating a playful and childlike design into its website. It does a good job of maintaining a clean web design that doesn't feel cluttered, despite having a lot of different links. The layout is simple and familiar, making it easy to navigate around the site and creating a good user experience.
22. Accommodation – Brass Lantern Inn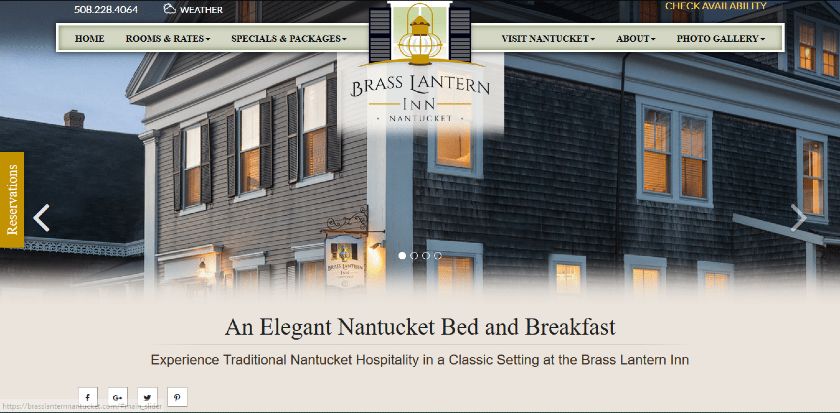 The Brass Lantern Inn's website is impressive both on desktop and mobile. The layout is easy to navigate and is filled with photos and videos to show you around the property. It has a user-friendly reservations system and integrated features like a weather app, maps, and the ability to purchase gift certificates. Visitors have an easy user experience, making them more likely to complete a booking on the website.
High-quality photography makes a world of difference for hotels and accommodation businesses. If you're not using top-notch images, you're missing out on bookings. To find a professional photographer experienced in real estate photography, use Houzz.
23. Home Improvement – Signature Kitchen and Bath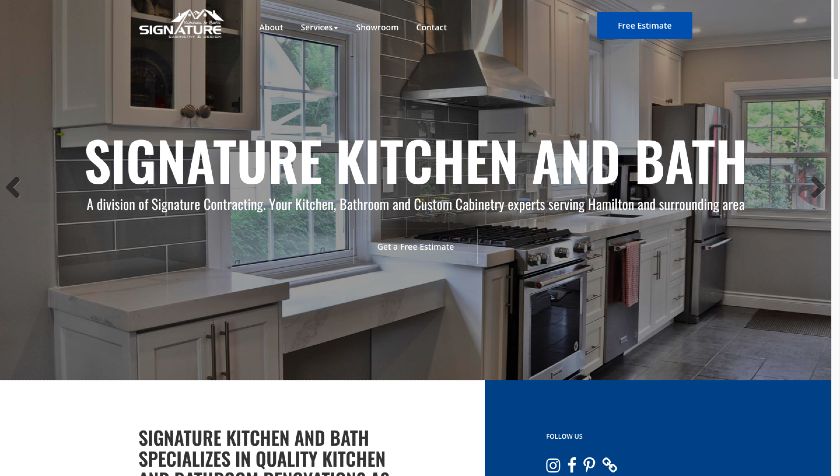 When you reach the home page, the Signature Kitchen and Bath website greets you with their specialization, social links, and an offer for a free estimate. This may immediately get the attention of potential clients because these are questions they most likely have in mind while they are searching for general contractors online. It's also supported by a list of accreditations, awards, and a glowing testimonial that contributes to gaining trust.
24. Event Planning – Bellafare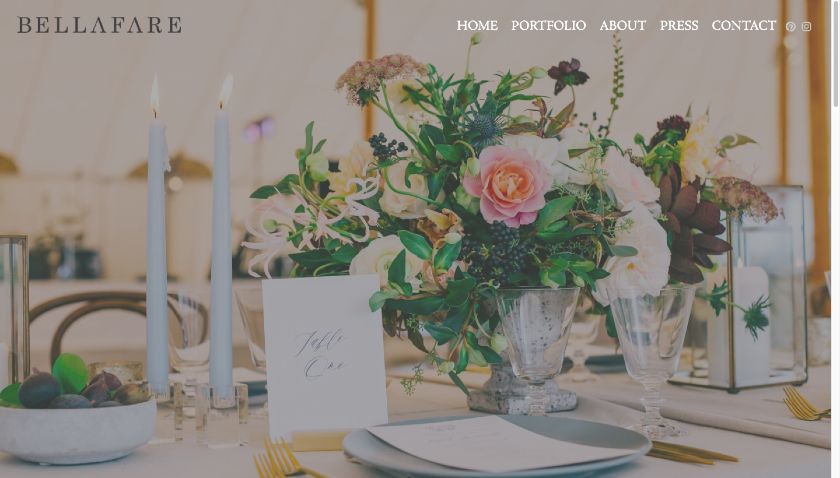 For event coordinators, a website gives them the chance to show their styles and concepts when working on a project. Bellafare's website is designed to showcase a gallery of photos on a clean white backdrop that gives the site an elegant flair. It offers all the elements that an event coordinator's website needs to market its brand—from an easy-to-navigate layout to creative content that can impress potential clients.
Building an event planning business? Be sure to list your website on relevant directories (e.g., WeddingWire or Zola) to help increase your visibility and site traffic.
25. Auto Repair – RepairSmith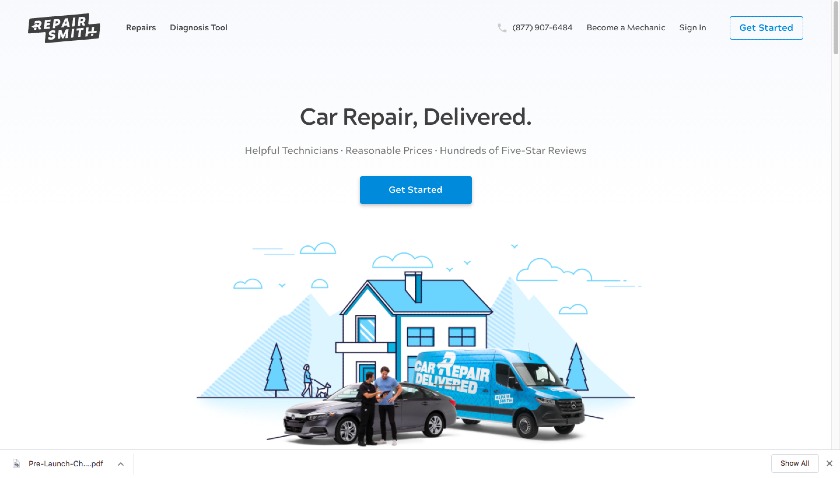 The RepairSmith website is a good example of how a website can effectively generate leads by giving site visitors a clear path or action to follow. It achieves this through a streamlined website design that follows good UX design principles. It incorporates a good deal of white space, enough imagery to make the service clear, and a front-and-center call-to-action (CTA) button. This helps visitors easily navigate through the site and get to the pages that interest them.
Frequently Asked Questions (FAQs)
What's the best way to build a small business website?
The best way for most to build a small business website will be with an all-in-one site builder, such as Squarespace. Unlike WordPress, which can be difficult to use and involves a fairly steep learning curve, site builders are designed to make it easy for anyone to build their own professional website. If you're still on the fence, learn more about DIY vs hiring a pro.
What are the best website builders?
The best website builders are Squarespace, Wix, Weebly, Shopify, and GoDaddy. Which is right for you will depend on your unique skills and needs. For example, Squarespace is best for those who want to quickly build a design-forward website, whereas Wix is best for those who want a true drag-and-drop site builder with vast customization capabilities. Weebly is best for online stores, whereas Shopify is best for dropshipping and GoDaddy is best for service-based businesses. Get the full breakdown on the best website builders.
How much does a small business website cost?
The cost to build a small business website varies greatly depending on whether you build it yourself or hire a web designer. If you build a website yourself, expect costs to be quite low. With a site builder, your only expense will be signing up for a plan, which is typically around $12 per month. If you build a site with WordPress, expect it to cost anywhere from $20 to $300 to build, and $5 to $10 per month for hosting. Get the complete breakdown of website costs.
You May Also Like…