20 Best Small Business Website Examples in 2022
Creating a website can be daunting. We've compiled 20 small business website examples to inspire you. Once you have an idea of how you want your website to look, the next step is to choose the right content management system (CMS) to help you build it. We highly recommend Squarespace for anyone. Not only does it have an award-winning template library suitable for a variety of industries, but it's also a very beginner-friendly way to build your own website.
Built on Squarespace or not, here are 20 website design examples from other small businesses to help you showcase your business in the best way possible:
1. Ecommerce: Vortic Watches
CMS: Shopify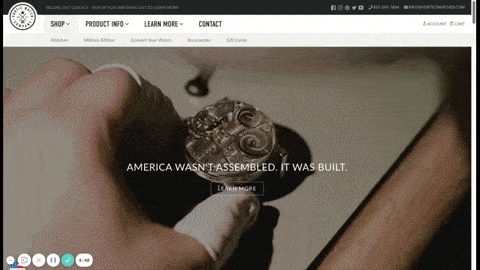 Vortic Watches does a great job of bringing its products to life—even just within its homepage. Between its use of video to illustrate what it offers, which happens to also indicate what sets it apart, and its really creative use of parallax scrolling, the brand's eye for quality is evident.
This site is built on Shopify, one of the best website builders for ecommerce. To learn more about how you can make a store like this one, check out the steps on how to build an online store with Shopify.
2. Photography Portfolio: Galo Delgado
CMS: Wix
Parallax scrolling gives your webpage depth by having different images (e.g., the background and foreground images) scroll at different speeds. You can easily achieve this by picking a template that supports parallax scrolling, like Galo Delgado's portfolio. Wix has over 800 templates in its library to suit your needs. This photography studio, for example, uses a very visual template that showcases its portfolio on the front page.
3. Cafe: Rise
CMS: Squarespace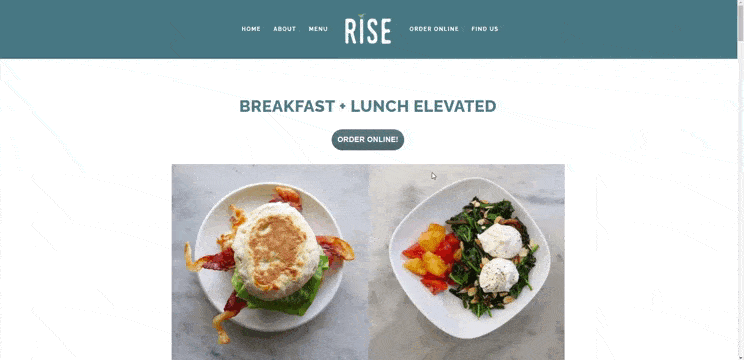 Rise, a Connecticut-based cafe, has a sleek and minimalist website that provides basic information that those visiting a cafe's website would want. For example, it includes attractive images in its menu and directions so that readers can easily navigate to the cafe.
This simple yet effective small business website design example is powered by Squarespace, making web design easy. To build a similar site, sign up for your free trial with Squarespace and choose the "Atlantic" template.
4. Architecture Firm: Architecture In Formation
CMS: Squarespace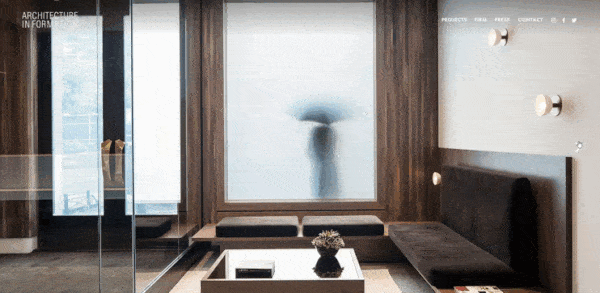 As another website built on Squarespace, Architecture In Formation uses a minimalist landing page that's just a slideshow of their works. To get the same look, use the "Forte" template, which is a great template to use for a visual portfolio.
Aside from having sleek templates, Squarespace is also the perfect choice for a portfolio site as it has unlimited storage and bandwidth on all of its plans. In fact, it tops our list of the best portfolio website builders.
5. Property Management: Mill City
CMS: WordPress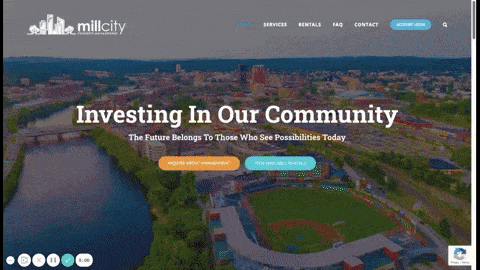 Mill City Property Management, a New England-based property management business, has a very simple and clean website that provides information its visitors are seeking: its services. This format gives readers what they are looking for by visiting the site and the opportunity to understand whether it's a business they might want to work with.
6. Startup: KeyNest
CMS: Squarespace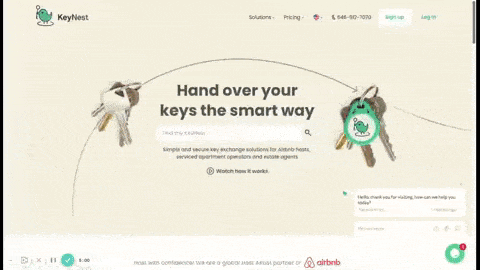 KeyNest is a startup that provides vacation property rental services, and it has a beautiful website—not surprisingly so as it's a site built on Squarespace. The design is very clean, helping the readers focus on the site's messaging. And speaking of messaging, it has a built-in live chat feature, giving visitors direct access to the startup's customer service team. This tool helps answer any questions someone might have.
Interested in Squarespace? Check out the best Squarespace templates for business.
7. Gardening Center: Treeland Nursery
CMS: WordPress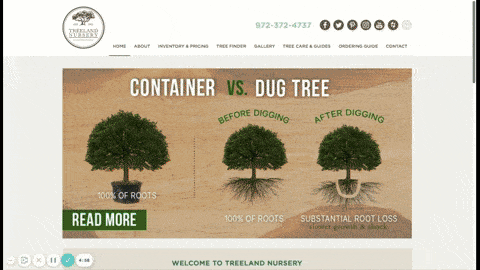 Treeland Nursery provides a good small business website example of how a business can take a more strategic approach to their site with comprehensive information backed by a unique tool. The "Tree Finder Tool" helps visitors answer the difficult question of which type of trees and plants suit their needs based on the environment in which they will be planted. By making it easy for visitors to confidently make a decision, they are more likely to make a purchase.
Like this look? You don't have to use WordPress to copy it. Instead, you can make your life easy and use Wix with the "Hair Salon" or "Women's Clothing Store" template (fully customizable) for a nearly identical layout.
8. Online Store: Izzy Wheels
CMS: Wix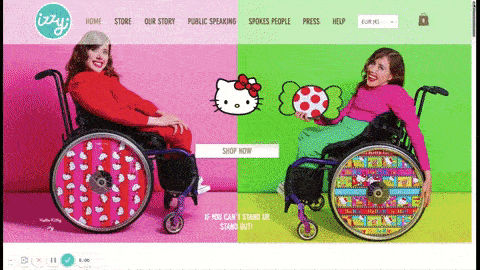 Izzy Wheels is an example of how a brand can create a fun Wix ecommerce experience. The site effectively uses a lot of bright colors along with a good deal of media. Its sticky, transparent header lends to user experience, giving visitors easy access to the site's navigation and other web pages. Another thing that's great about Wix ecommerce is its very easy-to-use back-end, where you can manage products and orders.
9. Hotel & Restaurant: El Pez
CMS: WordPress with Elementor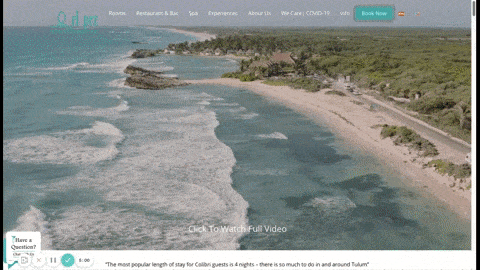 This hotel and restaurant website from El Pez provides a good small business website example, illustrating how it is possible to include a lot of information in a reader-friendly way. As a business with multiple service offerings and different audiences seeking different things out of the site, it does a good job of providing relevant information to each audience. Although it utilizes different pages, you can alternatively build a one-page website to keep your information more readable.
It also uses the Elementor page builder plugin, making WordPress more user-friendly and enabling its animated page elements. However, you don't need to use WordPress to achieve this style. For maximum design freedom that is far easier to use than WordPress, try Wix.
10. Restaurant: Big Boi
CMS: Wix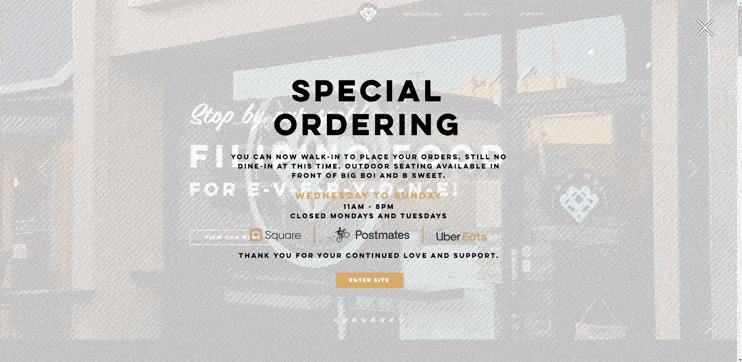 Big Boi, a Filipino restaurant located in Los Angeles, makes the store policy clear and states its opening hours and delivery information by utilizing pop-ups. Pop-ups are visuals that appear when a visitor lands on a certain page on your website (in this case, on the homepage). Pop-ups are a great way to advertise existing promotions and important information. Wix makes it easy to add a pop-up by simply adding an element called a "Lightbox" through the Wix Editor.
Want an ultra-easy way of building a restaurant site like this? Aside from Wix, check out the best website builders for restaurants.
11. Beauty Services: Sugared + Bronzed
CMS: Shopify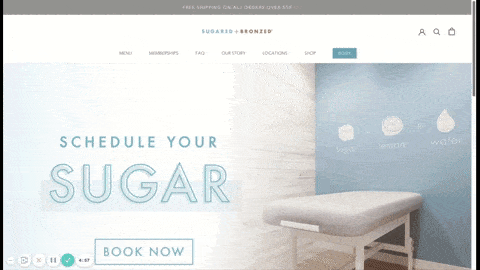 Los Angeles-based beauty service business Sugared and Bronzed offers a very clean and minimalist web design. Aesthetics aside, it's packed with features that turn this seemingly simple site into a marketing machine. In addition to its online store and membership packages, it also includes a booking system, enabling visitors to book appointments no matter what time of day they're visiting the business' website, leading to more impulse decisions and sales.
Want an easy way to build a website that includes an online booking system but with a lower price than Shopify? Consider using GoDaddy, which includes one of the best built-in online booking systems on the market.
12. Web Design: LLT Group
CMS: Shopify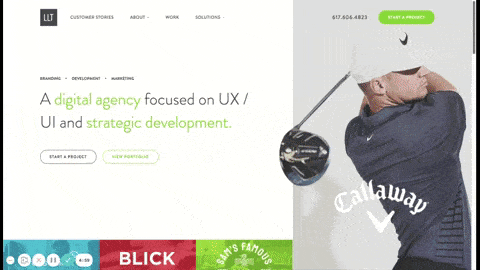 LLT Group, a web design company, takes a unique approach to Shopify, proving that you don't need to be an online store to use the ecommerce CMS. It showcases its notable clients while also providing a message and two call-to-action (CTA) buttons.
By putting clients on its homepage above the fold, it helps build social proof. Notice that it also uses a "Start a Project" CTA button in two locations, so no matter where a visitor's eyes go, they will be given the option to convert.
In case you want a unique landing page on Shopify yet don't have the funds for a full-scale web design company, try outsourcing the work to a professional web designer from Fiverr. You can also hire individual graphic designers on Fiverr to create original graphics, like business logos and buttons for your webpage, for as low as $5.
13. Online Store: Maapilim
CMS: Wix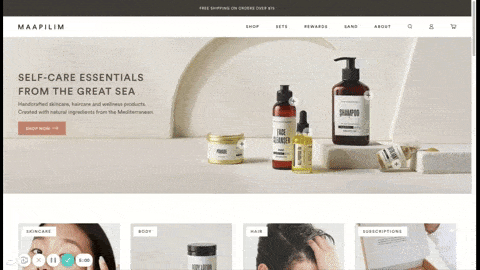 The Maapilim online store illustrates how far Wix has come as an all-in-one site builder. What's really unique about the site is that it offers interactive page elements, allowing site visitors to shop on the page the way users shop on Instagram. Not only does this lend to the user experience through the familiarity of a popular platform, but it also helps sell products within group shots.
Tagging products in photos is just one example of what you can do with a Wix online store. Visit Wix to learn more about its lengthy ecommerce offerings, or read our comprehensive Wix review for more information.
14. Nonprofit: WoofGang & Co.
CMS: WordPress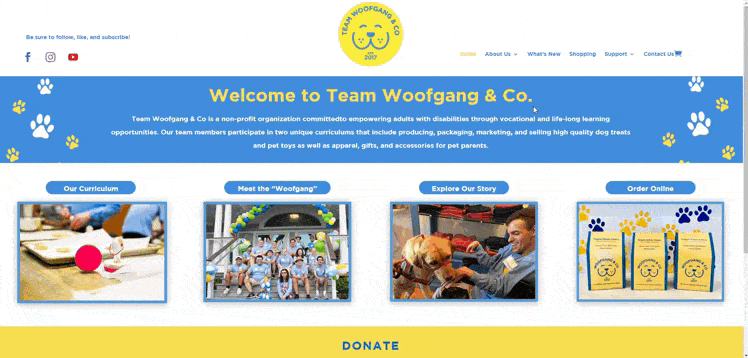 WoofGang & Co, a Connecticut-based nonprofit, has an ecommerce site with product listings to sell online, as well as the ability to accept online donations. While the business' main sales channel may be through distributors or a local store, it gives visitors the option to buy online, see upcoming events, and donate money to help support the organization.
Interested in building an ecommerce site like this but without having to go through WordPress? Try Weebly. Get step-by-step instructions on how to build a Weebly website now.
15. Graphic Design Portfolio: Wendy Ju
CMS: Wix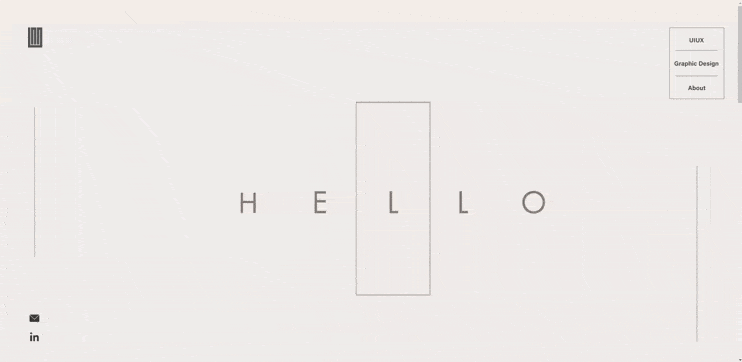 It's rare to find a website that's clean and still visually stimulating. Wendy Ju, a New York-based graphic designer, uses animations and large visuals all over her website to promote her work without adding too many distractions. The result is an impressive graphic design portfolio with all the necessary information needed for potential clients. If you're looking for a website that puts emphasis on the visitor's experience, try following a similar design from Wix.
16. Ecommerce: Native Union
CMS: Shopify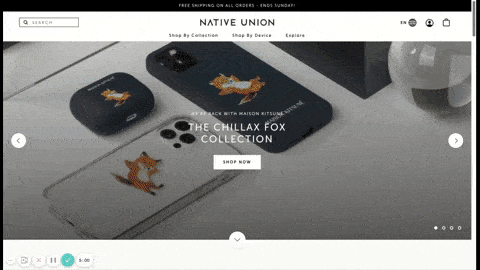 Native Union, an online store, does an excellent job of presenting its numerous products without looking cluttered. The color scheme keeps the audience from feeling overwhelmed, allowing them to concentrate more on the products themselves. It has a search bar on the homepage, something we feel is crucial for any ecommerce website, as well as a sliding banner that makes it easy for users to navigate to the different pages.
To easily build an online store that looks like this, go to Shopify and choose the "Narrative" theme. Alternatively, for a more affordable—and more user-friendly—ecommerce option, use Wix and choose the "Energy Snacks Store" template.
17. Educational Services: Play Street Museum
CMS: Squarespace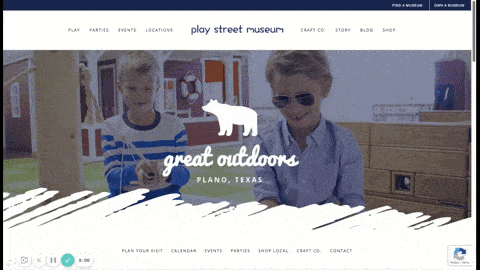 Play Street Museum of Plano, a museum for children, stays on brand by incorporating a playful and childlike design into its website. It does a good job of maintaining a clean web design that doesn't feel cluttered, despite having a lot of different links. The layout is simple and familiar, making it easy to navigate around the site and creating a good user experience. Start building your Squarespace website like this one with the Bryler template.
18. Event Planning: Bellafare
CMS: Squarespace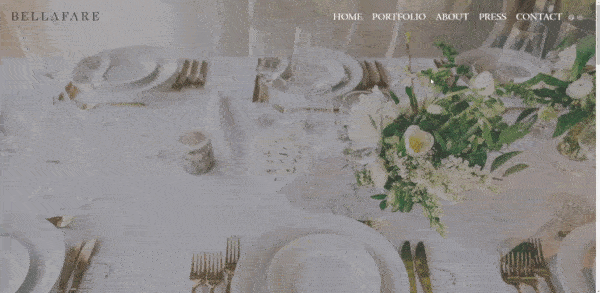 For event coordinators, a website gives them the chance to show their styles and concepts when working on a project. Bellafare is a great small business website design example for showcasing a gallery of photos on a clean white backdrop that gives the site an elegant flair.
It offers all the elements that an event coordinator's website needs to market its brand—from an easy-to-navigate layout to creative content that can impress potential clients. To create a site like this, head over to Squarespace and choose the "Camino" theme.
19. Home Goods: Lola Pate
CMS: Wix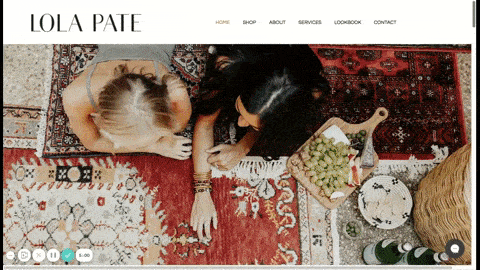 This website from Lola Pate, a home goods brand, does a good job of telling a story in a creative way that doesn't feel text-heavy or overly verbose. What's a bit different about this website is that it's not only an online store, but it also sells services. So, while visitors can shop its products, others can submit a quote request for custom work. Visit Wix to start building your multi-use website easily.
20. Travel & Tourism: Arrowhead
CMS: Weebly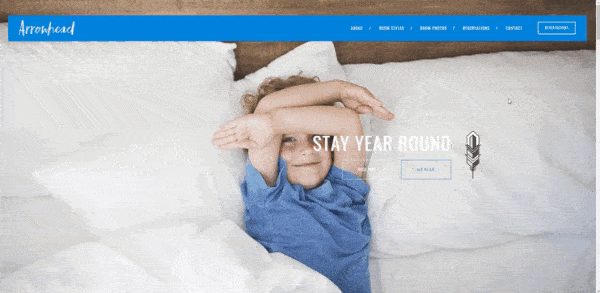 Arrowhead is a good small business website example of how Weebly can be used to build out a travel website. Its homepage isn't cluttered, but it manages to include a gallery of images for each type of room they have available. Note that they also integrate a booking system so that you can easily make a reservation with just a few clicks from their banner image.
Unfortunately, Weebly doesn't have an integrated booking system, but you can easily download one for your Weebly site through Weebly's extensive app store. If you want a built-in booking system, try building your website with GoDaddy or Squarespace.
Frequently Asked Questions (FAQs)
What's the best way to build a small business website?
The best way to build a small business website is through an all-in-one site builder, such as Squarespace. Unlike WordPress, which can be difficult to use and involves a fairly steep learning curve, site builders are designed to make it easy for anyone to build their own professional website.
What are the best drag & drop website builders?
The best website builders are Squarespace, Wix, Weebly, and GoDaddy. Which is right for you will depend on your unique skills and needs.
For example, Squarespace is best for building a design-forward website, whereas Wix is best for those who want maximum design freedom. Weebly is best for affordable online stores, whereas GoDaddy is best for service-based businesses. Get the full breakdown of the best drag-and-drop website builders.
How much does a small business website cost?
The cost to build a small business website varies greatly depending on whether you build it yourself or hire a web designer. If you build a website yourself, expect costs to be quite low. With a site builder, your only expense will be signing up for a plan, which is typically as low as $12-$16 per month.
Alternatively, you can also hire a web designer on sites like Fiverr for as low as $5. Get the complete breakdown of website costs.
Bottom Line
Looking at small business website examples is a great way to get ideas and inspiration for any business designing a website. Consider not only the look and feel of a site, but also its capabilities and how it gives its audience what they're looking for.
Once you have an idea of what you want, the next step is to choose the right CMS to help you build the site of your dreams. We highly recommend giving Squarespace a try for a professional site for as low as $16 per month.
You May Also Like…