6 Best Blogging Platforms for Beginners (Cheap & Free)
Using the right blog hosting site makes it easier to get your content online, build a reader base, and make money. The best blogging platforms for beginners are easy to use, free (or at least cheap), help your content get found online, and can be easily monetized by small businesses and influencers. To help you choose the best blogging platform, here are six top options for beginners based on features, cost, and use cases.
Best Blogging Platforms at a Glance
Blog Platform

Free Plan

Starting Cost of Ad-free Plans*

Starting Cost to Sell Online*

Key Features

✓

$16

$27

Easiest blog platform for beginners
Free domain with paid plans
Schema markup for better SEO

✓

$23

$23

Ideal blog platform for sales teams
Built-in SEO tools and guidance
Landing pages for lead conversion

✕

$5

$5

Cheapest blog website builder
Free domain and email account
Unlimited storage and bandwidth

✓

$12

$12

Best blogging platform to make money
Sell online on all plans (even free)
Free domain with paid plans

Via

✕

$2.95**

$9.95**

Best platform for WordPress blogs
Countless plugins and apps
Free domain, email, and no-code WordPress page builder with all plans

✓

$0

✕

Free platform for writers
Great way to build a portfolio and thought leadership
Write articles that link back to your site's content
*Monthly, based on annual prepayment, for ad-free paid plans
**First-year pricing, billed annually, for WordPress hosting through Bluehost
Wix: Overall Best Blogging Platform for Beginners & Best Free Blog Site
What We Like
Easiest blog platform for beginners
Most intuitive and customizable
Best blog site builder for SEO
300+ apps for added functionality
800+ templates and loads of premade content blocks to get a blog up fast
Free-forever plan you can start with
Base ecommerce plan is the most robust of any blog hosting sites on this list
What's Missing
Not easy to switch templates
Low storage limits in lower tiers
Paid plans aren't as cheap as IONOS
Can't use the free version on your own domain, unlike HubSpot
Key Features
All plans include SSL security
Free domain for 1 year with paid plans
Google and Bing Ad vouchers with all but lowest-tier plan
Save blog drafts and schedule posts in advance
Site and page-level SEO settings plus automatic image compression and schema markup
Cost
Free plan (Wix subdomain and ads)
Ad-free for $16 a month
Ecommerce for $27 a month
For the best website builder for blogs, look no further than Wix. Even beginners with zero design experience can create a professional-looking blog quickly. On top of that, Wix offers design freedom, making it a good choice for creatives who don't want to invest their time learning how to use WordPress.
Plus, you can blog for free using Wix, so there's no risk to test the platform. It's also easy to integrate ads through Google and other top ad networks for bloggers.
Wix also provides a good deal of freedom to start a blog that makes make money. For example, you can sell both physical and digital products (e.g., memberships, subscriptions, downloads, and so on) or services by opting for the base ecommerce plan.
When you choose the ecommerce plan of Wix, you can accept payments directly through your site and gain access to business insights with detailed sales analytics and reports. You will have the option of growing your following through subscriptions and your website can have a currency converter that allows your customers to easily convert your pricing into their local currency.
While Wix is an excellent free blogging platform, you won't be able to use your own domain without a paid plan. If you need a free option for this, try HubSpot. If you need a free blogging platform where you can sell online, Weebly is the better option. Its built-in payment processing tools from parent company Square come with all plans, including the free one.
Wix Pricing & Plans
You can use Wix to build a website for free to create and publish a site without paying a dime. However, your site will be on a subdomain (yoursite.wix.com), and Wix displays ads on your free site, which detracts from your brand and your website's credibility. Instead, use the free version to build out your blog, then when you're ready to go live, upgrade to a paid plan.
| Wix Plan | Free | Combo | Unlimited | Ecommerce |
| --- | --- | --- | --- | --- |
| Monthly Cost* | $0 | $16 | $22 | $27 |
| Storage | 2GB | 2GB | 5GB | 50GB |
| Free Domain & SSL | SSL only | ✓ | ✓ | ✓ |
| Ad-free | ✕ | ✓ | ✓ | ✓ |
| Connect a Domain | ✕ | ✓ | ✓ | ✓ |
| Apps/Plugins | ✓ | ✓ | ✓ | ✓ |
| Post Scheduling | ✓ | ✓ | ✓ | ✓ |
| Monetize With Google Ads | ✓ | ✓ | ✓ | ✓ |
| Sell Online | ✕ | ✕ | ✕ | ✓ |
| Memberships/Subscriptions | ✕ | ✕ | ✕ | ✓ |
*Billed annually, or pay monthly at a higher rate
If you want to start a blog but also plan to sell online and need a cheaper option than Wix, check out the sections below for IONOS, Weebly, and Bluehost (for WordPress). IONOS is a great choice if you want intuitive design tools and customization levels similar to Wix, whereas Weebly is known for low-cost ecommerce, starting in the free version.
Bluehost users can get an ecommerce site for $9.95 per month the first year as well as a dedicated WordPress page builder. Alternatively, if none of these are quite right, you might find your ideal blogging site builder on our list of the best cheap website builders (under $10 a month).
Blogging With Wix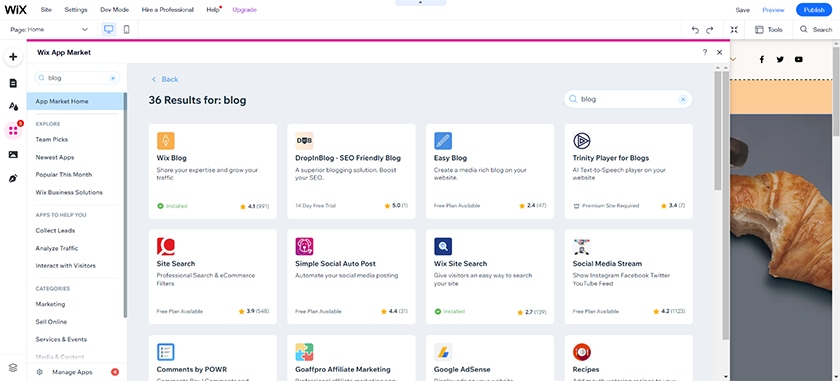 ---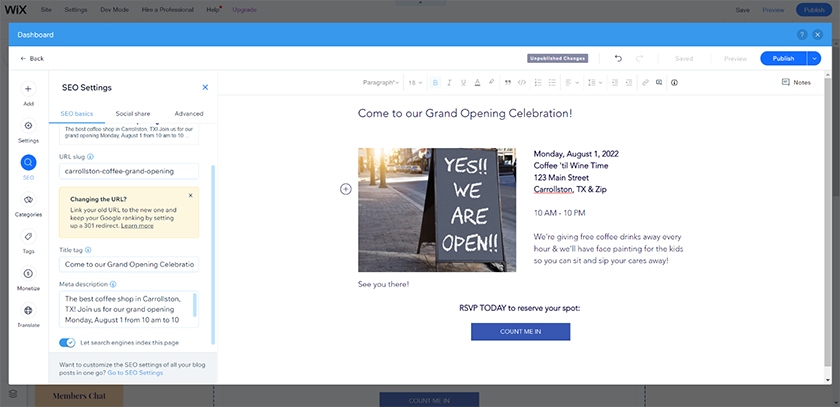 ---
Wix's site editor is intuitive, so much so that Wix is the easiest blogging platform, even for true beginners who want to set a blog up quickly. Simply choose a template and then click on "Edit Site" in the dashboard to customize it.
While customizing your site, add a blogging app by clicking on the Apps icon in the left side menu, then "Add Apps." Search for "blog" and then click to install the Wix blog. Voila—you have a fully functional and mobile responsive blog.
To access search engine optimization (SEO) settings to optimize individual blog posts, open up the post for editing, then click on "SEO" in the left side menu. Here you'll be able to customize each post's URL slug, title tag, and meta description, all of which can help your content rank higher in online search.
Some of the features bloggers will appreciate with Wix include:
Wix Forum: Build an online community by integrating the free Wix Forum app to give followers an online community to ask questions, interact, and connect.
SEO enhancements: Wix automatically compresses images to ensure your website loads fast (a Google ranking factor). It also automatically applies some schema markup to make it even easier for Google to find and index your site's content. Your dashboard even has a tip list of things you can do to fully optimize your Wix blog.
Monetize with Google AdSense: Since you can now embed code on Wix pages through page settings, it's easy to monetize Wix blog articles with Google Ads.
Wix is the most customizable drag-and-drop website builder on the market. However, this level of design freedom can be a pro or a con, depending on your eye for design and how quickly you want to get your site online. For more insight, read our step-by-step guide on how to use the Wix website builder. If you are more interested in creating a site like Reddit, this guide to making a forum website can help you create one in 8 simple steps.
Wix Blog Example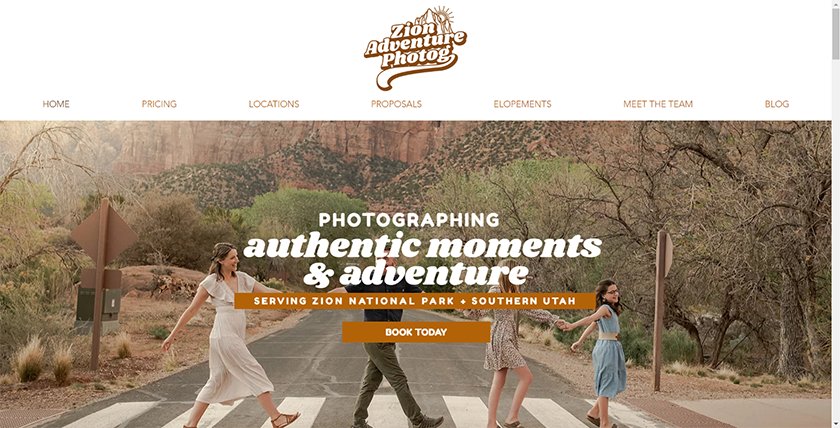 The photographer's blog ZionAdventurePhotog has racked up some impressive stats since going live in May 2019. It's got a Google domain authority score of 32, over 2,100 backlinks, and gets more than 6,000 visitors each month. It uses a pop-up to get site visitors to sign up in exchange for a free Zion National Park guidebook full of ideas for making a trip to the park unforgettable.
Our Expert Opinion
Wix is the best blogging platform overall. It's the easiest blog website builder for beginners and you can start for free. For a custom domain, the base plan with hosting, SSL, and a free domain starts at just $16 per month. Or, for $27 per month, you can sell online, including memberships, subscriptions, and digital products, like downloadables. Plus, it's feature-packed with a large app marketplace with tools to monetize your blog and grow its readership.
HubSpot: Best Blogging Platform for Sales-oriented Content Marketing
What We Like
Full lead management solution—attract leads, drive them to landing pages, capture info, and nurture leads with a free CRM and email marketing tools
Free-forever plan to start with
Content optimization guides
Content delivery network (CDN) to speed up site loading from anywhere
Outstanding reporting features with a paid plan
Ability to publish multilingual blogs
Like Wix, automatically adds structured markup to improve SEO when you enable in blog settings
Add HTML code to headers and footers on blog listing pages and articles
What's Missing
Paid plans don't include a free domain, unlike Wix and IONOS
Ecommerce requires a plugin, unlike Wix and Weebly
Limit of 100 blog posts on the free plan
Huge jump in cost from Starter to Professional plan
Key Features
99.99% measured uptime
Website and blog import tools to migrate from another platform
Large third-party app marketplace
Enterprise-grade software
Integrates easily with HubSpot's other sales and marketing tools
Automatic Google AMP formatting
Cost
Free-forever plan with hosting, SSL security, and up to 25 pages, 20 landing pages, and 100 blog posts (displays HubSpot branding) you can connect to your own domain
$23 per month annually (or $25 month-to-month) to remove HubSpot branding and increase limits to 50 pages and 10,000 blog posts
We were super-excited when we found out that HubSpot was making its content management system (CMS) free for small businesses and startups to use. This levels the playing field for small businesses by giving them a low-cost entry point for enterprise-level software.
In addition, HubSpot is unique among free website builders in that most free plans put your site on a branded subdomain of the site builder (e.g., myblog.sitebuilder.com). With HubSpot, you can build your website for free on your own top level .com, .org, or other branded domain name (e.g., myblog.com).
It's not surprising that HubSpot, an industry leader in SEO content marketing, offers one of the best blogging platforms for those wanting to use content for lead generation. It's our top pick for sales teams and sales-oriented businesses. For example, you can create a full lead generation and management solution using free tools for sales and marketing when blogging on HubSpot.
Simply build your site on the free CMS with premade templates and widgets and start blogging. Use your blog to drive organic web traffic through online search to your articles and then direct those interested to dedicated product or service landing pages, where they can then convert to leads or sales.
Leads generated can then be automatically added to your free HubSpot customer relationship management (CRM). In the CRM, you can automatically route and assign leads, manage and organize contacts, and create lead nurturing emails to move prospects through your sales funnel.
Keep in mind that HubSpot doesn't have a true drag-and-drop site editor, so you can't get the same level of site customization you get with Wix. You'll also need to add a plugin to sell online, unlike with Weebly or IONOS. It's not difficult to add apps through HubSpot's app marketplace, but it does make your blog site building process more time-consuming and complicated.
HubSpot CMS Pricing & Plans
As with Wix and Weebly, when using HubSpot for free, it displays HubSpot branding. To remove ads, upgrade to the Starter plan ($23 per month annually or $25 month-to-month). Paid plans don't come with a free domain like other site builders, but do come with a no-code site builder, advanced SEO and blogging features, top-notch security, multiple analytics dashboards, and templates and tools you can use to start blogging and build an online following quickly.
| HubSpot Plan | Free | Starter | Professional | Enterprise |
| --- | --- | --- | --- | --- |
| Monthly Cost* | $0 | $23 | $360 | $1,200 |
| Site Limits | 25 pages, 20 landing pages, and 100 blog posts | 50 pages, 20 landing pages, and 10,000 blog posts | 10,000 pages, 10,000 landing pages, up to 100 blogs (on subdomains) each with 10,000 blog posts, and up to 2,000 authors | Same as Professional Plan |
| Unlimited Storage | ✓ | ✓ | ✓ | ✓ |
| Connect a Domain & Free SSL | ✓ | ✓ | ✓ | ✓ |
| Built-in AMP for Google Mobile Pages | ✓ | ✓ | ✓ | ✓ |
| Apps/Plugins | ✓ | ✓ | ✓ | ✓ |
| Post Scheduling | ✓ | ✓ | ✓ | ✓ |
| Monetize With Google Ads | ✓ | ✓ | ✓ | ✓ |
| Sell Online | ✓ | ✓ | ✓ | ✓ |
| Ad-free | ✕ | ✓ | ✓ | ✓ |
| Memberships/Subscriptions | ✕ | ✕ | ✕ | ✓ |
*Billed annually, or pay monthly at a higher rate
If you plan to sell memberships or subscriptions, you might be able to do this through apps but not with native tools unless you choose HubSpot's very expensive Enterprise plan tier. For beginners just starting out with blogging, it's probably not an option. Wix is the best platform to start a blog for bloggers who want to earn revenue through memberships, subscriptions, and other digital products.
Blogging With HubSpot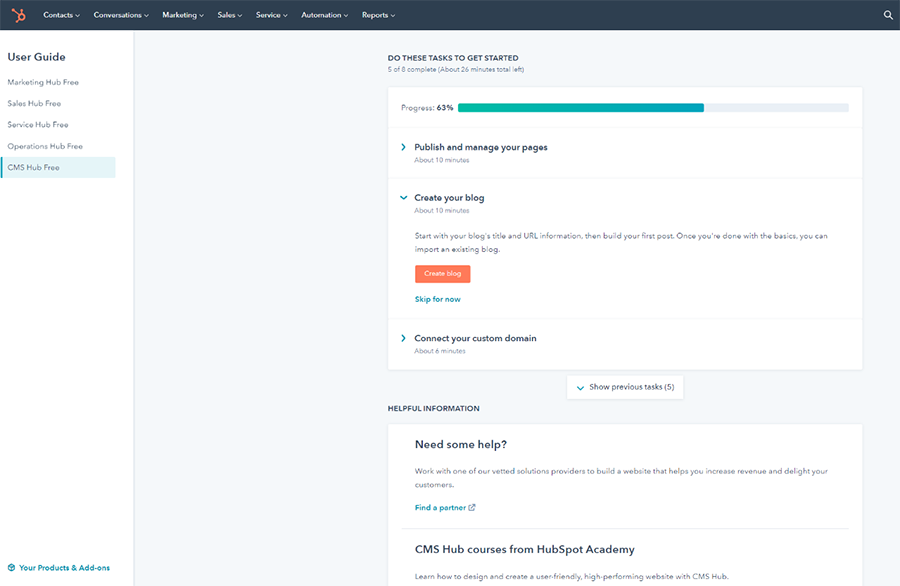 ---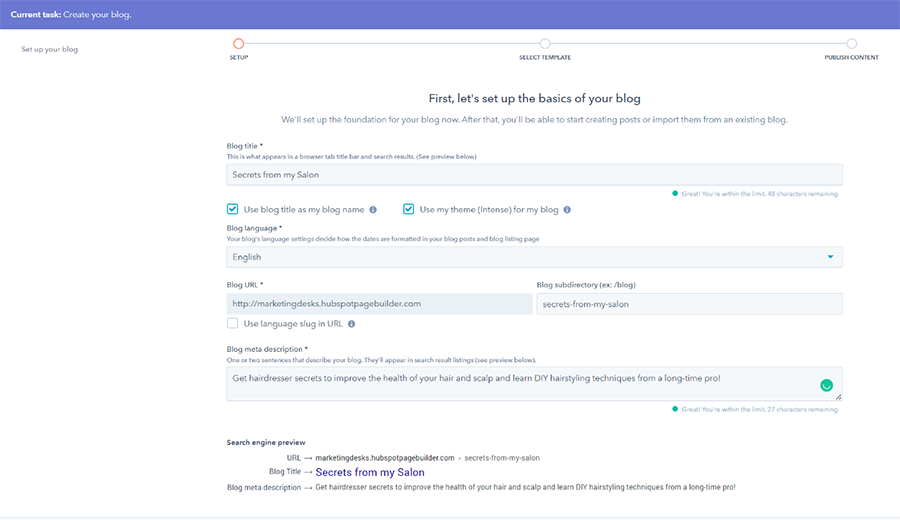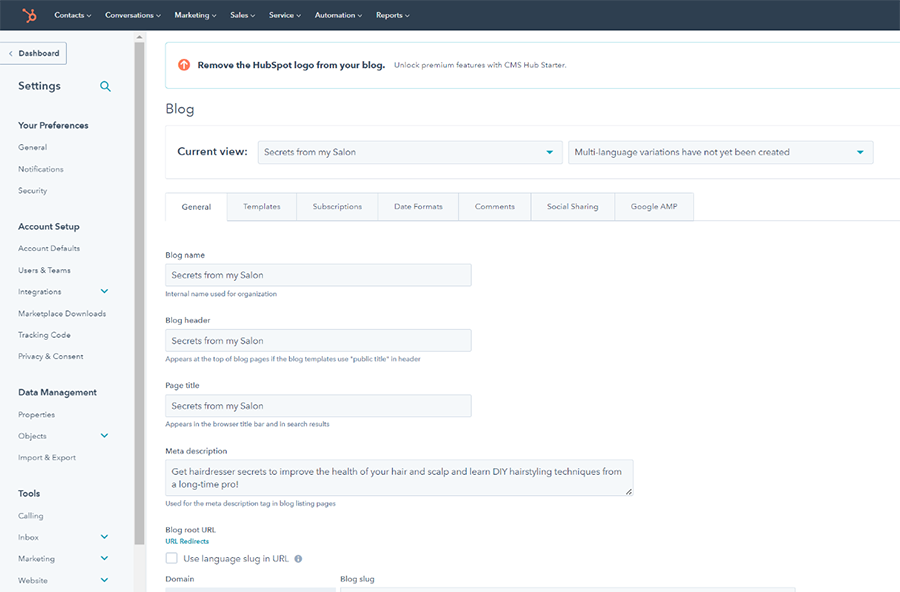 ---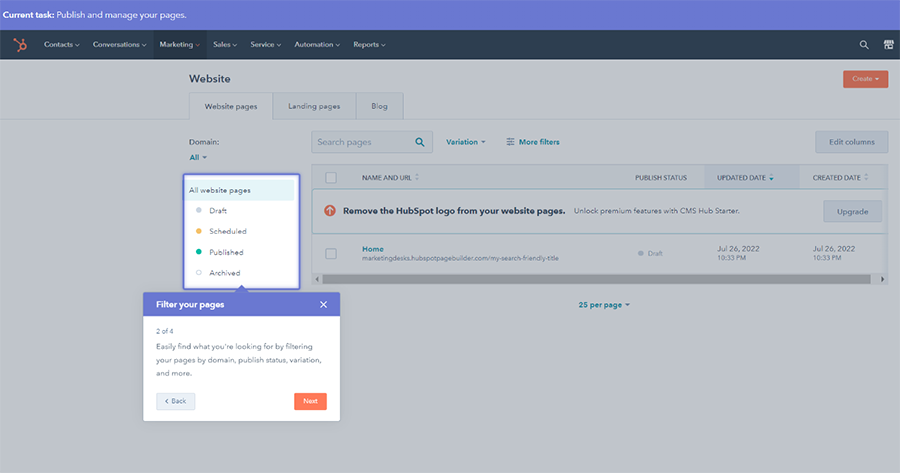 ---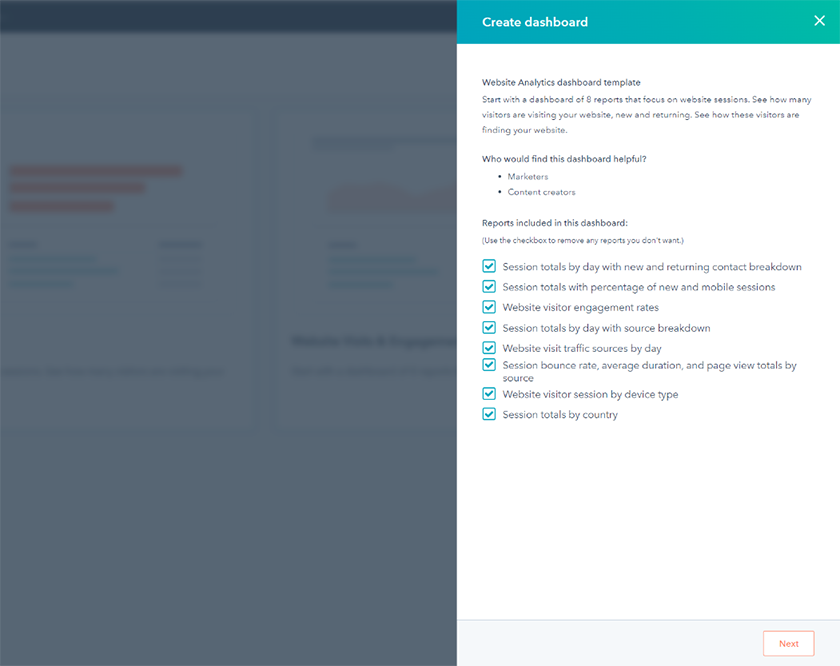 ---
To add a blog to your HubSpot website from your main user dashboard (you may need to click on the HubSpot icon in the top left corner to get there), click on CMS Hub in the left side menu. Then under settings for "Create a blog," click on "create blog" to add one to your site.
In your blog settings are a number of noteworthy features. For example, you'll first be asked to set up basic information for your blog. You'll have the ability to customize the appearance of your blog, including applying a different theme if you want. You can activate automated structured data to improve your site's ability to be found in search and configure Google AMP settings, as HubSpot automatically formats your blog posts for mobile devices.
When you're ready to publish your first blog post, from the Marketing menu, go to the blog tab and click "create new post." The interface for adding a blog post is fairly intuitive. To add an image, you'll click on "Blog Post Hero" in the left side column. You can also set links to specific related posts, add a call to action, and add a subscription form to build your contact lists and readership.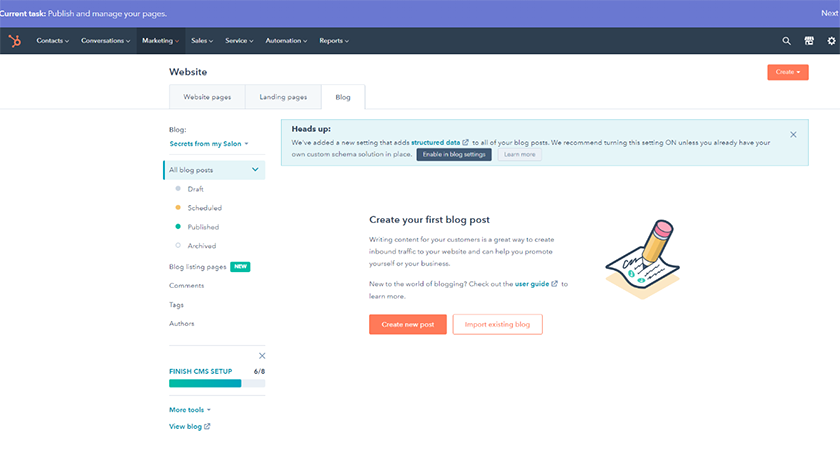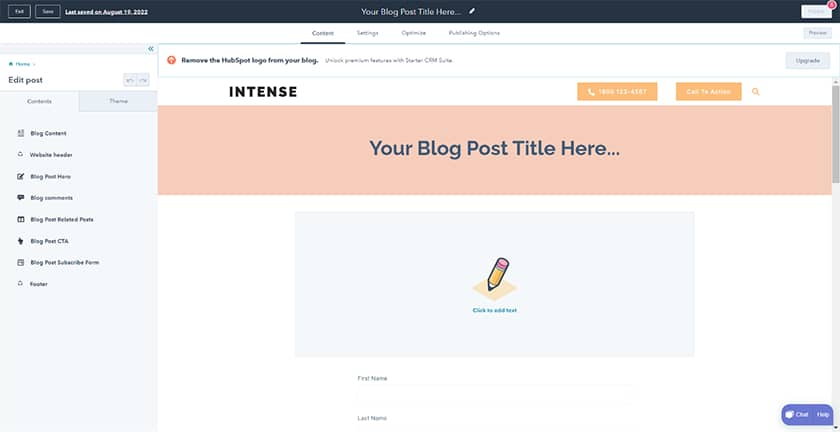 ---
The HubSpot Marketing Hub lets you build webpages using prebuilt modules even if you don't have any coding experience. While not as easy to use for blogging as Wix, it's still fairly simple to build a site and publish pages and articles.
Bloggers will appreciate using HubSpot CMS Hub because of these features:
Lead generation and management: Since HubSpot's CMS is integrated with its CRM, you can use your blog's subscription forms, social media buttons, and call-to-action (CTA) buttons to engage website visitors. This allows you to easily capture contact information, turn them into leads, and move them toward conversion with email marketing and other lead nurturing tools.
Mobile-optimized pages: Unique to HubSpot is the ability to easily optimize your blog's content for Google AMP. AMP pages load faster on mobile devices, offering a better site visitor experience, and thus helping sites with AMP rank higher in mobile searches.
Google-optimized blog content: The HubSpot platform gives you SEO recommendations, including the ability to find high-ranking keywords. This enables you to better optimize your website and improve your search rankings. As one of the best blog platforms for small businesses, HubSpot is efficient and streamlined to give you the best chance at ranking on Google.
Multilanguage websites: You can publish your blog in multiple languages, even in the free version. This makes it a great option for sales-oriented businesses with international customers and bloggers who want to build a worldwide audience.
HubSpot Blog Example
In the past, Nationwide's Companion Magazine relied heavily on graphic design work, which led to a lengthy publication process. By leveraging the HubSpot CMS, the digital magazine was transformed into a blog format in order to streamline its content creation and publishing workflow. As a result, the marketing team of Nationwide could create, publish, and manage content more easily, allowing this blog to get an authority score of 38.
Our Expert Opinion
If you're looking for a powerful and easy-to-use blogging platform, HubSpot is a great option to consider. It's fairly intuitive, visually appealing, and user-friendly. You get a content creator, marketing campaign manager, and customer lifecycle tracker all in one tool when you choose HubSpot. In addition, you can also integrate marketing automation tools such as live chat software and email marketing, making it the best blog platform for sales teams.
IONOS: Cheapest Blog Hosting Site for Businesses on a Budget
What We Like
Cheap blogging platform—from $5 a month ($60 per year) to start
Unlimited storage and bandwidth
Good SEO—built for speed and fast site loading
Affordable choice for online store and blog site combination
Beginner-friendly and intuitive
Integrated email marketing tools
Dedicated consultant and top-notch customer care 24x7
Personalized content to improve site visitor experience from the Plus tier up (and much cheaper than HubSpot for this feature)
Dynamic content (automate website updates from your database or Google sheets)
Multi-lingual websites--publish your blog in up to 60 languages
17,000+ royalty-free images to use on your site
What's Missing
No free plan or trial
Starter plan ($1 a month) doesn't include blogging features
No automated structured markup or AMP features, unlike Wix and HubSpot
Key Features
Free domain, SSL security, and email account with any plan
Unlimited storage and bandwidth
99.99% measured uptime
Personal consultant to answer questions and help you get the most from your blog website
Cost
$5 a month the first year to start a blog with IONOS' advanced site builder (more customization, templates, and content blocks)
$5 a month for the first 6 months for blog and online store (then $20 a month)
IONOS offers the cheapest blog platform for launching a blog on your own custom domain. This makes it the best blog hosting site for small businesses and startups on a tight budget.
Plans are inclusive of a domain, SSL certificate, and an email account, as well as a fairly intuitive drag-and-drop website builder (MyWebsite Creator). You won't get the complete design and customization freedom offered by Wix, but if cost is a top concern, you'll get everything you need to succeed as a blogger and build your brand presence online.
Websites built using the IONOS site builder have solid page and site-level SEO settings to help ensure your content can get found in online search. Your site will also load fast, as images are automatically compressed and you get Google PageSpeed optimization. This ensures a better site visitor experience, which in turn can help your blog rank higher online.
Like HubSpot, you can publish your blog (and website) in multiple languages using IONOS. This makes it a good option for international sellers wanting to use a blog to drive traffic to their site as well as influencers wanting to build a worldwide presence.
We also recommend using IONOS if you want personalized support. They provide a high level of customer care, including a responsive help system via live chat and phone. In addition, with your subscription comes access to a personal consultant who can help you through the ins and outs of setting up your blog and getting the most from your website.
On top of that, IONOS is the best blog site hosting option for delivering site visitor-personalized content, especially compared to HubSpot, which only offers this in upper-tier plans. Content personalization allows you to individualize the site visitor experience based on triggers such as being a repeat site visitor, the page they entered your site on, or how they came to your site (e.g., via Google search or email link).
IONOS Pricing & Plans
Unlike Wix and Weebly, you can't build a blog for free using the IONOS website builder. However, its paid plans to start a blog on a basic site or an ecommerce website are the cheapest, by far, and come with an email account, which Wix and Weebly don't include. Plus, you can add an online store to any plan, making it one of the cheapest blog platforms for ecommerce businesses (only Weebly is cheaper, as it offers ecommerce sites for free).
| IONOS Plan | Pro | Plus | Online Store Plus |
| --- | --- | --- | --- |
| Monthly Cost* | $5* | $10* | $5** |
| Free Domain, SSL & Email Address | ✓ | ✓ | ✓ |
| Unlimited Storage & Bandwidth | ✓ | ✓ | ✓ |
| Business Apps | ✓ | ✓ | ✓ |
| Post Scheduling | ✓ | ✓ | ✓ |
| Monetize With Google Ads | ✓ | ✓ | ✓ |
| Gate Content for Members | ✓ | ✓ | ✓ |
| Multilingual Blogs | ✓ | ✓ | ✓ |
| Dynamic Content (e.g., Time, Device & Site Visitor-based Pop-ups) | ✕ | ✓ | ✓ |
| SEO Tutorials | ✕ | ✓ | ✓ |
| Sell Online | ✕ | ✕ | ✓ |
*Billed annually; Pro renews at $10 per month, Plus renews at $15 monthly after the first year
**Billed annually $5 each month for six months, then $20 a month
Want more details about all that's included? Find out more about IONOS' pricing and plan details and how to use the site editor in our write-up of the best drag-and-drop website builders for small businesses.
Blogging With IONOS
Similar to other all-in-one small business website builders, starting a blog with IONOS is as easy. Sign up for a plan, choose a template, and get to work customizing it with the colors, fonts, and images that work for your site.
Like Weebly and HubSpot, the site editing interface is section based (vs drag-and-drop with Wix), and you'll use widgets to add various items to your pages and blog posts. You'll also get native email marketing tools, making it easy to build a loyal readership and following.
Some of the blogging features that make IONOS one of the best platforms for blogging include:
Royalty-free images: Bloggers publishing frequently often have to purchase subscriptions to sites that offer images for websites. However, IONOS blogging plans include a library of over 17,000 royalty-free images and graphics, saving you even more money on top of offering a cheap blogging platform.
Success consultant: All IONOS site builder customers get access to a success consultant, which sets it apart from all competitors as a service unique to this platform. Your consultant can help with optimizing your site, explaining features and apps, and helping you get maximum value from your blog.
Personalized site visitor experience: Personalized content allows you to improve your ability to generate site visitor engagement, generate subscriptions and leads, and grow sales. For example, your site can be set up to display specific pop-ups to returning vs new site visitors, at various times of day, and also depending on other factors, such as if they came to your site from Google or clicked through from an email newsletter.
Integrated email marketing: Built-in email newsletter tools make it easy (and cheap) for you to send out an email to let your followers know when you publish new content, add new products or services, or have a major announcement to make, such as the release of a new book or an upcoming event.
Our Expert Opinion
If you're looking for a cheap blog platform, IONOS is our top recommendation. Your plan comes with all you need to get online and start building a following quickly and affordably. This extends to sites that want to sell merchandise online or use a blog to generate sales for an online store as well. Plus, its SEO tools and your personal consultant help you maximize your return on investment.
Weebly: Best Blog Website Builder for Those Selling Merch & Ecommerce Businesses
What We Like
Most affordable way for bloggers to sell merchandise online
Free-forever plan to start with, including robust ecommerce for physical products
Choose your preferred template using the Weebly editor (for personal sites) or save time by opting for the Square Editor and customizing your site's visual elements
Square Online editor makes it easy to get an ecommerce blog website up in as little as 30-60 minutes
Third-party apps to extend your site's functionality with any paid plan
What's Missing
Not the most intuitive or customizable site editor, unlike Wix
Less advanced SEO than Wix, HubSpot, or IONOS
First paid plan ($6 per month) still displays ads
Limited support in low-tier plans; all IONOS plans come with personalized support
Key Features
Unlimited storage with ad-free plans
Except for the Personal plan, annual paid plans include a free domain the first year and free SSL security
Publish a blog and sell online completely free if you need to
Cost
Free plan (Weebly subdomain and ads)
$12 per month billed annually, or $16 monthly for an ad-free blog and to sell digital products (subscriptions, membership, downloads, and so on)
Weebly comes with a lot of ecommerce features at a very low price (even free). This makes it a good value compared to other site builders for bloggers who plan to sell products online. If you're on a super-tight budget, you can create a free blog and ecommerce website and only pay for payment processing.
However, the free site doesn't let you use your own domain (unlike HubSpot) and displays Weebly and Square ads on your site. When you're ready to put your blog online, skip the $6 Personal Plan as it still displays ads, and opt for the $12 per month ad-free Pro plan. With the Pro plan, you'll get a free domain as well as access to the Weebly editor's third-party apps.
Weebly is the best blogging platform for ecommerce businesses looking to drive sales through content marketing and influencers planning to sell merchandise, and it's easy to use. Learn more in our article showing how to set up a Weebly ecommerce store online in just a few simple steps.
Weebly Pricing & Plans
Weebly's free plan is far better for ecommerce than most free website builder plans, but your blog will perform better if you upgrade to a paid plan. You'll be able to get a free domain for your blog and remove Square and Weebly branding. However, if you want to sell memberships, subscriptions, or digital products like downloads, you'll need the highest-tier Performance plan.
| Weebly Plan | Free | Personal | Professional | Performance |
| --- | --- | --- | --- | --- |
| Monthly Cost* | $0 | $6 | $12 | $26 |
| Storage | 500MB | 500MB | Unlimited storage | Unlimited storage |
| Free Domain & SSL | SSL only | SSL and connect a domain only | ✓ | ✓ |
| Ad-free | ✕ | ✕ | ✓ | ✓ |
| Connect a Domain | ✕ | ✓ | ✓ | ✓ |
| Apps/Plugins | ✓ | ✓ | ✓ | ✓ |
| Post Scheduling | ✓ | ✓ | ✓ | ✓ |
| Monetize With Google Ads | ✓ | ✓ | ✓ | ✓ |
| Sell Online | ✓ | ✓ | ✓ | ✓ |
| Memberships/Subscriptions | ✕ | ✕ | ✕ | ✓ |
*Billed annually, or pay monthly at a higher rate
The cost to sell digital items, including memberships and subscriptions, is roughly equal whether you choose Wix or Weebly, just $1 difference in price. As such, we recommend Wix for those wanting to sell digital products.
Wix is the easiest blog platform for beginners to use and its ecommerce features and inclusions at this tier are significantly more robust. For example, Wix's ecommerce plan comes with appointment booking tools and features for artists and events that you can only get with Weebly through plugins.
Blogging With Weebly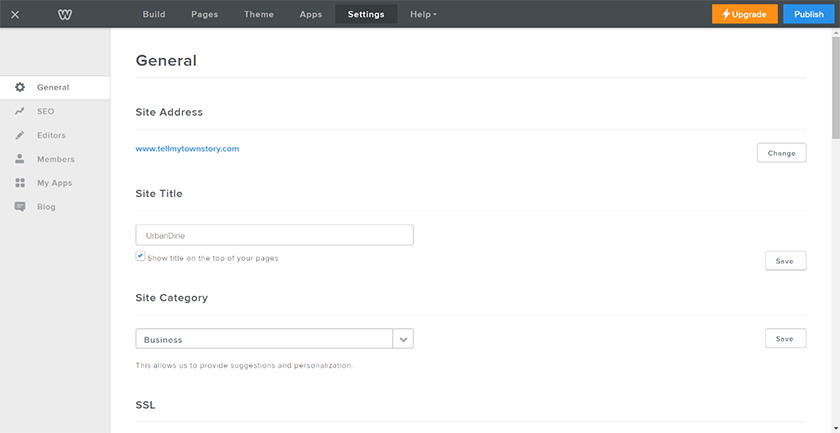 ---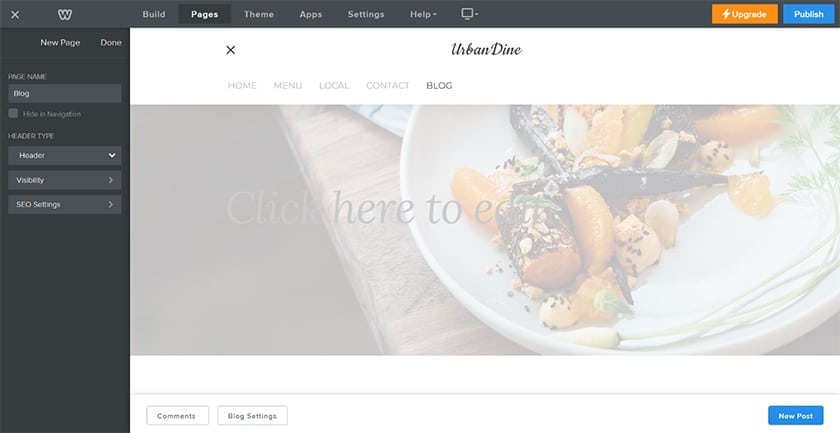 ---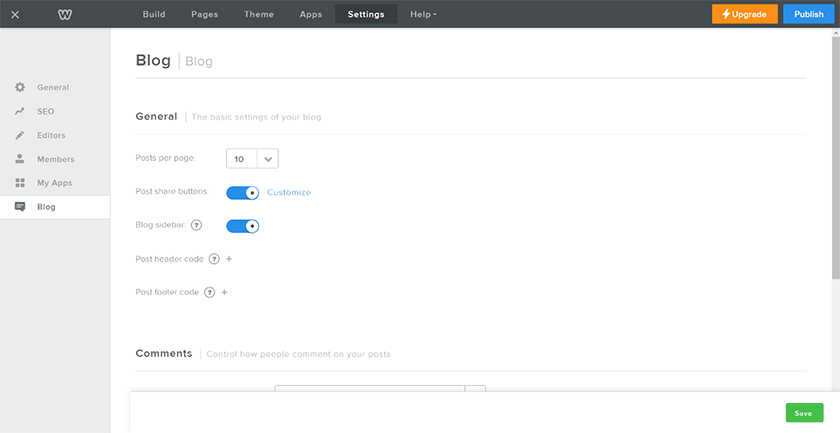 ---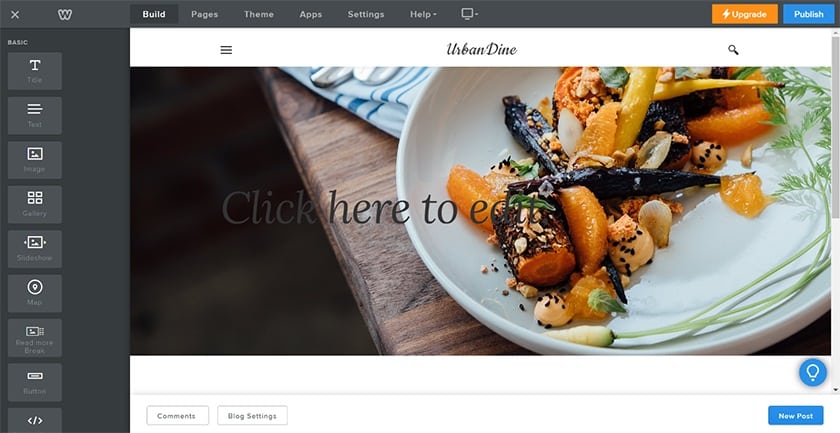 ---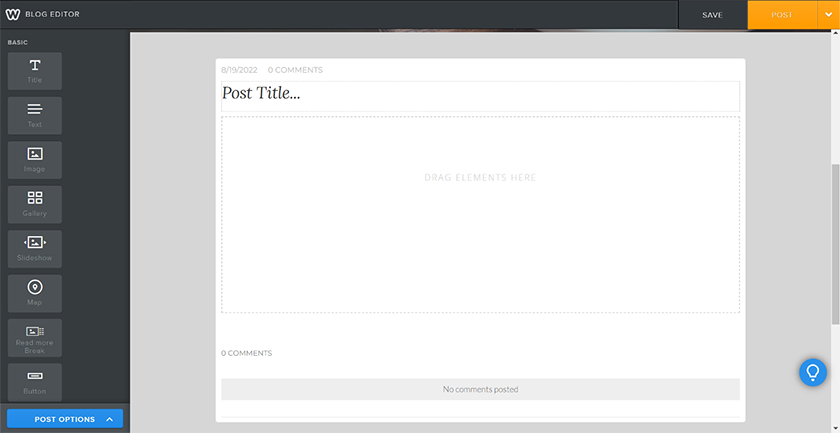 ---
You'll have two avenues for blogging on Weebly: using the Weebly editor (for personal sites) or the Square Online editor for ecommerce. It's easy to set up ecommerce on your Weebly blog as the payment processing tools of its parent company, Square, are built in to the site's features and functionality.
The Weebly editor makes it easy to build a small business website to host your blog. Weebly enables users to create and build their own websites without any prior coding or design experience. It has a simple, clean editing interface that lets you customize your chosen template. Read along step-by-step on how to build a Weebly site to see how easy it is.
Elements such as text boxes and image galleries are easy to drag onto your page from the sidebar. To update the text in your chosen text box, simply click the box and type. You can also drag and drop your chosen media icon anywhere on the blog site. You can choose to add videos, buttons, and more.
Adding a blog to your site if you're using the Square Online editor isn't as straightforward. You'll need to click in the top bar to add a new page, then scroll all the way down (and potentially click to open "More options" to get to the Stories Overview). Stories are the equivalent of blog posts with Square Online.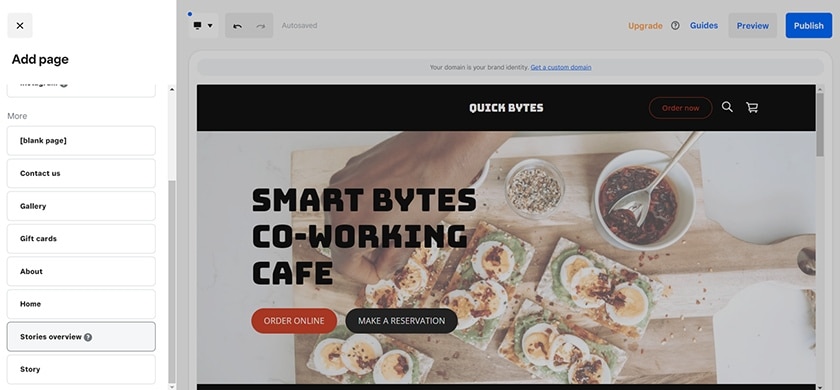 ---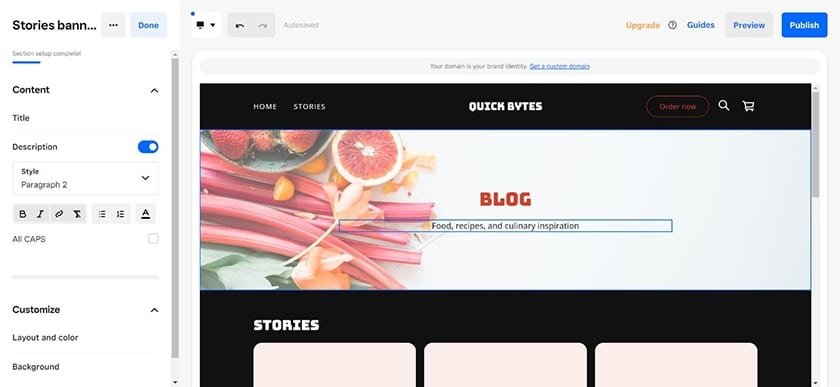 ---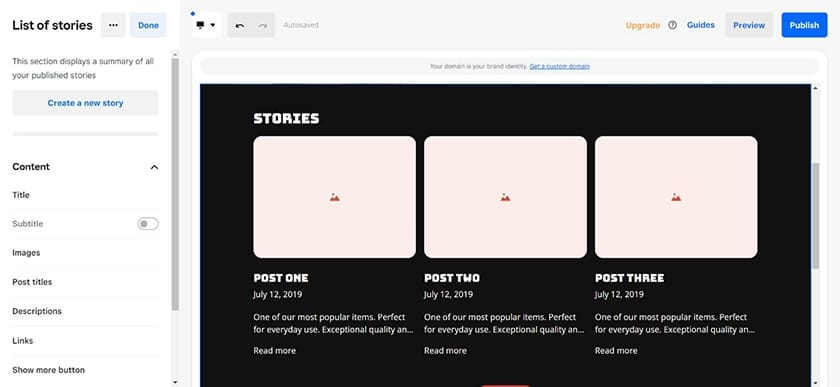 ---
You can automatically add "Stories" to your main navigation menu when setting the page up, but, unfortunately, you can't change the word "Stories" to "Blog" (or anything else). Once you've added this page, you can customize the header to an extent, and customize how your stories will appear on the page. We showcase the steps of how to use the Square Online editor in our article on how to create a restaurant website.
Weebly offers a wide range of features and different types of site editing experiences to choose from, which gives users a lot of flexibility in making a small business website. Bloggers will love using these Weebly features:
Monetize with Google Ads: If you're using the Weebly editor for blogging, you can monetize your site with Google Ads easily. Simply drag the Google AdSense element under ecommerce to any page on your site. You'll then be prompted to create a Google AdSense account or connect your existing one. We don't see an easy way to monetize your site with ads using the Square Online editor, so if you want Google Ads on your site, be sure to set your site up using the Weebly version.
Sell memberships, subscriptions, and online courses: You can sell courses as digital products with a subscription to the most expensive Weebly plan. Also, any page of your Weebly site can be set up for member-only access. You can change the visibility of chosen Weebly pages so that they are password protected, or so that only certain members or groups can see those pages with your online courses.
Sell products online for free: If you're starting a business blog with the idea of selling physical products, you can do so for free with Weebly. Granted, you'll need a paid plan to fully incorporate your own branding on a custom domain name, but it's still the most budget-friendly option for ecommerce bloggers.
Weebly Blog Example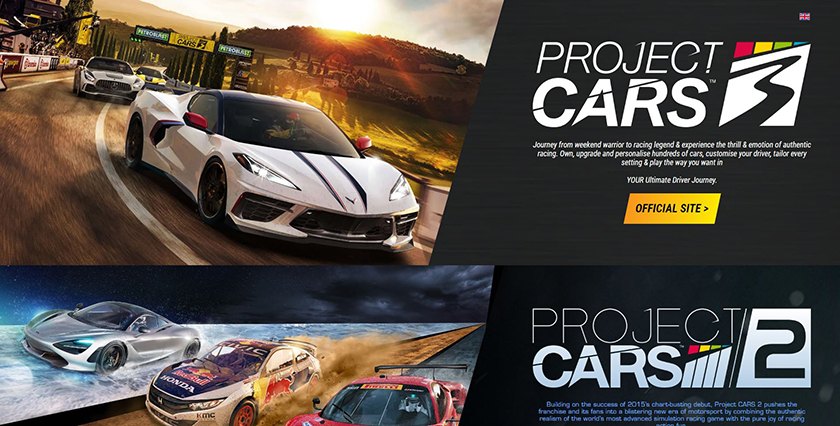 Project Cars is a video game series produced by Slightly Mad Studios. The site is built on Weebly and includes lots of visual elements, a blog, and an online store that sells digital and physical copies of the games. The domain authority of the site is 58. It enjoys more than 115,000 site visits monthly, and has earned more than 191,000 backlinks.
Our Expert Opinion
For the best way to build a blog with an online ecommerce store, choose Weebly. Upgrade to a paid plan to unlock more features and storage. However, Weebly isn't as easy to use as Wix, and its SEO features aren't nearly as advanced as the other options. So if getting found online or a custom site design is important to you, we recommend one of the other blogging platforms listed here instead.
Bluehost: Best Way for Beginners to Start a WordPress Blog
What We Like
No-code WordPress page builder and free templates come in all plans
Easiest way to build a WordPress blog or website
Tens of thousands of free and paid plugins for virtually limitless blog functionality
Most popular blog platform, even if not the easiest to use
All-in-one plans for blog hosting with a free domain, SSL, and email addresses on your domain
What's Missing
You'll need to maintain your site and update plugins and themes over time
Apps, themes, and security can get pricey
WordPress plugins aren't vetted, so may not be compatible with your site
Key Features
WordPress is a free open-source CMS, but you'll have to register a domain, get web hosting, and pay for premium themes and plugins
Bluehost offers all-in-one plans with all you need to start a blog on WordPress, including a no-code page builder that significantly reduces your learning curve
Cost
$2.95/month the first year (renews at $9.99) for 1 blog site, a free domain, SSL security, and up to 5 emails on your domain
$9.95/month for an ecommerce-ready blog (renews at $24.95 after the first year for a blog with online store and unlimited email accounts)
WordPress is the most popular content management system (CMS) for bloggers. However, if you're just starting out, it's far from intuitive and requires a lengthy learning curve just to get your site up. For this reason, we recommend that those wanting to start a blog on WordPress opt for a plan through the top WordPress-recommended hosting company Bluehost.
Bluehost Builder plans come with all you need to start a blog on WordPress, including hosting, a free domain name, free SSL security, and email addresses on your domain. Best of all, plans come with the Bluehost Builder, a dedicated WordPress page builder that allows you to quickly build a website, code-free, similar to all-in-one site builders like Wix.
It won't be quite as easy to maintain as a Wix site, however. With WordPress, nearly all functionality, including security to protect from hackers, which is essential, requires the use of plugins. There are over 55,000 plugins available for WordPress, but you'll have to vet each one separately, including ensuring it's up to date and compatible with your version of WordPress and your theme. For more details, read our list of 30 WordPress tips and tricks.
WordPress Pricing & Plans With Bluehost Builder
WordPress is a free CMS, but that doesn't mean you can host a blog or build a website at no cost. You'll have to buy a domain ($12 to $15 per year) and get web hosting (approximately $3 each month and up) to use WordPress, and may need to spend around $100 or more for a premium theme or WordPress page builder—just to get started.
WordPress via Bluehost Plan

Basic

Pro

Online Store

First-year Monthly Cost*

$2.95

$9.95

$24.95

Renews At

$10.99

$14.99

$24.95

Unlimited Storage

✓

✓

✓

Free Domain, SSL & Email Addresses

✓

✓

✓

Ad-free

✓

✓

✓

Connect a Domain

✓

✓

✓

Apps/Plugins

✓

✓

✓

Post Scheduling

✓

✓

✓

Monetize With Google Ads

(via Plugin/Code)

✓

✓

✓

Ready to Sell Online

✕

✕

✓

Memberships/Subscriptions

✕

✕

✓
*Billed annually, or pay monthly at a higher rate
Get the complete breakdown of how much WordPress really costs, then choose a top WordPress recommended plan through Bluehost.
WordPress Blogging Features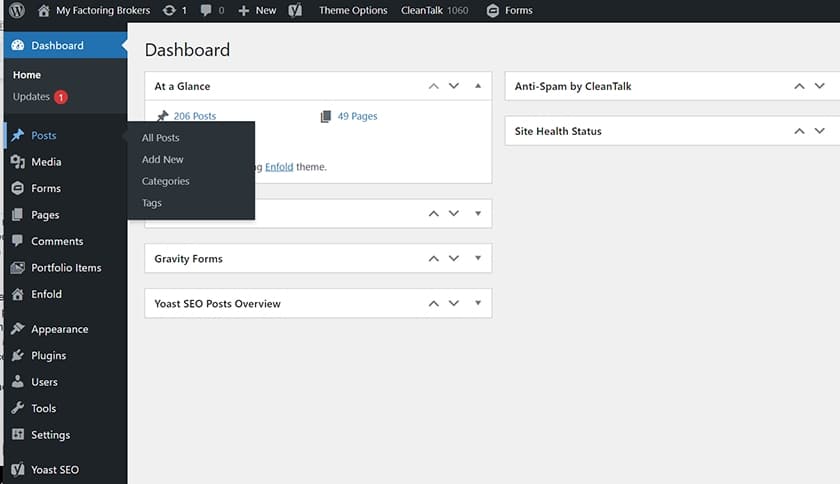 ---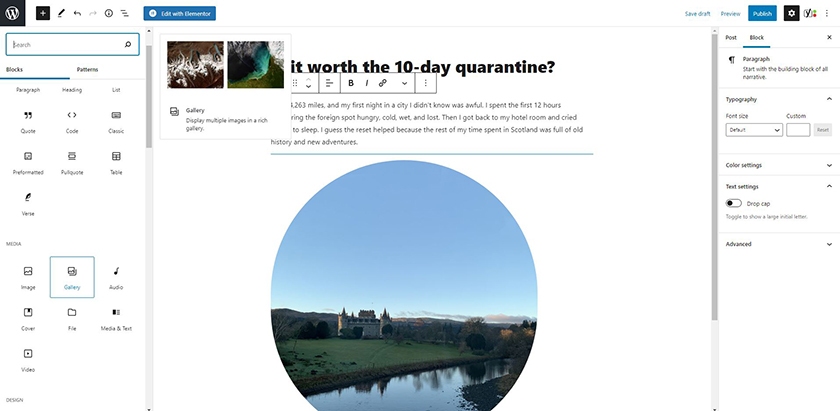 ---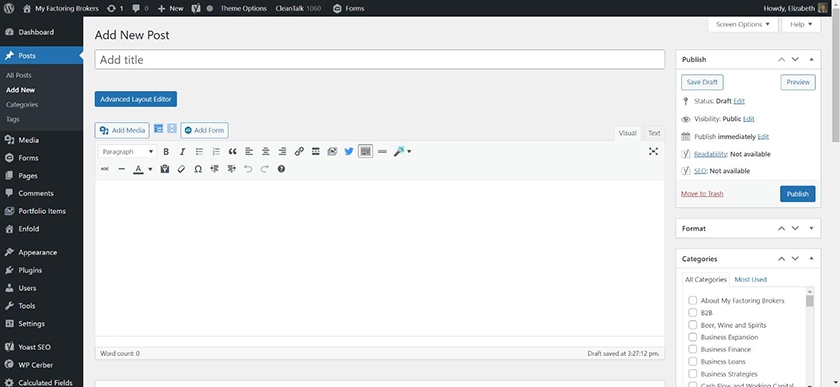 ---
WordPress is not the most beginner-friendly platform, so building a quality blog website with WordPress entails a learning curve. Check out the full breakdown of how to make a WordPress website.
Your blog section is ready to go with WordPress, and you can access it from your dashboard or add a new post by clicking the +New sign in the top bar or "Posts" in the left-hand side menu of the dashboard. Like many other site editors, you can save drafts of blog posts, publish posts immediately, or schedule posts.
Using plugins, you can connect sign-up forms to build your email marketing lists, connect your social media accounts, and monetize your site with Ads. You can also easily create landing pages and add a contact form plugin to produce conversions for lead generation, or add WooCommerce to your site for free to sell online.
Whether or not WordPress is the best platform for blogging for you comes down to a few key factors. First, do you have the time and know-how to learn how to use WordPress? While you can build your site code-free with Bluehost's website builder, to monetize your site and add the other plugins you'll need (e.g., security, SEO, and so on), you may need to know how to embed code and configure third-party apps.
Second is cost. A plan from Bluehost will set you up to get started, but won't include a security plugin, automated backups, and other plugins you might need depending on the features you want. WordPress.org is technically free to use, but you'll have to purchase a web hosting plan with a domain and SSL security, which can run anywhere from $130 or so a year and up (after introductory pricing).
Third is site maintenance. With WordPress, each time you log in you may find that it's time to update a plugin, your theme, or WordPress itself. And with each update comes the potential for site issues. Alternatively, you can end up with maintenance issues because you're not regularly updating plugins or one that you're using is no longer being maintained or is no longer compatible with WordPress (or your theme, other plugins, and so on).
For most people and small businesses looking to earn money or build influence by blogging, a website builder like Wix is the best choice. It's easy to monetize in multiple ways, offers a 100% no-code blog-building environment, and has the SEO features your blog needs to get found online. Our guide on how to start a business blog can even help you grow your readership and brand online in a few simple steps.
WordPress Blog Example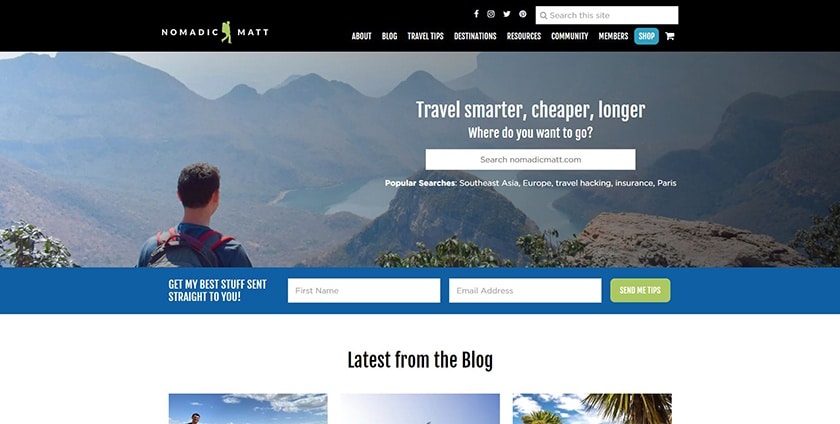 Nomadic Matt is one of the most popular travel blogs in the blogosphere. It has a high 76 domain authority score with about 2,000 high-quality backlinks. The blogger built his audience to nearly a million visits per month, and he monetized it by creating e-books, courses, and affiliate marketing.
Our Expert Opinion
WordPress is the world's most popular web content management system (CMS), but it's not the right blogging platform for everyone. It's best for those with unique or complex blog feature requirements and who have some web design and coding experience (or the time to learn). For this reason, we recommend Bluehost Builder plans as the best option for beginners wanting to start a blog on WordPress, as all-inclusive plans come with a no-code WordPress page builder.
Medium: Best Free Blogging Platform for a Pre-established Audience
What We Like
Easy and free to use
Access to a large audience
No tech knowledge needed
Get paid for blogging (when you build an audience)
What's Missing
Lots of competition
Don't own your blog
What You Should Know
One of the most popular third-party blogging platforms
Popular blog platform for business leaders looking to build influence
An effective way to build brand awareness and drive traffic back to your own website and blog
Bloggers looking to gain access to an established audience should try Medium. Unlike professional blogs that require your own domain and site setup, you can get started right away with Medium at no cost and with no technical experience required. It's a good choice for bloggers looking to become thought leaders and developing a writing portfolio, and there's an opportunity to get paid through its Partner Program.
In fact, the only monetization opportunity with Medium is via its Partner Program. If you're looking to sell online or earn commissions through ads or affiliate marketing, it's not ideal. Instead, use Wix, which has a wide array of monetization opportunities, as well as built-in marketing tools to help you build and increase your readership.
One of the best uses of blogging on Medium is as a supplementary content marketing strategy. In other words, you're already publishing content regularly on your own domain and will blog on Medium to reach more audience members, build brand awareness, and drive readers to content on your website.
Another reason to blog on Medium is to establish thought leadership. The Medium ecosphere encompasses many types of topic-related publications where you can leverage your expertise to build brand and personal authority with your audience and in your industry.
Medium Pricing & Plans
Medium is free to use. You will have to set up an account to get access to the stories on Medium or blog on it, but you don't need to pay anything.
Medium Blogging Features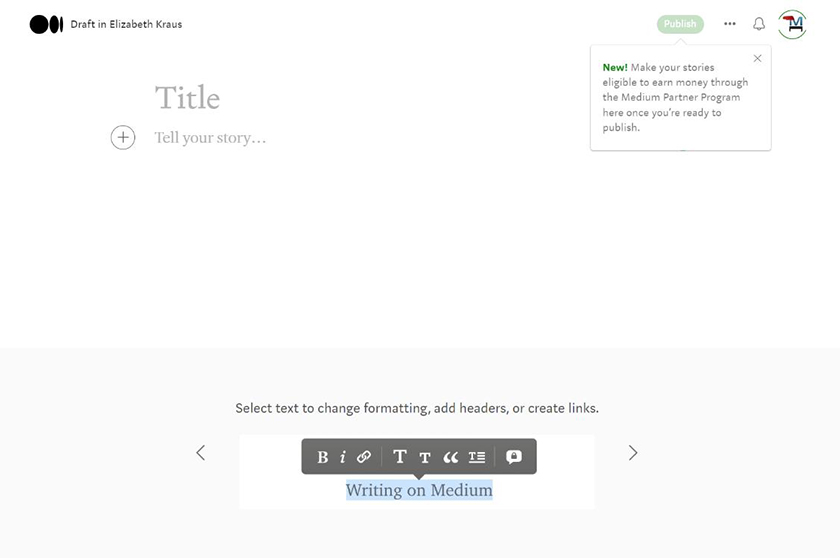 ---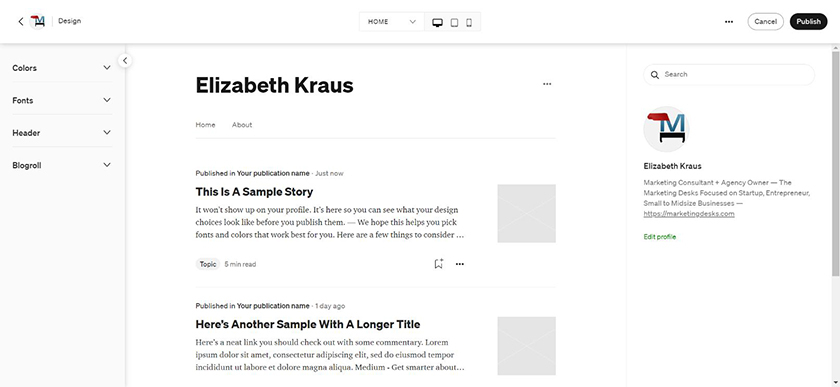 ---
Medium is a third-party blog platform exclusively for blogging. It's as easy to use as most word processing software—simply click on the page and start writing. You can also add images, videos, and embed links. The uncluttered editor helps keep the focus on what Medium wants: the stories. Many use Medium to promote their actual blog, social media, or articles published on other sites.
Medium Blog Example
It's hardly fair to share the domain authority here because it doesn't belong to Amardeep Parmar's blog—the 95 domain authority score belongs to Medium. Still, the blog we're highlighting here has 67,000 followers and includes a link back to his website and entrepreneur's handbook for achieving dreams without burning out.
Our Expert Opinion
Medium is a great choice for bloggers who just want to blog. It's also a good pick to help you build a following. You can create a newsletter, link out to posts you publish on other sites, and you can even make money through the partner program. It's free to use and super-easy to get started.
Best Blogging Platform Honorable Mentions
Of course, there are many blog options out there, and we can't include them all in this guide. If you're looking for something more specific for your blog journey, consider some of these other picks. They're excellent choices as far as content platforms, but may be more niche or better to use in combination with your own self-hosted blog website:
Squarespace: Squarespace is often included in "best of" website builder lists, but membership features require purchase of an add-on and selling subscriptions requires its most expensive plan, unlike with Wix or Weebly. Likewise, email marketing is an add-on with Squarespace, whereas IONOS and HubSpot have native email marketing tools you can use for free. There is also no easy way to monetize your blog with Ads among Squarespace extensions. So while it's a great all-around site builder, it's not among our top picks for blogging.
LinkedIn: LinkedIn is a social media platform that allows users to blog on its site. But links back to your website are no-follow, and your audience is fairly limited to your own network. So unless you're able to publish and grow a large following on LinkedIn, like Medium, it's perhaps best used as a supplemental content marketing tool.
GoDaddy: GoDaddy's website builder is very easy to use, and even in the free version you can connect to and post to social media accounts, which is a helpful feature for bloggers. However, GoDaddy sites are limited to 50 pages, which isn't adequate for most blogs.
Tumblr: Tumblr is well-known for blogging, but it doesn't offer enough support for bloggers who want to monetize.
Drupal: Like WordPress, Drupal is a free, open-source CMS, but it's a bit more complex, so it isn't suitable for someone who's just starting a blog.
TikTok: This short-form video app is a great platform for businesses that want to humanize their brand and connect with their audience. With TikTok's creative tools, you can create engaging and informative videos that will help your business stand out from the crowd.
Instagram: Instagram can be used as a visual-first micro-blog due to the character limitations on posts. It is most effective for influencers who have built fairly sizeable followings, and more so for direct-to-consumer brands such as lifestyle, food, and travel blogging.
Whether you only want to create a blog or you want a site with an online store, one of your best avenues is an all-in-one solution. Most of the best website builders are a great start for any blogger. Grow your brand presence online by making a small business website in seven steps.
Frequently Asked Questions (FAQs)
What is the best blogging platform for SEO?
Not only do we name Wix as the best blogging platform and easiest to use, it's also the best website builder for SEO. It automatically compresses your images for fast site loading and applies schema markup to make it easier for search engines to properly index your site. There are site and page-level optimization settings, and you can monetize your site in multiple ways. Start for free to see if it will work for you—try Wix today.
What are the best free blog platforms?
The best third-party blog platform is Medium, but it's not the best way to start a blog that makes money. If you want to sell online, Weebly is the best free blog hosting site, whereas Wix and HubSpot make it easy to integrate display ad networks and have strong SEO features to ensure your blog gets found online. Keep in mind, though, that with HubSpot, you can blog for free on your own domain but you are limited to 100 posts before you'll need to upgrade.
Which blogging site is best for beginners?
Wix is the easiest blogging tool for beginners. You can leave it up to Wix's artificial design intelligence (ADI) to build a template for you based on onboarding questions and then customize it with intuitive design tools and easy-to-integrate features and apps. Wix also has built-in guidance to help beginners build a site and optimize it for online search. Learn how to use Wix step by step in our site builder tutorial.
Bottom Line
Wix is the best blogging platform if you want an all-in-one, easy, scalable solution. You'll get everything you need to get started. Depending on the plan you choose, there are features that will help you rank your content, get users to subscribe to email lists, and boost ecommerce sales for whatever products or services you sell.
You Might Also Like…