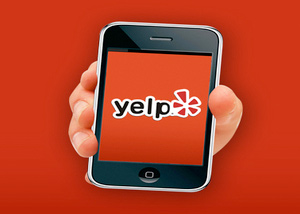 In today's article we are going to discuss Yelp for business, and give you everything you need to know to start marketing your company on Yelp.com today!
Click Here to get our FREE Google advertising guide and discover the 6 steps you can use to show up #1 in Google search
Step 1: Analyze your current Yelp situation
The first step to Yelp Marketing is to search Yelp for your business, and see what shows up.   Even if you have not setup a page for your business on Yelp, one of your customers may have done it for you.  You will likely have one of three outcomes here:
No listing or listing with no reviews.
Listing with reviews and a positive overall rating (Above 3.5 stars)
Listing with reviews and a negative overall rating (below 3.5 stars)
Assuming there is already a Yelp page for your business, then you will also want to do a google search for your business name, and see if that page is showing up in Google's search results.  If it is then you also want to take note of how highly the Yelp page is ranking in Google's search results.
Step 2: Decide on a Plan of Attack
If your business is already listed in Yelp and has a lot of solid 4 and 5 star reviews, then you are going to want to do everything you can to boost the visibility of your profile on both Yelp and other search engines like Google.
If your business is listed and has a lot of negative 1 and 2 star reviews, then you are going to want to try and reduce the visibility of your Yelp page, until you can get your overall star rating up.  We show you how to do both in the steps below.
If your business is not listed, or is listed but doesn't have any reviews, then the call on whether or not you want to try and get reviews and boost your Yelp page's visibility is going to depend on two things:
Whether or not you have happy customers.  If you do not get compliments during your normal day to day of doing business, then you are unlikely to get positive reviews on Yelp.  Therefore you should not try and boost your Yelp page visibility.
Whether or not customers look for you on Yelp.  If you have happy customers then how much time you want to invest in Yelp is going to depend on how often your potential clients use Yelp when searching for businesses like yours.
While there is no way to know this exactly, we can get a good idea by looking at the percentage breakdown of reviews that Yelp has for different business categories below:

Source: Yelp 10K Report
As you can see from the above chart, if you are a restaurant or shop owner, then regardless of what you found in step 1 of this guide, a lot of your potential customers are using Yelp, so you need to pay a lot of attention to Yelp as well.
Step 3: Claim and/or Setup Your Yelp Profile
If your business already has a profile, then you can claim it and begin the profile setup process here.  If your business is not already on Yelp, then you can set your profile up from scratch here.
Setting Up Your Profile to Maximize The Visibility of Your Yelp Page
To get your Yelp page to rank as highly as possible when people search businesses that offer the types of products and/or services you offer, you want to make your profile as complete as possible.  This means:
Making sure your business name and address information is filled out correctly and follows the exact same format as you use on your website and other sites like your Google Plus and Facebook Page.
Adding at least 5 Photos to your profile (location, staff, menu items etc.)
Filling out your business hours
List all relevant categories for your business.
Give a detailed description of the business and the business owner, keeping in mind keywords that customers use when searching for your business.  This process is exactly the same as I outline in step 2 of how to rank your small business website in google.
Offer a discount on your page.  Users often filter Yelp search results for pages which offer discounts.
Setting Up Your Profile to Minimize the Visibility of Your Yelp Page
If you fall into the category of needing to work on your business before you increase the visibility of your Yelp page, then you want to do the exact opposite of the above.  This means reducing the amount of information and keywords on your Yelp page.  If you fall into this camp then you can stop reading here.
Step 4: Beat the Yelp Review Filter
Now that your business page is all set up the next thing you are going to want to do is start getting some positive reviews.  The natural inclination here is to ask your friends and family to sign up for a Yelp account and leave some positive reviews of your business.  The problem here is that Yelp has a pretty sophisticated algorithm that decides what reviews are posted on your page, and which reviews are filtered off the page.
Here is a list of the types of things that triggers Yelp to filter a review which I took from this article by Trevor Sumner from LocalVox.com.
someone who has only written 1 review
someone who has no profile info (profile photo, additional info, link to Facebook, etc.)
Reviews strongly slanted both positively and negatively
Reviews are short and lacking details
Reviews from a location other than where the business is located
Here is a great list of how you can make the profiles of your friends and family look legit which I got from this video by Brian Patterson at GoFishDigital.com.
Complete all the information on profile and upload a profile photo.
Link Yelp profile to their Facebook account
Leave a few positive and negative reviews for other businesses before reviewing your business.
Add friends
Download the Yelp Mobile app and Use the "Check In" feature
Assuming you have your own Yelp profile and have followed the above steps (minus reviewing your own business which will be obvious to Yelp and could get you penalized) then do the following to your friends and families to make their Yelp Profiles look more legit:
Friend them
Follow them
Like their reviews
Send them a message in yelp.
Keep in mind that you don't want to get too many reviews all at once as this will look unnatural to Yelp.  If you do not have any reviews currently, then 3 to 5 a month is plenty at first.  Also the Yelp filter is constantly updating so reviews that are filtered may become unfiltered as Yelp sees those profiles as more legit and vice versa.
Lastly, make sure you never try and pay for reviews, for more on why go here.
Step 5: Get Yelp Reviews Naturally
By far the best way to drive customers to your small business using Yelp is for them to come in naturally.  Here is a comprehensive list of ideas on how to do just that:
Post a Yelp badge linking to your Yelp Business Page on your website
Print out and frame your best Yelp reviews and position by your cash register or other places where customers are likely to see them.
When someone pays you a compliment in person or via another method, ask them to review your business on Yelp.
Reach out to people who have left positive reviews in other places such as your Google plus page, and ask them to leave a review for you on Yelp.
Add a "find us on Yelp" link to your email signature.
Send an email to your email list letting your subscribers know you are on Yelp.
Do the same on your social media accounts such as Facebook, and Google Plus.
Create a Yelp Deal
If you have a bar or restaurant contact your local Yelp elite community manager and ask them about hosting an event.
Offer customers Free wifi and send them to your Yelp page by default when they login.
Step 6: Deal With Your Negative Yelp Reviews
No matter how good your business is, you are bound to have an unhappy customer or two.  Keep in mind that If you deal with negative reviews quickly and in the proper manner then you have a chance at getting the reviewer to revise or remove their review.
Here is how to do that:
Do not get angry and into an argument with the person who left the review.  While you may be in the right, this will do nothing but fan the flames.
If the customer leaving the negative review has a legitimate complaint, respond to the review publicly on Yelp, apologizing for the problem and state what you are doing to improve so it does not happen again.
Once you have responded publicly, message the person privately, apologize again and offer them something like a meal on the house.
If the person responds and seems happy with the resolution, then ask them if they would either alter or remove their review.  If they do not respond do nothing else.
If a customer attacks your establishment with a negative review that has no basis then do not respond as this will simply fan the flames.
Check and see if the review violates Yelp's content guidelines.  If so then you can login to your business account, click "view reviews" and then flag the review for removal.
If you follow this plan you should put your business way ahead of your Yelp competition.  If you have questions which were not answered in this guide please leave them in the comments section below, we respond to all comments personally. Also be sure to stay read the next article in this series where we talk about mobile marketing.
More Great Articles on Yelp:
Bright Local: Their 2013 Consumer Review Survey.
Local Visibility System: Yelp Ranking Factors
Bosshi: Why Yelp Sucks, A Yelp Survival Guide
Click Here to get our FREE Google advertising guide and discover the 6 steps you can use to show up #1 in Google search