Local Citations for SEO: What They Are & Ways to Build Them
Local citations are online mentions or references that include your business' name, address, and phone number (NAP) and are an important element of local search engine optimization (SEO). When you build local citations for SEO—whether through online business directories, news, or blog post mentions—search engines assume your business is legit. This helps you rank higher in local search results and increase sales over time.
The Role of NAP in Local Citations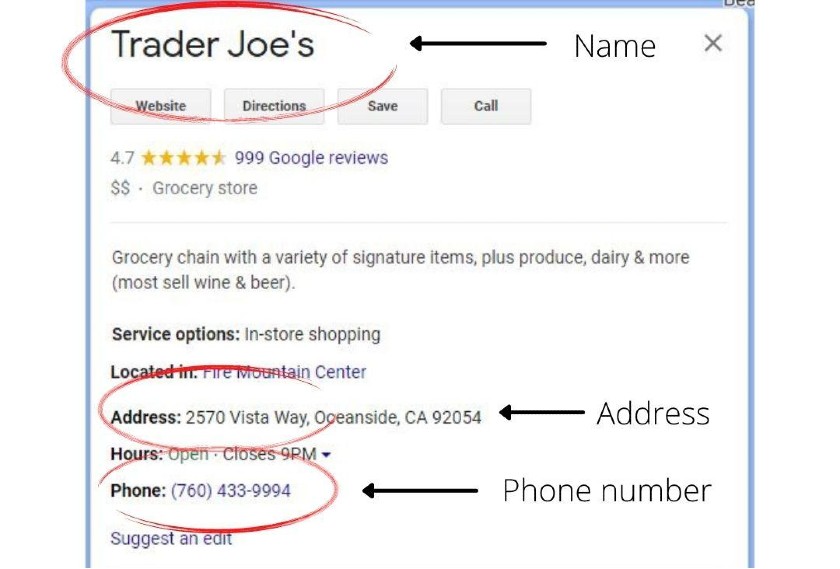 NAP stands for name, address, phone, and it matters in local SEO because your NAP needs to be consistent across every citation online. Businesses whose listings are inconsistent or conflicting (such as two different phone numbers or two different addresses) are less likely to be considered quality search results by Google and other search engines.
As simple as it sounds, NAP also involves your website URL, hours of operation, email address, and even services offered. Where it gets tricky is that anyone can create business listings, so your business may have listings you didn't create—and therefore don't control. For this reason, many businesses use online reputation management services like Yext or BrightLocal to manage listings online.
Types of Local Citations
There are two types of local citations that can potentially boost your local SEO efforts: structured citations and unstructured citations.
Here are the two types of citations:
Structured: The first example we showed above is a structured local citation. They exist in online directories such as Google, Yelp, Angi, or Tripadvisor. They're usually structured in the NAP format and often include a link to the business' website.
Unstructured: An unstructured local citation doesn't follow a format because the business location or name is mentioned in context. You typically find these types of local citations in blogs, local newspapers, and other media outlets, as well as social media.
Both types of local citations are helpful for your business for two reasons. One, they can help your customers find your location, and two, they give your business more exposure to audiences that may not have known you exist or what you offer. Additionally, unstructured citations that link to websites are backlinks, which also help with your SEO.
7 Ways to Build Local Citations for SEO
Creating local citations for SEO is not nearly as daunting as it may sound, and you don't need to be an SEO expert—or spend a fortune—to do it. It's a worthwhile investment of your time that can produce long-term benefits, such as ranking higher in local search—giving your business more exposure and potentially a lot of new customers for years to come.
Here are seven ways to build local citations for SEO:
1. Add Your Business to Online Directories
It's free and easy to add (or claim) business listings online. Start with the best online directories and those which are the most relevant to your business. For example, a restaurant definitely needs to add a local citation on Yelp and Tripadvisor. A lawn service likely wants to add its business information to Angi. And on the other side of that, if you own a coffee house, your business probably wouldn't benefit from a listing on Zillow or Care.com.
Here are some of the most important online directories for local businesses:
When creating new listings, first check to see if your business already has a listing. Even if you know you haven't already created one, you may find that someone else has. In this case, you could then claim your listing, which will give you control over it.
Did you know? A study by BrightLocal found that the highest-ranked local business had an average of 85 citations. While you may not want to manage dozens of directory listings, the more accurate local citations you have, the better you will likely rank.
2. Submit Your Local Citations to the Top Aggregators
Have you ever searched for online directories for local businesses? The number of results is enough to put anyone off of adding local citations manually. There are lists of hundreds, and a Google search shows millions of results. It's virtually impossible to submit listings to all the directories that exist, but data aggregators can do this for you.
The top three data aggregators in the U.S. are Express Update/Infogroup, Factual, and Neustar Localeze. Just like the top online business directories, you only need to do a search on these sites to find your business listing, claim it, and modify any incorrect information. If your business isn't there, you can submit your information. Best of all, it's free to claim or add your business to these sites.
3. Use a Brand Management Service to Build Local Citations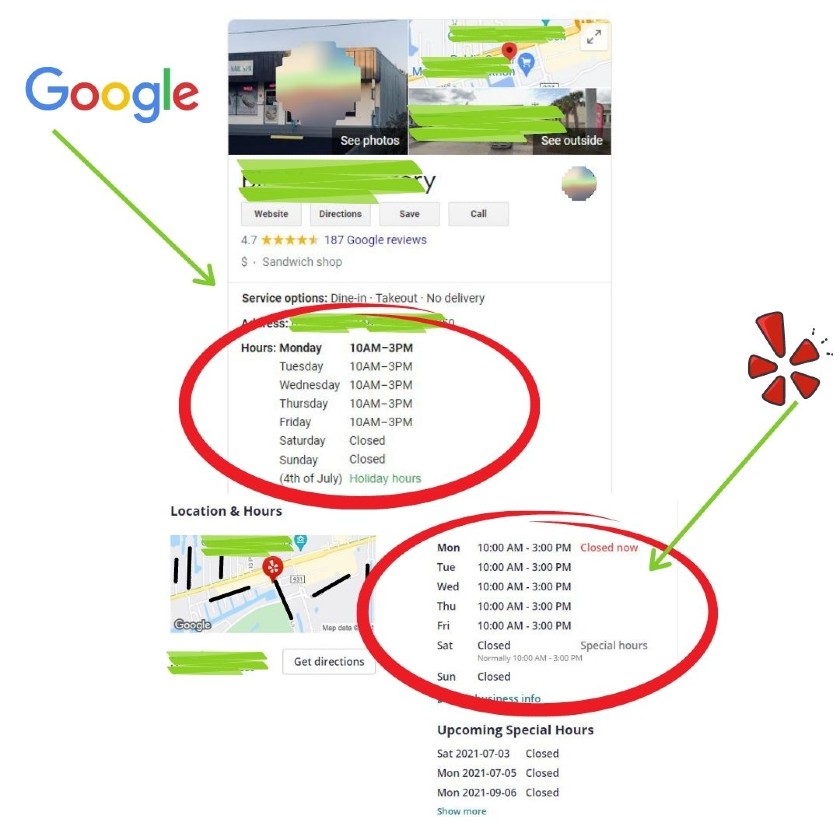 In the image above, you can see why it's important to monitor and manage local citations for SEO. The business has been changing its hours to find a sweet spot for its customers. At one point, they were open Tuesday through Saturday, and then Monday through Saturday, until finally, they settled on Monday through Friday. They updated Google, but Yelp still thinks that the business is still usually open on Saturday. This isn't only bad in terms of local SEO, but it's also bad for business as you don't want customers showing up only to find that you're closed.
Suppose you don't have time or don't want to edit, add, or monitor all of your local citations and listings. You can use an online reputation management service like BrightLocal, the leading local SEO experts. They will manage your local citations so you always have consistent information across all the biggest aggregators and online directories.
4. Optimize Your Google My Business Profile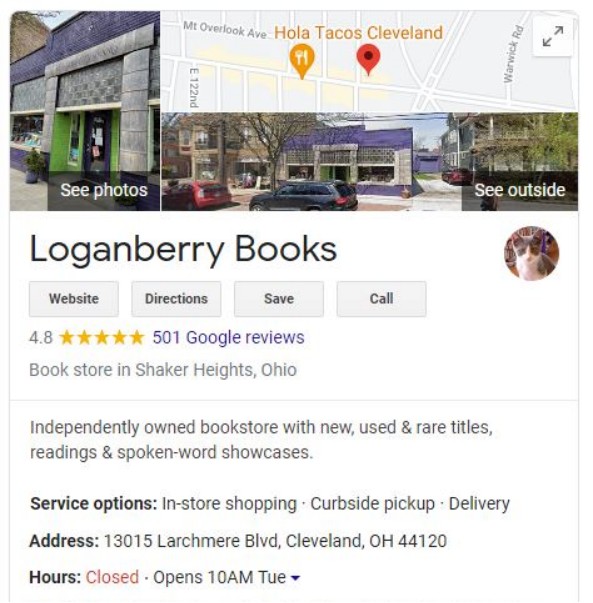 One of the most important places to have your business information (other than your own website) is Google My Business. Claiming your profile is free, and you can update it whenever you'd like. Also, you'll have access to analytics that show you how the public interacts with your profile. Ask customers to leave Google reviews for your business and interact with them by responding to reviews and answering any questions they ask. All of this can help with online visibility.
Already have a Google My Business account? Learn how to rank higher in local search reviews with these pro tips on how to get more Google reviews.
5. Reach Out to Bloggers, Journalists & Local Media
Getting an unstructured citation, such as a mention in a blogger's roundup or a review, will not only help your local SEO but can also make a lasting impression on audiences (and possibly generate more business for you).
Start by reaching out to bloggers that focus on your industry. For example, if you run a bed and breakfast (B&B) in Sedona, California, search for travel bloggers who love bed and breakfasts or local bloggers who highlight spots in their neighborhood. Then, reach out to bloggers and, say, in this case, offer them a free night at your B&B so they can experience it, and if they like it, they may write about it.
Additionally, consider contacting local (or national) media outlets with a newsworthy pitch about your business. If you're unsure where to pitch a story or worried journalists might just ignore your email, you can use a press release service. Some even offer guaranteed placements in certain publications.
6. Use Search Engine Marketing (SEM) to Come Out on Top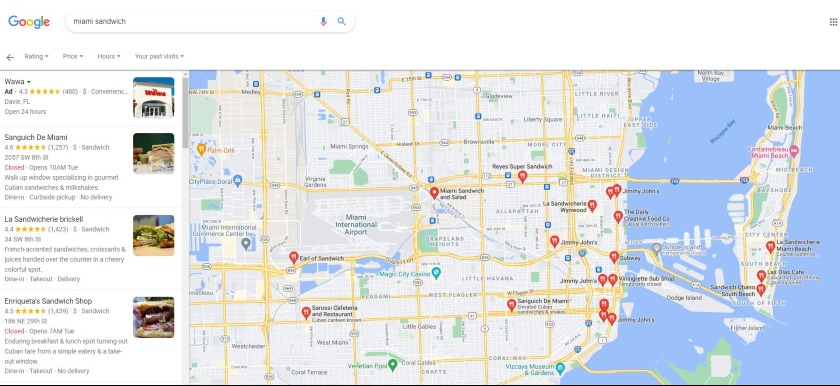 There's a huge benefit to using Google Ads or Facebook Ads to increase brand awareness. The right search engine marketing (SEM) campaign can target your ideal audience and make your ad precisely what they're looking for at that moment. There are a variety of Google ads you can purchase, including those that can position your business at the top of the map listings in local search results.
As you can see in the image above, Wawa is positioned in the top spot, above the organic local results, because it's deploying Google local ads. However, even if you use Google ads, you still have to ensure that you keep your Google My Business profile updated.
7. Get a Citation From Your Local Chamber of Commerce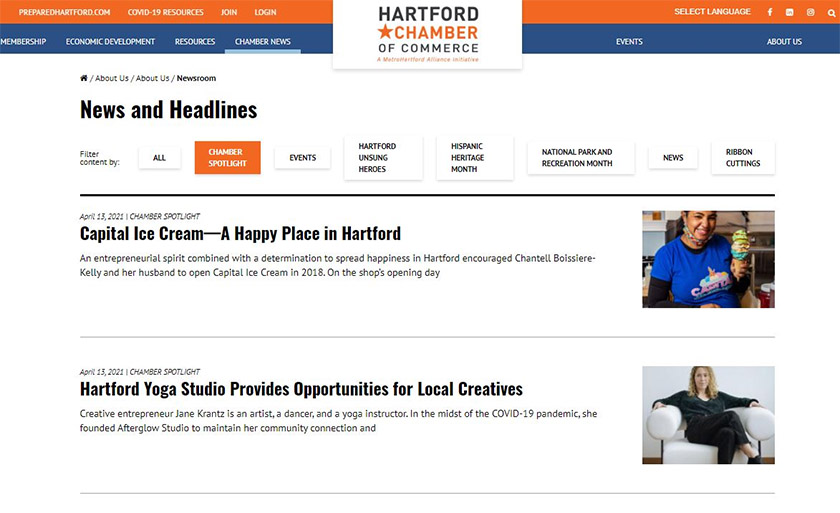 Local chambers of commerce offer membership to local businesses, and it's a great way to get a local citation for SEO. Your listing is usually added to the Chamber's website, giving you a high-quality backlink and some potential exposure. For example, the Hartford, Connecticut, Chamber offers members lots of networking opportunities, resources to help them grow their business, and articles to highlight what the chamber members are doing.
Bottom Line
Local citations are one of the many ways to help improve local SEO. This can help your business rank higher in Google search, drive more traffic to your site, and generate more sales. While it's relatively easy, landing local citations can be very time-consuming. For this reason, many businesses opt to leave it to local SEO experts to save time and more effectively boost local SEO with services such as BrightLocal.
You Might Also Like…
Looking to boost your sales and position in search results? Try these local SEO tools.
Land on the first page of search results by learning how to rank higher on Google.
You know advertising works, but do you know how much it costs? Newspaper ad costs can be surprisingly affordable.