Local citations are online listings or mentions of your business name, address, and phone number (NAP) that improve your website's search engine optimization (SEO). You can get local citations by creating a Google business page, being listed in online directories, and using managed services and platforms. In this article, we explain seven ways you can build local SEO citations to improve your rankings in local searches online.
Make sure your NAP is consistent across all of your citations. Inconsistent NAP information can confuse search engines and hurt your ranking. If you need help with local citation building, read our guide for an in-depth discussion of local SEO and strategies to execute.
Read the tips below to learn how to build local SEO citations that increase your rankings on Google and other search engines:
1. Create & Optimize Your Google Business Profile
Google's business pages are one of the most important places to have your business info (other than your own website). Claiming or creating your profile is free, and you can update your Google Business Profile (formerly known as Google My Business) whenever you like.
First, learn step by step how to create a Google Business Profile. Then, ask customers to leave Google reviews for your business and interact with them by responding to reviews and answering any questions they ask. These steps can help improve the online visibility of your profile since engagement is also a potential ranking factor.
Next, optimize and manage your Google business page on an ongoing basis:
Getting online citations is just one way to boost your rankings in local search results. Read our article explaining what local SEO is and what you can do to improve your rankings on Google and other search engines.
2. Add Your Business to Online Directories
It's free and easy to add (or claim) business listings online. Start by finding the best business directories to add listings to, and determine which are the most relevant to your business.
For example, a restaurant needs to add a local citation on Google, Facebook, Yelp, andTripadvisor. A lawn service likely wants to add listings to these as well as to their Angi business profile. Conversely, if you own a coffee house, your business probably wouldn't benefit from a listing on Zillow or Care.com. So, focus your efforts on the directories where someone is bound to look for a business like yours.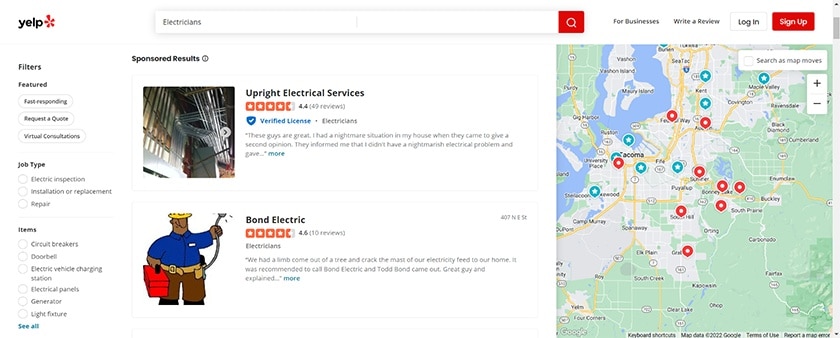 ---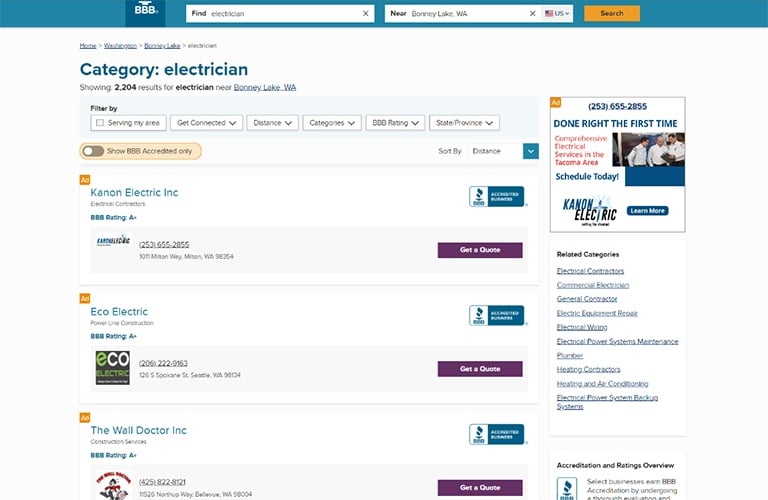 ---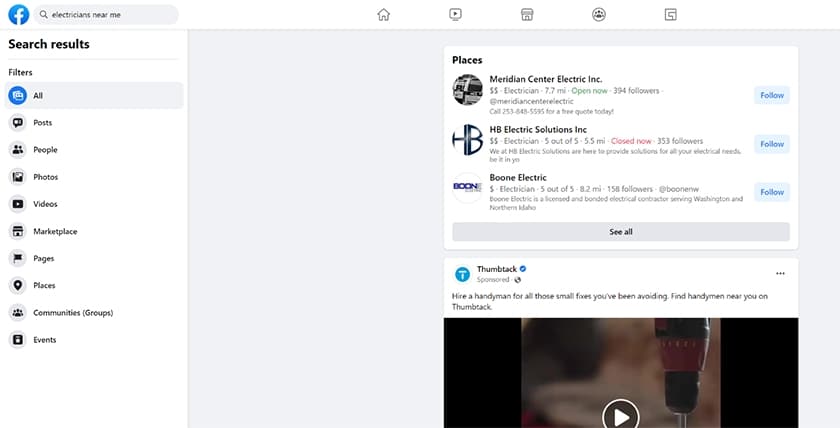 ---
Here are some essential online directories to list your business in:
In addition to general business directories, look for industry- and location-specific directories where someone might search for a business like yours. If adding and managing a lot of business listings seems overwhelming, start with a manageable list . Then work to add new listings each month, or consider using some of the platforms or outsourced services we discuss below to help.
Did you know? A study by BrightLocal found that the highest-ranked local businesses had an average of 85 citations. While you may not want to manage dozens of directory listings, the more accurate the local citations you have, the better you will likely rank.
3. Submit & Manage Local SEO Citations Using Aggregators
As mentioned, the sheer number of places you could potentially list your business information is enough to put anyone off of adding local citations manually. There are lists of hundreds and thousands—and a Google search shows millions—of results. It's virtually impossible to submit listings to all the existing directories, but data aggregators can do this for you.
Data aggregators are online platforms that collect and compile data from various sources into a single database. The top three data aggregators in the U.S. are Data Axle (formerly Infogroup),  Factual (now part of location-based data provider  Foursquare ), and  Neustar Localeze. It's free or super-affordable to claim or add your business to these sites and manage your business' profile as things change.
Similar to Google and other business directories, you can search on these sites to find your business listing, claim it, and modify any incorrect data. If your business isn't there, you can submit your information, and these sites will automatically send out your listing to search engines, public data sources (like libraries), and newer search tools (such as car navigation systems and virtual assistants).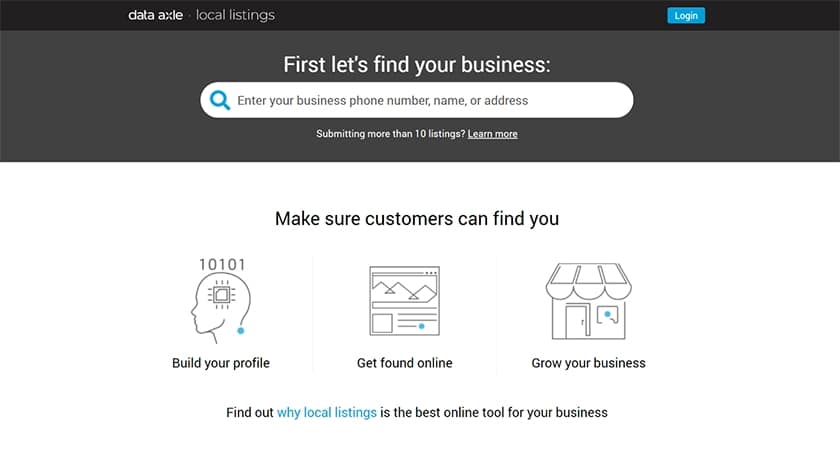 ---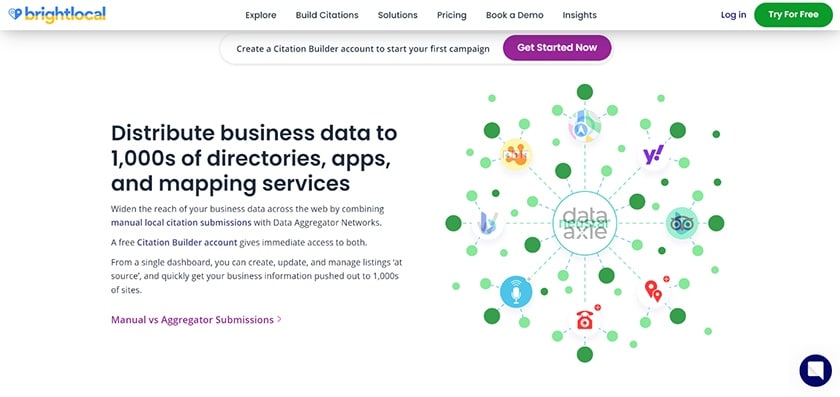 ---
Alternatively, you can fast-track your efforts to build local SEO citations using local SEO tools like BrightLocal. You can submit your business listing to five major data aggregators for $25 each or to all five for $100 per year. This makes it simple to manage your listings in one place with hundreds of online citations to help boost your website's SEO.
4. Use Managed Services & Tools to Build Local SEO Citations
Using managed services allows you to stay focused on your core business, freeing up valuable resources that can be used to grow your small business. For example, top digital marketing agency Hibu helps produce a far higher return on investment. Hibu can obtain and respond to reviews, add your site to directory listings, do social listening, and conduct local SEO citation building.
Another excellent option for those who want to outsource is WebFX. WebFX offers affordable, comprehensive local SEO services starting at $425 a month for one location. This includes data, artificial intelligence (AI), and machine learning to fast-track your return on local search. Additionally, your custom plan will consist of continual data-driven SEO improvements and ranking monitoring for keywords that drive conversions.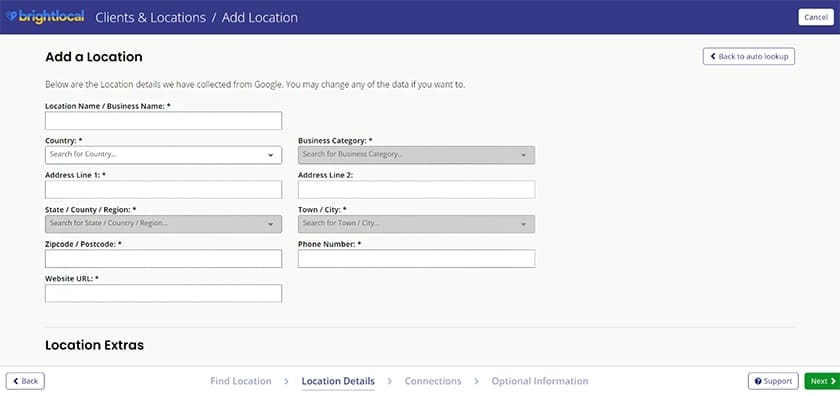 ---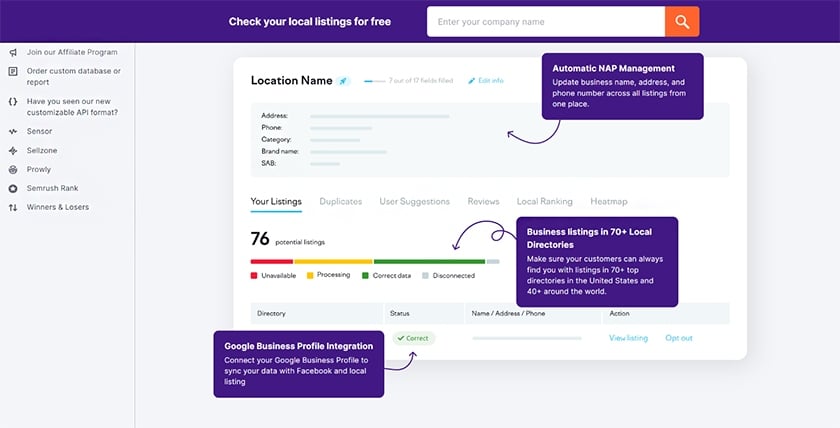 ---
Suppose you don't have the budget to outsource, but you still need an easy way to add and manage your local citations and listings. You can use the leading local SEO platform, BrightLocal, for $29 a month. You can add listings manually for $2 each, and make sure your business information stays consistent across thousands of online directories with automated reports and monitoring.
If you're a Semrush user, you can automate local listings by adding Listings Management to any plan for just $20 more a month. For more self-managed tools and resources, read our list of the best local SEO tools for small businesses.
5. Reach Out to Bloggers, Journalists & Local Media
Getting a citation in the form of a mention in a blogger's roundup or a review will help your local SEO and can make a lasting impression on audiences. This form of influencer marketing can potentially generate website traffic, lead generation, and new customers and sales.
Start by reaching out to bloggers that focus on your industry. For example, if you run a bed and breakfast in Sedona, California, search for travel bloggers who love bed and breakfasts or local bloggers who highlight spots in their neighborhood. Then, reach out to these bloggers and, in this case, offer them a free night at your hotel so they can experience it, and if they like it, they may write about it.
You can also get local citations by contacting local (or national) media outlets with a newsworthy pitch about your business. If you're unsure where to pitch a story or worried journalists might ignore your email, you can use a press release service. Some even offer guaranteed placements in certain publications, including a high-quality link back to your website and your business NAP.
6. Use Online Ads
Using Google or Facebook ads can significantly increase brand awareness. As a proven search engine marketing (SEM) tactic, digital ad campaigns target your ideal audience. They also put your brand's ads into search results and social media feeds, and display ad networks when your target audience is likely to be most interested. You can purchase various Google ads, including those that position your business at the top of the map listings in local search results.
As you can see in the image above, Wawa is positioned in the top spot, above the organic local results, because it's deploying Google local ads. Read our guide to learn how to advertise on Google in a few simple steps.
7. Get a Citation From Your Local Chamber of Commerce
Local Chamber of Commerce organizations offer membership to local businesses, and it's a great way to get a local citation for SEO. Your listing is usually added to the Chamber's website, giving you a high-quality backlink and more exposure. Chamber of Commerce sites are often a go-to for people new in the community, offering a good way to connect with prospects and customers before your competitors do.
Similarly, many networking groups have local chapters that include the business listings of members. One example of this is Business Network International (BNI). Local chapters limit membership to one business for each type (e.g., only one dental practice per chapter). Additionally, members are encouraged to share recommendations of member businesses on social media, adding yet another way for your business' NAP to be mentioned online.
Interested in the relationship between business networking and growing your brand presence in the local community? Read our list of business networking statistics to learn more.
Statistics on Local SEO Citations
As local SEO continues to evolve, so do the strategies and tactics that local businesses need to use to rise to the top of the search results. One area that has seen a lot of change in recent years is local SEO citations, since they can help improve your business' click-through rate (CTR) and overall visibility in search engine results pages (SERPs).
If you're looking to improve your local SEO, here are some statistics you need to know about citations:
Frequently Asked Questions (FAQs)
How do local citations help my SEO?
Citations help search engines verify that your company is real and that your listing is up to date. They also improve your search visibility and build trust with potential customers. Local citations are one of the many signals search engines use to determine the ranking of a business in local search results. So, the more SEO citations you have, the higher your chances of increasing Google rankings in local search results.
How many local citations is good for SEO?
It is generally beneficial to have as many business citations as possible. The more local search citations you have, the more likely you rank high in local search results. According to a study by BrightLocal, the median number of citations a local business has is 108. Local businesses ranked in positions one to three in Google have an average of 85 citations.
What else can I do to improve my local SEO rankings?
There are many things that can improve local SEO rankings, such as optimizing your content with local keywords and using location-specific references in headings and URLs. Getting more Google reviews is also a key to increasing rankings. Local SEO is one aspect of search engine marketing (SEM), so read our article on search engine marketing for more ways to rank higher in local online searches.
Bottom Line
Local citations are one of the many ways to help improve local SEO. They help your business rank higher in Google searches, drive more traffic to your site, and generate more sales. While it's relatively easy, building them can be time-consuming, as is monitoring and managing them over time.
For this reason, many choose to add and monitor online listings using BrightLocal. The platform makes it easy and affordable to build citations for SEO and manage them across thousands of listings, starting from $29 per month.
You Might Also Like…