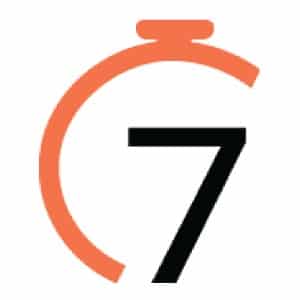 7shifts is cloud-based scheduling software that is designed specifically for restaurants, but its features make it a good choice for a wide range of industries. You can use 7shifts for rules-based scheduling, templates, manager log books, group communications, shift swapping, and more. Its higher plans also allow auto scheduling and forecasting. It offers a free plan, and paid options start at $19.99 per month, per location.
What We Recommend 7shifts For
We reviewed 7shifts specifically for restaurant scheduling software, but when comparing it to the many other schedulers and time trackers we've researched, we can recommend it for other businesses as well. It integrates with payroll and popular POS systems, has a robust work-hour rules-setting feature, and has great guides for a new or experienced user.
We particularly recommend it for:
Large restaurants and restaurants with franchises: It was built with restaurants in mind. And, the features, from the health screening to the task lists and manager logbook, address the needs of a busy restaurant. We gave it 4.3 out of 5 stars in our guide to the best restaurant scheduling software and apps.
Amusement parks, retail, and other businesses that hire minors: 7shifts has tools for setting work-hour limitations that are very useful when dealing with minors, who may have more work-hour restrictions than other employees.
Businesses that require close supervision and paper trails: Whether you need to keep up with health codes or have projects where steps must be logged with evidence, 7shifts' manager logbook and task management features can help you keep records, track trends, and uncover issues.
When 7shifts Might Not Be a Good Fit
If you have fewer than 20 staff and the free plan is not sufficient for your needs, there are providers that offer by-employee plans that are less expensive—and Deputy has just that. You may also want to check out Sling, which has a free plan that offers great scheduling and communications tools.
If you have several locations but not a lot of staff, then we recommend Homebase, a provider that earned the top spot in several of our employee scheduling buyer's guides. It has excellent scheduling and time clock tools, even in the free version, and offers compliance, hiring, and some basic HR functions.
Looking for something different? Read our guide to the top employee scheduling software for small businesses to find a service or software that's right for you.
7shifts Overview
PROS

CONS

User-friendly
Plans have employee limits
Drag-and-drop scheduler
Many of the features are in the highest plans
Compliance and overtime rules
Live support via ticket only
Free plan, free trial
7shifts Pricing and Features
7shifts offers a very basic free plan with limited features and a limit of 10 employees, and all its paid plans have a 14-day free trial. 7shifts charges by location rather than by employee, so it can be cost-effective if you have a large workforce; however, it limits the number of people on each plan.
| Features | Comp | Appetizer | Entree | The Works |
| --- | --- | --- | --- | --- |
| Monthly | Free | $19.99 per location | $43.99 per location | $76.99 per location |
| Max # of employees | 10 | 20 | 30 | Unlimited |
| Time clock | Simple | Basic | Basic + compliances | Advanced + compliances |
| Scheduling and notifications | ✔ | ✔ | ✔ | ✔ |
| Shift trading | ✔ | ✔ | ✔ | ✔ |
| Staff engagement and availability | ✔ | ✔ | ✔ | ✔ |
| Reporting | Basic | Basic | Advanced | ✔ |
| Employee health check | ✔ | ✔ | ✔ | ✔ |
| POS integration | N/A | ✔ | ✔ | ✔ |
| SMS notifications | N/A | ✔ | ✔ | ✔ |
| Schedule templates | N/A | N/A | ✔ | ✔ |
| Labor budget | N/A | N/A | ✔ | ✔ |
| Mobile clock in | N/A | N/A | ✔ | ✔ |
| Forecasting | N/A | N/A | N/A | ✔ |
| Overtime and break alerts | N/A | N/A | N/A | ✔ |
| Payroll integration and export | N/A | N/A | N/A | ✔ |
| Labor compliance tools | N/A | N/A | N/A | ✔ |
| Manager logs and feedback | N/A | N/A | N/A | ✔ |
| Geofencing | N/A | N/A | N/A | ✔ |
Very large franchises with multiple locations can get custom pricing with the Gourmet Plan, which includes everything in The Works plus task management, operations overviews, machine-learning auto scheduler, training support, and more.
Add-Ons
7Shifts knows that sometimes you need a specific function but don't want to pay extra for items you don't need. Thus, it has an a la carte menu of features you can add to any paid plan.
Task Management ($6.99 per month, per location)
Task lists are great for keeping track of the myriad chores needed to keep a restaurant running well and in compliance with health codes, but any business can benefit from this feature. Use this tool to create recurring or one-time lists, set them to a team or shift, and assign them to employees.
You can add the time it needs to be completed by, whether a deadline or "close of shift," and you can have employees post notes or take photos of completed tasks to ensure compliance and quality. It's also a good tool for providing guidance when training a new worker. You can set private task lists as well for the employee that needs a little extra direction.
Want scheduling software with task lists tools already in the plan? Check out our Sling review or Connecteam review.
Operations Overview ($12.99 per month, per location)
If you use 7shifts for more than one location, you may benefit from the Operations Overview feature. It tracks sales, labor, and employee engagement data across all locations, and lets you see them in total or individually, or compare data between locations. You can see sales, labor, sales per labor hour, and overtime hours. Many scheduling applications can handle multiple locations, but 7shifts brings them all together for you.
For individual locations, it shows data on sales, projected sales, actual vs scheduled labor, sales per labor hour, and overtime. You can sort and filter data by date range and other options.
Sales Data Import ($100 one-time fee)
If you want to jump right in with labor forecasting, auto scheduling, and analysis, you need sales data. 7shifts will manually format and import up to 12 weeks of sales history and create forecasts for you to use.
Account Setup ($150 one-time fee)
Not everyone wants to go through all the steps of setting up, especially if you have a large staff or complex work-hour and pay requirements. 7shifts will import employees, set templates, integrate your POS (if supported), and make your first schedule for you. Very few scheduling apps offer custom setup, even at a price, outside of their enterprise-level plans.
7shifts makes it easy to get started. In addition to loading company information and employees, you can add labor settings for overtime and breaks and even designate jurisdictions where there are additional labor laws. 7shifts has a compliances set for New York and California, for example. You can designate your POS system, and there is a tab in the setup for APIs in case you have other third-party tools you want to integrate with.
Scheduling and Time-Tracking
Schedules are created by week, and you have three views from which you can make them:
List: Sets schedule with all the employees on the left
List by Role: Lists employees under the role headers
Time Frames: Organizes the schedule by role and shift time
You can create shifts and move them as needed via drag-and-drop. There's even an Open Shifts line for shifts that need filling. The rules you designated in the setup will be applied to the schedule so that you comply with overtime and work-hour laws, and it takes into account availability and time off.
You can save schedules as templates to reuse later. Schedules can be customized by department and, with the higher plans, you can set labor costs by department to make sure you put your labor budget to its best use.
The auto scheduling feature not only takes into account rules and availability but also sales forecasting. It's available only with the Gourmet plan, and you need eight to 10 weeks of previously published schedules, employee wage data, and a POS integration with sales data to make it work. However, 7shifts can create weekly schedules for you, taking into account seasonal changes, sales projections, and more.
Time Clock
7shifts' time clock app lets employees clock in and out from tablets, smartphones, or your POS system. The app works even when the Wi-Fi is down, recording punches and updating the web-based software when the connection is back. It lets you program mandatory breaks, helping you to track compliance with state labor laws while making it easier for employees to clock in and out for these breaks.
With the mobile time clock, you get GPS, which includes geofencing so that employees can't clock in when they are not in their designated location. You can also limit how early an employee can clock in to avoid marginalization of profits and require selfies to prevent buddy punching.
One standout feature of the time clock is the employee health check, which is a survey geared to uncovering symptoms that could be an issue. While targeted for COVID-19 screening, it's a good tool for restaurants where people are handling food.
Time sheets are easy to edit and approve, and you can connect them to your payroll system. The Worked Hours and Wages reports show the breaks taken as well.
Communications and Mobile App
You can send employees communications through text or email—most scheduling applications send messages through their app, although When I Work has a specific team text function. Messages can be sent straight from the schedule so that you don't have to bounce between programs. However, most of the interaction is done through the mobile app.
Employees can view their current and upcoming schedule and notify managers of unavailability or request shift trades right on the app—and managers can quickly approve swaps, and the schedule gets automatically updated. Employees can get reminders and alerts for upcoming shifts to cut down on absences and tardiness. They can also use the app to request time off, view work hours and estimated earnings, and see who they're working with in upcoming shifts.
Managers also get notified about missed clock-ins/outs. The software automatically flags shifts when someone calls in sick, misses a shift, or is late for their shift, which helps make payroll more accurate. Managers can even approve time-off requests, set notifications on the app, get overtime alerts, and track real-time sales and labor to make adjustments to the schedule as needed.
Communication via 7shifts doesn't stop with scheduling tools—you can use the one-on-one messaging and group chat features to send announcements, share new policies or procedures, or boost morale with attaboys, GIFs, and other fun things. You can attach documents for employees to review or upload videos, such as how to create a new dessert. Read receipts lets you ensure everyone has looked at the post, which can help with compliance records, too. Only Planday, with its Force Read function, has a better tool for making sure employees read important announcements.
The mobile app gets higher-than-average reviews when compared to other scheduling apps, especially for iOS.
User Scores
Android: 4.5 out of 5 stars with 2,574 reviews
iOS: 4.8 out of 5 stars with 4,500 reviews
Manager Log Book
One standout feature of 7shifts is its manager logbook, which helps managers and shift leads stay on top of daily operations and keep track of maintenance issues, customer complaints, employee concerns, and more.
While Homebase and SocialSchedules also come with logbooks, 7shifts' logbook has a default setting with the most important categories for restaurant operations, such as shift notes, but you can customize the settings to take into account information needed by your business, such as progress on a project that carries over shifts or an anticipated visit from a vendor. Off-duty managers can view the logbook at any time and reply to or even make new entries.
The result is an operational history of your business that you can search, sort, and review on mobile or desktop. You can use this to look for trends and uncover problems that need addressing, like the shake machine that simply won't stay fixed and should get replaced or the customer complaints that always happen when one person is on drive-through.
You can also set shift feedback scoring and request feedback anonymously from your team and have them fed into the logbook. This lets you evaluate workplace health, generate brainstorming, and discover issues that might otherwise remain hidden.
Integrations
7shifts stands apart from the competition in how well it integrates with other software. It integrates with 23 POS systems, many of which are among our top-rated POS systems for restaurants. It also integrates with 13 payroll software services (some of which also have POS systems, like Toast.) Finally, it integrates with ExpandShare, a restaurant training solution, Speak Up, a communications platform, and HigherMe, a hiring app for restaurants and retailers.
Below are a few of the systems it works with.
POS systems: TouchBistro, Upserve, Toast, Square, Revel, Rezku, POSitouch, Lightspeed, Cake, and Heartland Dinerware
Payroll systems: Paylocity, QuickBooks, Paychex, Gusto, and ADP
7shifts Ease of Use
| | |
| --- | --- |
| Intuitive interface | AI scheduler available |
| Capterra awards for ease of use | Video and illustrated how-to articles |
| Fully-featured mobile app | No live phone support |
This app won the Best Ease of Use award from Capterra in the categories of employee scheduling software, restaurant management software, and scheduling software in 2020. It has an intuitive interface and even lets you create schedules on the mobile app. It's easy to see employee availability, send out manager or employee requests for shift swapping, and view hours worked. Unfortunately, the machine-learning auto scheduler is only available with the highest-tier Gourmet plan.
The knowledge base is full of illustrated articles to walk you through processes and functions. There are also videos, templates, guides, and more. However, live support is via ticket only.
Top 7shifts Alternatives
| | | |
| --- | --- | --- |
| Best for: Businesses needing unlimited free employee shift scheduling | Best for: Multi-location and global entities that share employees in multiple sites | Best for: Keeping compliant with labor laws |
| Base monthly fee from $19.95 per location | Base monthly fee from $2.50 per employee | $15.99 per location |
If you're not sure 7shifts is right for you, see how it compares with our best employee scheduling software.
What Users Think About 7shifts
This is one of several scheduling apps that users rave about, especially in the past year or so. The user interface earned a lot of praise, and in fact, it has won multiple awards from Capterra for ease of use. Complaints were mild and were either about the mobile app having issues (which were few and far between) or a request for more robust features in the less expensive plans.
When reading through user reviews, I noticed these trends:
| Users Like | Users Don't Like |
| --- | --- |
| Very easy to use | Too many notifications |
| Great for team communication | Would like additional features—bulk editing, video integration, more robust reporting |
| Great support | |
Bottom Line
7shifts is a scheduling software designed for restaurants, but it can work for any business needing a scheduler and time clock that can set work-hour rules, post shift notes, and send communications. With advanced plans and add-ons, it's also great for task management and forecasting. There is a free plan with the most basic features, but its paid plans have 14-day free trials.