POS Hardware: Best Options for Small Business
This article is part of a larger series on POS Systems.
A point-of-sale (POS) system combines hardware like touch-screen displays and credit card terminals with software tailored to accept payments and track sales. The hardware you need is dependent on the POS software you use, so it's important to choose a POS software system before purchasing hardware. But it's equally important to know that your preferred POS system has the hardware you need. Here's everything you need to know about POS hardware, where to get it, and how much it costs.
Top POS Hardware Options
|   | Best for | Monthly software fees | Hardware price range | Installation cost | Hardware lease available? |
| --- | --- | --- | --- | --- | --- |
|   | Mobile businesses, brick-and-mortar retail and restaurants | $0–$60+ | $49–$1,350+ | N/A | No |
| | Multichannel retailers; ecommerce users who need an occasional rental | $29–$388+ | $49–$399+ | N/A | Yes; Rental $9/day (for events) |
| | Brick-and-mortar and multichannel restaurants | $0–$165+ | $0–799+: | $499+ (optional) | No |
| | Grocery stores | $99+ | Call for quote | Call for quote | Yes; Call for quote |
| | Bakeries, convenience stores, liquor stores, ticketed venues | $59–$89+ | Terminal included | N/A | Yes; Call for quote |
| | Multichannel retail and restaurants | $69–$399+ | Call for quote | Optional; call for quote | No |
Standard Point-of-Sale Hardware
The hardware you need and how much your POS system will cost depends on the type and size of your business. But at a minimum, most businesses need a POS terminal, a POS display screen, and a receipt printer.
POS Terminal
The POS terminal is a credit card reader with an attached screen. In retail businesses, the terminal is typically a PIN-pad-enabled card reader with an LED screen. In some industries (like restaurants), the card reader may be built into the main staff-facing POS display. So, restaurant staff might refer to the POS display as the "terminal." Really, everyone is talking about the same thing—the screen that the card reader is attached to. The slideshow images below show examples of different POS terminals.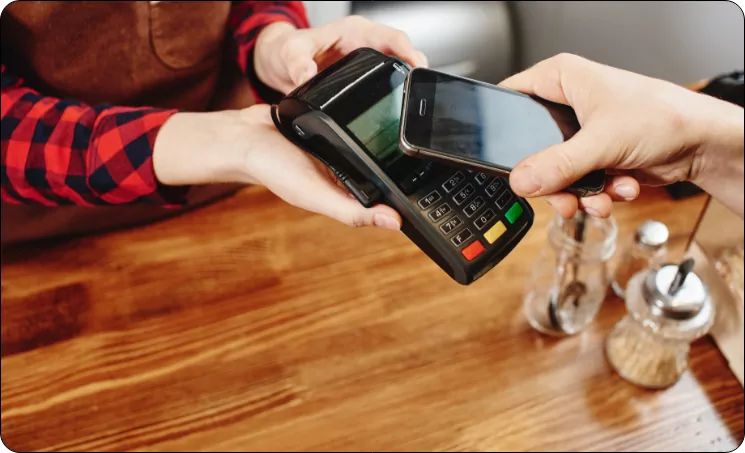 ---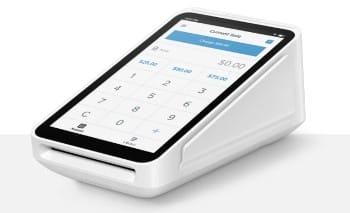 ---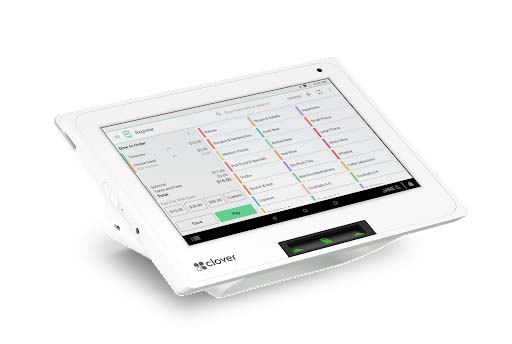 ---
Prices for POS terminals can vary widely depending on the terminal type and whether it is built into a POS display. Some POS providers or payment processors also offer free POS terminals to new customers when they enroll in a long-term software subscription or merchant account. You can expect to spend from $0 to $1,200 on a POS terminal.
POS Display
If your POS terminal is not built into your POS display, you'll need a separate staff-facing screen. There are several other optional POS display types (that we'll explore below), but this main display faces your staff and enables them to perform all the POS functions like recording sales, processing discounts, returns, loyalty and rewards, and more. In most cases, this display can also operate as your employee clock-in and log-in screen.
Nowadays, most POS displays are touch screens. But in high-volume retail environments like grocery stores, you may still see non-touch-screen displays.
POS displays tend to be the priciest point-of-sale hardware component. But like POS terminals, your costs can vary widely.
Many cloud POS systems, for example, rely on iPads as their POS displays. For those systems, you'll need to purchase an iPad plus AV-compatible iPad stand. Square's popular iPad-based POS display, Square Stand, costs $149 without an iPad, or $478 with an iPad. This is one of the most cost-effective POS displays on the market. Display costs can reach $2,000.
POS Receipt Printer
A receipt printer is becoming more of an option than a necessity—according to a survey by GreenAmerica.org, 86% of consumers prefer digital receipts to paper receipts. However, any POS you purchase in 2023 will likely require a receipt printer. You'll see primarily thermal receipt printers, though if you print coupons, you might prefer a thermal transfer printer. This market is dominated by POS equipment heavyweights Epson and Star Micronics. Though they are not the only brands in the business, they tend to be the most dependable.
Most receipt printers cost $300 to $600. Top-of-the-line receipt printers tend to have a higher print resolution, faster print speed, and a longer life, with features like automatic paper cutting and paper-saving functions. Take a deeper look at options here by reading our ranking of thermal receipt printers.
So, what is a "POS station?"
"POS station" typically means the complete point-of-sale hardware package and where it is located in a shop. As in, "extra receipt paper is stored in the POS station." Less frequently, people refer to a POS touch-screen display that has an integrated card reader as a POS station.
Specialized POS Equipment
In addition to basic POS hardware, many business types need specialized POS equipment. Depending on the system type, additional hardware may require connections via USB, lightning port, headphone jacks, ethernet, or serial connections. Cloud POS systems also connect hardware via Bluetooth and Wi-Fi.
POS Hardware

What It Does

Cost

Best For

Customer-facing Display

Lets the guests see their order as it's being rung up

$200–$400

Restaurants and retail

Cash Drawer

Helps to arrange and keep your money safe

~$100 per drawer

Any business that accepts cash

Credit Card Reader

Securely collects credit and debit payments

$10 (for phone)–$500

Most small businesses and multichannel retailers

Barcode Scanner

Scans price labels, loyalty cards, coupons, and ID cards

$50–$800

Gift stores and supermarkets

Scanner Scale

Measures an item's weight along with its price labels

$300–$1,500

Groceries, bakeries, delis, butcher shops, and seafood businesses

Receipt Printer

Generates customer receipts

$150–$600

Most small businesses and multichannel retailers

Label Printer

Creates labels to track an item's price (can also be scanned for inventory counts)

$100–$600

Most small businesses and multichannel retailers

Kitchen Printer

Impact printer that prints order tickets in hot or humid environments (like kitchens)

$200–$600

Bars, cafes, and restaurants, food trucks, and other food service businesses

POS Self-serve Kiosk

Allows customers to order and pay for items without a cashier's help

$400–$5,000

Restaurants, gas stations, medical facilities, and service businesses

Kitchen Display System (KDS)

Organizes orders in restaurant kitchens and tracking cooking times and kitchen productivity

$100–$1,500

Counter service and full-service restaurants

Digital Menu Board

Informs customers of your offering, service, or menu

$130–$2,000

Restaurants, movie theaters, service businesses, retail shops

Handheld Ordering and Payment Device

Processes orders and payments tableside or curbside while connected to the central POS system

$150–$600

Bars, cafes, and restaurants

Price Computing Scale

Weighs products and prints a price label based on weight

$160–$2,000+

Groceries, delis, and bulk food operations
---
POS Equipment by Business Type
How do all these pieces of POS equipment fit together? And how do you know what type of equipment your business needs? Click through the images below to see examples of the POS hardware used by various business types.
---
---
---
---
---
Where to Buy POS Hardware
The best place to purchase your POS hardware is directly through your POS provider or payments provider. Some iPad POS systems are designed to be used with tablets you already own (like Square). In those cases, bringing your own tablets to operate on provider-designed iPad stands is fine.
If you bring your own payment processor (as you can with systems like Lightspeed), the processor typically provides you with credit card terminals. POS systems that come with built-in payment processing typically have card terminals built into the POS display or stand.
Internet sites like eBay and Amazon are full of used and new POS equipment. In some cases, this equipment is sold directly by the manufacturer and may be perfectly compatible with your POS. However, it is best to use the hardware that is approved and supplied by your POS and payments providers because those pieces of equipment will be covered by service agreements.
If anything goes wrong with your POS system, the provider may be limited in the support it can provide. For example, if your store logo on your customer receipts is printing strangely, it could be an issue with the POS or the receipt printer. If you purchased your receipt printer from an internet seller, your POS provider wouldn't troubleshoot that equipment with you.
Your monthly POS software fees typically include the cost of ongoing customer support. So, don't shortchange yourself by limiting how these support reps can help you. Third-party equipment might be less expensive upfront, but it can cost you in the long run.
If purchasing POS hardware from a non-POS vendor, ensure they are a reputable vendor that specializes in POS equipment and offers their own in-house customer support if the equipment malfunctions. Most POS providers won't provide support services on third-party equipment.
---
POS System Hardware Frequently Asked Questions (FAQs)
Generally, POS software runs from $0 to more than $300+ per month. Hardware runs from $49 for a smartphone-enabled card reader to $1,500 for a full POS station with a display, card reader, cash drawer, and receipt printer. Many POS providers offer payment plans for hardware, or support hardware you already own. So small businesses that only need one or two registers can typically get started for less than $500 upfront.
---
The best POS hardware is the equipment that supports your business needs. If you are a microbusiness or occasional seller, then a smartphone with a card reader may be your perfect fit. If you are a busy coffee shop, though, you'll likely want some spill-resistant industry-grade hardware.
---
This varies by your need. At its most basic, you need a POS screen, which could be as simple as a smartphone or tablet, and a credit card reader. Card readers should at least read cards by swipe and chip. If you accept cash, you'll want a cash drawer. Many cash drawers are triggered by the receipt printer, so depending on your software, you may also need one of those.
Related:
---
It can be tempting to purchase POS hardware from third-party sites, but be careful. Not all POS software is compatible with every POS hardware, and some card readers, once programmed, cannot be reprogrammed to accept other payment processors. Check with your POS software provider to find out what hardware is compatible or if attaching third-party hardware will void your warranties or service agreements.
---
In most cases, POS equipment is very much alike. In fact, many POS systems use iPads instead of dedicated registers. However, there are some exceptions. Busy kitchens, for example, may want a hardier KDS and impact kitchen printers. Meanwhile, busy stores may want registers with scanner scales, such as those in grocery stores.
---
If you are an occasional seller, such as a hobbyist who sells at craft fairs or a business that sells at trade shows, you have a couple of options. One is to use a mobile POS app such as Square or Zettle, which uses your smartphone and a card reader you plug into the phone. Alternatively, if you use Shopify for your online store, you can rent a POS system by the day.
---
Most modern POS systems use the cloud for some or all of their connectivity. However, many can process sales and store credit card payment information until the internet is back online and then process the payment. This is usually dependent on the software, so if connectivity is a concern, be sure to ask what your POS system can do offline.
---
Bottom Line
POS hardware provides the physical tools you need to make the most of your POS software. The hardware you need will depend on your business type, the tasks you commonly perform, and your traffic volume. The best place to purchase POS hardware is directly through your POS provider. If you purchase POS equipment from third-party sellers or websites, make sure they are reputable, and back up their hardware with strong warranties.