POS Hardware: Ultimate Guide for Small Businesses
This article is part of a larger series on POS Systems.
A point-of-sale (POS) system combines hardware like touch-screen terminals and payment processors with software tailored to accept payments and track sales. Because the hardware you need is dependent on the POS software you're using, it's important to choose a POS software system before purchasing hardware. Below, we'll go over everything you need to know about POS hardware.
Point-of-Sale Hardware Basics
A POS system is more than an advanced cash register. Just as there's a wide range of POS software options to suit your needs, POS hardware varies, too. You might need something as simple as an iPad or smartphone or as complex as a complete setup with cash drawers, barcode scanners, and a kitchen display system (KDS). Many POS providers offer starter packs with the basics for making sales and collecting payments, with other tools as add-ons.
The hardware you need and how much your POS system will cost depends on the type and size of your business.
Top POS Hardware Options
Best For

POS Software Cost Starts At

Starter Kit Cost and Inclusions

Installation Cost

Leasing Option Cost Starts At

Accessories

Small businesses

$0

$1,269:

Touch-screen register with built-in card reader, cash drawer, receipt printer, and paper

N/A

N/A

Guest-facing screens, handheld terminal, printers, barcode scanner, cash drawer, and scale

Multichannel retailers; ecommerce users who need an occasional rental

$29

$229:

Card reader and dock, iPad stand, mounting kit, dock cable**

N/A

Rental $9/day (for events)

Barcode scanners, receipt printers, cash drawers, label printers

Restaurants and cafes

$0

$799+:

Terminal, card reader, router, receipt printer

$499+ (optional)

Pay-as-you-go plan (no fees, but must use their payment processor)

KDS, handheld terminals, self-serve kiosk, thermal and impact printers, scales, barcode scanners

Grocery stores

$99

Call for quote

Call for quote

Call for quote

Barcode scanners, scales, receipt printers, customer-facing displays, self-checkout

Convenience stores

$49

Terminal included

N/A

N/A

Printers, mobile scanners, handheld inventory scanners, guest display screens, cashier login cards

Inventory POS

$69

Call for quote

Call for quote

Call for quote

Label printer, cash drawer, Bluetooth and handheld barcode scanners, handheld terminals, iPad stands
* Some items are currently unavailable due to shipping issues. Visit the website to learn more.
** iPad not included.
Itemized POS Hardware Costs
While it is possible to buy POS hardware bundles, most often, these only include a monitor, card reader, receipt printer, and cash drawer. Some POS systems will also bundle point-of-sale equipment in custom packages. Often, however, you may need to purchase individual equipment. Here are some prices and what to consider.
| POS Hardware | What It Does | Cost | Best For |
| --- | --- | --- | --- |
| Touch-screen Monitor | Connects your POS system's back end to its front end, allowing cashiers to ring up sales | $350–$2,000 per monitor (many use iPads) | Most retail businesses like stores, supermarkets, and restaurants where you order at the counter |
| Guest-facing Display | Lets the guests see their order as it's being rung up | $200–$400 | Restaurants and retail |
| Cash Drawer | Helps to arrange and keep your money safe | ~$100 per drawer | High-volume cash businesses like cafes and gift shops |
| Credit Card Reader | Collects credit, debit, and contactless payments securely | $10 (for phone)–$500 | Most small businesses and multichannel retailers |
| Receipt Printer | Generates receipts for items a customer purchases | $150–$600 | Most small businesses and multichannel retailers |
| Barcode Scanner | Helps cashiers easily identify the prices for different items or products | $50–$800 | Gift stores and supermarkets |
| Label Printer | Creates labels to help customers and cashiers track an item's inventory and pricing | $100–$500 | Most small businesses and multichannel retailers |
| Kitchen Printer | Works in hot or humid environments (like kitchens) to create receipts using impact printing | $200–$500 | Bars, cafes, and restaurants |
| POS Self-serve Kiosk | Allows customers to pay for items themselves without a cashier's help | $150 (stand; iPad not included)–$7,000 | Gas stations, medical facilities, and hospitality centers |
| POS Scale | Measures an item's weight along with its pricing and labeling | $300–$1,500 | Bakeries, delis, kitchens, and seafood businesses |
| Kitchen Display System | Helps waitstaffs communicate a customer's order to the kitchen staff | $100–$1,500 | Cafes and restaurants |
| Digital Menu Board | Lets customers know your current offering, service, or menu | $130–$1,000 | Movie theaters, restaurants, and other small businesses |
| Handheld Ordering Device | Offers you the freedom to take orders and collect payments from different locations while still connected to a central POS system | $150–$600 | Bars, cafes, and restaurants |
Standard POS Equipment
POS Terminals & Credit Card Reader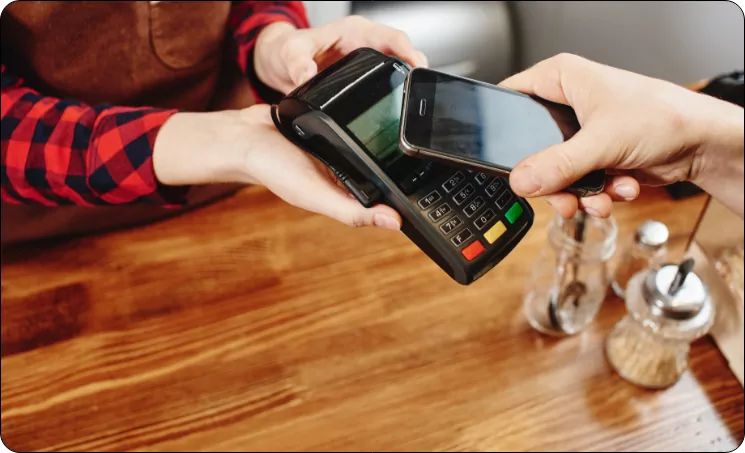 ---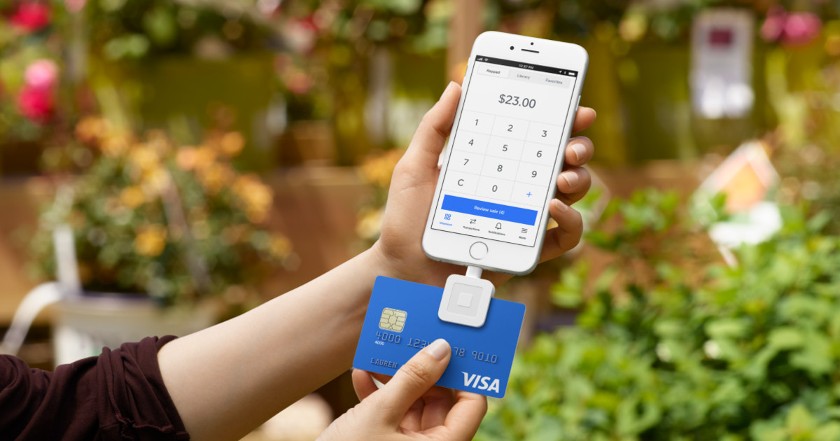 ---
Credit card readers come in various styles, from a small card-swipe device you plug in to your tablet or smartphone to a full terminal with a touchpad and receipt printer. The best card readers work for contactless payments, an increasingly popular payment option. If you opt to go simple, be sure to get a terminal with at least a chip reader. Chip payments are EMV-compliant and offer greater security for your POS system.
Price range: $10–$500
Tip: Traditional countertop card readers work fine for static sales, but any business wanting to complete transactions on the sales floor, at events, or curbside would benefit from a more portable option like a Bluetooth reader, handheld terminal with a card reader, or a card reader that plugs into a smartphone or tablet.
Touch-screen Monitor
As the backbone of the system, the touch-screen monitor lets your cashiers run the front end of the POS program to ring up orders, clock in, set appointments, and more. A few monitors have an integrated credit card reader. In many cases, you'll need to use a tablet and purchase a stand that may connect to a customer-facing display and peripherals. Non-tablet monitors usually come in kits with a cash drawer.
Price range: Approximately $350–$2,000 per monitor
Tip: For many brick-and-mortar businesses, separate monitors and card readers are ideal because they allow for more sophisticated software. However, mobile businesses, service-based businesses, and anyone else who only needs basic POS functions could benefit from one streamlined piece of hardware like Square Terminal.
In addition, if you are a solopreneur or only sell on occasion, like at craft shows, you may be able to use a mobile POS app and use your smartphone as a terminal. Then you only need to purchase a card reader.
Customer-facing Displays
A guest-facing display is simply a screen, usually smaller, that faces your customer so they can see their transaction, sign their name, or view their order. When not in use, some screens can be programmed for display to show the daily special, sale items, or your store branding, for example.
Price range: Approximately $200–$400 per display, although some registers come with the display included.
Tip: If you run a restaurant, a customer-facing display that shows a guest's entire order can help prevent errors, which saves you money spent on wasted food and extra labor.
Cash Drawer
This seemingly simple device gets an upgrade when applied to a POS system, with drawer-open sensors and signals to protect your cash flow, along with the ability to integrate with your POS terminal. You can choose from several styles, colors, and locking options. Before purchasing a cash drawer, inquire about its durability and whether it includes a till.
Price range: Approximately $100 per drawer
Tip: Some high-volume cash businesses, such as cafes and coffee shops or those in the hospitality industry like gift shops in tourist destinations and hotels, may benefit from dual cash drawers. This allows multiple cash drawers to connect to a single terminal or receipt printer. Multiple cash drawers enables cash drawers to be assigned to one employee at a time for easier cash tracking.
Receipt Printer
Even in this digital age, some people prefer a printed receipt. Most receipt printers use thermal printing. Some offer multiple grayscale levels or limited color options, a useful feature if you'd like to include coupons in your receipts.
Price range: $150–$600
Tip: Even if your setup calls for multiple monitors and cash drawers, you can likely share one receipt printer between two monitors. You'll also want to consider sending email receipts to make returns easier for your customers and cut down on the environmental and financial impact of printing physical receipts.
POS System Hardware Accessories
Many POS system providers offer other tools, including stands, routers, caller ID devices, special cables, and rolls of label or receipt paper. It may be more convenient to purchase these along with your POS devices because they are designed to be compatible. However, such items are seldom proprietary.
Below are additional point-of-sale hardware items commonly used in retail stores and restaurants.
Barcode Scanner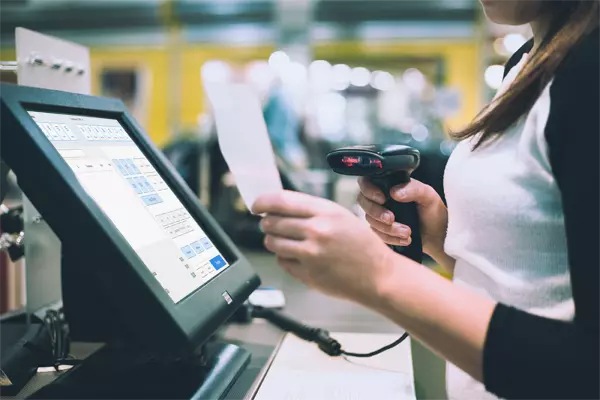 ---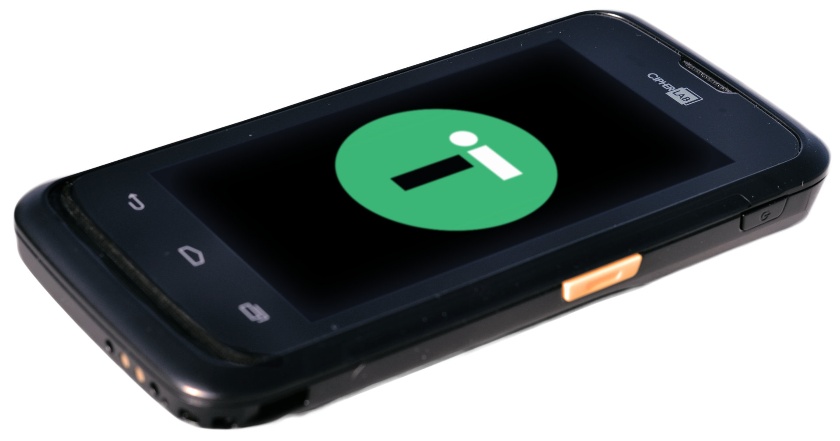 ---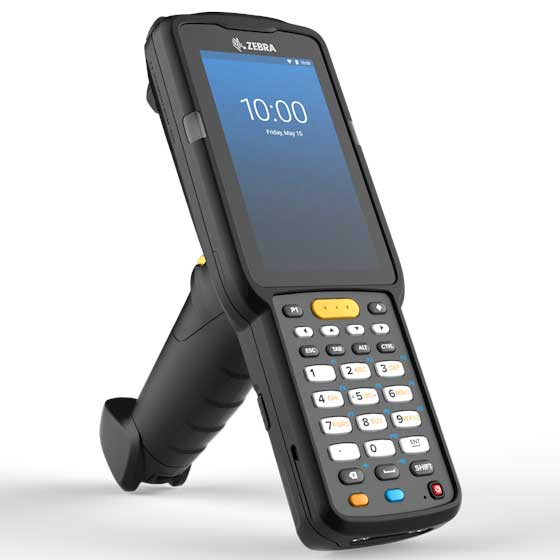 ---
Like touch-screen monitors, barcode scanners have improved a lot. You can still get the pistol-grip wired models, but now there are alternate hand-held styles, scanners built into kiosks and scales, and even apps for your phone.
In addition to the style, be sure to match the scanner to the types of barcodes you will scan (1D, stacked, and 2D) and the area you're scanning (a flat surface or a flexible tag, for example). Laser scanners are the most limited and least effective. 2D area imagers can scan in any direction and are generally faster and more accurate.
Price range: $50–$800
Tip: Barcode scanners do more than ring up sales. Some barcode scanners can scan customer IDs for age verification. Mobile barcode scanners can quickly take inventory counts and upload the data to your POS system.
Label Printer
Not only helpful to customers, labels also allow your POS system to track inventory and pricing. Label printers range from simple black-and-white barcodes to complex designs in color (think visitor passes or items crafted in-store).
They usually use thermal printing, which means you need to get paper specific to your needs. (Paper for color differs from that for grayscale.) Many label printers support more than one paper size to make it easier to create labels for multiple purposes.
Price range: $100–$500
Tip: For retail businesses, most products come labeled with a manufacturer's UPC code. However, organizing and tracking inventory is a lot easier with internal barcoding and an SKU number label system that allows you to sort products by category, vendor, and more. If you have complex inventory needs, check out our list of the best inventory POS systems.
POS Scales
POS software takes scales to a new level with price calculations and label printing. Be sure to research their accuracy, load capacity, and how easy they are to calibrate.
Price range: $300–$1,500
Tip: Businesses that need to weigh goods like meat and produce likely need a specialized POS system. Our guide on the best grocery POS systems features solutions with native scale integration.
Additional Restaurant POS Hardware
Restaurants often have special point-of-sale hardware needs to accommodate their complex workflows. Streamlined restaurant POS systems will typically have extra components like kitchen display systems (KDS), self-ordering kiosks, and handheld POS systems. The best hardware is designed to be durable, especially when it comes to kitchen items that must endure heat, humidity, sticky hands, and other environmental factors unique to a busy food prep area.
Here are some of the most common options:
Kitchen Printer
They may look similar, but kitchen printers and receipt printers actually employ different technology. While the former uses thermal printing technology, kitchen printers use impact printing, which does not smudge easily.
So, if you have a restaurant, cafe, or bar where you need to prepare orders in a kitchen—and you won't be using a digital KDS—you'll need to purchase separate kitchen printers.
Price range: $200–$500
Tip: Kitchen printers often come with color options so that any modifiers or allergy notices stand out.
---
POS Self-serve Kiosks
POS kiosks let your customers order and/or pay for their items themselves. They've increased in popularity amid the COVID-19 pandemic, which introduced many ways of shopping and doing business with limited person-to-person contact, and the demand continues to grow. Per NICE, 81% of customers want more self-service options. Not only that, but according to GRUBBRR CEO Sam Zeitz, customers spend 12% to 20% more when using a self-service kiosk.
The styles vary from small pads at a restaurant to the self-service checkout at the grocery store. In addition, kiosks are used to check in at medical facilities and hotels and to purchase gas. Originally intended for customer convenience and to reduce labor costs, they may grow in popularity as social distancing becomes a more regular practice.
Price range: $150–$7,000
Tip: Kiosks allow patrons to customize their orders and enable sellers to prompt customers with specials and add-ons, leading to higher average order values. So, while kiosks are a significant upfront investment, they can make your business money over time with higher overage orders or ticket amounts while allowing staff to focus on fulfilling orders. They can also reduce your labor costs.
---
Kitchen Display Systems
A kitchen display system (KDS) lets the waitstaff or cashiers send orders to the kitchen staff through the POS system and helps reduce errors while monitoring the time to prepare a dish. This system can be as simple as a touch screen but may also include a printer and a bump bar. A KDS should be easy to read at a distance and durable in hot and greasy environments.
Price range: $100–$1,500
Tip: KDSs can do more than list orders. They can prioritize and even separate orders by course. Some systems can also connect with online ordering, so those orders also appear in the queue. Ask your POS software service what it can make a KDS do.
---
Digital Menu Boards
---
Handheld Ordering Devices
Whether you're taking orders on the floor or working at an off-site location like a craft fair or trade show, a handheld or mobile POS (mPOS) device can let you take orders and process payments while still remaining part of your main POS system. For restaurants, these devices also interact with KDSes.
Price range: $150–$600
Tip: When choosing an mPOS, pay extra attention to durability, range, ability to work offline, and payment processing features.
---
Selecting POS Hardware
Here are five factors to help choose POS system hardware suitable for your business:
It's no use getting POS hardware that doesn't work with the software you're using for your business. Many POS software providers feature a list of compatible hardware somewhere on their websites. Look for their POS integrations page or contact support if you have trouble finding the information. Likewise, your POS hardware should also be able to provide a list of compatible software platforms.
If you're still unsure about the kind of POS software to use, our guide on the best POS systems can help.
If you are changing POS software and payment processors, be sure your old system will convert to the new payment provider as well. Some systems cannot be reprogrammed.
Many POS equipment come in different models with different prices, so you'd need to consider your current business needs and revenue before purchasing hardware. However, you should note that most POS hardware has high upfront costs but low running costs.
Overall, you want to weigh the pros and cons of purchasing POS hardware vs leasing it. When you lease POS hardware, fees are typically 20%–50% less than equipment loan payments, but there's also usually a large payment due at the end. You can use our equipment lease calculator to help determine the best route for your business. Sometimes leasing also incurs a contractual obligation for a year or more.
It's important to find POS hardware you and your team can comfortably and confidently use. Check review sites for comments about the ease of use and system reliability. You can also see what resources the POS hardware has available for users, be it an online knowledge base, tutorial videos, or a training mode to help bring new employees up to speed. Some even offer installation and setup help (whether free or for a fee).
Inventory control is an essential feature to look out for in POS hardware. From your POS system, you should be able to tell when you're running low on stock, perform inventory analysis, manage variants, forecast demand, and track special orders. The best POS systems work in the cloud and let you integrate your online sales as well.
Choose a POS hardware system that's unlikely to be out-of-date in a few years. Sure, it might cost more money now, but it can benefit your business in the long run.
Other features to consider include customer profiles, appointment management, and marketing automation, as well as the ability to handle phone orders. Restaurants should consider whether third-party delivery services like DoorDash can integrate with the system so orders can populate to their KDS.
Setting Up Your POS Equipment
Once you've decided on your POS hardware and software, it's time to get it set up. First, you would need to consider what type of POS system you've chosen—whether traditional, cloud, or hybrid—and how it should be set up.
Traditional POS: This allows you to collect payments and store customer and inventory data on a closed network or server—meaning you'll need to be in the same physical space (like your cafe or store) as the POS system to access any information. Though limiting, it's more secure.
Cloud POS: Unlike the traditional setup, a cloud POS allows you to store data virtually, accessible from any compatible device with an internet connection. However, while this setup offers flexibility, it's less secure and can be easily crippled by poor internet connection if you don't have offline capability.
Hybrid POS: With hybrid, you get the flexibility of cloud setups and the security and reliability traditional setups offer. This means you can still process transactions and manage your inventory with ease, even with an internet outage.
You can go a few ways to set up your system—do it yourself, hire an outside professional, or use your POS provider:
Self-installing a POS system: DIY setup isn't always complicated, especially if you're a small business selling from a single location. It's also a good opportunity to cut costs and learn the system more intimately. However, DIY still requires a certain level of technical aptitude. And if there's a steep learning curve, this could take a lot of time—not to mention frustration.
Hiring a pro: This ensures that your system is properly installed. You can even ask for onboarding and training help to get you and your employees up to speed with the system. The downside here is that it costs more, and you might need to wait for some time to get a professional to set up your POS system.
Using your POS provider: Reach out to your POS provider, as some offer installation services either for free or at an additional cost.
POS Hardware Frequently Asked Questions (FAQ)
What POS equipment do I have to have?
This varies by your need. At its most basic, you need a screen, which could be as simple as a smartphone or tablet, and a credit card reader. Card readers should at least read cards by swipe and chip.
---
Why should I bother with a POS system?
Convenience, accuracy, and speed. A POS system makes ringing up sales easier. The software does the calculations, from totals to taxes to remembering loyalty discounts. It can also do so much more: inventory, time tracking, and customer data collection. A POS system minimizes human error, whether by calculating the correct change or reminding your cashier to card a customer. POS hardware can make it easier to communicate with customers, the kitchen staff, or people in the back office.
---
Do I have to buy POS hardware from my POS software vendor?
It can be tempting to purchase POS hardware from third-party sites, even Etsy, but be careful. Not all POS software is compatible with every POS hardware, and some card readers, once programmed, cannot be reprogrammed to accept other payment processors. Check with your POS software to find out what hardware is compatible.
---
Is an industry-specific POS hardware system necessary?
In most cases, POS equipment are very much alike. In fact, many POS systems use iPads instead of dedicated registers. However, there are some exceptions. Busy kitchens, for example, may want a hardier KDS and impact kitchen receipt printers. Meanwhile, busy stores may want registers with scanner scales, such as those seen in grocery stores.
---
What if I don't need a POS system all the time. What are my options?
If you are an occasional seller, such as a hobbyist who sells at craft fairs or a business that sells at trade shows, you have a couple of options. One is to use a mobile POS app such as Square or Zettle, which uses your smartphone and a card reader you plug into the phone. Alternatively, if you use Shopify for your online store, you can rent a POS system by the day.
---
Are POS systems dependent on the internet?
For the most part, yes. However, some can process sales and store credit card payment information until the internet is back online and then process the payment. This is usually dependent on the software, so if connectivity is a concern, be sure to ask what your POS system can do offline.
---
Bottom Line
POS systems have come a long way, with advances that make it easy to run all aspects of your business—sales, inventory, marketing, employee management, and more. POS hardware provides the physical tools you need to make the most of the POS software.