Having a cash management system is crucial for any retail store owner. A basic cash register may be suitable for some businesses, but most retailers are choosing feature-filled point-of-sale (POS) cash register software programs that run business operations much more effectively. We compare both options to pinpoint what's best for your business.
When to Use a POS System
A POS system is best for most businesses because it allows retailers to manage all types of sales, transactions, and business operations under one streamlined computer system. Square for Retail is a top-rated retail POS that provides small businesses in any environment with robust management tools. Visit Square POS for a free trial.
When to Use a Cash Register
Cash registers are best for small businesses that just need to ring up sales, run receipts, and receive cash, check, and credit card payments. Entry-level Casio cash registers, which can be purchased for under $100, are a popular option.
POS System vs Cash Register At-a-Glance
| | POS System | Cash Register |
| --- | --- | --- |
| Hardware Pricing | $0 to $1,500; may include/require credit card terminal, receipt printer, iPad, barcode scanner | $100 to $400; may include/require customer display, receipt printer |
| Software Pricing | Monthly software fees range from $0 to $100 | No monthly software fees |
| Card Payment Processing | Built-in payment processor (or separate integration) | Requires separate payment processor merchant account |
| Accepts Other Forms of Payment | Cash/checks, ACH, gift cards, online payments | Cash/checks |
| Sales Tracking | Includes daily, employee, departmental sales tracking; applies tax | Includes daily, employee, departmental sales tracking; applies tax |
| Report Generation | Sales, inventory, customer, marketing | Sales |
| Other Features | May include inventory management, employee management, marketing tools | N/A |
| Customer Service | Most offer customer support via phone, email, live chat, knowledge bases | Most manufacturers offer limited phone support |
POS System vs Cash Register: What's the Difference?
A cash register and a POS system are miles apart in terms of pricing and features. A cash register will cost you about $100 to $400 upfront and, as you can see from our comparison chart, offer basic sales features. Most sophisticated POS cash register systems will cost you $1,000 to $1,500 in startup costs with a monthly fee of around $50 to $100, but they offer dozens more features—including advanced sales reports, inventory management, employee management, and marketing features.
"A POS system is one of the best investments that a retailer can make because it doesn't allow store performance issues to be swept under the rug. POS systems let retailers create more profitable operations by managing inventory flow and velocity of items, starting on Day One. We haven't met a retailer who could give us answers about performance and profitability better than a POS system can. You have to look at a POS system not as an expense, but as an investment that will make the store money."
—Rich Kizer & Georganne Bender, Retail Store Design Consultants at Kizer & Bender
Most Affordable: Cash Register
| POS System | Cash Register |
| --- | --- |
| A POS system has expensive hardware that could cost up to $1,500, plus most charge ongoing monthly fees for software. | Cash registers usually cost about $100 to $400, and the only ongoing cost is receipt paper. |
POS system: Best for businesses that want to invest long-term in more than just a cash management system.
Cash register: Best for small businesses on a budget that are just starting and may not need all the features and functions of a POS system yet.
Both POS systems and cash registers require you to purchase hardware to ring up sales. However, a cash register is a one-time purchase of about $100 to $400 and includes the software built into it. A POS system requires an investment of up to $1,500 for the POS hardware, and it offers subscription-based software that usually includes a monthly fee that can be as high as $100 per month.
A cash register's cost goes up with certain features, such as Bluetooth connectivity and backup capabilities. Casio is a popular choice, and it offers a range of registers at various price points for small, medium, and large businesses.
Finding a cash register that's best for your small business comes down to your needs. Check out the best cash registers here.
Most POS systems require you to purchase a computer or tablet to run the subscription-based software—tablets typically cost about $400. A POS provider can sell a compatible cash drawer, which typically costs less than $200. Some POS systems require you to use proprietary countertop hardware, so you may pay up to $1,500 in startup costs.
Best for Payment Processing: POS System
| POS System | Cash Register |
| --- | --- |
| Payment processing is usually built into a POS system, which is more convenient. | Cash registers don't usually have payment processing included, but it's easy to sign up for merchant services. |
POS system: Best for retailers that want an all-in-one solution for payment processing—it's more convenient because you won't need to apply for a separate merchant account.
Cash register: Best for small businesses that already have a merchant account or don't require the added features of a POS system.
Most cash registers track cash and check sales along with credit cards if you add a credit card terminal. You can print receipts for customers, add and track sales taxes, and tally the day's sales. Prices can be entered manually or programmed with specific department keys. However, cash registers do not have credit card processing capabilities. You will need to apply for a separate merchant account in order to accept card payments.
Like cash registers, POS systems can accept cash and check payments. And unlike cash registers, POS systems typically have built-in credit and debit card payment processing. Having all of your payment processing tied together in one system allows for more accurate sales reporting and helps prevent human error at checkout.
The best POS system for a small business depends on the type of small business you have. There are POS systems made specifically for ecommerce businesses, restaurants, mobile retailers, and grocers. Find the best one for you in this roundup of the best POS systems for a small business.
Best for Portability and Mobile Features: POS System
| POS System | Cash Register |
| --- | --- |
| Many POS systems make it easy for you to swap to a mobile app and a portable card reader to take payments anywhere. | A portable cash register includes a cash drawer, making it easy to ring up cash sales—for card payments, you'll need a separate card reader. |
POS system: Best for permanently mobile businesses that need to accept payments anywhere anytime, or for taking payments on the retail floor or curbside.
Cash register: Best for occasional off-site sales, such as at fairs and festivals or pop-up shops. You'll need to acquire a separate credit card reader from your merchant service provider to accept card payments.
Traditionally, cash registers aren't made for mobility. They sit on countertops and customers bring purchases to the checkout. There are a few models that can be considered portable, like the Casio PCR-T280, which is compact and includes a cash drawer and receipt printer. However, you won't be able to integrate payment processing to accept credit cards, and there's no mobile connectivity.
Many POS systems offer a mobile POS option. Square makes it easy to accept payments on the go with its card reader and mobile POS app. Square isn't the only one, though—Shopify, Clover, and Toast all offer mobile options that may be better suited to your business. All solutions work well for mobile businesses or for on-the-floor transactions to keep lines moving.
Best for Sales Tracking and Reporting: POS System
| POS System | Cash Register |
| --- | --- |
| Run sales reports by time period and get details by product categories, payment type, employee, etc., on all modern POS systems. | Get sales reports, and in some cases, reports by department from a cash register. You'll have to track most data manually. |
POS system: Best for small businesses that want to automatically measure sales data, including taxes, refunds, and product categories (to name a few metrics).
Cash register: Best for those who want to keep financial tracking separate and manual, and only want sales reports.
Cash registers can offer basic daily sales totals, and some can offer reporting by departments if you configure that setting. However, basic cash registers don't provide very robust sales or tax totals, nor do they have a way to automatically deduct inventory as it sells. You'll need to manually track inventory and business financials using spreadsheets or notebooks.
A POS system can run reports on dozens of data points. Square POS, for example, can offer you sales reports by any time period, detailing your sales by product category, payment type, customer type, and employee. Square POS even includes a reporting dashboard that you can customize to display your key metrics at a glance. You can also access key metrics such as gross sales, sales count, and refunds—from the Square app.
"Successful retailing is about having the right data about what is selling, at what price, and ultimately who is purchasing. Without a POS, you're guessing. With that POS data, you can ultimately determine who you should be targeting with advertising based on customer data you're capturing at the point of sale."
—Ray Riley, CEO, Progress Retail
Pro tip: Get a thermal receipt printer that works with your cash register or POS system—there are even mobile printers available.
Best for Business Management Tools: POS System
| POS System | Cash Register |
| --- | --- |
| A POS system can do so much more than simply track sales—most include inventory and employee management. Some offer loyalty program and payroll addons. | Use a cash register to track sales by employee. Some cash registers may allow you to customize a receipt to add a coupon or discount to inspire repeat business. |
POS system: Best for full-store management, from inventory and employee management to customer relationship management.
Cash register: Best for small businesses that already have a system for inventory and employee management and want the simplest solution.
A cash register is a simple solution that focuses mostly on cash management and sales tracking. It doesn't include features for back-end management, such as inventory or purchasing management. You can assign employees sign-on codes to track sales by employee, but usually, there are no time-tracking or payroll features.
Some of the higher-end cash registers let you customize your receipt, so you can add a thank-you note to the bottom of each receipt. This also gives you the chance to offer a coupon or discount. You won't be able to track customers or implement a loyalty program through a basic cash register, though.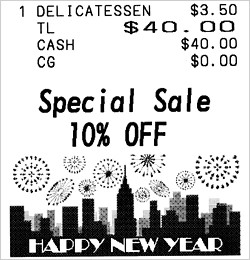 The software that runs a POS system is much more robust and usually includes numerous features to help you manage the back-end of your retail shop or restaurant. Integrated inventory can help you track your stock—with each sale, your POS system updates the inventory, so you always know what you have on hand.
Many POS systems let you set up employee logins that track sales and employee hours. Some offer payroll and shift scheduling features. Plus, several POS systems have customer relationship management (CRM) features, making it much easier to keep in touch with customers and clients through email marketing campaigns or loyalty programs.
Easiest to Use: Tie
| POS System | Cash Register |
| --- | --- |
| Once you learn how to use your POS system, it becomes easy to navigate. Setup may take a while, though. | Most cash registers require you to manually enter prices and items, but setup is minimal and there's less to learn. |
POS system: Use a POS system if you don't mind spending more time to learn the software and set up the system for easier day-to-day operation.
Cash register: If you prefer to keep things simple, stick to a cash register—there's less to program and learn.
Both cash registers and POS systems are relatively easy to use. Cash registers have manual buttons for entering items or prices, whereas POS systems typically operate on a touch screen. They both have minimal training times and are built for use in fast-paced retail environments.
Cash registers have push-buttons for entering prices and items. A cash register's functionality is very basic compared to a POS system, so there are fewer things to learn. However, whether someone is more comfortable with an analog system or a digital touch screen often comes down to personal preference.
POS systems might have a steeper learning curve than a traditional cash register, but this is mostly because they have many more capabilities than just ringing sales. However, if you are comfortable navigating other software programs and touch-screen devices, then learning how to use a POS system should be easy.
Best Customer Support: POS System
| POS System | Cash Register |
| --- | --- |
| Most POS systems offer support materials in the software and access to customer support agents via live chat, phone, or email tickets. | Cash register manufacturers, like Casio, typically offer limited phone support to help with any troubleshooting or defects. |
POS system: You'll get more support from POS systems because they have support materials and staff or account executives to help with any questions you may have.
Cash register: Manufacturers usually offer phone support for any of their products, but it's typically limited to some troubleshooting and reports of defects.
Comparing customer service for cash registers and POS systems is a bit like comparing apples and oranges. One is a piece of hardware and the other is a software program. If a cash register breaks or if you need troubleshooting, then your best bet is to contact the manufacturer. With POS systems, your monthly subscription fee typically includes speedy customer service and a designated account representative.
Cash registers can be purchased directly from the manufacturer or a retailer like Staples, Office Depot, and Walmart. Purchasing directly from the manufacturer often offers the best customer service and product warranty.
POS systems typically have customer service agents available via phone, email, and sometimes live chat on the POS's website. Many POS companies, like Square, can offer users a dedicated representative. POS cash register systems also have community forums, whitepapers, and other guides available.
Bottom Line
A budget-friendly electronic cash register runs about $100 and can handle basic retail checkout and payment needs. For some, it's a just-right solution. But if you want to efficiently run your retail operation and have growth-driving data and tools at your fingertips, then a POS cash register system is the answer.
You May Also Like …