Commercial real estate (CRE) customer relationship management (CRM) software provides commercial agents and brokerages with tools to manage properties, contracts, and sales leads. The best commercial real estate CRMs provide practical, integrated solutions for sales, marketing, and management for residential and office tenants. We evaluated dozens of options to identify the seven best commercial real estate CRM platforms based on pricing, reviews, and software features that benefit commercial real estate businesses.
Best Commercial Real Estate CRM Platforms at a Glance
Apptivo

Overall Score: 4.94 out of 5

Starting price $8 per user, per month*

Robust integrations
Contracts management
Mobile CRM

Salesforce

Overall Score: 4.34 out of 5

Starting price $25 per user, per month*

Analytics for sales prediction
Lead management tools
Marketing capabilities

Ascendix Real Estate

Overall Score: 4.25 out of 5

Starting price $15 per month

Automated workflows
Smart prospecting tools
Prebuilt charts and graphs

LionDesk

Overall Score: 3.79 out of 5

Starting price $25 per month*

Mobile app
Prebuilt Facebook Ads audience
Automated drip campaigns

Buildout CRM

Overall Score: 3.72 out of 5

Starting price $85 per month

Property data and mapping tools
Project management
Automated workflows

ClientLook

Overall Score: 3.67 out of 5

Free (4 months, then $99)

Contact management
Mobile app
Customized reporting

Propertybase

Overall Score: 3.67 out of 5

Starting price $399 per month (five user licenses)

Branded website with IDX
Mobile app
Automated drip campaigns

*Based on annual billing; monthly billing is also available for slightly higher rates.
To find out which commercial real estate CRM software will best suit your real estate needs, take this quick quiz:
Which best commercial real estate CRM software is right for you?
Best for Low-cost & Customizable CRE Software

Pros
Affordable pricing
Offers 24/7 customer support and a mobile app
Customizable and modular system
Cons
System customizations require technical expertise
Marketing channel is only through emails
No free plan
Our Expert Opinion on Apptivo
Apptivo is the best CRM for commercial real estate for its affordable rates and robust capabilities. It has built-in tools for managing contracts and sales activities and organizing property management tasks. Apptivo's CRM is also customizable, so you can create custom views and layouts to simplify your workflow. Apptivo's CRM integrates multiple apps and services to centralize data and increase productivity. However, Apptivo could improve by providing more marketing channels and a free plan.
Mobile CRM: Manage tasks, lead contacts, sales planning, and business opportunities on the go using the mobile CRM. You can also manage finances, invoices, work orders, time sheets, and expense reports.
Email marketing: Send personalized bulk email messages to customers and boost client relationships with Apptivo Campaigns.
Contracts management: Create contracts directly from different apps and functions in Apptivo to save time and integrate with third-party tools like Google Workspace, Office 365, and Slack.
Procurement: Manage and update your item inventory count automatically when they're sold, moved, or restocked.
With a 4.4 out of 5 review rating on Capterra, most reviews given by Apptivo customers were positive. While some customers noted that the system can be confusing initially, it got easier once they became familiar with it. One customer was impressed with the customizable layout and how easy it was to add or remove information fields based on their needs. A lot of reviews also liked Apptivo's affordable price point.
However, some users were not satisfied with their Apptivo experience. One user said it was confusing to create email templates. Another complained that some templates, like purchase orders and packing slips, are hard to customize. A customer also noted some invoice errors through PayPal that required his client to input the information more than once. Apptivo also has limited marketing channels. To add more variety to your marketing campaigns, check out LionDesk and Propertybase.
Lite*: $8
Premium*: $12
Ultimate*: $20
Enterprise: Custom pricing
Free trial: 30 days
*Based on annual billing per user, per month; monthly billing is also available for slightly higher rates.
Read how our experts feel about this commercial real estate CRM software in our Apptivo Review.
Best Highly Customizable CRM Platform With Advanced Sales Features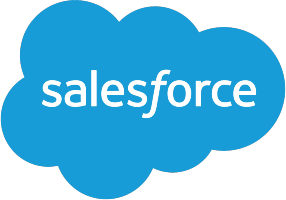 Pros
Advanced analytics and tools for sales prediction
Robust features for lead assignment, routing, and scoring
Highly customizable interface
Cons
Higher plans can be expensive
Limited customer support (premium support requires a separate purchase)
Requires a learning curve to become familiar with the software
Our Expert Opinion on Salesforce
A great feature of Salesforce is its Sales Cloud, which helps you reduce costs and increase productivity through sales automation. With its customizable platform, you can automate approval processes for business requests, such as deal discount approvals, travel, and expense reports. Salesforce's sales analytics further enables you to track lead volume, conversion rates, and the health of your sales pipeline for a real-time view of your real estate business. But, the platform could improve by offering extensive customer support and more affordable plans.
Marketing cloud: Save time and money in delivering relevant content across email, web, and mobile by automating engagement in every marketing channel and receiving AI-driven marketing insights.
Service cloud: Reach customers on every digital channel and provide consistent customer service experience via mobile messaging, web chat, or social networks.
Tableau analytics: Use intelligent predictions, recommendations, and flows to visualize business opportunities and monitor your business in real time.
Email integration with Gmail or Outlook: Get a complete view of customer interactions and boost productivity by automatically syncing email with CRM data.
Salesforce has received a review rating of 4.4 out of 5 from more than 17,700 customer reviews. Several users appreciate getting robust sales reports for various sales initiatives, including sales forecasts, target versus actual revenues, and the number of won and lost leads. They also liked that the CRM can be integrated with third-party business tools. One user noted that tracking contacts, emails, and opportunities can be done in a few clicks, which saved her so much time.
In less favorable Salesforce reviews, some users said navigating Salesforce CRM software is confusing because it is too feature-packed. Another user complained that searching one case took so long it made the experience frustrating. One customer complained of "lags" and system errors when using the software. While not the most expensive on this list, higher plans can be pricey per user, per month. For a more affordable CRM for commercial real estate (CRE) businesses, check out Apptivo, or you can also try ClientLook's free plan.
Essentials*: $25
Professional*: $75
Enterprise*: $150
Unlimited*: $300
Free trial: 14 days
*Requires an annual contract. Monthly pricing is available on the Essentials edition.
Read how our experts feel about this commercial real estate database software in our Salesforce Review.
Best for Brokers Representing Commercial Investors

Pros
CRE brochure builder
Commission tracking
Deal pipeline and analytics
Cons
No power dialer
Requires a learning curve to familiarize with CRM tools
Other features like stacking plans are not available in the basic plan
Our Expert Opinion on Ascendix Real Estate
Ascendix Real Estate (AscendixRE) is a cloud-based CRM for commercial real estate brokers that keeps your database of assets, buyers, sellers, and pricing information updated. Its lease administration feature helps you store all lease information in one place and use interactive stacking plans. The contact management software also enables you to determine tenants who need follow-up. It also has Mailchimp integration to build targeted email campaigns and a Property Flyer Builder for branded marketing materials. Yet, it may improve by providing more extensive tools in the basic plan.
Smart prospecting tools: Mine targeted lists of contacts for marketing campaigns and monitor and plan sales activities.
Automated workflows: Automatically schedule follow-up meetings for prospects and "auto-assign" marketing tasks to various people associated with marketing a new listing.
Data management: Track properties, listings, sales, and leases in one place.
MarketSpace: Showcase your commercial listings on a property listings portal that integrates with AscendixRE CRM and lets you publish and update your listings from the CRM.
AscendixRE has a review rating of 4.8 out of 5 stars. Brokers and organizations love using AscendixRE because the platform helps them track all communication associated with a transaction and deal flows and understand what's working and what isn't. One reviewer appreciated the automated workflows, deal tracking, Outlook and Gmail integrations, and reporting functionalities. Another organization said AscendixRE helped them update their database so that everyone across teams and geographies looks at the same data.
In not-so-favorable reviews, one user said the platform was not user-friendly and complicated because of the multiple features. Several features, such as Ascendix Search, stacking plans, and a public listing portal, are unavailable for basic plan subscribers. For further lead generation tools, check out LionDesk, which has a power dialer.
Ascendix Search: $15
xRE Foundations: $79
xRE Enterprise: $99
xRE Unlimited: $129
All pricing is on a per-month basis.
Best for High-volume Direct Sales Calling & Marketing

Pros
Advanced call management and handling features
Lead import capabilities through integrations with real estate sites
Features for designing digital and print mail marketing and advertising collateral
Cons
No free plan
Native integrations are limited, and most integrations require third-party software
Customer service only available during standard business hours
Our Expert Opinion on LionDesk
LionDesk uniquely offers phone calling features, such as click-to-call functionality, which lets users make outbound calls faster with a single click. It also provides a power dialer with advanced calling tools, including call recording, automatic call tracking, and simultaneously calling up to three lines. LionDesk has the most varied marketing features, like its prebuilt email and text campaigns, drip campaigns, direct mail, and Facebook lead generation. LionDesk could improve by offering client collaboration tools.
Transaction management: Monitor your properties, track your closings, and automate your tasks so you don't miss any important business deals.
Video email and video texting: The CRM is integrated with video emails and video texting, which you can utilize within drips and mass emails or texting.
Commercial real estate contact management: Manage all types of lead sources, buyers, sellers, and hot or cold clients by adding an unlimited number of tags to each client.
Custom landing pages: Create landing pages from prebuilt templates to capture real estate leads and deliver them directly to your LionDesk account for follow-up automation.
Mobile app: Allows real estate professionals to access the CRM portal and all of the CRM's features on the go.
LionDesk has a 4.1 out of 5 rating, with reviews praising the software's email drip campaigns and third-party integrations. Busy commercial real estate agents getting leads from Zillow, Trulia, and Realtor.com benefit from all of their leads syncing to one centralized location for follow-up and consistent communication. Several customers liked that they could track client interactions, current projects, and business projections in one software. Other satisfied customers love the ability to send bulk text messages from a desktop.
In less favorable reviews, one customer hoped LionDesk had a newsletter marketing feature to share informational articles with their clients. Another user wanted social media digital management on top of LionDesk's marketing capabilities. A customer also did not like the expensive pricing, while one feedback noted that LionDesk does not allow custom data fields in its CRM. For a customizable and affordable CRM for commercial real estate, check out Apptivo.
CRM*: $25
CRM Premier*: $83
Texting Suite: $2 per month plus $19 one-time registration fee
Free trial: 14 days
Add-ons (pricing per month):
Single Line Dialer: $99
Multiline Dialer: $149 (for CRM plan) and $50 (for CRM Premier plan)
Landing Pages: $29
*Based on annual billing per month; monthly billing is also available for slightly higher rates.
Read how our experts feel about this best CRM software for commercial real estate in our LionDesk Review.
Best for AI-powered Commercial Real Estate Insights

Pros
Predictive analytics and built-in commercial property data
Comparable (comp) property data
Buildout Marketing solution
Cons
No free trial and pricing can be expensive
No SMS marketing
No phone number or live chat for customer support
Our Expert Opinion on Buildout CRM
Buildout CRM is a commercial real estate platform that provides insights, marketing, and CRM tools. It also has artificial intelligence (AI)-powered insights and outreach tools backed by multiple property data archives in commercial real estate. With Buildout Insights, you'll get owners' contact information, sales comps, and national tax, deed, and mortgage data. Use its predictive analytics to determine which properties will likely sell or refinance in the next 12 months. However, offering a free trial and comprehensive customer support could improve the platform.
Stacking plans: Determine which spaces and units are coming on the market soon to provide better solutions for your clients.
Project management: Track important activities across your team and brokerage to close deals more efficiently.
Property data: Access data on more than 8.5 million commercial properties to make more informed business decisions.
Buildout Marketing: Promote your listings by creating property websites, proposals, and emails. The marketing solution includes document creation, a property inventory plugin, a leads dashboard, client reports, property listing syndication, interactive site plans, and branded email marketing.
From more than 1,600 customer reviews, Buildout CRM received a customer rating score of 4.8 out of 5. Commercial real estate brokers found the platform simple and easy to use. They also like the ability to track every part of real estate transactions in one centralized place. A customer also appreciated the support team that is "extremely responsive and willing to make changes where necessary."
In a less favorable review, one user noted that the "syncing feature is a little clunky and may need some back-office tending." Another customer also hoped to have more integrations. A broker said the website took time to load, and some videos were difficult to manage. Buildout's pricing can also add up since it doesn't have plans with all the CRM, Insights, and Marketing features included, unlike LionDesk, Ascendix Real Estate, and Propertybase.
Manage and Close: $85 plus $250 brokerage fee
Showcase and Boost: $150 starting price plus $250 brokerage fee
Prospect and Nurture: $199 special introductory pricing
All pricing is on a per-month basis.
Best for Free CRM Support Outsourcing

Pros
Free plan
Mobile app
Back-Office Assistant Team
Cons
No client collaboration tools
Marketing features is limited to sharing emails and no drip campaigns
No tiered plans
Our Expert Opinion on ClientLook
ClientLook is a Lightbox free CRM software that can leverage and outsource CRM support. Its Back-Office Assistant Team takes care of data entry, online lead capture, appointment scheduling, and listing administration so you can focus more on nurturing client relations and marketing your listings. ClientLook is also the only CRM on this list with a four-month free plan, giving you time to test the platform before committing to a paid subscription. But, it may improve by offering tiered plans and client collaboration tools.
Mobile app: ClientLook's mobile apps enable you to take your CRE business on the road, access data on any device and operating system, and send emails that automatically connect to records.
Property data and listings: Input property details, build your own proprietary commercial real estate database software, share listings, and access property inventory modules and related contacts in one platform.
Client collaboration: Communicate with clients in real time to share deal activity and documents. You can easily track every deal-related call, tour, email, and file straight from your CRM.
Sales and lease comps: Add comps to existing property records, convert listings into comps once a deal closes, and share comp reports with your clients.
ClientLook gained a review rating of 4.7 out of 5. Most of ClientLook's customers liked the Back-Office Assistant Team, which helped them with free contact management and data entry. Many brokers appreciated how they could easily keep track of contacts, properties, deals, and task lists in one place. Another user praised the mobile app that is easy to use. One business owner said ClientLook helped his team share information and communicate more efficiently.
However, one user was disappointed with the limited reporting capabilities and "no cross-object filtering" in advanced searches. A customer also noted that they sometimes lose some of the records they've made, while several clients found the third-party integrations limited and cumbersome. ClientLook also has minimal marketing capability. If you're looking to market listings to multiple channels, we recommend LionDesk. If you need a CRM with marketing automation, check out Propertybase.
Free plan: $0 for the first four months, then $99 per month thereafter
Monthly plan: $129
Annual plan: $1,086
All pricing is on a per-user basis.
Best CRE CRM With Marketing Automation Capabilities

Pros
Transaction management with e-signature and document tools
Automated email and drip campaigns
Built-in website design tools
Cons
No live support channel
Expensive pricing on a per-user basis (exact pricing not disclosed on the website)
Minimal customization options for the dashboard and pipelines
Our Expert Opinion on Propertybase
Propertybase is a full-service real estate platform that offers robust marketing features and automation, enabling you to send a perfectly timed email or SMS outreach based on triggered behaviors. You can also create responsive and on-brand email designs using its drag-and-drop builder. Moreover, Listing Boost lets you quickly launch fully automated social media campaigns that promote your listings to the right audience. Yet, it could improve by providing live chat customer support and more customization options.
Website builder: Build a code-free custom, branded website with IDX property search so visitors can search advanced criteria and save their preferences on your website.
Leads: Choose how many leads you want to receive per month, and Propertybase's team will create, run, and maintain landing pages, real estate ads, and campaigns for you to promote your business.
Analytics: Receive business analytics and insights in easily consumable reports and dashboards to help you visualize your business performance and make data-driven decisions.
Commercial real estate contact management software: View your leads and contacts on your CRM, including aggregated leads from sources like Trulia and Zillow. Its lead scoring feature enables you to determine your most active leads and launch targeted drip campaigns based on criteria like property views, saved searches, and buying timelines.
Propertybase has a customer rating of 4.7 out of 5, with most users loving its all-in-one real estate solution. Many brokerages are satisfied with the CRM because of its feature inclusion, customization options, and scalability. They particularly like its lead generation capabilities and centralized platform for front-end and back-end real estate team operations. One broker said his team could get all their systems into one place instead of managing different spreadsheets.
However, other users noted that adding customizations to make the software work for their business was complicated. Some reviews complained that Propertybase customer support can be slow to respond. As of this writing, Propertybase doesn't offer live phone and chat support. You can only contact their customer service via email. If you're looking for a CRM with responsive customer support and back-office assistance, check out ClientLook.
Propertybase GO*: Starts at $399 for five user licenses
Propertybase GO*: Starts at $799 for ten users
*Contact Propertybase for up-to-date prices, discounts, and terms.
Read how our experts feel about this commercial real estate contact management software in our Propertybase Review.
How We Evaluated the Best Commercial Real Estate CRMs
Value for money is a critical factor when choosing a commercial real estate CRM that matches your business needs. We evaluated pricing and features specific to commercial real estate operations, such as tenant work order management, contract generation tools, and functions for managing transaction opportunities. Other factors associated with product usability and customer support were also considered to ensure you get all the support you need to scale your business.
After a thorough evaluation, Apptivo is our best commercial real estate CRM because of its competitive pricing and built-in tools specific to commercial real estate. From contract management, project management, and procurement to email marketing, Apptivo enables you to manage tasks and sales without exerting much effort. Its highly customizable CRM platform gives you a quick view of your business performance. Moreover, it has a mobile app to manage your commercial real estate business on the go.
Here are the criteria we used to determine the best CRM software for commercial real estate:
25% of Overall Score
When evaluating the cost of each CRM, we considered access to free account options, varying subscription plans, and whether or not monthly billing plans are available.
25% of Overall Score
We reviewed features that are staples to most real estate CRMs, like customizable pipelines, reporting and analytics, contact management, task assignments, and integrations.
15% of Overall Score
Features like a mobile app, client collaboration tools, property maps, listing management, marketing tools, and deal tracking were considered highly beneficial for commercial real estate businesses.
10% of Overall Score
The functions of any application are only as beneficial as they are usable. These criteria were analyzed by the knowledge required to set up the software, the skill needed to operate the platform, and the intuitiveness of the user interface.
10% of Overall Score
We used customer feedback for each CRM, with particular attention given to reviews and the popularity of the product, to certify it meets user satisfaction.
10% of Overall Score
In addition to our firsthand experiences with the providers, we evaluated what other users say about each platform. These criteria consider how other experts rate each CRM and how customers feel based on their reviews to gauge features, ease of use, and overall value for money.
5% of Overall Score
Extensive support and service can prevent issues a user might encounter. These were evaluated in terms of customer service hours and availability of support through various channels like phone, live chat, and email.
*Percentages of overall score