Salesforce is an advanced CRM platform where small businesses can use account and customer information to deliver good customer service, increase marketing and sales success, and extract vital business data. We compiled reviews from our own website plus user reviews from around the web and determined that Salesforce has generally positive ratings. We also compared the most common pricing options for small business owners.
Salesforce Customer Reviews
Overall Experience: Average
Price: Bad
Ease of Use: Average
Functionality: Good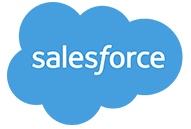 Summary of User Reviews
We scoured hundreds of reviews and found that Salesforce has generally positive ratings. Here's what we found:
What Salesforce does well:
Users were amazed at all the advanced features that they get with Salesforce. Aside from the normal features that deal with customer relations management and retention, you also get a lot of features that are marketing and sales driven, like lead management and business analytics.
What Salesforce does not do well:
Salesforce's feature-heavy platform is its downfall as well. Small businesses may end up paying for features they don't want and trying to navigate a platform that is too complicated for their needs.
Most Helpful Positive User Review
"I have to give Salesforce a double thumbs up. I primarily use Salesforce products in my work with my health-education non-profit. Salesforce Foundation generously donated us 10 licenses to the Enterprise edition of Sales Cloud and then offer a 80% discount for additional licences, so for us that is a screaming deal. I have to say that Salesforce has changed how we do work at ETR. Before it, we were acting on gut feelings instead of data, and were in a financial decline. It's been two and a bit years since we implemented Salesforce and since then we've seen a dramatic turn around. I won't say that it's all to do with Salesforce, because like any tool, you have to use it well, but Salesforce has played a very significant role in our turn around. It's very easy to use and the support that they and the larger Salesforce community have is outstanding. I was able to implement it in my agency by myself within 6 months, including pretty hands on training at various levels, including integration with our back-end ERP. Salesforce is so important to us. It's the backbone of our enterprise technology infrastructure."

— Kieren Jameson
Most Helpful Negative User Review
"SF reminds me of the ERP world – way too big, way too complicated, way too much of an effort to boil the ocean vs. a cup of water. After a decade of using the tool (and paying every year for it), I found myself using it less + less each year because I couldn't find ways to save keystrokes. I'm a Mac user and struggled to seamlessly integrate my email and calendar – to save keystrokes. We have a marketing automation engine – took several developers to figure out how to integrate + sync the results of who received my newsletters, opened them, etc. with SFDC. Multiple security tokens, unbelievable tiers of integration configuration, almost called NASA to see if they could send over an astrophysicist to help! I run a small business and I'm really good at what I do. What I don't want to have to do is to get a PhD in how to configure and use SFDC. Unfortunately when you over complicate what should be a simple process, you begin to alienate those who helped you succeed!"

— David Nour
Other Salesforce User Reviews From Around the Web
Here are a few other resources for finding helpful Salesforce customer reviews. We rated the review sites on a scale from poor to excellent based on how trustworthy and useful the reviews seemed.
| User Review Website | Average Rating* | Number of Reviews | Quality of Reviews on Website |
| --- | --- | --- | --- |
| G2 Crowd | 4.2 out of 5 | 1,486 reviews | Excellent |
| TrustRadius | 7.8 out of 10 | 119 reviews | Excellent |
| Top Ten Reviews | 10 out of 10 | Staff review | Good |
*Average rating as of date article was written: Jan. 25, 2017
How We Determined Quality of User Review Websites
G2 Crowd has several reviews on the product. The website asks its reviewers specific questions about the company, thereby making the reviews more in-depth and informative.
TrustRadius also has ample reviews on the product, and each reviewer is asked to give pros and cons, making the reviews more balanced.
Top Ten Reviews lists Salesforce as the #1 CRM product on the website. You can see the pros and cons of the product, as well as a comparison chart between Salesforce and other CRM products.
Salesforce Pricing
| | SalesforceIQ CRM Starter | Lightning Professional | Lightning Enterprise |
| --- | --- | --- | --- |
| Pricing per month | $25 per user (when billed annually) | $75 per user (when billed annually) | $150 per user (when billed annually) |
| Users | Up to 5 users | Unlimited | Unlimited |
| Account and Contact Management | Simple contacts and and accounts list only | Contacts and accounts database is more detailed | Contacts and accounts database is more detailed |
| Third Party Integrations | Yes | Yes | Yes |
| Email Integration | No | Yes | Yes |
Salesforce has 4 plans ranging in price from $25 to $300 per user. The basic Salesforce IQ CRM includes basic CRM features, contact and account list management, and tracking. The higher tiered plans allow businesses to input more details into their accounts and contacts list, allowing this information to be used later on for analytics. The more advanced your plan is, the more marketing features are available to you, such as marketing campaigns and sales team collaboration.
Best Pricing Option for Small Business Owner
The SalesforceIQ CRM has all the features that a small business will probably ever need. In fact, there are features in Salesforce's most basic plan that a small business will most likely never use at all. However, many small businesses find themselves forced to upgrade to the next plan even if they don't need the features because the most basic plan is only available for up to 5 users.
Compare Salesforce Competitors
Not sure if Salesforce is the right fit for you? Read our small business CRM comparison guide or check out one of these three Salesforce competitors.