Salesforce Review 2023: Is It Right for Your Small Business?
This article is part of a larger series on CRM.
Salesforce is one of our top recommendations for businesses looking for highly customizable customer relationship management (CRM) software with advanced sales tools. We evaluated this provider, and it scored high in general features, specialized features, customer service, and expert score. However, it got lower scores in pricing and ease of use because of its expensive plans and the technical skill necessary to set up and operate the platform.
Pros
Advanced analytics and sales prediction tools
Robust lead management tools for lead assignment, routing, and scoring
Highly customizable interface
Cons
Best suited for more advanced users; beginners will have a learning curve
No free plan and pricing gets expensive quickly
Limited customer support—premium support requires a separate purchase and is expensive
When to Use Salesforce
You need advanced sales tools: At each tier, this provider's plans are packed with valuable contact and deal management, lead scoring, and sales forecasting features.
You're looking for a highly customizable CRM: It offers extensive system customization tools with a Process Builder Tool for automating, managing, and customizing business processes.
You lead a real estate brokerage team: This platform can distribute leads, make decisions based on metrics, and collaborate between management and real estate agents.
When to Use an Alternative
You need a free or low-cost CRM: Check out our guide to the best free CRM options for small businesses.
You're looking for an ecommerce CRM: Browse through our list of the best CRMs for managing your online store.
You're a real estate agent seeking a simple CRM: Try Freshsales or another free real estate CRM software to see easy-to-navigate solutions for organizing, communicating with, and nurturing your client list.
Salesforce is one of the most advanced CRM systems on the market. Highly sophisticated sales tools allow businesses of all sizes to manage sales outreach, marketing, and customer service in a centralized platform. Salesforce reviews show users are especially impressed with the robust reporting and integration capabilities. It is best for organizations looking for advanced, feature-rich CRM software.
Salesforce Deciding Factors
Supported Business Types

Small to midsize sales teams and large to enterprise-level organizations

Standout Features

Lead and opportunity management
Artificial intelligence (AI) tool
Territory management
Reporting and analytics
Mobile app

Pricing Plans

Ranges from $25 to $300 per user, per month (billed annually)
Free trial: 30 days

Contract Duration

Monthly billing option is available for Essentials plan only; all other plans are billed annually

Key Integrations

Google Workspace
JIRA
QuickBooks
Mailchimp
ActiveCampaign

Customer Support

Access to Trailhead learning portal, help portal, Trailblazer community, and Success Center
Technical support (online case submission)
24/7 phone support for business stopping issues
Premier support plans and professional services (packages start at 30% of net license fees, billed annually)
Not exactly sure what to look for? Check our step-by-step guide to choosing a CRM to keep your selection process organized. It has a free downloadable template for choosing the right CRM provider for your business.
Salesforce Alternatives
While Salesforce is a powerful CRM, it may not fit your business needs. You may be looking for a feature-rich CRM that lets you start with a free plan or want a lower-cost option that includes specific tools and reporting capabilities. Below are some of the best alternatives to Salesforce for small businesses based on use case:
| | | | |
| --- | --- | --- | --- |
| Best For | Users who need free CRM with excellent email marketing automation tools | Businesses needing visual representations of their sales pipelines | Small businesses wanting an affordable CRM with excellent analytics tools |
| Starting Price* | Free (unlimited users) or $45 per month (minimum of 2 users) | $14.90 per user, per month | Free (up to 3 users) or $14 per user, per month |
| | | | |
*Based on annual billing; monthly pricing is also available at slightly higher rates
For this Salesforce review, this provider earned a score of 1.75 out of 5 for its pricing. It offers four paid plans that start at $25 per user, per month when billed annually. The Essentials plan is the only one that can be purchased month-to-month ($35 per user, monthly). All the other plans require an annual contract. However, you can sign up for a 30-day free trial to test the platform before subscribing to a paid plan.
Essentials

Professional

Enterprise

Unlimited

Best For

Small businesses needing a sophisticated system to manage leads and sales initiatives

Small businesses requiring robust sales prediction tools

Growing businesses with multiple locations that need tools such as

territory management

and workflow automation

Larger companies that need a highly customizable system due to the plan's sandbox features

Annual Pricing

($/User/Month)

$25

$75

$150

$300

Monthly Pricing

($/User/Month)

$35

✕

✕

✕

Lead, Contact & Campaign Management

✓

✓

✓

✓

Rule-based Lead Scoring

✕

✓

✓

✓

Territory Management

✕

✕

✓

✓

Advanced Reporting

✕

✕

✓

✓

Developer Sandbox

✕

✕

✕

✓
Salesforce Add-ons Monthly Pricing (per User)*:
Sales Dialer: Starts at $5
Social Intelligence: $25
Sales Cloud Einstein (turnkey intelligence and automation): Starts at $50
CPQ (Basic Configure, Price, and Quote software): $75 to $150
Sales Email and Alerts: $50
Revenue Intelligence: $200
*Add-ons are billed annually; see Salesforce Add-on Pricing page for complete list of add-ons and plan eligibility
Select a Salesforce plan below for more information:
The Essentials plan is the basic, lowest-priced plan of Salesforce for small businesses. While it is the entry-level plan, it offers users advanced features and functionalities compared to other providers. Its features include account, contact, lead, and opportunity management, as well as lead assignment routing, customizable sales processes, and reporting. It also gives users access to Chatter, Salesforce's real-time team collaboration application.
---
The Professional plan offers everything under the Essentials plan plus additional sales and lead management features. Notable additions include collaborative sales forecasting and rule-based lead scoring, which helps users increase their conversion rate. It also has configure, price, and quote (CPQ) features, such as contract management, as well as quotes and invoices, to help you manage your business' finances.
---
On top of the features included under the Professional plan, the Enterprise plan offers tools to create CRM workflows and approval automation, as well as custom opportunity fields for forecasting. A standout functionality users get at this level is the territory management feature. This allows users to assign leads or accounts to specific salespeople based on geography, industry, or product.
---
The Unlimited plan is Salesforce's most advanced plan. In addition to all the features provided in the lower tiers, it includes customized sales forecasts and pipeline inspection.
Pipeline inspection lets your team get a consolidated view of all pipeline metrics. These include opportunities, week-to-week changes, artificial intelligence (AI)-driven insights, predictions about when deals will close, and activities. This lets your team focus on the most important deals and improves revenue forecasting.
It also offers more customization options for users. There is a Developer Pro Sandbox where users can design customized processes and interface changes in a safe testing environment before officially rolling it out.
---
Salesforce Features
Salesforce offers a wide range of features in one powerful platform, giving sales teams a centralized system to manage leads, deals, and opportunities. It also provides advanced tools for salesforce automation, workflows, CRM reports, inventory, and emails.
In this Salesforce review, we gave the provider a perfect score for its general features. This platform offers features fundamental to effectively managing sales performance and nurturing customer relationships. These include tools for tracking deals and opportunities, automating sales processes, monitoring pipelines, forecasting sales, and qualifying leads. It also has robust reporting and analytics capabilities as well as third-party integrations.
Below are some general and standout features that offer the most value from Salesforce:
Deal management
Lead management
Opportunity management
Lead scoring and routing
CRM analytics

---

---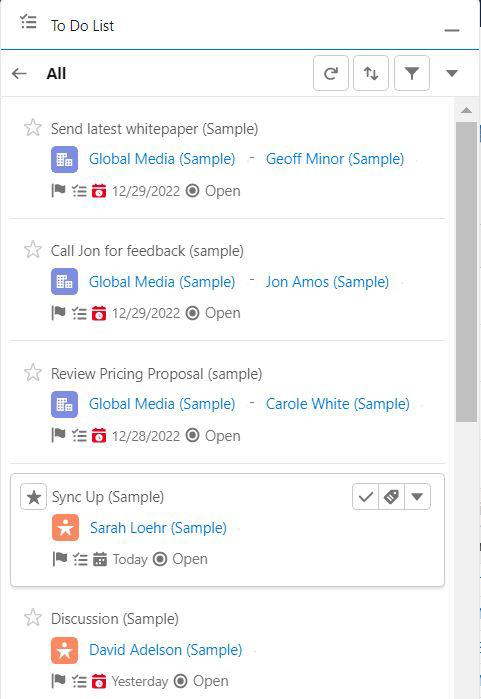 ---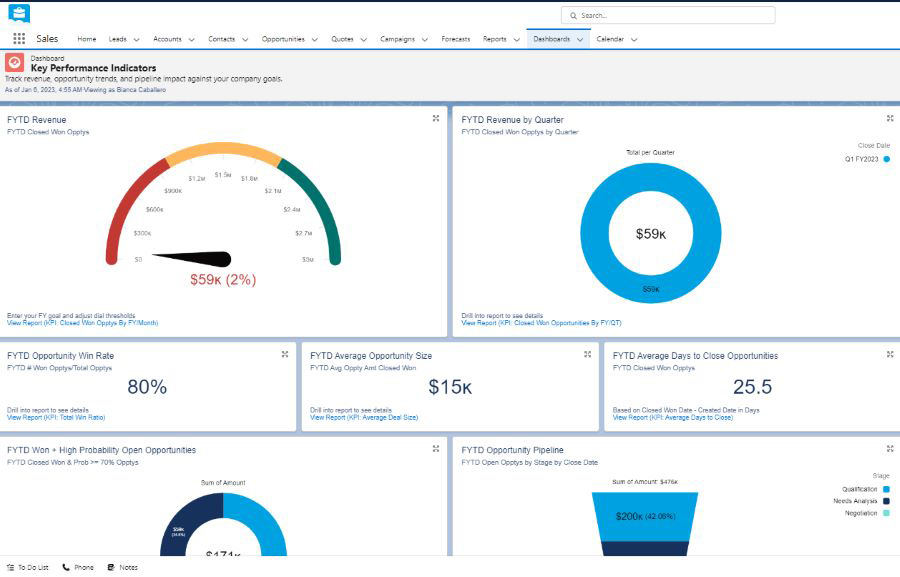 ---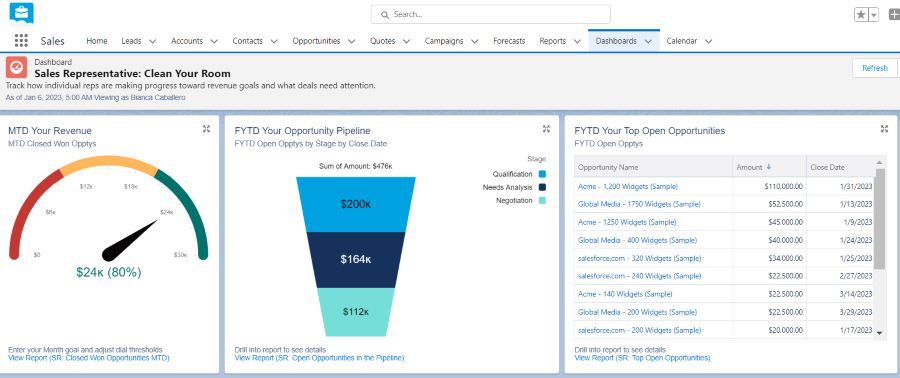 ---
This CRM platform scored 4 out of 5 for its specialized features. It offers features for lead and opportunity management as well as for territory management. This program also boasts an artificial intelligence (AI) tool called Einstein, which provides smart recommendations for your sales and marketing activities. Its other standout features include mobile apps with an AI voice assistant, email marketing, and sales forecasting.
Salesforce's lead generation and management features let users track the progress of all active leads and identify those who need follow-ups. It has a lead scoring function that enables users to spot hot leads and those most likely to convert—increasing the chances of closed deals. It also allows users to engage closely with leads across multiple touchpoints, such as phone, email, and social media.
This platform's opportunity management features enable you to view critical details in your customer's activity. These include deal stages, which products are part of a deal, quoted prices, and the next move you need to make to win. You can track these activities in real time and receive updates on deals.
---

---
---
Einstein is Salesforce's AI tool that uses your data to identify upcoming sales opportunities and deals for your agents. It also predicts customer issues and alerts agents of potential cases that may arise. Einstein assists with your marketing activities by creating predictive journeys and personalized marketing content based on a prospect or customer's interests.
---
Salesforce's territory management allows users to segment accounts, contacts, and deals into specific territories to help users manage similar accounts and customers. It lets you create custom sales territories specific to your business (such as location, product line, or customer characteristics). This helps you develop a logical, flexible structure and map prospects or customers to the most appropriate agent.
---
Salesforce has integration capabilities with many third-party applications, enabling you to synchronize prospect and customer data into the platform from many sources. These connections allow you to manage your social media accounts and projects and generate email marketing and customer service performance insights. They also help you streamline workflows and enhance your team's productivity and collaboration capabilities.
Some of Salesforce's most popular integrations include:
Google Workspace
QuickBooks
LinkedIn
DocuSign
JIRA
Slack
HelloSign
Mailchimp
ActiveCampaign
Dropbox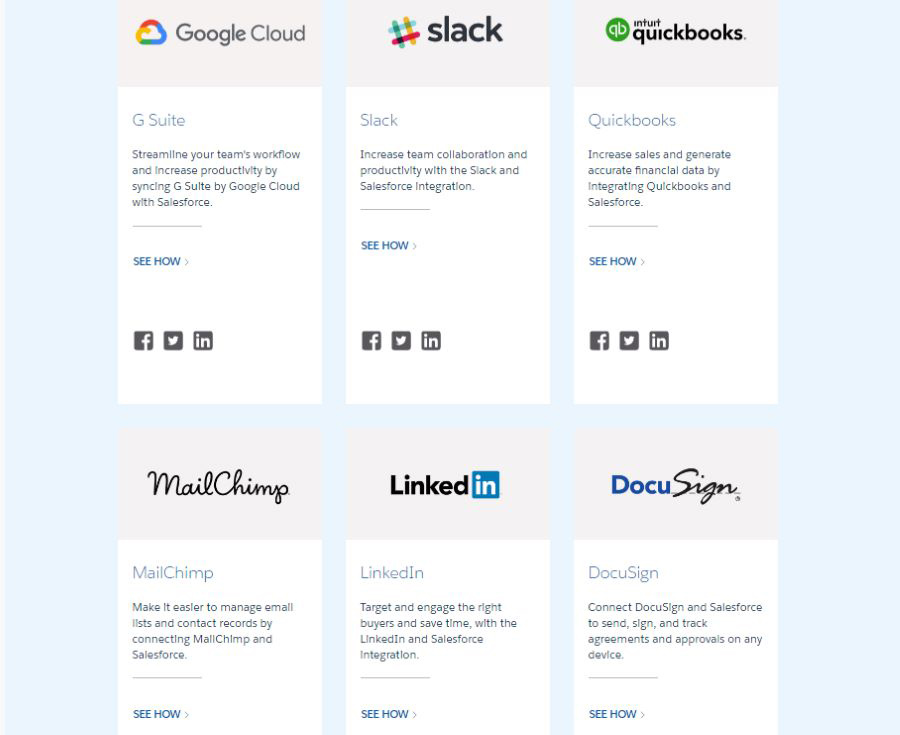 ---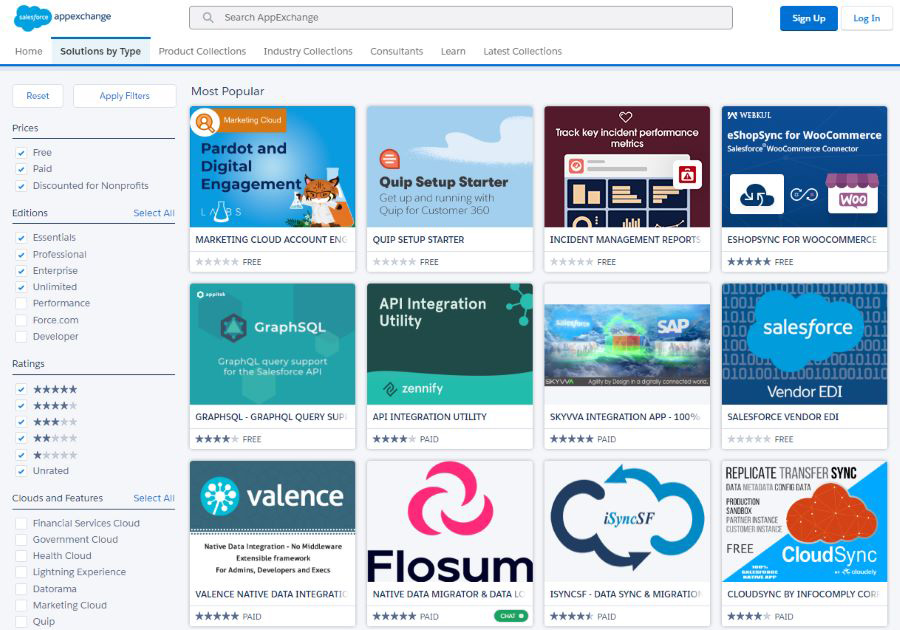 ---
---
Salesforce scored 4 out of 5 for customer service. It offers three levels of support under its Success plans: Standard, Premier, and Signature. All types of licenses offer Standard Success support, which gives users access to self-guided resources, online learning, and a help portal for case submission. You can also access its Trailhead product learning platform and 24/7 phone support for business-stopping issues.
The Premier plan is priced at 30% of a user's subscription costs, while the pricing of the Signature plan is customized based on an organization's needs and requests. With the Premier Success plan, you get added 24/7 chat and developer support, plus expert coaching sessions for Salesforce best practices. The Signature plan allows you to access proactive services, such as 24/7 system monitoring, annual technical reviews, and key event management.
Salesforce Success Plans at a Glance
Plans

Standard

Premier

Signature

Pricing

$0

Included in all plans

30% of applicable license fees 

Customized pricing based on complexity and scale

Technical Support (Submission of Cases Online) 

✓

✓

✓

24/7 Phone Support

✓

For business-stopping issues only

✓

✓

24/7 Chat Support, Developer Support & Expert Coaching Sessions

✕

✓

✓

Technical Account Manager (TAM) Access

✕

✕

✓
Salesforce scored 3 out of 5 in ease of use because it is best suited for users with prior experience using CRM platforms or who have intermediate technical skills. Since it's feature-packed, advanced, and sophisticated, new users may require some time to understand the interface and navigation as far as how the tools are organized. However, this platform provides self-help resources and demo videos to help users learn how to navigate the software.
Based on Salesforce reviews online, users appreciate the platform's automation tools, which help them streamline day-to-day sales tasks and processes. In addition, it allows them to generate customizable and robust sales reports for various sales activities like sales forecasts, target versus actual revenue, and won and lost leads. They also like that it can be integrated with a handful of third-party business tools, such as Slack and QuickBooks.
At the time of this publication, we noted the following comments posted on popular user review sites:
In less favorable Salesforce reviews, some users said navigating this platform is confusing for beginners because it is too feature-packed. They also mentioned the interface could look more modern and sleek, and some suggested using a larger font size to make menu options more readable. Others noted its mobile app does not work as well as its desktop version, citing a clunky interface, lags, and limited available functions.
Methodology: How We Evaluated Salesforce
To evaluate this program against other CRM solutions, we test each system ourselves. We examined crucial areas, such as pricing, core CRM features, quality of customer support, and ease of use. We also looked at recent CRM ratings about this platform from credible review sites.
Click through the tabs below for our Salesforce evaluation criteria:
10% of Overall Score
Cost is typically an essential criterion for any business, so it was one of our considerations when evaluating the cost-effectiveness of this provider. We usually give a high score to providers that offer a starter plan that costs $30 or less. We also check the availability of a free starter plan, scalable pricing options, and options to pay monthly or annually.
10% of Overall Score
We looked at overall features we feel are essential for any CRM system, such as integration options, reporting, and analytics tools. We also considered the availability of a mobile app—which is crucial for sales reps who are always on the go.
30% of Overall Score
We also looked at the niche and targeted features of the software to see the value a user can get by subscribing. For this CRM system, we checked if they offer specialized features such as lead scoring, email and SMS marketing, workflow automation, and sales forecasting.
20% of Overall Score
We evaluated this provider's platform usability and the level of technical experience needed to use the system. This was analyzed in terms of the expertise required to set up an account, the learning curve to use its features, and the ease of integrating with other third-party applications.
20% of Overall Score
Support is a critical part of running any CRM tool, especially for small businesses that don't have in-house technical support. We analyzed the types and availability of support offered by these providers through live chat, email, and phone.
10% of Overall Score
We looked through existing and best CRM reviews on credible sites to measure the level of satisfaction current users have and any problems they typically encounter. We also added our thoughts and expert opinion on essential features, value for money, and popularity.
*Percentages of overall score
Bottom Line
Based on our Salesforce review, this platform stands out for its sales force automation, lead outreach, and business performance analysis capabilities. For these reasons, it is best for businesses that need advanced sales tools and can afford to increase the budget when they need to scale, as its pricing is on the higher side, especially for smaller teams.
Sign up for Salesforce's free trial for 30 days before committing to a subscription plan.