The best construction payroll software should be flexible, help simplify tax filing, and have customizable reporting. Other important features include time and attendance solutions and robust integration capabilities. This will generally cost between $45 to $350 per month. We looked at more than a dozen products and narrowed it down to our top six.
Top 6 Construction Payroll Software for 2019
| Payroll Software | Best For |
| --- | --- |
| | (Best Overall) Small construction companies that don't work on federally funded projects |
| | Construction companies with multistate payroll and federal projects |
| | Small construction companies that don't mind some manual processing |
| | Construction companies that value customized HR solutions |
| | Construction companies looking to scale their business quickly |
| | Large construction companies that need complete HR solutions |
How We Evaluated Construction Payroll Software
To evaluate construction payroll services, we looked at payroll software that were affordable and would help resolve the primary challenges construction companies face, like managing labor costs, paying contractors, time tracking, and paying taxes on time. The best industry-specific payroll systems for construction companies manage not only general payroll needs like paying employees and filing taxes but also construction-specific compliance issues in one simple system.
The criteria we used to evaluate the best construction payroll software include:
Price: Reasonably priced specialty software geared towards small to mid-sized construction businesses
Ease of use: How easy it is to set up the system and run payroll day-to-day
Independent contractor payroll: Features geared towards contractors
Automated tax filing & payments: Withholds and pays payroll taxes per federal, state, and local laws
Integration: Integrates with popular software products, like accounting and timekeeping
Time tracking: Electronic scheduling and timekeeping capabilities
Customized reporting: Construction-specific reporting options, like union tracking, Equal Employment Opportunity (EEO) minority compliance, and job labor reporting
We recommend Gusto as the best overall construction payroll software because it provides the greatest value with access to most of these features at a competitive price. It's also easy to use and automates important tasks. Larger construction shops may find other options more viable, but most businesses will be able to use Gusto immediately.
Gusto: Best Overall Construction Payroll Software


Gusto is our top pick for construction payroll software because of its transparent and affordable pricing, unlimited pay runs, and multiple payment options. While this may not be a good fit for larger construction companies that work on government contracts, Gusto provides an enormous number of features for small businesses for the price. It is by far the best value for smaller construction companies.
Gusto Pricing & Features
Gusto's pricing is unmatched by other providers on our list except for QuickBooks Desktop Payroll and, even then, if you value automation, it's still in the lead. There are three pricing tiers, with the cheapest being a minimum of $45 per month if you have one employee.
Gusto Pricing Plans
| | Core | Complete | Concierge |
| --- | --- | --- | --- |
| Cost per Month | $39 + $6/employee | $39 + $12/employee | $149 + $12/employee |
| Full-service Payroll | ✔ | ✔ | ✔ |
| Simple Time Tracking | | ✔ | ✔ |
| Workers' Comp Administration | ✔ | ✔ | ✔ |
| Employee Self-service | ✔ | ✔ | ✔ |
| PTO Policies & Time Off Requests | | ✔ | ✔ |
| Health Benefits Administration | ✔ | ✔ | ✔ |
| Admin Permissions | | ✔ | ✔ |
| Employee Directory & Surveys | | ✔ | ✔ |
| Certified HR Pros | | | ✔ |
| HR Resource Center | | | ✔ |
Contractor Payroll
Independent contractors are customary in the construction industry, so Gusto's easy pay option for contractors and employees is valuable. Unlike Payroll4Construction or Viventium, two of our other picks, Gusto allows for an unlimited number of pay runs each month, which allows you to pay contractors and employees in a way that works best for your business. It also prepares the 1099s you need to distribute at the end of the year and allows your contractors and you to print.
Multiple Pay Options
Gusto can handle multiple pay rates and schedules. This is important because construction workers are sometimes paid different rates when working on different projects. Flexible pay scheduling will be useful when you need different pay dates for certain employees. For instance, some companies pay their salaried and hourly employees on different dates, and paying independent contractors can introduce inconsistencies.
Automated Tax Filing & Reporting
Gusto earned big points for automatically paying and filing federal, state, and local taxes. Unlike Payroll4Construction that only includes tax paying in their base costs, Gusto commits to paying and filing all quarterly and annual taxes at no additional charge. It even performs a tax reconciliation to ensure the quarterly taxes were paid out correctly.
Ease of Use
Gusto has a user-friendly interface that makes maneuvering around the system simple. Figuring out how to do something as simple as adding new employees doesn't require any training. The self-onboarding feature allows you to step out of the process and review for accuracy once the employee completes. The to-do list on the dashboard and reminders within the system help you to stay organized and keep you on track.
Time Tracking
Gusto provides a simple way for you to track your workers' hours in one place. Employees can clock in and out from their account dashboard in real time and edit hours later when necessary. The system calculates overtime and documents the rates used so you can reference when necessary. This could come in handy when you need to verify that you're paying the correct rate for your state or local area.
Another pro is that the system syncs approved hours to payroll instantly with the click of a button. If you offer paid time off, you can store your policies within the system and process employee requests. This syncs with your calendar so that you're never caught off-guard.
What Gusto Is Missing
Gusto is missing some construction-specific features that you may need as your business grows more complex. Job costing is important so you can accurately track your projects' profitability but isn't available. In addition, if you begin working on any federally funded projects, you won't be able to run certified payroll reports nor track prevailing wages to ensure compliance.
Another deficiency is that Gusto's benefit features are not available in all 50 states. California, New York, Texas, and Florida are among the 23 states where you can get benefits with Gusto.
What Users Think About Gusto
We found numerous Gusto reviews online, and most of the positive ones comment on the ease of use and affordable pricing. Users also appreciated the good customer service experience Gusto representatives provide. There were complaints about a lack of weekend support, less customization for human resources (HR) features, and basic reporting.
Where to Find Gusto
Gusto gives small businesses a quality payroll system and HR support at a rate they can afford. It provides the basics and some premium features if you need them. You can try Gusto quickly by filling out a quick form and receiving a free trial. Get your free trial.
Payroll4Construction: Best Construction Payroll Software for Certified Payroll

Payroll4Construction is our second top pick for construction companies because of the industry insight, customization, and convenience it brings at a little more than $4 per employee, per pay cycle. It costs more than our general payroll solution, QuickBooks Desktop Payroll, but is worth it because of its specialization.
Payroll4Construction Pricing
For weekly payroll cycles, Payroll4Construction quoted us $66.25 for 15 employees each week, which equates to approximately $287 a month. For each additional employee, you will pay $1.75 per pay cycle. There's a one-time setup fee of $500, $300 fee for state and federal quarterly and annual tax filings, and additional charges for garnishment and W2 management.
To calculate the average monthly cost, we assumed we'd have 15 employees consistently each week and, since weekly pay is standard in this industry, we applied the weekly pay schedule rates instead of biweekly:
Standard processing: $1.75 x 15 = $26.25 per week
Check & direct deposit: $40 per week
Total cost per week: $26.25 + $40 = $66.25 per week
Monthly cost: 66.25/week x 52 weeks/year =$3,445 per year / 12 months per year = $287.08/month
Payroll4Construction Prices and Features
| Base Processing Fee | Weekly | Biweekly |
| --- | --- | --- |
| Standard Processing | $1.75 per employee | $2 per employee |
| Checks & Direct Deposits | $40 per payroll | $60 per payroll |
| Federal & State Tax Deposits | Free | Free |
| Local Tax Deposits | Free | Free |
| Job Cost Reports | Free | Free |
| Certified Payroll & Union Reports | Free | Free |
| EEO Minority Compliance Reports | Free | Free |
| Workers' Comp Reports | Free | Free |
Understandably, this is a little more expensive than some generic payroll software providers, but the access to knowledgeable customer service representatives and construction compliance reporting that come with it are invaluable.
Payroll4Construction Features
Payroll4Construction's features are major reasons this software is so high on our list. It has the basics like tax paying and filing automation but also contractor payroll, job labor reports, a time tracking option, and even certified payroll. Construction companies deal with a great deal of complexity, and this software is robust enough to handle it.
Contractor Payroll
This software can run payroll for both independent contractors and employees at the same time. Payment options include checks that are printed in the office ― no need to purchase check stock ― and direct deposit. There's no need to process separately or purchase an enhanced version to give contractors the same benefits as QuickBooks Desktop Payroll requires.
Automated Tax Filing & Reporting
Federal and state tax deposits are automated and handled like most general payroll software systems. Quarterly and annual filing is also automated but for an additional fee. Taxes are withheld and paid to the appropriate state, federal, and local agencies. When employees are scheduled to work on multiple projects in different locations, pay rates ― including prevailing wage rates ― and tax rates can change, and Payroll4Construction will adjust.
If an employee is working on a job for half a week in California and another state the remainder, the system will adjust the tax and pay rates automatically. Everything is driven by the specific jobs you create within the system and assign your employees to. When you create the job, you identify the city and state, prevailing wage rates in the area if applicable, and pay codes.
Certified Payroll
Certified payroll is a must-have option for any construction company that works on federally funded projects or plans to consider in the future. Generating your certified payroll reports won't require any additional work from you. It's as simple as placing a check mark beside "Certified Payroll." The system is also retroactive, so if you don't realize a job needs to be classified as Certified Payroll until later, it will generate all reports from day one.
Construction Reporting
Payroll4Construction offers the most value-added reporting out of all the software we reviewed at no additional cost. Among this reporting is new hire, workers' compensation, union reporting and tracking, certified payroll, and so much more. Job hour variance and cost reporting are also essentials on the list that help companies allocate labor costs in a way that fits their operations. Reporting provided by most of our other software options are not as extensive.
Ease of Use
Once you complete the setup with your representative, maintaining is easy. Most of your time in the system will be spent putting in hours, (unless you choose to add the mobile timecard later, entering new jobs and employees or contractors, and running any reports you need. Everything else is automated so that it pulls from the default information you entered upon set up and any new information from job tables.
Other Features
Payroll4Construction has upgraded features like automated timecard entry and Affordable Care Act (ACA) compliance to help you save even more time and worry as your company grows. These features are available anytime. In fact, at the end of each year, the system will decide whether or not you even need to consider ACA compliance of 50 employees or more.
Payroll4Construction also provides QuickBooks integration for free. There's no re-entry necessary to transfer the information. You upload, and QuickBooks assumes you ran payroll within its system and posts as usual.
What Payroll4Construction Is Missing
Although the company issues W2s to your employees, the system does not generate 1099s. However, it does generate a report that lists all of your contractors, how much they were paid, and other information you need to complete the 1099s yourself.
The only other downside we noticed is the limited integration features. While QuickBooks is a starter accounting software for many companies, if you happen to use anything beyond that and Foundation software, integration may require a little more effort. For instance, it integrates with some higher-end systems like Timberline, Viewpoint, and so on, but they require custom files you would need to work with representatives to build.
What Users Think About Payroll4Construction
Payroll4Construction has great reviews, although sometimes hard to find because many users combine with their reviews of Foundation software. We found many personal reviews and experiences on third-party forums. Most users appreciated the expertise and customer service Payroll4Construction brings. There was some concern about reps not always being available immediately and having to receive callbacks an hour later.
Where to Find Payroll4Construction
Payroll4Construction is flexible enough to handle simple and complex construction payroll structures. It provides the same basic features you get from general payroll software providers and much more. You can sign up for a free demo on the website.

QuickBooks Desktop Payroll is best for smaller construction companies who are using QuickBooks Desktop and have simple to average payroll complexity, meaning no multistate. You have access to automated payroll tax filing and a "No tax penalties" guarantee or using their forms and filing yourself. With less complex payroll, you shouldn't need advanced features.
QuickBooks Desktop Payroll Pricing & Features
QuickBooks Desktop Payroll comes in much cheaper than our other recommended providers. The tiered pricing gives you flexibility in how you want to handle payroll. If you have a handful of workers, you may have the capacity to file certain functions like filing and paying payroll taxes, yourself and capitalize on the savings. As you grow, you have the option of transitioning to a more premium option at a competitive rate.
QuickBooks Desktop Payroll Features & Pricing
| Features | Self-Service Basic | Self-Service Enhanced | Full Service |
| --- | --- | --- | --- |
| Price per Month | $23.20 + $2/employee | $45 + $2/employee | $109 + $2/employee |
| Integrates With QuickBooks | ✔ | ✔ | ✔ |
| Pay W2 Employees | ✔ | ✔ | ✔ |
| Direct Deposit or Check | ✔ | ✔ | ✔ |
| Free Expert Support | ✔ | ✔ | ✔ |
| Pay 1099 Contractors | | ✔ | ✔ |
| Electronic W-2 Filing | | ✔ | ✔ |
| Payroll Tax Forms | | ✔ | ✔ |
| Tax Filing & Payment | | | ✔ |
| No Tax Penalty Guarantee | | | ✔ |
| Free Year-end Forms | | | ✔ |
In addition, if you are considering bidding on federal projects in the future, certified payroll will be a must. QuickBooks integrates with Sunburst Certified Payroll software solution. For this, you will pay a flat $395 to use the license on an unlimited number of devices. This is more cost-efficient than some of our other software because it's optional, so you only add and pay for it when you need it, and it's a one-time fee.
Contractor & Employee Payroll
You can create and manage pay records for both employees and independent contractors within the system if you choose the Enhance or Assisted plan. If you don't need 1099 services, you can stick to the basic plan. When paying contractors and employees, you will need to run two separate payrolls. Payments to independent contractors are made similar to vendor payments to bypass the withholding requirements for employees.
Automated Tax Filing & Reporting
The self-service enhanced option completes payroll tax forms for you and even files W2s and 1099s at year-end, but it does not file your tax forms. It does track tax payment due dates so that you will be notified of deadlines. You will have to print and file these documents yourself.
If you only have a few employees, filing tax documents yourself might be a viable option for you. If not, the QuickBooks Full Service Assisted Payroll option offers tax payment and filing. A payroll expert will file federal and state forms for you and automatically debit your account to pay the taxes.
Construction Reporting
QuickBooks Desktop works with Certified Payroll Solutions (CPS) to provide contractors a solution to meet prevailing wage and reporting requirements at all levels, federal, state, and local. You will specify if a certain job is subject to certified payroll reporting within the CPS program, and the software will do everything else. However, instead of filling it like Payroll4Construction, the system generates the report so you can print and submit.
The QuickBooks add-on, Sunburst Certified Payroll Solutions, produces federal, state, and local certified payroll reports, statements of compliance, and no worked performed reports. It can also create 32 different Equal Employment Opportunity Commission (EEOC), work utilization, or manning reports and gives you the option of creating your own union or fringe benefit reports. If your construction payroll doesn't require this, you don't have to add.
Ease of Use
It's simple to use, and if you get confused, there are training videos and a community you can find online. The payroll system works well within QuickBooks Desktop, so if you're already using it, it should make your payroll process much smoother. As with all of the software, you will spend more time on the front-end setting up your company and employees and independent contractors.
Other Features
Another feature you will find useful is the Wage Manager Solution that comes free with the Certified Payroll Solution. It provides you with a quick method of updating all employee rates of pay in QuickBooks without having to access each employee's record.
What QuickBooks Desktop Is Missing
QuickBooks Desktop is missing a cloud-based option. There is a QuickBooks Online system, but it does not integrate with the add-on Certified Payroll Solution, and there's a monthly fee instead of a one-time payment. This may cause some inconvenience if you are expecting to handle everything in the cloud.
What Users Think About QuickBooks Desktop
Users love the affordability since it's less than half the cost of the other software options. They appreciate the pricing options they have. Most complaints are about poor customer service and support received after the initial setup, the complete opposite of our top recommendations. Numerous users commented on long wait times and rude customer service representatives.
Where to Find QuickBooks Desktop Payroll
QuickBooks Desktop Payroll is an affordable payroll software option for construction companies using QuickBooks Desktop. It's also a good starter payroll system for companies that don't have much experience processing payroll. You can visit the website for more information. Sign up for a free trial today.
Visit QuickBooks Desktop Payroll
Viventium: Best Construction Payroll Software for Customized HR Solutions

Viventium is a complete HR software provider that builds its software in-house, so their approach to creating your software solution will be highly customized. If you need a feature their team has already created for another customer, your customization costs could be minimal. Viventium is best for midsized to large construction companies that need a payroll and HR system personalized to their unique structure.
Viventium Pricing
For payroll processing with 15 employees paid weekly, we were quoted $60 a pay cycle or $260 per month with an estimated $2 per additional employee. This includes unlimited direct deposits, tax filing for one state, unlike Payroll4Construction that charges extra, and a few HR services. New hire reporting is optional at $2.50 per use. Year-end filing is $150 per filing, and there's a charge of $6.25 for each W2 or 1099 that needs to be prepared.
Here's how we calculated monthly payroll processing costs:
Standard processing: $60 per week
Check and direct deposit: $1.80 x 15 = $27 per week
Total cost per week: $60 + $27 = $87 per week
Monthly cost: $87/week x 52 weeks/year = $4,524 per year / 12 months per year = $377/month
Viventium doesn't publish pricing on their website, so getting a quote isn't as easy as it is through a provider like Gusto or QuickBooks. The representatives put custom packages together, depending on what features you want, so we can't say for sure how much each a la carte feature would be. However, we do know that certified payroll is an extra $20 per week or $87 per month ($20 x 52 weeks in a year = $1,040 / 12 months per year = $87 per month).
This can get expensive, especially if you need to add certified payroll at $464 per month, but its willingness to build custom solutions that other payroll providers like SurePayroll or QuickBooks would not could be valuable if that's what your business needs. Pricing for custom solutions depends entirely on what you need. If standard packaging or the construction-specific packages that Payroll4Construction offer are sufficient for you, they would provide a better value.
Viventium Features
Viventium provides all of the regular tax withholding and payment services that most of our other options provide. They offer pay-as-you-go workers' comp, union fringe reporting, job costing, and a Society of Human Resource Management (SHRM) certified representative who will answer your questions. The software is scalable and versionless and, since it's primarily a la carte, you can choose what you need.
Contractor & Employee Payroll
Viventium allows you to pay both contractors and employees as long as you classify them correctly within the system. You don't have to run an additional payroll like in QuickBooks to process all payments. At the end of the year, you will have access to all W2s and 1099s so you can send to your workers.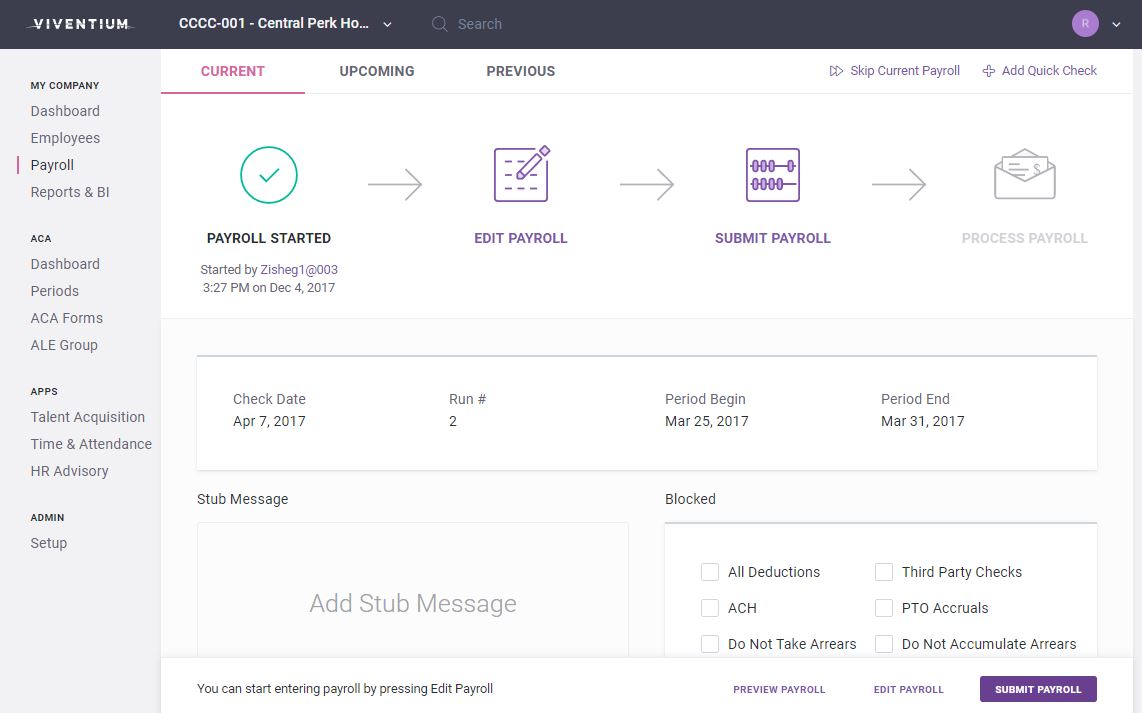 Certified Payroll
Viventium offers certified payroll reporting and automatic updates of prevailing wage rates. This means you don't have to do as much manual work keeping track of changing rates as you would in Paychex or QuickBooks. You would still have to create new jobs as you would in all software that we recommended with job costing capabilities, and the system automates reporting once the information is in.
Automated Tax Filing & Reporting
All payroll deductions including taxes are withheld and filed accordingly, so you don't have to file quarterly reports yourself. Year-end filing is also taken care of, for both W2s and 1099s, unlike Payroll4Construction that doesn't file 1099s as long as you pay the additional $6.25 fee per employee. The automated tax filing and reporting are complementary with base processing but only for the first state.
Construction Reporting
Since the system is a la carte and customizable, you shouldn't have a hard time getting all of the construction-specific reporting you need. There are more than 176 reports available. You can view union reports with deduction tracking to help you manage and understand the effects of the different union rules. Job costing reports will also be helpful.
Ease of Use
The software is very easy to use, and Viventium works closely with users to ensure any issues are resolved promptly. It's self-intuitive and easy to navigate. It operates in real-time, so any changes you make are reflected immediately.
Other Features
One cool feature Viventium offers is a Work Opportunity Tax Credit (WOTC) screening for new hires. Depending on who you hire, such as a person living in an impoverished neighborhood, disabled veterans, felons, etc., you could potentially earn up to $9,600 in credits per employee. It also has a time and attendance solution that syncs with its payroll system.
What Viventium Is Missing
Sometimes, Viventium's system can run slowly, and customization can take longer than desired. The system has plenty of features that are ready to use. However, in the event that you need something new, you may have a wait time.
There's also a lack of transparency with pricing, and they can be more persistent than Payroll4Construction. They put together custom packages based on your needs and budget. However, if it takes you a while to proceed, they are ready to adjust pricing downward and may call you multiple times to encourage you to sign their contract.
What Users Think About Viventium
Viventium doesn't have as many user reviews as popular software providers like QuickBooks and Paychex, but all third-party software review sites had some positive reviews about the software. The personal customer service experience was mentioned multiple times.
Some complaints were that the system could be slow at times, like when adding a new payroll line. There was also some frustration about not being able to open the software in Chrome and other browsers, but that has since been updated.
Where to Find Viventium
If you're looking for an affordable software system that is fully customizable and provides a complete and unique HR solution, look at Viventium. You can visit the website to request a free demo.
Paylocity: Best Construction Payroll Software for Growing Construction Companies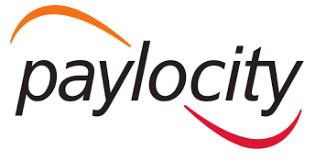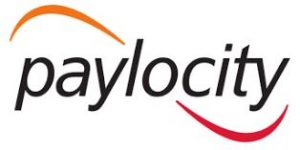 When it comes to construction, Paylocity is best for growing companies or at least those with future expansion plans. While its platform supports many companies with under 25 employees, a large number of their customers are mid to large enterprises. It provides many of the same features as Payroll4Construction, but you'll need add-ons. It also offers HR services to help you maintain compliance as you ramp up your hiring.
Paylocity Pricing
Instead of a weekly rate, Paylocity charges by month. For 15 employees, you will pay $300.75 a month, and that includes the certified payroll and prevailing wages add-on feature. For each additional employee, you will pay $7.75 a month. There's also a one-time setup fee of $300. It will likely cost a little more than our recommended payroll software and provides less value in terms of construction-specific reporting, but it's more versatile in other areas of human resource management, which will be essential as you expand.
Paylocity Features
Paylocity offers many features important to the construction industry. For growing construction companies, multi-state payroll and certified payroll are essential. As with Payroll4Construction, it allows you to process both independent contractor and employee payroll simultaneously. Its job cost reporting capabilities are what set it apart from some of the software options that ranked lower on our list.
Contractor & Employee Payroll
Paylocity can run payroll for both independent contractors and employees, which is great when you have a mix of workers. You can manage your administrative staff's time in the same way you manage your construction workers. The only extra step you have to take is setting up a 1099 earning code. Ideally, you would set this up in each contractor's profile during implementation, and it would be automated going forward.
Payment options include both check and direct deposit. Paylocity provides the direct deposit form you need employees to complete before adding them to the system.
Certified Payroll
Paylocity offers certified payroll as an add-on and is included in the pricing we provided above. You can set up job codes as certified with the check of a box, and it also instructs you to enter an Equal Employment Opportunity (EEO) code to simplify tracking. The system not only generates the certified payroll reporting sheet with a break down by project and employee but also a certified payroll statement of wage compliance.
Automated Tax Filing & Reporting
Taxes are withheld and paid to the appropriate agencies, as long as all employees and contractors are set up with the correct local, state, and federal codes. It also generates W2s and 1099s, unlike Payroll4Construction, to help ease some of the year-end workload. There is a $2 to $3 fee per employee for each payroll, which is pretty standard for most software companies, especially ones that specialize.
Construction Reporting
Although there is some construction-specific reporting available in Paylocity's payroll software, it's not all free. For instance, the labor cost allocation and reporting are only available if you add on the time and attendance system. It does include new hire reporting, essential for growing companies that want to remain compliant, and online quarterly tax reporting. There's also a ton of canned and ad-hoc reports that can be built to support your operations.
Ease of Use
Paylocity is branded as a software company rather than a payroll company, and that's reflected within the software. Unlike solutions like Paychex and QuickBooks, this company uses its own software to power certified payroll and prevailing wage rate functions.
The interface is pretty modern and user-friendly but may appear a little complex if you don't take advantage of their training. Because it's built to satisfy a range of needs, certain functions, like certified payroll selection, may be in other areas of the system when you realize you need them.
Other Features
Paylocity has add-ons for time and attendance, human resource information system (HRIS) support, applicant tracking, and onboarding. These extra HR features are designed to support growing companies that are likely to run into compliance issues and are interested in talent management.
Another great feature is integration. It integrates with QuickBooks by utilizing a simple upload of the chart of accounts. And since it's open architecture, it can integrate with more than 400 different types of software. If your software can accept an Excel file upload, it will most likely integrate with Paylocity well.
What Paylocity Is Missing
When it comes to construction companies, Paylocity is missing the industry expertise that Payroll4Construction brings. It's a much larger company and has representatives that vary in experience, so it may require a little more time and effort to get personalized solutions.
The software also has more portals than some general systems like Gusto and can require a little training to figure out. In addition, there are multiple ways to perform certain tasks so it can take time to become acclimated to using the system.
What Users Think About Paylocity
For the most part, users rave about their positive customer service experiences with Paylocity. They like the functionality of the system but sometimes complain about the flexibility. There weren't any major complaints about cost, and many users found it reasonable.
There are little nuances within the system that can sometimes cause frustration. Sometimes its add-ons don't integrate as well as users would like, implementation can take longer than expected, and the learning curve can take time to get past.
Where to Find Paylocity
Paylocity is an HRIS system that caters to the needs of its customers. Pricing varies depending on the features you need but is reasonable. Sign up at Paylocity today.
Paychex: Best Construction Payroll Software for Complete HR Management

Paychex is ideal for mid to large size businesses that want an online solution and human capital management services. It's one of the most expensive options on our list, but it does provide special HR features, like a labor law poster kit, a flexible 401(k) design, and numerous reporting options. You can access it online and through a mobile app, so you can run payroll from anywhere.
Paychex Pricing & Features
Paychex doesn't publish pricing on its website. We requested a quote for 15 employees and features like automated tax payments, workers' comp reporting, new hire reporting, and onboarding, and our quote was $86 per pay cycle (Flex Pro). If you want to include labor distribution and job costing along with custom analytics and reporting, the fee per pay cycle increases to $120 per pay cycle(Enterprise).
Setup fee is $100, and if you want W-2 or 1099 forms completed, there will be a flat $75 fee + $7.75 per employee. If you plan to manage five projects or less at a time and are bidding on federal projects, you can add $125 a month for certified payroll to get your actual projected cost. For up to 10 projects, this price drops to $83.33 a month for a full 12 months. This means you could potentially be paying a whopping $169 to $245 per pay cycle.
While the cost seems expensive, you can customize cheaper packages by removing a lot of the HR services, like online HR Library, Employee Handbook Builder, Labor Poster Kit, and digital marketing services, and possibly moving the labor distribution and job costing features to Flex Pro. These features were included in our estimate, but we weren't allowed to see the cost per feature.
For construction-specific benefits, like certified payroll, you can opt to add-on LCP Tracker to integrate the LCPCertified features. Unlike Payroll4Constrution that includes certified payroll capabilities within the payroll software, this LCP Certified could cost an extra $125 a month and isn't automated.
Paychex Plans and Features
| | Express Payroll | Paychex Flex Select | Paychex Flex Pro | Paychex Flex Enterprise |
| --- | --- | --- | --- | --- |
| Federal, State & Local Tax Paid & Filed | ✔ | ✔ | ✔ | ✔ |
| New Hire Report | ✔ | ✔ | ✔ | ✔ |
| Free Mobile App | ✔ | ✔ | ✔ | ✔ |
| Integration With QuickBooks & Sage | | | ✔ | ✔ |
| Workers' Comp Report | | | ✔ | ✔ |
| State Unemployment Insurance Service | | | ✔ | ✔ |
| Analytics & Reporting: 160+ reports | | | ✔ | ✔ |
| Custom Analytics & Reporting | | | | ✔ |
| $1,000 in Prepaid Digital Marketing Services | ✔ | ✔ | ✔ | ✔ |
| 247 Phone & Chat Support | ✔ | ✔ | ✔ | ✔ |
| Dedicated Payroll Expert | | ✔ | ✔ | ✔ |
| Labor Compliance Poster Kit | | ✔ | ✔ | ✔ |
| Direct Deposit & Paycards | ✔ | ✔ | ✔ | ✔ |
| Check Payments | | ✔ | ✔ | ✔ |
| Onboarding | | | ✔ | ✔ |
| Garnishment Payment | | | ✔ | ✔ |
| Employee Financial Wellness Program | ✔ | ✔ | ✔ | ✔ |
| Employee Background Screening | | | ✔ | ✔ |
| Learning Management System | | ✔ | ✔ | ✔ |
Contractor & Employee Payroll
Paychex lets you pay W-2 employees and 1099 contractors easily based on an hourly rate or salary data. Both employees and contractors can be paid through direct deposit or check. Paychex will help you print, sign, and mail the checks.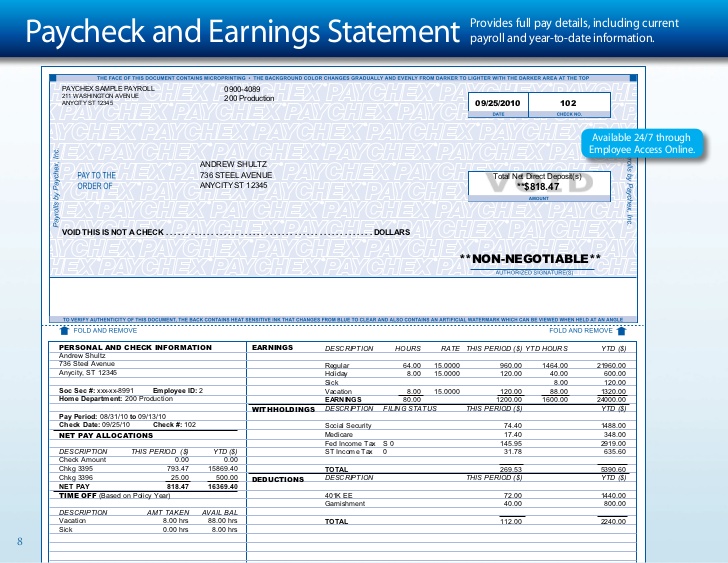 Certified Payroll
Paychex partnered with LCP Tracker to offer LCPcertified as a certified payroll solution. It's cloud-based unlike our QuickBooks recommendation and can generate both federal and state compliance reports. It also offers a special feature to contractors in California that produces an XML file that users can upload to the Department of Industrial Relations of California website. Payroll4Construction offers this same service but for all states.
Time and Attendance
Paychex offers an online time and attendance system that fully integrates with payroll. This is important so you can maintain compliance with applicable labor laws. There are dashboards for managers and employees that are updated in real-time. Employees can punch-in online, via mobile, and using certain tablets. They can clock in under their applicable jobs to help you track hours and projects costs, which is essential for construction companies.
Other benefits you receive with this solution are automatic geo-location that records your employees' whereabouts when they clock in, geofencing which prevents employees from clocking in outside of areas you designate, and color-coded drag-and-drop scheduling. This solution keeps you in the loop on worker attendance no matter where you are.
Construction Reporting
Although Paychex offers reporting that can be useful to construction companies, it's not as affordable as Payroll4Construction and QuickBooks. Labor distribution and job costing are bundled in the enterprise package that is usually targeted to larger companies. Representatives are allowed to mix and match some features, so it would be a good idea to try to have this one matched to the Flex Pro option.
Other important reporting options are workers' comp and custom analytics and reporting. You should check to see if the custom analytics and reporting can be added to Flex Pro as well because it's currently only included in their most expensive plan, Paychex Flex Enterprise. We requested a couple of quotes but were unable to uncover all of the add-on pricing.
Ease of Use
The site has a centralized dashboard with easy-to-read icons and is easy to navigate with the training and tutorials that are available. Also, having a payroll expert on call means you have one point of contact who can know your business needs and can give more value in time. You can also run reporting quickly and easily since there are more than 160 canned reports within the system.
Other Features
Paychex also offers garnishment administration, state unemployment insurance services, and time-off accrual reporting. It's an HRIS solution so there are numerous other HR features you can add in the future if the need arises.
One unique feature that's available in all of the Paychex plans is the Employee Financial Wellness Program. It's a way for you to help your employees meet their financial goals using a variety of tools and education.
What Paychex Is Missing
While Paychex offers workers' comp reporting and services that allow you to pay as you go based on actual payroll instead of an estimate, these features only work if you purchase workers' comp from Paychex. This could work well if you're interested in purchasing from Paychex.
Another feature that's missing is automatic prevailing rate calculation for all states other than California. The add-on, LCPcertified, can still create certified reports, but all data must be within the Paychex detail file. This means it's more of a manual process for you.
You also have the option of setting up classifications with the respective wage rates; once it's applied to a project, the system uses it to verify correct wages to report. Again, there is a manual component to it, but if you're not managing 10 or more projects in more than 15 locations at once, this may not be a huge problem.
What Users Think About Paychex
There are numerous good Paychex reviews online, but some users are dissatisfied. We found more positive comments regarding customer service than negative. However, users are concerned that some representatives aren't as knowledgeable as they should be when trying to resolve technical issues. For the price users pay, they are generally happy with the full bundle of services Paychex offers.
Where to Find Paychex
Paychex offers a complete human capital management solution that helps businesses before they hire their first employee. It's mobile friendly and offers numerous unique features that other providers don't. Visit the website to request a free quote.
Alternatives to Construction Payroll Software
| Alternative | Best For |
| --- | --- |
| | Construction companies that need a complete construction software system |
| | Construction companies that don't want to manage payroll at all |
| | Construction companies with only contract workers |
| | Construction companies using a payroll software without time and attendance system |
| | Construction companies that want free payroll software & no customization |
| | Construction companies that prefer an HR Platform |
Bottom Line
There are numerous software options available to help you maintain compliance with payroll laws, but they are not a one-size-fits-all solution. The best construction payroll systems are affordable and make time tracking, paying and filing taxes, paying contractors, and onboarding new employees easy.
We suggest Gusto because it offers numerous features small construction companies will need, and the automation is tough to beat for such a low price. The customer service and ease of use make processing payroll for a small business with construction workers easy. Get a free trial today.