7 Best Construction Payroll Software in 2023
Efficient payroll designed for construction can help you save time and money by making calculations easier, filing accurate taxes and reports, and organizing job costs. The best construction payroll software has specific reports and job codes for the construction industry.
In this guide, we looked at pricing, features, ease of use, and other criteria to determine the best payroll for construction software. We evaluated 16 construction payroll systems and narrowed our list down to the best seven.
Top Construction Payroll Software Compared
All the construction payroll systems we reviewed have online payroll, reporting, and time tracking solutions (ADP Run offers its time and attendance tool as a paid add-on). Standard employee benefits options (like workers' comp insurance) are also available, although Gusto's health plans only cover 39 states and TriNet Zenefits' medical, dental, and vision plans aren't available in Hawaii). Here are some of the standout features.
| | Starter Pricing | Contractor-only Payroll Plan | Certified Payroll | Union Payroll Codes | Pay on demand or outside paydays |
| --- | --- | --- | --- | --- | --- |
|   | $20,000 annually* | ✕ | ✓ | ✓ | ✓ |
|   | $6 per employee + $40 monthly | $35 plus $6 per contractor monthly | ✕ | ✕ | ✓ |
|   | $2.50 per employee + $42.25 per weekly pay run** | ✕ | Through Points North integration | ✕ | With Integrations |
|   | $5 per employee + $45 monthly | ✕ | QuickBooks Desktop only | ✕ | ✓ |
|   | $14 per employee*** | ✕ | ✕ | ✕ | ✕ |
|   | $8 per employee + $35 base fee** monthly | ✕ | ✕ | ✓ | ✕ |
|   | $128.75 per biweekly payroll for 25 employees** | ✕ | ✓ | ✓ | ✕ |
*Pricing is based on a quote we received; includes union and prevailing wage calculations for 25 people
**Pricing is based on a quote we received
***TriNet Zenefits' plan is composed of its Essentials package ($8 per employee) + payroll add-on ($6 per employee)
Top Construction Payroll Software Quiz
For help choosing which construction payroll service is best for your business, answer a few questions in our free quiz, and we will help you decide.
Answer a few questions about your business, and we'll give you a personalized product match.
eBacon: Best Overall Construction Payroll Software

Pros
Certified payroll
Takes advantage of tax-free fringe benefits (allows you to enjoy tax savings)
Handles most compliance reports
Offers basic HR solution for managing onboarding, paid time off (PTO), and employee attendance
Cons
Not available in all 50 states (Call to see if yours is covered)
Lacks a low-cost contractor-only payroll plan
Doesn't offer new hire reporting (only generates new hire reports)
eBacon Pricing*
Certified payroll with union and prevailing wage calculations for 25 people can be as much as $20,000 or more annually*
*Pricing is based on a quote we received. Pricing may vary by state.
While by far the most expensive, eBacon made it to the top of our list because its features are designed specifically to address the issues of construction companies. It offers certified payroll, compliance reports, fringe benefit management, union pay management, and more. eBacon provides all the tools you need to meet the needs of government contracts but works just as well for private jobs.
eBacon earned 4.01 out of 5 in our evaluation. Its ease of use, solid construction-specific features, and efficient payroll tools gave it a solid lead. It's also the only service on our list that offers a fringe benefits trust fund from which employees can take cash advances. However, it lost a few points on our rubric for lacking a customizable interface and transparent pricing. It also doesn't offer advanced HR tools such as hiring and learning management. You're better off with either ADP Run, TriNet Zenefits, or Rippling if you need those features.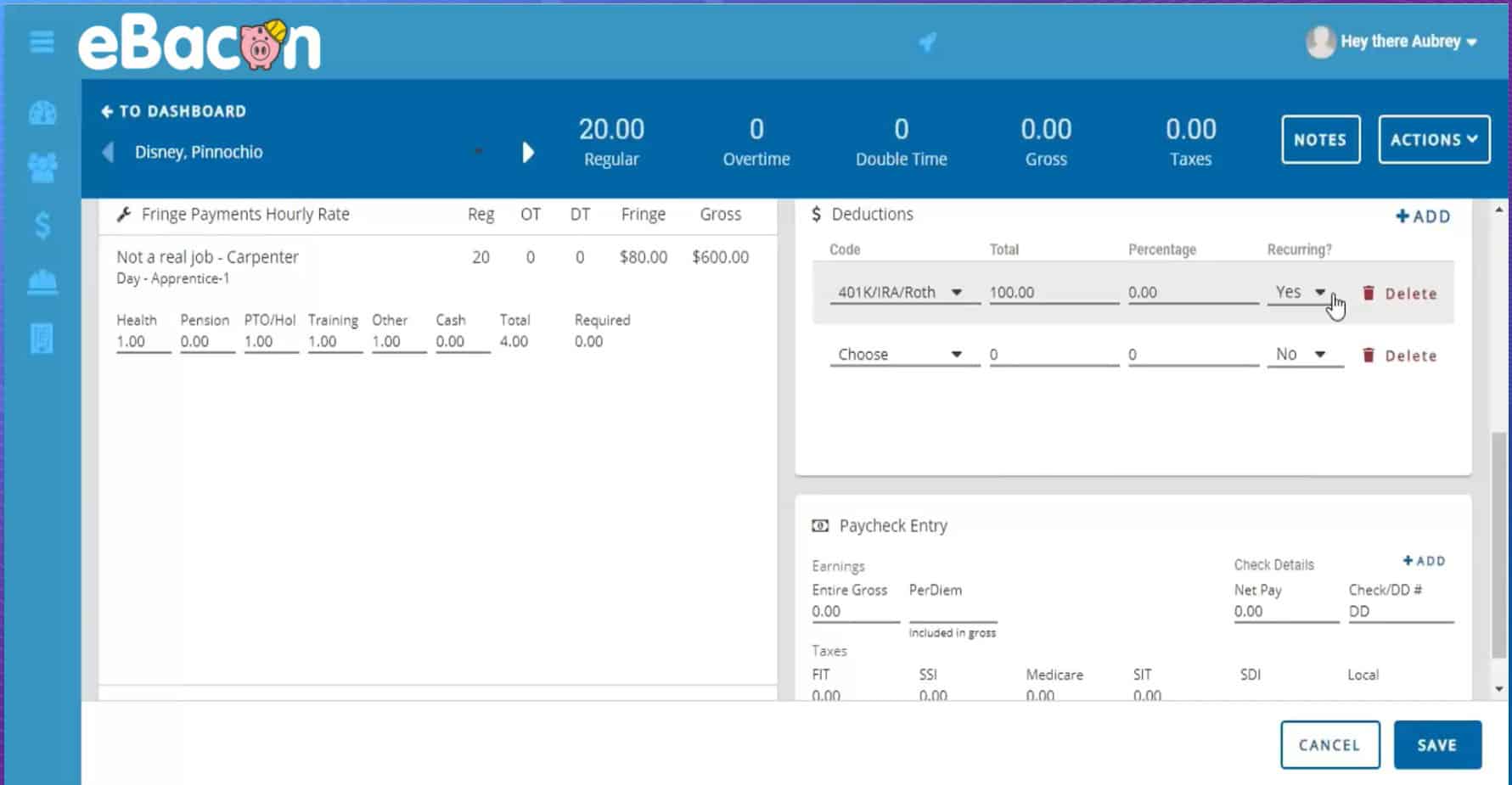 ---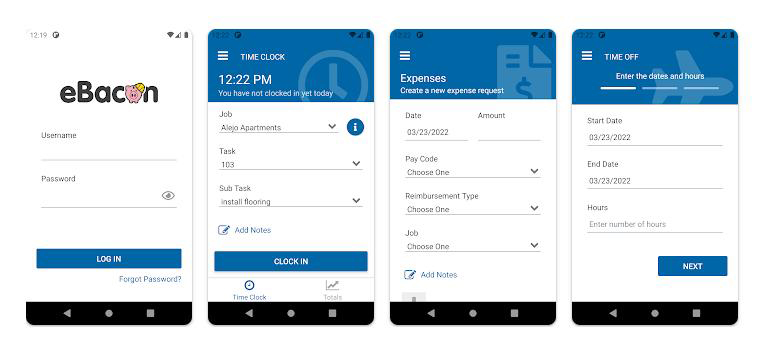 ---
eBacon Key Features
Payroll: Of the payroll software for contractors on our list, only eBacon and Payroll4Construction are made for construction companies that need certified payroll reports and prevailing wage reporting. It also offers fringe pay trust funds (to take advantage of tax benefits) and city-shifting calculations. Like Gusto and ADP Run, eBacon offers pay cards in addition to direct deposit. Furthermore, it alone boasts eight ways to track time and can handle multiple wage rates for a single employee on a single job in a single day.
Tax filing: Tax features are typical—federal, state, and local taxes and year-end report prep and delivery of W2s and 1099s.
Construction-specific tools: eBacon offers multiple job designations at multiple pay grades, union employee reports, and government contracting reports (WH347, EEO, city-specific reports). Only Payroll4Construction also meets these specific construction needs without paying for customization. With eBacon Prime, you can also work with reports from subcontractors and ensure all your work is compliant.
HR: eBacon has a limited suite of HR tools for managing online onboarding, PTO, time and attendance, and background checks. While it can generate new hire reports, you have to submit these yourself. If automating this task is vital for you, consider either ADP, Rippling, or Gusto (Payroll4Construction also offers this for an additional fee). It also provides benefits support to help simplify benefits administration and online enrollments of health, dental, vision, flexible spending account (FSA), and health savings account (HSA) plans.
Gusto: Best Payroll Software for Contractors

Pros
Low-cost contractor-only plan
Easy-to-use platform
Two-day and next-day direct deposits
Hiring and onboarding tools included in all plans
Cons
Lacks certified payroll reporting
Doesn't have union payroll codes
Health benefits limited to 37 states only
Gusto Pricing
Contractor-only plan: $35 plus $6 per contractor monthly

Full-service payroll, four-day direct deposits, and state new hire reporting
Payroll plans for paying both employees and contractors:
Simple: $40 per month + $6 per employee monthly

Includes full-service payroll, tax filings, payroll tax filings, single-state pay processing, two- and four-day direct deposits, employee benefits, new hire reporting, offer letter templates, onboarding, and basic support

Plus: $80 per month + $12 per employee monthly

Simple + next-day direct deposits, time and PTO tracking, applicant tracking, basic job postings, project tracking, multistate payroll, and full support with extended support hours

Premium: Custom-priced

Plus + performance reviews, surveys, full-service payroll migration, access to HR experts, direct line to priority phone and email support, and a dedicated account manager
Add-ons
State payroll tax registration: Pricing varies per state
HR advisory services for Plus plan only: $8 per employee monthly (this is included for free in the Premium tier)
Gusto is often our top choice of payroll software for small companies because of its pricing, ease of use, and good customer support. What sets it apart from the other construction payroll systems on our list is its contractor-only payroll plan, which comes with state new hire reporting (the other providers on our list don't offer this). However, while it has solid pay processing tools, it lacks the specialized features for construction that you can find with Payroll4Construction and eBacon. Nonetheless, if you are a small business that doesn't do a lot of government contracts or union work, its reasonably priced plans and user-friendly tools make it a good choice.
Since Our Last Update:
As of this writing, Gusto has reduced the number of states where it provides health insurance to 37. It does not provide health insurance in Alabama, Alaska, Hawaii, Louisiana, Mississippi, Montana, Nebraska, North Dakota, Rhode Island, South Dakota, Vermont, West Virginia, or Wyoming. However, you can get your own broker and integrate with Gusto for a fee.
It earned an overall score of 3.98 out of 5 in our evaluation. Gusto stands out because it offers multiple payment options with two-day and next-day direct deposits, although QuickBooks Payroll has a same-day option. It also has a contractor-only payroll plan that, while simplistic, is the cheapest on our list. It even provides excellent tools for money management for your employees through Gusto Wallet. Its biggest drawback is that it only offers health insurance for 37 states. If you are not in a covered state, consider either QuickBooks Payroll, ADP, or Rippling.
Gusto Features
Payroll: You get unlimited and automatic pay runs with Gusto, but it doesn't offer certified payroll like eBacon and Payroll4Construction do, nor does it offer integrations for certified payroll like ADP Run and QuickBooks. Employee payments are made through manual checks, pay cards, and pay on-demand via Gusto Wallet. Similar to QuickBooks Payroll, it has next-day direct deposits, which the other providers don't have.
Tax filing: Gusto handles federal, state, and local tax filing, plus garnishments and levies. It files and sends W-2 and 1099 forms at no extra cost (ADP Run charges extra for year-end tax reporting).
Construction-specific tools: Gusto doesn't have union payroll codes, but you can create job codes and conduct project tracking and workforce costing. Unlike eBacon and Payroll4Construction, it lacks construction-specific reports—you need to build your own. However, it has over 25 pre-made reports, which is more than the others on our list.
HR: Employee benefits include workers' comp, medical, 401(k), commuter, 529 college savings, and Gusto Wallet financial tools. With higher plans, you get hiring and onboarding, team and project management, access to HR advisers, and a dedicated support team. ADP Run and Zenefits offer more HR tools, and you can add a full suite of HR functions to Rippling, but it is a good offering for a basic plan.
To learn more about this system, check out our Gusto review.
ADP Run: Best for Growing Construction Businesses

Pros
Handles multiple pay rates and union payroll codes
Benefits plans include standard and nonstandard options like employee discounts
Has hiring, talent management, and learning tools
Certified payroll reporting through integration with Points North
Cons
Pricing isn't transparent, can be confusing
Time tracking costs extra
W-2/1099 form delivery and filing cost extra
ADP Run Pricing*
Essential: $49 base + $2.50 per employee per weekly pay run*

Includes payroll processing, direct deposit, tax payment and filings, customizable reports, employee self-service portal, and new hire onboarding

Enhanced: Custom-priced

Essential + state unemployment insurance management, ZipRecruiter job postings, and background checks

Complete: Custom-priced

Enhanced + expert assistance

HR Pro: Custom-priced

Complete + enhanced HR help desk, which includes scheduled check-ins and one-off questions with ADP's HR business advisers
*Pricing is based on a quote we received for 25 employees, a mix of salary, hourly, and contract. Normally, the Essential plan is cheaper. Installation fees apply but are often waived for new clients.
ADP Run has subscription options that include features ranging from payroll to a combination of payroll, time tracking (with GPS functionalities), and HR (recruiting, background checks with drug testing, and HR consulting are available). Combined with the ability to add union codes, track multiple jobs, and certify payroll, it's a strong choice for construction payroll software. Plus, its many HR tools and PEO solutions make it great for businesses with plans to grow over the years to transition easily to more advanced HR solutions and services.
It earned an overall score of 3.92 out of 5 in our evaluation, with high marks (4 and up) in HR, payroll, and reporting features. While it has union payroll codes you can use, it requires a Points North integration for certified payroll reporting. (eBacon and Payroll4Construction simply provide this natively.) The setup fee and lack of a contractor plan (something Gusto has) pulled its score down. Plus, it charges extra for year-end tax reports.
ADP Run Features
Payroll: ADP Run offers automated pay runs, two-day direct deposits, and the capability to pay contractors and hourly and salaried employees. It's one of the three providers (Gusto and eBacon being the others) on our list that lets you process payments via pay cards. Similar to Gusto, eBacon, Payroll4Construction, and QuickBooks Payroll (upper tiers), its time-tracking features include geofencing, which is handy for monitoring the attendance of remote administrative staff and on-site workers. You can integrate with Points North for certified payroll.
Tax filing: All plans include tax filings at federal, state, and local levels as opposed to QuickBooks Payroll, which does not do local tax filings in its basic plan. While it can create, deliver, and file W2s/1099 forms, you have to pay extra for year-end tax services. Most of those on our list include this service in one of their plans. However, ADP has a tax liability guarantee; it will work with you on misfilings and handle any fines.
Construction-specific tools: ADP lets you manage multiple pay rates and has multistate, union-specific, and job-costing tools. However, unlike Payroll4Construction and eBacon, it doesn't have construction-specific reports—you need to create these or pay extra for them to be included.
HR: ADP excels here, with a full HR suite that includes onboarding, workers' comp, new hire reporting, and document management. If you get its higher tiers, you get 24/7 access to expert HR advisers 24/7, an HR handbook wizard, ZipRecruiter job postings, background checks, and more. It offers benefits from major providers, including employee discounts with its partner retail shops and restaurants. It can expand to a full PEO if you want to outsource your HR fully.
Read our ADP Run review to help you determine whether its features fit your business needs.
QuickBooks Payroll: Best for QuickBooks Accounting Users

Pros
Fast direct deposits with next-day and same-day options
Seamless integration with QuickBooks products
Offers certified payroll (if using QuickBooks Desktop)
Tax penalty protection program covers penalties (up to $25,000/year) regardless of who makes the mistake
Cons
Basic HR features only
Tax penalty protection is included in the Elite plan only
Local tax filings available only in its higher tiers
QuickBooks Pricing
Core: $45 per month + $5 per employee monthly

Includes full-service payroll, next-day direct deposits, benefits, and federal/state tax filings/payments

Premium: $75 per month + $8 per employee monthly

Core + same-day direct deposit; local tax payments/filings; workers' comp administration; and HR support center

Elite: $125 per month + $10 per employee monthly

Premium + multiple state tax filing, project tracking, personal HR adviser, tax penalty protection, and expert setup
QuickBooks also offers bundled plans for QuickBooks Online + Payroll
If you use QuickBooks for accounting and want a simple payroll processor with basic HR functions, QuickBooks Payroll offers a surprising amount of functionality for construction companies. With native integration to QuickBooks Accounting, you get the benefits of tying into other integrations, automatic import of data for budgeting and job costing, and the ease of using QuickBooks for invoicing. The Premium and Elite plans include same-day direct deposit, something not offered by others on our list. It also works with SimplyInsured to provide health benefits in all 50 states (Gusto's is limited to 37 states).
QuickBooks earned 3.89 out of 5 in our evaluation. It scored high (4 and up) in most of our criteria, given its efficient payroll tools, user-friendly platform, and reasonably priced plans. Its overall rating took a hit because it lacks a pay card option, and some tools depend on the QuickBooks Accounting integration, such as certified payroll if using QuickBooks Desktop and the capability to integrate with construction software.
QuickBooks Features
Payroll: QuickBooks Payroll offers unlimited and automatic pay runs with the option to pay employees via manual checks and next-day or same-day direct deposits. It also has PTO management tools and time trackers via QuickBooks Time (if you upgrade to its higher tiers). You can create multiple pay types for employees, although it lacks union codes. You can get certified payroll via integration with Points North, like ADP.
Tax filing: While QuickBooks Payroll's local tax filings are included in its premium tiers, the Core plan only calculates them so you can file yourself. All plans include federal and state taxes, year-end report preparation, and delivery of W2s and 1099s. Its Elite Plan also helps you resolve tax penalties and reimburses you up to $25,000, regardless of who is at fault. None of the providers on our list offer a similar tax penalty protection program.
Construction-specific tools: Take advantage of its multiple pay rates, multistate payroll, job-based codes (though not specifically union), and flexible pay schedule options for running weekly, biweekly, and monthly payroll. It can integrate with construction-specific apps, such as Buildertrend, and provide job costing and industry-specific reporting; however, these are through QuickBooks Accounting. If you want these features right in your payroll software, consider either eBacon or Payroll4Construction.
HR: While not a full HR platform like Rippling and ADP, QuickBooks Payroll provides essential tools for onboarding, document management, and workers' compensation administration. It also has HR advisory services, provided you get its Elite plan.
TriNet Zenefits: Best for Payroll With HR Tools

Pros
Add job codes
Unlimited pay runs with robust compliance tools
Time tracking and scheduling included in all plans
Excellent range of HR tools
Cons
Does not have certified payroll
HR plans and add-ons require a minimum of five employees
Medical, vision, and dental plans not available in Hawaii
TriNet Zenefits Pricing
You need to purchase a core HR program and add payroll
Essentials: $8 per month per employee

Onboarding, employee management, time off tracking, scheduling, integrations, mobile app, analytics

Growth: $16 per month per employee

Essentials + people analytics, compensation management, and performance management

Zen: $21 per month per employee

Growth + employee management surveys and people hub
Payroll: $6 per month per employee
Benefits administration with your own broker: $5 per month per employee
Advisory services: $8 per month per employee
Recruiting: $35 per month (starting)
TriNet Zenefits is a newcomer to this list, but it's an excellent alternative to Rippling, Gusto, or ADP. It takes a different approach—similar to Rippling, you purchase a core program and add payroll; however, TriNet Zenefits programs come with strong HR tools, from scheduling and PTO management at its most basic to performance management and employee surveys with its most expensive plan. Thus, if HR tools are a priority, Zenefits may be a more economical choice.
With 3.82 out of 5 on our rubric, TriNet Zenefits made a great showing for nearly every category. Its lowest ranks were in construction features because it lacks certified payroll and specific union codes (although you can add job codes). It also lost points in ease of use because it lacks phone support, a dedicated representative, and a customizable interface.
TriNet Zenefits Features
Payroll: TriNet Zenefits falls short of most on our list for payroll because it does not have certified payroll capability, nor does it offer integration with a payroll certification service as ADP does. However, it does let you input job codes and job rates that you can add to positions. Unlike several on our list, time tracking and scheduling are included even in the most basic plan, taking a lot of work out of tracking hours on the job.
Tax filing: TriNet Zenefits pays federal, state, and local taxes, which puts it on par with the others on our list. It handles year-end filings, something ADP charges extra for. It also files your new hire state paperwork, something eBacon doesn't do (although it prints the paperwork).
Construction-specific tools: You get time-tracking, multistate payroll processing, and job codes. It creates the most common reports, like the EEO-1 report, and workers' compensation. You can run payroll off-schedule with ease, a great help when paying temps after a project is complete. It has automated onboarding and an optional recruiting module to help with high-turnover hiring.
HR: Here is where TriNet Zenefits stands out from the competition. While some, like eBacon and Payroll4Construction, lack HR tools, and others, like ADP Run and Rippling, charge for these as add-ons, TriNet Zenefits starts with HR and adds payroll. Thus, you can get a fully featured, complete HR system with payroll for as little as $27 per employee monthly (its top-level HR plan plus payroll add-on). The only thing that kept it from a perfect score for HR features was not offering health insurance in Hawaii.
Rippling: Best for Tech-heavy Construction Firms

Pros
Integrates with 500-plus business apps
Modular HR, payroll, and IT solutions, which let you choose solutions that you want
Wide range of HR solutions, such as hiring, job postings, learning management, and performance review tools
Can create a custom HR payroll plan based on your needs
Cons
Pricing isn't all transparent
You can't buy its payroll solution and other modules without purchasing its core workforce management platform first
Lacks certified payroll reporting
Rippling Pricing*
$35 plus $8 per employee monthly

Includes Rippling's core workforce management platform, employee onboarding and offboarding, full-service payroll, time tracking, and software integrations
Other Per-module Costs*
App, device, and computer inventory management: $8 per employee monthly

Includes IT tools to manage business apps and computer provisioning and deprovisioning processes

Benefits administration: Pricing varies, depending on your insurance broker
HR help desk: Custom-priced

One-on-one email/phone support from HR experts
*Pricing is based on a quote we received.
Rippling is a highly adaptable payroll program that often rates high on our lists of best payroll services. Its capability to integrate with more than 500 business apps makes it a good fit for construction companies that do a lot of high-tech design and engineering. Its core platform is a workforce management system, which includes online onboarding and offboarding, document management, reporting, and workflow automation tools. Then, you can add HR and IT modules, including full-service payroll that works in all 50 states. It also allows you to pay contractors, although there's no contractor-only plan (only Gusto provides that).
Rippling earned 3.75 out of 5 in our evaluation, with high marks (4 and up) in user popularity, HR features, and reporting. While it does not promote itself for the construction industry, its compliance tools are robust enough to handle construction-related payroll. It even has job codes you can customize not only for work but also for unions. However, it lost points because not all of its pricing is transparent, access to HR experts costs extra, and it lacks a pay card option (Gusto, ADP Run, and eBacon offer this).
Rippling Key Features
Payroll: Rippling offers unlimited and automatic pay runs with payment options that include manual checks and two-day direct deposits. Like ADP, it allows for international payroll, but only for contractors. However, if you want fast direct deposits, we recommend QuickBooks Payroll, as it offers next-day and same-day options.
Tax filing: Rippling handles federal, state, and local tax filings, plus year-end report prep and delivery of W2 and 1099 forms. This is typical of all the construction payroll providers on our list, although Zenefits and ADP Run charge extra for filing.
Construction-specific tools: Rippling supports multiple pay rates for jobs and states, has job costing tools, and lets you use job codes for union tracking, which are typical of most of the providers on our list, although Gusto and QuickBooks don't have union tracking.
HR: Rippling's HR tools are robust, allowing you to manage basic to advanced HR processes—from job postings and applicant tracking to learning management and performance reviews. You can even subscribe to its professional employer organization (PEO) services if you need an expert to handle your day-to-day administrative HR tasks. It also provides access to health, commuter, and retirement plans that you can offer to employees. Managing workers' comp is also a breeze with Rippling as it provides an online tool that shows real-time, pay-as-you-go rates. However, you have to pay extra for these modules, whereas others on our list include them in plans.
IT tools: What sets Rippling apart from the other providers on our list includes its 500-plus integration options and IT solutions for managing your employees' business apps and company-assigned computers. Apart from allowing you to set up and disable your workers' software and computer access, Rippling can help track your computer inventory.
To know more about Rippling's full-featured platform, read our Rippling review.
Payroll4Construction: Best Construction Payroll Software for Reports
Pros
Offers certified payroll reporting
Construction-specific reports are automatically created after each pay period
Automated rates by job, trade, and more
Robust job costing tool
Cons
Limited HR and employee benefits features
Lacks online onboarding tools
Pricing isn't transparent
Payroll4Construction Pricing*
$128.75 per biweekly payroll for 25 employees
Year-end tax reports cost extra (call for quote)
*Pricing is based on a quote we received.
Payroll4Construction is a specialized payroll software for construction companies. It does pay calculations and payroll tax filings and even provides basic employee benefits through its partner providers. It can also handle simple to complex job costing and offers a wide range of construction-specific reports, including custom ones to fit your business' specific reporting needs.
In our evaluation, Payroll4Construction earned an overall rating of 3.68 out of 5. It received top scores (4 and up) on construction-specific tools and payroll features. It took a hit on pricing because you need to call for a quote. However, its pricing is somewhat cheaper than most on our list, when looking at 15 employees. It also has very few user reviews, limited employee payment options, and does not offer advanced HR features such as hiring and training management, as ADP Run and Rippling do.
Payroll4Construction Features
Payroll: As with most of the payroll services on our list, Payroll4Construction offers automatic pay runs, two-day direct deposit, and PTO tracking. It allows you to pay hourly and salaried employees as well as contractors, although it doesn't have Gusto's special contractor-only payroll plan. The time trackers with geofencing cost extra, however, as do the employee self-service terminal and garnishments. eBacon, by contrast, also processes garnishments.
Tax filing: It handles federal, state, and local tax filings but, similar to ADP Run, end-of-year reports cost extra.
Construction-specific tools: Since it is designed for construction, you should find all the tools you need. Examples include multiple pay rates for jobs or states, job costing, and certified payroll reports. It prepares construction-specific reports like Equal Employment Opportunity (EEO) minority compliance and union reporting automatically.
HR: It offers time tracking with geofencing features and a self-service portal for employees. It can handle benefits deductions and works with partner organizations to help manage benefits plans. However, if you want HR functions like performance management, learning tools, or hiring tools, consider Zenefits, Rippling, or ADP.
How We Evaluated
We looked at payroll services with construction features, including those that are part of a construction program. Then, we narrowed the list further by evaluating construction-specific payroll needs such as multistate and multi-job coding, union and other certified pay runs, labor costing, and more. We also considered pricing, ease of use, HR functionalities, and user reviews.
Click through the tabs below for our full evaluation criteria:
25%
Construction-specific Features
10% of Overall Score
We gave points for plans that cost less than $50 per employee monthly as well as companies that offered transparent pricing, unlimited pay runs, and multiple plan options. Gusto led the pack with a perfect score, followed by QuickBooks and TriNet Zenefits, each with 4.25 out of 5.
25% of Overall Score
If a payroll provider lacked most of the features a construction business might need, it did not make our list. We also gave points for time tracking, multistate payroll, labor costing reports, and union payroll options. eBacon and Payroll4Construction both received perfect marks here.
15% of Overall Score
We looked for HR features like online onboarding, self-service portals, new hire reporting, and expert advisers. Most of the construction-specific payroll software lacked these. ADP earned perfect marks here, with TriNet Zenefits a close second. Payroll4Construction posted the lowest score in this criterion with a rating of 2.06 out of 5.
20% of Overall Score
We gave the most points to software that offers multiple payment options, including direct deposits with processing timelines of two days or less. Aside from year-end tax reporting, we also looked for payroll tax services that cover all levels (state, local, and federal). Gusto earned the highest score here at 4.75 out of 5.
5% of Overall Score
We took the average review ratings from third-party sites like G2 and Capterra, which are also based on a 5-star scale. Any option with an average of 4.5-plus stars is ideal. We also favored software with 1,000-plus reviews on any third-party site, although we gave some credit for those services that catered to construction businesses only. Gusto, ADP Run, and Rippling received perfect scores in this criterion.
15% of Overall Score
We looked for a large selection of reports and customizations. We also considered if new reports can be built directly in the system. Gusto earned a perfect 5 out of 5, although for construction-specific reports, you'll want to consider eBacon and Payroll4Construction.
10% of Overall Score
We highly favored payroll software with intuitive platforms, easy-to-learn tools, and live phone support. We also credited companies that provide help guides and dedicated representatives. eBacon, Gusto, and QuickBooks Payroll received high marks (4 and up) in this criterion.
*Percentages of overall score
Bottom Line
When choosing the right payroll system for your business, consider the size of your workforce and the functionalities that you need. Payroll software with construction features can help you stay on top of paying employees so that you can concentrate on other business challenges such as supply chain issues.
Overall, for construction companies, we recommend eBacon. It has a user-friendly and feature-rich platform designed to simplify payroll processing and compliance reporting. It even offers fringe benefit management tools, enabling your employees to easily access fringe benefits while providing you with tax savings on workers' comp and payroll taxes. Sign up for a free demo today.