ADP Run is a cloud-based payroll and human resources (HR) software that helps small businesses manage payroll, taxes, and basic hiring and onboarding. It features an intuitive platform with built-in compliance tools. It even offers access to HR professionals, employee benefits, workers' compensation, and time tracking solutions.
In our evaluation of the best payroll software for small businesses, ADP Run earned an overall rating of 4.06 out of 5. Growing startups and companies needing scalable HR solutions will benefit from ADP's multiple HR payroll packages for different business sizes. However, pricing isn't published on its website—you must contact the provider to request a quote. For a small business with 25 employees, we were quoted per-employee fees of $2.50 per weekly pay run plus a $49 base fee.

Pros
Multiple plans to choose from
Automatic quarterly and annual tax filings
HR tools include ZipRecruiter job postings, applicant tracking, salary benchmarks, and training tools
Advanced HR support available
Access to a Wisely direct debit card for receiving direct deposits
Check signing and delivery services; paychecks come with advanced fraud protection features
Cons
Pricing isn't transparent
Setup fee required (but this may be waived)
Year-end tax reporting costs extra
Benefits, workers' comp, and time tracking are add-on products
HR tools and check signing services are available only in higher plans
No state unemployment support for its basic Essential package
Startups and companies with fewer than 49 employees: ADP Run, which is ADP's small business payroll and HR software product, has all the essential tools you need to process payroll, manage payroll taxes, onboard new hires, and find qualified candidates through its partnership with ZipRecruiter. It even offers special promotions, such as discounted pricing and free trials, occasionally. As of this writing, ADP provides new clients with three months of free payroll processing.
Small businesses that aren't on a bare-bones budget and need HR tools and support: ADP offers integrated HR tools, such as onboarding, employee and employer training, and access to a library of HR forms, policies, and documents, which you can use. It provides state-specific HR Help Desk support if you need assistance navigating complicated employee-related issues.
Firms needing payroll software that connects to its existing software: ADP Run is compatible with numerous popular accounting solutions such as QuickBooks, Wave, and Xero. It also integrates with enterprise business solutions offered by Oracle, Sage, Workday, and SAP. Other integrations include those with HR software, time tracking solutions, benefits services, productivity apps, and POS software.
Growing businesses wanting an HR service that can scale with them: ADP Run offers four plans, plus add-on features like time tracking and employee benefits. As your business grows, you can transition to ADP's more robust HR and payroll solutions, including its professional employer organization (PEO) option, ADP TotalSource.
Midsize to large companies: ADP's other products, such as ADP Workforce Now and ADP Vantage HCM, are more suitable for midsize and large operations (with 50 to more than 1,000 employees). These include a wider range of HR solutions like talent management and analytics. You may also want to consider other payroll services like Paychex. See our expert comparison of Paychex vs ADP.
Businesses that need only ADP Run's add-on features: Features like retirement, time tracking, workers' compensation, and health insurance are excluded from the introductory payroll packages—and you have to pay extra to have these solutions added to ADP Run. Providers like Gusto, which offers a simple time tracking feature with premium plans, include most of these features in their plans.
Businesses on a budget: ADP Run has a lot to offer, not only in features but in 70-plus years' experience. However, its pricing is higher than many HR payroll providers with simpler features. You can find cheaper options on our list of best HR payroll software or look at our list of best free payroll software.
Aside from our list of best payroll software for small businesses, ADP Run ranked in several of our payroll and HR buyer's guides. ADP's chat-based mobile payroll solution, Roll by ADP, even made it to our top payroll apps list.
ADP Run Deciding Factors
Supported Business Types

Small businesses and growing startups that need scalable HR payroll solutions.

Free Trial

None, but it has an online interactive, self-led demo if you want to explore its payroll features.

Pricing

ADP Run small business plans (for up to 49 employees)

Essential: $49 base fee plus $2.50 per employee, per weekly payroll (pricing is based on a quote we received)
Enhanced: Custom-priced
Complete: Custom-priced
HR Pro: Custom-priced

Discounts

Promotion-based; ADP sometimes offers discounted pricing or three months or more of free payroll

Standout Features

Full-service payroll with automated payroll tax payments and filings
Pay runs via its online platform and mobile app (for iOS and Android devices)
Online onboarding with new hire reporting
Multiple payment options (such as via direct deposits, checks, and pay cards)
General ledger interface with accounting software like Xero, Wave, and QuickBooks
ZipRecruiter job postings and applicant tracking tools to streamline recruitment processes
Access to a wide range of ADP products, from PEO services to international payroll
HR support services include basic and advanced options with access to designated HR Business Advisors

Ease of Use

Relative simple to learn and use; comes with an intuitive platform—although, having basic knowledge of

how to run payroll

will help you navigate its payroll solution more easily

Customer Support

Online FAQs and how-to guides
Support options for employees and employers, as well by ADP product
24/7 customer service is available by phone, email, and chat
Legal assistance (from Upnetic Legal Services) and HR advisory services included in higher tiers
Looking for something different? Read our guide to the best payroll services for small businesses to find a service or software that's right for your business.
How ADP Run Compares With Top Alternatives
Best For

Free Trial

Starter Monthly Fees

Our Reviews

Best for growing companies that want scalable HR payroll plans

None, but offers three months free payroll*

$42.20 base fee plus $2.50 per employee, per weekly payroll**

Businesses needing full-service payroll and solid HR support

30 days***

$40 base fee plus $6 per employee

Small companies that use QuickBooks accounting

30 days

$45 base fee plus $6 per employee

Companies looking for an all-in-one HR, payroll, and IT solution

✕

$35 base fee plus $8 per employee**
*Note that this promotion can change at any time.
**Pricing is based on a quote we received.
***Gusto's 30-day free trial is a special offer for Fit Small Business readers.
ADP didn't get a high rating in this criteria, scoring only 1.38 out of 5, mainly because of its non-transparent pricing and the lack of unlimited pay runs. For its payroll products, pricing is based on the frequency of pay runs and the size of your business. With ADP Run, small companies with up to 49 employees can choose from four options: Essential, Enhanced, Complete, and HR Pro. Getting ADP Run pricing details requires contacting the provider for a custom quote. In the quote we received, a business with 25 employees will have to pay $2.50 per employee, per weekly pay run plus a $49 base fee.
Depending on when you are switching, the provider may offer three to five months of free payroll in the first year (as of this writing, new clients get three months of free payroll). ADP may also waive the setup fee, which I've been told is around $200. This is terrific for the first year but be aware that prices might increase for the next year.
| | Essential | Enhanced | Complete | HR Pro |
| --- | --- | --- | --- | --- |
| Monthly Pricing* | $2.50 per employee, per weekly pay run plus $49 base fee* | Custom-priced | Custom-priced | Custom-priced |
| Full-service Payroll and Tax Filings | ✓ | ✓ | ✓ | ✓ |
| Year-end Tax Reporting | Costs extra | Costs extra | Costs extra | Costs extra |
| Direct Deposits and Wisely Direct Debit Card | ✓ | ✓ | ✓ | ✓ |
| Check Delivery and Signing | Check delivery only | ✓ | ✓ | ✓ |
| New Hire Reporting and Onboarding | ✓ | ✓ | ✓ | ✓ |
| State Unemployment Insurance Management | ✕ | ✓ | ✓ | ✓ |
| ZipRecruiter Job Postings | ✕ | ✓ | ✓ | ✓ |
| Salary Benchmarks and HR Forms | ✕ | ✕ | ✓ | ✓ |
| Online Employee Handbook Wizard | ✕ | ✕ | ✓ | Comes with handbook creation assistance |
| Applicant Tracking and Employee Training | ✕ | ✕ | ✕ | ✓ |
| HR HelpDesk Support | ✕ | ✕ | ✓ | Includes scheduled, proactive check-ins |
*Pricing is based on a quote we received.
To enhance ADP Run's functionality, you can purchase some of its products as paid add-ons (custom priced).
Time and attendance
Workers' compensation (pay-as-you-go plans)
Health insurance
Retirement plans
Running payroll with ADP Run requires several steps, but the software is overall easy to use, and ADP does the setup for you. That's one factor that makes it a valuable solution for small business owners looking for an easy yet efficient way to pay both employees and contractors. Its full-service payroll, automatic payroll tax payments and filings, and multiple pay options are just some of the reasons ADP Run earned a high score in this criterion. However, its paid year-end tax reporting cost this provider some points.
ADP Run provides the payroll features you would expect, such as automatic pay runs and the ability to run payroll on computers and mobile devices. Its system can handle computations for hourly, salaried, and contract workers. It automates compliance rules and warns you if there is an issue.
Sending employees their pay is also very easy given ADP Run's multiple payment options—salaries can be sent via direct deposits and through the Wisely Direct Debit Card. You can approve payroll as late as 4:30 p.m. the day before to have employees paid by direct deposit the next day. If you prefer paychecks, ADP can stuff and seal them in envelopes and deliver them to your office so that you can hand them out to employees.
Check signing services are also available in ADP Run's higher tiers, where either the signature of your company's authorized representative will be used or that of an ADP officer—provided you're using ADP's TotalPay feature. Plus, you're assured that the checks ADP uses are highly secure as they come with 10 advanced fraud protection features.
---
ADP processes tax-compliant payroll deductions and sends your payments and tax forms to the correct federal, state, and local tax entities. Its representatives will respond to tax agency notices for you, and if ADP makes a tax filing mistake, it will cover all the penalties and fines imposed by the tax authorities. Note, however, that with ADP Run, W-2/1099 year-end reporting costs extra.
For state unemployment insurance (SUI), ADP will manage this for you—provided you sign up for at least its Enhanced plan. Aside from managing SUI claims, ADP will review and audit your account to ensure no erroneous charges. It will even handle all correspondence from the states where you pay unemployment insurance.
---
Aside from helping you stay compliant with tax regulations, payroll requirements, and wage laws, ADP will provide the latest updates so that you are on top of all the regulatory changes across all 50 states constantly. ADP Run also has a smart system that notifies you if it spots potential payroll errors.
---
Employees can access pay stubs through ADP Run's online portal, including up to three years of W-2/1099 forms. In addition to viewing their pay history, your staff can manage their retirement accounts, benefits, garnishments, and profile information online.
---
ADP's mobile app lets users view their pay and W2s, request time off, track time and attendance, view pay card accounts, make changes to benefits, and contact co-workers. There is a timeclock function if you purchase it. Managers can also approve time cards and time off, see team calendars, view employee stats, and more. The app is available in more than 25 languages.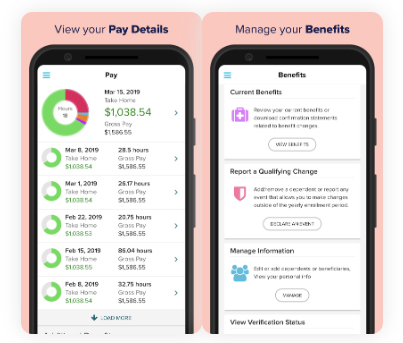 ---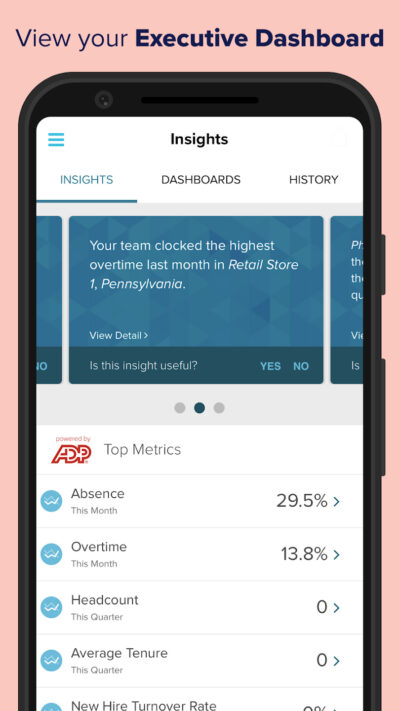 ---
---
What's great about ADP Run is that it comes with HR tools that other small business payroll software don't offer. Its wide range of solutions for managing the entire employee lifecycle contributed to this provider's high ratings in this category. It would have received a perfect score if its time tracking module isn't a paid solution. Here are some of its key features.
Processing payroll involves a lot more than just cutting a paycheck. Most businesses also need to process deductions. ADP Run also aids in processing unique deductions, such as court-ordered wage garnishments, including responding to unemployment claims, which can save you a lot of hassle and help keep your business compliant.
If you need assistance in supporting workers' compensation, retirement plans, and health insurance, ADP offers those services for a fee. It has various other benefits, including legal and an advice line, LifeCare. Finally, it can enroll employees in its program that offers discounts for everything from gym memberships to vacations.
---
With its higher plans, ADP offers two revolving job postings with ZipRecruiter, one of the best job boards. You can post jobs straight from the ADP dashboard and track applicants as they go through the hiring pipeline. In addition, ADP has background checks, state new hire reporting, new hire onboarding, and salary benchmark tools. Overall, it makes growing your workforce easier.
---
ADP provides a library of HR forms and documents, basic employee/employer training, and sexual harassment prevention training (if you sign up for its highest plan). If you need help handling HR issues, you can call its dedicated team of HR experts for advice. You also have access to state-specific experts to get the best local information. ADP Run even has a simple-to-use employee handbook wizard to help you create one that complies with federal employment regulations.
If you require legal assistance, ADP's partnership with Upnetic Legal Services provides prepaid legal services. You can also contact Upnetic for legal advice on contract reviews, debt collection, and employment matters.
---
While ADP Run connects seamlessly with other ADP products, it also integrates well with a variety of third-party solutions. Here are some of its partner systems:
Accounting: QuickBooks, Wave, and Xero
Enterprise resource planning (ERP): SAP SuccessFactors, Workday, Oracle, and Sage Intacct
Time and attendance: QuickBooks Time, ClockShark, Deputy, When I Work, and 7shifts
Recruiting and onboarding: GoodHire, Greenhouse, iCIMS, JazzHR, TempWorks, and ZipRecruiter
Learning management: SAP Litmos, Brainier, Cornerstone, and Absorb LMS
Benefits administration: Flock, PlanSource, Decisely, and Employee Navigator
Employee benefits: LifeMart, PayActiv, FinFit, Gift of College, HealthEquity, and KrowdFit
POS: Aloha, Clover, Micros, PosiTouch, Revel, and Toast
Collaboration and productivity tools: Docufree, signNow, OrgChart Now, Pingboard, Slack, and Microsoft Teams
---
ADP Run earned perfect marks in this criterion with its solid reporting tools and wide variety of built-in reports. It even has a custom report option, allowing you to create your own report. If you run ADP reports, you can download these as CSV files and even generate multiple reports at a time (although, it can also run single reports).
Simple setup process
Employee self-service onboarding
Phone and chat support
Free webinar training courses
Help center with how-to guides
Online library of HR forms
Access to HR advisers
Compliance tools
Considering how much this payroll software can do, we found the interface simple to navigate. Its intuitiveness, integration options, and 24/7 support contributed to ADP Run scoring high for ease of use. Plus, if you have a small company with a handful of employees, you should be able to set up your business in ADP Run in less than 20 minutes. If you have a lot of data to migrate into the system and need help with setup, ADP can assist you with implementation. This support is not free but likely worth it if you need help setting up the payroll services correctly. Sometimes, it waives this fee for new customers.
If you need help from HR experts, ADP Run provides access to a dedicated team of HR professionals who can help guide you through the complexities of managing payroll and employees. Its online help center is also available 24/7 if you need to access how-to guides. ADP even has separate support options for employees and employers, including its various products.
We've conducted ADP Run reviews for many of our best-of lists and it invariably impresses with its easy interface, depth of functionality, and variety of use cases. While ADP offers solutions to fit the HR needs of all business sizes, the ADP Run online tools are designed specifically for small businesses with up to 49 employees. Aside from full-service payroll, automated tax payments and filings, and multiple payment options, the ADP Run platform has robust tools to help you comply with payroll and tax regulations.
In our expert assessment, ADP Run earned a perfect rating given its feature-rich platform and relatively user-friendly tools. While pricing is transparent and follows a pay-per-run, per-employee scheme, small startups with only a handful of employees will find it reasonably priced given the wealth of payroll and HR functionalities that it offers. 
ADP also has products for different business sizes. Let's say your workforce will exceed 49 employees, you can upgrade to its mid-market product, ADP Workforce Now. It has a more comprehensive suite of HR solutions than ADP Run. You may also look for other software that can handle the HR payroll needs of growing businesses, like Paychex or Rippling.
Many ADP Run reviews on third-party review sites like G2 and Capterra are positive. In our evaluation for user popularity, ADP Run scored 4.38 out of 5 given its average rating of 4 and up on online review sites. It would have earned perfect marks in this category if its average number of user reviews reached 1,000.
In terms of user feedback, those who left positive ADP Run reviews like its ease of use and how its payroll tools help them save time and simplify processes. Several others appreciate its integration options and HR tools that make onboarding new hires and managing staff information easy for both employees and employers.
While most reviewers commended the customer service team for being helpful, some users complained about having experienced long wait times when contacting support. Others also said that ADP Run can be a bit pricey for small businesses and that its reports are not as easy to access or as robust as they'd hoped.
What Users Like

What Users Don't Like

Easy to use
Can be expensive for small businesses
Simplifies payroll processes
Would like better reports
Support team is generally helpful
Occasional long wait times when contacting support
At the time of publication, ADP Run reviews earned the following scores on popular user review sites:
How We Evaluated ADP Run
When we evaluate payroll software for small businesses, we look at pricing and ease of use. We also check the provider's customer support and whether it offers unlimited pay runs, multiple pay options, full-service payroll, and tax filing services. Access to third-party integrations and basic HR tools like employee benefits and onboarding are also important. We even consider the feedback that actual users post on popular user review sites.
Click through the tabs below for a more detailed breakdown of our evaluation criteria:
20% of Overall Score
We checked to see if the provider has transparent pricing, zero setup fees, and multiple plan options with unlimited pay runs. Providers priced at $50 or less per employee monthly were also given extra points.
20% of Overall Score
We gave priority to those that offer multiple pay options, two-day direct deposits, tax payments and filings, year-end reporting (W-2s and 1099s), and a penalty-free tax guarantee.
20% of Overall Score
Payroll service and software should be simple to set up, customizable, and have a user-friendly interface. We also looked at whether the provider offers live support and integration options with online tools that most small and medium businesses (SMBs) use, such as accounting, time tracking, and scheduling software.
15% of Overall Score
Online onboarding, which means giving employees the option to fill out forms like W-4s electronically, is the top criterion, followed by state new hire reporting and the availability of a self-service portal where employees can view pay stubs, edit information, and access forms. Extra points were also given to providers that offer expert HR support, benefits options, time tracking, and health insurance plans that cover all US states.
15% of Overall Score
In this criterion, we assess whether the software's ease of use, pricing, and the width and depth of its payroll and HR tools are ideal for SMBs.
5% of Overall Score
We considered user reviews, including those of our competitors, based on a 5-star scale; any option with an average of 4-plus stars is ideal. Also, any software with 1,000-plus reviews on any third-party site is preferred.
5% of Overall Score
Preference was given to software with built-in basic payroll reports and customization options.
*Percentages of overall score
Bottom Line
ADP Run is a good option for small businesses with up to 49 employees—as long as the company has decent profit margins because it's not the cheapest option. It helps you pay employees and manage payroll taxes and has a variety of HR solutions (like new hire onboarding, job postings, and access to basic employee training programs) that other small business payroll software providers don't offer. It even provides expert HR support so you can get professional services easily to help you better manage your employees and complicated HR issues.
Our ADP Run review touches on its many features, but sign up for an ADP Run demo today to get a true feel for its functionalities.