2023 HubSpot CMS Review: Best for Lead Gen & Nurturing
The HubSpot CMS (content management system) is easy to use, including integrating HubSpot's powerful apps for sales, marketing, and customer support—starting with a free plan that allows you to build a website on your domain. As such, it's one of the best free website builders and one of the best site builders for small businesses. Based on our HubSpot CMS review, it's best for building and nurturing prospect and customer relationships.
What We Like
Free plan to build on your own domain
Intuitive drag-and-drop builder
Loads of help through articles, guides, checklists, courses, and tutorials
Landing pages to increase conversions
Seamless integration with HubSpot's sales, marketing, and customer support apps
Enterprise-grade software and security that scales with your business
Robust performance dashboard
Ability to pay monthly or annually
24/7 support
What's Missing
Plans quickly get expensive after the base paid tier
Password-protected pages for members, phone support, and events only come with the most expensive plan
No native ecommerce or subscription features—must be installed via plugins
Third-party apps can add to the price of your subscription
Hard to fully customize HubSpot themes without knowing code
Some themes aren't very mobile-friendly
Who Should Use HubSpot CMS
Small businesses looking to jumpstart digital marketing: HubSpot CMS includes landing pages, forms, live chat, digital ads, and email marketing
Startups and small companies in need of a free website builder: HubSpot CMS is the only website builder that allows you to build on your own domain for free
Any business wanting to generate and nurture relationships over time: Easily integrate tools for lead generation, nurturing, customer support, and retention
HubSpot CRM users: Seamless integration streamlines workflows and automates processes
When to Use an Alternative
HubSpot CMS makes our list of the overall best website builders for small businesses because of the sheer amount of functionality you can integrate with your website. Unlike other website builders, HubSpot works (and works well) with businesses of all shapes and sizes, thanks to scalable plans and multiple world-class apps for sales, marketing, customer support, and business operations.
As an enterprise-grade software solution, the HubSpot CMS also follows best practices for search engine optimization (SEO). This makes HubSpot CMS one of the best website builders for SEO, not only for its SEO features, but also since blog features for content marketing are baked in, as are tutorials, guides, and checklists to ensure your site can get found in online search.
Several website builders provide a free plan for building a site on the site builder's subdomain (e.g., yourwebsite.wix.com). Uniquely, HubSpot CMS is the only website builder that allows you to build a site on your own domain (e.g., yourwebsitename.com). As such, it's one of the best free website builders for startups and small businesses on a budget.
However, unlike site builders like Wix and Weebly, plans don't include native ecommerce features. If you're looking to sell online, you'll have to do so via a third-party application, which requires extra configuration and may add to your costs. To find out which site builders offer the best ecommerce functionality, check out our roundup of the best ecommerce platforms for online stores.
HubSpot CMS Deciding Factors
Best For

Native lead generation, nurturing, and conversion tools, teams looking for an all-in-one solution for sales, marketing, and customer care, and those wanting to grow customers and sales through content marketing

Native Integrations

Marketing, sales, customer service, operations, blog, and landing pages

Standout Features

Easy integration of HubSpot's sales, marketing, and customer service software
Expansive third-party app marketplace, including plugins for ecommerce
Built-in guides and checklists to ensure you get the most from the site builder
HubSpot Academy's vast library of marketing, sales, and customer service training and tutorials
Enterprise class tools and security, including a web application firewall (WAF) and premium hosting
99.99% uptime

Monthly Fees

Free plan: 25 web pages, 20 landing pages, and 100 blog articles

Scalable paid plans: From $23 to $1,200 per month

Setup & Installation Fees

None, unless opting for a premium theme

Customer Support

24/7 customer support

Live chat, email, and help center available

Phone support at highest-paid tier only
HubSpot CMS Alternatives
| | | | |
| --- | --- | --- | --- |
| | | | |
| Best for: Max customization in both function and design with a drag-and-drop builder, and best for SEO | Best for: Small businesses wanting a quick way to set up a modern, sleek small business website | Best for: Casual or startup online stores, and best site builder for restaurants | Best for: Getting the functionality of WordPress with a drag-and-drop builder |
| Cost: Free plan and paid plans from $16 per month | Cost: Free plan and paid plans from $16 per month | Cost: Free plan and ad-free plans from $12 per month | Cost: From $2.95 per month the first year |
| | | |   |
HubSpot CMS has three paid plans in addition to the free version. All include the integration of HubSpot's other freemium tools (sales, marketing, customer service, and operations apps) and its third-party app marketplace. In addition, unlike most other site builders, HubSpot allows you to build your website on your own branded domain name starting with the free plan–which is great for startups looking to grow brand presence online.
All plans come with the following features:
Blog, web pages, and landing pages
Built-in SEO guidance
Advanced security
Reporting dashboard
Email marketing
24/7 customer support
Multi-language websites
Use your own domain (any plan)
Content delivery network (CDN) for fast site-loading from anywhere
Free SSL certificate for HTTPS for data encryption
Google AMP (accelerated mobile pages) support for blogs
HubSpot offers two payment options: annual and month-to-month, and annual billing provides a 10% discount. However, the highest-tier Enterprise plan is only offered with annual billing. Though the HubSpot CMS has a generous free plan and a small business-friendly starter plan, the massive jump in prices plan-to-plan may be a deal-breaker for budget-conscious businesses.
HubSpot CMS Pricing
Free

Starter

Professional

Enterprise

Cost/Month Billed Annually

$0

$23

$360

$1,200

Cost/Month

Billed Monthly

$0

$25

$400

✕

Multi-language

✓

✓

✓

✓

Free SSL

✓

✓

✓

✓

Connect a Custom Domain

✓

✓

✓

✓

Built-in SEO

Page optimizer

Basic

Advanced

Advanced

Live Chat

✓

✓

✓

✓

Ad-free

✕

✓

✓

✓

Website Pages

Up to 25

Up to 50

Up to 10,000

Up to 10,000

Blog

1

1

Up to 100

Up to 100

Blog Posts/Blog

100

10,000

10,000

10,000

Landing Pages

20

20

10,000

10,000

App Marketplace

✓

✓

✓

✓

Reporting Dashboards

3

10

25

50

Currencies

✕

Up to 5

Up to 30

Up to 200
Our HubSpot CMS review concluded that the site builder includes everything you need to make a small business website, including premium hosting, built-in CDN for faster site loading, free and paid themes, an intuitive drag-and-drop editor, a free SSL certificate, and robust SEO tools. Whatever you can't find natively on HubSpot, you can find in its extensive third-party app marketplace with over 1,000 integrations.
Note that unlike Wix, Weebly, and some other site builders, HubSpot doesn't provide a free domain name the first year or provide email hosting. See how to get a free domain name for your website, or choose a provider that includes a domain and business email hosting, like Squarespace, DreamHost, or IONOS.
For more details, read our step-by-step tutorial on how to build a HubSpot website. Or, open the drop-down menus below to learn more.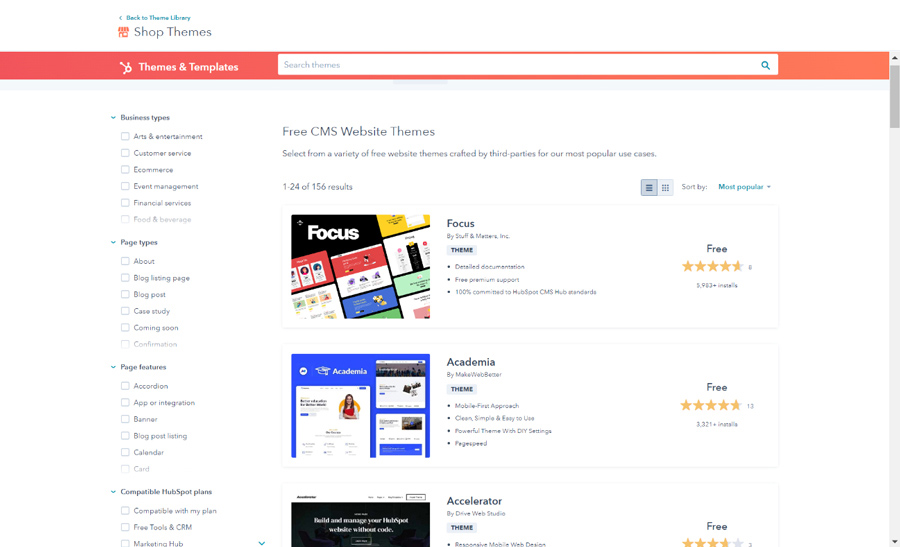 ---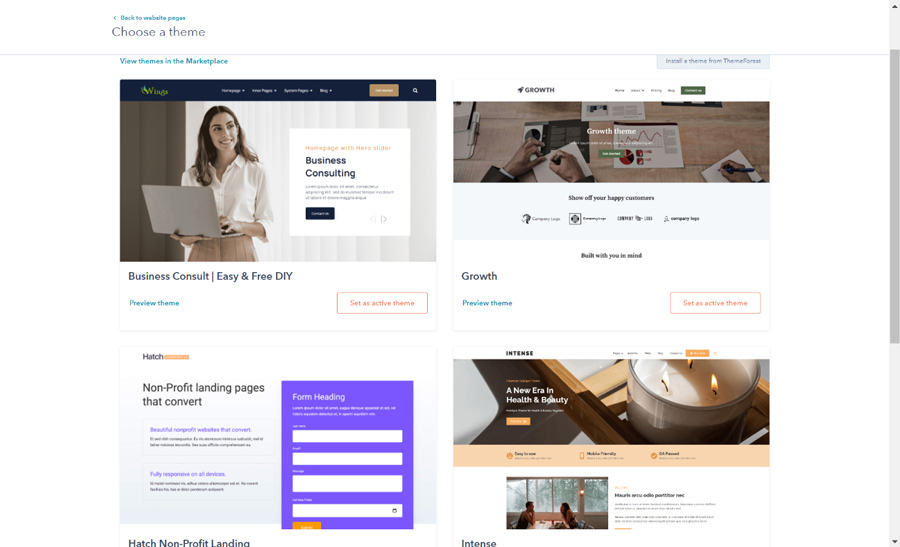 ---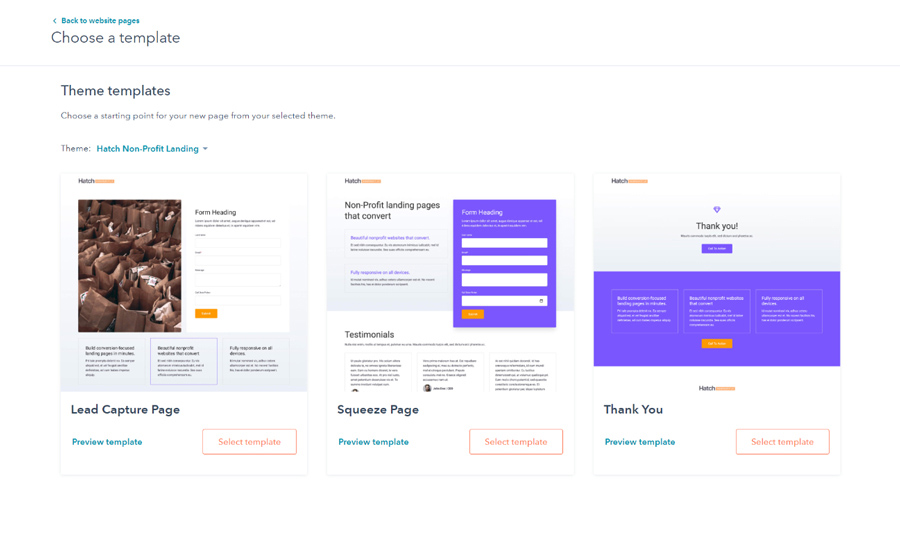 ---
HubSpot's Asset Marketplace includes both free and paid community-made themes. More than 150 free themes spanning various industries, and even more paid themes are available. Each theme has multiple, premade page templates based on the theme's settings.
This speeds up design, and you can give your site a custom look as the free HubSpot CMS themes allow you to change things like colors, buttons, fonts, and other design settings. Alternatively, you can work with a designer to create a custom theme for your business through platforms like Fiverr for a few hundred dollars.
Our HubSpot CMS review determined that not all of its themes are mobile-optimized, and only default themes and some custom themes are mobile-friendly. This is in contrast to site builders, like Squarespace's fully responsive themes that you don't have to configure for mobile vs desktop users. On HubSpot, either pick a mobile-friendly theme or plan to spend some time testing and changing the look of mobile page versions.
---
For beginners, the HubSpot CMS designer is a basic drag-and-drop that's relatively simple to use. Depending on the theme you start with, you'll have various premade pages that you can use to flesh out your website. These pages can be further edited by adding and deleting sections and modules—HubSpot's version of content blocks.
HubSpot's themes are all pretty modern, but you can also create a custom theme for your business. We recommend doing the latter if you need a unique look for your site, as despite its drag-and-drop capabilities, HubSpot's themes are not very customizable (through the editor). It falls short compared to true drag-and-drop site builders like Wix and Squarespace.
Another way around the design limitations is using the HubSpot CMS Design Manager (which can be found under the Marketing tab). The Design Manager lets you edit HTML, CSS, and JavaScript to change the look and feel of your website, giving you significant power over your design. However, this is definitely not beginner-friendly, and unless you have significant experience in coding, we recommend sticking to the drag-and-drop tools available.
---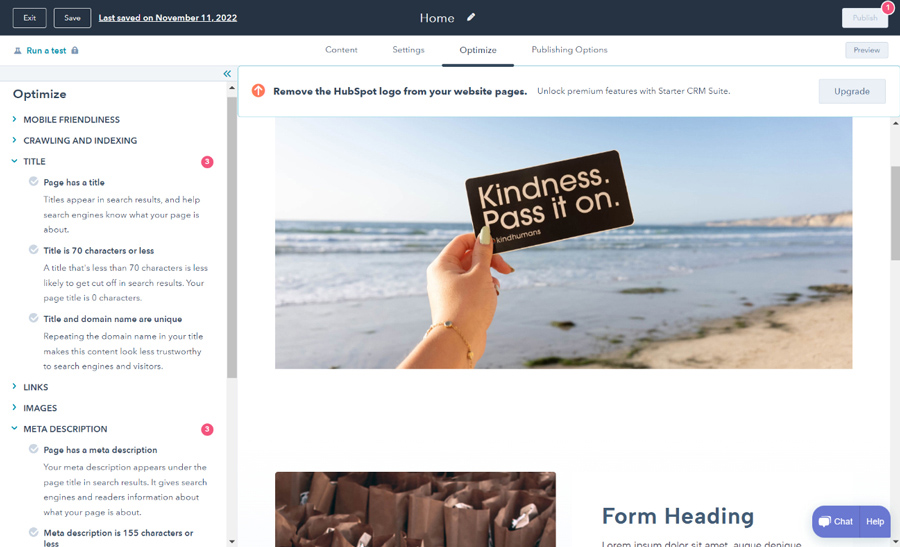 ---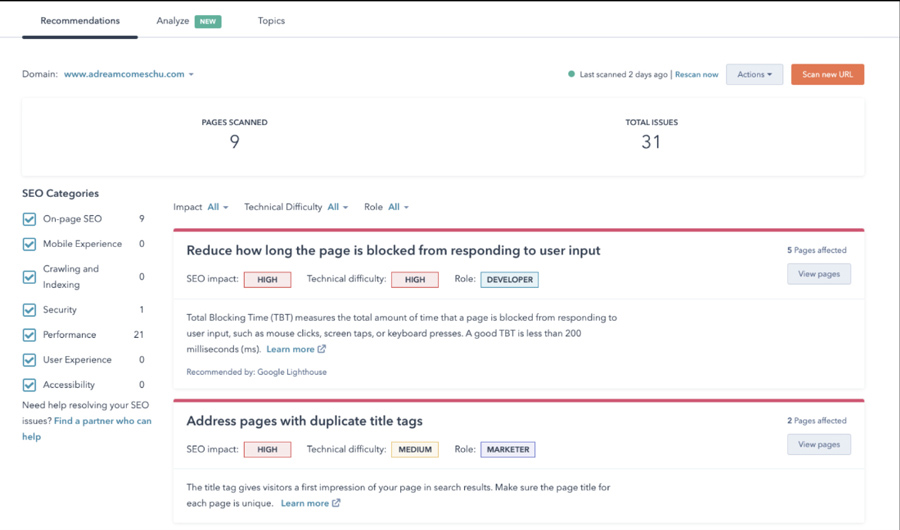 ---
Our HubSpot CMS review found that SEO features increase as plans scale, but even the free and Starter plans provide solid optimization guidance and tools. All HubSpot websites include premium hosting and a high level of security, and come with a free SSL certificate for data encryption.
Websites are served up worldwide through HubSpot's content delivery network (CDN) based on the site visitor's location to speed up site loading time. Plus, blogs get AMP support, making them even more Google search-friendly.
All plans include built-in SEO guides and checklists, as well as an optimizer that informs you about pages that need updating. The two highest-tier plans include advanced recommendations as well as SEO analytics. Notably, all paid plan users also get access to one-on-one technical support, which can help improve website aspects like SEO and site design.
---
HubSpot has unlimited bandwidth but doesn't offer unlimited storage per se. Each plan includes a limited number of web pages (from 25 to 10,000), blog posts (from 100 to 10,000), and landing pages (either 20 or 10,000). There are also file size upload limits: up to 20MB per file on the free plan and up to 2GB per file on paid plans. Still, HubSpot doesn't have a quantifiable storage limit, so it isn't a deal-breaker for content-heavy websites.
---
While our HubSpot CMS review points to its CRM, service, and sales apps as the main selling point, there are a wide variety of free and paid third-party integrations you can use to increase your site's functionality. Marketing apps, sales solutions, automation tools, and even ecommerce—the HubSpot marketplace has it all.
Not only does this make it easy to add functionality to your site, but it also allows you to integrate other apps your team uses for workflow automation and time savings. HubSpot currently has over a thousand apps on the marketplace, and they're all one-click solutions that require no coding experience to install.
Another significant benefit of HubSpot is that you can also create your own app via HubSpot's development tools. To create a custom app, hire a developer through Fiverr or learn more about how to create your own integrations through the free courses that HubSpot Academy offers.
---
The HubSpot CMS allows for seamless integrations with any tools in the HubSpot ecosystem—even on the free plan. This is a plus because HubSpot has tools for sales, service, operations, and marketing. HubSpot's tools are powerful even on the free plan, but the best part is that they can scale with the size of your business.
However, HubSpot's sheer number of tools at your disposal could make the site builder overwhelming for beginners. That isn't to say that its tools are difficult to use, but it does take a slight learning curve to figure out exactly which ones you want to use, unlike with a more traditional builder like Wix. And unless you subscribe to the two highest-tier plans, ecommerce features must be added through integrations vs native tools.
All of the niche features (called "Hubs") below have free versions and paid plans. They can be purchased separately or in bundles, saving you money while ensuring you have all the tools you need to operate and grow your business. Click on the drop-downs that follow to learn more about the niche features you can easily integrate when you opt to build a website using the HubSpot CMS:
HubSpot is an all-in-one customer relationship management (CRM) solution. In fact, it tops our list of the best CRMs for small businesses. As with the CMS, HubSpot allows you to build a hefty contact database in its CRM for free.
Not only can you input basic contact information, but you can also organize by lead status, last activity, and history. This centralizes your contacts in one database and allows you to automatically use saved contact information for HubSpot's other tools.
Note that HubSpot allows you to create up to 15 million non-marketing contacts for free, while marketing contacts will cost extra. Categorizing a contact as non-marketing means that you can't market directly to them, including sending marketing emails (we'll discuss more of this in the Marketing section below).
---
HubSpot's CRM makes it one of the most popular Sales tools in the world. It integrates seamlessly with your HubSpot CMS website and preferred ecommerce platform. There's a free plan and paid plans that expand limits and features starting from $18 per month. The free plan includes a website chat bot, conversational bots, team email, custom quotes, and a limited number of canned snippets and library documents.
Paid plans remove HubSpot branding from the free tools, allow up to 5,000 snippets or library documents per account, add from two to 100 deal pipelines per account, and grow your template library from five to 5,000. In addition, you'll need a paid plan to add HubSpot Payments, Goals, and multiple currencies.
On HubSpot you can:
Start and keep track of deals or a transaction between your business and another company or point of contact. The Deals dashboard is an easy-to-use, drag-and-drop interface that helps you follow your sales process. Think of it like Trello or Nifty, but for sales.
View reports and make forecasts for the sales goals you think you'll achieve.
Create, assign, and view tasks in an intuitive dashboard that helps you manage multiple to-do lists.
Upload a library of documents that you can easily send to existing contacts.
Schedule meetings with clients and automatically sync your team's calendar to reflect important dates.
Collect and monitor payments from clients via HubSpot Payments (only available to U.S.-based businesses).
Create and store playbooks to onboard new team members with the right documents.
Create custom and personalized quotes (and quote templates) to submit to your clients.
These tools will help you create an end-to-end solution for sales, but note that HubSpot won't have native tools to help you build your ecommerce business. Instead, we recommend integrating Shopify or WooCommerce to your HubSpot CMS website—both of which integrate well with its other tools.
---
The HubSpot Service Hub streamlines customer service data and activity into one platform. On the Service Hub, you have a complete ticketing system you can manage in a single dashboard. There's a free plan and paid plans that start at $20 per month.
The free plan includes an appointment scheduler, the ability to build a resource library for your customers, one-to-one email as well as a shared inbox, ticketing, and more. On paid plans, you can also create and manage surveys, automate recurring help desk tasks, route tickets, and enhance service with more communication channels, a customer portal, and analytics.
---
HubSpot has automation tools to speed up and improve operational workflows, and as with its other apps, offers a freemium app for operations with paid plans starting at $20. But keep in mind that automations don't come on the free plan.
For example, you can create sequences to automate follow-up emails or even create automated email campaigns and workflows. The data from these automated emails can be viewed easily, so you can streamline the process and tweak your emails to generate more leads.
---
The Marketing Hub goes hand-in-glove with the HubSpot CMS and Sales Hub to turn your website into a lead generation and nurturing machine. The free plan offers forms, 2,000 email sends per month, email list segmentation, ad management, reports, and a Facebook Messenger integration.
With paid plans starting at $18 per month, you get form and email automation, increased limits for email marketing, list segmentation, reports, removal of HubSpot branding, and additional support. You'll need a paid plan to get email insights, multiple currencies, and HubSpot Payments, as with the CRM, operations, or site builder plans.
The two highest-tier paid plans also provide access to HubSpot's Content Strategy tool, which helps you discover and rank for relevant topics to your business. Aside from searching for topics, you can also use the Content Strategy tool to create topic clusters to organize your web pages. You'll also need the highest-tier plans for video hosting, deal scoring, and social media integration.
---
HubSpot's customer service is top-notch on both free and paid plans. On any paid plan, you get access to 24/7 support, though service hours are between 7:00 a.m. to 8:00 p.m. Eastern Time (meaning customer service is quicker during these times).
Here are the levels of support you can expect, depending on your HubSpot CMS plan:
| | Free | Starter | Professional | Enterprise |
| --- | --- | --- | --- | --- |
| Community | ✓ | ✓ | ✓ | ✓ |
| Email | ✕ | ✓ | ✓ | ✓ |
| Chat | ✕ | ✓ | ✓ | ✓ |
| Phone | ✕ | ✕ | ✓ | ✓ |
HubSpot's community resources are some of the best we've seen. Not only do you get a forum, but HubSpot has a well-stocked knowledge base and the aforementioned HubSpot Academy is filled with guides and courses for using the CMS or any of HubSpot's world-class business apps.
After testing the HubSpot CMS thoroughly, we can confidently say that it's one of the best website builders for any size business. Overall, it has a great mix of tools and features to help almost any small business grow. We're especially impressed with how each of its tools works together to create a seamless sales experience for your customers.
The number and scope of HubSpot tools are impressive enough—but having them on the free plan solidifies our opinion that HubSpot is one of the best free website builders available. Plus, if you somehow can't get the functionality that you need from its native tools, there's an extensive third-party app marketplace that can add a ton of features to your website. It's also a top site builder for SEO.
Still, there are some shortcomings. First, its design capabilities are somewhat limited. If you're looking for cutting-edge design (without having to hire a designer), Wix or Squarespace may be better options. Second, if you're on a tight budget and need built-in ecommerce features, Weebly or another of these cheap site builders could be right for you.
What Users Say in HubSpot CMS Reviews
Unsurprisingly, as it's fairly new, the number of HubSpot CMS reviews published doesn't come close to the amount available for other website builders. Still, the reviews it does have are overwhelmingly positive, and users praise just how many advanced, yet easy-to-use, tools HubSpot has to offer.
Here is what users have to say in HubSpot CMS reviews:
Capterra: 4.6 out of 5 stars based on 62 reviews
G2: 4.5 out of 5 stars based on 1,364 reviews
TrustRadius: 4.2 out of 5 stars based on 77 reviews
PROS

CONS

HubSpot's tools can be as basic or as advanced as needed
Can be overwhelming for beginners (too many features and tools)
The number of features HubSpot has to offer
Only basic design customization capabilities if you're unwilling or unable to code
The support HubSpot provides (including HubSpot Academy)
Third-party plugins aren't as extensive as WordPress
HubSpot CMS Examples
You can create beautiful websites using the HubSpot CMS, especially if you're willing to pay for a premium theme or you have some coding experience. Here are three examples of websites built with the HubSpot website builder.
1. Room Unlocked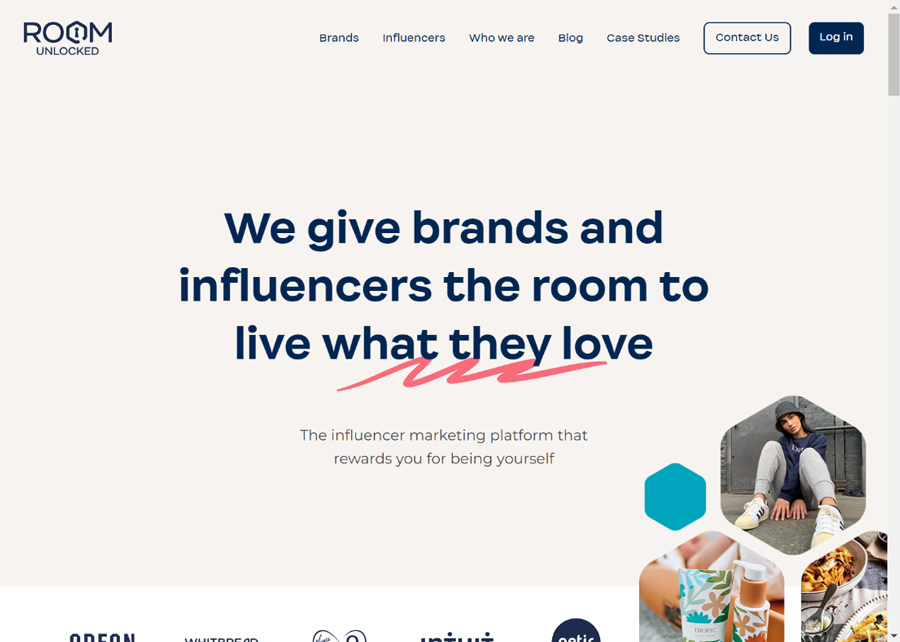 ---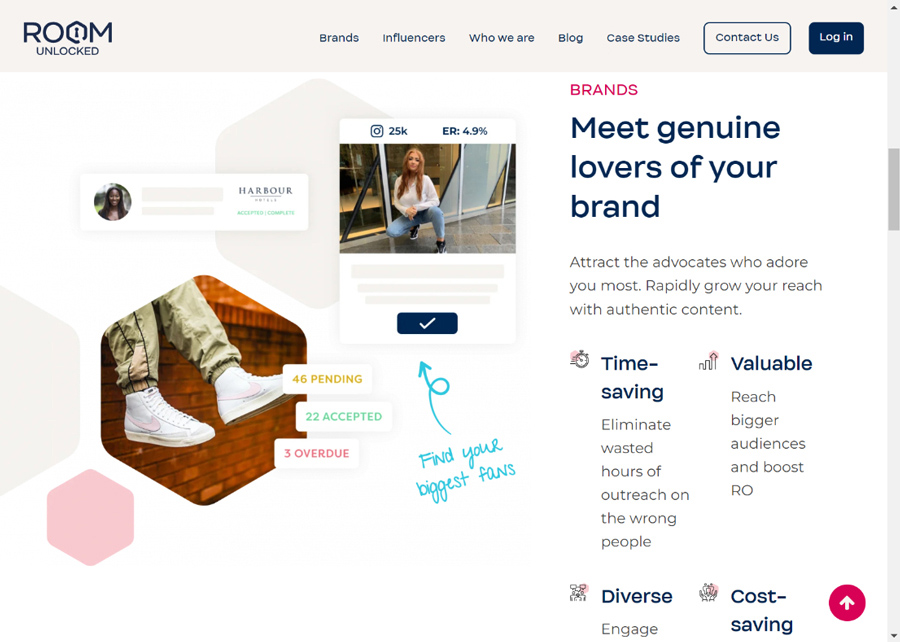 ---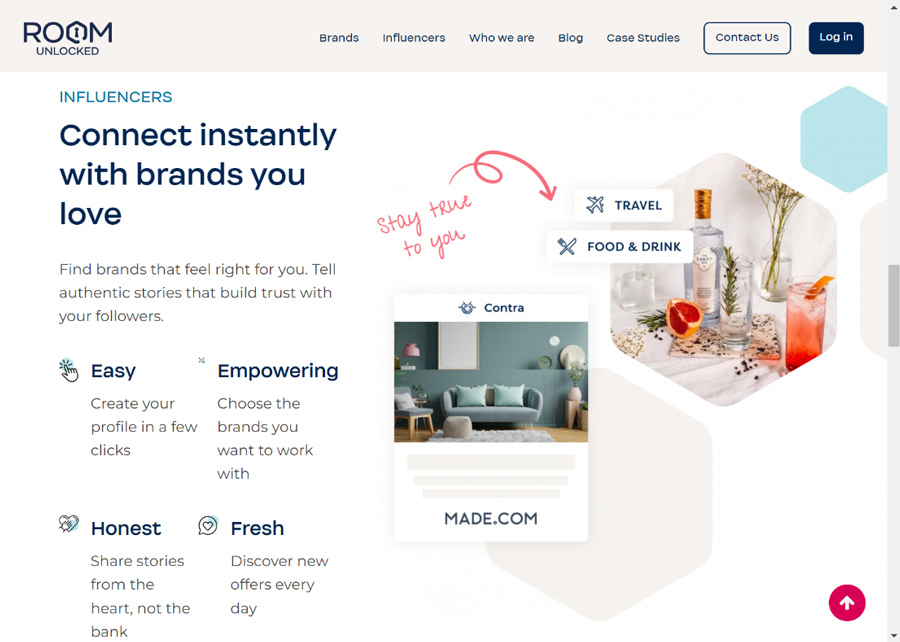 ---
Room Unlocked is an influencer marketing website for both influencers and brands. Brands can book influencers who are passionate about their products, while influencers can apply to connect with brands through its influencer network platform.
The two user journeys are highlighted at the menu on top of the page—clicking on either will lead you to pages with separate calls to action (CTAs). The Room's homepage merges these two user journeys by explaining what it does.
2. Caithness Construction
Caithness Construction uses the HubSpot CMS to build a simple portfolio for their work. Though HubSpot technically has a storage limit, it counts it by pages (i.e., 25 pages maximum on the Free plan). But as HubSpot doesn't have storage limits, you can build a large online portfolio by uploading high-quality images in portfolio galleries and sliders.
3. The Spicy Shark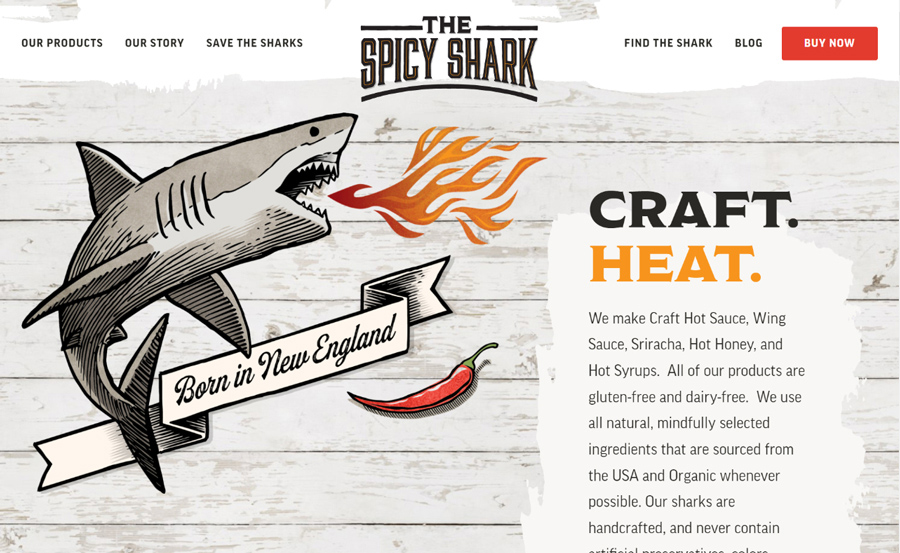 ---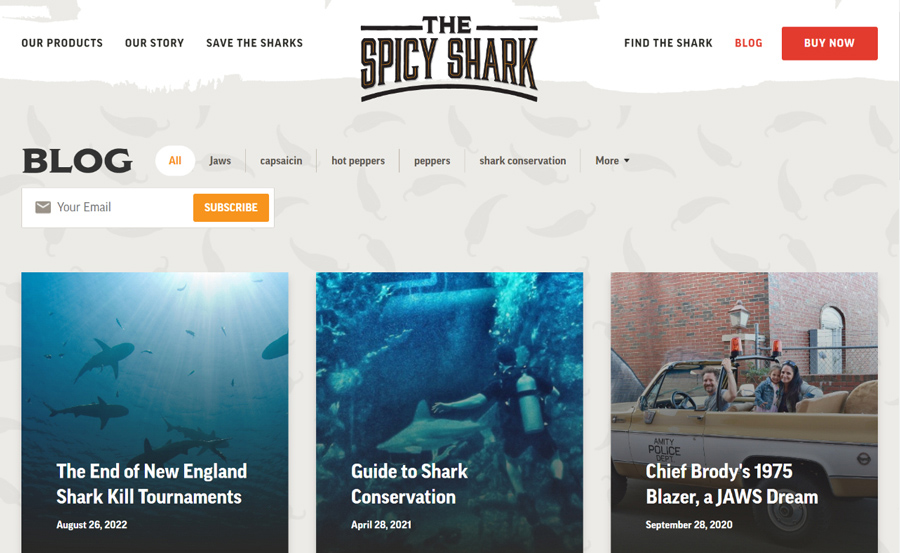 ---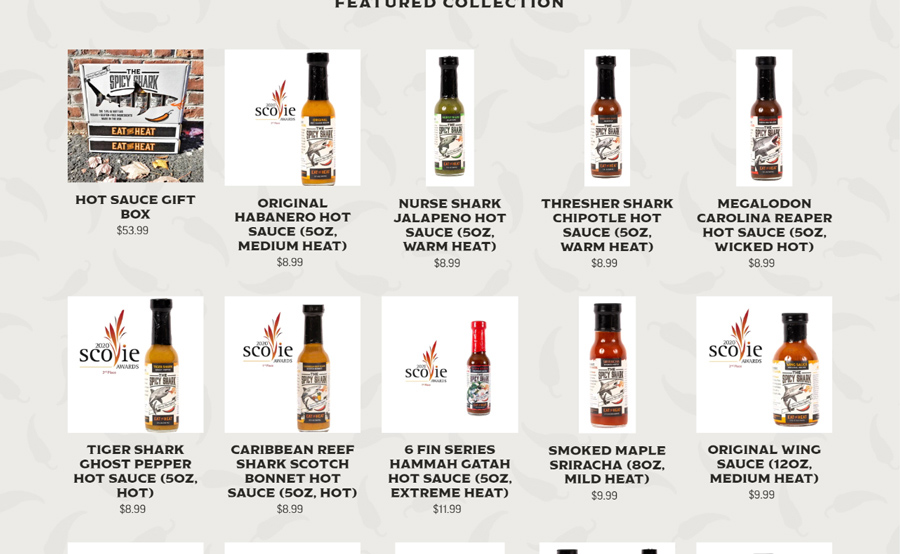 ---
The Spicy Shark is an ecommerce store built using a custom HubSpot theme. Though HubSpot doesn't have a native ecommerce feature, you can easily integrate an ecommerce platform like Shopify.
This provides a seamless shopping experience for your customers, complete with a shopping cart and multiple payment options. Still, if this is too expensive for you (as Shopify comes with its own costs), try a cheaper ecommerce platform like Weebly, or see who our top picks are for the best ecommerce platforms instead.
Methodology: How We Reviewed the HubSpot CMS
Our review comes from our firsthand experience in testing the HubSpot CMS, as well as from other HubSpot CMS reviews from around the web. We then graded the platform on price, general features, niche features, the quality of their customer service, and finally, our own expert opinion.
See the breakdown of our evaluation of the HubSpot CMS:
30% of Overall Score
This is arguably one of the most important factors for small businesses—especially because many are on a tight budget. The average website builder costs between $15 and $25 per month, so we judge platforms based on these prices.
Though higher-tier plans are expensive, we gave it a perfect score because of its generous free plan and the features included in its small business budget-friendly Starter plan ($23 per month).
20% of Overall Score
Affordability doesn't mean much if it doesn't come with solid features to back it up. To grade platforms, we take a look at storage and bandwidth, and if the builders come with extras such as free domain names and business emails.
The HubSpot website builder scores above average but, unfortunately, doesn't offer unlimited storage, a free domain name, or business email addresses.
20% of Overall Score
We consider what sets each of the site builders apart and judge them based on their offerings. For example, HubSpot CMS was rated based on the quality of its built-in tools.
Though the HubSpot CMS has fantastic built-in tools, they're centered around customer relationships and lack features like native ecommerce. Also keep in mind that niche features have freemium models, and so might cost more depending on the features you need. Plus, the sheer number of features available can be overwhelming for beginners.
15% of Overall Score
It's always a relief to know that help is available when you need it. The best site builders have 24/7 support with various channels so that you can reach them whenever and however you need.
HubSpot gets an almost perfect score for customer service, as it has excellent guides and educational tools to help users get started. No other site builder provides as many educational materials as HubSpot does, though there's no 1:1 help available for free plan users.
15% of Overall Score
Finally, we take into account our experiences while using the platform. We considered all of the factors above and judged the builder by how valuable we think it is.
The HubSpot CMS earns a perfect score from us based on how much you can do with the platform alone. It also has a generous free plan, so you can test it out extensively before taking the plunge.
*Percentages of overall score
Frequently Asked Questions (FAQs)
Is HubSpot good for SEO?
The HubSpot CMS has great features for search optimization, including a fast site loading CDN, free SSL and a web application firewall (WAF) for enhanced security, page-level settings, built-in guides, checklists, and recommendations, and free tutorials. Plus, you also can download optimization plugins through its marketplace. For example, the app SchemaHelper automatically adds schema markup to your posts and pages.
Is HubSpot CMS easy to use?
The HubSpot CMS is a unique platform that may overwhelm beginners with the sheer amount of functionality offered. However, it's easy to use—simply spend a little time on HubSpot, and you'll easily learn your way around the platform. Each HubSpot tool has a handy step-by-step guide, and it has extensive resources in its knowledge base (and Academy), so you can master the HubSpot CMS and get the most from this world-class business website builder.
Is HubSpot or WordPress better?
For most small businesses, HubSpot is better than WordPress, unless you need unique functionality. Plus, HubSpot is best if you want a one-stop solution for web hosting and site-building that's easy to use, has robust native features, and has pre-vetted apps available through its marketplace.
WordPress is a free CMS, but to use it, you'll have to buy web hosting separately through a provider like Bluehost. You also have to add functionality through un-vetted third-party plugins, spend far more time on website maintenance and security, and undertake a fairly steep learning curve. Learn more about what WordPress really costs, and see what's involved in making a WordPress website.
Bottom Line
The HubSpot CMS hub is an intuitive drag-and-drop no-code site builder that integrates seamlessly with HubSpot's renowned CRM and customer support apps. This makes it the best site builder (by far) for businesses looking to generate leads and nurture existing customer relationships. It has plans that scale with your business, starting for free, with ample flexibility and features to make it appropriate for businesses of any size.