Mailchimp is email marketing software for creating and deploying automated email marketing and advertising campaigns, newsletters, and lead generation web forms, and it's easy to use. The first step in how to use Mailchimp for email marketing is to sign up for a free account. Next, import or build your audience and then create, design, and send your email campaign. Once sent, analyze performance data to make future email marketing campaigns more effective.
Here's how to use Mailchimp for email marketing in five easy steps:
1. Sign Up for a Mailchimp Account
Go to Mailchimp's homepage to sign up for an account. Plans range from free to $299-plus per month. To sign up for your free account, you only need to provide an email address and create a username and password. Mailchimp will send a verification email, and the process will be complete when you click to verify your account through the email you provided.
With the free plan, you can send up to 10,000 emails per month and create one audience, or contact list, with up to 2,000 contacts. The free plan includes access to many of the platform's features, including single-step automation, the intuitive email design editor, and basic reports. However, to schedule emails to be sent at a specific time, set up multi-step automation, or access its library of more than 100 premade templates requires an upgrade to a paid plan.
After verifying your account, you'll be asked to complete your profile by adding some personal details and your business' website. Adding your website and phone number are optional, but you must add a street or post office (PO) box address.
Any business that uses email to advertise products or services must provide a physical address per the CAN SPAM Act of 2003. According to the Federal Trade Commission (FTC), it must be a street address or a PO Box registered through the U.S. Postal Service.
It must also identify the email as an advertisement and provide a way to unsubscribe or opt out. Mailchimp makes compliance easy by automatically including the required information in the footer of any marketing email you send.
Mailchimp also asks a few questions about your business, such as how many contacts you have and what type of business you run. Finally, you can opt in to receive emails from Mailchimp that will help you learn more about the software.
2. Add Contacts to Mailchimp & Grow Your Audience
In order to use Mailchimp to send drip campaigns or email blasts, you must first build an "Audience," or contact list. There are three basic ways to do this: importing, manually uploading, or adding contacts generated from online web forms.
Manually entering contacts is time-consuming and tedious, but if you have a comma separated values (CSV) file, you can quickly and easily upload your contacts and automatically populate your Mailchimp audience. Creating a CSV file is easy with Excel or Google Sheets.
In Google Sheets, create a file with your contacts' information. This can be only email addresses or it can be several columns. Download the sheet to your device as a CSV file and it's ready for upload to Mailchimp. In Excel, create the same type of file, but instead of saving it as the default XLSX extension, choose CSV (*.csv) from the drop-down menu.
Select your preferred method from the drop-down below:
Import Contacts to Mailchimp
To import a contact list into Mailchimp, click on "Audience" in the left-hand menu to access the drop-downs, then choose "Audience Dashboard." Next, click on the "Add Your Contacts" button, and on the next screen, click the radio button to "Upload a file." Browse to the location on your device where your CSV file was saved, select it, and then click on "Continue to Organize."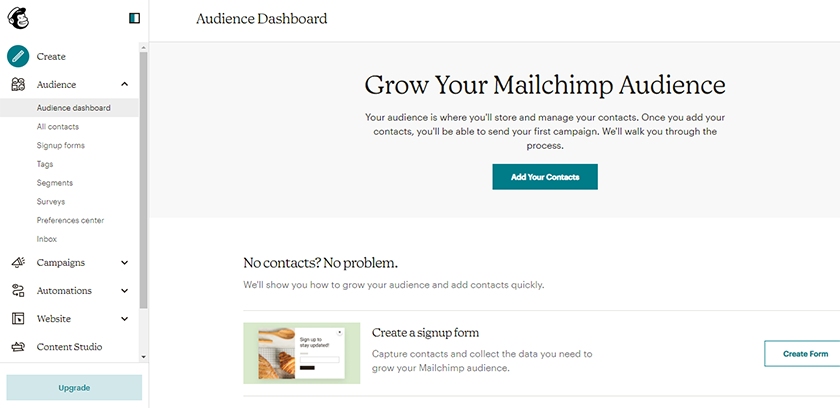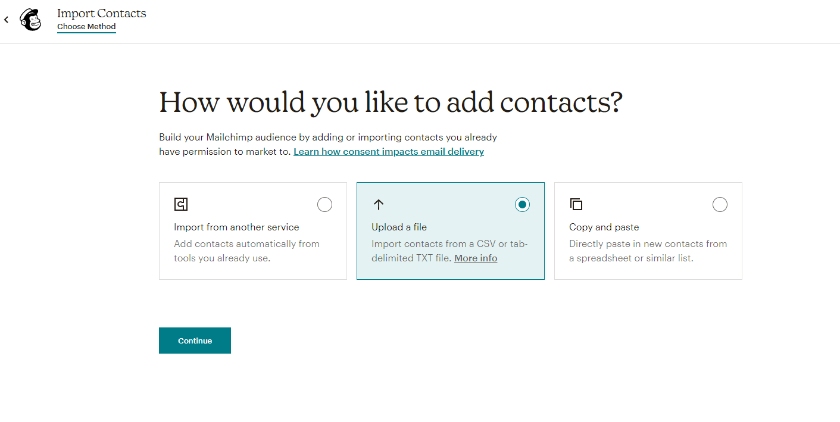 As you navigate through the following screens, you will have the ability to set the status (default is "Subscribed") or add tags to further segment your audience for targeted emails. If your CSV file contains columns that don't match up to the default audience list fields in Mailchimp, you'll have the opportunity to create new audience fields when importing your list.
Complete the process by clicking on "Finalize Import" and "Complete Import" on the next screen. Mailchimp will notify you when your list has been fully imported. Depending on the size of your list, this may take a few minutes.
Manually Add Contacts to Mailchimp
Alternatively, you can enter contact records individually, one at a time, or manually copy and paste data from a spreadsheet. When copying and pasting contacts, there is a specific format you need to follow to make sure it shows up properly in Mailchimp: email address, first name, last name, address, and other information, in that order. However, the only required element for any contact list entry is an email address.
Add Contacts Through Mailchimp Sign-up Forms
You can also create web forms in Mailchimp and embed them on your website or link to them from your website or social media accounts to grow your audience. For example, you can add a simple sign-up form to the footer of your website or create a pop-up form and connect your site to have it automatically pop up for site visitors. When a form is completed, the data is automatically added to your Mailchimp Audience.
Add Contacts Through Mailchimp App Integrations
There are more than 250 Mailchimp integrations available, some of which allow contact import and syncing with other apps your business may use. Examples of integrations include customer relationship management (CRM) software, third-party ecommerce platforms like Shopify, Stripe, and Square, social media, billing and accounting software, and more.
Integrations make Mailchimp even more useful because you can sync customer, purchase, and financial data between Mailchimp and other programs you may already use. Mailchimp includes step-by-step instructions on how to connect various apps, such as QuickBooks, Shopify, WooCommerce, Squarespace, and Zapier. When customers purchase from your business or sign up for special offers, they will be automatically added to your Mailchimp audience.
A great example of a helpful direct integration is Squarespace with Mailchimp. If you use Squarespace to build a website and online store, the integration enables you to set up automatic emails confirming purchases with customers. You can also use purchase data for your email campaigns to segment your audience based on their purchase history.
Generate Leads With a Landing Page
Mailchimp offers tools to help you grow your audience. There's a lot you can do to generate leads, including using web-based and social media sign-up forms that send data directly to Mailchimp. You can create sign-up landing pages with forms to collect email addresses from your website or online advertising efforts, which can also make it easier to see where leads are coming from. It's easy as Mailchimp guides you through the process.
Choose a template to begin designing your sign-up landing page on Mailchimp. Some templates have preset design elements and others have just a blank layout, so you can choose what works best for your needs. Be sure to swap out any pre-existing text or images with your own material.
The drag-and-drop editor is easy to use. Make changes by simply clicking in the box you want to edit or dragging a new element into the design, or update Style elements to change things like fonts, font sizing, headlines, and colors.
3. Create an Email Campaign in Mailchimp
Now that you have contacts imported as an audience, you can create your first email marketing campaign. Choose "Create an email" or click on "Email" and then choose "Campaigns" from the drop-down menu on the left side of the screen. Select "Regular email" from the three options or "Email" from the left-hand menu.
Edit the Name of the Email
Click on "Edit" under the "Untitled" campaign name at the left-top of the next screen to name your campaign so you can easily find it again in the future. This name is only seen by you, so consider using a naming convention for your email campaigns, such as date-based or by type of email, such as "monthly newsletter" or "new customer offer," or by product line—whatever works best for your business.
Choose an Audience & Personalizations
In the "To" box, choose the audience you want to email. If you are using the free version, you will only have one audience available. At this point, you can also decide whether to send your email with or without automated personalizations.
To add personalizations, check the box to "Personalize the 'To' field". This automatically adds audience list fields such as a contact's first name, last name, both first and last name, or a custom option, like "Miami House Hunters" to each email as they are sent. You can also use merge tags to display dynamic content, such as the date, promo codes, subscriber count, and social media handles.
Complete the 'From' Section
In the "From" section, add your name or your business' name and the business email address you want to use. These elements will be seen by your subscribers, letting them know who the email is from.
Many businesses create a special email address for this, such as "updates@mybusinessname.com" rather than using an individual email address, as subscribers will be able to reply to the email directly. This also enables you to direct replies to a shared inbox or an email that forwards to someone responsible to monitor any replies and respond accordingly.
Make sure you have a professional email address as it offers far more credibility for your business' communications. For example, if a subscriber receives an email from a business that looks like "businessname@hotmail.com" or "businessname@gmail.com," they may mark it as spam or worry that it's a phishing attempt.
Add a Subject Line
Next, add a subject line that hints at what your email is about. It should be enticing so subscribers open your email. Mailchimp offers a few tips on subject line best practices, such as the best length, number of emojis to use, and ideal number of characters. Then add your preview text, which is the text that appears in a user's inbox following a subject line, or below it.
Pro tip: Want to know if your subject line is working well or not? Upgrade from Mailchimp's free plan to the $9.99 per month Essentials plan to unlock the A/B testing feature. You'll be able to test subject lines, graphics, and content to see which emails get higher open and click-through rates, so you can be more successful with each email campaign.
4. Design Your Email
Now it's time to design your email and add content. Mailchimp currently gives you two different ways to design an email—use the Classic Builder or try the New Builder as a beta user. If you are just starting out, you might want to opt for the new builder since it's likely to become the standard in the future.
The differences between the new and standard builder are mostly how you'll edit each element. The Classic Builder lets you drag and drop blocks to the layout and then edit the content of blocks on the right-hand side of the page. The new editor lets you add a new element by clicking on the plus sign where you want to add it, choosing the element and type you want to add, and then editing directly in the block.
Design an Email in the Classic Builder
If you choose to design with the classic builder, simply choose a layout you like to get started or choose a theme you like. The drag-and-drop builder is easy to use. To edit text or images, you have to click the box, which opens an editable section to the right of your email.
---
Design an Email in the New Builder Interface
In Mailchimp's New Builder email editor, you'll still be able to choose from prebuilt templates, but they're simpler and include less design. If you upgrade to a paid plan, however, you'll have access to many more templates.
New features have been added, such as an undo and redo option, and you can edit blocks directly by clicking on them. To add a new photo, text block, or another design element, just click on the plus sign above or below another block and choose what you want to add. Then just edit on the page.
---
Design Resources for Email Campaigns
Regardless of which design editor you use, you will be adding your own images, logo, text, and other elements to the email. If you need inspiration or a source for creating banner images for your email, try Canva. There are hundreds of free, premade images to choose from, and you can easily create your own banner with images and text in its intuitive design editor.
Alternatively, you might be looking for professional help with elements of your email, or with your email marketing campaigns as a whole. Fiverr has freelance professionals who can help you with everything from writing effective marketing and ad copy to creating imagery for your emails. Alternatively, you can hire an email marketing specialist to see your campaigns through from beginning to end.
---
5. Send Your Email Marketing Campaign
Once you're satisfied with your to and from fields, subject line, and email design, it's time to send your email campaign. Do a double-check to make sure your links in your email are correct, and then choose to either send or schedule your campaign—find the button to send at the top right of your email campaign in Mailchimp.
Keep in mind that if you want to schedule your email to be sent at a specific time, you'll have to upgrade to a paid plan. The benefit of scheduling your email campaign is that you can create one or multiple campaigns at once and schedule them to be sent at the best times to reach your audience, based on your audience's time zone, for holidays, special events, and more.
Choosing the best time to send an email comes down to knowing your audience. For example, if you sell products online to people who tend to work 8 a.m. to 5 p.m., GetResponse data shows early hours as the best time to send. Emails sent at 4 a.m. get the highest open rates, while emails sent at 6 a.m. enjoy the highest click-through rates.
Frequently Asked Questions (FAQs)
How can I use Mailchimp for free?
Simply sign up for an account to start using Mailchimp for free. The plan stays free forever, as long as you don't go over the limit of contacts or emails per month. You can design business emails and newsletter campaigns, set up single-step automation, and create sign-up landing pages for your website for lead generation.
The free plan gives you a good opportunity to familiarize yourself with the dashboard and the basics of how to use Mailchimp before upgrading to a paid plan. Paid plans start at $9.99 per month. They include more features to improve the effectiveness of your email marketing campaigns, such as A/B split testing, the Customer Journey Builder, and more than 100 premade email and landing page templates.
Does Mailchimp use my email address?
With Mailchimp, the email address you provide in the "From" field is displayed as the sender to email recipients. If you use a non-business email address ending in Hotmail, Yahoo, or a personal Gmail account, delivery rates may suffer. Email service providers have policies in place to prevent potential email scams and spam, which can unintentionally affect legitimate deliveries.
Mailchimp can help by using its own domain to send your emails if you aren't using a business email or some other private domain. However, using a professional email address is best. If you need a low-cost option for business email, check out our guide to using Gmail for Business.
What is the best alternative to Mailchimp?
There are plenty of alternatives to Mailchimp, including Sendinblue, ActiveCampaign, and Constant Contact—just to name a few. If you have a CRM, it may even have native tools for sending bulk emails. You can also find helpful email tools for marketing to use alongside Mailchimp to find email addresses, set up meetings, and manage your email marketing efforts.
Bottom Line
Read about the best Mailchimp alternatives or find out why Mailchimp tops our list of the best email marketing platforms. It's free to use until your audience goes over 2,000 contacts, and it includes powerful features not often found in free tools. The process of how to use Mailchimp for email marketing is simple, and you can set up your account, import contacts, and create, design, and send an email in a short period of time.
Mailchimp plans are affordable for small businesses and the included templates make it easy to create professional-looking marketing emails for your business. Sign up for a free account to get started today.
You Might Also Like…