Free press release distribution services syndicate your press releases to a network of media outlets for free. We looked at the available options and found only four reputable choices among the ninety-plus available. From there, we reviewed the four options on criteria such as the size of their distribution network, level of customization, and ease of use.
While free distribution may get your press release in front of some media outlets, getting it in front of the right people at the right time is both expensive and time-consuming. Hire eReleases, a nationwide press release distribution service, to deliver your press release to verified emails for journalists and media outlets. With a 94% delivery success rate, this means that eReleases gets your press release in front of nearly 100,000 journalists — giving you syndication across the country. Click here for 33% off.
Top Free Press Release Distribution Services 2018
| Free Press Release Distribution Services | Best For |
| --- | --- |
| | (Best overall) Businesses that want to send their press release to the largest network of free media outlets. |
| | Company owners who want another free press release distribution service to potentially widen reach. |
| | Organizations that want to create free press releases with custom features but don't need distribution. |
| Online PR Media | Companies that want to create a simple press release without the syndication. |
How We Evaluated Free Press Release Distribution Services
Small businesses looking for a free press release (PR) distribution service typically want the widest network at no cost. However, PR services are often low in quality, and business owners need a free distribution service with a workable interface. This makes both the size and value of potential syndication, along with the ease of use, important factors to consider.
The five overall criteria we used to evaluate free press release distribution services include:
Distribution – How many syndication partners the press release service has, and the value of those partners in terms of audience; the more partners a press release company has, or the higher the value of its readership, the better your press release will perform
Customization – The level of customization or features allowed, including outbound links, multimedia, and images
Timing – How much flexibility is given on timing, scheduling, or queue lengths
Usability – Ease of use, including functionality, reporting, and customer service
Upgrades – The scope and cost of any paid upgrades for the press release
If you want the highest levels of syndication possible, you should use all of the free services on this list, as there aren't any mutually exclusive options. If you must use only one, select PRLog, since it will syndicate your press release to the highest number of media partners. However, you might have more success trying a paid service. For more information, check out our article on the best press release distribution services.
Best Overall Free Press Release Distribution Service: PRLog

PRLog is one of the oldest and most reputable press release services with the widest network of free media outlets for syndication, including Yahoo! News and Google News. PRLog also lets you customize your press release for free, adding things like a photo, logo, link, and video. It is best for businesses that want a professional-looking press release distributed to the most media outlets at no cost.
Distribution
PRLog's distribution levels set the standard for free press release services. You can select an industry in which to list your press release, along with three keywords or tags and one location listing. This will help you get the most relevant syndication, allowing your press release to show up on leading sites. Additionally, PRLog sends an email to journalists as well as lists your press release on their homepage.
The distribution offering for PRLog includes:
Media outlet distribution – PRLog's press release feed is picked up by all the major search engines as well as major news sites.
Email distribution – PRLog sends press releases notifications to their mailing list, which consists of journalists and media outlets.
Front page listing on PRLog.com – Since PRLog is the most well-known of the free press release services, it earns high levels of traffic from journalists looking for a story. Your press release will hit the PR.com homepage after publication, giving it extra visibility.
Customization
PRLog allows you to add one photo, one text link, a company logo, and a video embed. The press release is limited to a maximum of 500 words.
Scheduling
You can distribute your news immediately after writing your press release or schedule it in advance for up to three days. Many other free services do not allow for same-day publishing or advanced scheduling.
Ease of Use
PRLog has been in existence for many years, and the interface is showing its age. In spite of the clunky feel, the functionality is solid. Submitting a press release involves creating an account and uploading your release, which takes about ten minutes as long as you've already written the copy.
Paid Upgrades
PRLog's paid upgrades include:
Basic ($29) – At this price point, your press release appears without ads, and you are able to add additional industry targeting, photos, and links.
Premium ($49) – The Premium distribution plan sends your press release to newspapers, news sites, and the AP, plus additional industry listings and feeds.
Premium 2 ($99) – Premium 2 provides everything that the Premium plan does, plus geotargeting options, more industry listings, more keywords, higher word count, and video embedding.
Premium Plus ($349) – PRLog's top-tier paid service costs $349. At this level, your press release is syndicated to 5,700 news outlets, including PR Newswire, a premier PR syndication network. Press releases at this level receive a specialized report that lists every site on which your press release appeared.
What PRLog Is Missing
PRLog's interface is dated and cumbersome to use. Also, since thousands of users submit free releases on PRLog, your press release may not receive wide visibility among journalists or other media companies. This is one reason why a paid service like eReleases is often a superior option to free providers.
Another Good Free Press Release Distribution Service: Newswire Today

Newswire Today is a solid, free PR provider that can add another layer of distribution to your press releases. Newswire Today claims to be the "most trusted newswire press release distribution network," and has a ten-year history in the industry. It's an excellent choice for getting even more syndication from a free release.
Distribution
Press releases with Newswire today are free due to advertising placement on the releases. Their syndication partners include industry-specific media sites, PR agencies, market research reports, and other news content providers.
Since Newswire is owned by a large advertising and communications company (Limelon Advertising), they may possess a broader distribution than the other free press release providers on this list except for PRLog. Free releases are syndicated via RSS to approximately 2,000 sources.
Customization
As with most free press release providers, customization is limited. You are not able to add your logo, images, multimedia, or links. In addition, you will not be able to include any contact information in your press release. Finding the right balance between functionality, features, and syndication is challenging, which is why the best choice is often a paid service such as eReleases.
Scheduling
Press releases are published in the order they are received. Newswire Today's free level of service does not allow you to schedule the release to be published at a specific time. Paid upgrades allow same-day publishing or scheduling within a 30-day window.
Ease of Use
Out of all the free distribution services on this list, Newswire Today is the most difficult to use. The site is dated, the text is small, and filling out forms and information can be cumbersome and time-consuming.
Paid Upgrades
Newswire Today provides three levels of paid upgrades:
Premium Press Room and Social Wall ($99 each) – Newswire will syndicate your release to PR Today and PR Zoom, post on social media, and add it to the press release section of the website.
Premium Articles International Distribution ($129 each) – In addition to the above features, you can publish the press release the same day, schedule releases over a thirty-day period, and receive enhanced social promotion.
Site Launch Boost with Banner ($249 for one month) – This upgrade level caters to startups and new website launches. Newswire creates a banner ad to accompany your press release and gives it additional visibility on their website, social media, and with syndication partners.
What Newswire Today Is Missing
Newswire Today is challenging to use. Unless you are used to the interface, it may take some time to figure out how to send a press release. Additionally, the cost of the paid upgrades does not seem to be commensurate with their value. Instead, use a paid service like eReleases and receive up to 33 percent off your first press release.
Best Free Press Release Distribution Service with Custom Features: PR.com
PR.com is a good choice for businesses that want press release features that usually cost money, including company logo, industry targeting (up to five industries), keyword listing, and a file upload. While PRLog offers some of these things, no other free press release service allows you to attach files to your release, which could be good if you have additional marketing material or a special offer. However, PR.com's free plan provides distribution only on the company's own website.
Distribution
Free releases with PR.com provide distribution only on PR.com's press release page, which is the section of the website containing all recent releases. Journalists and media outlets frequently search these pages for news and stories. PR.com has additional paid distribution packages that will submit your press release to a standard array of news agencies.
Customization
PR.com has the highest level of features of all the free press release services we evaluated. These features come with a tradeoff, however, since PR.com only publishes releases to their own site. For full features plus maximum syndication, you'll typically want to use a paid service like eReleases.
With PR.com, you receive the following free features:
Upload a small version of your company logo. Most free PR services either do not allow images or require payment to add a logo.
Add keywords related to your topic. Keywords allow trade journals, targeted publications, and journalists to filter press releases and find those that are most aligned with their niche.
Select five industries. By selecting specific industries, you make it easier for your press release to be found by relevant readers. Any niche media company that is looking for news related to a specific industry can more easily find your release.
Attach a file (of any kind) to your release. Adding files to a press release is a major advantage since it adds interest and interactivity to the release. Press releases may include a video, a white paper, an app, or any other type of digital file.
Scheduling
The publication of the press release depends on the number of releases in the queue. In most cases, the publication of the press release will be longer than two days. Next day or instant press release distribution requires payment.
Ease of Use
The interface is dated but functional. Submitting a release is a simple matter of following each step. The challenge to submitting a press release is the aggressive upselling throughout the process, which can make it hard to figure out how to send a free release. For a press release service with a better interface, check out eReleases, our recommended paid option.
Paid Upgrades
PR.com allows the following upgrades for a cost:
Company profile and additional industry listing ($99/year) – Adding this feature allows your company to receive a permanent profile in PR.com's directory, plus your press release will be tagged with an additional industry, which improves visibility.
Link in the press release ($29.95 each) – Links in press releases are a great feature to have because they allow readers to easily visit your website.
Additional images ($60 each) – Adding an image, such as a head shot for a new hire or a company logo, adds visual appeal to a press release.
Next day distribution ($30) – Press releases are typically time-sensitive, so this is a helpful feature to have.
Additional distribution channels ($50 each) – PR.com's distribution channels can be pricey, and it's not clear how many syndication partners are within each distribution channel. You're better off purchasing a paid service that guarantees a certain number of syndications.
Regional distribution ($30 each) – If your business targets a specific geographical area, adding geotargeting to your press release is important. When you do so, there's a higher likelihood that local media outlets will see your press release.
What PR.com Is Missing
PR.com does not syndicate your release to media outlets for free. PR.com's website is itself a large and reputable press release source, but you should not expect wide syndication. Syndication may happen organically as media outlets, journalists, and search engines pick up your press release and circulate it. If you select PR.com for your free press release, be sure to use an additional service provider like eReleases.
Best Free Distribution Service for Simple Press Releases: Online PR Media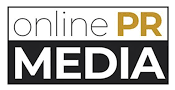 Online PR Media is the easiest free press release service to use, allowing you to make simple and shareable press releases quickly. However, press releases sent with Online PR Media are not syndicated to media agencies. Although releases are not syndicated, they are visually appealing and easy to share socially. This is a great option for a business owner who needs to create a press release but doesn't need a network to distribute it.
Distribution
Distribution is limited to publication as a standalone page on the site and is live for 90 days. The page template includes nine social sharing buttons and is supported with banner ads on the sidebar. Paid upgrades with Online PR Media or paid services such as eReleases do not contain ads and will reach a much wider audience through syndication.
Customization
You are allowed one link in the media contact area and can submit one press release per day. As an added benefit, the links from the press release may provide your website with marginal SEO value. You can target up to seven industry categories with each release.
Scheduling
Free press releases are live on the site for 90 days. Press releases are reviewed prior to publication. If your press release is approved, it should be published within 24 hours of submission. If it does not meet the editorial standards, you will receive an email with information and instructions.
Ease of Use
Online PR Media is the easiest platform to use and takes the quickest to complete. Signing up takes seconds, and the process of submitting a press release is quick and intuitive.
Paid Upgrades
Paid upgrades are priced based on the level of distribution and features:
Social Media ($22) – This is the most basic level. It allows for ad removal and instant sharing on social media.
Search Engine Visibility ($79) – The next level up is the most popular according to Online PR Media. It allows images and syndicates to 40 media outlets.
New Anchor PR Coverage ($199) – This paid upgrade provides a live press release reading from OPM's newsroom, video addition, and everything that's included in the Search Engine Visibility Package.
Maximum Media Visibility ($389) – The Maximum Media upgrade syndicates your release to 5,300 websites, which includes print media, broadcast companies, and trade journals.
Video PR Premium Visibility ($549) – The Premium package builds on the Maximum package, but adds video capability. Videos included in the release are syndicated to 1,800 websites.
What Online PR Media Is Missing
Online PR Media does not syndicate your press release except with paid upgrades. You can distribute your press release yourself by sharing the link, but it will not receive any news network coverage. Keep in mind that Online PR Media free press releases are live for only 90 days. For wider reach, check out eReleases, our recommended paid service provider.
Complete List of Free Press Release Distribution Services
| Free Distribution Service | What They Provide |
| --- | --- |
| | Quick and easy free press releases with simple upgrades |
| | Free press releases for businesses in the tech industry |
| | Reputable company offering free announcements for businesses in the engineering or manufacturing industries |
| | This service is geared towards tech-related news events only |
| | Free PR service that allows instant publication and some custom features |
| | Easy-to-use free press release creator |
| | Allows for one free press release daily submitted from a business email (no Gmail addresses) |
| | Simple and straightforward free PR service targeted mostly to B2C businesses |
| | Free press releases screened by editorial staff and posted on the main website |
| | A PR distribution site only for Apple-related news such as apps and software |
| | Free press releases syndicated to major search engines |
| | Free press releases for registered charity companies |
Bottom Line
Free press releases allow any business to send a complete press release without the cost associated with conventional releases. Although many of the free press release platforms lack functionality, custom features, or wide distribution, they still accomplish the main purpose of a press release, which is to announce a newsworthy event for your business.
However, it can be inconvenient to use free services because you're only getting marginal levels of coverage. With just one paid service, you can typically get far more distribution than you would by using ten free services. For the best and widest syndication, consider using a paid service like eReleases and receive up to 33 percent off your first release.