An AP style press release is one that follows AP (Associated Press) guidelines. Learning how to write an AP style press release gives your release an advantage. Since it's already in the journalist-preferred format, it's essentially ready to publish. So for journalists on a tight deadline, this could be the difference in whether or not to pick up your story for additional coverage.
Below you'll find a template that follows AP guidelines as well as the steps for how to write your press release:
1. Familiarize Yourself With AP Style Guidelines
Established in 1846, the Associated Press (AP) is one of the largest, most trusted news agencies worldwide. Every year it publishes an AP Stylebook that governs how they want journalists to format content so that everything is uniform, no matter who writes the story.
The style guide covers everything about how to write an AP style press release from formatting conventions to punctuation rules. And as the media evolves, so does the guide. For example, last year they added a chapter on inclusive storytelling, added or revised 35 disability-related entries, and updated topics like immigration, gender and sexual orientation, religion, race, and more.
Here are some key AP formatting guidelines for press releases:
Spacing: Use one space after a period (not two).
Serial comma: Do not use a comma before the last item in a series.
Perspective: Write your announcement from a third-person perspective (e.g., he/she/it/they), never first person (I/we) or second you).
Numbers: Spell out numbers between one and nine, then use numerals thereafter (e.g., eight, nine, 10, 11, 12, and so on).
Dates: Use numbers for dates and abbreviate months with more than five letters.
Headings and subheadings: Both headlines and subheadlines should have title case capitalization.
Fonts: Use a common font, like Times New Roman or Arial.
Font size: Use the following font sizes for various sections in your release—headline: 14 pt, subheadline: 13 pt italics, body: 12 pt.
You can also learn how to write an AP style press release by using our template. It follows the proper press release format structure to ensure that media outlets, journalists, and search engines can find important information quickly.
Download Our AP Style Press Release Template
Download the AP style press release template below then use it as you follow the remaining steps for how to write an AP style press release. You'll find options for downloading the template for Microsoft Word, opening a Google Doc and saving a copy, or downloading it as a PDF.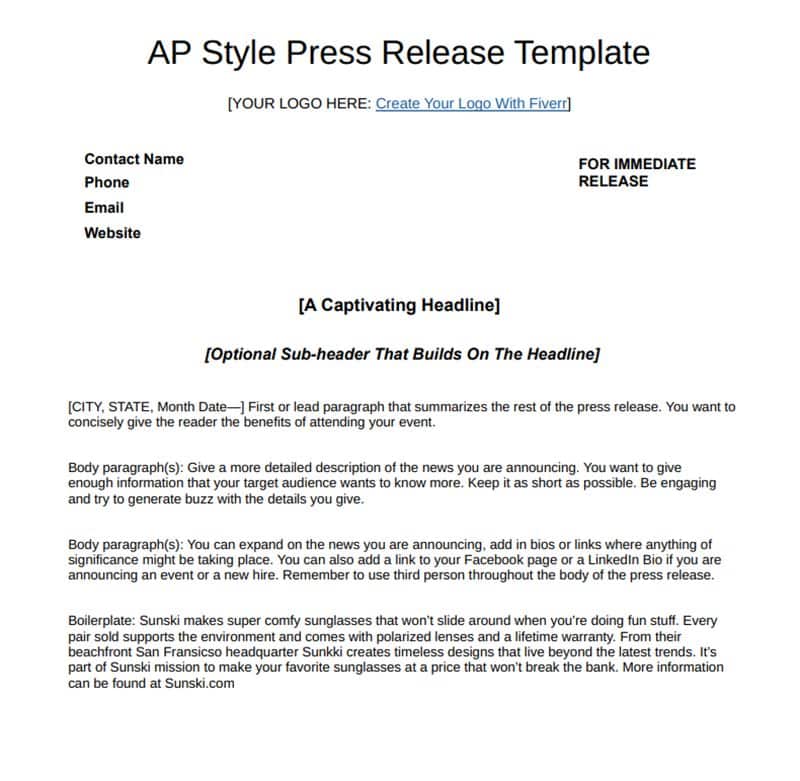 Thank you for downloading!
💡 Quick Tip:
When you're ready to distribute your press release, use our #1 recommended press release distribution service for small businesses: EIN Presswire, starting from $99.
Visit EIN Presswire
Did you know? The news media aren't the only ones that follow AP style guidelines for writing content. Many blogs and websites also base their content guides on AP style and simply adapt it with any exceptions they prefer.
2. Find the Right Angle
Before writing a press release, identify the best angle for your story based on the audience you want to engage and the journalists you want to cover your news. Keep in mind when approaching the media that the audience is not just journalists, but their readers, listeners, and social media and email followers as well.
Finding an angle that will get your story on the news can be challenging. To help, consider the following:
Interests: What personal and professional interests does your ideal audience have? What are their hobbies? What do they read or watch?
Values: What is most important to your target audience? Do they tend to support local businesses or specific causes? What corporate or social values do they look for in brands they do business with?
Trust: Who do your potential customers trust? What businesses do they find credible?
Habits: Do they have specific habits, like doing their financial planning once a year, vacationing in the same location every summer, or shopping for groceries every Friday?
Location: Where are they located (e.g., in a certain city, state, region, country, or worldwide)?
Jobs or industries: Are you looking to build brand presence with an industry-specific audience? Does your intended reader tend to work in specific types of roles or businesses?
Lifestyle: What types of education, income, residences, and other lifestyle demographics are common to your audience?
Try using our free customer persona template to better hone in on your ideal audience types to come up with the best angle for your press release.
Once you've found an angle for your story and media pitch, it's time to start writing your press release. As you do, incorporate details into your press release's headlines and text that reflect the angle by explaining why your news matters to your intended audience.
If you're unsure of how to write a press release or having trouble finding a newsworthy angle, you're not alone. Turning the task over to media-seasoned professionals who can not only format your story but also "zhuzh it up" can give your story an additional edge, making it more likely to receive additional media coverage.
If you're looking for help like this, you can get your story professionally written and ensure that it's in AP style format by using a press release writing service like eReleases. They'll also distribute your announcement to a wide audience, including direct-to-media emails, giving it an even better chance of landing coverage.
3. Add an AP Style Press Release Header
At the very top center of the press release, add your business logo. Next, on the left-hand side, put your contact information. Include the following information in this order, with each on a new line:
Contact name: Full name of the primary contact if the media has any questions.
Phone number: A phone number with an area code that makes it easy to reach the primary contact.
Email address: The email address of the primary contact or a media-specific email address for the business.
Website: The website URL of your company's home page or a landing page specific to your announcement.
On the right-hand side, add your release instructions. These include the time and date when you want your announcement to be published. It should be in all caps.
If your press release is ready to be distributed immediately, include the words "FOR IMMEDIATE RELEASE" at the top of your press release. If you want the media to hold onto your press release for a certain time period, it is called an "embargoed" release. In that case, write "EMBARGOED FOR RELEASE UNTIL [DATE AND TIME]."
4. Craft a Compelling Headline
To write an AP style press release, the headline should be at the top-center of your press release in Title case (for capitalization) just below the header section we created in the last step. It should be between 65 and 80 characters and in 14-point font size.

---

---

---
Since the headline is usually the most eye-catching part of your press release, it should intrigue people so that they want to read the rest of your press release. Here are some effective approaches for writing a headline:
Call out your target audience: Referencing your industry (such as "real estate" in the examples above) is a great way to get the attention of your target reader.
Tie your headline to a trending topic or current event: Aka "newsjacking," this is the process of taking a story already in the news and anchoring your press release to it. For example, a recent natural disaster could prompt a press release about your business' investment in the community or donation to relief efforts.
Elicit emotion or encourage action: Use present tense in your writing to describe what your organization is currently doing. Ideally, you want to write a headline that is bold, exciting, and encourages some type of action (e.g., A Kindergartener Raised $54k for Disaster Relief … and You Can Too)
Include keywords: Keywords are words people use to find information through search engines. Use keywords in the headline and body of your press release to ensure that your release gets the most online visibility. For best results, place your keywords in the first one to three words of your headline or in the first 65 characters.
Next, add a subheadline just below the main headline to provide additional insights or details. Subheadings are usually about 80 to 120 characters in length and appear directly below your headline.

The subheadline should be formatted in 13-point Times New Roman font and in title case to comply with AP style formatting, and be italicized to draw your reader's attention. The subheadline gives you another opportunity to grab the attention of journalists with your story's angle and incorporate search-friendly keywords.
5. Write a Strong Lead Paragraph
The first paragraph of your press release (sometimes called the "lead") should be under 60 words and starts with the release date and location. The lead paragraph should be a concise summary of the most important information in your story, including the date and location.
Add the Location & Date
The first paragraph should begin with the date you want the release to go live and the city in which the press release originated. Many media outlets consider these details when deciding whether to pick up your press release. For example, you'll often see notations like this that begin the first paragraph of a release:
SANTA MONICA, Calif. (Sept. 26, 2023) —
Put these elements in 12 pt bold font and use the proper format for state abbreviations, noting that eight states (Alaska, Hawaii, Idaho, Iowa, Maine, Ohio, Texas, and Utah) are never abbreviated. Below is a list of state abbreviations for AP style press releases, plus for Washington, D.C. (the District of Columbia):
| State Name & Postal Abbreviation | AP Style Abbreviation | State Name & Postal Abbreviation | AP Style Abbreviation |
| --- | --- | --- | --- |
| Alabama (AL) | Ala. | Nebraska (NE) | Neb. |
| Alaska (AK) | Alaska | Nevada (NV) | Nev. |
| Arizona (AZ) | Ariz. | New Hampshire (NH) | N.H. |
| Arkansas (AR) | Ark. | New Jersey (NJ) | N.J. |
| California (CA) | Calif. | New Mexico (NM) | N.M. |
| Colorado (CO) | Colo. | New York (NY) | N.Y. |
| Connecticut (CT) | Conn. | North Carolina (NC) | N.C. |
| Delaware (DE) | Del. | North Dakota (ND) | N.D. |
| Florida (FL) | Fla. | Ohio (OH) | Ohio |
| Georgia (GA) | Ga. | Oklahoma (OK) | Okla. |
| Hawaii (HI) | Hawaii | Oregon (OR) | Ore. |
| Idaho (ID) | Idaho | Pennsylvania (PA) | Pa. |
| Illinois (IL) | Ill. | Rhode Island (RI) | R.I. |
| Indiana (IN) | Ind. | South Carolina (SC) | S.C. |
| Iowa (IA) | Iowa | South Dakota (SD) | S.D. |
| Kansas (KS) | Kan. | Tennessee (TN) | Tenn. |
| Kentucky (KY) | Ky. | Texas (TX) | Texas |
| Louisiana (LA) | La. | Utah (UT) | Utah |
| Maine (ME) | Maine | Vermont (VT) | Vt. |
| Maryland (MD) | Md. | Virginia (VA) | Va. |
| Massachusetts (MA) | Mass. | Washington (WA) | Wash. |
| Michigan (MI) | Mich. | West Virginia (WV) | W.Va. |
| Minnesota (MN) | Minn. | Wisconsin (WI) | Wis. |
| Mississippi (MS) | Miss. | Wyoming (WY) | Wyo. |
| Missouri (MO) | Mo. | Washington DC (DC) | Washington, D.C. |
| Montana (MT) | Mont. | | |
The AP guide also defines rules for abbreviating the names of months as follows:
Jan.
Feb.
March
April
May
June
July
Aug.
Sept.
Oct.
Nov.
Dec.
Answer the 'Who, What, When, Where & Why' in Concise Language
Many readers won't make it past your first paragraph, so give the most pertinent information here. Your goal is to summarize the entire press release in the first paragraph.
You can start this paragraph by briefly answering the questions your reader will want to know. Be sure to keep it concise, in two to three sentences, with the goal of not exceeding 60 words.
These are the questions your first paragraph should answer:
Who: Who (e.g., business, organization, or individual) is releasing this information?
What: What is the news the reader should know?
When: When is this news, change, event, or hire taking place?
Where: Where is this taking place and where can the audience learn more?
Why: Why is this news important—who does it matter to?
After writing a strong introduction that grabs the reader's attention, use the following paragraphs to provide supporting details. Include an authoritative quote directly relevant to the news you are releasing and the angle of your press release to add credibility. The quote should come from someone who has a solid reputation in your industry or location, or could be from your company's CEO or another leadership role.
Pro tip: Word processing software like Microsoft Word and Google Docs can show you the word count by cutting and pasting your lead paragraph into a new document. Alternatively, you can cut and paste your text into a tool like CharacterCountOnline to see how many characters, words, sentences, and even spaces are in your paragraph.
6. Write Your Boilerplate
The boilerplate is the "about" section that appears at the very bottom when you write an AP style press release. It should include your company's background, awards, amount of time in business, or anything else that might be interesting about your company or give your news more weight.
The boilerplate should be under 100 words. For more detailed information, read our article detailing how to write a boilerplate for a press release.
7. Distribute Your Press Release
After learning how to write an AP style press release and completing the steps above, it's time to distribute your press release. This is a crucial part of landing press. It's how your press release gets into the hands of the journalists who can give your story (and your organization) additional media coverage.
There are a handful of ways to get your press release into the hands of journalists and media outlets. You can build your own media list and distribute your press release directly, publish your story to your website, share it on social media, and get maximum exposure using press release distribution services like eReleases or EIN Presswire.
If you want to distribute your press release with a personal pitch and your news is of local interest, you can reach out to local journalists and media outlets directly. You can also build a list of media contacts in your industry, such as trade publications, including writers that often cover stories like yours.
For more ways to get your news out, read our guide on how to send a press release. It includes specific strategies for paid and unpaid options, including how to pitch your story to journalists.
Best Ways to Distribute a Press Release for Max Reach
To get the most exposure, using a press release service is the best option. They can distribute your news to thousands of newswire services, websites, and media outlets while also targeting distribution by email to journalists and newsroom editors who are actively looking for stories to cover.
Here are our top recommendations, and when each would be best:
When you want pro writing and editing plus distribution

When you want to get max reach without breaking the bank

When you want to reach the largest database of U.S. media

Distribution from $399
Two-tier editing included
Add writing for $300

Mass distribution from $99
Same-day turn time
Industry and location targeting

Largest database of U.S. journalists
Hyper-targeting options
Three-tier editing
Another advantage of using paid distribution services is that you'll get access to analytics. This allows you to monitor the performance of your press release and see engagement metrics like views, clicks, and placements.
Now that you know how to write an AP style press release, boost the quality of your story even more. Read up on dozens of press release best practices that can help you land media coverage.
Frequently Asked Questions (FAQs)
Yes—there are best practices for writing AP style press releases that ensure you get the best results for your effort. These include choosing the right type of press release for your announcement, enriching it with multimedia (e.g., images, video, and graphics), and condensing text into easily scannable bullet points where you can.
---
There are ways to distribute your release for free, even if you don't have a list of media contacts or the budget to pay for press release distribution. For example, use OnlinePRNews for short-term press releases (posted for 90 days) or 1888PressRelease for distribution to search engines. If your organization is a nonprofit, you can get free distribution from NewswireToday.
---
If you're adhering to AP guidelines, you should use title capitalization for both your main headline and subheadline (if you include one). In addition, you can italicize the subheading. This helps to set it apart from the main headline and body of your press release visually, which in turn draws attention to captivate journalists and readers alike.
---
Bottom Line
AP style press releases follow specific style guidelines and are intended to be distributed through the Associated Press. They are used by organizations of all types that want to improve their chances of landing additional coverage. Correct formatting makes it easier for journalists to pick up and publish their stories.