6 Best Gym Management Software in 2022
This article is part of a larger series on CRM.
Gym management software lets you track membership, monitor inventory for exercise-related products, and market to new members in one system. These features, combined with general customer relationship management (CRM) software capabilities like integrations and analytics, make it a powerful tool for overseeing a studio or fitness center. We researched dozens of the best gym management CRM software based on price, features, and usability to arrive at the top six options.
Best Gym System Software Compared
Provider

Free Plan

Starting Price for Paid Plans

Free Trial for Paid Plans

Key Gym Management Features

Customer Support

Up to 2 users

$159 per month

14 days

Product, payroll, events, and appointment management

Online resources plus email, live chat, and Facebook support

N/A

$59 per month

14 days

Client management including designing loyalty and reward programs

Online resources plus email and phone support

N/A

Must contact for pricing

N/A

Lead management, segmentation, and sales interactions

24/7 chat, email, and phone support plus online resources

N/A

Must contact for pricing

N/A

Family and group management features

24/7 chat, email, and phone support plus online resources

N/A

$121 per month

15 days

Advanced features for managing member experiences

Chat, email, and phone support during business hours

N/A

$159 per month

N/A

Customer communication and review management

24/7 phone and email support plus online resources
PushPress: Best Overall Gym Management Platform
What We Like
Free plan available
Integrates with popular third-party software like Mailchimp, Slack, Zapier, Facebook, and Google Workspace
Includes point-of-sale (POS) system with inventory management
What's Missing
No external integrations on Free plan
Limited event management and registration features on Free and Pro plans
Paid plans are relatively expensive
PushPress Pricing at Glance*
Free: Up to 2 users
Pro: $159 per month
Max: $229 per month
Free trial: 14 days
*Only monthly billing available
PushPress is a robust gym CRM system that lets you communicate, track lead activity, organize member information and documents, and manage point-of-sale (POS) transactions and product inventory. This product also allows users to create personal training sessions or events for members to sign up for and check in. There are even options to process payroll from the CRM for your staff and trainers.
Another standout feature is the workout tracking capability. Training staff can set a workout regimen for a member through the member app and track it in real time. In addition to some of the built-in features, PushPress lets you integrate with popular tools like Slack, Facebook, Google Calendar, Mailchimp, and Zapier.
Due to the comprehensiveness of the platform, PushPress is a relatively expensive product with no ideal subscription option between the Free and Pro plan. TeamUp is a better alternative with lower-priced, more scalable paid plans.
PushPress Plan Summary
| | Free | Pro | Max |
| --- | --- | --- | --- |
| Lead Management | Unlimited leads | Unlimited leads | Unlimited leads |
| Member Management | Up to 100 members | Unlimited members | Unlimited members |
| POS Integrations | ✔ | ✔ | ✔ |
| Check-in App Integration | ✔ | ✔ | ✔ |
| Product & Inventory Management | ✔ | ✔ | ✔ |
| Workout Tracking | ✔ | ✔ | ✔ |
| Appointments Session Management | ✔ | ✔ | ✔ |
| Events Planning & Registration | Up to one | Up to five | Unlimited |
| Documents Storage | One per record | Up to five per record | Unlimited |
| Payroll Management | ✕ | ✔ | ✔ |
| Pro Coach | ✕ | ✕ | ✔ |
PushPress Key Features
Point-of-sale integration: Integrates with in-store tablets to process transactions while tracking product inventory
Payroll processing: Ability to manage payroll for staff and trainers within the system
Lead and member management: Lead and member data organization, document management for files such as waivers, and ability to send automated communication via email or text message
Appointment tracking: Users can create and manage training session appointments, allow members to sign up, check in attendees, and create a waitlist when capacity is maxed out.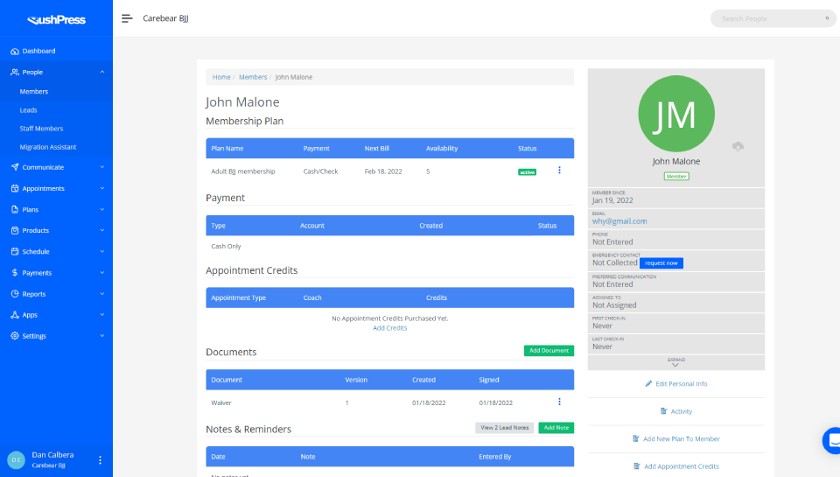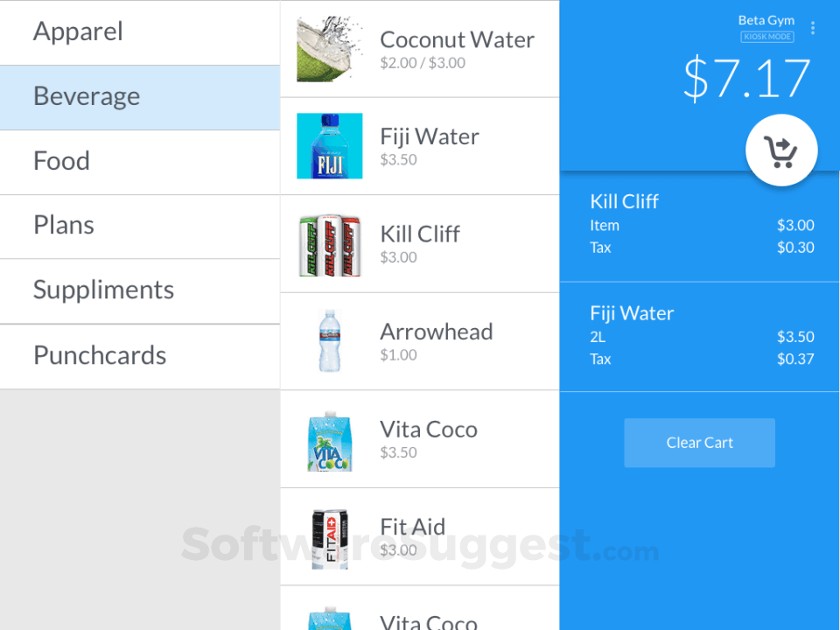 PushPress Customer Support
The PushPress website includes a knowledge base, blog, and playbook pages for users to use the platform and manage their gym. Additionally, existing customers can contact their support department via email, live chat, or through the Facebook user group during extended business hours in Pacific Standard Time (PST).
WellnessLiving: Best for Loyalty Program Management Features
What We Like
Scalable subscription options based on feature needs
All-in-one business management solution for gyms
Built-in loyalty management for rewarding based on fitness contests, progress, and customer purchases
What's Missing
No free plan
Forms for collecting client information requires an add-on
Expensive email and short message service (SMS) texting campaign features
WellnessLiving Pricing at Glance*
Basic: $59 per month
Advanced: $99 per month
Professional: $129 per month
Enterprise: Contact for pricing
Free trial: 14 days
Add-ons
Forms: $29 per month
FitLive: $29 per month
FitVID On Demand: $49 per month
Custom website: $99 per month
Achieve client app: $89 per month
*Pricing is based on annual billing; monthly billing is also available at a higher price
WellnessLiving is a full business management platform for organizing client information and documents, processing transactions, and deploying marketing campaigns through direct mail, email, or SMS. There's also the ability to generate activity reports, interactive graphs, and inventory statuses. You can also gain valuable insights through Isaac, an artificial intelligence (AI) tool and 24/7 sales assistant that analyzes your gym's data for a better understanding of your business by evaluating membership patterns, churn potential, and pricing effectiveness.
This all-in-one CRM system is ideal for fitness studios, especially ones that use rewards programs to incentivize progress relating to exercise goals and winning training competitions. This loyalty program management tool is also useful for giving out points for frequent purchases from your studio, which are redeemable through the customizable client app.
Unfortunately, WellnessLiving does not offer a free-forever plan. If a free plan is important to your business, we recommend PushPress, which has a free plan for up to two staff members.
WellnessLiving Plan Summary
| | Basic | Advanced | Professional | Enterprise |
| --- | --- | --- | --- | --- |
| Client Management | ✔ | ✔ | ✔ | ✔ |
| POS & Credit Card Processing | ✔ | ✔ | ✔ | ✔ |
| Client Application | ✔ | ✔ | ✔ | ✔ |
| Digital Waivers & Contracts | ✕ | ✔ | ✔ | ✔ |
| Custom CRM Data Fields | ✕ | ✔ | ✔ | ✔ |
| Payroll Tracking | ✕ | ✔ | ✔ | ✔ |
| Customer Review Management | ✕ | ✕ | ✔ | ✔ |
| Email & SMS Drip Campaigns | ✕ | ✕ | ✔ | ✔ |
| Direct Mail & Groupon Vouchers | ✕ | ✕ | ✔ | ✔ |
| AI Dashboard Reporting | ✕ | ✕ | ✔ | ✔ |
| Loyalty Program Management | Custom rewards only | Custom rewards only | Custom prizes and rewards | Custom prizes and rewards |
| Franchise Cloud With Enterprise Reporting | ✕ | ✕ | ✕ | ✔ |
WellnessLiving Key Features
Staff management: Staff member tracking, payroll reporting, and task management capabilities
Client management: Basic client and lead management features with custom data fields, digital contracts and waivers, loyalty and rewards programs, and progress tracking for training goals
Comprehensive marketing features: Email and SMS campaign deployment including drip campaigns as well as a direct mail designer, Google My Business class registration, and integrations with Groupon and ClassPass.
Branded client experience with online booking system: Client application management to let customers check in, sign-up for events, and book appointments with options to send gift cards through the app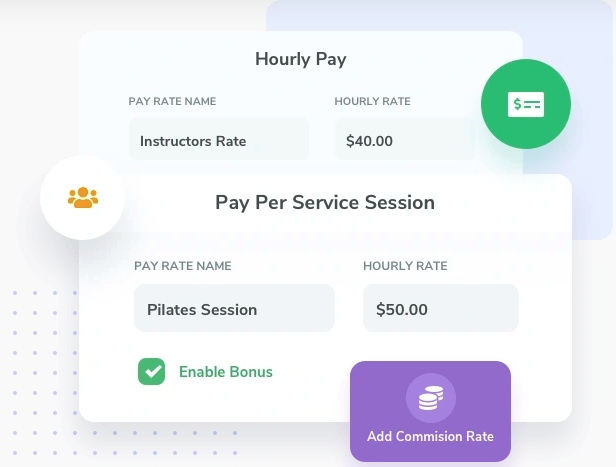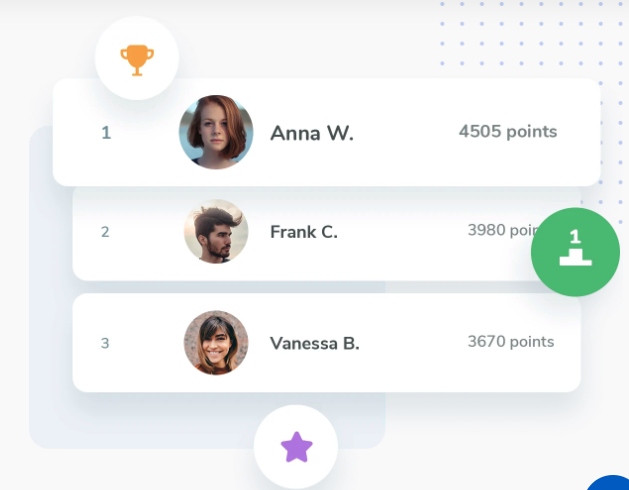 WellnessLiving Customer Support
WellnessLiving has a tier-based customer support system depending on the plan selected. 24/7 email support is included on the Advanced plan, and the Professional adds in 24/7 phone support. There's also an online support center, a blog, a community forum, and a knowledge base page for self-help resources.
Glofox: Best for Lead Management Features
What We Like
Robust lead management capabilities
All-in-one solution for managing sales, marketing, client experience, and administrative workflows
Simple, user-friendly interface
What's Missing
Lacks transparent pricing
Limited third-party integration options
No free plan available
Glofox gives its users a range of modules for managing sales, marketing, and the client experience. Teams can run ads on Facebook or Instagram as well as deploy automated SMS and email campaigns. They can also make it easy for studio or gym members to schedule classes, check in, and receive updates through the custom-branded mobile app. Glofox even lets businesses manage and accept payments as well as generate transaction reports.
While it acts as a comprehensive gym management solution, the lead and sales management features are what make Glofox stand out the most. You can store basic contact and potential member information in the database as well as collect lead information through web forms, filter out lead lists and create customer segments for tailored marketing campaigns. There's even tremendous functionality for tracking activity and history with a particular prospect.
Relative to other options on this list, Glofox has limited integration options. PushPress is a better alternative that lets users integrate with plenty of popular third-party applications, including Slack, Facebook, Google Calendar, Mailchimp, and Zapier.
Glofox Plan Summary
| | Description |
| --- | --- |
| Website Lead Capture | Ability to generate lead data into the system through online web forms |
| Ad Campaigns | Integrates with Facebook and Instagram for running and retargeting ads as well as booking appointments |
| Lead Management | Lead data organization with filtering and activity tracking |
| Targeting & Segmentation | Leads and members can be put into groups or segments for campaign automation |
| Class Scheduling Management | Classes can be set up for easy scheduling and member sign-up |
| Payment Processing | Accepted payments through card or direct deposit for recurring or one-time transactions |
| System Reporting | Full reporting on trainer performance, class performance, lead activity, and transactions |
| Branded Membership App | Branded app customization for members to signing up for classes, viewing their membership plan, and staying up-to-date on studio news and offers |
| Automated Emails & Text | Campaign options for targeting leads or members on an automated basis |
Glofox Key Features
Sales features: Lead management with targeting, activity tracking, and customer segmentation
Marketing campaigns: Automated email and text options plus ad management through Instagram and Facebook
Client experience management: Ability to enhance customer experience with brand application and a simple class scheduling system
Gym management: Payment processing, membership management, and reporting on transactions, training performance, and class performance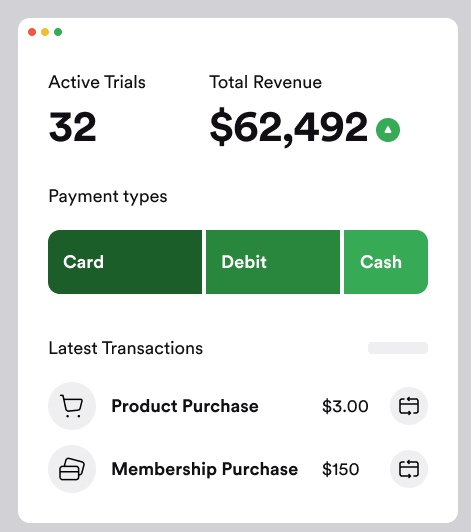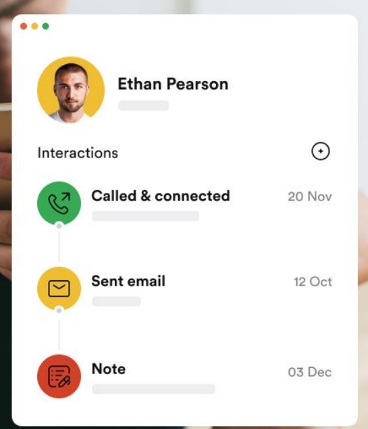 Glofox Customer Support
Glofox has excellent customer support capabilities with 24/7 service via email, live chat, and phone. There's also a plethora of self-help resources on the website through their blog and customer knowledge base.
TeamUp: Best for Family & Group Experience Features
What We Like
No tiered pricing—all features are included regardless of what you pay
Relatively inexpensive
Unique features for managing families group and group plans
What's Missing
No free plan
Email campaigns require outside integration
No SMS campaign features
TeamUp Pricing at Glance*
TeamUp: Custom pricing ranging from $35 to $309 depending on active customers
Free trial: 30 days
*Pricing exclusively month-to-month contracts
TeamUp lets gyms and fitness centers organize customer information and waivers, collect payments, and create events or classes for their members to sign up for. There's the option to design a branded mobile app that makes it easier for members to book their appointments, make purchases, and keep their information and forms up-to-date.
Something unique about TeamUp is the focus on creating an excellent membership experience for families and groups. For instance, businesses can collect information relating to family relationships, track their schedules, manage group payments for a family, and offer discounts for siblings or other group sign-ups. Furthermore, there's an emphasis on security as data can be synced into the system for managing access points and tracking those in the facility.
One downside of TeamUp crucial for gyms and studios is that there aren't any SMS marketing capabilities and the email campaigns require outside integration with an email tool like Mailchimp. PushPress and WellnessLiving are ideal options for teams looking for those capabilities within the main system.
TeamUp Plan Summary
Description

Appointments

Ability to control availability and clients ability to schedule their own appointments

Customer & Membership Management

Data management for customers including tagging, health information, pre- and post-natal status, and photo storage

Family & Group Management

Tracking for schedules, payments, waivers, and information related to a group such as a family as well as discount management for group sign-ups

Payment Processing

Payment collection for memberships and purchases as well as

sales forecasting

capabilities

Reporting

Dashboard and reporting on sign-ups, visits, member referrals, purchases, marketing activity, and insights on popular class times and frequent customers

Waivers & Forms

Ability to request, collect, and store information and contacts required for membership

Online Class Booking

Class creation with easy online booking for members with automatic waitlisting and no-show management

Member App

Custom mobile app for members to book classes, fill out forms, make purchases, sign waivers, and keep data up-to-date

Access Security Control

Smart security system synced to TeamUp account to monitor and set access points and stay informed on attendance for facility safety
TeamUp Key Features
Appointments and class management: Users can create classes or events for members to easily book, sign up, and view availability.
Membership and family management: Client data storage for individuals and families including waiver tracking, emergency contact organization, and payment processing
Facility security synchronization: Security data synced to TeamUp to manage access points, set accessibility for members, and remain informed on facility occupancy
Branded member app: Custom app for members to manage their information, book classes, and make payments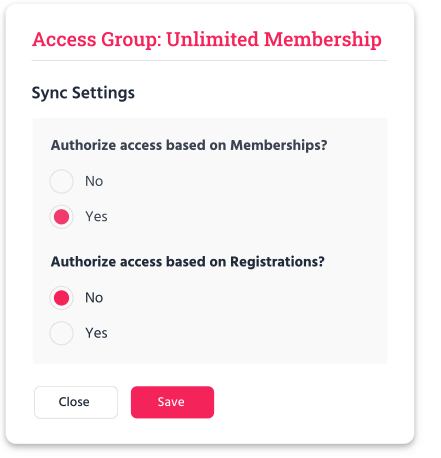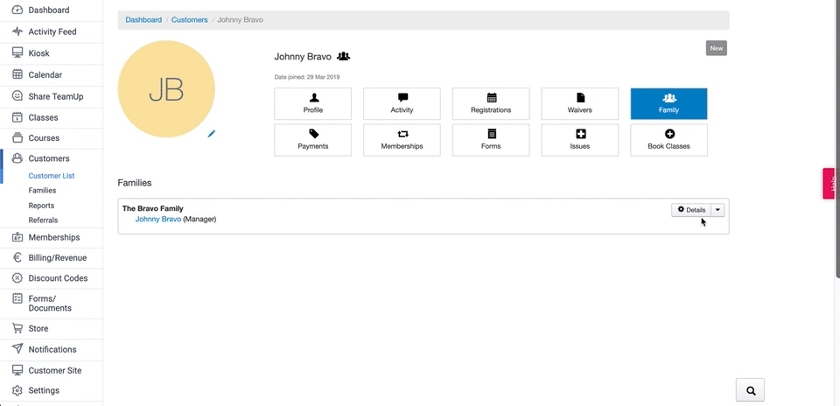 TeamUp Customer Support
TeamUp offers 24/7 live chat, email, and phone support for users. There are also online resources including tips and tool pages, marketing guides, and online classes you can take to improve your technical and feature skills.
ZenPlanner: Best for Managing Customer Experiences
What We Like
No tiered pricing—all features are included regardless of what you pay
Comprehensive gym system software with marketing, staff, membership, and product management modules
Great workout tracking and coach programming features
What's Missing
Expensive starting prices
Challenging interface to navigate
Does not have SMS campaign features
ZenPlanner Pricing at Glance*
0 to 50 members: $121 per month
51 to 100 members: $169 per month
101 to 250 members: $218 per month
251+ members: $257 per month
Free trial: 15 days
*Pricing available for monthly contracts only
Like the other platforms on this list, ZenPlanner gives you the ability to market your fitness center or health club, manage payments, create appointments or classes, and provide a mobile app for members to use. Additionally, there's a full retail management module for processing transactions and tracking inventory, which will even track total account balances for members if they prefer to add the cost to their recurring bill.
While most CRMs on this list have capabilities for managing member workouts and progress, none do it better than ZenPlanner. Coaches can assign daily workouts through the app where athletes can view them for completion. There's also the ability to calculate lift percentages and engage with members on their performance and through competitive leaderboards. Progress can be tracked in real time for assigning rankings or belt levels.
The starting cost of ZenPlanner is one of its main downsides. For users who prefer a more cost-friendly option, we recommend TeamUp, which starts at $35 per month for the lowest tier based on the number of active members you have.
ZenPlanner Plan Summary
| | Description |
| --- | --- |
| Billing & Payment Processing | Integrate payment processing with automated billing, credit card capture, self-service payments, and automatic bank deposits |
| Website & Digital Marketing | Website can be integrated with ZenPlanner to acquire contact form submissions, list on Google My Business, manage Facebook and Google ads, and search engine optimization (SEO) activity |
| Advanced Workout Tracking | Member viewing of daily workouts with progress tracking, lift percentage calculations, and the ability to engage athletes with performance data and leaderboards |
| Member App | Custom branded app for members to reserve spots in a class, submit waivers, pay bills, get to know instructors, and track workouts |
| Staff App | Integrated app for staff to use on mobile devices or tablet to plan classes, manage check-ins, finalize point-of-sale activities for purchases, log working hours, and sell memberships |
| Online Scheduling | Appointment and class management with booking options from the member app or online |
| Retail Management | Inventory tracking with POS capabilities, payment processing, self-service customer payment options, and account balance tracking for members |
| Reporting & Dashboards | Report generation and sharing for revenue and gym activity as well as automated notifications to receive alerts on time-sensitive issues |
| Skills & Belt Tracking | Progress tracking specifically for martial arts studios to manage tests based on skills and distribute student-level belts |
| Workflow Automation | Automation configuration for email campaigns, billing, member notifications, and alerts for belt or rank testing |
ZenPlanner Key Features
Member experience and progress management: Capabilities to deliver workout regimens and track progress for improvement, rankings, and belt distribution
Advanced billing: Payment processing with automated billing and automated direct deposit into business checking accounts
Retail and POS system: Inventory and product management with POS capabilities on mobile devices through the staff app
Branded member app: Application customization for members to book classes, make payments, and track workouts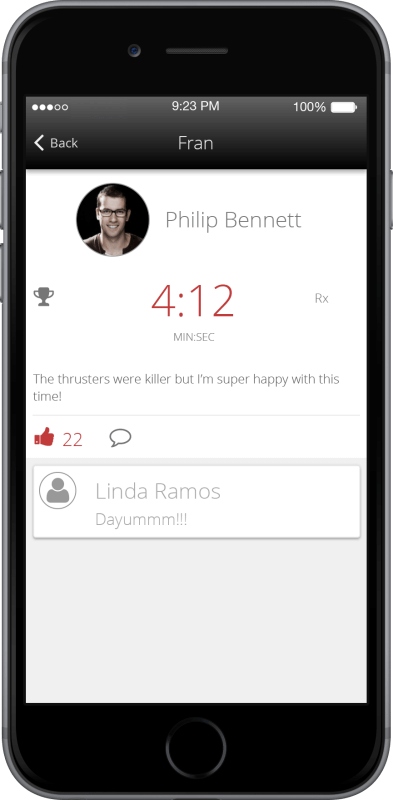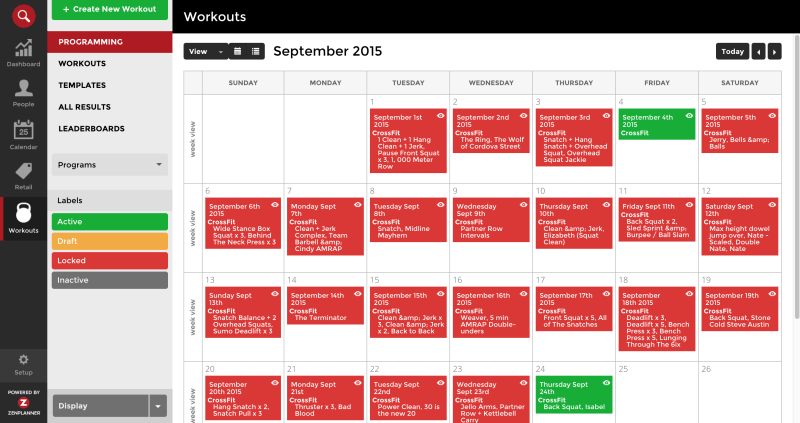 ZenPlanner Customer Support
ZenPlanner provides customers with live chat, phone, and email support during business hours for Mountain Standard Time (MST) zones. Users can also take advantage of their online resources, which consist of their blog, user guides, reports, and product webinars.
MindBody: Best for Managing Customer Service Operations
What We Like
Unique referral management features
Customer service capabilities through SMS text conversations with members
AI messaging features to handle front desk activities
What's Missing
Expensive starting cost
Email and text marketing require high-tiered plans
Branded member app and dashboard features requires add-on or most expensive plans
MindBody Pricing at Glance*
Starter: $159 per month
Accelerate: $279 per month
Ultimate: $499 per month
Ultimate Plus: $699 per month
*Pricing exclusively available for monthly contracts
MindBody offers robust gym management capabilities that allow fitness businesses to manage operations, marketing, class scheduling, and customer experiences. Users can also handle payment processing through the system, track referrals to reward members for word-of-mouth advertising, and organize staff information to monitor hours and rates for payroll.
Despite these tremendous features, however, MindBody is best for its customer service functionality when it comes to communication and engagement. Teams can assist their members with a two-way SMS conversation and use 24/7 artificial intelligence (AI) to automate their assistance though preconfigured class booking links and responses to common questions. There's also a user-friendly system for collecting member data and prompting customers to give feedback on your service or post an online review.
MindBody's member app, a feature found on all the gym management products on this list, is expensive as it requires an additional add-on or subscription to the Ultimate Plus plan. For a lower-priced option to let your members access payments, track workouts, and book classes on a mobile app, we recommend TeamUp.
MindBody Plan Summary
| | Starter | Accelerate | Ultimate | Ultimate Plus |
| --- | --- | --- | --- | --- |
| Class, Appointment & Resource Scheduling | ✔ | ✔ | ✔ | ✔ |
| Client & Staff Management | ✔ | ✔ | ✔ | ✔ |
| Digital Data Intake Forms | ✔ | ✔ | ✔ | ✔ |
| POS With Payment Processing | ✔ | ✔ | ✔ | ✔ |
| Comprehensive Report Generation | Basic reports only | ✔ | ✔ | ✔ |
| Smart Contact Lists | ✕ | ✔ | ✔ | ✔ |
| Custom Email Templates | ✕ | ✔ | ✔ | ✔ |
| Customer Review Prompts | ✕ | ✕ | ✔ | ✔ |
| Email & Text Campaigns | ✕ | ✕ | ✔ | ✔ |
| Conversational SMS With Clients | ✕ | ✕ | ✔ | ✔ |
| Referral Management | ✕ | ✕ | ✔ | ✔ |
| Real-time Dashboards | ✕ | Requires add-on | Requires add-on | ✔ |
| Branded Mobile App | ✕ | Requires add-on | Requires add-on | ✔ |
MindBody Key Features
Referral management: Modular system for rewarding customers for referrals and tracking referred business
Customer engagement: Unlimited two-way conversational SMS with members including AI conversations when you're unavailable—plus easy prompting to have customers to send feedback and post reviews
Class and appointment scheduling: Online booking for events, classes, and workshops with check-in tracking, waitlist management, and pick-a-spot options for members
Operations management: Inventory tracking, payroll reporting, and staff management for creating profiles, tracking hours, and calculating pay
MindBody Customer Support
Customer support from MindBody includes online resources like guides, webinars, blogs, and a community forum as well as one-on-one consulting, learning paths, and certifications for course completion. There's also 24/7 support through phone and email.
How We Evaluated the Best Gym Management Software
To determine the best fitness club management software, we considered industry-specific products that offer niche features relevant to a gym such as a module for managing and tracking membership subscriptions. Additionally, we evaluated general features in a CRM like integration options and reporting tools. We also evaluated typical product attributes such as price, ease of use, and customer support.
We found PushPress is the best overall gym fitness management system because of the wide range of functionality within the platform. These include modules for payment processing, POS translations, inventory tracking, marketing, event planning, membership management, and appointment registration—just to name a few. Furthermore, most of these capabilities are available at no cost on the free-forever plan.
The tabs below offer insight into our evaluation process of the best gym management CRMs:
30%
Niche-specific Features
30% of Overall Score
This category was the most heavily weighted and took into account CRM features specific to managing a gym. For instance, client management tools, a system for managing retail gym products like sports drinks, and the ability to schedule and obtain sign-ups for workout classes would be relevant to a gym owner or manager. Additionally, the ability to market using email or text campaigns is also beneficial to this type of business.
20% of Overall Score
The solutions were also evaluated on platform usability. This was analyzed in terms of the expertise required to set up an account, the ease of integrating with native or third-party applications, and the skill needed to use features. We also reviewed the overall intuitiveness of navigating the system's interface.
20% of Overall Score
Extensive support and service help prevent poor user and patient experiences and outcomes users may encounter while using any of these gym management platforms. Help and support were evaluated in terms of customer service hours and the availability of support via phone, live chat, and email. We also looked at online resources for users to review, like tutorials, forums, and training modules.
10% of Overall Score
Pricing took into account free plan availability and various scalable pricing options that a user could affordably purchase. We also looked at availability for a subscriber to either pay monthly or save by paying annually.
10% of Overall Score
We looked at overall features we feel are necessities, such as CRM integration options, analytics tools, and a mobile app. We also evaluated customization options within the system, particularly for tailoring a pipeline to a specific business' sales process requirements.
10% of Overall Score
In addition to firsthand experience with these software solutions, we evaluated what users say about each product. These criteria consider how customers feel, based on their reviews, to gain insight into platform popularity, ease of use, and overall value for the price.
*Percentages of overall score