Organizational chart (org chart) software lets you document the reporting hierarchy within your company. The best org chart software offers drill-down features to view multiple levels of management. Org charting tools may start at free for one user―or cost hundreds a month, depending on your company size and how many org charts you build.
Best Org Chart Software
| Org Chart Software | Best for |
| --- | --- |
| | (Best overall) Any company that prefers both affordable & top-rated org chart software |
| | Businesses with 20 or fewer employees that want free org chart tools |
| | Consultants and professionals making every kind of chart imaginable―well beyond org charts |
| | Firms that want to customize the data fields shown within their org chart boxes |
| | Businesses needing to share org charts with the general public |
| | Professional enterprises that paste org chart data in sales or financial presentations |
| | Growing firms ready to invest in comprehensive HR software with org charts included |
Which Org Chart Software Is Right For You?
Answer a few questions about your business, and we'll give you a personalized product match.
How We Evaluated Org Chart Software
We looked at software designed to create organizational charts, with a few options that do all kinds of charts but are nonetheless affordable enough to include in our ranking.
Here's what we looked for in the best org chart software:
Price: Software that's affordable for small business; many offer a free plan
Reviews: Org chart tools that get solid reviews on third-party sites including ours
Data imports: Software that allows you to upload your company's people data via comma-separated values (CSV)
Images: We leaned toward org chart software that lets you include people's photos
Printing & sharing: Tools that let you share your org charts in multiple ways
Exports & integrations: Org chart software that integrates with popular business apps
Based on the features above, and the fact that 10 user accounts are free for small businesses, we chose Pingboard as the best overall org chart software for small business.
Pingboard: Best Overall Org Chart Software for Small Businesses


We found Pingboard best overall for small business that needs only one org chart. If you have fewer than 10 users that need access to the org chart software, Pingboard is completely free. Additionally, Pingboard is top rated by users and integrates with human resources (HR), payroll, and other business software platforms, meaning you won't have to maintain redundant data. Once you update employee data in one system, it passes through to the other software with job titles and supervisor relationships intact.
Pingboard Pricing
Pingboard has a Free plan for 10 users and you can create any size chart. Pricing for paid plans ranges from $99 to $199 per month, if paid annually. The free version allows you to view an org chart with a directory and profiles, plus a calendar. Pingboard's paid plans include more features, such as customization and reports, and more users for permissions.
Pingboard Pricing Plans
Free

Team

Company

Price*

0

$99 a month

$199 a month

Number of Users

10

50

100

Mobile app

✔

✔

✔

Printing

✔

✔

✔

Customization

✔

✔

Personalized onboarding

✔

Support

Knowledge base & email support

Knowledge base & email support

Knowledge base & email support

Other

Calendar

Plus:

Share the org chart
Integrate with Slack

Plus:

Advanced syncing
Multiple integrations
*Pricing is per month when paid on an annual basis; month-to-month pricing is $123.75 per month for the Team plan, and $248.75 per month for the Company plan.
Pingboard has some pretty advanced features that warrant its higher price, such as its interactive org chart. For example, if you upgrade to the Company version, you can integrate with tons of information technology (IT) systems as well as get personalized onboarding. If you upgrade to the Team version at $99 month, you'll eliminate a lot of duplicate data entry by accessing the data sync features.
Creating Org Charts
The free version of Pingboard offers most of what a small business would need—to build an org chart with a directory and profiles. You can upload your employee data via CSV to create your org chart. In fact, its platform uses open application programming interface (API) for the Company plan. It even has a fun "Who's Who" game that new employees can use to learn the names and roles of team members.
Sharing Your Org Chart
Pingboard allows you to print and share your org charts in their free version, whereas Organimi's free version doesn't allow that. You can also export your org chart data to Microsoft PowerPoint or add it as an HTML link on your website.
Pingboard Org Chart Integrations
With Pingboard, you can import data from Google apps, CSV files, or from talent management software. Users can sign in with Google ID. Pingboard integrates with Google apps and popular HR software or messaging apps like Hipchat or Slack.
Pingboard Customer Support
All versions offer Pingboard's knowledge base, plus email support. Only the company plan offers personalized onboarding, though.
What Pingboard Is Missing
If you need more than 10 users to make and update your org charts or require an open API for connecting custom apps or other integrations, Pingboard can get pricey. However, once you start to add staff, the timesaving features of software integration make it a good value.
What Users Think About Pingboard
Pingboard gets great reviews on third party websites. If you've used Pingboard, chime in with your own experience in the comments below.
OrgWeaver: Best Free Org Chart Software if You Have Fewer Than 20 Employees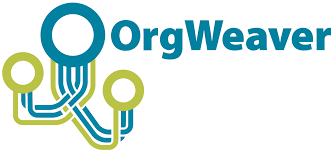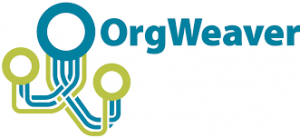 OrgWeaver is the best free org chart software if you have fewer than 20 employees and need to make a few charts. OrgWeaver's free plan lets you import your employee list, change colors to match your brand, print your org charts, and export them to presentation software like PowerPoint.
OrgWeaver Pricing
The paid version of OrgWeaver costs $9 to $82 per month―paid annually―depending on the number of employees you have. However, the Free version of OrgWeaver provides most of the features a small business would need and should work fine until you get to 21 employees. After that, you could upgrade to the Solo plan for $9 per month, unless you need others to help you update your org chart. Nonprofit organizations get a 20% discount.
OrgWeaver Price Comparison Chart
| | Free | Solo | Team | Business |
| --- | --- | --- | --- | --- |
| Price | 0 | $9/month | $28/month | $82/month |
| Number or Users | 1 | 1 | 5 | 30 |
| Number of Employees | 20 | 200 | 500 | 1000 |
| Number of Charts | 3 | Unlimited | Unlimited | Unlimited |
| Number of Organizations | 1 | Unlimited | Unlimited | Unlimited |
| Printing & Export | ✔ | ✔ | ✔ | ✔ |
| Export | ✔ | ✔ | ✔ | ✔ |
| Customization | No | No | No | No |
| Integration | No | OneDrive | OneDrive | OneDrive |
| Role-based Security | No | No | No | Audit trail & backup only |
| Support | Forum | Forum | Email, chat & forum | Phone, email, chat & forum |
OrgWeaver Features
OrgWeaver lets you get started quickly using many features a small business would need, such as importing data―either via upload or by cutting and pasting into each box. It also has a drag-and-drop interface like Organimi that makes it easy to promote employees and add open positions. You can customize your org chart with your company colors.
Creating Org Charts
Creating org charts is simple using the intuitive tools provided on the dashboard that allow you to add employees and reporting relationships. If you've imported employees into the database, you can search for them by person, title, position, department, and more.
Sharing Your Org Chart
Once you've built your org chart, you can send it to others via email or paste it into a PowerPoint deck. You'll also have a shareable link that you can provide via social media or add on your business website.
OrgWeaver Org Chart Integrations
OrgWeaver integrates with OneDrive, Microsoft's cloud-based file storage and sharing software that works with MS Office applications if you purchase one of the paid packages mentioned above.
OrgWeaver Customer Support
OrgWeaver provides its forum to all users, even users of the free package. After that, the support increases with each package level, starting with Team, where you'll get email and chat support. If you upgrade to their top tier, you'll also get phone support. One service it offers that others don't is that you can contact the support team to build an org chart for you for a fee.
What OrgWeaver Is Missing
OrgWeaver doesn't have HR, payroll, or other software integrations, so you need to maintain the data manually as you promote people or add new hires and positions. It also doesn't provide much customization other than colors. While they do have great customer support, it doesn't offer refunds.
What Users Think About OrgWeaver
We have found few third-party reviews online. That's surprising since the software is free to small businesses with 20 or fewer employees. If you've got experience using OrgWeaver, do chime in on the comments below.
Lucidchart: Best Charting Software With Org Chart Templates

We added Lucidchart to the list of best org chart software because it comes with great org chart templates as part of its charting software tool, and you can even import your employee data. Plus, if you're like most businesses, org charts aren't the only kind of charts you need to create. With Lucidchart, you get complete charting and diagramming software that comes with nearly every type of org chart template imaginable too.
Lucidchart Pricing
Lucidchart costs only $4.99 a month for one user, with team pricing that starts at $27 per month for a team of three users. Most small businesses won't likely have more users than that. In any case, the price per user drops as you add more team members.
Lucidchart Features
The free plan of Lucidchart features unlimited shapes and documents. That includes 17 different starter templates for org charts of all kinds―vertical, cross-functional, and even succession planning and Scrum team org charts.
Creating Org Charts
Lucidchart lets you start creating your org chart by choosing a template. You can then import your data using an onscreen video that shows you how. At that point, you can customize the look and feel of your company org chart to include any level of detail, formatting, or branding you choose. In that sense, it's one of the most flexible org charting options.
Sharing Your Org Chart
Lucidchart gives you plenty of ways to publish your org chart with formats, including creating Google Slides. You can save your files like PDF, JPG, and more. You can also collaborate with others on your team. When you publish your org chart, it will generate a link that you can embed on your website or share via social media. Whenever the chart is updated, that link data is updated dynamically as well, so you don't have to replace your links.
Lucidchart Org Chart Integrations
Lucidchart integrates with popular business tools like Microsoft, Google G Suite, and Slack. Other integrations examples include Jira Software, iOS, Amazon Web Services, and Zoho Connect.
Lucidchart Customer Support
Lucidchart provides you with help options and video tutorials right from within the charting software. It has a Help Center and a Community along with template galleries.
What Lucidchart Is Missing
With Lucidchart, you're not getting an employee database―you're getting a means to output your own data in a visually appealing org chart. Each time you hire, terminate or change an employee's job role, you'll need to update your data, and the resulting org chart as Lucidchart doesn't have an HR information system (HRIS) integration.
What Users Think About Lucidchart
Lucidchart earns 4.5 stars and up on third-party software review sites including ours. Users like the Visio interface, the templates, charting tools, and output options that make it easy to create presentation-ready visuals. The only negative comment found on our review of Lucidchart was on the difficulty of importing images.

Organimi: Best Org Chart Software for Data Customization

We recommend Organimi for businesses that want to customize what data displays on their org chart boxes. You can create up to four custom data fields for unique items that only your company tracks, such as each employee's pet's name, favorite snack, or type of driver's license. These custom fields are unique to Organimi and will display on your org charts if you upgrade to their Personal version.
Organimi Pricing
Organimi's pricing ranges from $125 to $350 per year for small businesses. That's about $10 per month for the Personal package, which we recommend for small businesses even though Organimi requires the annual payment upfront. It also has a free version limited in functionality to one user and one chart―50 names max. It also provides an enterprise plan for larger organizations and a 30-day plan for $80 if you need to make one chart.
Organimi Price Comparison Chart
| | Personal | Team | Planner |
| --- | --- | --- | --- |
| Price | $125 per year | $250 per year | $350 per year |
| Number of Admins | 1 | 3 | 3 |
| Number of Charts | 5 | 10 | 15 |
| Number of Members | 250 | 500 | 1,000 |
| Number of Custom Fields | 4 | 8 | 8 |
| Onboarding & Integrations | | ✔ | ✔ |
Organimi Features
Because Organimi is made for specifically for org charts, the interface is much easier to use than drawing a chart in PowerPoint, for example. Organimi also gives you tons of options to share your chart, such as a public link to share it online, HTML code to post it on your website or save it as a PDF. Competitors like OrgPlus and OrgChart4U don't have an option to embed the chart online using HTML.
Creating Org Charts
You can upload your employee roster from a spreadsheet, then drag-and-drop your employees over to their respective positions to build your chart. In addition to the usual employee data fields like position, email address, phone number, and so on, Organimi lets you have up to four additional custom fields if you upgrade to Personal version. You can also add photos from Google or from your PC.
Sharing Your Org Chart
It's easy to share your org chart using Organimi once you upgrade to a paid plan. Embed your chart on a website using HTML code. Users can collapse or expand the org chart to top three levels or view the main departments. In fact, you can limit your display to data fields such as location or title. Furthermore, you can share your org chart on social media sites like Twitter, Facebook, and LinkedIn.
Organimi Org Chart Integrations
Organimi integrates with security software like Active Directory and Bitium. It also integrates with G Suite, and recently added integration with LinkedIn. You can also export your custom org charts as PDF or PNG image files.
Organimi Customer Support
Organimi provides customer support via email only but also has an online FAQ forum.
What Organimi Is Missing
Organimi is not a good fit if you're a small business owner with more than one business as Organimi only allows one business entity. If you own multiple businesses, you have to purchase separate accounts, and they don't let you pay monthly. Another downside is that to get many of the features on Organimi, you have to buy an annual subscription. The free version stamps a watermark on your printed chart.
What Users Think About Organimi
Organimi receives online ratings in the 4 out of 5-star range. That's lower than Pingboard. What they like is the color coding, custom fields, and ability to share their org charts. Some find the interface outdated.
OrgChart4U: Best for Viewing Org Chart on Mobile Device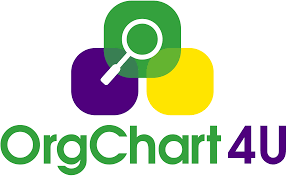 OrgChart4U is best for those businesses that want access to their org charts via a mobile device. It offers a social utility and employee directory in addition to an org chart. You can view employee photos onscreen through your smartphone and also see detailed employee data from the directory. That's helpful if you or your employees are out of the office a lot.
OrgChart4U Pricing
OrgChart4U offers a nice free version. Its paid software runs from $19 to $49 per month, making it one of the more affordable org charting tools we evaluated. The only downside of the free tool is that it displays ads. If you want to skip the ads, you have to upgrade to a paid version.
OrgChart4U Price Comparison Chart
| | Basic | Premium | Pro | Ultimate |
| --- | --- | --- | --- | --- |
| Price | $0 (with ads) | $19/month | $29/month | $49/month |
| Number of Users | Unlimited | 250 | 500 | 1,000 |
| Number of Employees | Unlimited | Unlimited | Unlimited | Unlimited |
| # of Charts | unlimited | unlimited | unlimited | unlimited |
| # of Organizations | unlimited | unlimited | unlimited | unlimited |
| Printing | ✔ | ✔ | ✔ | ✔ |
| Export | ✔ | ✔ | ✔ | ✔ |
| Customization | ✔ | ✔ | ✔ | ✔ |
| Integration | Google G-Suite | Google G-Suite | Google G-Suite | Google G-Suite |
| Role-based Security | No | No | No | No |
| Support | Email | Email | Email | Email |
OrgChart4U provides you with unlimited users, departments, and organizations. Not only can you import data and create org charts like the other software we reviewed, but you can also export the data, and you can invite others to view the interactive org chart for your organization. Even in the free version, you get some nice features, including free email support.
Creating Org Charts
You can create your org chart by signing up for a free account. Then, you add each employee's data one at a time or by bulk importing your employee data via Google or CSV, which is a huge time saver. You can choose a custom color scheme and add your logo to your org chart, and you can color-code each employee's org chart box. In fact, it's easy to move the boxes around once your org chart is built.
Sharing Your Org Chart
You can choose to share your org chart with anyone you like, including the general public. That's a configuration setting when choose you set up your account. Once your chart is built, you can use OrgChart4U's bulk invite tool to let anyone view your chart. You can also print it, share it on social media, or export it to a PDF. Your employees can click on the org chart while on their phone to find contact information or send a chat to a co-worker.
OrgChart4U Org Chart Integrations
OrgChart4U integrates with G Suite and can be configured to allow SSO and integration with MS Active Directory, saving you from duplicate data entry for new hires.
OrgChart4U Customer Support
OrgChart4U provides online FAQs, and you can submit an email request on their website, which a customer service representative will answer within two business days. OrgChart4U provides this support to all subscribers, including free account holders.
What OrgChart4U Is Missing
OrgChart4U doesn't have customization options such as the ability to add your own custom colors or data fields as Organimi does. They also can't set security or integrate with third-party HR or payroll software. The free version, while robust, has ads that help support the cost.
What Users Think About OrgChart4U
OrgChart4U has few online reviews, which is surprising as the software is free and unlimited. In fact, the lack of customer testimonials is the only reason we didn't rate this software higher on our list.
OrgPlus: Best for Presentation-quality Org Charts

We looked at OrgPlus RealTime, the web-based org chart program from Insperity. OrgPlus has two key advantages over Organimi and OrgWeaver―most importantly, the appearance is more upscale, and you can choose from eight professionally designed themes. In addition, the org chart is generated immediately once you import data, saving you time.
OrgPlus Pricing
OrgPlus ranges in price from $149 a year―which is less than $13 a month―to $700 per year for the Express edition, so it's more expensive than either OrgWeaver or Organimi. You have to call for pricing if you want their Professional version which offers many more bells and whistles, such as workforce planning and role-based access. Unlike most of the other org chart software, OrgPlus also doesn't have a free version―only a 14-day trial.
OrgPlus Price Comparison Chart
| | Express 100 | Express 250 | Express 500 | Professional |
| --- | --- | --- | --- | --- |
| Price | $149/year | $350/year | $700/year | Call for pricing |
| Number of Users | 2 | 2 | 2 | multiple |
| Number of Employees | 100 | 250 | 500 | unlimited |
| Number of Charts & Organizations | Unlimited | Unlimited | Unlimited | unlimited |
| # of Organizations | unlimited | unlimited | unlimited | unlimited |
| Printing | ✔ | ✔ | ✔ | ✔ |
| Export | ✔ | ✔ | ✔ | ✔ |
| Customization | Custom Views Only | Custom Views Only | Custom Views Only | ✔ |
| Integration | No | No | No | ✔ |
| Role-based Security | No | No | No | ✔ |
| Support | Web & live chat | Web & live chat | Web & live chat | Phone, web & live chat |
OrgPlus Features
OrgPlus provides professional features such as custom views and the ability to designate the number of levels and columns. You can also use custom colors and professional templates. If you upgrade to the Professional plan, you can access workforce planning to build out 'what if' scenarios with salary data and do basic calculations such as the number of employees and number of open positions.
Creating Org Charts
OrgPlus is one of the quickest tools to get started with because there's no manually drawing or modifying a chart―it's all done for you. Once you upload your spreadsheet file, OrgPlus will build a chart before your eyes. Of course, your spreadsheet needs to list your employees and their roles and direct supervisors. Another cool feature of OrgPlus is that you can also import an entire collection of images at once so you can add photos to each box.
Sharing Your Org Chart
With OrgPlus, you can export your organizational chart as a PDF, PowerPoint, Excel, or HTML file.
OrgPlus Org Chart Integrations
OrgPlus integrates with SAP for larger clients, which requires programming) You can import data using a spreadsheet―SLX, XLSX, and CSV―or text files.
OrgPlus Customer Support
OrgPlus provides live chat support on the website, or you can submit a request by email; expect to be contacted within two business days. Phone support is also available for technical software issues―only on weekdays 7 a.m. to 7 p.m. Central time―but it's free. OrgPlus has a knowledge base and FAQs to help you find answers online. Here are additional support options provided by OrgPlus, such as how-to videos.
What OrgPlus Is Missing
OrgPlus has some big drawbacks as compared to Organimi and OrgWeaver. For example, if you ever need to add an employee or change their title, you have to edit your spreadsheet by making the change and then reupload the data back into OrgPlus. Unless you upgrade to the Professional Edition, there's no way to share your org chart on a website via HTML or in social media. It's also more difficult to account for an employee having more than one supervisor.
Zenefits: Best for Business Ready to Invest in an Integrated HR System

Zenefits is best if you're looking for an org chart software that maintains all your employee's HR data as well. Zenefits provides an org chart and company directory, in addition to all the standard employee data your business needs to track, such as when they were hired, where they work, where they live, what their job title is, how much they get paid, and who they report to.
Zenefits Pricing
Zenefits costs $8 a month per employee. At that price, you'll be able to give each employee access to their own data online as well as the company org chart. It's more expensive than your basic org chart software for the reason that it contains all your employee data and serves as your business HR software.
Zenefits Features
Zenefits is HR software that contains all your employee data in one database. It comes with a built-in org chart function so that you can view your entire team at a glance. Zenefits employees and users can all see the org chart and company directory.
Creating Org Charts
When using Zenefits, the org chart data is populated automatically based on who is in your organization and what department they work in. Once an employee is hired and added to Zenefits, it displays their name, department, location, title, phone numbers, and email address so that employees can find their co-workers and managers have contact information for their team.
Sharing Your Org Chart
The org chart is visible on the Zenefits HR portal and can also be downloaded by administrators to use in documents. You can print a copy, for example, to give to a new hire or a financial institution. Employees themselves can choose whether they want their personal phone number visible to others or not.
Zenefits Org Chart Integrations
Zenefits has prebuilt integration to payroll and accounting software as well as app integrations to common office tools. These include G Suite, Office 365, and Slack as well as sales and project management software. You can set up custom integrations using Zenefits API.
Zenefits Customer Support
Zenefits provides FAQs about its org chart within its help center, or you can contact their customer care team directly from the software. Depending on the day and time, they'll respond to you via chat, email, or phone call.
What Zenefits Is Missing
As an org chart software, Zenefits is fairly limited. You can't add data fields or change the look of the org chart. However, what you get instead is an org chart that updates itself every time a new hire is added, or someone leaves the organization. That's a nice time saver.
What Users Think About Zenefits
Zenefits is a popular small business HR software that gets top ratings from its users. It's modularized meaning that as your business grows, you can add on features like performance management, employee benefits, or payroll. Users like how it keeps their business compliant, but some don't appreciate that support isn't available 24/7. Read our Zenefits reviews.
Alternatives to Corporate Organizational Chart Software
| Alternative | Best for |
| --- | --- |
| | Companies that use a lot of charts and images in their work |
| | Those that want customization and don't mind pasting employee names into org chart templates |
| | |
| | Businesses that need software to make charts, graphs, diagrams, and more |
| | Businesses that want to manage all employee data in one package |
| | Firms taking their organization to the next level with benefits & compliance |
Bottom Line
When it comes to org charting software, most businesses want something that's simple, flexible, well organized, and easy to share. If you can get all that for free using software like Pingboard or other options reviewed above, then all the better.
For top-tier organizational chart software that's 5-star rated by users, Pingboard is your best option. It's free for 10 users. In fact, Pingboard will let you integrate with your existing HR software so that each time your organization changes―new hire, promotion, and so on―your org chart is updated dynamically.