SurePayroll provides small businesses with affordable online payroll services, such as 401K planning, tax filing and deposit and payroll accounting services. We compiled SurePayroll reviews from around the web to determine what SurePayroll customers think about the company. We also compared the most popular pricing options for small business owners.
For an in-depth comparison of three top payroll software, check out our payroll software comparison guide.
SurePayroll Customer Reviews
Summary of User Reviews
We scoured hundreds of reviews and found that SurePayroll has generally positive ratings. Here's what we found:
What SurePayroll does well:
Users who gave SurePayroll a positive review said the service was easy to set up and use. It gets the job done without any hassle.
What SurePayroll does not do well:
Most negative reviews came from older users of SurePayroll. According to them, service is fine when you're a new user. Customer service is prompt and the service runs smoothly. However, the longer you have the software, the more problems and errors you encounter and it seems that you are not prioritized by customer service if you're an older customer.
Most Helpful Positive User Review
One user who gave SurePayroll a 5-star review said that she liked SurePayroll's interface. It was free of clutter and easy to use, so she could key in important data for payroll computations easily. She also liked how the service keeps track of her previous payroll documents and makes it easy for her to pull up any information or report that she needs.
Most Helpful Negative User Review
"They are the worst company to deal with. Everything is good until you make one mistake. If you try to do a correction (which can happen since you are doing everything yourself) then it is impossible to get someone to help you. They took over a month to resolve an issue and it's still pending. They didn't contact me at all. I've been calling them everyday to get an update and they don't even know when they will solve the issue. The worst company! Stay away from them!"

— Alex Santillan
Other SurePayroll User Reviews From Around the Web
Here are a few other resources for finding helpful SurePayroll customer reviews. We rated the review sites on a scale from poor to excellent based on how trustworthy and useful the reviews seemed.
| User Review Website | Average Rating* | Number of Reviews | Quality of Reviews |
| --- | --- | --- | --- |
| G2 Crowd | 4.5 out of 5 | 144 reviews | Excellent |
| Better Business Bureau | 4.51 out of 5 | 24 reviews | Good |
| Yelp | 2 out of 5 | 93 Reviews | Good |
*Average rating as of date article was written: Mar. 23 2017
How We Determined Quality of User Review Websites
G2 Crowd has several excellent-quality reviews from verified users. The site asks reviewers specific questions to ensure that each review is informative and fair.
Better Business Bureau is a reliable consumer protection watchdog that assists users who file complaints against the companies behind the services. Users can leave reviews or check the complaints to see if it was resolved by the company or not.
Yelp has several reviews on SurePayroll. While the negative reviews may seem contradictory to the overwhelming positive reviews on the other website, the reviews here are from verified users.
SurePayroll Pricing
Small businesses can take advantage of SurePayroll's services for just $49.99 per month, plus $5 for each additional employee if your company does payroll weekly or bi-weekly, or $4 for each employee for companies following a monthly payroll setup.
Small Business Payroll
Pricing per month
$49.99
Price for each additional employee/contractor
$5 for weekly/bi-weekly payroll,
$4 for monthly payroll
File local, state and federal taxes
Yes
Mobile Payroll
Yes
For additional services that are specific to your particular industry, you can fill out the Payroll Price Calculator to get a full list of services available for your needs.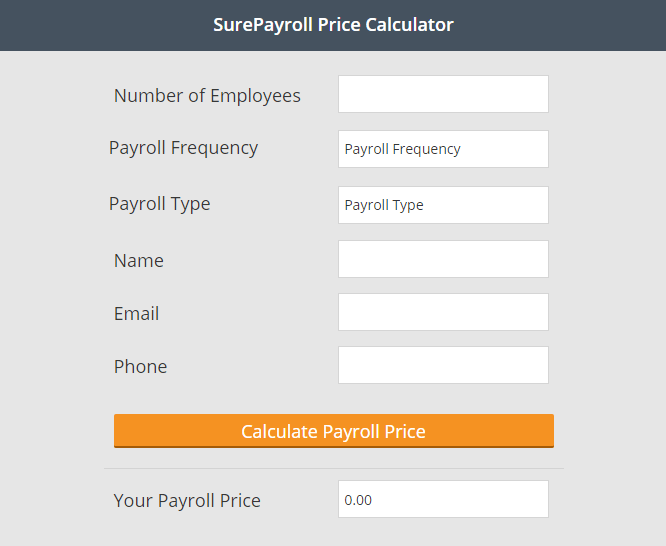 Compare SurePayroll Competitors
Not sure if SurePayroll is the right payroll software for your small business? Check out our payroll software buyer's guide comparing three top providers. Of if you have only 1-2 employees, perhaps free payroll software is an option.