Roll by ADP Review: Is It the Right Payroll App for Your Business?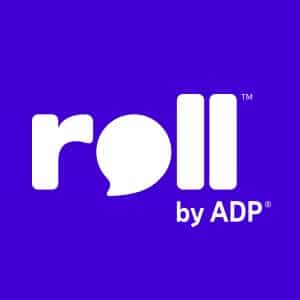 What We Recommend Roll by ADP For
While ADP offers HR and payroll solutions for different industries and business sizes, its Roll by ADP product is best for tech-savvy and on-the-go small business owners. Processing payroll through its mobile platform is like texting a payroll specialist who can efficiently handle employee payments for you and more. With payroll solutions backed by ADP, you are assured the compliance support you need, as well as access to new hire reporting and payroll tax filing services.
In short, Roll by ADP is best for:
Tech-savvy small business owners who are always on the go: Roll by ADP is designed to keep up with on-the-go business owners, allowing them to easily onboard new hires, give promotions, update salaries, send bonus payments, and pay employees—all by sending chat messages via their mobile devices.
Solopreneurs looking for an affordable payroll solution: Processing payroll for yourself is made easy with Roll by ADP's chat-based commands, and it only costs $17 monthly plus $5 per employee. Simply type "Run payroll" and its mobile platform will calculate the applicable payments and deductions, check for any errors, and process next-day payments via direct deposit. ADP will even handle payroll tax filings for you.
Mom-and-pop businesses with simple payroll needs: For those needing only a payroll solution, Roll by ADP has simple yet efficient tools for paying both employees and contractors. Aside from unlimited pay runs, it can handle multiple pay schedules, garnishments, payroll tax filings, year-end W-2 reporting, and automatic deductions for benefits and retirement plans. You can even select whether to pay contractors with a fixed amount or an hourly rate.
When Roll by ADP Would Not Be a Good Fit
Companies that need timekeeping tools and have more than 10 employees: While Roll by ADP's chat-based app offers you a fast and innovative way to pay employees, it doesn't have any time tracking capabilities. You have to manually input the regular and overtime hours of your employees. This can be inconvenient and time-consuming, especially for those with a large team or mostly hourly staff. For more suitable options, check out our best small business payroll software guide.
Businesses that want robust HR, payroll, and benefits solutions: Roll by ADP may have efficient payroll tools, but its HR functionalities are very basic. Those looking for a comprehensive HR platform should consider ADP's other products like ADP Run. It comes with a wide range of HR and payroll solutions, including access to employee benefits options and HR advisers who can provide expert advice.
Employers that require robust third-party integrations: One of Roll by ADP's drawbacks is that it doesn't integrate with third-party software. If you need an HR payroll solution with robust integrations, we recommend Rippling since it connects with more than 400 apps.
Roll by ADP Overview
PROS

CONS

Unlimited pay runs with automatic payroll tax payments and filings
Learning the chat commands to use for payroll/HR actions may take some time
Handles both employee and contractor payroll
Lacks time tracking functionalities; requires manual input of regular and overtime hours
Next-day direct deposits
Basic HR tools with limited reports
Smart alerts with chat-based guides and artificial intelligence (AI)-driven error checks
Year-end 1099 reporting isn't included
Affordably priced
Doesn't integrate with third-party solutions
Roll by ADP Pricing
Roll by ADP's pricing follows a flat-rate scheme. For $17 monthly plus $5 per employee, you are granted access to all of its online tools and services—from unlimited pay runs and new hire reporting to 24/7 support and automatic payroll tax payments and filings. And in case you have staff who are not paid during any given month, Roll by ADP will not charge per-employee fees for those workers.
In addition, Roll by ADP won't require you to sign an annual contract. However, if you want to cancel your account, you have to notify them 30 days in advance.
Roll by ADP Features
Roll by ADP is the first of its kind, offering you a chat-based app that can easily and quickly process payroll. Let's look at its essential features to help you determine if it's right for your business.
Chat-Based Commands
Roll by ADP utilizes simple chat commands for most of its functions—although a few will require you to scroll through a few options and click buttons. Some of its chat commands include:
Run payroll
Change payroll
Hire [employee name]
Give [employee name] a raise
Change [employee's name] position
Change [employee's name] level
Set up direct deposit
Update personal phone number
It provides responses that match your requests or instructions and pulls up the relevant information or suggests next steps to complete the process. Its system is also smart enough to understand the context of your messages so you don't have to follow its chat commands to the letter. For example, you can type in "Let's run my payroll" and it will recognize the "run payroll" command. And if you give an instruction that it doesn't understand, Roll by ADP will let you know and ask you to rephrase it.
---
Desktop Access
While Roll by ADP is a payroll app that works on iOS/Android tablets and smartphones, it has an option that allows you to access it on laptops and desktop computers. Simply go to the roll.adp.ai website via your desktop browser, scan the QR code using the mobile app's built-in QR scanner, and log in. It will then display a mirror image of its app's platform on your computer. This feature is helpful especially if you need to add employee details into the system and prefer to use a computer for faster data inputs.
---
AI Tools
Roll by ADP's AI tools provide you with smart alerts, pay schedule reminders, and chat-based guides to help you through payroll, onboarding, and even account setup processes. It also analyzes your pay runs and flags you if it spots errors or anomalies that don't match your normal payroll. And as you continue using its platform, Roll by ADP learns your business' payroll needs and creates to-do tasks in advance to keep you organized.
---
Payroll Processing
Unlimited pay runs, multiple pay schedules, payroll tax payments and filings, garnishments, and multistate payroll are just some of the features and services that Roll by ADP offers. In addition, it handles new hire reporting and year-end tax filings but excludes 1099 reporting (although you can print 1099 forms). Running an off-cycle payroll is also easy and doesn't require add-on fees.
You can even set up earnings and deductions in Roll by ADP, such as regular pay, holiday premium pay, and medical insurance premium contribution. However, the earnings options are limited. Plus, the system doesn't allow you to create your own earnings types.
---
Fast Employee Payments
Unlike most payroll providers whose standard direct deposit turnaround time is two days, Roll by ADP offers next-day direct deposits. It also has a same-day option but via paycheck—note that you have to prepare and distribute this yourself.
---
Employee Profile and Onboarding Tools
If you have a new hire, simply type "Hire [employee name]" in Roll by ADP and it will show you a list of the information it needs to create a basic employee profile. These details include the new hire's name, address, social security number, mobile number, gender, and employment start date. The system will also ask you to confirm whether the worker you're hiring is an employee or a contractor and then guides you through the initial onboarding process.
Roll by ADP will send the invite link to your new hire, based on the contact details you provided. The employee can then download the app, complete the online profile, and accomplish onboarding requirements.
---
Online Employee Services
Employees can use Roll by ADP to view their payslips, download tax statements, and update their personal information. The app also notifies them of payout schedules and payroll-related deadlines. Your staff can even use chat commands like "Show me my paychecks" to view their most recent payslips.
---
Payroll Reports
Roll by ADP lets you access payroll summaries that show all payments and deductions for each pay period. An Excel version of the payroll summary is also sent automatically to your email after each pay run. If you have an accountant managing your books, Roll by ADP can forward the reports to your bookkeeper as well.
---
Roll by ADP Ease of Use
Chat-based guides
Smart AI
24/7 live chat support
Desktop access
Online FAQs
For tech-savvy users, Roll by ADP is relatively easy to use. While it has a set of chat commands for processing payroll and basic HR tasks, its smart AI recognizes your instructions even if your chat messages don't follow its standard format. It also assists you every step of the way, providing various options (such as payment methods and earnings types) and additional chat commands you can use, depending on what you want it to do. For some of its processes, you simply need to click "Continue," "OK," and "Save" buttons to proceed to the next step.
The initial system setup is also straightforward and fairly easy—provided you have all of your business and employee information on hand. Roll by ADP guides you through the whole process, but if you need assistance, the provider offers 24/7 chat support. You can also access FAQs and how-to guides on its website, but the selection is limited as of this writing.
System Setup Requirements
| Business Information | Employee Information |
| --- | --- |
| Employer identification number (EIN) | Employees' legal name, address, phone, and email address |
| Business banking account | Social security numbers |
| Bank account routing number | Hire dates |
---
What Users Think About Roll by ADP
| Users Like | Users Don't Like |
| --- | --- |
| Affordable | Lacks software integrations |
| Ease of running basic payroll | Occasional software glitches; app freezes from time to time |
| Generally user-friendly | System setup is lengthy and tedious |
Users who left positive Roll by ADP reviews on the App Store and Google Play said that its affordability and simple-to-use payroll tools are its best features. However, some others complained about its tedious registration process and app glitches.
At the time of publication, Roll by ADP earned the following scores on the Apple and Google app stores:
Top Roll by ADP Alternatives
Best for: QuickBooks accounting small business users

Best for: Retailers and restaurants

Best for: Solopreneurs and growing businesses needing dedicated support

Base monthly fee from:

$45–$125 plus $4–$10 per employee

Base monthly fee from:

$35 plus $5 per employee

Base monthly fee from:

$39 plus $5 per employee
If you're unsure if Roll by ADP is right for you, see how it compares with the top payroll apps for small businesses.
Bottom Line
Roll by ADP is optimal for solopreneurs and small business owners who are always on the go and have simple pay processing needs. It lets you run payroll, onboard new hires, process off-cycle payments, and change an employee's salary—all by sending chat messages through its mobile platform. While tech-savvy users will have an easier time adjusting to this payroll app, non-techy users can rely on its smart AI and chat-based guides as they navigate through its features and commands.
What's also great about this payroll app is that it offers a three-month free trial for new users. Plus, if you decide to use Roll by ADP for your business, it's affordably priced—costing only $17 monthly plus $5 per employee.
Sign up for its free trial today to experience firsthand how its chat-based mobile platform can help you pay employees quickly and accurately.