6 Best Pharmacy POS for 2023
This article is part of a larger series on POS Systems.
Pharmacies need more than a standard point-of-sale (POS) system. Handling prescriptions requires software that can manage complex inventory, track IDs and signatures for compliances, and include or integrate with pharmacy management systems.
We looked at common POS systems recommended for pharmacies and specialized pharmacy POS to determine the six best options. The best pharmacy POS are:
Best Pharmacy POS Systems Compared
Monthly fees

Includes RX management software?

Initial investment

In-person payment processing fees

Hardware pricing

Call for quote

✓ (can purchase separately)

Call for quote

Call for quote

Call for quote

$150 (call for quote)

✓

Call for quote

Varies by processor

Call for quote

$300 ($90 for POS, $210 for RX)

✓ (can order separately)

$6,000–$7,000

Varies by processor

Call for quote or specs to purchase your own

Call for quote

✓

Call for quote

Varies by payment processor

Call for quote; first included in plan

$0–$10

✕

$0

2.6% + 10 cents

$799

$99–$229 (discount for annual subscription)

✕

$0

2.6% + 10 cents

Call for quote
PioneerRx: Best Overall Pharmacy POS System

What We Like
System includes Rx and POS software
Experience working with new pharmacies
System includes extensive tools for customer interaction
Compliance tools included
24/7 customer support
What's Missing
Pricing is not transparent
Non-prescription inventory tools are not as in-depth as others
PioneerRx Pricing
We were unable to get a quote from PioneerRx. However, the POS system is integrated into the PioneerRx system.
There is most likely an initial cost plus monthly upkeep. The representative we spoke to said that pricing includes hardware.
Processing fees: Vary by payment processor
Hardware: Included in quote; may need a server
PioneerRx is a leader among pharmacy software. The representative we spoke to said they command 25% of the market share, and a survey by Pharmacy Software Reviews ranked it No. 1 in new store installations and No. 2 for customer satisfaction (BestRx ranked No. 1 there). Its mission is to empower independent pharmacies, which it does not only with excellent pharmacy management and POS systems, but also resources for new and growing pharmacies.
In our evaluation, it rated 4.46 out of 5. We were unable to get a price, and reading between the lines, we'd expect it to be in the several thousands of dollars (similar to BestRx), but pricing includes hardware and installation. This POS earned 5 stars in our expert score because of its features and excellent real-world customer reviews (4.68 out of 5 stars averaged over multiple user review sites). It lost a few points here and there, such as for not having as granular an inventory system as, say, Lightspeed.
Integrated Pharmacy System: PioneerRx is the only software on our list that comes with both the pharmacy management system and the POS. BestRx and PrimeRx are pharmacy software with an optional integrated POS system, while Lightspeed and Square are independent POS systems that require an integrated pharmacy system. (RetailSTARx is a POS system with prescription management tools.) PioneerRx offers built-in tools for adherence, patient risk scores, and even patient labs for pharmacies branching into other services.
Patient tools that go beyond loyalty: Loyalty programs are great, but PioneerRx focuses on what patients need the most—help with their prescriptions. With tools like automated refills and patient notifications, you can help your customers get their medications before they run out. When a sale is totaled, the POS system will alert the cashier if they (or someone at their address) have another prescription ready or in progress. Plus, it has a loyalty program tied to a customer ID like a phone number.
ID and PSE tracking: Keep your pharmacy and your customers safe. PioneerRx has ID scanning, signature recording, and tracking for pseudoephedrine-based (PSE) drug sales. Track these sales in the POS, and the pharmacy software can report directly to jurisdictions where direct reporting is available.
Enhanced workflow: Everyone hates the long wait at the pharmacy. Pioneer offers several tools to help reduce this. Interactive Voice Response lets your phone system handle common calls about pharmacy information or prescription status. You can bundle prescriptions and over-the-counter medications for the will-call bin, and scan a single barcode to pull them all up at the register. Plus, it offers apps for drive-thrus, mobile order ahead, and delivery. In all, we think it's the best on our list for workflow.
Pharmacy-centric inventory and ordering: While we didn't find the non-prescription inventory section as modular as Lightspeed's, we were impressed with the pharmaceutical side. It offers usage-based ordering (so customers can sync all their prescriptions), low-stock alerts, and automatic reorder points. Additionally, it links with multiple wholesalers within the software.
Assistance for new pharmacies: PioneerRx says its mission is to save and revitalize independent pharmacies, and it twice won the Flip the Pharmacy's Technology Solutions Partner award (2020 and 2021). It helped pharmacists process over 2.8 million eCare Plans in 2021. PioneerRx also provides education and tools to help new pharmacies get started and succeed, like its Catalyst Pharmacy podcast, one of the top podcasts for pharmacists. While not vital to POS systems, this makes it stand out from the rest as a pharmacy-first provider.
---
Pioneer does not give pricing information until you've seen a demo and they've discussed your needs. If it's like the other RX POS software on our list, there will probably be a hefty upfront fee followed by monthly payments. The inventory system is not as granular as Lightspeed's. The only help videos we found online addressed hardware and installation.
---
PrimeRx: Best Pharmacy POS for Multiple Stores

What We Like
Accepts FSA/HSA cards
PSE compliance reporting
Can program hotkeys and shortcuts
Customer support boasts a 60-second speed of answer, 95% first call resolution
What's Missing
Gets pricey as you add modules
Support is not 24/7
PrimeRx Pricing
We were unable to get a quote from PrimeRx. However, it offers PrimeRx software and PrimeRx POS as separate systems. Pricing also depends on whether you want it hosted or on-premise. There will be an initial fee.
POSQuote.com lists monthly pricing at $150.
Processing fees: Vary by payment processor
Hardware: Call for quote; a server may be required for on-premise hosting
Micro Merchant Systems offers a fleet of software that integrates with its PrimeRx system for pharmacy management at one or many locations. Its PrimePOS system is HIPAA-compliant and integrates fully with its other tools. PrimePOS is best for multiple stores because it offers several tools specifically for managing pharmaceutical sales and inventory over many locations. These do cost extra, however.
PrimeRx earned 4.24 out of 5 on our evaluation. The biggest issue it encountered with scoring is the need to purchase certain modules separately to gain functionality, such as for delivery or drive-thru. While we were impressed with its customer service, it does not have 24/7 support. Even so, it's a great system with a 4.18 out of 5 user satisfaction rating, averaged over several review sites.
Multi-pharmacy support: Micro Merchant Systems' PrimeCENTRAL function lets you manage multiple pharmacies from a single place. You can view reports of your complete operations or drill down to individual stores. Likewise, you can manage inventory, see store stock levels and adjust inventories. As documents and information are stored in a central location, any pharmacy with permission can access records as needed. Plus, patients can use loyalty points at any store and have refills transferred if desired.
Excellent customer support: PrimeRx says it maintains a 60-second speed-of-answer time, with 95% of problems being solved on the first call. It provides customer support seven days a week during extended hours. Compare this to RetailSTARx, which only has support during business hours. PioneerRx and Lightspeed offer 24/7 support, however.
Curbside payments: MobilePOS Pharmacy Curbside is the mobile extension for PrimePOS that runs on Bluetooth-enabled Windows 10 tablets. Unlike Lightspeed or Square, it lets you record customer signatures specifically for HIPAA compliance.
Delivery: PrimeRx offers excellent delivery tools that make it a competitor to BestPOS. You can use the MobilePOS to get payments upon delivery or send an SMS or text from your in-store POS to collect payment ahead of time. If you purchase the extra module, PrimeDELIVERY, your drivers can download the app to their smartphones; all transactions feed directly back to PrimeRx and PrimePOS.
Automated reorder: While most other systems on our list offer low stock counts that automatically populate into a purchase order, PrimePOS automates reordering. It ties to wholesaler systems so that when the supply falls below an amount you set, it automatically transmits a new order to the wholesaler.
---
As a customizable fleet of tools, PrimeRx can get pricey as you add functionality. For a less expensive option, consider RetailSTARx. Like PioneerRx and BestRx, you pay a hefty initial fee, then monthly maintenance fees. It lacks an ecommerce system; for that, consider RetailSTARx for its mobile ecommerce solution or Square or Lightspeed for a full website. We did not find online help tools.
---
BestPOS by BestRx: Best Pharmacy POS System for Mail Order & Delivery

What We Like
Text for payment straight from POS
Includes Methcheck for PSE sales
Built-in loyalty program
Multitude of pharmacy-specific integrations available
What's Missing
Lacks online store tools
BestPOS is a separate purchase
Time clock in advanced BestRx plans; not in BestPOS
BestPOS Pricing
Pricing based on quote—call for personalized quote

Initial software/installation fees:
BestRx software: $2,750
BestRx POS: Adds $3,250–$4,250
Monthly maintenance fees:
POS: $90
BestRx: $210
Discount for the first year
Pharmacy management software: BestRx
Processing fees: Vary by processor
Hardware:
Can purchase yourself or through BestRx; call for quote
Requires an on-site server
BestRx is a leading pharmacy management system with excellent customer reviews and strong features. It offers BestPOS, an integrated POS system that is sold separately but works seamlessly with BestRx for prescriptions, OTC sales, and other items a neighborhood pharmacy may hold. While we'd recommend the system for general use, we especially liked it for mail-order, delivery, and curbside sales because of its ability to request remote payments via text.
BestPOS earned 4.11 out of 5 in our evaluation. Pricing was its second-lowest score; it has a big upfront cost (like PrimeRx) and monthly maintenance costs. You must purchase BestRx and add on BestPOS for an additional fee.
It offers a great range of features but didn't have all the tools we found in competitors, which resulted in good but not great scores. The lack of website tools was a major hit; use an integration or look at Square or RetailSTARx. See more details in our tabs below.
Mail order tools: BestPOS and BestRx work together for mail order sales with automatic refills, mobile delivery, and two-way messaging for automated refill reminders and campaigns like flu vaccination season. BestRx also partners with Pointy, so you can list your products on Google to expand your digital presence. However, for an online store you need to integrate, Square, Lightspeed, and RetailSTARx provide online store tools.
Accept payment via text: One standout for BestPOS is that it has a button right on the main screen to accept remote payments. Clicking this button sends the amount to the customer via text, where they can then pay using whatever electronic means they have, including FSA cards. When the payment is received, the order is released for mailing, delivery, or pickup through the drive-thru or curbside. This is the only POS system on our list with this easy tool.
Compliance tracking: BestRx uses Methcheck, software used by 50,000 pharmacies to track and manage pseudoephedrine-based (PSE) drug sales electronically. PrimeRx also has this, while Pioneer has its own tracking feature. It lets you get date-of-birth verification for sales. BestRx can capture prescription, HIPAA, credit card, and PSE signatures while accurately recording the date and time a signature was taken.
Pharmacy-specific integrations: BestRx offers hundreds of integrations, which, unlike Square and Lightspeed, are specifically for the pharmaceutical and medical industry. Find integrations for adherence packaging, data reporting, e-prescriptions, patient education, and even telepharmacy. BestRx listed the most pharmacy-focused integrations of those on our list.
Patient care: In addition to reminders, you can collect and store vitals like weight, blood pressure, and immunizations to help your patients stay on top of their health in more ways than simply buying their medication. With integrations, you can share this information with their doctor.
US-based customer support: BestRx has extended-hours customer support with US-based agents who are experts in the system. In addition, you can download a remote assistance app that will give their experts access to your program so they can jump right in to figure out—and fix—the problem.
---
BestRx does not have an online ordering site; instead, it depends on Google Pointy. It also depends on integrations for some tools that PioneerRx includes, like interactive voice messaging. Its BestPOS system is a separate purchase of several thousand dollars upfront followed by monthly maintenance fees.
---
CAM RetailSTARx by Celerant: Best Independent Pharmacy POS System for Integrating With Pharmacy Wholesalers

What We Like
Integrated ecommerce
Includes Metchcheck and NPLEx for PSE monitoring
Will call up other prescriptions customer has
Automated compliance updates
What's Missing
Customer support during business hours only
No online help tools
Upfront costs; call for quote
RetailSTARx Pricing
Pricing based on quote—call for personalized quote
Initial software/installation fees: $3,000–$3,855
Monthly software fees (month-to-month pricing): $200 per month for one license
Unlimited Support: $995 per year
Pharmacy management software: Requires integration
Processing fees: Vary by payment processor
Hardware:
POS systems: Starts at $4,471, includes POS, switch, backup drive, receipt printer, barcode printer, scanner, cash drawer, signature capture
Handheld card terminals: Call for quote
RetailSTARx is a multichannel software POS for pharmacy operations. Designed by CAM, a subsidiary of Celerant, it includes a POS with mobile ecommerce, CRM, loyalty, and inventory with purchase order management. Even with all these tools, it's easy to use; plus, it integrates with pharmacy-specific software for supply, compliance, and dispensing. While PrimePOS, BestPOS, and PioneerRx also do this, they require their pharmacy management software. RetailSTARx handles it from the POS itself.
It earned 4.11 out of 5 on our rubric. The software contains just about everything we looked for, but some features, like order management, were not as complete as those of PioneerRx or others on the list. It also lost points for not having customer support beyond business hours. Like with PioneerRx, you need to call for a quote. Its real-world user score was among the lowest, too: 3.6 out of 5 stars, while the rest were above 4 stars.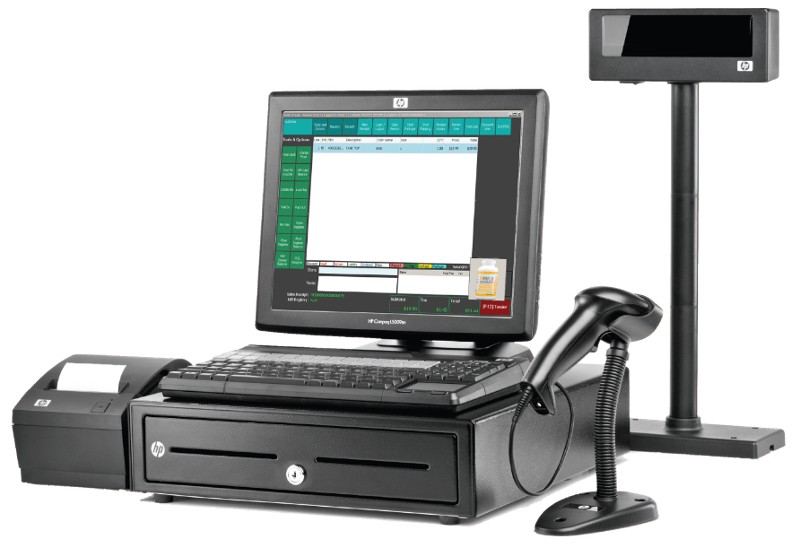 ---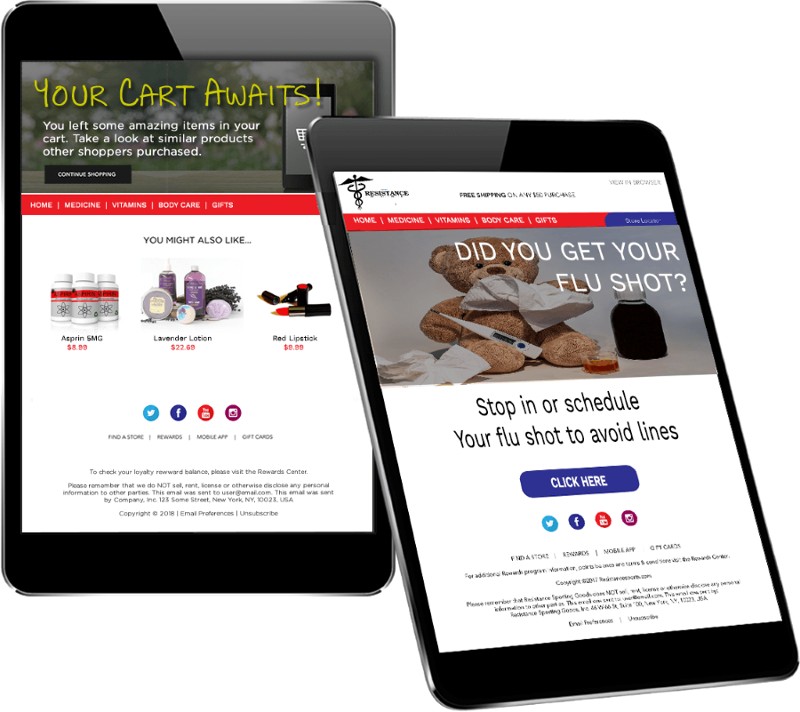 ---
Easy-to-use, feature-rich POS: RetailSTARx is easy enough to use that a cashier can get started after only a few minutes of training. Hotkeys make smooth workflows, but you can go deep with multiple discounting strategies, multi-clerk commission splitting, layaways, credit memos, hold tickets, receipt notes, and more. You can collect detailed customer information right from the screen for loyalty programs, compliance tracking, or targeted promotions.
Automatic compliance updates: Unlike Square or Lightspeed, RetailSTARx automatically updates the latest rules for healthcare regulations like the HIPAA Notice of Privacy Policy for IIAS and FSA. It integrates with NPLEx and MethCheck for PSE sales tracking as well.
Ecommerce site: While BestRx only works with Google Pointy for online sales, RetailSTARx can provide you with a complete ecommerce website that's mobile-friendly. Your customers can shop for OTC medications, gifts, last-minute groceries, and anything else you offer. Your ecommerce site integrates with the POS for easy pickup at the curb or drive-thru or for delivery.
Prescription call-up: Like with PioneerRx, when a cashier scans the barcode of one prescription, if the customer has other prescriptions that need a pickup, they will also populate to the screen. This not only speeds checkout but also makes sure the customer gets all their medications.
Strong inventory tools: RetailSTARx offers an in-depth inventory section. You can simply scan in an item and set basic information, or you can add modifiers. Low-stock counts will also be reflected in the purchase order, so it always orders the amount you need to keep the minimum stock (or you can change it to order more). RetailSTARx integrates with major pharmaceutical wholesalers like McKesson, Cardinal Health, AmerisourceBergen, and HD Smith.
---
We did not find tools for tracking order status or interactive voice messaging, as you will find with PioneerRx. While you can set low stock amounts, it does not have low stock alerts like Lightspeed. Customer support is only available Mon.–Fri. 8:30 a.m. to 6 p.m. Eastern time.
---
Square for Retail: Best Pharmacy POS System for a Tight Budget

What We Like
Best-in-class omnichannel features
Customizable mobile checkout
Free online store
Additional support for businesses: banking, payroll
What's Missing
Restrictions on pharmaceutical sales
Must use Square's payment processing
No ID verification prompts
Square for Retail Pricing
Initial software/installation fees: $0
Monthly software fees (month-to-month pricing):
Free: $0
Plus: $60 per location (includes advanced inventory and team management)
Premium: Custom (for over $250,000 a year in payment processing)
Pharmacy management software: Requires integration
Processing fees:
In-person: 2.6% + 10 cents (2.5% + 10 cents for Plus Plan)
Online: 2.9% + 30 cents
Keyed-in: 3.5% + 15 cents
Hardware: Uses iPads
POS Systems: Starts at $799
Handheld card terminals: Starts at $299
Servers: None required; cloud-based only
Square for Retail is the only system on this list that offers a free POS system. The free system includes a comprehensive set of tools with an easy-to-use interface for ringing up OTC and non-medicine purchases and an inexpensive upgraded POS with advanced inventory and scheduling.
However, Square's payment processing sets limits on what kind of pharmaceutical sales it allows. As such, it's an excellent choice if you are happy with your pharmacy management solution and just need a cheap POS system for the rest of your store.
Limits on pharmaceutical sales (from Square's website): "Internet/mail order/telephone order pharmacies or pharmacy referral services (where fulfillment of medication is performed with an internet or telephone consultation, absent a physical visit with a physician including reimportation of pharmaceuticals from foreign countries)."
Because it's not built for pharmacies like PioneerRx, PrimePOS, RetailSTARx, or BestPOS, it ranked much lower in our evaluation: 3.89 out of 5 stars. Even though it is free, Square took big hits in pricing for not including RX software or other payment providers. The lack of age verification and PSE tracking also hurt its score. However, it did very well for delivery tools, purchase order management, inventory counting, and online training.
You'll find Square (along with Lightspeed) in many of our best-of lists:
Square also ranks highly for one of the cheapest credit card processing companies.
Free POS system: If budget is a concern, then Square lets you put your money into your pharmacy management software. Its basic POS system is free. The tools are more basic (simpler inventory, basic reports, no scheduling function), but you can't beat the price. No other system on our list offers free POS.
Buy Now, Pay Later (BNPL): Do you sell expensive non-prescription items or just want to encourage your customers to use your store for other purchases? Offer your customer the option to pay in four payments over six weeks with Afterpay. No other system we looked at offered this at the register. Afterpay does not work with prescription drug sales, but customers can apply it to all their other purchases.
Order online, pick up in-store: Even Square's free version provides you with a free online store and website-building tools. Square has tools for in-store pickup and local delivery, including an Open Tickets function for drive-thru operations. Online orders automatically appear in the POS registers. Square also has its own handheld terminal for easy curbside payment and a mobile app. While Square restricts pharmaceutical sales online, for online sales of non-pharmaceutical products, it's the best.
Square Business Tools: As you grow your pharmacy, you may find it handy to have all your business tools seamlessly integrate. If you upgrade to Square for Retail Plus, you get the team management tools (which include scheduling) and the advanced inventory (which includes automatic purchase order generation). You can also add modules for payroll, appointments, and loyalty. In addition, Square offers banking and credit services.
Integrations: Square does not have the tools needed for specific pharmacy functions like HIPAA forms. It integrates with a few medical-related software, but otherwise, you will need an API. However, it does integrate with a wide range of other apps, from accounting to delivery services.
---
Square for Retail is not designed for pharmacies. You will need to integrate with a pharmacy management app, which adds its own cost. It also lacks age verification tools, so the onus is on your cashiers to check manually.
Like Lightspeed, Square offers its own payment processing system, but in its case, you are compelled to use it. As noted above, it does not allow for internet/mail-order/telephone order pharmaceutical sales. The in-store and online fees are reasonable, but avoid typing in a card if you can. That gets pricey. Choose one of the others on this list if you want the freedom to pick your own payment processor.
---
Lightspeed Retail: Best Pharmacy POS System for Complex Inventories

What We Like
Granular matrix inventory management
Robust, integrated ecommerce platform
Choice of payment processors
24/7 customer support and onboarding
What's Missing
Requires API to integrate prescription management apps
Customer loyalty costs extra
Monthly fees can be expensive for small businesses
Lightspeed Retail Pricing
Initial software/installation fees: $0
Monthly software fees (month-to-month pricing):
Lean: $99
Standard: $149 (includes ecommerce)
Advanced: $229 (includes loyalty and advanced reporting)
Enterprise: Custom quote
Pharmacy management software: Requires API, separate app
Processing fees: 2.6% + 10 cents
Other payment processors available; rates vary
Hardware:
POS systems: Call for quote
Handheld card terminals: Call for quote
Servers: None required; cloud-based only
Lightspeed is a favorite POS system because of its granular inventory tools and low-stock alerts. That's why we also chose it to be among the best pharmacy POS software. While you need to use an API to integrate with pharmacy management software for handling prescriptions, for in-person and online sales, you'll find it a handy and easy-to-use system.
It works with other payment processors, so you may find one that allows pharmaceutical sales, unlike Square.
Like Square, Lightspeed features highly in several of our best POS systems lists:
Lightspeed earned 3.87 out of 5 in our evaluation. As with Square, Lightspeed's lack of pharmacy-specific tools brought down its score. However, it excels in inventory, loyalty, and checkout functions. Unlike Square, it allows different payment processors, which put its pricing score much higher. It took a big hit, however, for not having any plug-and-play pharmacy or health-industry integrations. You'll need an API.
Robust inventory management: Unlike Square, Lightspeed is made to organize and track large quantities of inventory and help you manage high sales and order volumes. It offers a customizable matrix inventory that lets you manage products in bulk or individually. You can even break up cases, such as for selling water bottles.
Low stock alerts: Its standout feature (lacking in most of the software on our list) is the low stock alert. It also has built-in purchase ordering with over 3,000 pre-loaded vendor catalogs, although you may need to integrate your pharmaceutical wholesaler.
Checkout tools: Like PrimeRx and RetailSTARx, you can program hotkeys for quicker checkouts. There is also a convenient spot on every transaction to leave notes and add customer information, which is a good place to put any suggestions like a reminder to add a supplement to future orders or ask about side effects.
Online ordering: Lightspeed, like Square, offers a powerful online selling solution that integrates seamlessly with its POS system. In addition to excellent tools for adding and displaying products, you can add a blog, testimonials, size guides, and even embedded videos.
Marketing: Lightspeed has a built-in loyalty program included in higher-level subscription tiers. (Square charges extra, while others have it at all plan levels.) It's highly flexible: for example, you can create a tiered rewards system for both in-store and online purchases, send one-time deals for birthdays or to VIP customers, and design emails with templates or a drag-and-drop builder.
---
Lightspeed, like Square, does not have native pharmacy management software. You'll need an integration. Unlike Square, however, you may need an API. (Square integrates with some healthcare apps.) It's also weaker on medicine-specific tools like prescription tracking. The customer loyalty program also costs extra, whereas PioneerRx, BestPOS, RetailSTARx, and PrimeRx include it in their systems.
---
How We Evaluated Pharmacy POS
We started with a list of our best POS software culled from our multitude of reviews. Then we added pharmacy software services that also offered POS services either included in or as an add-on to their pharmacy management tools. We then evaluated that list for price, POS tools, and pharmacy-specific needs. Finally, we considered ease of use and real-world user feedback.
When all was said and done, PioneerRx emerged as the clear winner. With its mission of serving independent pharmacies, built-in POS system, and a multitude of tools designed to make ordering, dispensing, and tracking pharmaceuticals easier, it's the best choice for a pharmacy POS system.
15% of Overall Score
Price is a tricky call for pharmacy POS systems because not all the systems on our list included software specific to pharmacies. Thus, we rated not only for overall price but whether you'd need to buy an integration for prescription management. PrimeRx took the lead for those that include pharmacy and POS software, while Lightspeed led for those needing integrations because you can choose your payment processor.
25% of Overall Score
Here, we considered the tools your cashiers need to quickly and efficiently get your customers serviced, such as workflow customizations, drive-thru, and delivery tools. We also looked not only for age verification prompts but integration with specific drug-tracking software like MethCheck. PioneerRx took the lead with 4.25 out of 5.
30% of Overall Score
Management features deal more with the back end for inventory, ordering, reports, customer loyalty, and employee management. Things like linking to wholesalers, communicating with customers about prescriptions, and time clocks came into play here. BestRx earned the lead, followed by PrimeRx.
15% of Overall Score
The best pharmacy POS software should be easy to use. All of those on our list meet the minimum, so we dove into customer support, training, and onboarding. Finally, we looked for integrations with other pharmacy software, accounting software, and other apps. Square was No. 1 here, even without 24/7 support.
15% of Overall Score
Here, we pulled not only our own experience with POS software but the experiences of real-world users. We considered features vs price and ease of use for the interface. Then, we went to third-party review sites like Capterra for user input. PioneerRx and Square earned perfect scores, but everyone scored more than 4 out of 5.
*Percentages of overall score
Bottom Line
PioneerRx says opening a pharmacy costs an average of $400,000 to $600,000. Investing in the right POS system gets you started on the right foot. The best pharmacy POS systems let you handle prescription, OTC, and merchandise sales, set reorder rates, and have tools for serving customers quickly while still ensuring they have all the information they need.
Overall, PioneerRx is the best pharmacy POS system available. Although pricier than most on our list, it's also the most feature-rich; plus, it offers online training. Real-world users give it high praise as well. Call PioneerRx and get a specialized quote.