5 User-friendly Cloud POS Systems
This article is part of a larger series on POS Systems.
Because cloud POS (point-of-sale) systems have the flexibility to process customer transactions and manage operations from anywhere with an internet connection, they are ideal solutions for small businesses. Along with easy setup and low price points, we looked for rich management features and reporting capabilities, ease of use, and overall value to narrow down the top web POS systems.
Based on our expert evaluation, the best options in 2022 are:
Top Cloud POS Systems Compared
| | Monthly Fees | Additional Terminal Cost | Hardware Cost | Payment Processors | Processing Rates | Online Ordering | Offline Payment Processing | Ecommerce Integrations |
| --- | --- | --- | --- | --- | --- | --- | --- | --- |
| Visit Square | $0–$60+ | $60 | $0–$1,489 | Square Payments | From 2.6% + 10 cents | ✓ | ✓ | WordPress, WP EasyCart, nopCommerce, Foxy.io |
| Visit Lightspeed | $89–$269 | $29 | Quote-based | Lightspeed Payments, Worldpay, Stripe, TSYS, 2Accept | From 2.6% + 10 cents | Add-on | ✕ | BigCommerce, QuoteMachine, Shopify, skuIQ, WooCommerce |
| Visit Shopify | $39–$399+ | $89 | $89–$789+ | Shopify Payments | From 2.4% | ✓ | ✕ | Shopify |
| Visit Toast | $0–$165+ | $0–$169+ | $0–$999 | Toast Payments | From 2.49% + 15 cents | ✓ | ✓ | Uber Eats, DoorDash, Popmenu, Grubhub, and more |
| Visit Vend by Lightspeed | $119–$299+* | $49 | $99–$807+ | TSYS, Worldpay, CardConnect, Chase, EVO Payments, PayPal, Square, and more | From 2.4% | Add-on | ✕ | BigCommerce, WooCommerce, Shopify, Hubtiger, Ecwid, Pointy, Near, Vortex, skuIQ, GiftUp |
*Plans as low as $69 per month available when you opt for annual billing and select Lightspeed as your payment processor.
Square: Best Overall & Best Free Cloud POS

What We Like
Offers a comprehensive free plan and trial
Flexible payment options such as contactless and on-the-go
Comes with a free ecommerce site and online ordering
Includes employee time tracking and time card reporting in the baseline plan
Can process card payments offline
What's Missing
Very basic inventory and reporting features
Reviews report slow processing times and glitches
Limited customer support hours. For restaurant POS clients, 24/7 support is only available for paid plans
Square Pricing
POS software plans*:

Free: $0
Plus: $60 per month
Premium: Custom pricing

Hardware costs:

Square Stand: $169 or $27 per month for six months
Square Terminal: $299 or $27 per month for 12 months
Square Register: $799 or $39 per month for 24 months
Hardware kits: $526–$1,489
Card readers: Start at $49

Processing fees:

Flat-rate transactions: 2.6% + 10 cents per transaction
Invoices: 2.9% + 30 cents per transaction
Ecommerce sales: 2.9% + 30 cents per transaction
Recurring billing and card-on-file transactions: 3.5% + 15 cents per transaction
Keyed-in payments: 3.5% + 15 cents per transaction
Volume discounts: Available for businesses processing over $250,000 in credit card sales
*Each software subscription comes with a free magstripe card reader.
Square is an all-in-one cloud POS and credit card payment processor that is easy to set up and use, with flexible payment options and no contracts. It has a free plan and higher-tier, paid plans with a few more inventory controls and multilocation capabilities for larger scale businesses. Its versatility, low price point, and ease of use make Square the best overall POS system for small businesses.
Brick-and-mortar shops and eateries can find industry-specific functions by choosing Square for Retail or Square for Restaurants. Not only that, but Square's POS software has its in-house payment process already integrated into the system, so you can start processing transactions as soon as you sign up. And, if your transactions average $20 or less, Square offers some of the lowest payment processing rates available.
In our evaluation, Square scored 4.55 out of 5, earning perfect marks for pricing, cloud and mobility, and expert score. However, while Square does offer a free plan, it doesn't include advanced inventory management and reporting features (these are only available with the custom-priced Premium package). We recommend Lightspeed for these features, which offers them at lower price points. Additionally, loyalty and marketing tools requiring a separate subscription and not-so-favorable customer service reviews lowered Square's score.
Square Features

---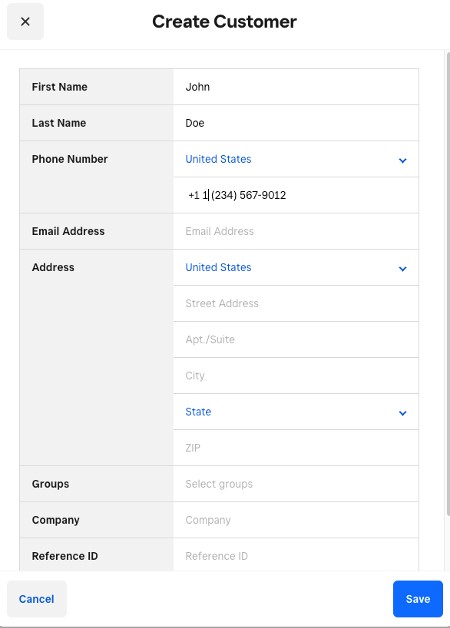 ---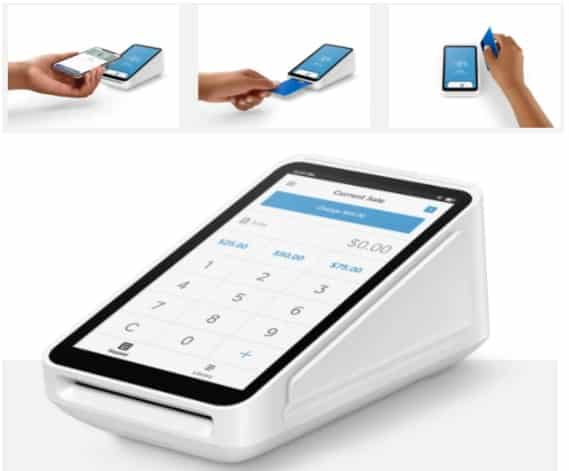 ---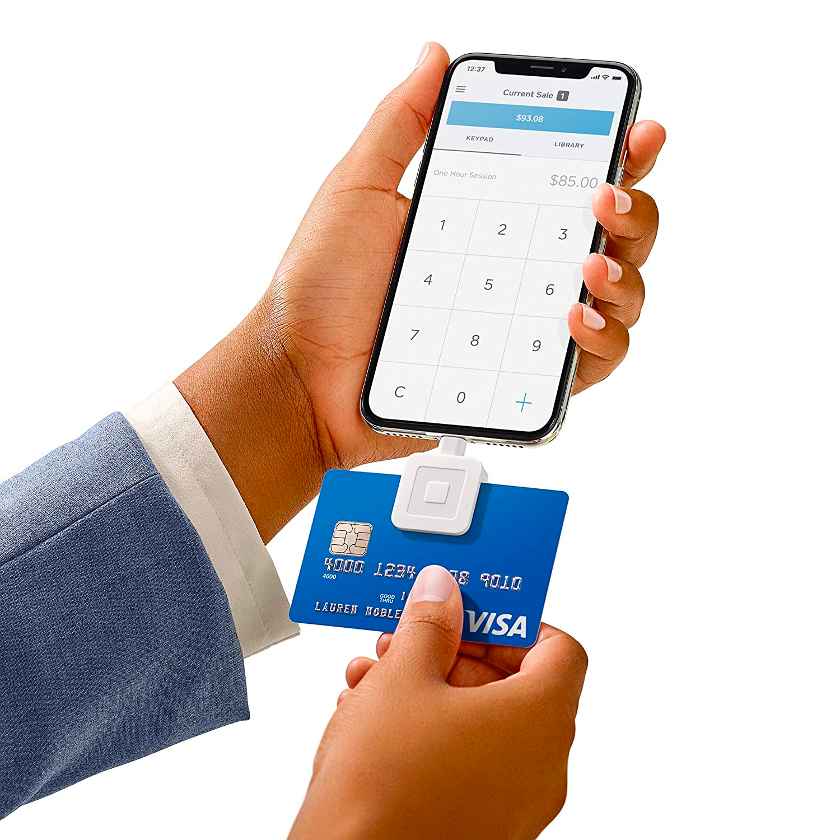 ---
Inventory management: Square POS includes standard inventory management features like the ability to view, manage, categorize, and track individual items across all locations in real time. It has daily stock alert emails, including low-stock alerts to avoid stockouts. You can also add inventory items one at a time or in bulk with CSV imports and exports. The retail and restaurant POS offer more dynamic, industry-specific inventory tools, like perishables tracking, but we suggest Toast as a web POS solution for restaurants.
Customer management: Square POS creates basic customer profiles that include purchase histories. There's also a customer feedback tool on digital receipts for collecting real-time feedback. Square Loyalty offers more robust features for an additional $45 per month. If you want to run email and social media campaigns via your Square POS, you'll also need to add Square Marketing at an additional $15 per month.
Online sales and ecommerce: Square POS has lots of support for businesses that want to sell online. The built-in free Square Online store syncs online and in-person sales data to a centralized location. Square POS also integrates with other ecommerce platforms, including WooCommerce and Wix.
Reporting and analytics: Square POS reporting shows standard data like total overall sales and sales trends. You can see how much customers spend, how often they return merchandise, and which products they buy the most frequently. Square for Retail and Square for Restaurants offer additional reporting functions for those industries.
Square's Drawbacks
Square POS is a terrific starter POS system, but it's not very customizable—something a multilocation or expanding business might need. The inventory management and reporting features, in particular, are limited compared to popular alternatives. If you want more management tools from a basic plan, consider Lightspeed with its granular matrix inventory and reporting tools that include data visualizations and multi-location management options at $69 per month.
Additionally, while Square includes a free online store, it is also very basic. A business needing a strong ecommerce platform that can handle a high volume of online sales would be happier using Shopify.
Lightspeed: Best Cloud POS for Store Management

What We Like
Built-in granular inventory management
Mobile app reporting with 40+ preset reports with data visualizations and customization options
Flexible payment processing with built-in and integrated options
What's Missing
Does not process card payments offline
Lowest price plan requires that you enroll in Lightspeed Payments
Ecommerce integration is an add-on
Lacks social commerce integrations (Instagram and Facebook shops)
Lightspeed Pricing
Retail software subscription plans:*

Basic: $89 per month
Standard: $149 per month
Advanced: $269 per month
Additional registers cost $29 per month

Restaurant software subscription plans: Starts at $69 per month billed monthly or $59 per month billed annually. Additional registers cost $34 per month.
Hardware cost: Runs on iPad and iMac. Custom-quoted hardware kits available. Card readers and peripherals are bought separately.
Processing fees:

Chip, tap, and swipe payments: 2.6% + 10 cents per transaction
Keyed-in payments: 2.6% + 30 cents per transaction
Volume discount: Available for businesses processing over $250,000
*Pricing is based on a monthly subscription and requires Lightspeed Payments. Lower rates available with annual billing.
Lightspeed is a cloud-based POS system that operates on iPads or as a browser-based POS and provides a 14-day free trial. Even at its baseline plan, Lightspeed's features can handle busy retail shops that require detailed inventory tracking and customer and employee management even while offline. This, along with remote access to back office and POS (due to its cloud-based nature), makes it the best option for store management. It is also our top POS for inventory management.
It comes as no surprise that Lightspeed lands a close second to Square, earning a score of 4.51 out of 5. Its baseline store management features are comparatively superior, after all, with a perfect score for ease of use and the highest score for general features of all the cloud POS systems on our list. However, the lack of ecommerce in its basic plan and offline card payment processing capability are why Square overtook Lightspeed in points.
Lightspeed Features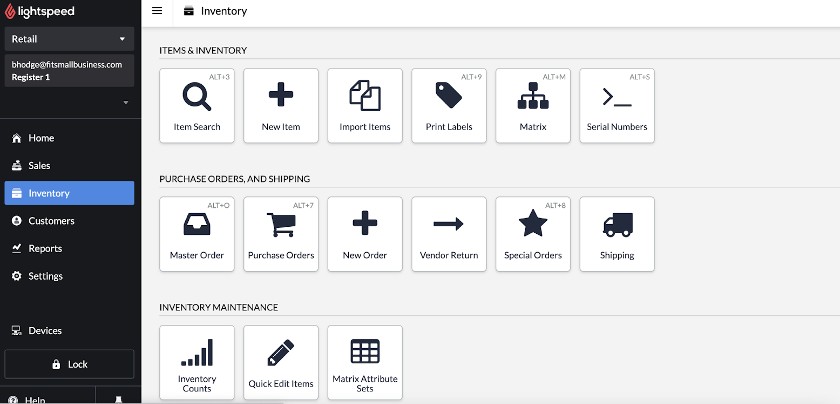 ---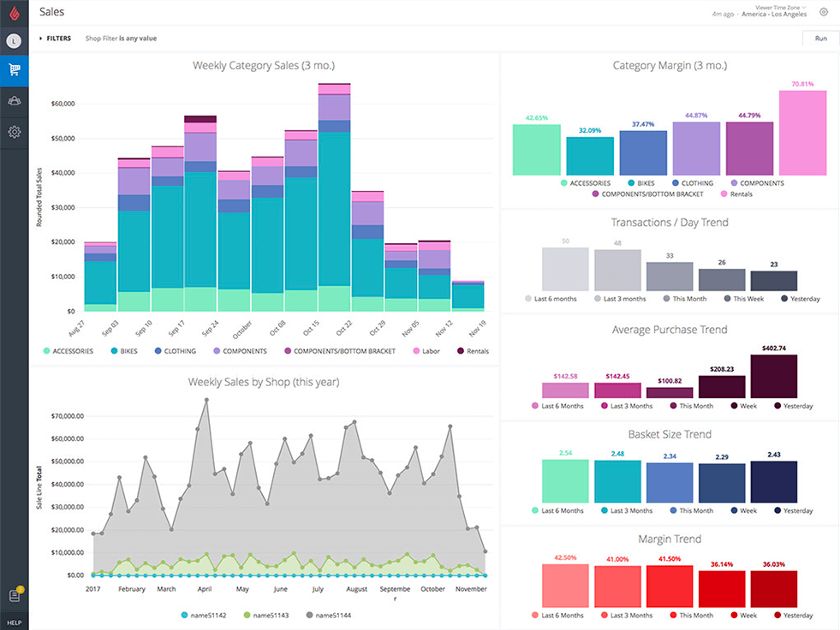 ---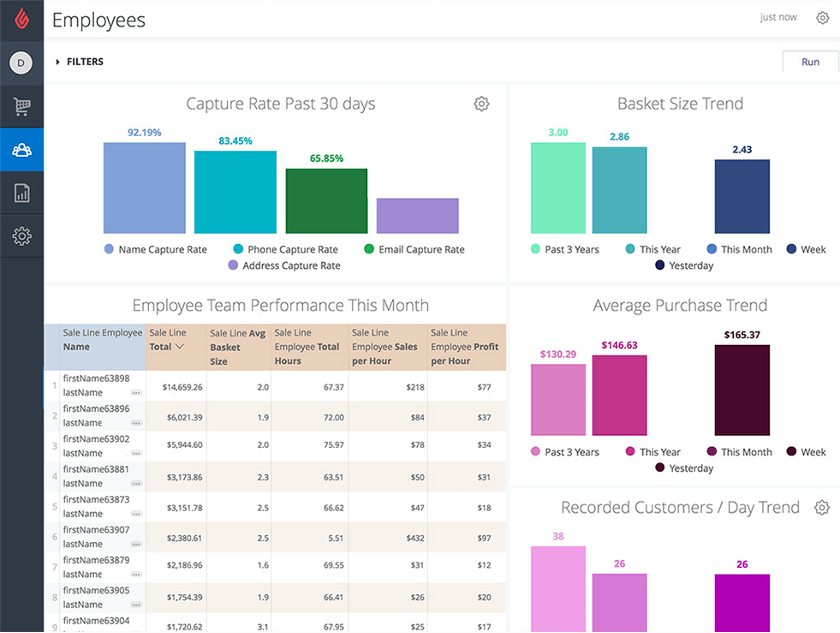 ---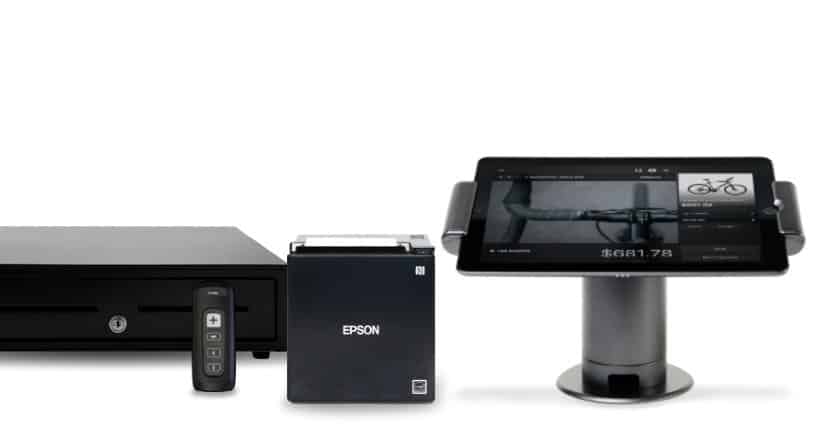 ---
Inventory management: Lightspeed POS' inventory management features allow you to add items in bulk or individually. You can track stock levels across multiple locations and set low stock alerts. Advanced inventory features include integrated product catalogs and purchase orders, multiple item variants, aging product reports, work orders, layaway, and detailed product tagging and organization.
Customer management: In addition to basic CRM functions like creating customer profiles, Lightspeed offers additional tools via Lightspeed Loyalty. This tool enables you to create a rewards program, build SMS and email marketing campaigns, send coupons and special offers, automatically segment customers for targeted messaging, create customer credit accounts, and generate detailed customer analytics.
Online sales and ecommerce: Lightspeed offers a robust ecommerce platform that enables businesses to create custom websites with built-in templates. From there, you can sell locally or to an international customer base. Additional features allow you to sell your products on social media channels, like Facebook and Instagram.
Reporting and analytics: Your cloud POS data can be accessed from any connected device to get a real-time look at what's going on in your business. You can see how many customers visit your store, which items experience the most stockouts, and which hours your employees are working. Exporting your data into the reports module provides a more detailed picture.
Integrations: In addition to Lightspeed's robust functions, this cloud POS works with more than 80 third-party integrations. Integrations are available for employee scheduling, appointment scheduling, accounting, chatbots, payroll, equipment rental tracking, and third-party delivery platforms.
Advanced analytics: For more robust analytics options, Lightspeed customers can use an accounting integration or purchase the Lightspeed Analytics add-on. The latter will add aging stock insights, customer loyalty metrics, and staff KPIs.
Lightspeed's Drawbacks
Lightspeed's native ecommerce platform is only available with a midrange plan, which can mean you'll have to spend more to sell online. Also, while Lightspeed allows you to carry on with some business management tasks without an internet connection, it cannot process card payment transactions while offline. If this is a deal-breaker for you, check out Square for Retail or Toast.
Shopify: Best Cloud POS for Omnichannel Retail
What We Like
Includes robust ecommerce platform
Competitive payment processing rates
Includes marketing tools in base plan
What's Missing
Little functionality for non-retail businesses
Charges fee for third-party payment processing
Limited reporting in baseline plan
No offline payment processing
Shopify Pricing
Shopify POS plans:*

POS: Included in all ecommerce plans
POS Pro: $89 per month, per location, or free for enterprise users under the Shopify Plus plan.

Hardware costs: Startup Bundle from $789 (includes an iPad stand, card reader, receipt printer, cash drawer, and barcode scanner), Retail Bundle from $159, card readers from $29
Processing fees:

In-person: 2.4% – 2.7%
Online: 2.4% + 30 cents – 2.6% + 30 cents
*A Shopify Ecommerce subscription (from $39–$399 per month) is required to use Shopify POS.
Shopify is an ecommerce platform first and a cloud POS for in-store purposes second. It is especially good at integrating online channels with in-person sales channels, and tops both our lists of best ecommerce platforms and leading multichannel POS systems. The cloud POS comes with standard features like inventory management, CRM, and payment processing. Additionally, it supports order tracking for shipped purchases. Shopify is ideal for online merchants wanting to break into brick-and-mortar retail or pop-up shops that need support for temporary in-person activations.
Based on our evaluation, Shopify earned an overall score of 4.33 out of 5. It received perfect marks for ease of use and leads the competition when it comes to omnichannel sales features. However, Shopify POS is only available to Shopify ecommerce subscribers, and key features—such as multiple staff roles and permissions, unlimited register, and detailed reporting—are available only with the Pro plan. It is these limitations that prevented Shopify from earning a perfect score.
Since our last update: Shopify Rate Increase
January 24, 2023 Shopify announced a price increase for its monthly ecommerce subscriptions. Basic Shopify increased to $39 from $29, Shopify increased to $105 from $79 and Advanced Shopify is now $399 instead of $299. This announcement was followed by lots of new feature releases and improvements.
Shopify Features
---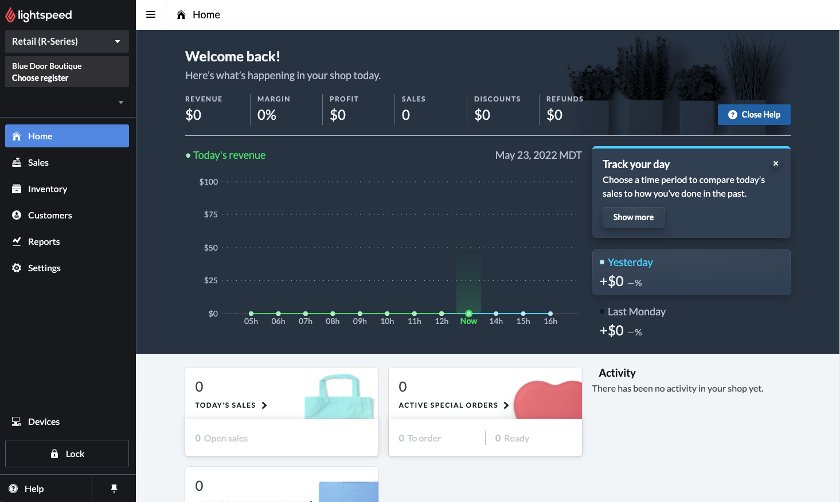 ---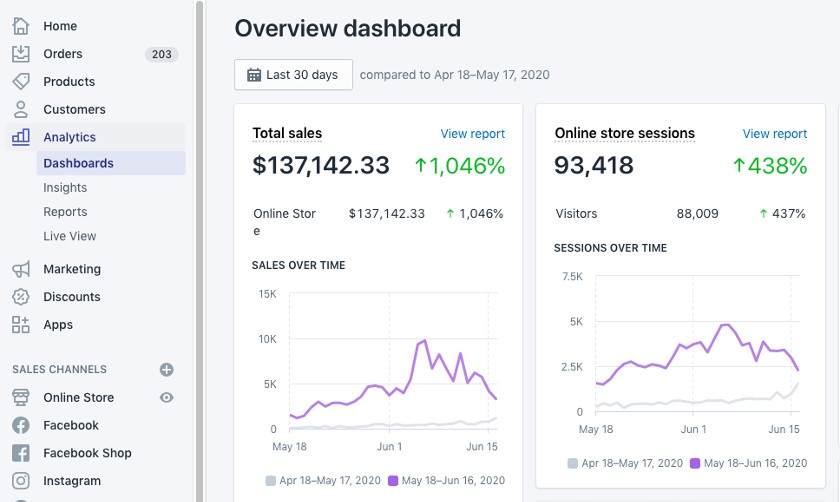 ---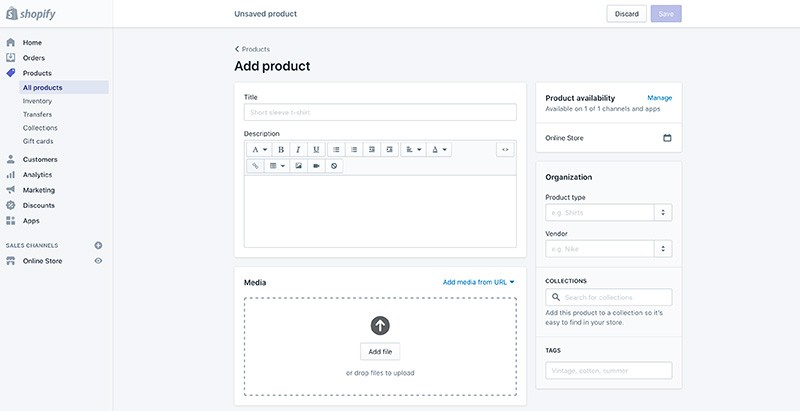 ---
Shopify Lite: While this plan does not allow you to build your own online store, it gives you the ability to sell in person via the POS app, or add a buy button on other websites. You can access in-store inventory and customer profiles, split bills, and offer custom discounts. Access to back-office functions such as product management, order management, and reporting is also available.
Shopify POS Pro: This is an additional $89 per month, and offers more robust in-person sales tools (including omnichannel sales, like buy online, pick up in-store), smart inventory features (like purchase ordering and demand forecasting), and detailed sales reports.
Inventory management: Shopify is ecommerce-centric, so the inventory management function keeps your online and in-store stock levels in a central location. Shopify POS is also excellent at tracking stock through the various stages of receiving, selling, and shipping. Its higher-level plans also track stock levels across multiple store locations.
Customer management: Shopify's CRM features are not incredibly dynamic. You can create basic customer profiles with purchase history, contact information, and shopping preferences. You can also use automated emails to send order updates, digital receipts, and post-purchase promotions. Additional CRM features are available via integrations.
Online sales and ecommerce: Shopify offers a comprehensive ecommerce platform for merchants, allowing you to build and customize your site with templates or custom coding. Everything is synced in real time to ensure that you don't sell something online that you don't have on hand.
Reporting and analytics: Like the CRM, Shopify's baseline reporting features are serviceable but not robust. From the POS dashboard, you can check basics like sales, orders, traffic, and returns. Popular items and high-dollar items are featured, and you can compare the number of new versus returning customers. For advanced reporting, including demand forecasting and custom fields, you'll need to upgrade to Advanced Shopify.
Shopify's Drawbacks
Shopify is all about ecommerce, so stores that don't do a lot of online business will probably find the POS functionally thin. As a result, you'll need to pay for a number of third-party integrations for features such as a comprehensive CRM and detailed reporting tools to get the most out of the system. Shopify also does not have the ability to accept card payments while offline—a feature you would find from Shopify competitors more focused on in-person sales.
So, if your business requires a more solid POS functionality with native ecommerce features in an affordable plan, consider Square for Retail. If you want solid ecommerce functionality in a POS that's designed for storefronts first, consider Lightspeed.
Toast: Best Cloud POS for Restaurants

What We Like
Offers a pay-as-you-go subscription option
Excellent offline functionality
Proprietary hardware includes multifunctional handheld tablet
Intuitive, easy-to-use interface
What's Missing
Must use Toast payment processor
Requires purchase of proprietary hardware
Marketing and loyalty tools are add-ons
Mandatory remote installation fee for Loyalty and Gift Card add-ons
Toast Pricing
Software subscription plans*:

Starter: $0
Essentials: From $165 per month
Growth: Custom quote

Hardware costs: $0–$799, ToastGo mobile handheld POS ($499 + $50 per month)
Digital Ordering software (Toast Now) subscription plans: $75–$175 per month
Installation fee: Mandatory remote installation fee for Loyalty and Gift Card add-ons
Processing fees:

Pay-as-you-go plan: 2.99% + 15 cents for both card present and card not present transactions
Standard paid plan: 2.49% + 15 cents for card present and 3.5% + 15 cents for card not present transactions
*A POS subscription is $69 per month when purchasing a starter kit with a standard paid plan.
Toast POS delivers a suite of restaurant features that fully supports both back-end and front-of-house operations from a centralized, online platform—it is our most recommended restaurant POS. Tailored for food-based businesses, it offers menu management, table mapping, and built-in integrations such as kitchen display, self-order kiosks, ordering, and delivery tools.
It also designs its own industry-grade, proprietary hardware, which includes a handheld mobile terminal for tableside ordering and payment. To top it off, Toast offers a pay-as-you-go baseline subscription that comes with inventory management tools and payment processing rates comparable to other popular restaurant POS systems.
All things considered, Toast's capability as a restaurant POS is unquestionable, with its robust cloud and mobility feature and multiple payment options. However, the software came in fourth in our roundup with an overall score of 3.86 out of 5. It lost points for add-on costs over key functions like online ordering, marketing, and team management, which you'll find in baseline plans of other solutions like Square. Long-term contracts also come with its pay-as-you-go plan.
Toast Features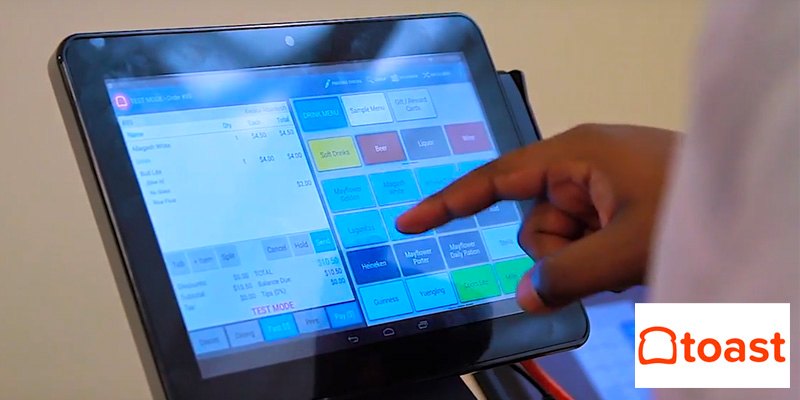 ---
---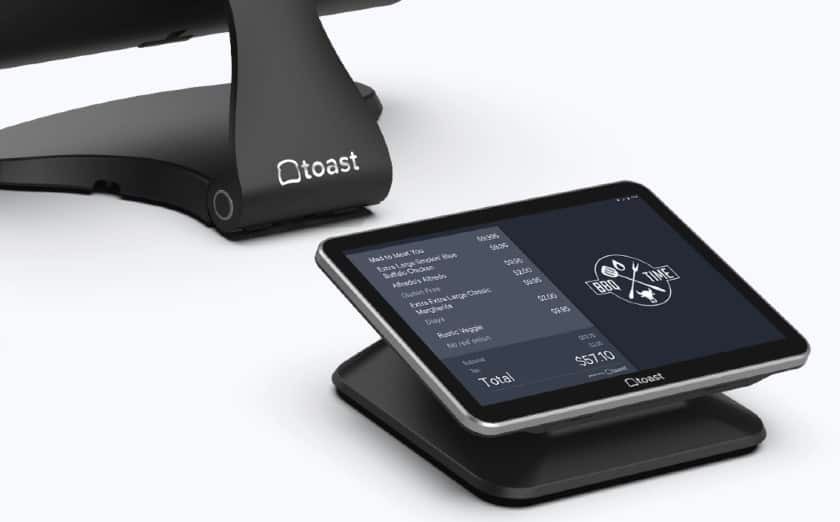 ---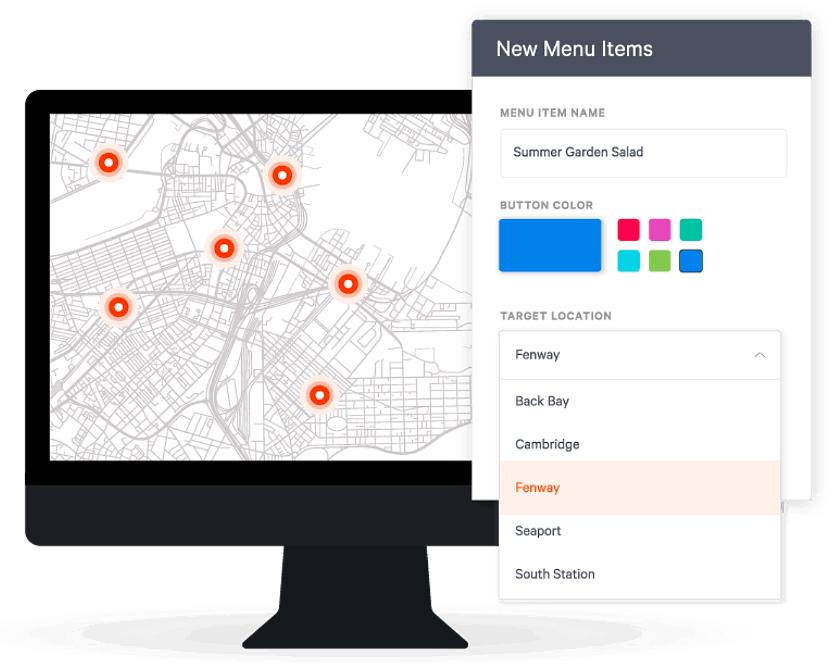 ---
Inventory management: Toast POS tracks inventory down to the ingredient. You can create menu categories, subcategories, and multiple modifier screens, as well as adjust modifier pricing and view item countdowns to avoid stockouts. Toast's dynamic ingredient-level inventory tracking is the backbone of its menu management module. It identifies which dishes should be removed from your menu in an easy-to-scan grid.
Customer management: The software allows you to create customer profiles, send digital receipts, and collect and respond to feedback. For an extra monthly fee, you can add Toast Loyalty, which supports a customizable rewards program. Use it to create milestones or points-based rewards and get analytics reports on who your most loyal customers are. Toast Marketing further allows you to create customized and targeted emails to reward regulars or entice customers to return.
Online sales and ecommerce: Toast offers built-in online ordering and delivery management at the Essentials and Growth membership tiers or through its ToastNow ordering platform. You create an online ordering website via Toast and all those orders go directly to your kitchen. The software also integrates with all the popular third-party delivery platforms.
Reporting and analytics: Toast POS is the only one on this list with restaurant-specific reports that focus on ingredients, tips, and table turn time. It shows you how many patrons each employee served in any given shift, compares locations, and highlights which days and times are busiest. The software will also send an email at the end of each night with a comprehensive snapshot of the day's sales and costs.
Toast's Drawbacks
Unlike other cloud POS systems, Toast only works on its own custom-built Android devices, and while it offers pay-as-you-go plans for its industry-grade hardware, you will be locked into a long-term contract with no flexibility in terms of a payment processor. You also get an additional 0.40% on your processing fee if you want add-on tools for loyalty, marketing, gift cards, and online ordering.
If you prefer a provider with more hardware flexibility that leaves you free to choose payment processing options, consider Lightspeed for Restaurants.
Vend by Lightspeed: Best Cloud POS for Building Customer Loyalty

What We Like
Works on iPads, Macs, and PCs
Flexible payment processing options
Built-in customer loyalty program
What's Missing
High price point
Limited transaction volume with basic plan
No payment processor included, must integrate
Ecommerce integrations requires third-party API
Vend Pricing
Software subscription plans*:

Lean: $119 per month
Standard: $179 per month
Advanced: $299 per month
Enterprise: Custom quote

Hardware costs:

All-in-one mPop: From $499
Starter hardware kit for iOS: $600
Starter kit for PC and iOS: $684
Pro hardware kit: $807
iPad stands: From $99

Processing fees: Depends on your chosen payment processing provider (Lightspeed, TSYS, Worldpay, CardConnect, Chase, EVO Payments, PayPal, Square, and more)
*Software plans are based on monthly billing. Rates as low as $69/month available with annual billing and when you opt for Lightspeed Payments
Vend POS is an iPad-, Mac-, and PC-compatible cloud POS option that includes a full suite of inventory and reporting and analytic features. Aside from its real-time inventory management capabilities, it is in its CRM functions where Vend shines. You can build detailed customer profiles and extend this information across all your sales channels. Vend's built-in customer loyalty program is accessible from the dashboard and checkout screens, and supports store credit offers and point-based loyalty. It also gives you access to layaway tools, store credit payments, and multi-outlet handling.
In the News:
In March 2021, Lightspeed acquired Vend, giving Vend clients access to Lightspeed's payments, ecommerce, and loyalty solutions. And, if you sign up for Vend, it will be branded as Lightspeed Retail X series, though all of the Vend POS features and functionality have remained the same.
For now, Vend comes behind Toast in our rankings, earning a score of 3.81 out of 5. It received a perfect mark for ease of use and high marks for general features. However, Vend lost points mostly for cloud and mobility features and for having no in-house payment processor—you will have to sign up for and integrate a third-party service. You will also require an upgrade to experience Vend's full CRM and loyalty features.
Vend Features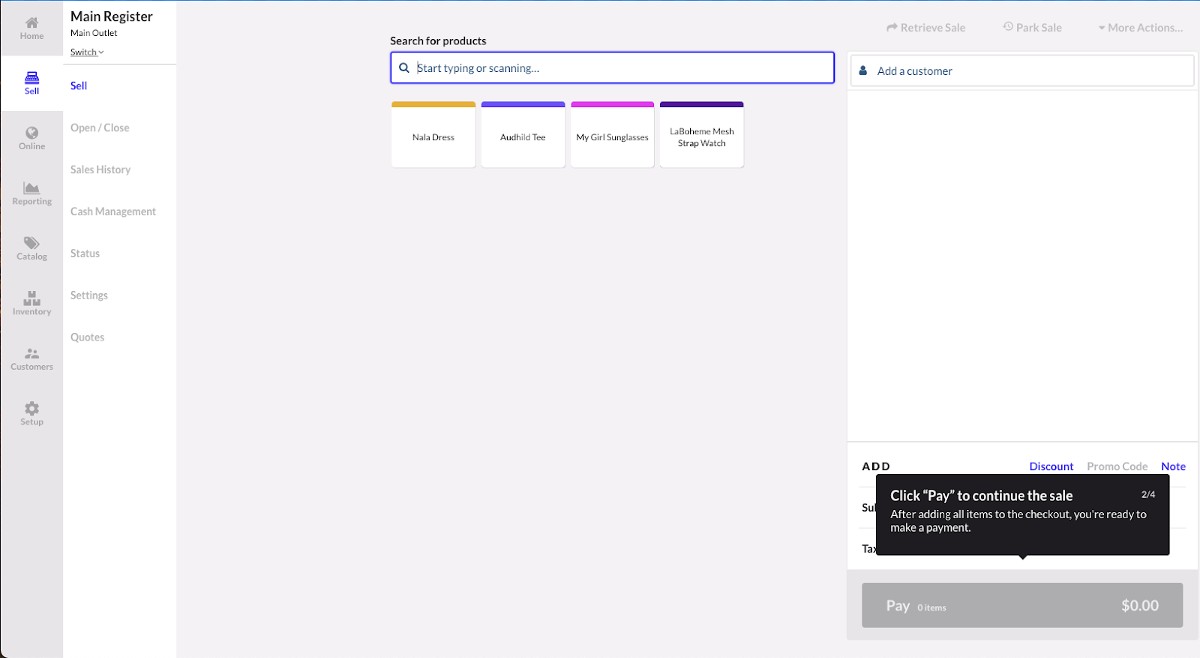 ---
---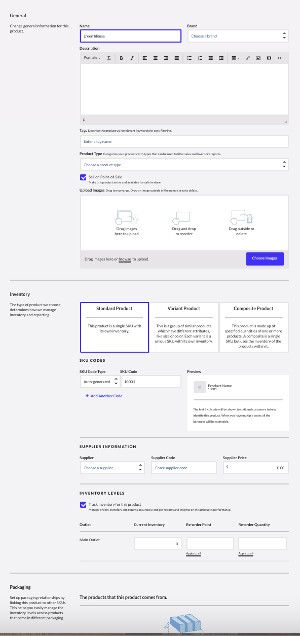 ---
Inventory management: Vend allows you to bulk upload/export, add variants, bundle products, and split groups. You can also manage wholesale stock and use groups and tags to organize products in a central product database.
Customer management: Vend Lite has basic CRM features like customer profiles that track purchase history and contact information. Upgrading to Vend Pro unlocks VIP customer groups, gift cards, store credit, and a flexible loyalty program with customizable rewards and points. You can easily upload your customer database via a CSV file and manage your customer list across any platform you have integrated with Vend.
Online sales and ecommerce: Vend doesn't have built-in ecommerce functions, so you can't launch an online store using the software alone. Instead, Vend integrates with ecommerce platforms, like Shopify, BigCommerce, and WooCommerce. Vend's Shopify integration is the most seamless, and it's also the one that Vend recommends for small businesses.
Reporting and analytics: Vend Lite and Vend Pro both include custom analytics reporting with the ability to filter data, similar to Lightspeed. Pro comes with advanced reporting functions, including discounts, employee insights, seasonal trends, and gift card analytics.
Vend's Drawbacks
Vend's entry-level Lite plan is limited to businesses that process $20,000 in sales per month. To process anything higher requires upgrading to the Pro plan, which costs $159 per month when billed monthly. Adding ecommerce features or additional integrations to customize your Vend POS can add more subscription costs.
If you prefer a retail software with built-in ecommerce, consider Square. For better inventory and reporting features in a baseline plan, as well as access to loyalty, gift cards, and employee management features at no extra cost, consider Lightspeed.
How We Evaluated the Best Cloud POS Software
Cloud-based POS systems are designed for businesses that want the convenience of managing their stores remotely while reducing the amount of physical paperwork in the back end. Compared to traditional POS software, a cloud POS stores the majority, if not all, of its data online. This means a business owner can access all information about the business in real time, whether it has just one location or multiple across various sites and time zones.
In this review, we looked at the most popular online POS systems with cloud capabilities. We based our evaluation on what's important to small businesses, paying particular attention to price, inventory management, customer relationship management (CRM), online ordering, mobile reporting, contactless payment, and other mobile tools. We also considered ease of use and whether the service offered device compatibility, 24/7 customer support, and online tutorials and training.
Based on our criteria, we found Square to be the best cloud POS, receiving a total score of 4.55 out of 5. This system offers a purely cloud functionality, and all it needs to operate is a tablet and an internet connection. It comes with a free baseline plan that offers built-in inventory and ecommerce features, mobile reporting, and the ability to accept card payments while offline. Upgrading to Square's industry-specific software starts at a very reasonably priced $60 per month.
Click through each of the tabs in the box below for our evaluation criteria in detail:
25% of Overall Score
For this criterion, we considered the following features to be key to a fairly priced cloud POS software: a base plan that costs under $75 per month, a zero-cost installation fee, and the availability of volume processing discounts. We also gave points to those that allowed more than 10 users and devices and unlimited transactions.
25% of Overall Score
Second to cloud and mobile functions, we looked at whether the software had the basic features to help a business operate on the cloud. These include inventory management, employee monitoring, and customized reporting. Also considered in the evaluation is whether the software provided robust CRM and loyalty tools.
15% of Overall Score
Ease of use is important to operating software that work remotely. Thus, we gave points to those that offer compatibility with devices that run on popular operating software, online training and tutorials, and 24/7 access to customer support.
10% of Overall Score
We considered user reviews, any standout features for each system, how easy to use each product is, and whether it generally offers a good value for its price.
*Percentages of overall score
Cloud POS vs Traditional POS Systems
Cloud POS systems are not the only type of POS system on the market. In addition to web-based software, there are also locally installed and hybrid POS systems. These options are often better suited for businesses that need additional security and offline functionality.
A locally installed POS system stores data to a specific computer or device and cannot be remotely accessed. This is most popular among foodservice businesses, typically operating legacy POS systems. For example, SpeedLine, Aloha, and MICROS have been around for decades and operate by networking several terminals through a central server that is usually housed in a business's back office. A locally-installed POS only works on-site and cannot be accessed via the internet, so you can only make updates and view reports from your business location.
Such systems tend to be more secure than purely cloud-based systems, and they have no problem with offline functionality. They, however, tend to be much more expensive upfront. A brand-new locally installed solution will set you back $10,000 to $15,000 or more, but they usually don't have ongoing monthly fees.
A hybrid POS is a system that combines the flexibility of a cloud POS and the stability of a locally-installed POS. Many popular cloud-based POS, like Toast and Lightspeed, actually offer a hybrid installation option. A hybrid installation networks your terminals, printers, card readers, and other hardware through a free-standing server in your business location. The connections are usually made through Wi-Fi signals, though some rely on ethernet cabling.
This hybrid installation option is usually what gives some cloud-based POS stronger offline functionality. Hybrid systems tend to come at a slightly higher upfront cost than a purely cloud-based system, but they don't even come close to the expense of a locally-installed system. You can expect such installations to add $500 to $1,000 to your upfront costs because they usually require a visit from an installation technician to set up.
Bottom Line
Small business needs are changing faster than they ever have before, and the flexibility, speed, and mobility of a cloud-based POS can help businesses navigate an ever-shifting consumer landscape. Every business has different requirements, and the type of software tools they choose will reflect that.
Square POS's dynamic cloud-based tools come the closest to supporting the widest variety of small businesses with an unbeatable price tag. You'll find everything you need to get even a micro-retail, restaurant, or service business started. And, as your business grows, Square offers affordable paid plans, add-ons, and hardware to scale along with you. Sign up for free to see if Square is the right fit.