Business-to-business (B2B) sales is the process of selling to another business instead of to consumers. In general, it includes a more involved relational and consultative sales process, along with a longer sales cycle, as opposed to the transactional sales process that is more common with business-to-consumer (B2C) sales.
How Business-to-Business Sales Works
B2B sales works by managing relationships with other businesses that serve as your customer. This encompasses a range of different sales relationships, including professional service firms like accountants or business suppliers like maintenance companies. Usually, B2B sales teams are divided into territories with specific geographic areas and a defined portfolio to manage.
B2B sales organizations also rely on more robust sales support teams since they are often involved in more complex negotiations and contracts. This is usually because B2B sales involves selling a combination of products and services that companies use in their systems and process, resulting in higher overall costs and pricing.
B2B Sales Components
B2B sales involves a series of processes and best practices that help businesses build relationships with prospects and convert them into new customers. A few of the most important principles or components of B2B sales include the relational sales process, a well-thought-out sales pipeline, and effective account management.
Here are the critical components of B2B sales and information about each.
Relational Sales
Most of the time, business to business sales involve a relational sales process, also known as consultative selling. That means that sales representatives are focused on discovering a customer's needs through a relationship-based dialogue and seek to provide products and services that help address the specific pain points they uncover.
One of the key aspects of relational, or consultative sales, is that the sales rep's primary responsibility isn't just to try to sell whatever they can, but to engage with prospects to understand exactly what products and services will best suit their needs. The benefit is that this results in happier customers since the purchases they make are tailored to them, and longer-term relationships that increase the lifetime value of each customer.
The B2B Sales Pipeline
The B2B sales pipeline are the steps that you move sales opportunities through during the sales process. By defining clear stages in a pipeline, you're able to visualize where each opportunity is currently at, and what action steps are needed to keep them moving forward. For example, you might have stages for incoming leads, consultations, qualified leads, proposals, negotiations, and won/lost deals.
Usually, the sales pipeline for business to business sales are significantly longer than those for consumer sales. This is especially true for more complicated products or services that require complex needs assessments and requests for proposals (RFPs) like technology infrastructure or manufacturing.
Pro tip: One of the biggest benefits of a CRM is that it helps you manage your sales pipeline. Pipedrive has one of the most intuitive sales pipeline tools that makes it easy to drag deals through your sales process and keep track of where to focus your efforts and resources. Pipedrive also provides reporting and goal tracking, which helps you measure the effectiveness of your B2B sales strategy. Visit Pipedrive to start a free trial.
Account Management
One of the most important aspects of B2B sales that sets it apart from other strategies, especially B2C, is that it usually involves some form of account management in addition to more generalized sales management. That means that there are dedicated sales team members that are responsible for not only the initial sales process but maintaining the ongoing relationship and looking for new sales opportunities within your existing customer accounts.
The B2B Sales Process
One of the distinguishing characteristics of B2B sales is an intentional sales process that moves prospects and deals through a specific set of stages to qualify, assess, and win sales opportunities. This process is designed to help businesses find new prospects and convert them into customers by mapping out the specific action steps needed.
1. Finding Prospects
The first stage of the B2B sales process is to work out who your customers will be and how to find them in numbers. The goal is to create a steady stream of prospects you can qualify and begin to engage in the sales process. Successful sales reps make prospecting a part of their everyday life because they understand the need to balance closing deals with sourcing new opportunities.
Pro tip: Prospecting for a B2B sales organization is, in many ways, a numbers game that relies on increasing your influx of prospects that can be converted into new leads. Luckily, Pardot by Salesforce is offering a free ebook download on B2B Marketing Trends that explores how successful marketing and sales teams align around data to engage B2B buyers.
Identify Your Target
As you get started, you can create a customer profile, also known as a customer persona, as part of your sales plan to help you identify the right prospects. This is a summary of your ideal customer's demographics, like age, job title, and business type and paints a picture of their needs and pain points. For example, small business marketing managers may be members of the Content Marketing Institute, Marketing Pros, or they may attend events at the local chamber of commerce.
Research Each Prospect
As you identify new prospects, you should take a few minutes to learn more about them. Using a professional network like LinkedIn or reading through a prospect's website can give you valuable information about their former roles, education, and even personal goals. This information can help you both qualify the individual lead, as well as provide you with touchpoints for conversation when you reach out to begin the sales process.
A good way to break the ice with a prospect is to find something that you have in common. For instance, on LinkedIn, you can review your connects career history and connections to see if you have both been involved in the same business or know people in common.
Cultivating Referrals
For any successful salesperson, referrals are an important factor in B2B sales. Prospects who come to you from an existing customer's recommendation via word-of-mouth are much more likely to become a new customer, and they are less likely to push hard when negotiating on price. This is because they already view you as someone that they can trust who is likely to provide them with something that they will value.
Making referrals a part of your prospecting isn't complicated. It often means asking existing customers whether there's someone else they know that would also benefit from your product or service. Then, when you reach out, you're able to use your current customer as a mutual connection, which increases the chances that your new prospect will be open to a conversation about their needs.
Here are three tips for helping your happy customers refer more business to you:
Take customers for coffee or lunch one month after they have purchased from you to check that they are happy with their purchase. Schedule follow-up reminders in your customer relationship management (CRM) to make this a habit.
If they are happy with their purchase, ask your customer if they can introduce you to other potential customers like themselves.
Ask them to call or email people that they can refer to help set-up your meeting. If this doesn't work, ask if you can use their name when making contact yourself
2. Qualifying Your Prospect
Qualifying your prospect means making sure that they are a good fit based on their needs and other criteria. The purpose of going through this part of the process is to make sure you don't waste time later trying to sell to someone who isn't a good fit, isn't interested, or won't be a profitable customer. A qualified customer is someone with a need for your product, a budget that will allow them to buy, and is a decision-maker with the authority to make a purchase.
Often, your CRM will help you in the qualification process by scoring leads based on criteria you define. For example, if you sent a prospect an email, and they opened it and clicked on your product pricing page, the CRM would be able to assign a value reflective of their perceived interest based on their interactions.
3. Setting Up Meetings
The primary goal of the first part of the sales process is to gain appointments with qualified leads. It's at this meeting that you can begin a conversation around a prospect's needs―known as a needs dialogue―to determine what specific pain points your prospect has, and whether or not you can help them address those with the products and services you offer.
One of the important things to remember is that since you're trying to gain an appointment, every contact you have up to this point should be focused on that, instead of trying to sell your product during a cold call or introduction. You could ask a question like this, "I'm available on Wednesday at 11:30 a.m. or would Thursday at 4 p.m. work better for you?" While selling in person is always the best option, video or even phone presentations can also work.
4. Delivering a Pitch
A good B2B sales pitch should tell a story. The best way to do this is to introduce yourself and your business. Then, tell them upfront what your value proposition is. In other words, what's in it for them? Then, take them through a logical story. At the end of your pitch, it's also important to summarize your key messages, which also helps you to confirm understanding and commitment.
The key to doing this is to script your presentation, rehearse or dry run as often as you need to so that you no longer need to refer to your script, and make sure that you can complete it in 15 minutes or less so that you have half of your 30 minute meeting time to build a relationship, answer questions and discuss next steps with your future customer.
In-person presentations
When making a presentation in person, make sure that the room you are meeting in has the facilities that you need. For instance, make sure that there is a plasma screen and internet connection if you need it. When you arrive, be sure to thank the person who invited you in front of everyone else and then make eye contact with each person in the room. I always allow for five minutes for introductions so that you can understand the role of each person in the room.
Video Conference Presentations
When you're presenting at distance, and it's impractical to travel to be there in person, the next best alternative is to set up a video conference on a tool like Zoom. People often struggle to join video conferences, so it's worth providing simple step-by-step advice on how to join the call in your email, and the calendar invite for the meeting. Make sure you're using a simple platform that allows users to join without downloading software.
If you are sharing your screen to give an online presentation, it's worth pausing from time to time to make sure that your audience is still engaged and can hear you. If you are presenting in this way, it's even more important to leave time for feedback at the end as you will not have benefitted from visual cues and your audience will hopefully have questions for you.
Which Video Conferencing Software is Right for You?
Answer a few questions about your business, and we'll give you a personalized product match.
Phone Presentations
It's not ideal to try and sell over the phone, so I would always try to meet in person or at least video-conference whenever possible. This is because it's much more difficult to build a relationship from a distance, and you have no visual feedback to help you understand whether you are reaching the right notes. I suggest pausing every couple of minutes and asking a question to keep your audience engaged and to ensure that they are on the same page as you.
You need your product to be the star of the presentation, even more so if you cannot meet in person. So wherever possible, send through a sample or a sales brochure in advance.
5. Delivering a Cost Proposal
Once you have met with a customer, discerned their needs and offered a solution in the form of your sales pitch, you should have a plan to follow up with a formal cost proposal. While it can seem overwhelming, the most important aspect is to clearly articulate the needs of the customer, the specific solutions you offer, the associated costs, and finally, the benefits for him or her.
This is an important step in the process since it communicates to the client that you understand their needs fully and provides an opportunity to check to be sure you are all on the same page. A cost proposal also establishes expectations in a concrete way so that there are no surprises later, which can easily derail the sales process.
6. Negotiating Price
You should always complete your B2B sales pitch and work to overcome all objections before attempting to close and negotiate a price. This allows you to understand what your customer wants and how important your product or service is to them. This, in turn, enables you to understand the basis of any negotiation that you enter.
The following six tips will help you to secure more deals at the right price:
Negotiate face-to-face: Body language will help you to understand your prospect's true position. For example, if your customer cannot hold your gaze when they are asking for something, it's usually because they do not think it's a reasonable request or one they expect to secure.
Don't start negotiating until you have finished selling: The B2B sales process helps you to understand your customer's needs and to put yourself in the strongest possible position to negotiate by completing the sales process first.
Be honest and open to build trust: If you are honest and open, your customer is far more likely to reciprocate. It then follows that if there is trust on both sides, there will not be much need for slick negotiating tactics.
Be mindful of setting a precedent: As much as you believe that you are making a once only concession, the reality is that if you concede something to one customer, you are much more likely to concede it again to another customer. So be clear about where your bottom line is to avoid your profit from being erased.
Don't send the cost proposal until you are through negotiating: Things change, so make commitments once you understand where your customer stands on price.
Switch off your ego: The B2B sales process allows us to get the other party to share with us what it is they're looking for. Believe in your price, but allow your customer to feel in control, or they will not enjoy doing business with you.
7. Close the Sale
Closing is the most obvious role of a salesperson, though it doesn't happen without an intentional commitment to the entire B2B sales process. Unfortunately, sales reps who use high-pressure closing tactics, or rush to this stage without addressing customer needs fully, are what give many salespeople a bad reputation.
However, when consultative sales is done right, closing is the logical conclusion of an intentional process that gives the customer exactly what they want and need. In the context of consultative sales, it involves a simple process of asking a closing question that formalizes the solution you've already agreed will best meet their needs.
There are three best practices you can use to close more deals with consultative selling.
Be Prepared
Whenever engaging with a prospect in a consultative sale, you should always be prepared to close. That seems obvious, but salespeople often get to this point and are unprepared when the customer wants to make a purchase. If you require a contract, have one with you. If you take payment upfront, have a mobile card reader like Square handy to accept credit cards on the spot. Whatever you need to close the sale, make sure you are prepared and have it with you.
Assume That the Customer Wants to Buy
Salespeople often approach closing with a sense of anxiety about whether or not they'll make the sale. They worry about whether or not their customer is going to buy, and that uncertainty shakes their confidence in their expertise and in what they're selling. If you've done your job to this point, it's safe to assume the customer has reached this point with the same conclusion in mind, making a purchase.
For example, when you walk up to the cashier in a department store, she doesn't ask you if you want to buy the items you place on the counter. Of course, you do. You wouldn't be standing there if that wasn't the case. The cashier assumes you're there to purchase and acts accordingly. You should do the same with your customers. Move forward with confidence that they are going to say yes. If the answer is no, they'll let you know.
Ask a Multiple Choice Question
The goal is to ask a multiple-choice question where every answer is yes. Think about the cashier again. Instead of asking you if you are ready to make a purchase when she finishes ringing up your order, she asks, "would you like to pay for that with a check or credit card?" It doesn't matter to her which the customer chooses because either is a sale.
In your case, you might say to your customer, "To get started on your project, we need to take a 50% retainer. Did you want to take care of that with a check or credit card?" It helps to practice this closing question so that it becomes natural and second nature for you. This will both reduce the anxiety that comes with closing and increase your credibility with the prospect since they will recognize and appreciate your confidence.
Who Business to Business Sales Is Right For
It might seem obvious that business to business sales is for businesses that sell to other businesses, which is true but, in reality, there are specific types of businesses that often use the sales process described in this article. For example, if you're an office supply store, you might sell supplies to an office manager who walks into your store, but that's not usually classified as B2B sales, even though he might be purchasing items for his company.
On the other hand, if he purchased the same items through a dedicated business sales rep or corporate purchasing program, it would probably be considered B2B sales. That's because it would likely involve a more organized sales process and account management features.
Here are a few examples of the types of businesses that commonly use B2B sales strategies:
Information technology (IT) service consultants and providers: Businesses that sell hardware and software, along with support and consulting services to help other companies manage their infrastructure.
Manufacturing: Companies that manufacture parts and components for other businesses like engine part suppliers, tool and die makers, or CNC machining companies.
Landscape contractors: Businesses that design and maintain landscaping for other businesses, including regular services like mowing and/or snow removal.
Marketing agencies or professional services firms: Businesses that provide professional services like marketing and ad agencies, accounting firms, or consultants.
Wholesalers: Whether it's a bakery that sells its products to the local grocery store or a toymaker that sells to Target or Walmart, wholesalers sell products in large quantities to other businesses who then make them available to users or customers.
B2B Sales Costs
B2B sales often adds additional costs compared to B2C sales since it requires a more complex sales organization including inside and/or field sales teams. In addition, since the process often stretches over a longer period of time, there is an increased commitment of resources for each sale.
Here are a few costs that your B2B sales team should consider:
Sales compensation: Create the right kind of compensation plan that will reward your team for their performance and meet the needs of the business requires a variety of considerations.
Software and technology: Because B2B sales teams are often based in a field territory, keeping everyone on the same page requires technology like mobile devices, software, and communications tools, all of which have associated costs, ranging from free to hundreds of dollars per month, per salesperson.
Sales support: Making sure your team is successful means having the support they need to close deals. This means having resources to help handle contracts, marketing materials, and even pricing issues, all of which add additional costs to your sales process.
B2B sales are generally more expensive, but the trade-off is that often the products and services are more complex, and often, higher value. As a result, the increase in costs, compared to B2C sales, is easily offset by the higher revenue generated per sale.
B2B Sales Tools
There is a range of different tools that can help you in your B2B sales process. A smart sales organization takes advantage of the technology and tools that make their sales team more productive, so we wanted to be sure to include a few of our favorites for you to consider adding to your sales toolkit.
Here are three sales tools that can help increase the effectiveness of your B2B sales process.
Who it's for: Small businesses who sell both products and services and are looking for pipeline-driven sales process and a clean and simple user interface.
What it costs: $12.50 to $49 per month, per user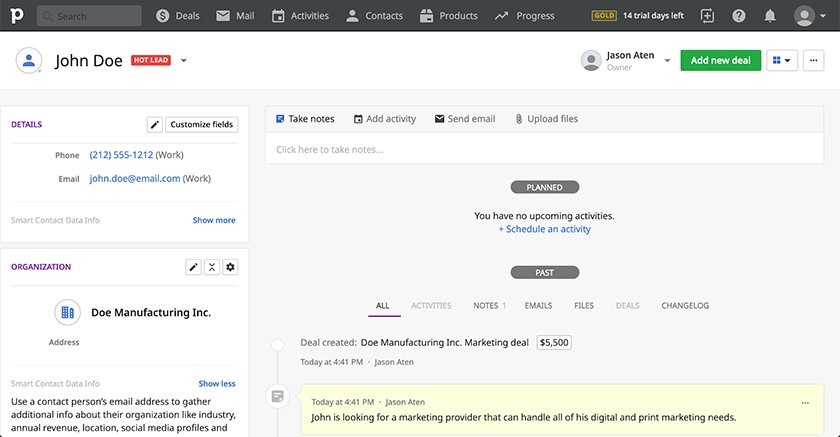 Pipedrive is a small business CRM that is designed around a highly visual sales pipeline, making it easy to move deals through your sales process. Pipedrive also includes product catalogs, email tracking, and individual and team sales goals, making it best for businesses with a catalog of products or services looking to manage contacts and sales opportunities through an interactive sales pipeline
Who it's for: Users wanting a verified database to search for contact information based on company, industry, geographic location, or role, and download them directly to your CRM.
What it costs: $49 to $299 per month
UpLead is a lead-purchasing database that describes itself as a "real-time verified B2B database that helps you find new customers and accelerate growth." It helps enable your sales team by providing lists of email addresses in a searchable database that they have verified for accuracy. UpLead verifies these contacts upon export, ensuring that users won't end up with large lists of bounced emails or take a hit to their sender reputation due to bad email addresses.
Who it's for: Sales reps who want to embed video messages with their email and track engagement.
What it costs: Plans start at $35 per month for up to 2,500 contacts.
BombBomb helps agents easily create personalized videos, insert them directly into emails, and track who watches them. Including videos in your emails helps them stand out in a crowded inbox and has resulted in more than 80% more replies and responses for BombBomb's clients. Using video in your email is a great way to introduce a new product or service to an existing customer. Plus, because it's not an attachment, your video message gets delivered and seen.
Benefits of B2B Sales
The benefit of developing your B2B sales process is that it will help you qualify and win more sales opportunities, which generates more profitable revenue for your business. It also results in more satisfied customers since it helps you focus on their needs and provides solutions that address their pain points.
A few more benefits of a B2B sales process include:
Winning more high-value deals: Having an intentional process to move deals through your sales pipeline results in a higher conversion rate and allows you to focus on the highest-value deals better.
Focusing on the most qualified leads: The B2B sales process helps your team be more efficient since it allows them to identify and focus their efforts on the most qualified leads, and prioritize which customers deserve attention.
More satisfied customers: Because the B2B sales process is about meeting customers' needs, it results in more satisfied customers who are more loyal over time. This reduces the cost of acquiring new customers and creates long-term value for the company.
Difference Between B2B & B2C Sales
While we touched on it briefly earlier in this article, there are substantial differences between B2B and B2C sales that matter to your business. While most businesses aren't in a position to choose between the two since it is largely dictated by the products and services you sell, it's worth understanding the difference.
One of the biggest differences it the audience. Most often, in B2B sales, you'll be dealing with an educated buyer. In many cases, that will be a business owner, executive, or purchasing manager. That means that the process is generally more sophisticated. I don't mean that consumers aren't sophisticated, but that the process is generally more complex than B2C sales and often has more steps, requirements, and conditions involved in making buying decisions.
Bottom Line
While B2B sales usually involves a more complex process than B2C sales, it doesn't have to be complicated. This article has given you the information and tools you need to understand the components of B2B sales and create a process that works for your business.