Business-to-business (B2B) selling involves selling a product or service to another business. B2B selling often requires a lengthier sales process and a distinct set of consultative sales skills for reps engaged in this type of role. We'll explain what B2B sales is in greater depth, provide common examples of B2B businesses, and explain some of the unique components that make business-to-business selling more complex than selling to individual consumers.
What Is B2B Sales?
B2B sales describes businesses that sell products or services specifically to other organizations. This can include for-profit companies as well as nonprofits and not-for-profits such as trade associations and community associations. They are all in contrast to business-to-consumer (B2C) businesses that sell directly to individual customers like you see in retail stores or restaurants.
Aside from the types of customers served, some of the key distinctions between B2B and B2C sales include the selling process, typical marketing strategies used, and the employment of direct sales techniques. For instance, B2C sales usually have a much shorter sales process and use product-driven marketing strategies such as free samples, which don't require any advanced sales techniques.
Business-to-business sales, on the other hand, can have a process that takes years and commonly uses marketing assets and content strategies to generate leads, such as podcast appearances or e-book publications. Furthermore, because of the specialization in knowledge needed to sell in B2B markets and the skills required, such as emotional or consultative selling, B2B sales reps generally require more sales training than B2C reps.
Examples of Business-to-Business Sellers
Any business that can provide solutions to another organization qualifies as engaged in B2B sales. While most of these companies exclusively sell B2B, certain firms, such as accounting companies, insurance agencies, and general legal services firms, sell both B2B and B2C. Here are a few common business-to-business sellers:
Accountants, tax preparers, and payroll providers: Businesses that help other companies manage and track finances, file taxes, and process payroll.
Lawyers: Professionals who help other organizations navigate the "red tape" in running a business, such as registering intellectual property, handling litigation and civil suit issues, and generating and reviewing service contracts.
IT management firms: Businesses that help manage other organizations' technology assets and infrastructure while providing continuous support as needed. Some will also develop and maintain their clients' cybersecurity programs.
Technology and cybersecurity consultants: Specialty businesses that help develop or improve posture for technology-related initiatives such as cybersecurity, workflow automation, and system centralization.
Marketing agencies: Firms that help other organizations spread brand awareness or generate leads through content (e.g., videos, articles, graphics, podcasts) development, search engine optimization (SEO), website design, social media management, email marketing, and online advertising.
Sales consultants and outsourced sales services: Firms that consult other companies on sales processes, techniques, and sales management or represent their clients in sales activities as a service through telemarketing.
Management consultants: Professionals who advise or manage another business' high-level functions like business strategy, operations, or human resources.
Supply chain companies: Businesses that manufacture or wholesale products for other businesses as well as those that assist with the logistics, transportation, storage, and distribution of product lines.
Insurance agencies: Professionals who sell commercial insurance products such as commercial property, liability, and workers' compensation to other organizations. Some also sell and administer employee benefits packages.
Staffing and placement services: Firms engaged in full-time staffing, temporary and contract employee placement for projects, and executive recruiting services for other businesses.
Software and software-as-a-service (SaaS) businesses: Businesses developing and selling software or web applications to other businesses.
Administrative assistant services: A relatively new business, these firms manage day-to-day administrative work such as event scheduling, document management, email management, and certain office management activities as a service to other businesses.
Components of B2B Selling
There are three major differences between B2B selling and B2C in terms of how sales take place and activities needed after a business deal is finalized. Here are the main components of B2B selling:
Lengthy Sales Process
More often than not, a business-to-business selling process takes much longer than a B2C sale. For many ecommerce, retail, restaurants, or hotel and hospitality businesses, a person might see an advertisement online or a physical store sign that makes them interested and then pulls the trigger on a purchase from that establishment shortly after.
B2B requires relationship building with decision-makers, gauging their interest in hearing about your solutions and how they can help their business, business proposal generation and negotiation, nurturing, then finally, a purchase decision. Even after a decision, however, you might lose out to another provider due to budget changes or rejection by the board, in which the process gets elongated until that firm is interested in shopping around again.
The full cycle, from introducing your brand to closing a new deal with a client, can take months to years to finalize. Learn more about what a typical B2B sales process looks like in our comprehensive guide to creating your own successful sales process.
Personalized Selling Approach
B2B sales often involve a personalized selling approach to find a custom solution that fits the prospective client organization's unique needs. This contrasts with many B2C businesses, which have a set product like an entree, electronic device, or bag of coffee beans where it's available on the shelf, menu, or on the website to either purchase or not. There likely isn't a specialized sales rep involved trying to help them navigate their options.
Sales professionals in a B2B environment use consultative selling by serving as an account executive, business development rep, or outside salesperson to educate and determine their customer's needs. After that process, they tailor their products or services to meet those unique needs. This component of B2B sales requires the reps involved to be well-versed in the solution they provide, in addition to direct selling, prospecting, and communication skills.
Account Management
A major aspect of B2B sales is the activities that take place after a deal is closed. There is usually some form of client onboarding where work needs to be done to ease them into becoming a full customer. This may include undergoing software training, enrolling in a service provider's application system, conducting an audit on the client's technology or business processes, or completing a series of documents needed for the B2B service.
Plus, some account management activities usually come with transitioning the client to a new point of contact—an account manager. Account management involves invoicing, payment collection, product support, handling service requests, and advising on new or other solutions the client could purchase. Any types of upgrades come in the form of customer upselling or cross-selling.
B2B Sales Tools
Much of B2B sales involves using direct selling to create new opportunities and finalize purchases. With that said, there are certain types of sales technology invaluable to B2B sales operations for organizing sales data, communicating with leads, automating sales tasks, and ultimately enabling your team to sell more effectively. Here are a few standard B2B sales tools helpful for small businesses:
Customer Relationship Management (CRM) Systems
Customer relationship management (CRM) systems give businesses a centralized platform to store and organize information on customers, leads, and the status of the sales pipeline. Managers also use a CRM to track sales activity and total production through available reporting tools. Finally, with built-in tools and integrations, teams can use a CRM to directly communicate with contacts through email, telephone, or live chat.
Salesforce is one of the most popular CRM platforms on the market for teams looking to manage lead data and track where each opportunity is in the pipeline. Salesforce allows users to store and view information on a lead on a list or profile view, where they can see contact information, the lead's job title, interaction history with your business, and tasks that need to be completed around that specific opportunity.
CRMs also help teams monitor the progress of their sales opportunities. HubSpot, for instance, lets you view pending deals as cards on a Kanban-style board with various stages of the sales pipeline. Users can drag and drop each opportunity as progress is made and collaborate with each other on activities needed to get a lead through the pipeline.
Communication Platforms
Sales reps in B2B selling need communication channels to directly talk with prospects one-on-one. One option they can use is a voice-over-internet-protocol (VoIP) telephone system, where users can make and receive calls directly over the internet without the cables or hardware required for a traditional telephone system.
VoIP phone systems can be used through a standalone application or through a CRM system. While most CRMs allow you to integrate an external VoIP software application such as RingCentral, some platforms, like Bitrix24, offer a built-in telephone system. Users can place calls directly from a lead, contact, or deal record through click and call or can simply dial a phone number from the interface.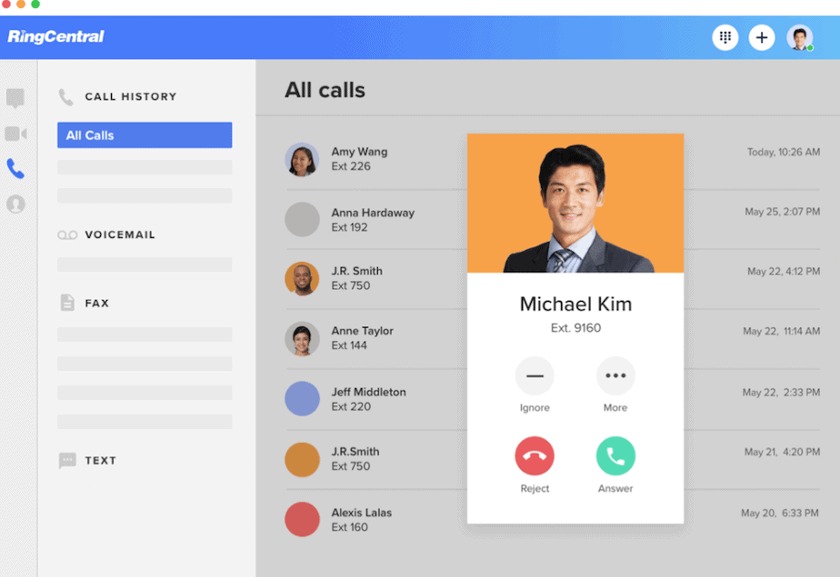 ---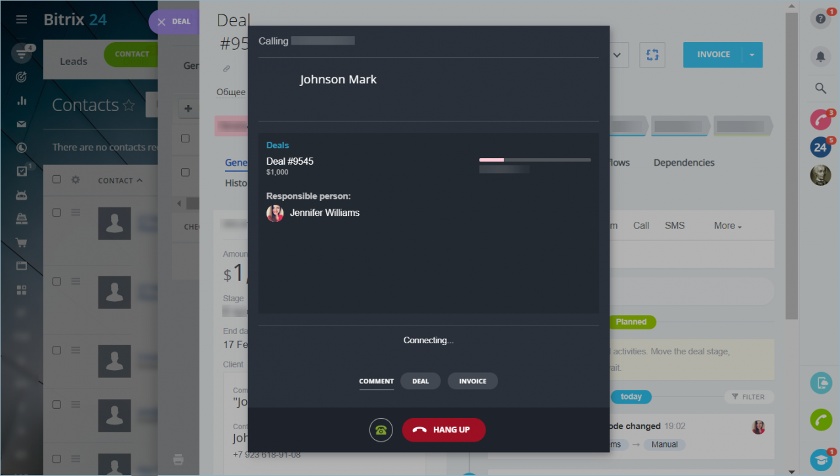 ---
In recent years, one trait of how COVID changed B2B sales was the increased use of video conferencing software to network and connect with business leads. Furthermore, 77% of B2B decision-makers would now instead meet on video than a phone call. Platforms like Zoom became extremely popular for their video conferencing capabilities and supplemental features such as live chat, screen presenting, and breakout room options during a video call.
Email Marketing Software
As we mentioned earlier, the B2B sales process is long and often requires plenty of nurturing throughout the stages. Email marketing tools with automation capabilities let businesses design professional emails and send them to a mass audience at once. They also help with automating email deployment based on a lead's prior behavior, such as clicking a link or downloading a marketing asset.
You can use these marketing platforms as is or have them integrated with a CRM system that would already store the contact recipient data. One example is Mailchimp—a popular email automation tool for designing, deploying, and redeploying email campaigns and comes with free templates to work with. There are also great reporting tools and dashboards to track your campaign's effectiveness and overall results.
Sales Automation Tools
Sales automation software allows you to automate recurring tasks in your sales process, giving your reps more time to focus on relationship building and prospecting. There are many automation tools available that integrate with your CRM, such as Mailchimp for email automation or Leadiro for automating lead generation tasks. You can also use Zapier, which lets you create automated workflows between external applications in the form of "Zaps."
Each Zap represents a flow of things that will be completed hands-free based on preconfigured, concurrent events. For instance, you can make a Zap anytime a B2B lead submits an interest form on your website. Their data is automatically added to the CRM, and they receive an email to schedule an appointment, which is automatically assigned to a rep and added to their calendar.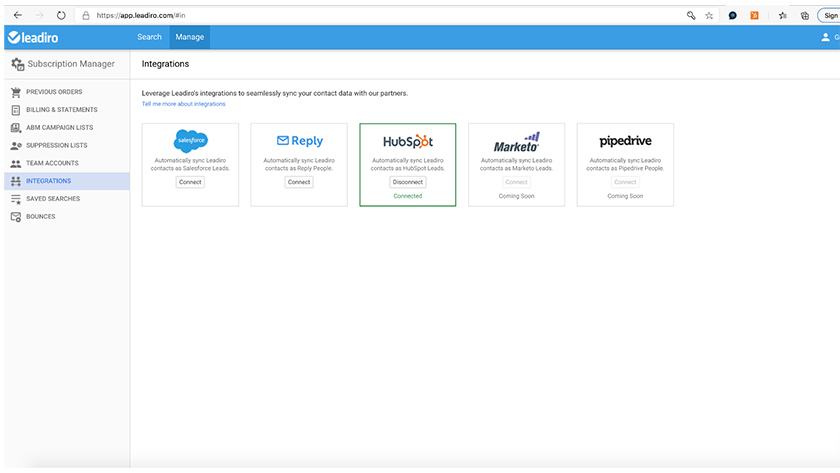 ---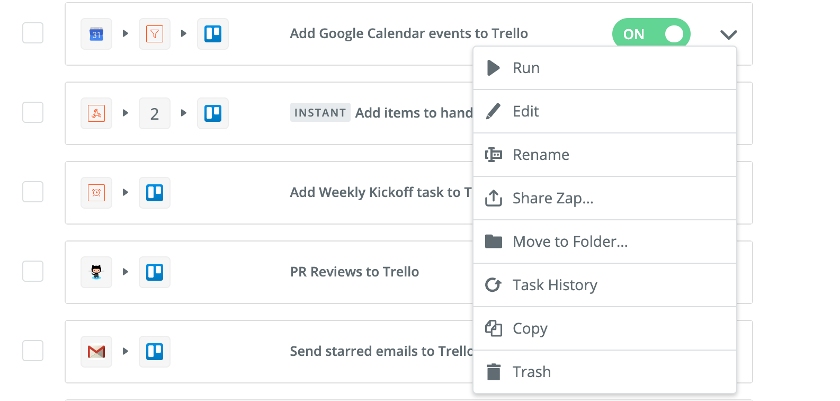 ---
Another great workflow to automate, especially in B2B sales, is appointment scheduling. Rather than back-and-forth emailing with a lead to find a time that works, tools like Calendly let your leads find an open time in your schedule to make and confirm a time. Users can sync the events to their calendars and connect them with other communication systems such as Zoom to automatically create a client meeting via a video conference call.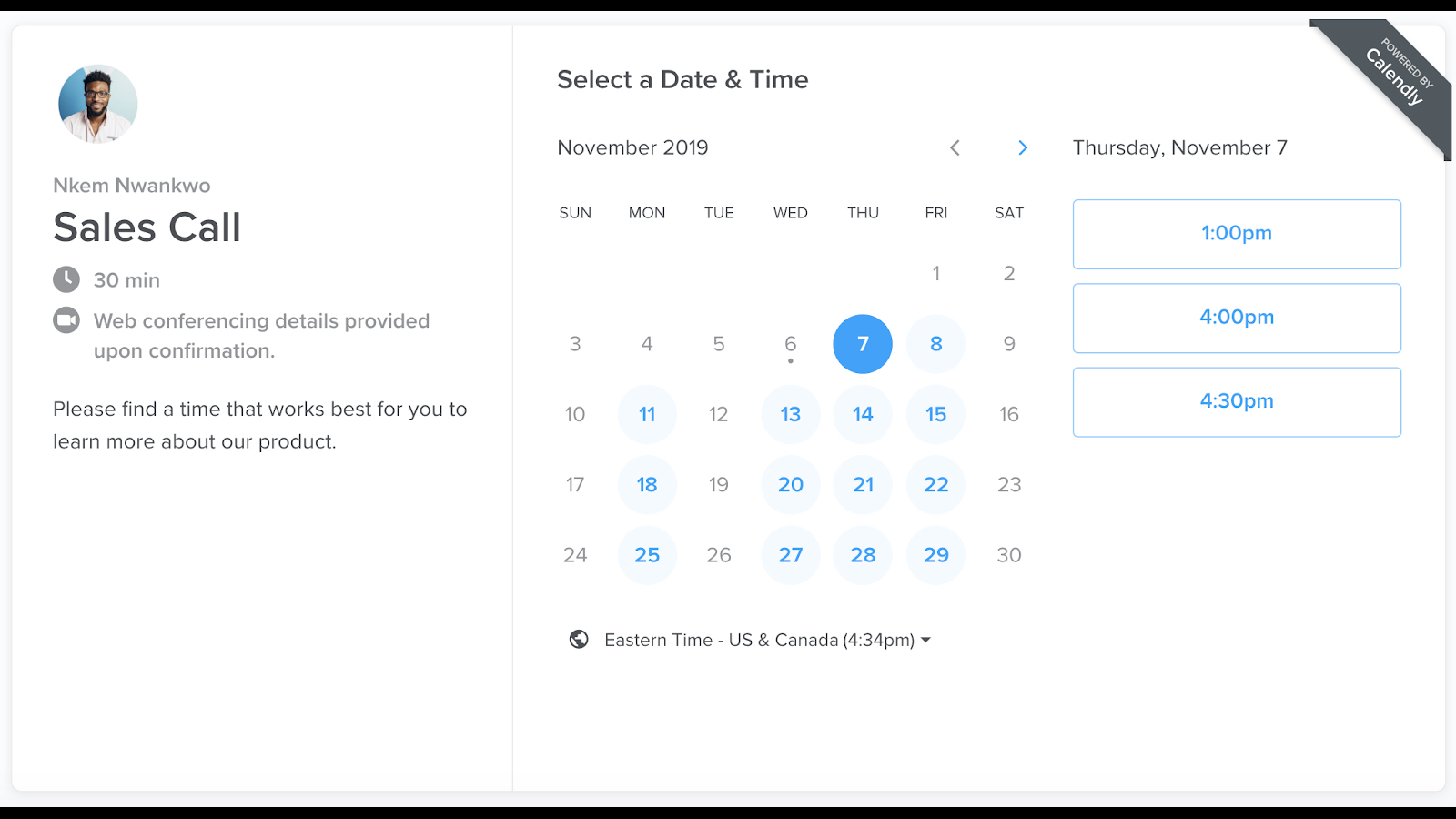 ---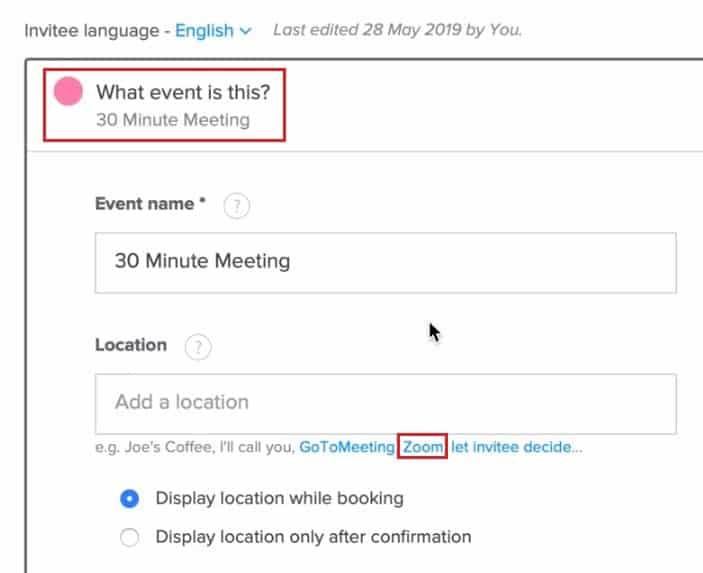 ---
Finally, any type of automation tool that helps generate contracts and obtain signatures is essential in a B2B sales operation. DocuSign is an excellent platform where businesses can upload premade contracts, proposals, or service agreements, insert the client's identifiable information, and then send it out for review and signature. This workflow is far quicker than manually tailoring a contract and having each party physically sign it.
Business Lead Generation Services
Did you know that 40% of reps say prospecting and researching potential customers is the hardest part of their sales process? B2B businesses that do this internally first research prospects that fit their solution criteria, create a contact list, and then likely import that list to a CRM or other database. Lead generation services skip all of these steps and generate a large contact list based on geographic, demographic, and behavioral characteristics.
UpLead, for instance, is a B2B lead generation platform that compiles contact lists based on firm size, industry, job title, job function, and location so your B2B sales team can focus on selling rather than research and data entry. UpLead also allows contact lists to be exported into popular CRMs such as Pipedrive, Salesforce, and Zoho, allowing you to keep everything centralized.
Bottom Line
B2B selling specifically targets other organizations for your products or services. Because of the potential cost and operational implications of a business' purchase decision, the entire process in B2B sales is longer, more complex, and requires reps to have technical knowledge of what they're selling in addition to understanding direct selling. B2B companies frequently require additional onboarding and account management activities after a deal is closed.