Whether you're selling office supplies or commercial real estate, the B2B sales process has many of the same, predictable steps. Understanding and mastering these steps is key to the success of any small business owner or salesperson. In this article, we provide a simple guide through the B2B sales process.
Managing your sales process and keeping track of contacts can be a nightmare and wreck your B2B sales efforts if not done right. Pipedrive CRM allows you to easily send, receive, and track emails, get follow up reminders, and visualize your sales pipeline, all in one tool. Click here for a free 14-day trial.
What is B2B Sales?
B2B sales (or business-to-business sales) is the process of selling from one business to another as, opposed to selling to an individual consumer, which is called B2C sales. For example, if I sell furniture to Walmart, this is a B2B sale. If Walmart sells the furniture to a customer visiting their department stores, this is called B2C sales.
B2B Sales Follows the Sales Cycle
One of the most important distinctions between B2C and B2B sales is the often long and methodical process B2B sales follows. This is usually called the sales cycle, or B2B sales funnel. In this guide, we're going to explain this process in detail.
1. Finding Prospects
The first stage of the B2B sales process is to work out who your customers will be and how to find them in numbers.
Define Your Ideal Customer & Where to Find Them
To begin, you'll find yourself working hard to find prospects. But as you learn and refine your approach, you'll soon work out where you can find them in numbers. Successful sales reps make prospecting a part of their everyday life because they understand the need to balance closing deals with sourcing new opportunities.
The best place to start is to search online for businesses that you think are likely to use your product or service. For example, you may search for marketing managers if you are selling small business presentation software.
Once you find target customers, you can create a customer profile. This is a summary of your ideal customer's demographics, like age, job title, and business type. It also captures other important info like how they behave and the watering holes where you can find them. For example, small business marketing managers may be members of the Content Marketing Institute, Marketing Pros or they may attend events at the local Chamber of Commerce.
Once you learn the right questions to ask, it's easy to find the customers you are looking for. You may also want to consider buying a list of customer contacts that match your customer profile. We have written an article on the best place to buy leads lists, which will help you to explore this further. If you do not have a budget for this, you can use Google and linkedIn to search for your prospects in the early days and build your own list.
Research Each Prospect
Now that I've defined which companies I want to speak with, I have to begin researching the individuals at those companies. The more salespeople know about their prospective customers the better. This knowledge will allow you to complete each of the subsequent steps in the B2B sales process more easily and to a higher standard.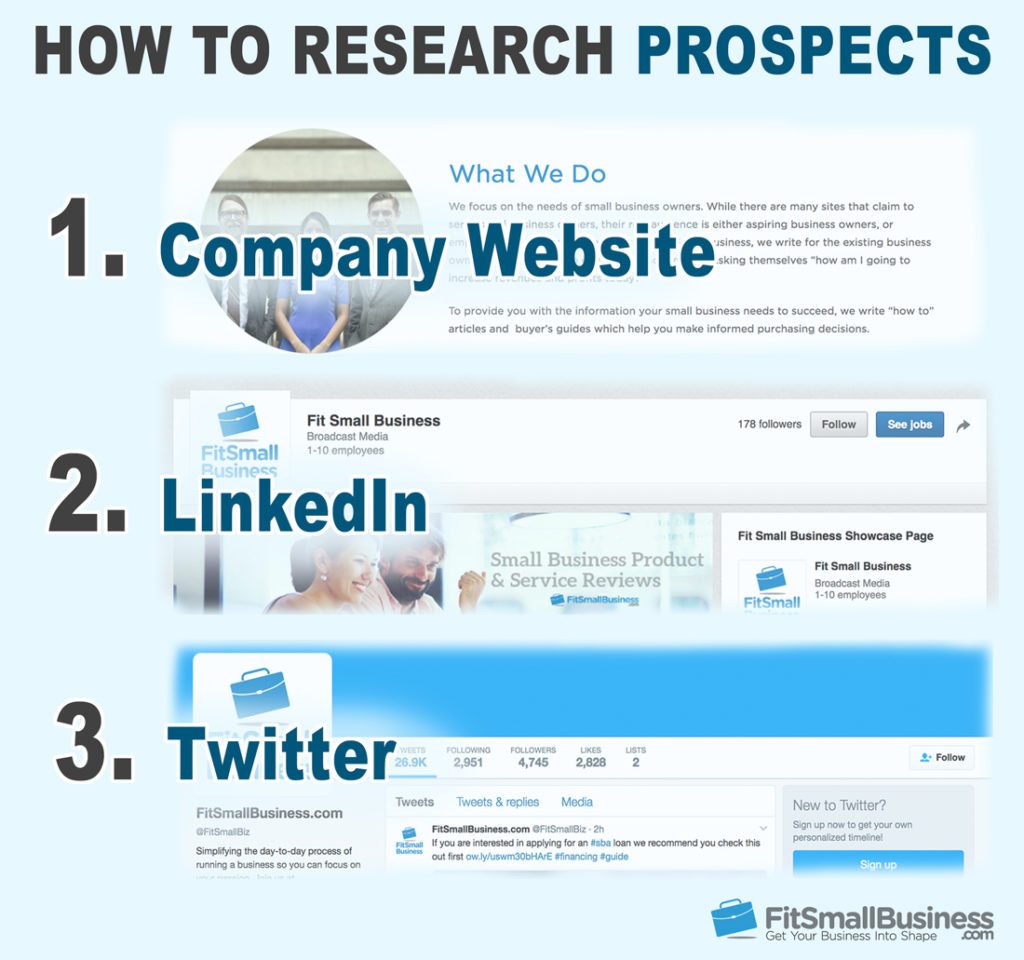 These days, it's amazing how much you can learn about your prospects online. Start by taking a look at their website and also use platforms like LinkedIn to help you understand the individuals as well as the businesses they work in. A good way to break the ice with a prospect is to find something that you have in common. For instance, on linkedIn you can review your connects career history and connections to see if you have both been involved in the same business or know people in common.
If you are trying to find a phone number or email address for a specific contact. You can usually find this via Google Search of their name plus the words "email address." If they have a common name, then search for their name plus the name of the company you are contacting plus "email address."
You may also want to use Company profiling site like DueDil to understand what sort of financial shape the business is in. Is your prospect showing solid growth and can it afford to buy the products and services you are selling?
Don't Forget About Referrals
For most successful salespeople, referrals are also a big source of B2B sales. In my experience, this accounts for around 50% of an established small business' leads.
Customers who come to you from an existing customer's recommendation via word-of-mouth are much more likely to become a new customer and they are less likely to push hard when negotiating on price. This is because they already view you as someone that they can trust who is likely to provide them with something that they will value. This is why good quality word-of-mouth referrals are 10x more likely to result in B2B sales than cold prospects.
It's important not to take referrals for granted. Each customer referral needs to be given the same positive experience so that they, in turn, want to buy and refer you on again to more future customers. Happy customers are loyal and they like to think that they are part of your success story so it's worth looking after them well so that they keep on giving.
Here are 3 tips for helping your happy customers to refer more business to you:
Take customers for coffee or lunch one month after they have made a purchase from you to check that they are happy with their purchase. Schedule follow-up reminders in your CRM to make this a habit.
If they are happy with their purchase, ask your customer if they can introduce you to other potential customers like themselves.
Ask them to call or email people that they can refer to help set-up your meeting. If this doesn't work, ask if you can use their name when making contact yourself
2. Cold Contact
Let's assume that you have found the right customer prospects to be your potential buyers. With a B2B sales opportunity, you'll often be developing a relationship with a person whose job it is to investigate new products and services.
Whether you contact them by phone or email, it's important to create a good first impression, to demonstrate that you may be of positive value to them and to secure the opportunity to meet face-to-face if at all possible. If you want to learn more, you may find our beginner's guide to cold calling useful.
If you decide to contact cold prospect by email first and then follow-up by phone, you may find this article useful, which explains how to write an effective sales email.
3. Qualifying Your Prospect
In order to properly qualify or confirm that there is an opportunity to make a B2B sale. You need answers to the following questions:
Does the business you are targeting have the budget for what you are selling?
Are you dealing with the person that has the authority to make the purchase?
Do they have the need to make a purchase?
Are they going to make a purchase in the near future?
So to do this, you'll first need to find the decision-maker with enough authority to make a decision, and then speak with them to find out whether they have the need to make a purchase in the near future, or if not, when to re-contact them.
Reaching a Decision Maker
The challenge you will face is that decision-makers are well protected because they receive lots of cold calls. Often you will find that you are passed to someone that has been put in place to help screen their calls.
There are 3 ways you can deal with this:
Call them at various times of the day until you get through
Have a proper call or meeting with the receptionist who will probably be able to confirm who the decision maker is and the best time to call
Meet with one of the decision-makers line reports and pitch effectively to them to earn the right to meet with the ultimate decision-maker
You may also find this article interesting that provides you with 25 Top Cold Calling Tips from the Pros.
Pro Tip: Before you pick up the phone, make sure you have a good system for tracking your contacts. You don't want to miss a sale just because you've lost track of where your customers are in the sales process or forgot to follow up with them.
Pipedrive CRM makes it easy for you to follow your customer's journey, from first contact to making a purchase. You get a visual sales pipeline that shows you where to focus and what actions are needed to help you close more sales.
4. Setting-up Meetings
Now you have some simple tactics to help you get through to the right person, when you get through to them, you need to make it easy for them to agree to an appointment and be prepared to do anything within reason to make it possible to meet.
The best B2B salesperson I know, offers to drive prospective customers to work to secure the opportunity to meet one to one and get their prospect's undivided attention. He earns seven figures every year and has done so for over 25 years.
The best place to start is to explain the purpose of your call, the service that your company provides, and then to complete your qualification of the decision-maker by ascertaining whether they have a current need for your product.
When possible, try to avoid selling the product over the phone, as you really want at least 30 minutes of their time and supporting materials to pitch your product effectively. You could ask the question like this, "I'm available on Wednesday at 11:30am or would Thursday at 4pm work better for you?" While selling in person is always the best option, video conferencing or even phone-based presentations can also work.
It sounds obviously, but don't forget to be upbeat, positive and courteous and once you have a date agreed, follow-up immediately to confirm it in their calendar.
5. Delivering a Pitch
When you've earned the right to meet your prospective customer, it's important to make the most of the opportunity.
The key to doing this is to script your presentation, rehearse or dry-run as often as you need to so that you no longer need to refer to your script, and make sure that you can complete it in 15-minutes or less so that you have half of your 30-minute meeting time to build a relationship, answer questions and discuss next steps with your future customer.
What A B2B Sales Pitch Should Contain
A good B2B sales pitch should tell a story. The best way to do this is to introduce yourself, your business and then tell them upfront what your value proposition is. In other words, what's in it for them. Then take them through a logical story. At the end of your pitch, it's also important to summarize your key messages, which also helps you to confirm understanding and commitment.
Here is the flow I favor when making a B2B sales pitch:
Introduce you and your business and state the potential benefit arising out of your pitch presentation upfront
Set the industry context
Explain the key problems keeping most customers awake at night
Explain how this impacts negatively on your prospects business performance
Calculate the cost of this
Show how the competition provide solutions that don't quite solve the problem
Show how your product provides a better solution
Summarise the key messages that you have delivered
To learn more about what your pitch presentation should contain and how to prepare for a pitch meeting, I would recommend reading how to create an effective pitch presentation.
Meeting Face-to-Face
When making a presentation in-person, make sure that the room you are meeting in has the facilities that you need. For instance, a plasma screen and an internet connection if you need it.
When you arrive, be sure to thank the person who invited you in front of everyone else and then go on to make eye contact with each person in the room. I always make 5-minutes for introductions so that you can understand the role of each person in the room. The polite way to do this is to kick-off yourself.
There are lots of tools that can help you to create a great pitch presentation in-person. We have written another article, which explores the best presentation software currently available to making pitch presentations.
Video Conference Presentations
When you're presenting at distance and it's impractical to travel to be there in person, the next best alternative is to set-up a video conference on a tool like Zoom or Skype.
People often struggle to join video conferences, so it's worth providing simple step-by-step advice on how to join the call in your email, and the calendar invite for the meeting. Make sure you're using a simple platform that allows users to join without downloading software.
If you are sharing your screen to give an online presentation, it's worth pausing from time to time to make sure that your audience is still engaged and can hear you clearly. If you are presenting in this way, it's even more important to leave time for feedback at the end as you will not have benefitted from visual cues and your audience will hopefully have questions for you.
Phone-Based Presentations
It's not ideal to try and sell over the phone so I would always try to meet in-person or at least video-conference whenever possible. This is because it's much more difficult to build a relationship at distance and you have no visual feedback to help you understand whether you are reaching the right notes.
I suggest pausing every couple of minutes and asking a question to keep your audience engaged and to ensure that they are on the same page as you.
You need your product to be the star of the presentation, even more so if you are not able to meet in person. So wherever possible, send through a sample or a sales brochure in advance.
If you want to learn more about the all the other aspects of delivering a sales pitch, I recommend reading How to Create a Winning Sales Pitch.
6. Delivering a Cost-Proposal
Now you have delivered your B2B sales pitch and followed-up effectively, it's time to deliver a written cost proposal to your customer. Writing a B2B sales proposal is an art because you need to be able to balance promoting your business with an honest and straightforward assessment.
As a result, we have created a separate guide on this stage called how to write a business proposal, which tells you everything you need to know about writing a business proposal including:
Introduction — Start by introducing your company and mission in a way that relates to your potential client's needs.
Executive Summary — The executive summary is one of the most important sections in your proposal. This is where you should present the case for why you are the right company for the job, and give the reader the takeaway message of the proposal.
Table of Contents — A table of contents can be helpful for longer proposals with lots of details. List each section (and subsection) with their corresponding page number.
Main proposal — Once you have presented your overall case in the Executive Summary, you can outline the specifics of your proposal. This is where you can answer the "who, what, when, where, how, and why" questions.
Conclusion — Once you have outlined the details of your proposal, re-emphasize the exceptional results your company can provide.
Appendix — The Appendix is an optional section that you can use to include information that might not fit well in the body of your proposal. For example, you can include resumes or additional graphs, projections, and customer testimonials.
7. Negotiating Price
I'm a firm believer in completing your B2B sales pitch and overcoming any and all objections before attempting to close and negotiate price. This is because it gives you the opportunity to understand what your customer wants and how important your product or service is to them. This, in turn, allows you to understand the basis of any negotiation that you enter.
When it reaches the stage when your prospective customer wants to discuss your cost proposal in greater depth, most will let you know. If they don't, ask them. You could say, "Is there anything in the cost schedule that you would like to understand in more detail?"
The following 6-tips will help you to secure more deals at the right price:
Negotiate face-to-face: Body language will help you to understand your prospect's true position. For example, if your customer cannot hold your gaze when they are asking for something, it's usually because they do not think it's a reasonable request or one they expect to secure.
Don't start negotiating until you have finished selling: The B2B sales process helps you to understand your customer's needs and so put yourself in the strongest possible position to negotiate by completing the sales process first.
Be honest and open and build trust: If you are honest and open, your customer is far more likely to reciprocate. It then follows that if there is trust on both sides, there will not be much need for slick negotiating tactics.
It might not be the only time: As much as you believe that you are making a once only concession, the reality is that if you concede something to one customer, you are much more likely to concede it again to another customer. So be clear about where your bottom line is to avoid your profit from being erased.
Don't send the cost proposal until you are through negotiating: Things change, so make commitments once you understand where your customer stands on price.
Switch off your ego: The B2B sales process allows us to get the other party to share with us what it is they're looking for. Believe in your price, but allow your customer to feel in control or they will not enjoy doing business with you.
8. Closing the Deal
All B2B sales experts have a slightly different take on what is key to closing the deal. Though most would agree that you cannot go too far wrong if you focus on these 6 principles:
Sell first: Before you close a sale, you must first earn the right to ask for the business. To earn the right, deliver on your promises by following-up on customer information requests. You also earn the right by showing up on time, being prepared, and respecting the customer's time.
Ask for next steps at every stage: If the customer takes too many tasks away there is the risk that they will not get completed. Be prepared to help the customer complete their actions, the next stage could then be to close the deal.
Give and take: Most customers will ask you for something. It could be a discount, more service, introductions, easier terms. Each time the customer asks for something, try to give it if you can and you will have earned the right to ask for something in return.
Sell on value not on price: Value is determined not by the market but by your customer. Show them that your product or service (as opposed to your competitor's) has more intrinsic value than simply price alone.
Over Deliver: Deliver actions earlier than expected, commit to add extra service value and come back with more than you had suggested might be possible. This will increase the perception of value and leave you with less work to do on price.
Respect the silence: When you ask for the customer for the sale, be sure to maintain the silence. The temptation is to talk, but once you learn how to resist the temptation, your sales closing percentages will increase. This is because to talk is only to undermine your own position, and your customer will be sure to pick this up.
The Art of the Follow-up
The ability to follow-up effectively at every stage of the B2B sales process is one of the key factors that separates successful salespeople from the rest. For instance:
It's essential to follow-up when cold calling until you speak to the person you are trying to reach
After your pitch it's essential to follow-up until you have received feedback or arranged a follow-up meeting
Once you have delivered your cost proposal it's essential to follow-up until you get a clear response or enter price negotiations
Following-Up
Practicing consistent and persistent follow-up during each stage of the B2B sales process is one of the most important success factors in B2B sales. That's why developing an organized, systematic approach to follow-up is so important.
Pipedrive shows you exactly where your prospects are in their sales journey with a visual sales pipeline. You can also send, receive, and track emails, and get reminders, mobile notifications, and alerts to help you follow up.
When to follow-up
Even the briefest contact or smallest deal can generate new business referrals. Treat everyone you connect with as if they control your future prosperity, because they do. This is important no matter how successful you are.
Let's outline 3 typical scenarios:
Happy customers: You need to contact these people to show that you value their continued loyalty. A good time to follow up with loyal customer is when one of their referrals has become a customer. Sending a thank-you note, maybe take them out to lunch and more referrals are likely to result.
Current customers who have a further need: Staying top-of-mind with customers when they are approaching renewal time is part of a B2B salesperson's job. It's also a very good source of new B2B sales.
Difficult-to-reach prospects: Some prospects are hard to reach, so you'll need to follow-up regularly and at different time of the day and on different days of the week to finally make contact. Keep trying for 2-weeks as they may be away on business. Then send them an email and leave a VM to ask them to let you know if they are no longer interested so that you can stop calling them if this is the case.
What to Cover
To develop effective follow-up methods, you need to understand how often your customers expect to be followed-up and the kind of problems that they want you to help solve. For example, your customer may expect to be:
Kept informed of ways to get the best out of your product
Kept informed of product development and potential upgrades
Able to reach you and receive a call back within the hour
By making follow-up and customer service a regular part of your routine, you can keep customers happy and generate many of your new leads from your existing customer base and the future customers they refer.
CRM systems like Pipedrive, Prosperworks, and Insightly all recognize how important follow-up is. As a result they make it easy for B2B salespeople to set tasks for themselves and to receive reminders for when these tasks are due to be completed.
The Bottom Line
The only secret to B2B sales is that there is no secret. It's a process with steps that anyone can learn. The key is to understand each stage of the B2B sales process and then consistently complete each of the steps to the best of your ability. Doing this in practice takes confidence and the ability to be organized to follow-up like a demon.
There are many tools that can help you to formalize your B2B sales process and complete your sales activity. As we saw above, Pipedrive allows you to manage each stage of your B2B sales process so you can improve your performance and close more transactions. Click here for a free 14-day trial.