UpLead is a business-to-business (B2B) lead generation and sales intelligence platform where you can find specific contacts, build a clean prospecting list, and target the right sales leads. This platform is best for B2B businesses seeking targeted lead generation, with its excellent contact database, third-party integrations, and lead data management features. Many users find the contact data profiles and lead generation features particularly useful for startups and small businesses.

Pros
Generates quality leads in real time
Easy-to-use and intuitive lead management features
Offers 95% data accuracy guarantee for lead generation and email verification
Cons
Doesn't have a free plan
Costly starting price at $74 annually
Intent data and competitor intelligence require the Professional plan at $299 annually
Recommended For
B2B and tech sales providers: UpLead has over 16,000 technographic data points for identifying qualified leads based on technologies they use or need. For this reason, it's ideal for businesses selling software as a service (SaaS) products.
Teams looking for advanced prospecting tools: Aside from its robust data collection and verification, UpLead offers comprehensive tools for purchase intent and competitor intelligence. It also has advanced filtering tools for targeted leads.
Small businesses wanting a CRM-compatible lead generation tool: UpLead integrates with some of the best small business customer relationship management (CRM) solutions, like HubSpot, Zoho, and Pipedrive.
Not Recommended For
Teams seeking free sales intelligence tools: UpLead has no freemium plans. Instead, you can test-run its features for seven days and with five preloaded credits.
Businesses needing a wider contact database: While UpLead prides itself on its data accuracy, its contact database is not as robust as competitors, like ZoomInfo. Data points outside North America are also not as rich.
Quick Look at UpLead Pricing
Other Articles Featuring UpLead
UpLead vs ZoomInfo: Pricing, Features & What's Best in 2023: UpLead's granular filters and intuitive interface guarantees accuracy, and high usability for lead generation than ZoomInfo in the same criteria. Additionally, UpLead offers more scalable and affordable plans, making it ideal for streamlining B2B prospecting.
7 Best Places to Buy Business Leads in 2023: With its robust engagement and lead generation tools, UpLead took the spot for the best place to buy business leads. Part of its appeal is its accurate data results and seamless application through the Chrome extension.
8 ZoomInfo Alternatives & Competitors in 2023: UpLead tops the rank for ZoomInfo alternatives. If you're seeking a sales intelligence and lead generation platform that offers verified emails, mobile numbers, and direct-dial credits from its contact database.
What Users Think of UpLead
We gave a score of 4.13 out of 5 for this criterion based on our research of what verified users think of UpLead. Users mention UpLead's short learning curve through its knowledge-based sources, as well as simple navigation and user interface. The filter options were also highlighted where you can save search parameters, such as location, job title, industry, and revenue, for later use, enabling quick deep dives into business prospects.
At the time of this publication, we noted the following scores from UpLead reviews posted on popular user review sites:
G2: 4.7 out of 5 rating based on 708 reviews
GetApp: 4.7 out of 5 rating based on 74 reviews
Gartner Peer Insights: 4.5 out of 5 rating based on 36 reviews
Some users pointed out that UpLead's database is not as extensive as other B2B lead generation platforms like ZoomInfo. Nevertheless, users are highly satisfied with the lead quality and data precision of UpLead, which highly suits startups and small businesses.
We would definitely use UpLead for its robust lead generation tools, including a customer relationship management (CRM)-compatible B2B contact database, with advanced technographics and intent data tools. You can get verified phone numbers and email addresses, mobile direct dials, and a Chrome extension as early as the Basic plan. Startup B2B businesses can use these features to kick-start prospecting.
Higher tiers include data enrichment, competitor intelligence, and other advanced features intended for growing sales teams in B2B enterprises, tech media companies, tech support and customer service providers, and digital marketing agencies. The Intent Data and Technographics features allow teams to convert leads into sales by identifying consumption patterns and finding companies using competitive technologies.
UpLead Alternatives
While UpLead offers excellent contact and lead generation tools, your business needs may require more specialized and extensive features. That said, there are other providers you can consider based on what best fits your data-gathering and storing requirements. The table below shows how other prospecting solutions compare with UpLead.
Software

Best For

Small B2B businesses for sales and targeted lead generation

Freelancers and marketers for cold emailing

Comprehensive sales prospecting

Businesses looking for a wider contact database

Key Features

Prospector
Data enrichment
Chrome extension
Application programming interface (API)
Email verification
Technographics
Email finder
Intent data

Domain search
Email finder
Email verifier
Campaigns
Integrations
API

Prospecting
Buyer intelligence
API
Enrichment
Integrations
Extension

Sales solutions
Marketing solutions
Company contact search
Buyer intent data
CRM lead enrichment

Pricing*

Learn More
*Based on annual billing on a per-month basis; monthly billing is available for a higher price.
We rated UpLead's pricing 3.75 out of 5 because its free trial only offers five credits per user. In contrast, other sales intelligence platforms, such as Hunter, offer a more generous allocation of 25 credits per user.
Nevertheless, with UpLead's free trial, you can try out its basic features like emails and mobile phone number verification. UpLead pricing includes four paid plans ranging from $74 to $299 per month, with an extra charge for additional credits. The paid plans include everything in the free trial plus data enrichment, email pattern intel, technographic, and advanced filters.
Plans

Essentials

Plus

Professional

Who Plan Is Best For


Small teams who need more than the basic features, like CRM integration

Small teams who need more robust data enrichment, filters, and email lead management tools

Large B2B businesses needing full customizations, automation, and competitor intelligence tools

Annual Price Range*

($/Month)

$74

$149

$299

Credits

2,040 credits annually

4,800 credits annually

Custom credits

User Accounts

1

1

Up to 5

Verified Emails

✓

✓

✓

Mobile Direct-dial Phone Numbers

✓

✓

✓

Chrome Extension

✓

✓

✓

CRM Integration

✓

✓

✓

Data Enrichment

✕

✓

✓

Technographics

✕

✓

✓

Competitor Intelligence

✕

✕

✓

Priority Phone Support

✕

✕

✓
*Pricing is based on annual billing on a monthly breakdown, though monthly billing is available for a higher cost. Pricing is reflected at the time of this publication. We update pricing information regularly but encourage readers to check current pricing here.
If you have exceeded your credit limit, you can add more as an add-on. The Essential plan costs 60 cents per additional credit and $0.50 cents for the Plus plan.
In this UpLead review, we gave a 4.38 out of 5 rating for the general features. UpLead has excellent lead generation tools and a contact database where you can upload a list of company URLs, emails, or phone numbers to exclude or include from the search results. That way, you can quickly search and sort prospects without chances of duplication.
Additionally, you can access the UpLead platform directly on a mobile device and use all available features as seen on the desktop view. However, there are fewer than 15 available native apps.
Click on the headers below to learn more about UpLead's standout general features:
Users can start generating leads by clicking on any search filter, showing your list of prospects updated in real time. The basic paid plan comes with CRM integration, allowing sales teams to maximize UpLead's lead generation and sales intelligence capabilities through native tools from top-notch CRM solutions like Salesforce, HubSpot, Zoho, and Pipedrive.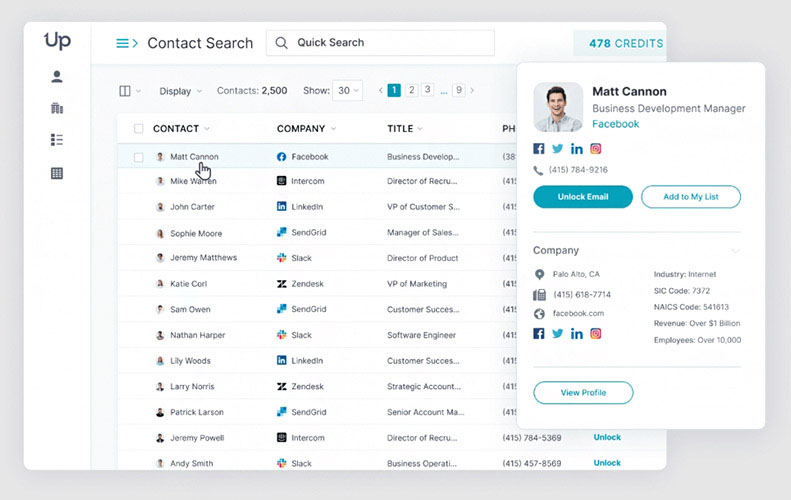 ---

---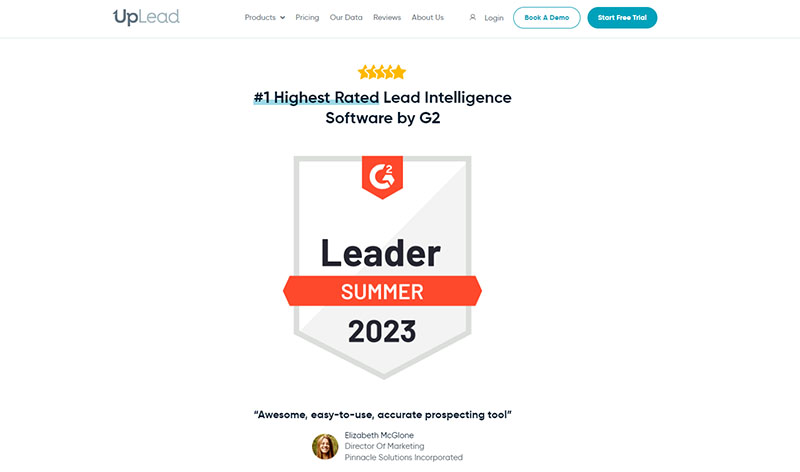 ---
Do you need help with lead generation in sales? Check out these six steps on how to generate leads with a free template included.
---
B2B providers can use UpLead email finder to access over 108 million contacts. The generation of the targeted list follows UpLead's eight-step data collection and verification sequence, which covers public document analysis, and data enrichment through technology points. With this process, sales teams can easily comb through prescreened qualified leads, start more conversations, monitor sales funnel progress, and close more deals more seamlessly.
---
UpLead integrates with the most popular email automation, sales management, and CRM software. It is also compatible with over 1,500 other apps through Zapier. With these integrations, B2B sales, marketing, customer service, and recruitment teams can quickly track prospects, build high-quality contact lists, connect with leads, and implement sales and marketing campaigns.
UpLead integrations include the following:
Salesforce
HubSpot
Zoho
Pipedrive
Microsoft Dynamics 365
Outreach, SalesLoft
Reply.io
Woodpecker
Copper
Nimble
Mailshake
Lemlist
Close
Insightly
---
As of this publication, UpLead does not offer a native mobile app. But the platform is mobile-friendly, and you can use all the features straight from your mobile device. This allows sales team members deployed in the field to search, find, and monitor prospects in real time to ensure they don't miss any sales opportunities.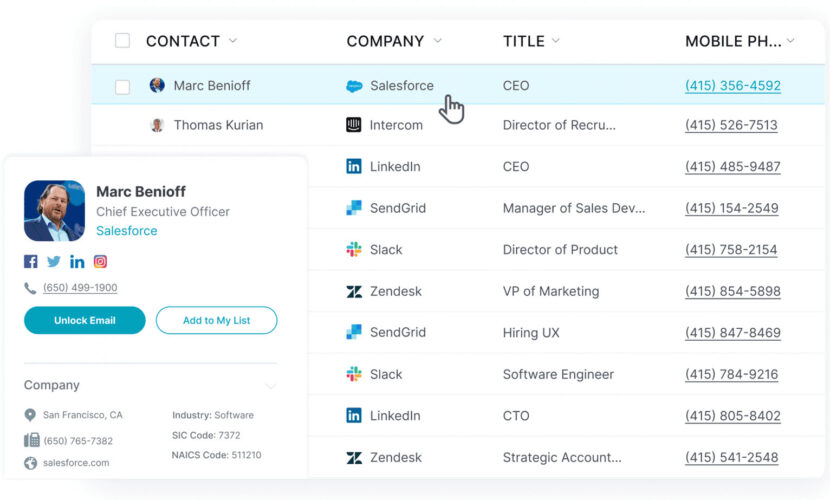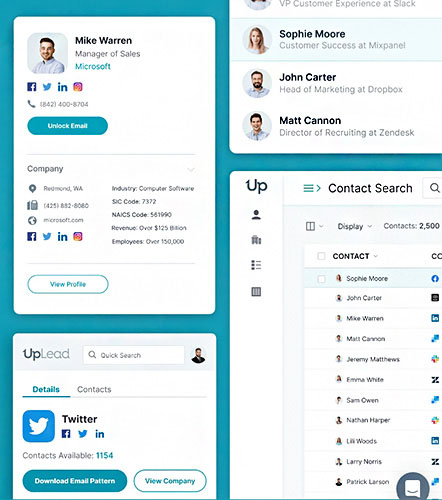 ---
This UpLead review received a 4.5 out of 5 score in advanced features because of its extensive B2B sales and lead generation tools, such as lead verification, prioritization, and segmentation. These tools further simplify lead generation and prospecting efforts, especially among small businesses targeting a broader audience based on their ideal customer profiles.
Click on the headers below to learn more about UpLead's standout advanced features:
UpLead's email verification enables you to build a targeted prospect list by filtering search criteria—search thousands of verified contacts in seconds through bulk email verifier. It uses algorithms and machine learning to categorize and label lead data, tested before database uploading for seamless lead verification. With the controlled downloads feature, your UpLead credits remain untouched for emails you choose not to download.
Below are some functionalities under UpLead's lead verification/validation feature:
Real-time email verifier
Controlled downloads
Bulk email verifier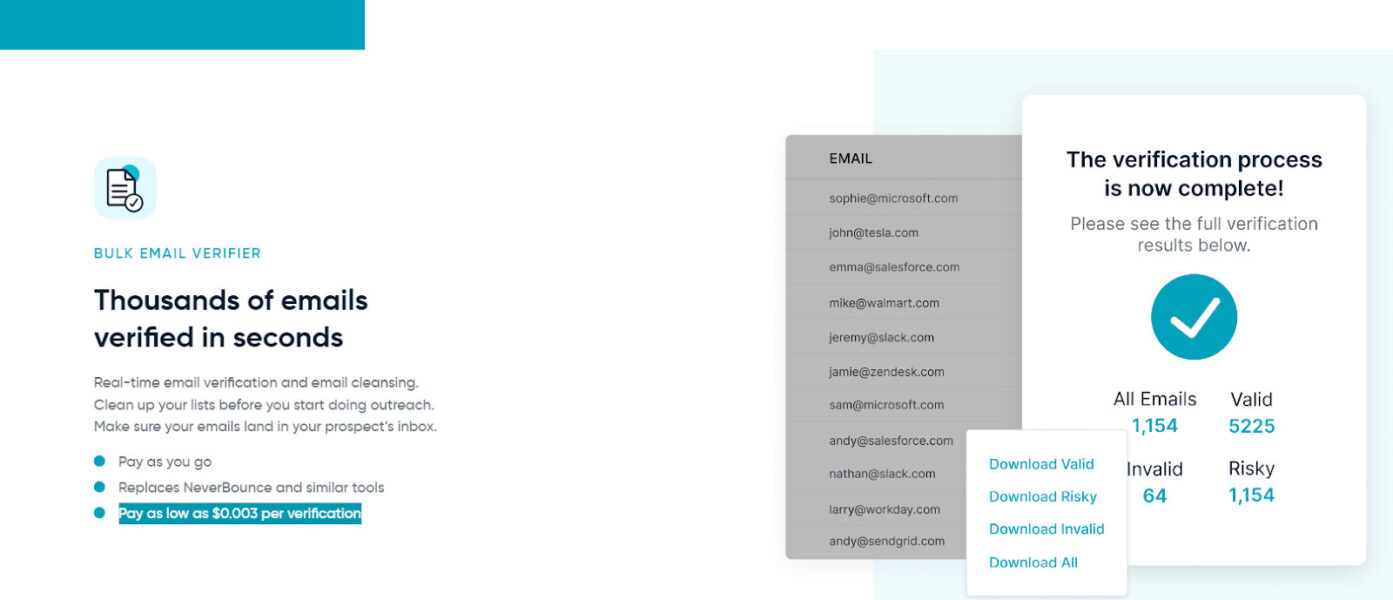 ---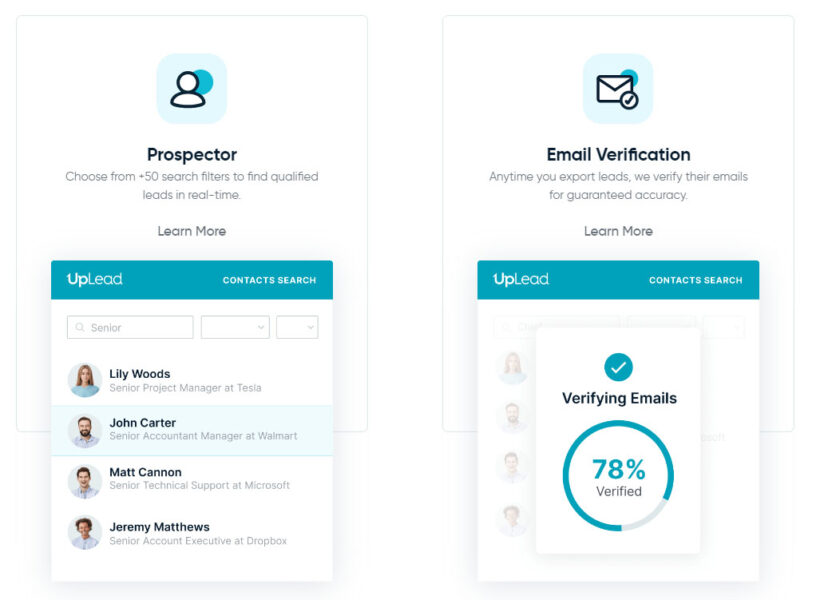 ---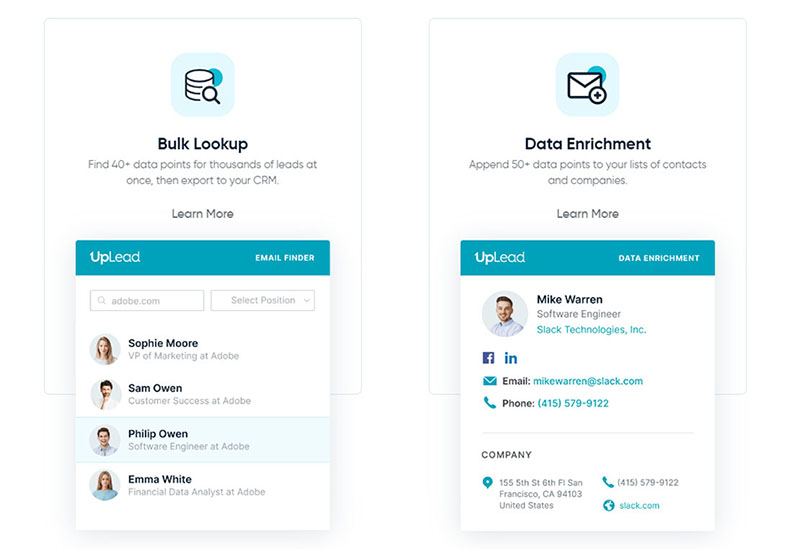 ---
---
UpLead's main prospecting tool, Prospector, allows you to search over 108 million contacts in more than 200 countries. Compared to other tools with an average of 50% accuracy, UpLead guarantees 95% data accuracy; otherwise, you receive your credits back.
The advanced search gives you 50-plus search criteria for contacts and companies, based on location, job title, industry, size, revenue, and many other filters. Create a prospect list quickly, as the platform shows the most up-to-date leads in real time, giving sales and marketing teams accurate and correct data to boost sales.
Below are some functionalities under UpLead's prospecting tools:
Prospector
Advanced search
Updated real-time email verification
---
UpLead's data enrichment helps sales teams assign ratings or scores to prospects based on more than 50 accurate data points to lists of companies, contacts, and emails. Data enrichment enhances lead prioritization, allowing sales reps to focus efforts on prospects with the highest chance of conversion.
The Enterprise plan has advanced application programming interface (API) access. This advanced feature allows your sales team to connect and access UpLead with the tools you are using to accurately enrich contacts' information, generating better lead results using domain names.
Below are some functionalities under UpLead's prioritization feature:
Data enrichment
Contacts enrichment
Companies enrichment
Email enrichment
Zero-waste downloads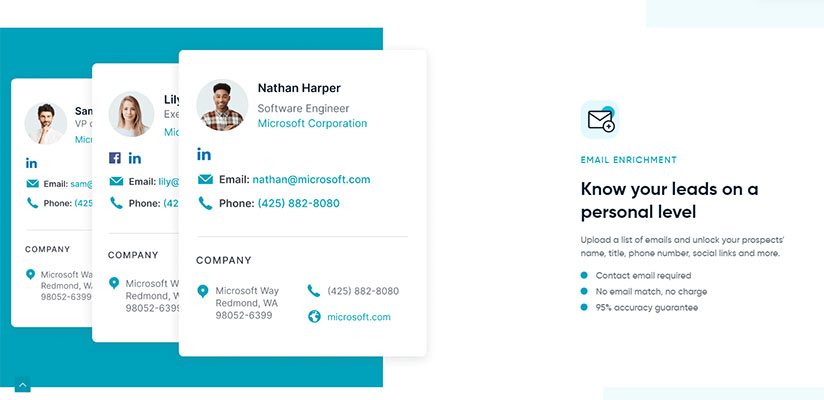 ---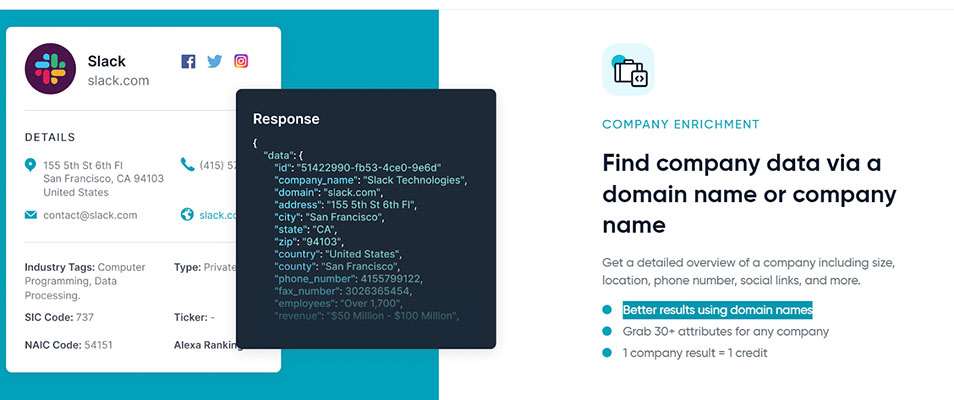 ---
---
Sales teams can use UpLead technographics to focus lead segmentation and generation efforts on companies that buy what they sell. You can instantly generate lists of qualified prospects leveraging the platform's 16,000-plus technology data points, enabling you to find companies using complementary or competitive technologies and convert them into sales.
Technographics can help you qualify leads by identifying which technologies they use or haven't used yet. Search through over 16 million companies and use the "Include" filter to find instantly qualified companies or the "Exclude" filter from your search. That way, you can remove accounts that you would never consider and buy your product or service to save time and effort tracking and nurturing leads that won't convert.
Below are some functionalities under UpLead's lead segmentation feature:
Search by technology
Lead qualifying
Real-time prospecting
Technology exclusion
---
With UpLead's Chrome extension, you can see everything about your prospective contacts and related contacts without opening a new tab. Find your lead's numbers and other valuable data as you browse their LinkedIn profile or company website. Grab a prospect or company data in one click based on location, revenue, business size, and technologies used.
Below are some functionalities under UpLead's Chrome extension feature:
Grab emails and phone numbers
See related contacts
Unlock companies' email patterns
Filter contacts within the company
See which technologies they use
On the other hand, here are some functionalities under UpLead's LinkedIn extension feature:
Grab phone numbers and email addresses
See related contacts
---
UpLead has multichannel support options, including 24/7 customer service, live chat, phone support, email, and self-help materials, such as guide articles, video tutorials, case studies, and online training. Even free trial users can access self-help resources and contact customer service via email, chat support, and online contact form. The Professional plan, however, gives users access to priority phone support with a dedicated onboarding specialist, advanced team management, and dedicated success management.
Knowing how to use UpLead can be a game-changer for sales teams in the B2B sector. Signing up with UpLead won't take you a minute. The platform only requires new users to enter their full name and email address. The phone number is optional. Once you verify your account, the system automatically activates the seven-day free trial, and you can already start searching.
UpLead's web and mobile interfaces are user-friendly. Users can quickly set up search filters and integrate third-party tools, making it easy for sales and marketing teams to launch lead campaigns in-office or on-the-go. The intuitive interfaces promote seamless navigation, further boosting user experience.
How We Evaluated UpLead
When assessing UpLead against other B2B data providers, we tested each system and examined factors like general features, advanced or niche features, and customer support options. Additionally, we analyzed UpLead's pros and cons and gathered recent, authentic user reviews from credible sources to evaluate this platform comprehensively.
Click through the tabs below for our UpLead evaluation criteria:
10% of Overall Score
Cost is one of the most critical factors that affect a customer's choice of a B2B lead gen data and sales intelligence software provider. We typically give a high score if a provider's entry-level plan costs less than $100. Additionally, the platform gets more points for offering a free trial or free plan, scalable plans, as well as both monthly and annual billing options.
25% of Overall Score
We looked at overall lead generation and prospecting features essential to small businesses, such as lead generation, contact database, and third-party integrations. We also checked if the provider has a user-friendly mobile app for device compatibility, which can benefit field sales reps.
30% of Overall Score
We evaluated the niche features of the platform to determine the value for money that its subscribers can get. Some of these advanced features are lead verification, prospecting tools, prioritization, lead segmentation, and Chrome extension. We also considered whether users could use these features for free or charge an extra fee.
20% of Overall Score
Support is essential in operating any platform, especially for sales teams or small businesses that don't have the budget for in-house technical support staff. We checked if the providers offer 24/7 support and the customer service channels they offer, including live chat, phone support, email ticketing, and self-service tools and knowledge-base materials.
5% of Overall Score
We scoured the most recent B2B sales and lead generation software reviews on credible sites to determine their subscribers' satisfaction level. Real user reviews helped us assess the best product features and benefits and the common challenges they experience when using it. Additionally, we tested the software and incorporated our expert insights and opinions on its basic features, value for money, and ease of use.
10% of Overall Score
We conducted a software test and thoroughly explored its capabilities and features to gauge our own user experience against that of the majority. This process enabled us to gain firsthand experience of the program and evaluate its usability and value for money.
*Percentages of overall score
Frequently Asked Questions (FAQs)
UpLead is best for B2B providers and sales teams. This sales intelligence platform has an excellent B2B contact database, powerful contact search, email verification, prospecting, prioritization, and segmentation capabilities.
---
UpLead can help your business find thousands of verified email and phone contacts with its excellent database and advanced lead generation features to boost your sales. This lead generation tool ensures the continuity of customer communication to promote excellent buying experience, customer loyalty, and long-term customer-business partnerships.
---
A credit signifies data entry users can export to Excel or integrate into their CRM system. Users can unlock a contact's mobile direct dial or email address with UpLead credits. One total credit is charged for unlocking both the email and mobile direct line of the same contact. Each credit corresponds to one contact.
---
Bottom Line
UpLead is a top-tier solution for B2B database and lead generation needs. With its robust suite of features, including third-party integration, lead verification, prospecting, prioritization, and segmentation, you can streamline your lead-generation efforts effectively. It is highly recommended for sales, marketing, and customer service teams across various industries, particularly B2B companies.