35 B2B Sales Statistics to Know in 2023
Business-to-business (B2B) sales involve selling products or services to other businesses, associations, or nonprofit organizations. To prepare for this environment using real-life insights, here are 35 B2B sales statistics you should know, plus their key takeaways. These include stats on sales processes and strategies, common lead generation practices, prospecting, sales technology, marketing, and training.
B2B Statistics on Sales Process & Strategies
These B2B statistics illustrate a typical B2B buyer's journey, what it takes to get B2B leads through the sales pipeline, and why they buy from one firm over another. It includes B2B buyer journey statistics, insights on conversion rates from stage to stage, and specific sales activities sales reps need to understand to close the deal.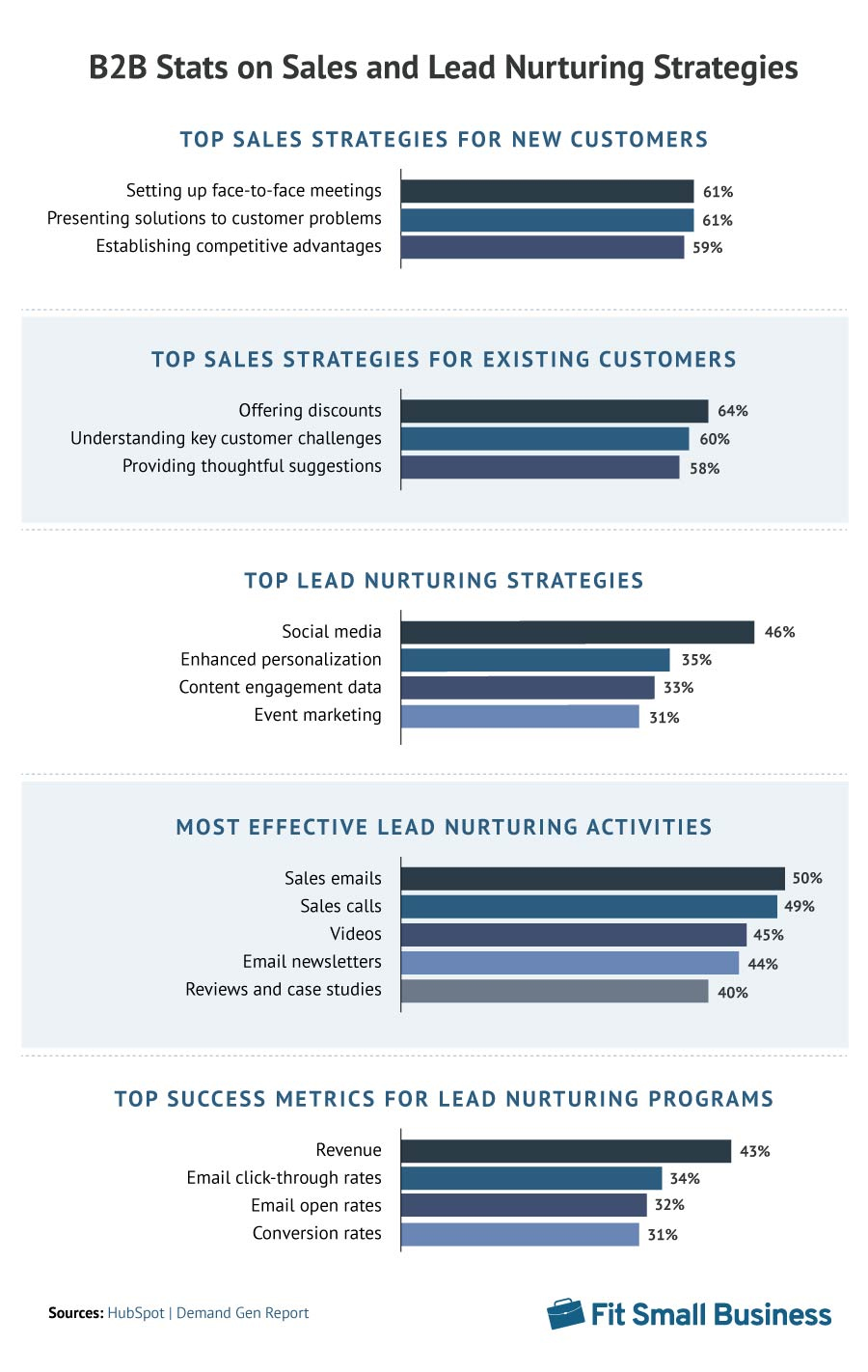 1. B2B sellers' top sales strategies for new customers include setting up face-to-face meetings (61%), presenting solutions to customer problems (61%) & establishing competitive advantages (59%)
Takeaway: While virtual meetings are popular and convenient, they cannot entirely replicate direct and personalized sales conversations, especially with new customers. Prospects are also more interested in businesses that are willing to meet them in person to understand their needs and can tailor a solution to their pain points.
(Source: HubSpot)
2. Offering discounts (64%), understanding key customer challenges (60%) & providing thoughtful suggestions (58%) are the most effective B2B sales strategies for selling to existing customers
Takeaway: Customers' preferences change, so businesses have to adapt to changing market needs by evolving their offerings based on the challenges their customers face. For instance, software companies need to constantly develop new features to be able to meet their customers' changing needs. Doing this helps boost customer retention and reduces customer churn in the long run.
(Source: HubSpot)
3. The best lead nurturing strategies for B2B teams involve social media (46%), enhanced personalization (35%), content engagement data (33%) & event marketing (31%)
Takeaway: B2B marketers are increasingly turning to multichannel campaigns to improve lead nurturing strategies. This is a comprehensive approach that allows you to interact with your customers across multiple touchpoints.
(Source: Demand Gen Report)
4. The most effective lead nurturing activities for B2B organizations are sales emails (50%), sales calls (49%), videos (45%), email newsletters (44%) & reviews & case studies (40%)
Takeaway: Aside from trying out new campaign channels, B2B organizations are currently creating tailored nurturing strategies for various stages in the buyer's journey. You can try out any of the top lead nurturing tactics to see which ones yield the best results for your business.
(Source: Demand Gen Report)
5. The top success metrics for B2B lead nurturing programs are revenue (43%), email click-through rates (34%), email open rates (32%) & conversion rates (31%)
Takeaway: Success metrics for lead nurturing programs have experienced a minor change since the previous year. Email click-through rates used to hold the top spot, but have now been overtaken by revenue. Nevertheless, monitoring these top sales success metrics will help you determine if you are on the right track to achieving the goals you have set for your lead nurturing program.
(Source: Demand Gen Report)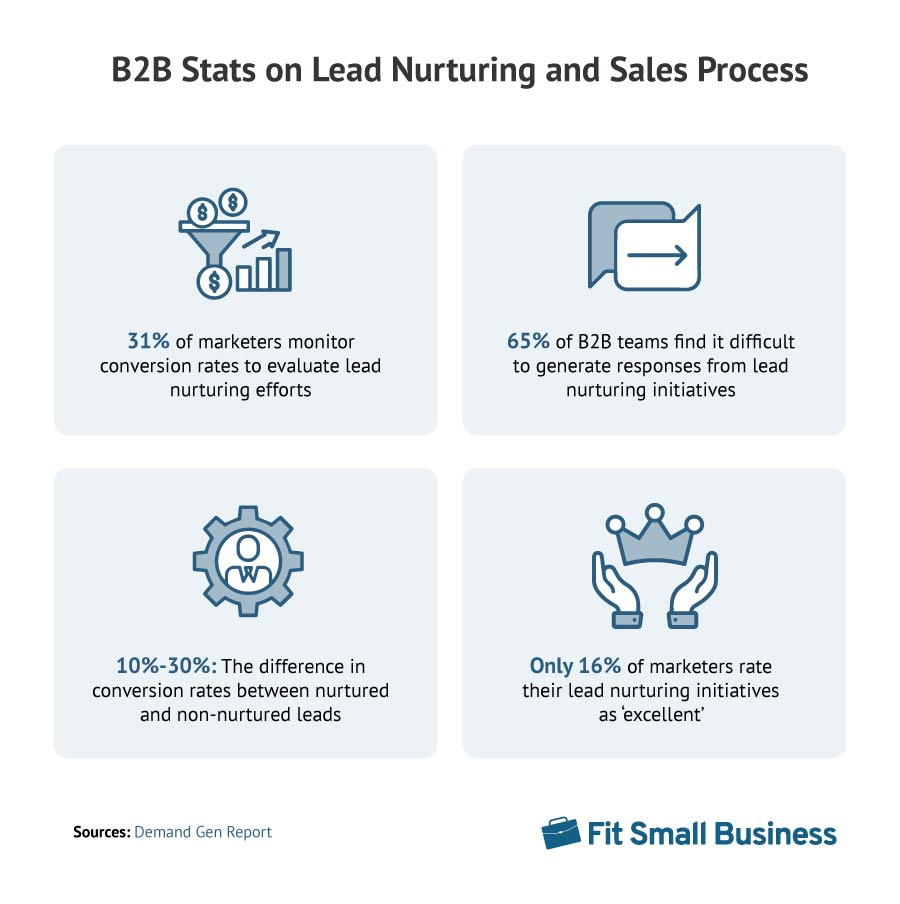 6. 31% of marketers monitor conversion rates to evaluate their lead nurturing efforts
Takeaway: Getting high conversions throughout the sales process is a crucial indicator of robust performance. However, it takes a considerable volume of prospecting and outreach to get leads into a buying consideration mindset. Some customer relationship managers (CRMs) like HubSpot have built-in tools for tracking and optimizing conversion rates. You can also use third-party integrations with conversion tracking tools like Google Analytics and Unbounce.
(Source: Demand Gen Report)
7. Nearly two-thirds (65%) of B2B teams found it difficult to generate responses from their lead nurturing initiatives in the last 12 to 18 months
Takeaway: One of the issues that affect the responses from lead nurturing initiatives is the difficulty in building the right campaign workflows. Modern buyers also want to navigate their purchasing process on their own, making it increasingly difficult for B2B teams to deliver targeted content for each buyer stage. Lead nurturing campaigns, when properly executed, can help segment prospects based on interests, drive better response rates, and generate warmer leads.
(Source: Demand Gen Report)
8. There is a 10% to 30% difference in the conversion rate between nurtured leads & non-nurtured leads
Takeaway: In 2021, 57% of B2B teams noticed a measurable difference in the sales opportunities derived from nurtured and non-nurtured leads. In 2022, the number jumped to 83%. These B2B sales stats show lead nurturing can help you increase B2B sales growth and even drive leads to make larger purchases.
(Source: Demand Gen Report)
9. Only 16% of B2B marketers rate their lead nurturing initiatives as 'excellent'
Takeaway: Lead nurturing is a lead management activity where after they've been generated, you continuously engage them to maintain the relationship until they're ready for next steps. This usually comes in email messages, typically automated campaigns, as well as following up via telephone calls or texts. While it keeps your brand fresh in the lead's mind at all times, many B2B firms appear to struggle with these campaigns—paving the opportunity for competitors to thrive.
(Source: DemandGenReport)
B2B Sales Statistics on Lead Generation
These B2B statistics and trends outline how and where businesses find their potential business customers—otherwise known as B2B lead generation. Whether it be content marketing, referrals, cold calling, or networking events, lead generation is a critical step in the sales process for keeping the pipeline full of opportunities.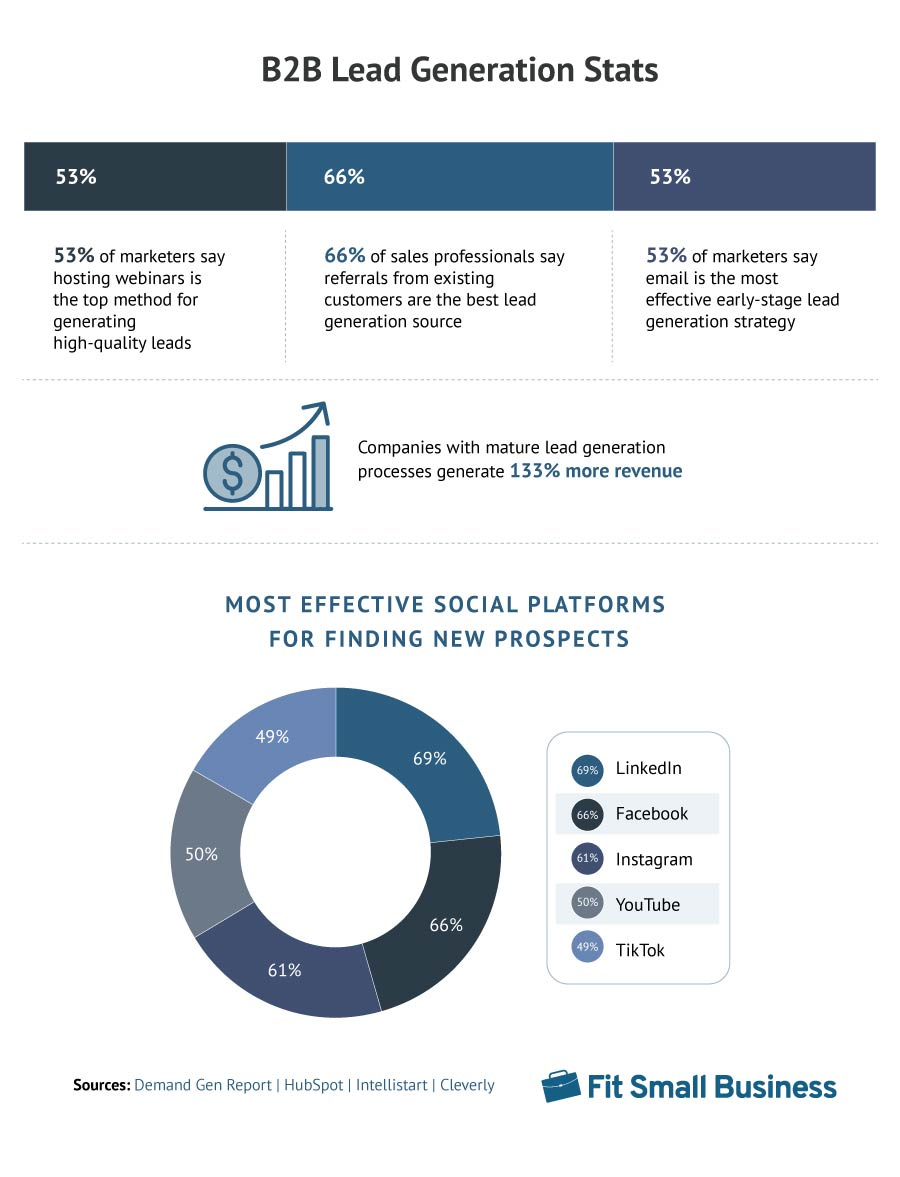 10. 53% of marketers say hosting webinars is the top method for generating high-quality leads
Takeaway: Much of B2B selling is getting in front of the right audiences and prospects. There is no better way to do that than hosting educational sessions for an entire market segment. You can cover challenges and best practices specific to that target market, and then tease how your product or service is the ideal solution. This is the structure of most B2B webinars, which appear to be solid channels for generating new, qualified leads.
(Source: Demand Gen Report)
11. LinkedIn (69%), Facebook (66%) & Instagram (61%) are the most effective social platforms for finding new prospects for B2B sales reps
Takeaway: Most B2B companies use LinkedIn and Facebook for lead generation because they can target users based on sales qualifying criteria like job title, company size, and industry. Looking at B2B sales trends, YouTube (50%) and TikTok (49%) are also among the top rising channels for finding new prospects and leads, with short-form videos gaining popularity among professional audiences.
(Source: HubSpot)
12. 66% of B2B sales professionals say referrals from existing customers are the best lead generation source
Takeaway: Many people assume referral programs are only for business-to-consumer (B2C) businesses such as retailers or ecommerce stores. However, the B2B ecommerce statistics above tell us objectives can easily cross into the B2B industry. Customers use referrals as reliable sources of information—helping build trust with a brand much sooner. The net cost of a referral is cheaper and those leads tend to have higher customer conversion rates.
(Source: HubSpot)
13. B2B firms with a 'mature' lead generation process generate 133% more revenue
Takeaway: A "mature" lead generation process refers to having a standardized, methodical approach that employs best practices and automation in the mix. In other words, it's a repeatable process for each lead that comes in the pipeline. It's clear a structured system with automated lead assignment and data entry, and call scheduling, opportunities, and tasks don't slip through the cracks—ultimately bringing in more revenue.
(Source: Intellistart)
14. 53% of B2B marketers agree email is the most effective means for early-stage lead generation
Takeaway: In email lead generation, you use an opt-in form to gather potential customer data, like their name and email address. You can use your CRM platform to store critical contact data like names, companies, email addresses, and phone numbers. It also offers solutions for generating leads from your website.
(Source: Cleverly)
Pro tip: A CRM system like HubSpot lets users customize and embed online forms on their websites. From there, site visitors can submit their information, automatically create new lead records in the CRM system, and notify sales reps. Read our expert HubSpot CRM review to learn more.
B2B Sales Statistics for Prospecting & Lead Qualification
Lead qualification determines if leads fit your target customer profiles and prioritizes the best pipeline opportunities. It's an essential sales step that requires prospect research before making initial contact. It also involves communicating with a new lead to determine their need for your product or service and capability to make the purchase. These sales statistics outline the challenges and importance of thorough prospecting and qualification.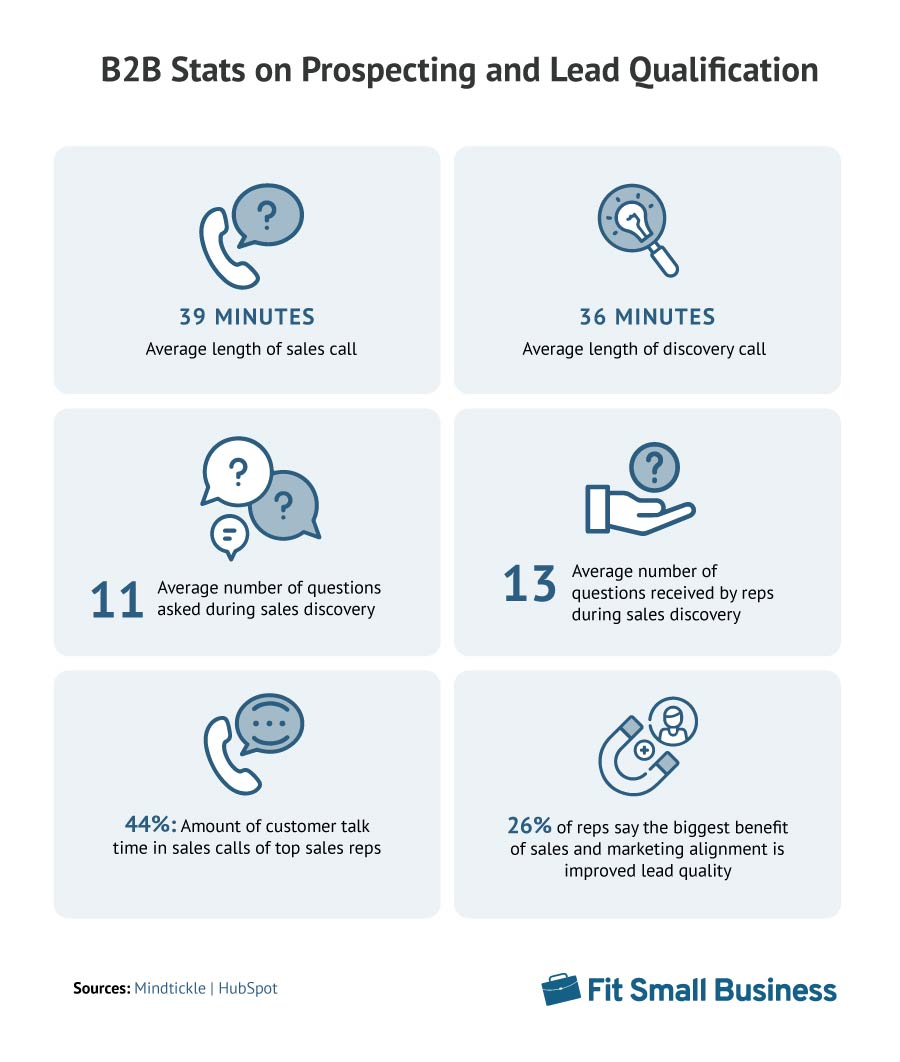 15. The average length of a sales call is 39 minutes, while the average length of a discovery call is 36 minutes
Takeaway: It is common to schedule 30-minute sales calls, but these calls usually end up taking 40 minutes. It is best to schedule your calls for 40 minutes so you give your customer some time back if you end your conversation early. You can also ask the prospect to schedule additional time to cover more material or questions they have at a later time.
(Source: Mindtickle)
16. The amount of customer talk time in sales calls of top sales reps is 44%
Takeaway: For a discovery call to be productive, there should be a healthy mix of participation between the rep and the customer. Unfortunately, many reps spend more time talking than their customers. We recommend pausing and asking if the customer has questions if you have been speaking continuously for 1.5 minutes. This ensures you hear out the customer and carry on a conversation they are interested in.
(Source: Mindtickle)
17. During sales discovery, there are an average of 11 questions asked & 13 questions received by reps
Takeaway: Reps ask questions to clarify deal information and to do a deeper discovery. Customers, on the other hand, ask questions that give you insight into their needs and priorities. For a more productive discovery call, reps can ask one probing question for every question asked by the customer. This way, they uncover more details about what the customer is interested in and what is important to them.
(Source: Mindtickle)
Pro tip: Many sales reps are unaware they can automate one of the most tedious parts of cold calling—finding contact data and dialing. Freshcaller is the built-in phone tool of the Freshsales CRM system. It comes with power dialing features that let users insert a preset call list, which is typically made up of contacts stored in the CRM. It then auto-dials down the list for you as the previous call concludes.
18. 26% of reps say the biggest benefit of sales & marketing alignment is improved lead quality
Takeaway: Because so much time is devoted in B2B sales to pushing a deal through the pipeline, avoiding poor-quality opportunities helps improve productivity. Marketers often use campaigns to generate leads and then pass them off to reps to finish the sale. It's clear that keeping both sales and marketing teams in sync using defined customer profiles, qualification criteria, and technology systems improves the quality of the leads generated.
(Source: HubSpot)
Pro tip: Lead qualification is already challenging enough. Invest in a CRM that can automate qualification tasks through lead scoring tools. Lead scoring involves assigning points to deals or contacts based on preset profile attributes and activities such as emails opened or files downloaded. CRMs like Freshsales have lead scoring built into the system so users can view real-time scores and create effective sales reports that let them prioritize "hot" opportunities.
B2B Sales Productivity Statistics
Ever wondered how reps are spending their time and why certain teams are more efficient than others? These B2B sales statistics for productivity cover some of the best sales enablement solutions and the day-to-day work of B2B salespeople.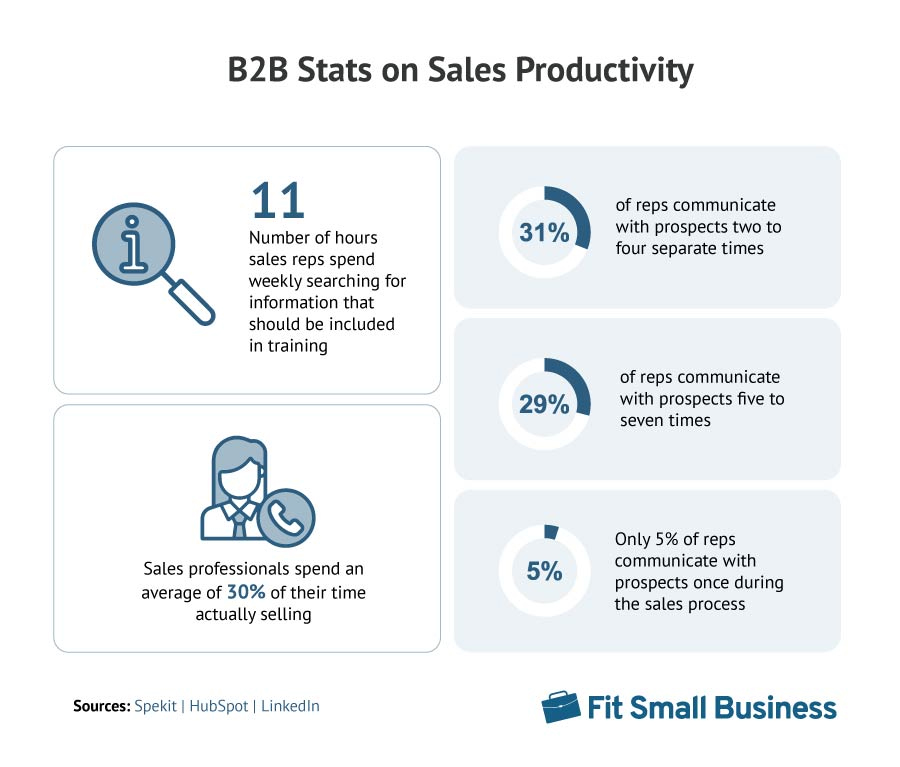 19. Sales reps spend as long as 11 hours each week searching for information that should be included in their training
Takeaway: The survey for these B2B stats showed reps spend too much time trying to get answers about their sales technology, operational processes, or resources. All these are aspects that should be taught during sales training and onboarding, not while the rep is in the full swing of their job. The lesson: prioritize sales training early on so reps don't waste their time later.
(Source: Spekit)
Pro tip: Effective sales training is crucial for maximizing a rep's productivity and revenue performance. To learn how to properly develop a high-performing team, check out our nine tips for sales training to effectively prepare your sales team for success.
20. 31% of B2B sales reps communicate with prospects 2 to 4 separate times & 29% do so 5 to 7 times
Takeaway: These frequent communications with prospects add up, considering each rep deals with dozens of prospects daily. Use customer relationship management (CRM) systems and sales automation tools to manage these communication points. These tools offer lead intelligence and automatically log customer communications to reduce manual labor for reps.
(Source: HubSpot)
21. Sales professionals spend an average of 30% of their time actually selling
Takeaway: B2B sales success is all about building and maintaining relationships with decision-makers. However, it's tough to produce revenue when 70% of a rep's time is spent on administrative tasks like researching, appointment scheduling, proposal generation, or data entry.
These tasks can often be automated or outsourced. For example, teams can purchase lead lists from outside vendors that filter to meet company size, industry, or even technology stack requirements rather than research themselves.
(Source: LinkedIn)
Pro tip: Several tools can automate the appointment scheduling process so you don't go back and forth emailing to find the time. Calendly, for instance, lets users sync their calendar and availability to a scheduling portal. They then can have links to the portal either sent out via email or embedded in a website or email signature button. From there, leads can enter the portal, select a time, date, and preferred sales channel, then notify the rep of the new event.
B2B Sales Technology Statistics
Sales technology such as CRMs, sales automation software, and data analytics tools help teams streamline and collaborate on workflows. The following B2B sales statistics dive into the types of sales enablement technology and digital marketing B2B organizations are currently using in their software arsenal.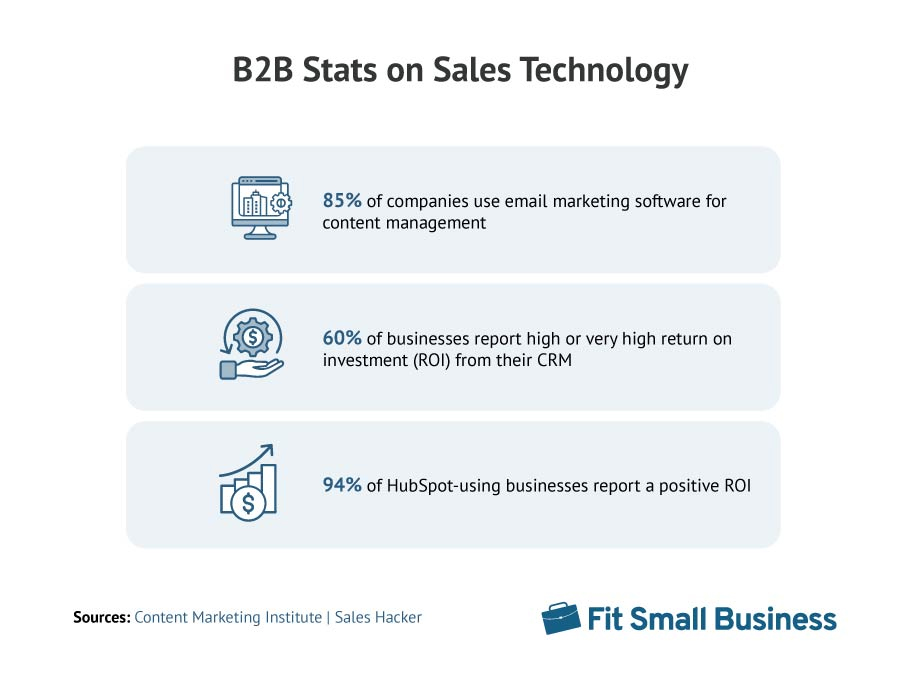 22. 85% of B2B companies use email marketing software for content distribution & management
Takeaway: It's clear that to compete in the B2B space, you must use some form of automation or mass deployment for content distribution. In the case of almost all B2B firms, that channel is email marketing.
(Source: Content Marketing Institute)
23. 60% of B2B businesses report a high or very high return on investment (ROI) from their CRM
Takeaway: CRM systems let B2B sales teams organize lead data, track sales activity, and automate some sales tasks. Others provide communications features such as phone or email capabilities to engage contacts from the CRM. By centralizing data and workflows in one system, teams become more efficient and can ultimately sell more—helping boost the return on investment (ROI) of that tech software investment.
(Source: Sales Hacker)
24. 94% of HubSpot-using businesses report a positive ROI after adopting the software
Takeaway: There's no shortage of excellent general-use and industry-specific CRM products available on the market. If you're looking for one with consistently high ROI, adoption, and impact, however, HubSpot is one of the best, as reflected in our HubSpot review. Not only were there significant returns, but 95% of HubSpot businesses also reported a positive effect of the tool with a 96% full adoption rate. Only Salesforce was in the same realm as HubSpot in terms of total product value, based on our Salesforce review.
(Source: Sales Hacker)
Pro tip: Many of the automation tools available make message-designing and distribution processes easy. With these tools, you don't have to manually write emails, add content attachments, and click to send. The email marketing software Mailchimp allows you to design email newsletters, share them on social media, and even track email engagement. Read our guide on how to use Mailchimp for your email campaigns.
B2B Statistics in Marketing & Sales Content
Content marketing is proven to be a popular and effective tactic for B2B sales. These B2B online sales statistics outline how thought leadership through articles, videos, podcasts, and presentations helps generate leads and convert them into closed deals.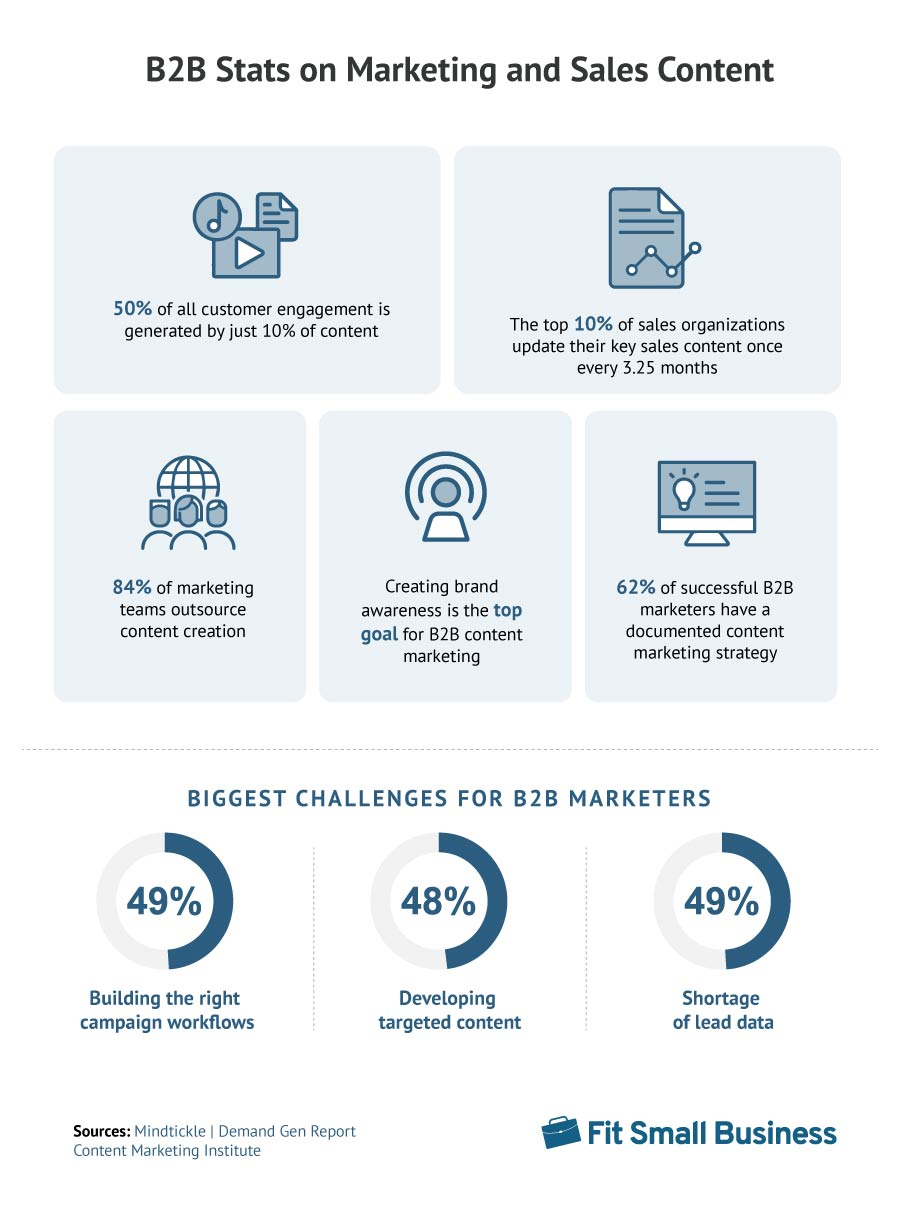 25. Half of all customer engagement is generated by just 10% of content
Takeaway: Churning out more content does not necessarily lead to more sales. Moreover, not all types of content generate the same level of customer engagement. Focus on improving the quality of your content rather than the quantity to generate more engagement.
(Source: Mindtickle)
26. The top 10% of sales organizations update their key sales content assets once every 3.25 months
Takeaway: Compared to top sales organizations in terms of engagement, other organizations update their content once every 4.5 months. Engagement tends to drop when your key content gets stale. To generate more engagement, you need to establish frequent content updates.
(Source: Mindtickle)
27. B2B marketers' biggest challenges are building the right campaign workflows (49%), developing targeted content (48%) & a shortage of lead data (49%)
Takeaway: Other top difficulties B2B marketers encounter are a lack of follow-up from the sales team (38%), insufficient insights into lead nurture best practices (34%), and declining response rates (33%). CRM systems offer tools for building campaign workflows, creating content, and lead generation. Those with a power dialer, such as Freshsales, enable sales agents to reach more leads, make follow-up calls easier, and streamline your whole sales process.
(Source: Demand Gen Report)
28. 84% of B2B marketing teams outsource content creation to other companies
Takeaway: It is no surprise many B2B firms don't want to develop videos, written assets, graphics, or podcasts in-house. They take up valuable time to create and demand specialized expertise for top-notch quality. Fifty percent of B2B marketers outsource at least one part of their content management. That being said, don't worry if you can't handle content marketing internally—most of your competitors aren't.
(Source: Content Marketing Institute)
29. At 86%, the top goal for B2B content marketing is creating brand awareness
Takeaway: While many would have assumed lead generation is the top goal of B2B content, its objectives actually are higher in the sales funnel. Most marketers are looking to create initial awareness of their brand, which then allows them to facilitate interest later in the cycle—ideally with targeted or sales-specific content.
(Source: Content Marketing Institute)
30. Of the most successful B2B marketers, 62% have a documented content marketing strategy
Takeaway: It's one thing to utilize content marketing in your lead generation and sales activities, but it's another to establish a formal strategy and plan to go with it. Having a documented content strategy was one of the top indicators of a high-performing team. B2B firms should take note and put the time in to formulate an editorial calendar, content development schedule, and campaign deployment objectives.
(Source: Content Marketing Institute)
Pro tip: Finding a CRM that also lets users create and distribute content is valuable. Luckily, HubSpot is a sales, marketing, and content management system (CMS) built into one platform. Teams can design websites, write and publish blog posts, and even host on-demand video content through the CMS module.
B2B Sales Training & Coaching Statistics
Sales training is more critical in B2B sales than B2C because most of the sales process involves direct interactions with a lead. Team members also need some technical knowledge regarding their products or services and sales skills to help clients navigate solutions—demanding more training. These B2B statistics show the true impact of sales training and how coaching is used for top B2B companies.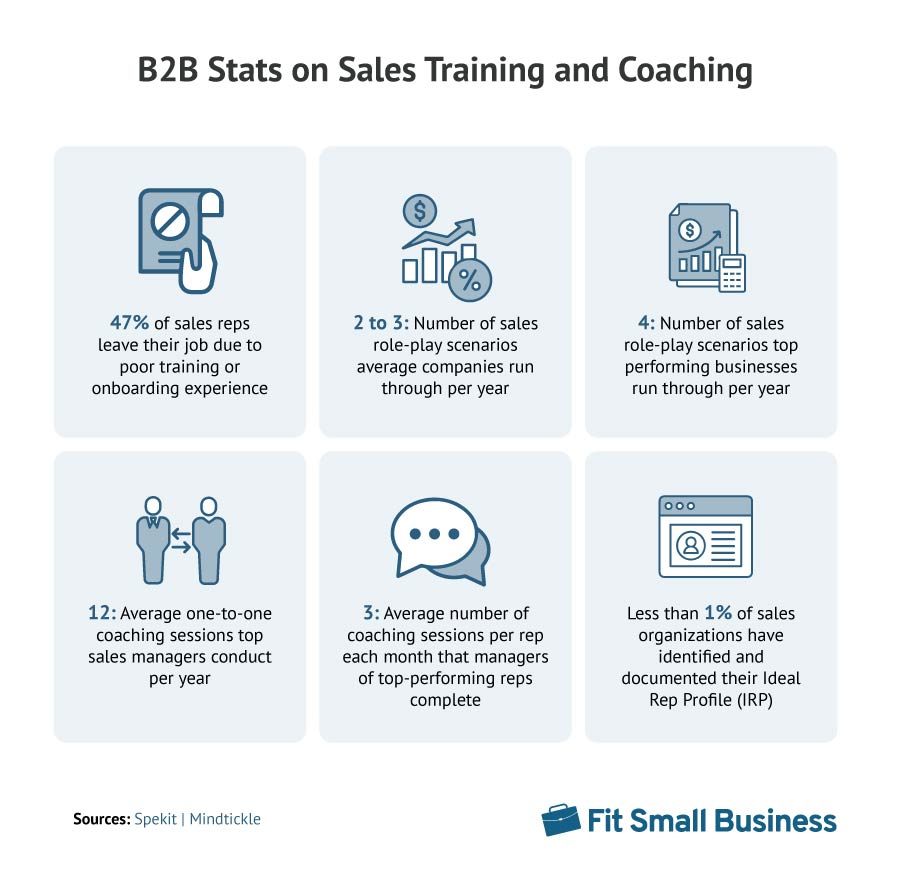 31. 47% of sales reps will leave their job if the training or onboarding experience is poor
Takeaway: Many reps often hate their initial training process as it causes them to suffer from boredom when they're eager to get out and sell. It turns out, however, almost half will actually leave their firm if they had a bad experience. That said, consider avoiding traditional classroom-style training seminars or standardized tutorials. Instead, try more hands-on training that has a higher engagement, such as running simulated scenarios and job shadowing veteran reps.
(Source: Spekit)
32. While the average company runs through two to three sales role-play scenarios, top-performing businesses average four per year
Takeaway: The conclusion is simple: ongoing role-playing is a success factor in sales. When reps complete sales simulations with various trajectories, they are ready for anything a lead or client will throw their way. Both new reps and seasoned veterans should continuously undergo simulated training to keep their sales skills sharp.
(Source: Mindtickle)
33. Top sales managers report an average of 12 one-to-one coaching sessions per year with their reps
Takeaway: Sales management leadership includes building and onboarding a sales team, motivating reps for peak performance, ensuring individuals are meeting their quotas, and enabling success by providing the right resources. In addition to technology and process adjustments, one of the most valuable resources is a manager's knowledge. They generally are experienced in sales, and the data proves simple one-to-one, monthly sessions can boost overall team performance.
(Source: Mindtickle)
34. Managers of top-performing reps complete an average of three coaching sessions per rep monthly
Takeaway: Sales managers who handle top-performing teams put in the extra effort to conduct coaching sessions for their reps. They also deliver different coaching methods at regular intervals. These include weekly deal-based coaching, monthly or ad hoc skills coaching, and targeted coaching for new products or processes.
(Source: Mindtickle)
35. Fewer than 1% of sales organizations have identified & documented their Ideal Rep Profile (IRP)
Takeaway: Much like how an Ideal Customer Profile (ICP) details the key qualities of a good prospect, the IRP documents the top competencies that a sales rep must have in order to be successful. IRPs are as important as Ideal Customer Profiles (ICPs) because they guide your reps toward success.
(Source: Mindtickle)
Pro tip: Read our guide to the best sales training programs that can help you maximize your team's performance. One of the top general sales programs is IMPACT Sales Team Training designed by The Brooks Group. This class teaches reps and managers how to better identify prospects and communicate with them more effectively.
Visit IMPACT Sales Team Training by The Brooks Group
Bottom Line
B2B selling consists of a longer, more complex sales process—requiring more training and technology resources to produce solid revenue numbers. These lead management and B2B online sales statistics and examples of sales technology products will help you better navigate the space. Use these real-life insights to generate more quality leads, improve sales pipeline health, and maximize your reps' productivity.