5 Best Consignment POS Systems
This article is part of a larger series on POS Systems.
Consignment stores need a flexible point-of-sale (POS) system that can work for consignment and new item sales and inventory. They should have tools that address the specific needs of consignors, such as frequent communication and store credit, but still be easy to use for day-to-day checkout.
We looked at nearly a dozen POS systems specifically for their functionality in consignments, whether as part of the system or using an add-on. We found the five best consignment POS systems for small businesses are:
Consignment POS Systems Compared
Monthly fee

Transaction fees

Consignor tools

Consignor communication

Consignor credit

Online store

Online: $39 to $399

POS: $0–$89 (plus online fee)

In person: 2.4%–2.7%; Online: 2.4% + 30 cents–2.9% + 30 cents

Third-party app

Third-party app

Third-party app

✓

$0–$60

In person: 2.6% + 10 cents; Online: 2.9% + 30 cents

Third-party app

Third-party app

Third-party app

✓

$129

2.6% + 10 cents, plus $14.95/month and $115 annually

✓

✓

✓

✓

From $99; call for quote

Varies by processor

✓

✕

✓

Basic sales functions only

$129–$279

Varies by processor

✓

✓

✓

With Shopify integration ($0–$75 per month)
Shopify: Best Overall Consignment POS System

What We Like
Versatile system for online or in-person sales
Best-in-class ecommerce platform
Shipping discounts
Sell in 133 currencies
What's Missing
Needs add-on for consignment handling
POS is only compatible with Shopify Payments
Shopify Pricing
14-day free trial
Monthly software fees:

Ecommerce (required): $39 to $399
POS: $0 to $89 per location

Installation fee: $0, installation is do-it-yourself (DIY)
Contract length: Options for month-to-month, annual, or multiyear
Processing fees:

In person: 2.4% to 2.7%
Online: 2.4% + 30 cents to 2.9% + 30 cents
Although not designed specifically for consignment shops, Shopify tops our list for the best consignment POS system because of its excellent tools and ability to integrate with consignment store software. If you also sell your products online, Shopify offers powerful ecommerce and social selling tools and discounts on shipping.
Shopify earned 3.89 out of 5 in our evaluation. It lost points for needing an add-on for consignment tools and because some features require a higher-tier plan. However, the pricing is competitive, especially if you are content to use the vendor tools for your consignors. It's easy to use, and you can purchase or rent the POS hardware or use the mobile app.
Shopify Pricing
In January 2023, Shopify increased its ecommerce subscription fees.
This new pricing is effective immediately for new sellers, and is reflected in this article. Current Shopify subscribers can lock in their current rates by opting for an annual subscription before the new pricing takes effect for current sellers on April 23, 2023. This price increase was also followed by the announcement of dozens of new features.
To use the POS system, you need a Shopify plan. Plans run from $29 to $299 per month, with discounts in payment processing and shipping that get better with the higher plans. If you are OK with logging consignors as vendors, then this is the cheapest option after Square. If you need special consignment tools, such as account credit and a consignor portal, then you need to add an app, which may come with its own monthly fees. Shopify does have a vendor portal, however.
Shopify's transaction pricing is competitive, especially for in-person sales. It does not have a flat fee but charges a straight percentage of the sales amount. This is to your advantage if you primarily do small ticket sales.
Basic Shopify

Shopify

Advanced Shopify

Monthly Fees*

$39 per month

$105 per month

$399 per month

Online Transaction Fees

2.9% + 30 cents

2.6% + 30 cents

2.4% + 30 cents

In-person Transaction Fees

2.7%

2.5%

2.4%

Additional Fees for Using Third-party Payments

2%

1%

0.5%

Shipping Discount

Up to 77%

Up to 88%

Up to 88%

Shopify POS Pro (per Location)

$89 per month

Shopify POS Lite

Free
*Shopify collects sales taxes in certain states where it is required by law. The prices stated here do not reflect such taxes. The provider also offers a 10% discount on annual plans and a 20% discount on biennial plans (lump-sum payment).
ConsignCloud: Shopify integrates with several consignment systems. We recommend ConsignCloud. It offers a simple POS system, but excellent consignment tools including payment splits, a mobile-friendly consignor portal, and automatic inventory control and bulk payouts.
Shopify Features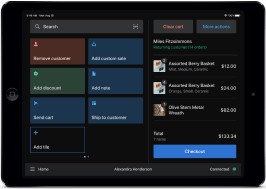 Integrated POS: Shopify's POS system integrates fully with the online store, so that no matter where you sell an item, it's accounted for in inventory and sales reports. Shopify makes our list of the top POS systems along with Square. The POS is customizable, with shortcuts and saved carts as well.
Online sales: Shopify's claim to fame is online sales. In addition to being able to create an online store easily, you can take sales online to pick up in person. It also lets you sell on social media. It's our No. 1 recommendation for ecommerce platforms.
Inventory management: Shopify has excellent inventory features, including low stock alerts and variants, purchase orders (POs), and even the ability to forecast product demands. This makes it a great tool if you have inventory aside from consignments such as sodas or other regular stock items.
Customer management: Shopify has tools to help you turn customers into regulars. You can collect details and tailor marketing campaigns, or make notes, such as if they are seeking a particular item so you can let them know if you get one. Unlike SimpleConsign, Shopify requires an app for loyalty programs, but free ones are available.
Hardware: Shopify works on tablets, but offers hardware systems that include stands, cash drawers, card readers, and more. You can even rent a system for a few days such as for a fair or community event. Shopify alone offers this capability.
Mobile app: Like Square, Shopify has an excellent and full-featured mobile app that lets you take your sales anywhere. It earned 4.4 out of 5 on Android and 4.6 out of 5 on iOS.
Ease of use: Shopify gets high scores for ease of use. The webstore is especially easy to create with the new operating system (adopted in July 2022), and the POS system is intuitive as well. Shopify's online help options are excellent, including videos, how-to articles, and forums, plus it has 24/7 support. Real-world users give it 4.42 out of 5, one of the highest scores on our list.
Square for Retail: Best for Free POS & Online Store

What We Like
Basic POS is free
Integrated ecommerce is free
Easy-to-use system
Excellent resources for business finance and employee management
What's Missing
Consignment functions need third-party add-ons
Can only use Square payment processing
Limited phone support
Square Pricing
30-day trial on paid plans
Monthly software fees: $0 to $60
Installation fee: $0; installation is DIY
Contract length: Month-to-month
Processing fees:

In-person: 2.6% + 10 cents
Online: 2.9% + 30 cents
You need Square POS Pro ($60 per month) for vendor management or you can integrate Square POS basic into a consignment system to get the best POS system without any additional fees.
Square for Retail always ranks high on our lists of best retail POS systems. Here, it places second to Shopify, but is a terrific choice for a small consignment shop that doesn't need a lot of consignor tools.
You can register consignors as vendors or integrate Square into one of many consignment apps like Rose or Aravenda. It's also working on an integration with Ricochet, which ranks next on our list. Square offers competitive payment processing fees with a powerful and free POS system, plus a wide variety of services for when your business grows.
Square earned 3.81 out of 5 on our rubric, just shy of Shopify's score. One reason it took the second slot is that you are committed to Square's payment processing, while Shopify lets you choose your own processor. However, even the free plan offers an easy-to-use POS, strong inventory tools, customer management, and a free online webstore.
Square Pricing
At its most basic, Square only charges you for transaction fees. You get the POS system and the online store for free. This makes it the cheapest of the consignment store POS systems on our list. However, as you grow, you may want to add more tools, like loyalty or even payroll:
Square for Retail: Free
Square for Retail Plus: $60 per month, per location―adds vendor management, automatic inventory tracking, inventory counting, and purchase orders
Ecommerce: $0 to $72 per month
Square POS Payment Processing Fees
Flat-rate transaction fee: 2.6% + 10 cents per transaction
Invoices: 2.9% + 30 cents per transaction
Ecommerce sales: 2.9% + 30 cents per transaction
Keyed-in payments: 3.5% + 15 cents per transaction
Volume discounts: Square will create custom pricing packages for any business processing more than $250,000 in credit card sales.
Square Additional Services
Marketing: Starts at $15 per month for up to 500 customer contacts
Loyalty program: Starts at $45 per month, per location, for up to 500 loyal visits
Payroll: $35 per month, plus $5 per employee
Team management: $0 to $35 per month, per location
Square Features
POS system: Square's POS system is very easy to use and, unlike many POS systems, lets you take credit card payments even if offline. It processes them once you have a connection again.
Omnichannel sales: Like Shopify, Square has an online store component, but Square's is free. This includes a store, the ability to order online and pick up in-store, and to sell via Facebook, Instagram, or Pinterest.
Integrate with consignment store software: Square, like Shopify, can integrate with several consignment store applications. You will need to pay for these applications, but by integrating with Square, you get a powerful POS free and competitive payment processing without contracts.
Vendor management: If you don't need extensive consignor tools, you can list your consignors as vendors. Items will be treated as stock with wholesale prices rather than splitting consignments as a percentage. You need Square Pro for this, however.
Hardware: Square works on tablets but Square also has registers, handheld registers, and other equipment that is designed specifically for the Square system. The others on our list work with multiple hardware vendors, and Shopify has tablet stands and peripherals.
Customer management: Square can recognize customers by their payment methods, and customers can save their payment preferences for future sales. You can ask customers for feedback right after the sale via text or email receipt. One drawback is that email campaigns and loyalty programs cost extra. For these functions, we suggest Rain or SimpleConsign.
Ricochet: Best for Working With Consignors

What We Like
Consignor portal lets them see their accounts
Seasonal and automated discount capability
Built-in webstore
What's Missing
Transaction fees are not transparent
Expensive
For iOS only
Ricochet Pricing
14-day free trial
Consignment plan: $129 per month ($1,199 for an annual subscription)
Payment processing through Gravity Payments*:

Monthly regulatory fee: $4.95
Monthly gateway fee: $10
Annual Payment Card Industry (PCI) compliance fee: $115
Transaction fee: 2.6% + 10 cents
*Per last information from Ricochet; fees subject to change.
Ricochet offers a POS plan specifically for the needs of consignment stores. While its price, support hours, and few integrations kept it from the top of the list, if you need consignor-specific tools like a consignor portal, split payments, and more, this is the best choice. Plus, it's working on an integration with Square, which means that you will be able to add that and get the best of both worlds.
Ricochet earned a 3.66 out of 5 on our list. As noted above, price, customer support hours, and limited integrations brought its score down. However, it earned maximum points for consignment tools, online help features, and ease of use. Further, real-world users gave it an average of 4.77 out of 5, the highest user approval rating on our list.
Ricochet Pricing
Ricochet has two plans: retail and consignment. The consignment plan costs $129 per month or $1,199 for an annual subscription. This is the most expensive software on our list, but if you consider that it will handle all your consignment needs, POS sales, and online sales, it can be cheaper than say, Shopify, which requires a paid add-on for consignment sales.
Ricochet uses Gravity for payment processing. Gravity does not list its rates online, but a Ricochet rep said the most recent rate was 2.6% + 10 cents, although they do not guarantee it. This compares well against Square and Shopify. Gravity, however, also charges another $14.95 per month in fees and an annual PCI fee of $115. Others on our list do not charge these additional fees, which incur regardless of how much you process. If you do infrequent credit card sales, this may be an expense you don't want.
Ricochet Features
Consignment portal: Ricochet has a consignor/vendor portal, where consignors can log in to see their accounts, including items still unsold, pending payouts, and more. SimpleConsign has a similar feature, as does Shopify, but with fewer consignor tools.
Consignment tools: Ricochet, unlike Square and Shopify, is designed especially for consignments. You can assign consignor credits and awards, automate commission splits, and even let consignors create their own inventory and print their own tags. This is a great tool if you have booths for your vendors.
POS system: Unlike Square and Shopify, Ricochet's POS does not have item buttons but, otherwise, it's an easy-to-use system. You can look up items or enter them manually, program in discounts and sales, and even handle tax exemptions.
Ecommerce: Ricochet has its own webstore for selling online and shipping products. Unlike Shopify, there's no additional charge for this tool. It integrates with your system for inventory and sales calculations, plus Mailchimp for collecting customer information for mailing campaigns. You can accept PayPal payments as well.
Hardware: Unlike most of the others on our list, Ricochet POS works only with iOS systems like iPads and Macs. You can access the software online from any desktop computer, however. It works with a variety of commercially available hardware like barcode scanners. You need to get card readers that work with Gravity Payments, however.
Loyalty: Ricochet has a simple loyalty program, where you can track customers to collect rewards points. For Square, you need to pay extra for such a program.
Rain POS: Best for Consignment Contracts & Work Orders

What We Like
Consignment contract templates included
Loyalty program included
Integrated in-store and ecommerce
What's Missing
Pricing not transparent
Cannot sell consignment items from the online store
Can't pay consignors from the software
Rain POS Pricing
Monthly plans from $99
Transaction fees: Vary by payment processor
Offers Rain payment processing—call for quote
You may need to integrate with ecommerce software to sell consignment items online.
Rain POS is a full-featured in-store and ecommerce POS system that works on a multitude of hardware types, so you are not tied to a proprietary machine. It also works with Worldpay or its own payment processor, Rain Payments. With specialty designs for different types of stores, it has a consignment module that is one of the most powerful we've seen. It has a work order function for businesses that take consignments and repair them before putting them up for sale such as antiques and high-end items. However, you need to pay consignors manually.
Rain POS earned a 3.33 out of 5 on our rubric. The biggest hit was in pricing, as it does not list pricing or transaction fees on its site. It does not have a consignor portal like Ricochet or SimpleConsign, and you need to pay consignors manually. It also cannot take payments offline. Nonetheless, it has a wealth of consignment functions, loyalty, and marketing tools.
Rain POS Pricing
Rain does not list its pricing online. You need to get a demo and then talk to a representative for a quote. The same goes for its payment processing. You can use Worldpay (formerly Vantiv) or Rain Payments. Rain Payments is built on Stripe's infrastructure.
Third-party sources say Rain starts at $99 per month, which is on par with what most of the consignment-specific POS systems run.
Rain POS Features
Full-featured consignment module: The consignment module includes the ability to collect contract signatures and set minimum pricing, net consignments, and more. This is far more than Shopify or Square can do on their own. It falls short of SimpleConsign, however, in that you cannot pay consignors from the module.
Contracts: Unlike the others on our list, Rain lets you specify contracts and collect signatures. You can use multiple contracts, so that you can have a separate one for antiques, for example. Signatures can be collected by print, email, e-signature, or not at all, and you specify in the account how it was collected so you know where to look. SimpleConsign has contracts, but you can only print them.
Work orders: Sometimes, you may get an item that could be worth a lot but needs some repairs first. Rain is the only consignment POS system on our list that lets you create work orders for the repair of items. When a work order is out, the item is listed as reserved until the repair is completed; after which, it is listed as for sale.
Multichannel sales: In addition to a powerful POS system, Rain helps you create a beautiful website that integrates with your in-store POS system. The website includes the ability to let customers leave reviews as well. Unfortunately, it does not let you sell consignment items online; for that, consider the others on our list, especially Ricochet.
Marketing and loyalty: Unlike Square, which charges extra for marketing tools, Rain has a loyalty program with rewards points and gift cards and marketing tools such as automated emails already built into its system.
SimpleConsign: Best for Multiple Consignment Stores

What We Like
Can buy or sell from register
Save transactions, layaway available
Consignor terminal for communication
What's Missing
Shopify and QuickBooks plug-ins are expensive
Ecommerce requires API, higher plan
Support by contact form only
SimpleConsign Pricing
15-day free trial
Basic: $129 per month, per location

Shopify plugin: $75 per month
QuickBooks plugin: $75 per month

Standard: $179 per month, per location

Shopify plugin: $50 per month
QuickBooks plugin: $50 per month

Professional: $279 per month, per location

Shopify plugin: Included
QuickBooks plugin: Included
SimpleConsign is a POS system built for consignment stores, with consignor tools that include several split payment choices, contracts, consignor credit, and a consignor terminal where they can view their contracts and account activity. It's designed to handle multiple stores, with the ability in one click to view reports and inventory for any location.
SimpleConsign earned 3.31 out of 5 on our rubric. It lost points on pricing because of the cost and the extra charges for the add-ons. It also lost points for not having a mobile app and register features like customizable hotkeys. Ecommerce tools were also add-ons―and expensive. However, it has a full suite of consignment tools, including contracts, consignor communications, and payouts. Its ability to handle multiple locations earned it a place on our list.
SimpleConsign Pricing
SimpleConsign has three plans, plus plugin pricing. Pricing is by location. Every plan includes unlimited consignors, inventory, and cashiers; customer support; training; and backups. They also come with a rewards points system―something Square charges extra for―and credit card processing. SimpleConsign did not specify card rates, which may vary by the processor you use.
Basic $129 per month, per location: Shopify and QuickBooks plugins are $75/month each
Standard $179 per month, per location: Shopify and QuickBooks plugins are $50/month each; also includes consignor access, application programming interface (API) for ecommerce, price book, and automated clearing house (ACH) payouts through SimplePay
Professional $279 per month, per location: Plugins are free; includes everything in Standard plus photo app, dealer remote item entry
SimpleConsign Features
Simple POS: Rather than a button-based POS system like Square, you need to scan or type in the item. A general descriptor like "guitar" will pull up all the items in stock. You can, however, also purchase consignments from the register, something Square and Shopify can't do.
Consignment tools: You can add vendors, designate contracts, set consignment splits and more, easily. Unlike Rain, SimpleConsign does not have a tool for recording signatures. It does, however, let you set monthly fees such as if you are renting space in your shop. Like Rain, you will need to pay your consignor manually.
Multistore capabilities: You can use SimpleConsign in multiple stores, with the ability to see any store's inventory, store credit, and more regardless of your location. You can view reports and inventory for any location with a simple click, even from the register. This is great if you have a customer searching for a specific item that's not in your store.
Ecommerce: SimpleConsign has an API for ecommerce integration or a direct integration with Shopify. However, we do not recommend SimpleConsign's ecommerce simply because it charges to integrate Shopify in addition to Shopify's fees. Unless you are sold on SimpleConsign for its other features, consider Shopify with a different plugin or Ricochet.
How We Evaluated Consignment POS Systems
To choose the best consignment POS system, we looked at nearly a dozen POS systems, including general ones with vendor management and programs that are specific to consignment stores. While we gave heavier weight to consignment tools, we nonetheless looked at their use for the entire retail process.
Shopify was our No. 1 choice. It took the lead in ease of use and scored highly in all categories. Its 24/7 customer support, integration capability, and ability to work with multiple payment processors set it above the others.
Click through to see the scoring criteria.
25% of Overall Score
These are features that make it easy for your cashier, including programmable buttons, store credit and return functions, gift cards, and more. We also gave points for online tools and mobile payment processing. Square again leads with 4 out of 5.
30% of Overall Score
These are backend tools for marketing, inventory, and especially consignor management. We have the heaviest emphasis on consignor tools, with partial credit if the software integrated with consignment apps. Ricochet with 4.33 topped the list here.
10% of Overall Score
Software is no good if it's not easy to use. We looked for offline mode, customer support hours, integrations, and online support tools like articles and videos. Shopify earned 4.75 out of 5, taking first here because of its 24/7 customer support. We were not impressed with SimpleConsign's ease of use, but real-world users rated it highly.
15% of Overall Score
Here, we relied on our years of experience evaluating POS software as well as reviews from real-world users to determine value for your dollar. Square, Shopify, and Rain POS got perfect scores in this area.
*Percentages of overall score
Consignment POS System Frequently Asked Questions (FAQs)
Why get a consignment software with a consignor portal?
Consignor portals, like those in Ricochet and SimpleConsign, allow consignors to log in and see the status of item sales and payouts. Some even let them edit information. This can save you time-consuming phone calls from consignors wondering if their items have sold yet.
---
Can Consignment POS software work for a store that sells new items, too?
Yes. Most consignment POS software have tools for regular item sales as well, with vendor accounts and regular inventory tools. Several of our recommended consignment POS also appear on our list of the best retail POS systems.
---
Do Consignment POS systems include barcode scanning?
---
Can I sell consignments online?
Absolutely. You should have an ecommerce system that works with consignment software so that you can properly calculate your share vs your consignor's share of the profits, and you need to determine how shipping costs are split. In fact, both Shopify and Square have ecommerce tools. Read our Shopify ecommerce review and Square Online review to learn more.
---
Bottom Line
Consignment store POS systems should be inexpensive, easy to use, and take into account the unique needs of consignment sales. Sometimes, you can't get all three, but with the best consignment POS systems above, you can come close.
We chose Shopify as the best overall consignment sales platform because of its many features and excellent price. You can list consignors as vendors or integrate with a consignment store software to get a powerful system for in-store and online. Check out Shopify and get started today.