How to Start a Consignment Shop in 9 Steps
To start a consignment shop, as with any business, you'll need a prime storefront and a strategy for acquiring customers and merchandise. It involves choosing a niche, establishing a budget and business plan, finding merchandise and laying out your store, advertising, staffing up, and, finally, opening to the public.
As you're starting your own business, you're going to need to keep your books in order. QuickBooks Online is our pick for the best overall small business accounting software. Get 50% Off for 3 Months

---

Free guided setup by a QuickBooks Expert

Invite your accountant to access your books for free

Create custom invoices and get paid online
Starting a consignment store can cost up to $10,000, according to a commonly reported figure from Entrepreneur, with average salaries for consignment shop owners ranging from $40,000 to $60,000. Here's how to start a consignment shop―as a brick-and-mortar store―in nine steps.
1. Choose the Right Type of Consignment Shop
If you're wondering how to start a consignment shop, the first step is to narrow down exactly what kind of store you want to open. The most successful stores cater to a specific audience and have a specialty or focus area that helps them stand out from other online or offline retail competitors. To make the most money with your new business, choose a product area that is in high demand and/or hard to find, to lure shoppers into your store.
Designer & Luxury Goods
The secondhand luxury and designer goods market was worth an estimated 33 billion euros in 2020 (about $37 billion), a figure expected to continue to rise. These are popular items because shoppers can purchase products that may otherwise be outside their budgets. People looking to get rid of gently worn designer products often opt to sell them to a consignment store rather than donating to get a partial return on their investment.
Popular designer goods to sell include watches, jewelry, sneakers and other footwear, handbags, wallets, jewelry, and apparel.
LXR is an online consignment shop for luxury and designer handbags and accessories. The store focuses exclusively on authentic designer label goods. It also purchases used goods to sell on its site.
Apparel & Footwear
Clothing and shoes are popular secondhand items, even if they're not expensive designer-label. More than three-quarters of people who've never done it would consider selling secondhand clothes. They're relatively easy to source—more than 95% of the 36 billion tossed clothing items each year could be salvaged—and they're items for which there will always be demand.
In fact, clothing is the most-purchased secondhand good. And as much as 7% of the average person's wardrobe consisted of used items in 2019, a figure expected to hit 17% in 2029.
The largest target market for this type of consignment shop are Gen Z women, according to ThredUP. So keep those styles and trends in mind if you're going after that audience.
Omnia is an excellent secondhand apparel and accessories shop to check out for inspiration. It sells a carefully curated selection of used vintage goods.
Books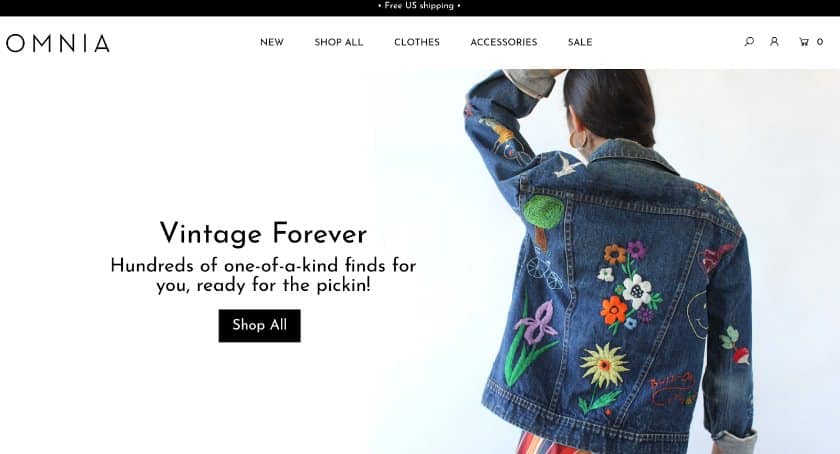 Secondhand books are another popular consignment category. In addition to regular paperbacks and hardcover books, some used bookstores deal in rare books, such as antiques and signed copies, or specialty books like cookbooks and textbooks.
Popular websites like ThriftBooks and Better World Books are examples of online retailers that have found success swelling used books. Puerto Rico-based El Coquí Bookstore sells used books in-store only—shoppers have to visit the shop and explore the wide array of books in a variety of languages.
Children's Wear
Clothing for children and babies is a popular and profitable type of consignment store. Since parents have to purchase clothes for growing children very often, many turn to secondhand stores as an affordable option. Plus, you'll have a steady supply of parents looking to sell their children's gently used clothes.
Once Upon A Child is an example of a secondhand shop that sells both children's clothing and toys. The brand operates several retail shops as well as a full online presence.
Online Consignment Shop
During the past several years, online consignment stores have become very popular, especially for apparel and accessories. Starting an online consignment shop gives you a wider customer base than a local store.
Check out these resources to help you learn how to start selling online:
One key thing to remember when starting an online consignment shop is that you'll need to photograph each item individually. This can be time-consuming, so it's important to weigh how much time it'll take you against the opportunity for profit.
Pop-up Consignment Shop
If you're not ready to commit to a full-time storefront, having a pop-up business is a great way to test products and locations before diving in. If you're looking to start a consignment business as a part-time venture or side gig, having temporary stores is a good option as well.
Pop-up shops come with less commitment, so they're a great way to get into retail without all the overhead of running a permanent storefront. This is exactly the approach that Grapevine Events takes with their secondhand goods pop-up shops. As a result, they're also able to offer higher rates to consignors.
2. Create Your Consignment Shop's Budget
Once you know what kind of store you want to open, the next step in how to start a consignment shop is setting a budget for your store. To set your budget, first consider your current income and savings. What can you save and set aside for your new business venture? How much outside funding will you be able to get from personal loans, business loans, business credit cards, and so on? Opening a consignment business requires a lot of upfront cash. Once you're open, it will take time to build your sales volume.
Next, estimate your expenses for opening your store. Include how much you can spend on a storefront, outfitting the inside of your store, signs, and marketing, and your initial product purchase.
Now, estimate your monthly expenses for once you open. Include set bills like rent, phones, internet, payment processing, and so on. Also factor in advertising budgets, employee salaries, merchandise purchase orders, and other store supplies.
The hardest part of setting a budget for a business that is not yet open is predicting your monthly sales volume. This is especially hard for apparel and retail businesses as sales can fluctuate drastically, depending on the season, holiday, weather, economy, and consumer confidence. According to the Retail Owners Institute, used merchandise retailers had an average inventory turnover rate of 4.1 in 2021. That means they sold through and replaced all of their inventory about four times throughout the year.
Keep that number and your total inventory value in mind when estimating your monthly sales. Err on the side of caution, and plan for lower sales when you open, so that you have enough cash flow to cover expenses. Subtract your estimated monthly expenses from your estimated monthly sales, and that will give you an approximate monthly cash flow for when you open.
Pro tip: Retail is an extremely seasonal business. Most retail businesses bring in a ton of money around Christmas and the winter holidays. There are also spikes in revenue around back to school shopping, and spring holidays such as Mother's Day and Father's Day. Your monthly sales can vary, so always have extra cash on hand to cover slower months.
3. Create a Business Plan for Your Consignment Shop
Once you figure out what kind of consignment business you'd like to open, you'll need a solid business plan to piece together all your ideas and form a strategy for making your store profitable. If you're seeking outside or startup funding such as a bank loan, your business plan will be evaluated during the approval process.
Here are the nine elements found in a typical business plan:
Executive summary: An introductory paragraph outlining your consignment shop's purpose, mission, and why it will be successful.
Business description: Describe what need or market hole your consignment store is filling in the community, who your customers will be, and the talent on your team.
Market analysis: Write an overall outlook on the consignment and resale industry including trends, what successful competitors are doing, and what your strengths will be.
Organization and management: Outline who will be running your business and the experience your team members have in retail, consignment, or your store's area of specialty.
Product line: Outline what kinds of products you will sell, how you will sell them, and where your supply will come from. Include research on why you're selecting those products, such as sales trend data.
Marketing and sales: Describe your general marketing strategy and your plan for attracting and retaining customers.
Funding requests: If you need outside funding, outline your needs and specify exactly how you will use the funds.
Financial projections: Detail how your business will become stable and profitable, including a projected financial timeline of at least five years. If you are borrowing funds, include a plan on how you will be able to repay the loan.
Appendix: Use this space for any supplemental documents, such as logo or branding designs, sketches of what your consignment shop will look like, credit histories, licenses, permits, etc.
When writing a business plan, use the format and software you're most comfortable with. Many people use a traditional word processor like Microsoft Word or Google Docs. You can also create your business plan in a presentation format using PowerPoint or Google Slides. There are also business plan software programs that offer templates and guide you through the process.
Choose the Best Legal Structure
Choosing a legal structure for your consignment business is important because it dictates how you will collect and report taxes, your level of personal liability, and how you will get paid from your business. There are many types of legal structures, but the three most commonly found in retail are sole proprietorships, limited liability companies (LLCs), and corporations.
If you don't set up a legal structure for your business, this is the default. Operating under a sole proprietorship essentially means you're doing business as an individual and, therefore, are not separated from your business in any way. Sole proprietorships are popular options for freelancers, business consultants, and other individuals conducting low-risk and low-visibility work by themselves.
With sole proprietorships, your business revenue is considered personal income. This means you will pay sole proprietorship taxes based on your personal income bracket. While you are subject to self-employment taxes, you do not have to pay any corporate taxes, which is a plus.
However, sole proprietorships also come with greater risk because you and your business are one and the same. Your personal assets, such as your house and car, are at risk if there is any kind of lawsuit against your business or if you declare bankruptcy.
LLCs are legal structures for small businesses that protect your personal assets, such as your house and car, in the case of lawsuits or business bankruptcy. This is the most popular legal structure for small retail businesses and the one we recommend if you are planning on maintaining a single consignment storefront.
If you're the single owner of the LLC, you'll likely still pay taxes the same way you would as a sole proprietorship but with the benefit of personal assets protection from liability. However, many states have separate LLC taxes, which may make it more expensive than operating as a sole proprietor. It's always best to check with your local regulations.
To form an LLC, you need to choose an official name and file paperwork to establish your company, whereas a sole proprietorship doesn't require any paperwork. Luckily, the paperwork isn't overly extensive and can be filed easily in a few steps using a tool like LegalZoom.
Corporations are the most structured legal form for your consignment business. They have strict tax guidelines. When you create a corporation, it's a completely new and separate entity in the eyes of the government and the IRS.
Corporations are an ideal structure for consignment businesses that want to expand into multiple storefronts, become a public company, or want to secure a lot of outside funding. Corporations provide you the most personal liability protection out of the three legal structures. However, you will need to pay federal corporate tax on top of personal income tax. Corporations are also expensive to form and require you to keep detailed business records.
Organize Your Finances
No matter which legal structure you choose, getting your finances in order is a crucial step. This involves opening a business checking account to separate your personal and business finances right from the beginning. Having two separate accounts makes it easier to monitor your business' cash flow and track expenses accurately and will make the process of filing taxes much easier.
Chase is a great banking solution for retailers because it offers small business checking, business credit cards, and merchant services―payment processing―so business owners can manage all their cash flow in one place. Plus, Chase offers competitive rates and great customer service. Contact Chase to learn more about its small business retail solutions.
Learn more about the best small business checking accounts.
4. Select a Storefront
Choosing a storefront is a critical step that needs to be considered carefully. The location you select can all but make or break your business. The decision can seem overwhelming. So, start by narrowing down a geographic location. You'll be spending long hours at your consignment shop nearly every day when you first open. Think about how far you are realistically willing to commute and choose areas that are accessible from your home easily.
Spend time in each area to become familiar with specific neighborhood demographics and preferences and scope out other local businesses. There are many factors that go into choosing the right location for your business, but it all comes down to picking the location that will attract the most customers.
Determining foot traffic can help you figure out how many walk-in customers you can expect in each location. In addition to staking out your prospective storefront locations, ask other local business owners questions about the traffic, shopper demographics, and neighborhood.
Additionally, consider details such as parking and signage. A Main Street location is ideal, but only if your customers can park near your store easily. Likewise, you'll want a location that allows for a big storefront sign. Some locations have strict rules about the sizes and types of signage they allow.
5. Acquire Merchandise
Finding merchandise to sell at your consignment shop is trickier than sourcing products for traditional retailers. You'll want to have a buying strategy in place before you open to ensure a steady stream of products to sell. You'll probably use a combination of tactics to keep your store stocked.
Popular secondhand product sourcing strategies include:
Joining the Association of Resale Professionals (NARTS): This professional organization connects resale buyers with suppliers through its directory.
Advertising to potential consigners: Advertise in print and online (on social media too!) regularly that you're purchasing gently used items. Many of your potential shoppers could also be suppliers.
Purchasing from flea and thrift shops: You can find some great deals on products to sell in your store by searching through flea markets and other thrift stores.
Finding an off-price supplier: Off-price products aren't secondhand, but they're deeply discounted products that are either overstock or slightly damaged. You can find them through trade shows.
6. Design & Outfit Your Consignment Store
After securing a storefront and finding product sources, it's time to start strategically planning your store layout. Your store layout has a dramatic impact on in-store sales. A well-designed layout will welcome shoppers, make them feel comfortable, and direct them toward specific products.
The first thing you need to decide is what type of floor plan you want. Most retail stores fit into one of three basic layout categories:
Loop or racetrack: Best for specialty stores, showrooms, and retailers that want to lead shoppers on a specific path throughout the store.
Grid or straight: This floor plan is exactly what you would expect: straight, angular aisles that are typically found in grocery and box stores. A consignment bookstore may also follow this model.
Free flow plan: This is a popular plan for boutiques and allows for lots of creativity in the design process. Most apparel or decor consignment shops will follow this model.
Finally, you will need to position your checkout counter. A well-positioned checkout will open up floor space for displaying products and encourage shoppers to move through more of your store. As a rule of thumb, try to position your checkout on the left-hand side of your store.
Shoppers naturally veer toward the right side of a store, so that's where you want to display your best products. Some department stores and larger mall retailers place their checkout counters at the back of the store. However, for smaller retailers, placing your checkout toward the front makes it easier for staff to attend the register and keep an eye on the entrance.
Select a POS System
Point-of-sale (POS) systems are cloud-based software programs that replace traditional cash registers and offer additional tools such as inventory management, sales reports, and customer data and marketing. Your POS system is the central hub for your business where you process all transactions. Look for a system that has all the features you need, including payment processing, for an affordable rate.
Some of the criteria we use to evaluate the best POS systems include:
Price: Most POS software programs charge a monthly fee, and some also charge extra for certain features.
Ease of use: Test out each POS with a free demo or trial to make sure the interface is easy to navigate, and also read user reviews.
Customer management tools: Almost all POS systems have a customer directory feature but, otherwise, they vary greatly in what loyalty, marketing, and customer feedback features are included.
Sales reports: Each type of POS solution will have some kind of reporting tools, but some offer more details and features to create custom reports.
For brick-and-mortar stores, we often recommend Lightspeed. It's a small business POS with big-business functionality such as custom report builders, detailed inventory tracking, a loyalty program, and built-in payment processing. Plus, it has built-in capabilities to handle consignment products. Visit Lightspeed for a 14-day free trial.
7. Advertise Your Consignment Shop
Before opening your consignment shop, you'll need to start advertising and marketing your retail shop. Because you're on a budget, make sure your strategy is effective by choosing a combination of online and offline marketing efforts.
Online
In order for customers to find your business, you'll want to have a website. Creating your own website from scratch can be easy with the right tools. There are many easy ways to make a business website for little or no cost. You need a registered domain and a web hosting service.
Focusing on your SEO strategy is an excellent way to put your consignment shop in front of people who may not have otherwise heard about you. Local SEO, in particular, can help you increase your visibility for local searches. This is an excellent marketing tactic because users searching for "consignment shop near me" are likely high intent.
In Person
The storefront signage is the first impression shoppers will get from the in-person experience with your consignment shop. Make sure the sign is easily visible and easy to read, while also being reflective of your brand. You want to stand out enough to make passersby curious about what's inside, especially if you plan to rely heavily on foot traffic. Check out these business sign ideas for inspiration.
While your signage might make the first impression, your window displays have the potential to make the biggest impact. A well-designed storefront with captivating window displays can lure even the most hesitant shoppers into your consignment store. Here are some resources to help you get started:
Once your consignment shop is up and running, loyalty programs are a great way to encourage repeat customers and higher transaction amounts. Simple punch cards can be effective. However, using a loyalty program that's tied in with your POS system offers deeper insights like who is using the program and how effective it is. Lightspeed offers a sophisticated loyalty program that you can add onto Lightspeed POS for a monthly fee.
8. Hire & Train Employees
Last but certainly not least, before opening your store to the public you need to bring on a stellar group of employees to serve as the front lines of your business. If you haven't hired an employee before, navigating the process can be intimidating. Follow a new hire checklist that outlines all of the gritty steps you need to take such as obtaining an employer identification number (EIN), registering for state and local taxes, and so on.
As a consignment store owner, it's likely you won't have a dedicated human resources (HR) team member. Using an affordable solution like Homebase can save you plenty of time and stress by simplifying hiring, employee scheduling, time tracking, and payroll.
Training Your Employees
You'll want your consignment store staff ready to provide top-notch customer service from the moment you open your business. Providing great customer service is a skill that requires practice. If you don't start training your employees before you open, they'll be practicing their service skills on your customers.
Instead, hold a weeklong training boot camp before you open. In addition to running through customer service scenarios and role-playing, teach employees about store policies and procedures, the items you're selling, and any other pertinent information.
9. Plan & Launch Your Grand Opening
Hosting a grand opening celebration is a great way to kick off your new business venture while also gaining some press coverage. To have maximum attendance, recruit friends and family, draft a press release for local media and surrounding businesses, make a Facebook event, notify your local Chamber of Commerce, and take an advertisement out in the local paper.
"One mistake a lot of companies make is staying under the radar until launch. If no one knows what you're doing and when you're opening, then you have zero chance of making any sales. Start building some excitement at least six weeks before your launch. Get active on social channels. Interact with likely customers and get the conversation started. Build anticipation with enticing photos, and maybe even incentivize purchases in those early days."

― Deanna Thompson, Blogger, Closet Full of Cash
How to Start a Consignment Shop Frequently Asked Questions (FAQs)
Opening and running a consignment shop can be a tricky business.
A consignment shop is a store that sells secondhand items, typically clothing and accessories. Consignment stores purchase gently used goods and resell them at a markup to make a profit.
---
As the owner of the consignment shop, you will purchase secondhand goods from customers, professional suppliers, flea market vendors, and so on, and own those items until they are resold in your store for a higher price.
---
The exact price can vary a lot depending on your location and local real estate prices. However, opening a consignment store will cost roughly $10,000.
---
Part of learning how to start a consignment shop is figuring out what not to do. There are many reasons a consignment shop could fail. Common reasons include choosing the wrong storefront location, not having in-demand products, too-small profit margins, and insufficient marketing.
---
Bottom Line
Consignment shops are a great business idea for making money in 2022. More than 20,000 US-based used merchandise stores have a combined annual revenue of $17.6 billion, according to First Research. And these numbers continue to grow, especially as the world becomes more aware of the environmental challenges consumerism brings.
Starting a consignment shop is an excellent way to promote sustainable consumerism while also making a profit. And with the market growing the way it is, there's plenty of opportunity for consignment shops of all kinds. There's never been a better time to start a consignment business of your own.