Thermal receipt printers are shoebox-sized printers that connect to a cash register or point-of-sale (POS) system and print hardcopy receipts for sales transactions. Thermal receipt printers are the most common in small businesses because they print using heat on thermosensitive paper rather than using expensive ink cartridges. Pricing for a solid thermal printer averages around $350.
6 Best Thermal Receipt Printers for 2021:
How We Evaluated Thermal Receipt Printers
For brick and mortar businesses, a thermal receipt printer should seamlessly communicate with your business's point-of-sale (POS) system or register, along with the rest of your POS hardware. Small craft and trades-based businesses that operate without a POS need printers to print customizable amounts and that work in the field where ethernet connections and power outlets are not always available.
To determine the best thermal receipt printer, we considered:
Cost: Busy shops, restaurants, and trades businesses may need several receipt printers to support their operation, so they must be affordable.
Ease of use: It should be easy to load paper, clean print heads, and customize your receipts.
Print speed: The speed of your printer shouldn't slow down your business or lead to long lines.
Connectivity options: Thermal printers that have options for Wi-Fi, Bluetooth, USB, and ethernet connections will be useful to the widest variety of businesses.
Integrations: To support small businesses, receipt printers should integrate with the highest rated POS systems in the retail and service industries.
Supply availability: Some printers are only available via specialty retailers, but printer rolls and other supplies must be easy to find.
Customer reviews: Many of these printer brands have been around for years, so customer reviews about ease of use and customer support should be easy to find. And they should be positive.
Considering these criteria, we identified the Star Micronics TSP100III as the best overall thermal receipt printer. In addition to the speed and durability that all thermal receipt printers are known for, the TSP100III includes many insightful features to support all types of small businesses. It is available at a reasonable price and integrates with several popular POS systems, including the free Square POS.
Star Micronics TSP100III: Best Overall
The Star Micronics TSP100III is a cost-effective, high-speed thermal printer that works on several popular POS systems. It prints at a respectable 10 inches per second. It is available in charcoal gray or white to coordinate with almost any payment terminal. It has several connection options and a few insightful features to support contactless and mobile operations. The TSP100III is sold through several third-party sellers and retails for $275 to $325, depending on your preferred color and connection type.
| Star Micronics TSP100III Strengths | Star Micronics TSP100III Weaknesses |
| --- | --- |
| Integrates with popular POS systems | Bluetooth connectivity can be tricky |
| Built-in charging port for mobile POS tablets | May offer more functions than microbusinesses need |
| Includes digital receipt QR codes | |
Star Micronics TSP100III Pricing and Features
The TSP100III has a "Push n' Connect" button to find your POS network quickly. It also features an extra USB connector to power tablets and other mobile devices in a mobile POS setup. The TSP100III's guillotine-style cutter automatically separates receipts, which helps prevent jams and keeps your business speedy. Paper-saving settings condense your receipt layout, so you use less paper with each transaction.
Print speed: This dependable printer prints 10 inches per second, or 43 receipts per minute.
Connectivity: The TSP100III connects via WLAN, LAN, Bluetooth, and USB connections, making it a great fit for mobile or locally installed POS systems.
Integrations: The TSP100III has printer drivers for Windows, Mac OS, and Linux and is certified by Apple for use with all iPads, iPhones, and iPods. It can operate with or without an external cash drawer.
Warranty and Support: Star Micronics offers a two-year parts and labor warranty and hosts an exhaustive catalog of online manuals and user support forums on its website. Support can also be reached via phone or email.
Supplies: The TSP100III prints on either 83 mm or 58 mm paper rolls that are available through mainline retail or office suppliers.
Another insightful feature is the TSP100III's built-in AllReceipts integration. This allows you to print a unique QR code at the bottom of each receipt. Customers scan the QR code with their smartphones and automatically generate a digital version of the receipt. Using StarMiconics futurePRNT Windows software, you can add graphics or coupons to your receipts.
What Star Micronics TSP100III Is Missing
The Star Micronics TSP100III is not missing much. The only drawback will be if your POS does not communicate with Star Micronics printers. User reviews are generally positive, but some note minor issues with the unit's rubber feet being unbalanced and some trouble with getting the Bluetooth connectivity to work.
POS-X EVO HiSpeed: Best for Retail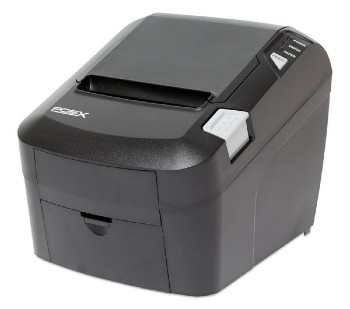 The POS-X EVO HiSpeed receipt printer is a highly durable printer backed by a 5-year warranty and excellent customer support. EVO HiSpeed supports multiple printer languages and "emulates" the Epson printer interface. So, with a little back-end tinkering, any POS that integrates with Epson should accept the EVO HiSpeed. This printer retails for around $275, making it one of the most cost-effective printers on our list.
| POS-X EVO HiSpeed Strengths | POS-X EVO HiSpeed Weakness |
| --- | --- |
| Super durable | Does not support Wi-Fi or Bluetooth connectivity |
| 5-year warranty | |
| Great technical support | |
POS-X EVO HiSpeed Features
The POS-X EVO HiSpeed is a powerhouse printer. It is designed for high-volume and longevity. It is a sturdy piece of equipment that can withstand temperatures from 41 to 104 degrees Fahrenheit, making this reliable printer a good fit for everything from ice cream shops to outdoor resorts.
Print speed: The EVO HiSpeed lives up to its name, printing a staggering 12 inches per second.
Connectivity: This printer supports USB, Serial, or Ethernet connections. It is not compatible with Wi-Fi or Bluetooth connections.
Integrations: Since the EVO HiSpeed uses multiple printer languages (ESC and POS), it can be used on most any POS system compatible with Epson printers.
Warranty and Support: This printer comes with a 5-year warranty from the manufacturer, the most extended warranty on our list. The POS-X website hosts a wealth of operations manuals, and the POS-X customer support team receives rave reviews from customers.
Supplies: The EVO Hispeed prints on standard 83 mm (3.27 inch) thermal paper rolls, available from any mainline supplier.
A max print speed of nearly 12″ per second dramatically cuts down time wasted waiting for longer receipts to finish printing. Drop-in paper loading makes replacing rolls a snap, and use tests show the thermal printer head will print nearly 100 miles of receipts before it needs to be replaced. The auto-cutter has a similar long life span of 1.5 million cuts, which should hold up to any business volume.
What POS-X EVO HiSpeed Is Missing
This printer is fast, but it is not mobile. It needs to be plugged into a wall outlet and connected to a POS via USB or ethernet cabling to operate. For traditional brick and mortar retail or restaurant businesses, this won't be a significant drawback. Food trucks or trades businesses that need mobility will prefer the more mobile Star Micronics TSP100III or the Epson P60ii.
Epson TM-T88VI: Best Thermal Receipt Printer for Restaurants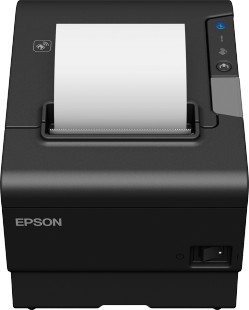 The Epson TM-T88VI is Epson's most recent upgrade to its TM-T88V printer that has been the most popular restaurant printer for decades. These printers are absolute workhorses in a restaurant setting and integrate directly with any restaurant POS you can think of. The TM-T88VI connects via ethernet, USB, Bluetooth, or Wi-Fi and retails for around $425.
| Epson TM-T88VI Strengths | Epson TM-T88VI Weakness |
| --- | --- |
| Integrates with most restaurant POS systems | Product numbering can be confusing |
| The standard other printers emulate | |
| Comes with standard 4-year warranty | |
Epson TM-T88VI Features
When you begin looking at thermal printers, you'll frequently run across the phrase "Epson emulation." This term simply means that a printer has been built to speak the same printer "language" as an Epson printer. The Epson T88 series printers' ubiquity makes them the printers that so many competitors try to emulate and the one that POS software developers program for.
In addition to being the industry standard, the Epson TM-T88VI features:
Print Speed: A very speedy 11.8 inches per second; faster than the Star Micronics TSP100II, but slightly slower than the POS-X EVO HiSpeed.
Connectivity: This printer can connect via Ethernet, USB, Bluetooth, and Near Field Communication (NFC).
Integrations: Epson's T88 series printers have supported restaurant POS for decades. They integrate seamlessly with virtually any POS you can think of.
Warranty and Support: Epson offers a generous 4-year warranty alongside comprehensive support resources on its website and via phone and email.
Supplies: You can purchase Epson thermal paper rolls via any mainline distributor that supports restaurant and retail businesses.
The TM-T88VI has a paper saving feature that consolidates your receipts and saves you 49% more paper. The T88VI's multiple connection options support locally installed and cloud-based POS systems, mobile devices, and cloud servers. You can also print from web-based applications using Epson's ePOS™ Print platform. Ghost kitchens and cloud kitchens can configure Server Direct Printing for online ordering tickets to print directly from the cloud to their kitchen.
What Epson TM-T88VI Is Missing
The Epson TM-T88VI packs a lot of insightful features into a printer that works for any type of restaurant. The biggest issue with this printer is making sure you get the right one. Since Epson's T88 series has been around for so long and is named with the same alphanumeric style, it is easy to mistake an older, less functional model for the latest version when buying through a third-party seller.
Star Micronics mPOP: Best for Small Mobile Businesses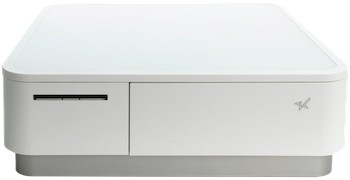 The in-built cash drawer makes the mPOP printer great for pop-up shops.
(Image from StarMicronics)
Star Micronics mPOP thermal receipt printer is built into a mobile cash drawer, enabling small mobile businesses to streamline their entire payment operation. The design is sleek, and the printer is compatible with all major operating systems: iOS, Android, and Windows. It retails for around $450.
| Star Micronics mPOP Strengths | Star Micronics mPOP Weaknesses |
| --- | --- |
| Sleek design | Pricey |
| Great mobile connectivity options | Print speed is slower than others |
| The attached cash drawer is excellent for pop-up shops | 2-inch paper width may be too narrow for some businesses |
Star Micronics mPOP Features
The mPop features a guillotine-style cutter to streamline your transactions and prevent paper jams. It also has a neat anti-curl function that keeps your receipts flat, even at the end of the paper roll. It includes Star Micronics' thoughtful touches, like an integration with AllReceipts that enables digital receipts via a unique QR code.
Print speed: The mPop clocks in at 4 inches per second, which is one of the slower print speeds on this list.
Connectivity: The mPOP connects to peripherals via USB, Wi-Fi, or Bluetooth.
Integrations: The mPop communicates with most mobile POS systems but can also operate with a simple connection to a non-POS enabled iPad or Android tablet. It is compatible with iOS, Android, Windows, and Mac OSX operating systems.
Warranty and Support: Star Micronics includes a 2-year warranty on the mPop and hosts information like downloadable print drivers and user manuals on their website.
Supplies: The mPop prints on standard 58 mm thermal paper rolls that are available at any office supply store.
The mPOP can be locked to counters or tables using a counter clip, under counter mounting bracket, or free-standing mUnite POP stand. Like its Star Micronics sister, the TSP100III, the mPOP includes USB ports for charging external devices or adding a bar code scanner. If you don't accept cash in your market stall or pop-up shop, the cash drawer can be a secure place to stash checks, car keys, or wallets.
What Star Micronics mPOP Is Missing
The mPOP is a sleek, fun piece of equipment. But if you don't use the cash drawer, it might be more functional than you need. For truly microbusinesses, the $450 price tag can be high. The 2-year warranty is also not as generous as other printers on this list. If print speed is important to you, you'll prefer the TSP100III, Epson's TM-T88VI, or the POS-X EVO HiSpeed.
Epson Mobilink P60II: Best Mobile Receipt Printer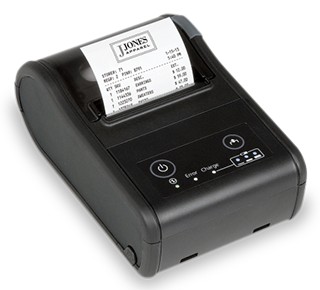 The Epson Mobilink P60II is a mobile receipt and label printer that can attach to a belt for wearability in shops, food trucks, or mobile job sites. It has a 46-hour battery life, can handle drops from 4 feet, and prints directly from any mobile device running an iOS, Android, or Windows operating system. This printer is available through several third-party sellers for around $390.
| Epson Mobilink P60II Strengths | Epson Mobilink P60II Weaknesses |
| --- | --- |
| Works with iOS, Android, or Windows | Pricey |
| Excellent features for receipt printing for building trades and other off-site services | Print speed is slower than competitors |
| Also prints bar code labels | Needs to be recharged |
Epson Mobilink P60II Features
The Epson Mobilink P60II can withstand significant drops from up to 4 feet and is designed to withstand water penetration and cold temperatures. Large, simple buttons make this printer easy to operate, even when wearing gloves. This printer has an auto paper cutter to prevent paper jams, a 30% paper-saving feature, and an auto-peeler for separating printed labels.
Print speed: This printer prints at 4 inches per second, similar to the Star Micronics mPop, but is slower than others on this list.
Connectivity: The P60II connects via Bluetooth, Wi-Fi, or Near Field Communication (NFC) and operates on Android, Apple iOS, and Windows platforms.
Integrations: The Epson Mobilink P60II integrates with mobile POS systems and can also emulate the print language of pricier Zebra printers that are popular in the building trades.
Warranty and Support: Comes with a two-year warranty and loads of support via the Epson site.
Supplies: The P60II uses 58 mm thermal paper rolls that can be purchased through mainline distributors or most major office supply retailers.
The P60II can print receipts, bar code labels, text, and graphics. The clamshell design allows for easy paper loading and enables the printer to print from a horizontal or vertical position. Epson printers' receipt layouts can be customized and networked to your POS via Epson's EpsonNet and ePOS‑Print platforms.
What Epson Mobilink P60II Is Missing
The Epson Mobilink P60II is one of the highest-priced printers on this list. It has many smart features that make it an excellent fit for printing receipts when away from your shop or while line-busting at a busy food truck, but if you don't need that functionality, this printer is not worth the cost. It also only prints 2-inch wide receipts, which may be limiting for some businesses. Its print speed is not as fast as others on our list.
Square Terminal: Best Thermal Receipt Printer With Card Reader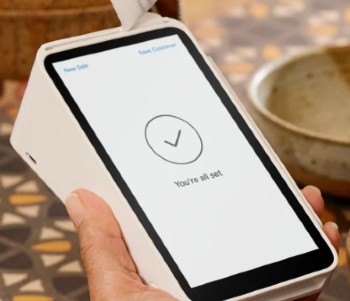 The Square Terminal is much more than a receipt printer. In addition to the discreet in-built thermal printer, the Terminal features a touch-screen interface and allows you to process credit, debit, contactless, and mobile wallet payments. It operates on a battery charge, making it an excellent fit for small businesses like craftspeople, therapists, pop-up shops, or cooks that want an all-in-one solution for card payments and receipt printing. The Square Terminal retails for $299.
| Square Terminal Strengths | Square Terminal Weaknesses |
| --- | --- |
| Long battery life makes it highly mobile | Doesn't offer Bluetooth connectivity |
| All-in-one card payments and receipt printer is great for micro and mobile businesses | Only provides a 1-year warranty |
| Works on the popular Square platform | Only operates on the Square platform |
Square Terminal Features
The Square Terminal is sold in the Square Store for $299. Square also offers a 12-month payment plan of $27 per month to make the tool more accessible for small business owners. Using the Terminal requires signing on for Square's payment processing, which is offered at a flat rate of 2.6% + 10 cents per in-person transaction. If you're on the fence, you can try the Square Terminal risk-free for 30 days.
Print speed: Square does not list a print speed for the Terminal printer.
Connectivity: Square Terminal can use Wi-Fi or ethernet connections.
Integrations: Square Terminal directly integrates with Square's POS products. It also works well alongside cash registers and integrates with QuickBooks.
Warranty and Support: Square Terminal comes with a one-year warranty. Square has 24/7 phone support for Terminal users and also maintains an active online customer support forum.
Supplies: The Square Terminal uses 50-foot rolls of 57.5-millimeter thermal paper that you can purchase for $1 each via the Square Store.
The terminal operates with a long-lasting battery so that it can be fully remote. If you want to test drive the Square ecosystem, you can sign up for a free Square account. Square also offers a free baseline subscription for both its Square for Restaurants and Square for Retail POS platforms if you need a full POS platform alongside the Terminal.
What Square Terminal Is Missing
The Square Terminal is different from other printers on this list because it also acts as a card reader to accept payments. For businesses with a single owner-operator, it may be the entire point of sale. However, the Square Terminal only integrates with the Square suite of products, so you'll want to be sure that you like that ecosystem before committing to the Terminal.
Bottom Line
Thermal receipt printers are not delicate pieces of equipment. They are workhorses for your business that need to stand up to a lot of wear and tear. The best thermal receipt printers maintain a strong connection to your register or POS and have few added pieces that can break or jam.
Our overall favorite is the Star Micronics TSP100III. It is available from several third-party sellers that provide retail and restaurant hardware and integrates with several popular POS systems. The addition of a USB port to charge mobile POS tablets is a particularly nice touch, especially alongside the speed saving features, like the guillotine-style cutter and incredible print speed.