Self-service kiosks or self-ordering kiosks are free-standing, customer-facing devices that allow customers to place orders and make payments without the assistance of a cashier. This can be a lifesaver for staff-strapped restaurants and support changing customer preferences; 65% of consumers prefer self-service kiosks.
The best restaurant kiosk software works seamlessly with your POS system, kitchen printers or kitchen display system (KDS), and payment processor. Self-service kiosk software should offer the ability to add photos of your menu items and easily handle modifiers. The best kiosks suggest popular upsells and process combo orders.
Most restaurants that want to add self-service kiosks will be locked into using the kiosk software that is built into their POS system. If you don't yet have a POS for your restaurant, you'll see some great options on this list, and you can get a fuller picture of the non-kiosk functions they offer by checking out our guide to the best restaurant POS systems.
Based on our evaluations, the best self-service kiosks for restaurants are:
Top Restaurant Self-Service Kiosks Compared
Monthly Software fees

$0–$272

$59+

$99+

$50–$200

$84 - $126

Custom Quoted

Hardware costs

$0–$799

Bring your own iPad, or custom quoted

Custom Quoted

Bring your own iPad

$3,599+

Custom Quoted

Installation fee

$0–$799+

Custom Quoted

Custom Quoted

$0

Included with Hardware purchase

Custom Quoted

Accepts Cash

Yes, via central cashier

Yes, via central cashier

Yes, via central cashier

Yes, via central cashier

Yes, via central cashier

Yes, in kiosk

Available POS integration

Toast

Lightspeed Restaurant

Revel Systems

Square for Restaurants

36 POS, including:

Toast
Revel
TouchBistro
Aloha
SpeedLine
Lavu

Any POS that supports a kiosk can integrate
How We Evaluated Self-Service Kiosks
We compared a dozen of the most popular POS systems based on what's important to independent restaurant owners, including overall cost, menu functions, POS and payment integrations, and ease of use for customers and staff. We also considered our retail and restaurant experts' personal evaluations of each software.
Based on the above criteria, Toast offers the best self-service kiosk for restaurants. The software received the highest overall score according to our grading system for self-service software (4.39 out of 5). The kiosk is part of the robust, customizable Toast POS system and features Toast's user-friendly interface, comprehensive workforce management, inventory tracking, and reporting tools. Toast kiosks operate on affordable ELO touch-screen tablets, and multiple screen sizes are available to suit various restaurant sizes.
Click through the tabs below for our full evaluation criteria:
20% of Overall Score
First, we looked at whether or not each software offers a free plan and a plan option under $75 monthly. We also considered hardware costs and looked for kiosk systems that operate on readily available hardware like iPads. We awarded points to systems that integrate with more than one payment processor so restaurant owners can shop around for the best processing rates.
30% of Overall Score
Kiosks need to support complex orders with modifications and meal combos. We also looked for systems that upsell onscreen to increase check averages. Since customer preferences vary, we also looked for systems that accept a wide range of payment types, from credit cards to mobile wallets and cash. We also looked for kiosks that collect customer information to support your marketing and loyalty solutions to encourage return business. To keep your business running smoothly, we looked for kiosks that integrate directly with restaurant POS systems.
25% of Overall Score
Kiosks need to be easy for customers to navigate without guidance. They also should be easy for owners and managers to update when prices or menu items change. We looked for systems that are easy to self-install or include professional installation at no additional charge. Since restaurants operate outside typical business hours, we awarded points to systems that offer 24/7 customer support. Finally, we considered how the system notifies customers that their order is ready, giving high marks to kiosks that support integrated SMS text messaging.
25% of Overall Score
Finally, we considered any standout features of each system and whether the combined software and hardware offers a good overall value for the price. We also judged each system's popularity among independent restaurants to help ensure safety and security. Finally, we awarded points based on our personal experience interacting with the software and the company's customer support.
*Percentages of overall score
Toast: Best Overall Restaurant Self-Service Kiosk
Toast

Overall Score:
4.39

OUT OF

5
i
Our score is based on a weighted evaluation of dozens of similar products and services conducted by our experts.
What We Like
SMS notifications for customer orders
Multiple options for kiosk screen size
QR-coded receipts speed cash payments
Integrates with the top-rated Toast POS
What's Missing
Locked into Toast Payment processing
Does not accept cash at the kiosk
Does not work in offline mode
Toast Pricing
Software subscription fee:

Starter – $0 (up to two terminals)
Essentials – $165 (includes online ordering and delivery)
Growth – $272 (includes gift cards, marketing, and loyalty)

Hardware costs: $0 – $799 for POS terminal hardware. Kiosks operate on 10", 15", or 22" ELO touch screens, which retail for $450 – $700+
One-time installation fees: $0 for self-installation and up to $799+ for guided or in-person installation (depending on the complexity of your setup)
Toast is an incredibly customizable restaurant POS system that consistently lands at the top of our restaurant software rankings for everything from POS to kitchen display systems (KDSs). Toast's self-ordering kiosk includes many insightful features like SMS text alerts and QR-coded receipts that enable cash-paying customers to quickly settle their checks with a cashier. Best of all, the self-ordering kiosk communicates seamlessly with Toast's excellent inventory management, online ordering, delivery management, team management, reporting, and analytics tools.
Toast's self-ordering kiosk earned an overall score of 4.39 out of 5 on our ranking criteria. The system scored well for its accessible price, free starter hardware, and robust kiosk features. The toast kiosk could have scored higher if it spooled credit card payments in offline mode (like competitor RedyRef) or operated on iPads (like Revel Systems, Lightspeed Restaurant, and KioskBuddy). Overall, Toast's self-ordering kiosks offer restaurants an incredible value for the money.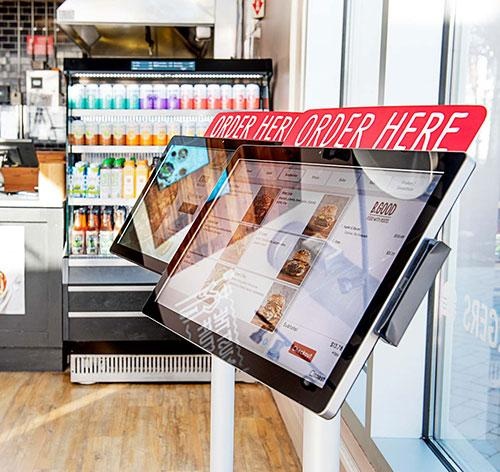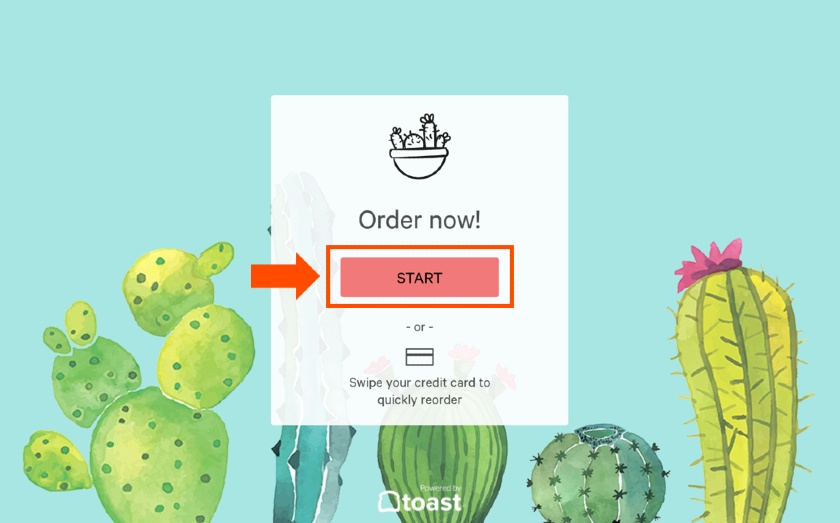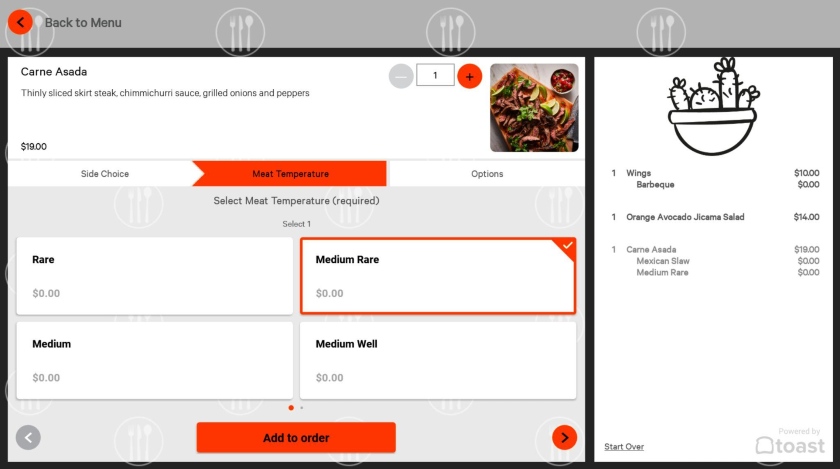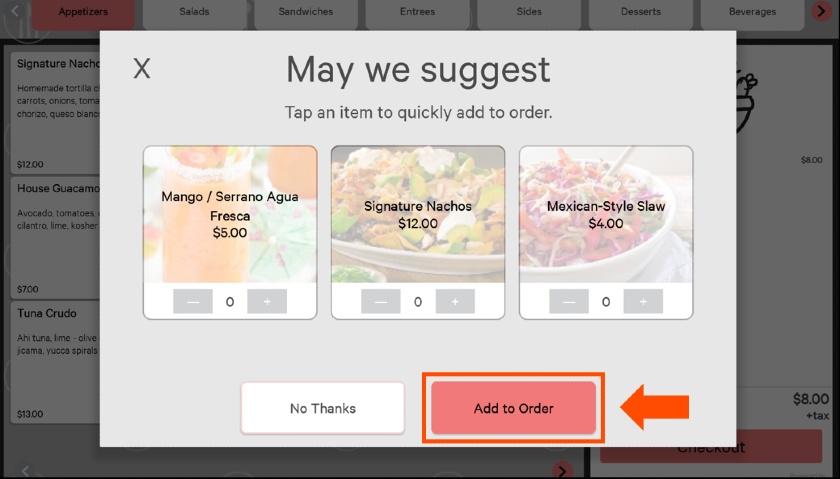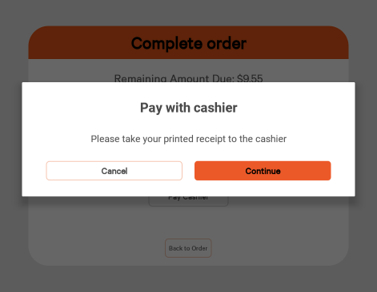 Toast Standout Features
Since the Toast self-service kiosk software is only available on the Toast POS platform, you must start with the baseline POS price. The underlying Toast POS software starts at $0 per month for a single terminal for the Starter POS. Customers who choose to pay-as-they-go for their system can also get a free POS terminal with a cash drawer and receipt printer by agreeing to slightly higher credit card processing fees.
Toast's self-ordering kiosk standout features include:
Competitive pricing: Toast's software pricing puts this system in the low end of the competitors on this list; it is overall less expensive than Revel Systems, RedyRef, and Crunch. Only Lightspeed Restaurant and KioskBuddy—both of which operate on iPads—beat Toast for price.
SMS text alerts: The Toast kiosk requests customer phone numbers for kiosk orders and sends automated alerts to customers when their orders are ready.
QR-coded receipts: The Toast kiosk cannot process cash payments independently like the custom-quoted system RedyRef can. But Toast offers a low-cost workaround: QR-codes printed at the bottom of receipts. Cash-paying customers present their QR-coded receipt to a central cashier, where it can be scanned and immediately pulled up on the POS terminal. No need for your staff to search through multiple screens of open checks to find the correct one.
Order limits: You can choose to require credit or debit card payments for all kiosk orders. If you choose to accept cash payments or have customers pay after their food is prepared, you can place maximum order limits for kiosk orders.
Customer relationship management: Toast kiosks log customer contact and order information, creating a valuable database for targeted marketing campaigns.
Ease of Use: The entire Toast ecosystem is designed by former restaurant workers to support restaurants exclusively. You'll never have to jury-rig a solution to make the system suit your needs. Toast is one of the most intuitive restaurant tools you, your staff, and your customers will ever use.
Lightspeed Restaurant: Best for Hotel Restaurants & Table Service
Lightspeed Restaurant

Overall Score:
4.30

OUT OF

5
i
Our score is based on a weighted evaluation of dozens of similar products and services conducted by our experts.
What We Like
Allows room charge as a payment option
Operates on iPads
Syncs with barcode scanner
Can configure kiosks for counter service or table service
What's Missing
Entirely app- and web-based system is unusable if you lose internet access
Many advanced features only available as add-ons
Cannot accept cash in kiosk
Lightspeed Restaurant Pricing
Software subscription fee: $59 per month for the first terminal +$34 per month for each additional terminal; self-order mode is an additional $39 per month
Hardware costs: Operates on iPads; users can bring their own compatible hardware
One-time installation fees: None; Lightspeed can be self-installed
Lightspeed Restaurant is a cloud-based POS system that operates on iPads. Lightspeed's comprehensive front- and back-end management features include a kiosk solution with a fundamental integration that competitors lack: Lightspeed integrates with hotel property management software, which enables customers to close out tabs as a room charge. This also makes Lightspeed a great fit for food and beverage operations in other member-based venues like co-working spaces or private clubs.
Lightspeed's kiosk earned a rating of 4.30 out of 5, putting this system right on Toast's heels. Lightspeed earned points for operating on accessible hardware, supporting multiple payment processors, and for some unique features like integrations with property management software. Lightspeed could have scored higher, however, if it offered more robust cash management features like Toast and RedyRef and if the monthly price with the self-ordering kiosk was a bit lower. But these minor limitations won't be deal breakers for small restaurants looking for an accessible kiosk solution.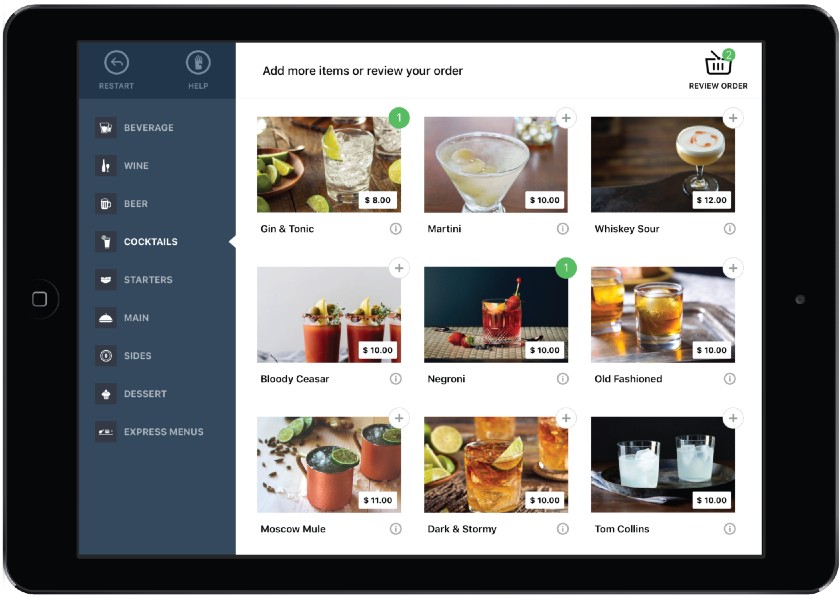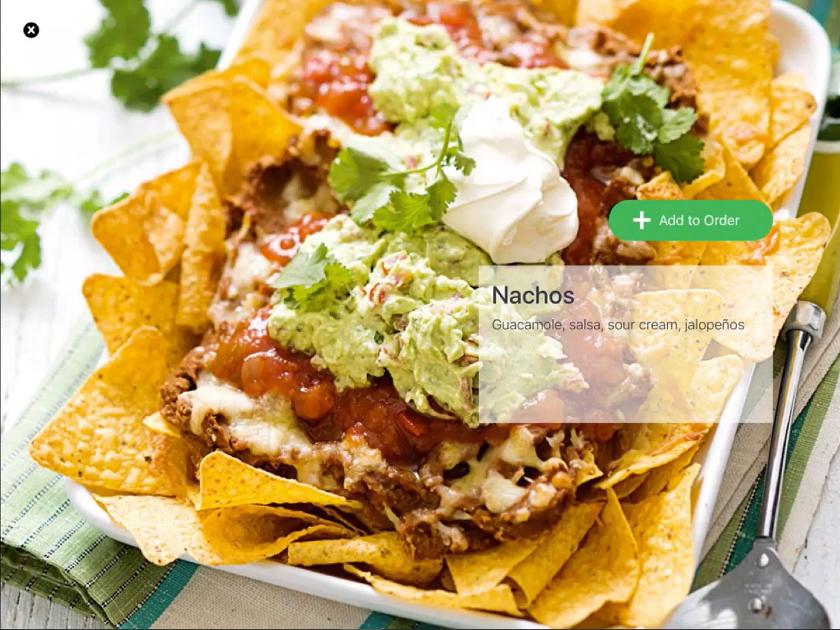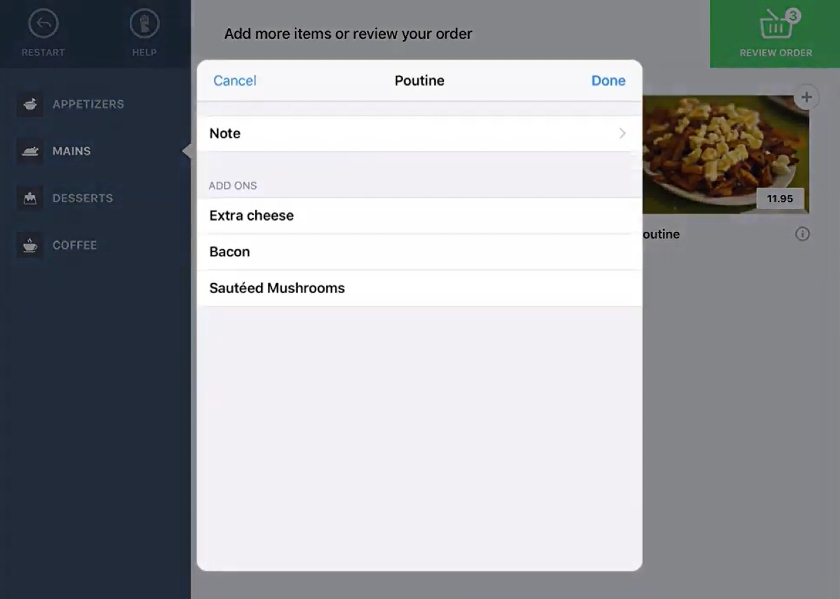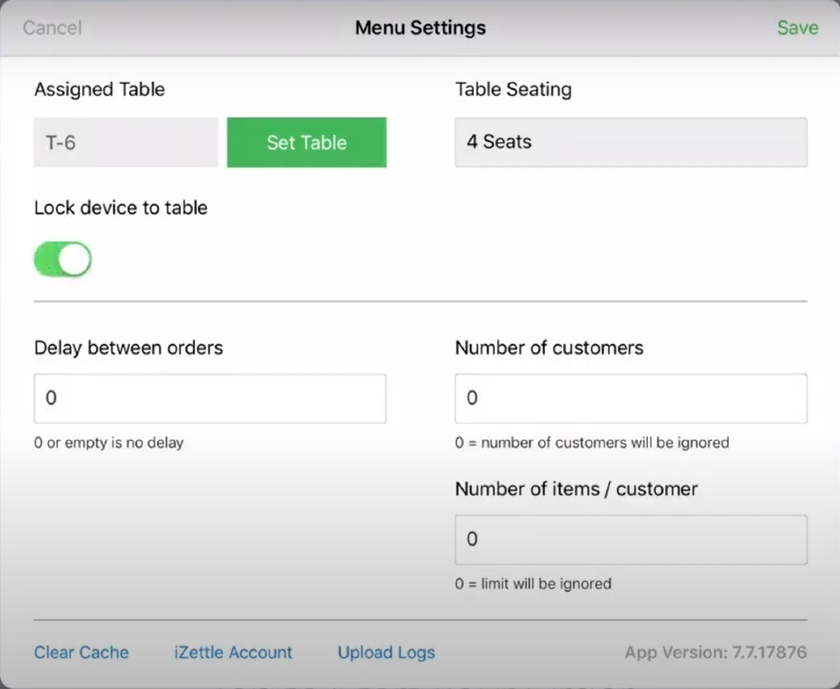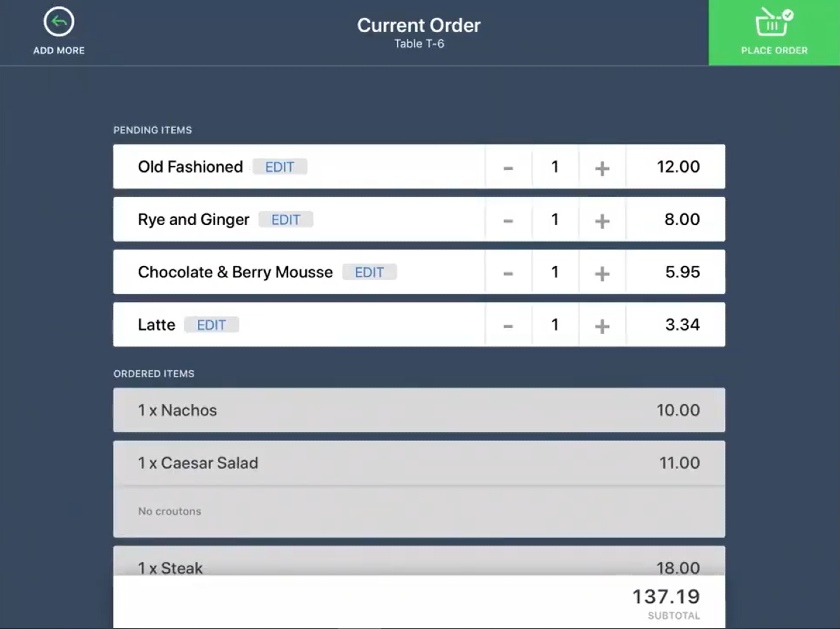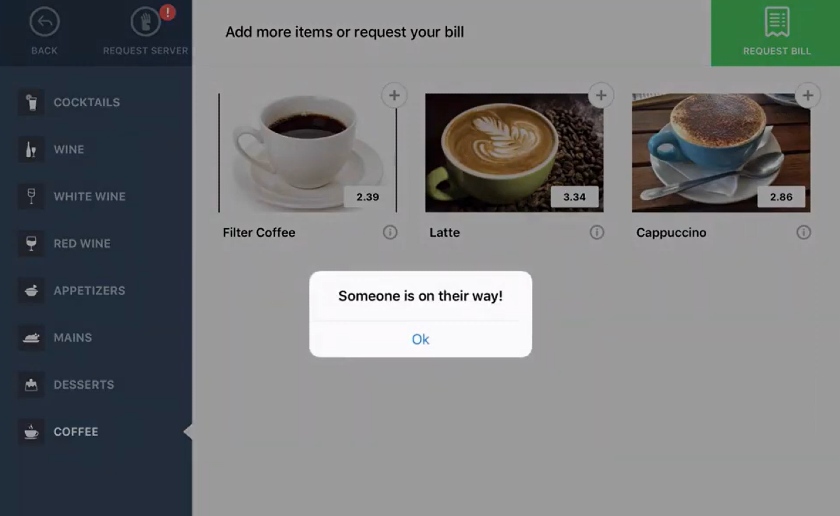 Lightspeed Restaurant Standout Features
Like Toast and Revel Systems, Lightspeed's kiosk only operates on its own POS. Lightspeed's kiosk software is offered as an add-on module it calls the Self-Order Menu. You can add Self-Order Menu to any Lightspeed POS tablet by downloading the app from the Apple App store, though the price for the add-on is $39 per month. Like Revel Systems, Lightspeed has developed POS options for both retail and restaurant operations. This makes Lightspeed a flexible option of restaurant models that fall outside the basic categories of full service or quick service.
Lightspeed Restaurant's standout features include:
Kiosk mode: Lightspeed's Self-Order software supports two order modes: kiosk mode and table mode. In kiosk mode, customers order and pay for their meal in a single transaction before the food is prepared.
Table mode: In table mode, the Lightspeed Self-Ordering tablet is assigned to a specific table. Your service staff assists the guests with placing multiple orders and processes their payment at the end of their meal. Customers can hail a server through the kiosk and request their bill through the app as well. Lightspeed is the only kiosk option on this list that features table-service kiosk tools.
Room fees: Lightspeed is also the only option on our list that integrates with hotel property management software to enable customers to pay with room charges.
Running tabs: Lightspeed supports long-running customer tabs—a feature that many POS systems lack. This function makes Lightspeed a good fit for social clubs or co-working spaces that mainly serve members accustomed to paying fees monthly. Members don't need to have their wallets handy if they want to grab a snack. You can simply bill them for their purchases on the same cycle as you do their membership fees.
Revel Systems: Best for High-Volume Restaurants
Revel Systems

Overall Score:
4.24

OUT OF

5
i
Our score is based on a weighted evaluation of dozens of similar products and services conducted by our experts.
What We Like
Split modifiers and combo orders
Accepts offline payments
Comprehensive online training tools
Supports multiple payment processors so you can shop for best rates
What's Missing
Can be pricey
Management dashboard takes time to learn
Cannot accept cash in kiosk
Revel Systems Pricing
Software subscription fee: $99 per month for the baseline POS; Kiosk XT software is an additional, custom-quoted price
Hardware costs: Custom-quoted
One-time installation fees: $674
Revel Systems is a highly customizable hybrid POS that offers a robust suite of restaurant management tools. Both the Revel POS and the Revel Kiosk XT operate on iPads. In addition to self-ordering kiosks, the underlying Revel Systems POS supports multiple payment processors, online ordering, delivery tracking, inventory, and basic employee scheduling. The self-ordering kiosks have the same baseline functions as Toast and Lightspeed's kiosks. But Revel's menu modifiers are slightly more robust, making this system a better fit for high-volume restaurants that sell combos and highly modified menu items like pizza.
Revel earned an overall score of 4.24 out of 5 on our restaurant self-service ordering kiosk ranking criteria. It picked up points for supporting multiple payment processors so restaurants can shop for the lowest processing rates. And the system's robust modifier functions also earned high marks. But unlike Toast, Lightspeed, and Crunch, Revel's kiosk does not currently support customer SMS text alerts, and the system is the most expensive POS-hosted kiosk on this list.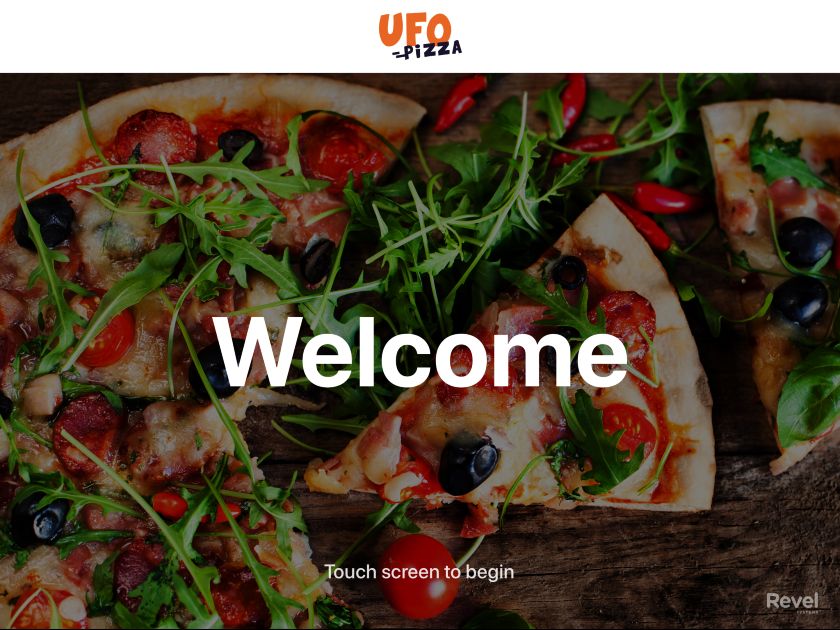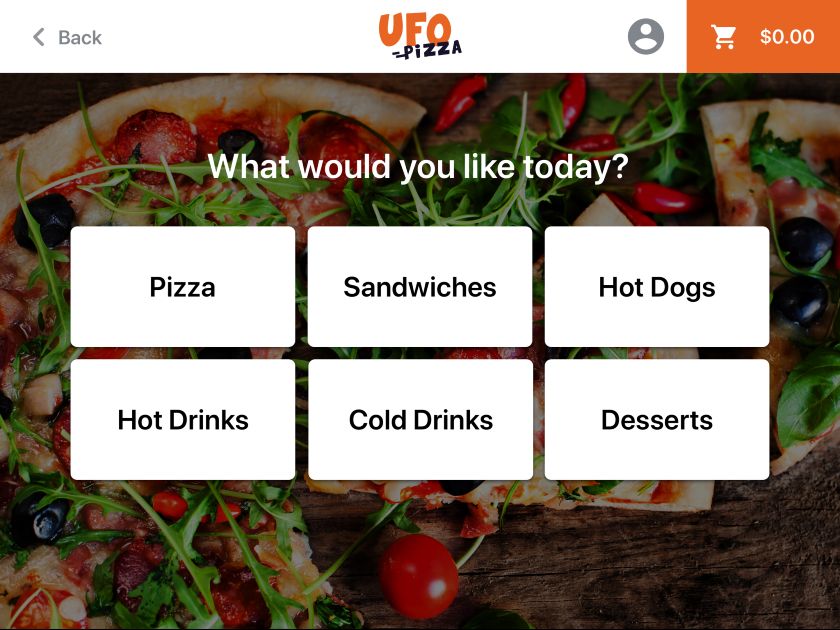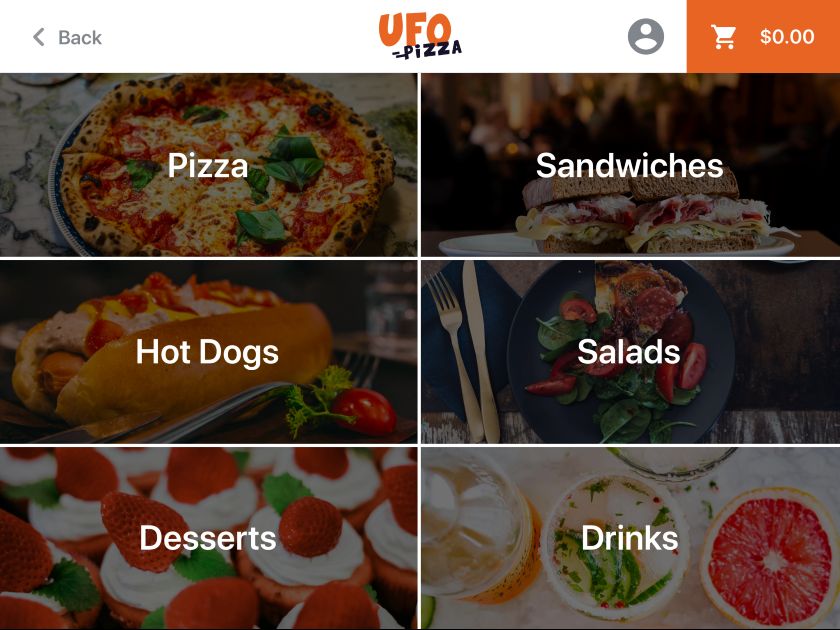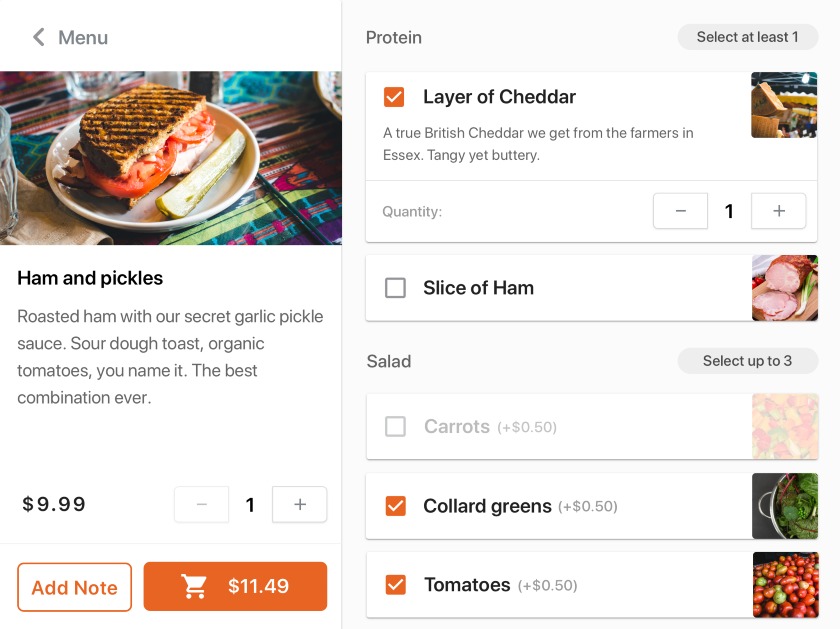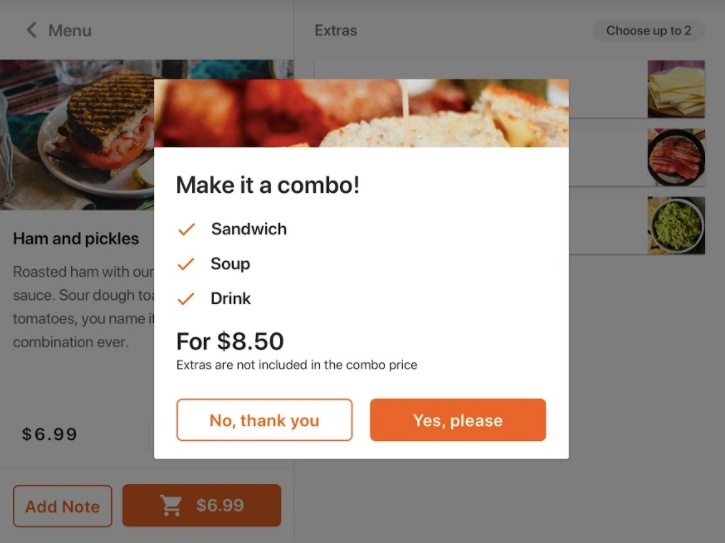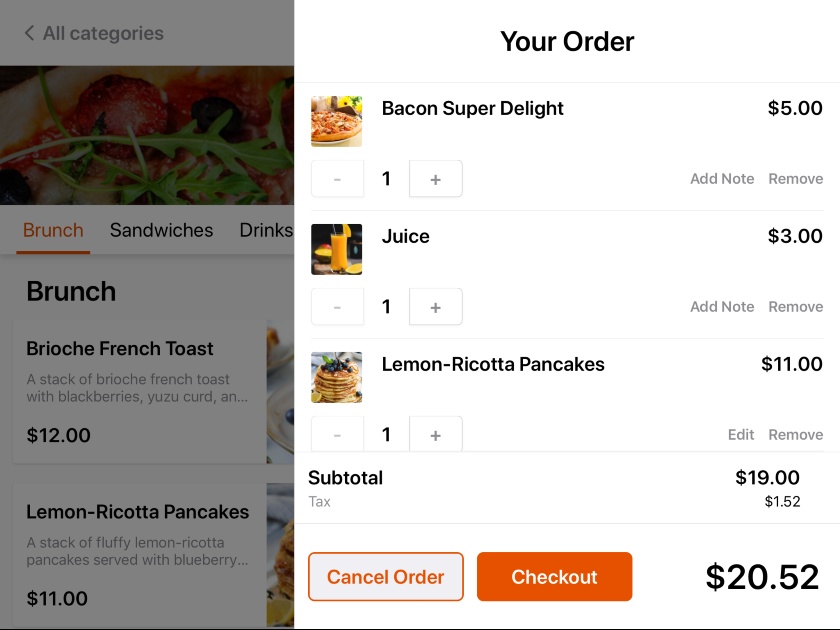 Revel Systems Standout Features
The monthly software fee for Revel starts at $99 per terminal and requires a one-time installation fee of $674, making Revel more expensive than Toast, Lightspeed, and KioskBuddy. Revel's Kiosk XT software and hardware come at an additional quoted fee, though the system operates on iPads, so you may be able to use some existing equipment if it is compatible.
Revel Systems' standout features include:
Split modifiers: Revel systems allows users to apply item modifiers to half or full dishes, like adding pepperoni to only half of a pizza. You can also add charges for modifiers and nest modifiers to walk customers through complex orders like building their own burgers, salads, or grain bowls.
Combo-building: Revel's kiosk functions support streamlined combo building in the order screen. You can also set your Revel kiosk to prompt customers to "make it a combo" if their order is close to a combo you offer. Toast and Lightspeed also support combo building, but Revel Systems is slightly more streamlined and built for volume.
Offline payments: Unlike Toast, Lightspeed, KioskBuddy, and Crunch, Revel Systems kiosks can spool credit card payments in offline mode and save them to be run when the system regains internet access.
Supports multiple payment processors: The Revel Systems POS integrates with a handful of payment processors, including the integrated Revel Advantage. The kiosk, however, supports Vantiv/ TriPOS and FreedomPay. So restaurant owners have a few options to find lower processing rates.
KioskBuddy: Best for Square POS
KioskBuddy

Overall Score:
4.18

OUT OF

5
i
Our score is based on a weighted evaluation of dozens of similar products and services conducted by our experts.
What We Like
Unlimited kiosks included in baseline subscription
Integrates with Square POS
Operates on iPads
30-day free trial
What's Missing
Pricing is transaction limited
Only supports a single payment processor, Square
Has limitations in reporting
Cannot accept cash payments at kiosk
KioskBuddy Pricing
Software subscription fee:

Tier 1 – $50 per month for 500 transactions; 25 cents per transaction thereafter
Tier 2 – $100 per month for up to 1,500 transactions; 20 cents per transaction thereafter
Tier 3 – $200 per month, up to 4,500 transactions; 15 cents per transaction thereafter

Hardware costs: Users can bring their own iPad and purchase stands from Square for $169
One-time installation fees: None; installation is do-it-yourself
KioskBuddy is a self-ordering kiosk designed to communicate directly with a Square for Restaurants POS system. KioskBuddy is just a kiosk and not a full POS. This software is laser focused on supporting on-site, contactless ordering and payments. Like Lightspeed and Revel Systems, KioskBuddy operates on iPads. You can download the app directly from the Apple App Store and test drive the system with a 30-day free trial.
KioskBuddy earned a score of 4.18 out of 5 on our self-ordering kiosk ranking system. The system earned high marks for ease of use and from our experts. The tiered pricing structure with limited transaction numbers cost KioskBuddy a few points, though, as did its lack of integrations. The system supports one key integration with the Square for Restaurants POS, which is consistently one of our top-rated free to low-cost POS systems.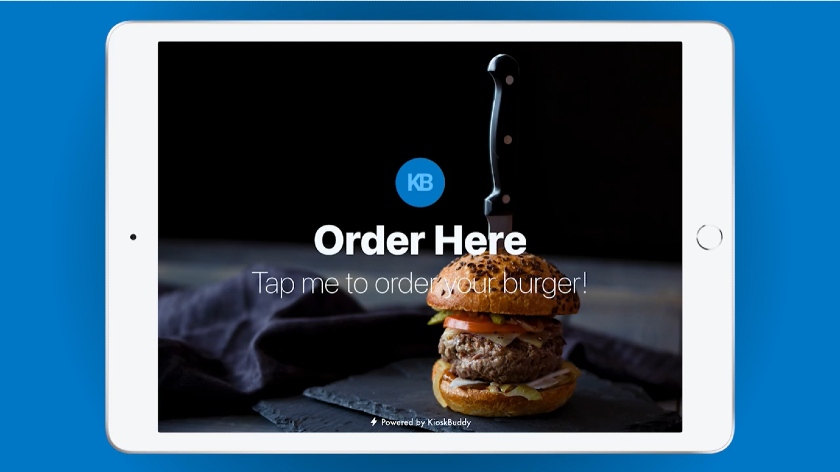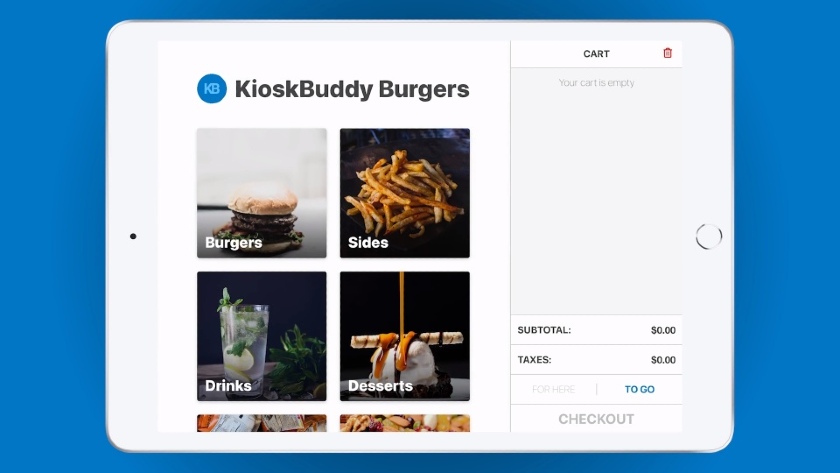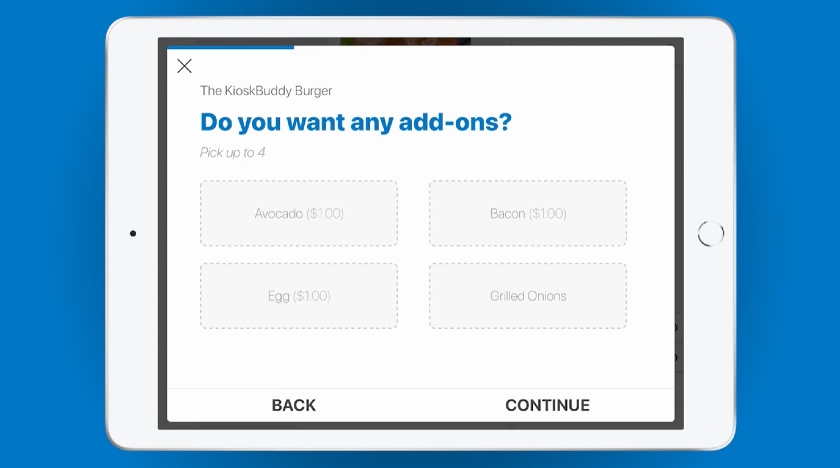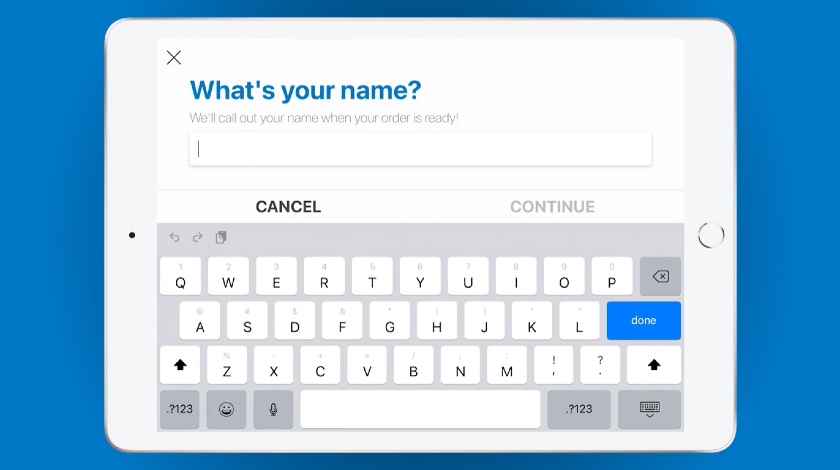 KioskBuddy Standout Features
KioskBuddy has an overall rating of 4.9 stars out of a possible 5 on the Square App Marketplace and a 5-star user rating on the Apple App Store. Users from small, independent restaurants to pop-up shops and farm stands love KioskBuddy's straightforward interface and reasonable cost.
Users should note, however, that KioskBuddy has some reporting limitations. Since Square does not support third-party apps sending itemized information to the Square system, all of your KioskBuddy sales will appear as "uncategorized" sales in your Square POS reports. To get combined reports from your Square POS and KioskBuddy, you'll need to export reports into .csv files and manually combine them in a spreadsheet.
KioskBuddy's standout features include:
Unlimited kiosks: With a single subscription, you can use KioskBuddy on unlimited iPads. The only limiting factor is the included number of transactions. This makes KioskBuddy an excellent choice for pop-up events and microbusinesses like farm stands and market vendors that want to offer contactless order and payment options.
Service fees: KioskBuddy's Service Fee function allows you to charge a set dollar amount or a percentage of the total bill on customer checks. If you go over your monthly limit, you can use this function to offset your KioskBuddy transaction fees or use it to recoup credit card processing fees. But check local laws first; several states prohibit businesses from passing on credit card fees to customers.
Integrates with Square Loyalty: You can give your restaurant a polished look by offering automated rewards. KioskBuddy will alert returning customers to any accumulated rewards—and opportunities to redeem them—upon check out.
KDS integration: In addition to printing checks to kitchen printers, KioskBuddy also integrates with Fresh KDS if you prefer to use screens in your kitchen.
Crunch: Best for Multichannel Orders
Crunch

Overall Score:
3.75

OUT OF

5
i
Our score is based on a weighted evaluation of dozens of similar products and services conducted by our experts.
What We Like
No long-term contracts; can cancel any time
14-day free trial
Transparent pricing
Integrates with 30+ POS systems
What's Missing
Kiosks are pricey
Requires professional installation
May be more robust than small restaurants need
Cannot accept cash at the kiosk
Crunch Pricing
Software subscription fee:

Starter – $84 per month for a single location
Standard – $106 per month, includes multiple location support and loyalty
Premium – $126 per month, includes custom website

Hardware costs: $3,599 – $3,999 each
One-time installation fees: Included in the price of the kiosk
Crunch is a restaurant software brand that designs solutions for online ordering, social media ordering, and optimized websites in addition to its self-order kiosk. Crunch currently integrates with some three dozen major restaurant POS brands, including several of our favorites: Toast, Revel, and TouchBistro. Crunch's kiosks can help small restaurants decrease labor cost, while insightful social media ordering and online ordering help grow revenue.
On our self-ordering kiosk ranking, Crunch earned a score of 3.75 out of 5. The system scored well for offering a 14-day free trial of the software and for its general kiosk functions. It lost points mostly for the cost. At $84 to $126 per month, plus more than $3,500 per kiosk, Crunch is the most expensive system on this list. But, small restaurants using Crunch may increase their revenues enough to justify the investment.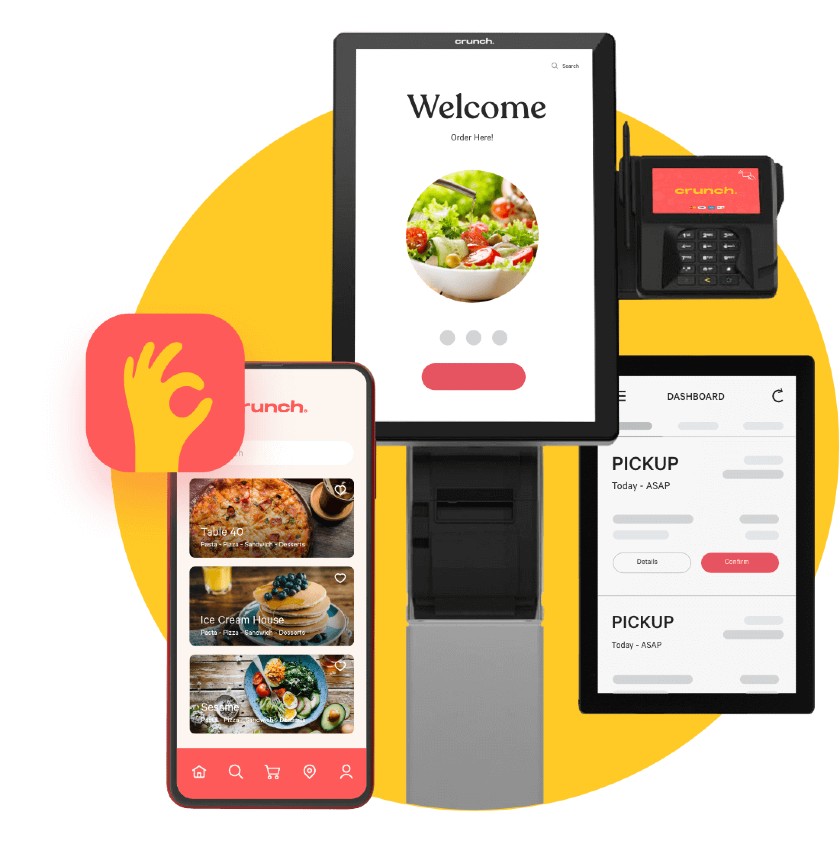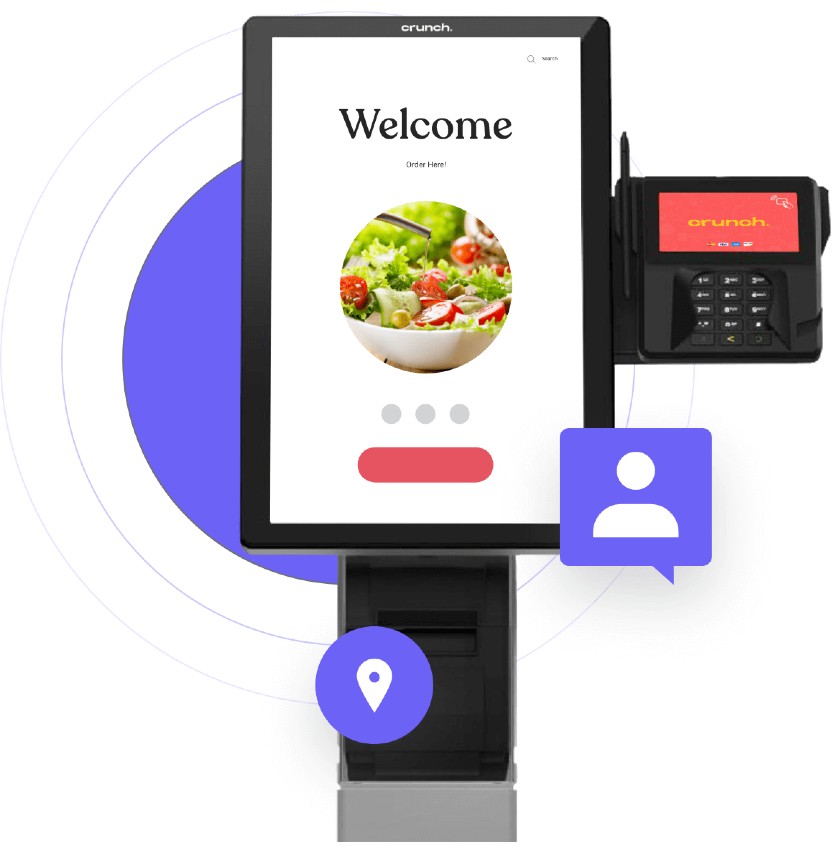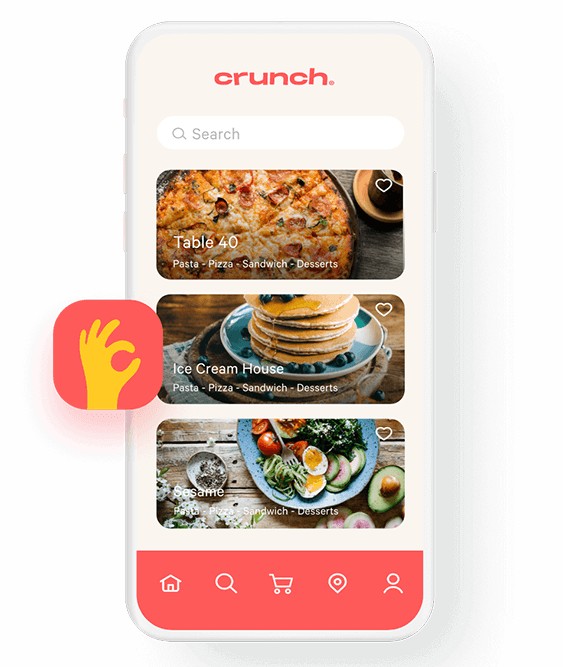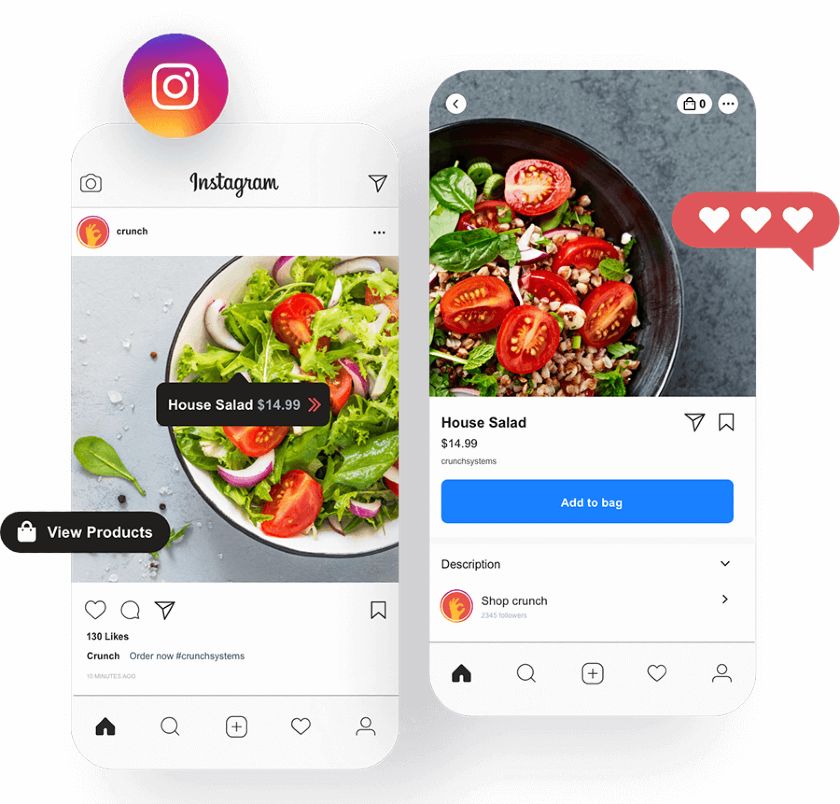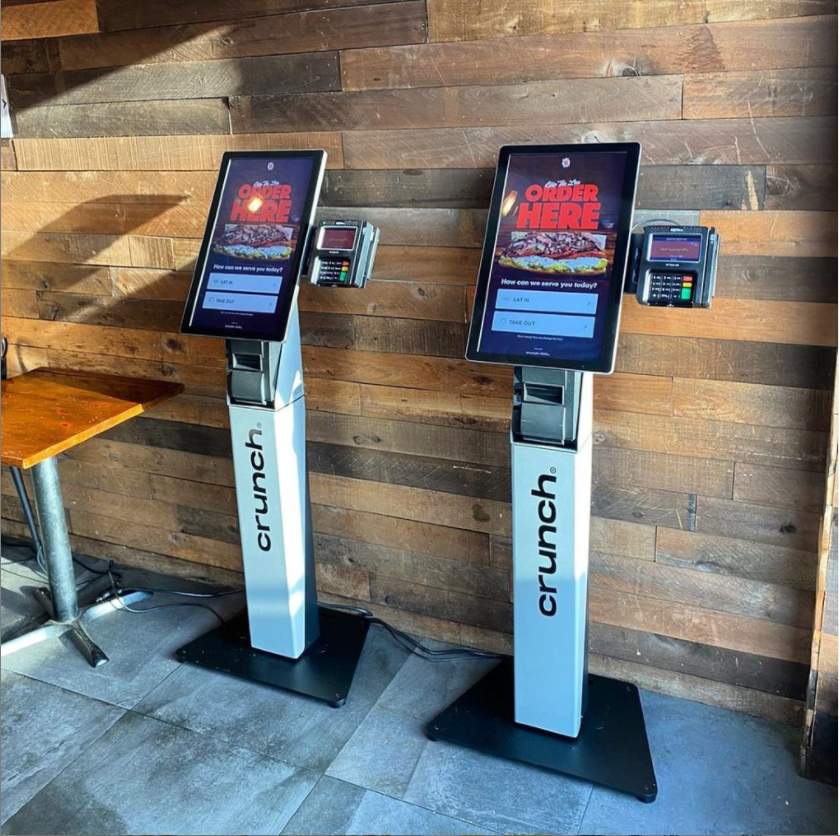 Crunch Standout Features
Unlike Toast, Revel Systems, and Lightspeed, Crunch is not a complete POS system. Instead, it is multichannel ordering software and hardware that works alongside and integrates with a POS system. The Crunch kiosk is a hardware add-on that leverages Crunch's mobile ordering tools to provide a dynamic self-ordering experience for your guests. Like the other systems on this list, Crunch accepts credit and debit card payments along with mobile wallets. As with toast, Revel, and Lightspeed, a central cashier processes cash payments from Crunch kiosks.
Crunch's standout features include:
Streamlined kiosk design: Crunch kiosk screens are vertically oriented, which keeps the design streamlined. This helps you fit more kiosks into your restaurant floorplan. The central support post hides power cords and ethernet cables so your kiosks don't become trip hazards.
POS Integration: Like competitor RedyRef, Crunch integrates with the market's most popular restaurant POS systems. Currently, Crunch offers pre-built integrations with some three dozen different POS systems, and it is constantly developing more.
White-label online ordering site: Your Crunch subscription includes a white-labeled online ordering site, so kiosk users should utilize this feature. You can customize your website with your logo and brand colors and choose a layout that best suits your menu. Orders go directly to your Crunch Manager dashboard and are displayed alongside social media and kiosk orders.
Automated updates: When you mark an order as ready in the Crunch Manager dashboard, the system sends customers an automated text alert, just like Toast and Lightspeed.
Social media ordering: Like online ordering, social media ordering is included in your Crunch software subscription. With it you can add purchase links directly to your restaurant's Facebook pages and Instagram posts. Your customers won't need to leave the social media site to place an order; they can click directly on your tantalizing food photos the moment they are hungry.
RedyRef: Best for Cash Payments
RedyRef
Overall Score:
3.66

OUT OF

5
i
Our score is based on a weighted evaluation of dozens of similar products and services conducted by our experts.
What We Like
Processes cash payments at kiosk
Integrates with most POS systems
Price breaks for bulk purchases
Supports outdoor kiosks
What's Missing
System is expensive
May be more robust than small restaurants need
Custom built system takes time to design and install
RedyRef Pricing
Software subscription fee: Custom-quoted
Hardware costs: Custom-quoted; we received hardware quotes from $1,900 to $2,700 per kiosk
One-time installation fees: Custom quoted
RedyRef is a well-established technology company that has been installing self-service kiosks for years. It creates custom kiosk builds for brands as large as Wendy's and as small as your neighborhood restaurant. Because RedyRef builds its kiosks in-house, and in the US, it is easy to customize everything from screen size and orientation to card reader placement; it can even add an in-kiosk cash payment option. RedyRef can integrate with any restaurant POS that supports kiosk functions. The RedyRef team will build the software connection for you when you sign up.
RedyRef earned a score of 3.66 out of 5 on our kiosk rating system. This kiosk earned high marks for its cash handling ability and popularity with restaurant owners. Since our criteria is geared toward the needs of small to medium restaurant businesses, however, the custom-quoted pricing lost RedyRef some points. Custom builds also tend to be more expensive than kiosks that operate on consumer-grade tablets. If you need a low-cost option, Toast or KioskBuddy will be a better fit.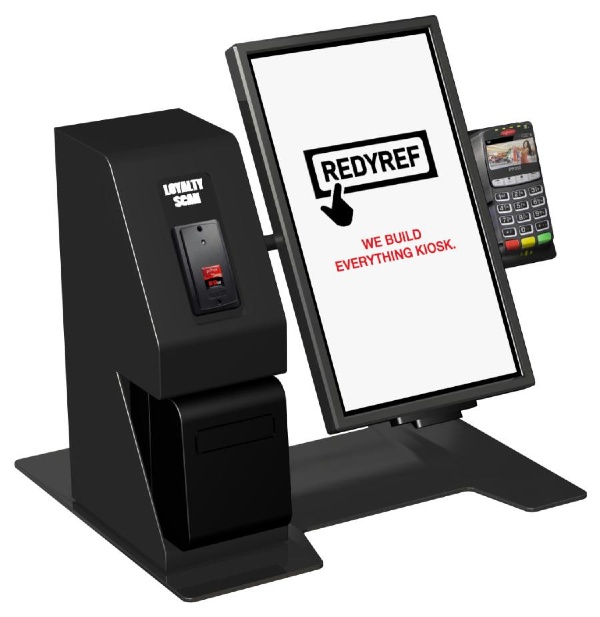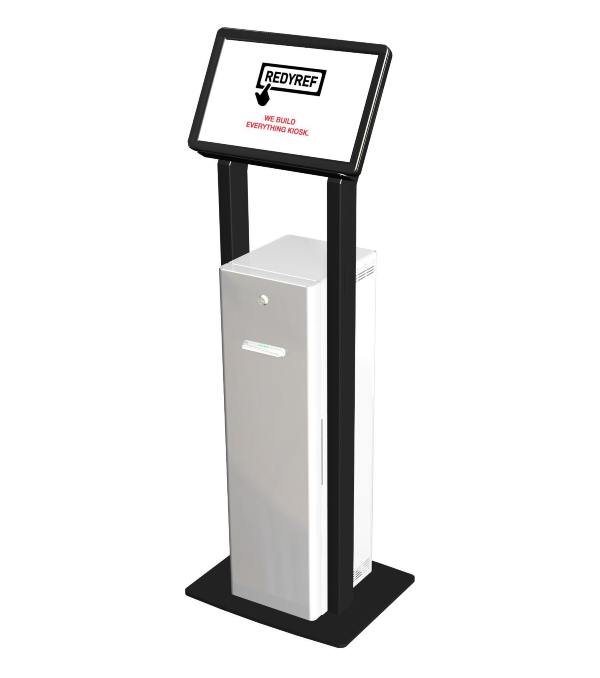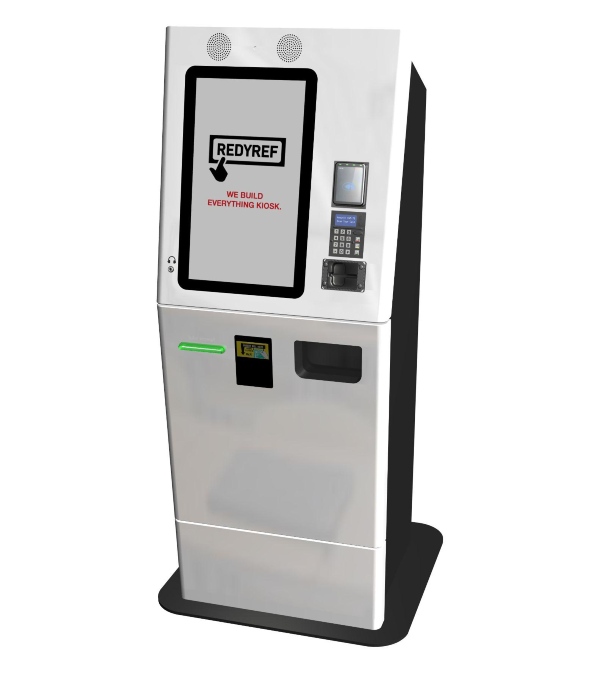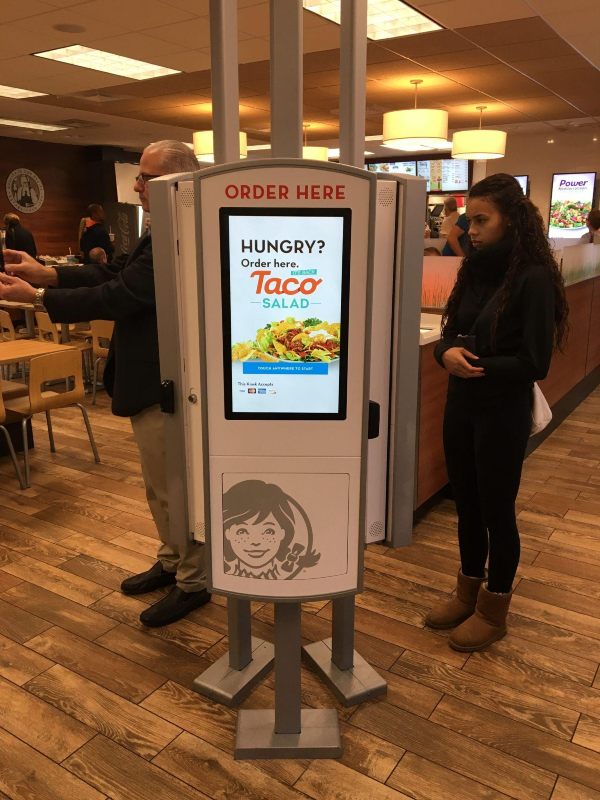 RedyRef Standout Features
Because RedyRef kiosks are customized to your restaurant's needs, you'll need to contact its sales team to get a complete quote. Custom quotes can be a drag when you're working long hours to keep your restaurant running, but in our experience, the RedyRef team responds quickly and truly tries to ensure that you don't pay for tools you don't need. We received ballpark quotes for RedyRef hardware in the $2,700 range for one to two kiosks. Increasing to 10 kiosks lowered the price to $1,900. Depending on your restaurant's needs, RedyRef may be less expensive than Crunch.
RedyRef's standout features include:
Secure, in-kiosk cash payments: RedyRef is the only kiosk on this list that includes options for cash payments at the kiosk. Because RedyRef creates kiosk solutions for multiple industries—everything from bus depots to stadiums—it has a lot of experience handling high volumes of cash.
Multiple kiosk setups: RedyRef manufactures its own kiosks, and it offers a wide array. Some kiosks operate on inexpensive Elo tablets (similar to Toast's kiosks), while others operate with screens from Fujitsu, Touchsource, and others. RedyRef offers several basic countertop and freestanding kiosks at custom-quoted prices, or you can request a completely custom build.
Custom-built POS integration: RedyRef has four manufacturing facilities across the US. They assemble each kiosk personally and test each one before installing at your location. The RedyRef team will also test the software before delivering your kiosks.
Outdoor kiosks: RedyRef also builds kiosks that can withstand the outdoor elements. These can be great additions to a drive-thru operation.
Ongoing support and maintenance: RedyRef will remotely monitor your kiosks and back up your data in the cloud, which is handy if your system needs reset. You can manage your kiosks remotely through a kiosk management dashboard, and RedyRef technicians periodically check your kiosk system to ensure optimal function.
Affordable Self-Service Kiosk Alternatives
If self-service kiosks seem out of your price range, you can mimic a lot of the functionality by using QR codes or tablets you already own. Both of these solutions require a fully functioning online ordering website. If you don't already have one, you can sign up for a Square account and get a free Square Online Ordering site. This site will integrate seamlessly with the Square for Restaurants POS system, which also offers a free subscription tier.
QR-Code Ordering
If you dined out from 2020 to 2021, then you've probably seen QR codes posted in takeout windows and on restaurant tables. These codes, when scanned by a smartphone, link directly to your restaurant's online ordering website. Customers order and pay directly from their smartphones. Essentially, QR-code ordering turns your customers' smartphones into handheld kiosks. Just for fun, we ran Square's QR-code-based self-serve ordering features through the same criteria we used for kiosks. It scored a 3.74 out of 5, which is higher than RedyRef. The main thing that held Square back is that it isn't a freestanding kiosk.
If your online ordering site is integrated with your POS, QR-code orders print in your kitchen, just like if a server or cashier rang up the order at a terminal. An integrated POS will also log customer information and order history to support targeted marketing campaigns. The upside to this setup is you don't need to buy additional hardware; the downside is higher processing fees. Since payments are made on phones, they are typically charged a card-not-present rate for online payments.
Tablet in 'Guided Access' Mode
All fourth-generation or higher iPads have a "Guided Access" setting that allows you to set a specific screen or website to limit the tablet's use. You can find directions for setting up guided access on Apple's website. To use iPads as self-ordering kiosks, you can set one or more iPads to only access your restaurant's online ordering site. As with QR-code-based ordering, if your online ordering site integrates with your POS, orders and customer data will go directly into your POS.
As with QR-code ordering, you'll be subjecting your guided access orders to higher card-not-present processing fees since this configuration does not support in-person credit card readers. But if you are on a budget or only need a short-term solution, guided access on an iPad can work as a restaurant self-ordering kiosk.
Bottom Line
Toast received the highest score across our grading system for its low cost and full kiosk features. Toast's self-ordering kiosk manages to be feature-rich while also being one of the lowest-cost systems on the list. The Toast self-ordering kiosk integrates seamlessly with Toast's top-ranking KDS and excellent loyalty and rewards features. Insightful text-based customer alerts ensure orders don't go cold, and QR-coded receipts make accepting cash payments a breeze. To see if Toast's self-ordering kiosk is a fit for your restaurant, visit Toast for a demo.