Barcode labels are used by business owners to price and track items in their store. The ability to print barcode labels on-site allows business owners to customize prices, as well as track outgoing packages, products on a shelf, or people in their venue. Barcode label printers range in price from $70 up to the thousands. The best label printers use direct thermal printing rather than ink cartridges and print labels of various sizes.
The best barcode label printers are:
Why do you need a barcode label printer? In a retail setting, barcode labels help you see product details, stock on hand, and pricing, and even complete a sale if they're connected to both your sales and inventory management systems. Labels with various color features and RFID-encoding can call attention to promotional prices or help prevent theft. The six barcode label printers listed below can support the needs of small businesses.
As we hinted towards above, having an inventory management system is crucial for tracking on-hand stock and keeping product data organized. Many small businesses use POS systems for this purpose. However, our free inventory management workbook is a great starting point.
How We Evaluated Barcode Label Printers
For this guide, we compared top-rated barcode label printer options in terms of several features:
Value: Beyond the upfront cost, we considered ongoing costs like printing supplies, batteries, as well as the value of the manufacturer's warranties.
Ease of use: We looked for interfaces that are simple to navigate, the responsiveness of customer support, and the availability of user guides.
Design options: Label printers that print on a wide range of labels received high marks. Color printing and layout options were also benefits.
Print speed: Even if your business is not high-volume, you don't want to spend all day waiting on your label printer.
Integrations: We looked for printers that communicate with point-of-sale (POS), inventory, invoicing, accounting, design, or publishing software.
After considering all these factors, we found the Zebra ZD410 to be the best overall barcode label printer. This shoebox-sized label printer prints on over 1,000 readily available label types. Its two resolution settings allow you to choose speed over detail for various projects. The ZD410 is mid-priced compared to other label printers and comes with Zebra's excellent support and training features.
Zebra ZD410: Best Overall Barcode Label Printer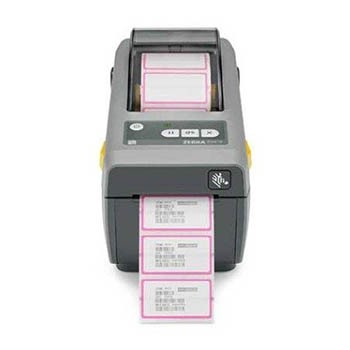 Zebra has been in the label printing game since 1969. Many of its retail printers have become the standard by which others are measured. The Zebra ZD410 is a widely used, direct thermal label printer with a wealth of applications for businesses of all kinds. It is a compact size, with variable resolution setting that prints on 1,000 different label types. It can be purchased from several resellers and is priced anywhere from $260 to $380.
| Zebra ZD410 Strengths | Zebra ZD410 Weaknesses |
| --- | --- |
| Prints on over 1,000 different label sizes | The maximum print width is 2 inches |
| Variable resolution setting (203 dpi, or 300 dpi) | Can be prone to jams |
| Offers several in-field customization options | No direct integrations with ecommerce platforms |
Zebra ZD410 Printer Pricing
The Zebra ZD410 is available through multiple retailers, including Amazon and several third-party point-of-sale (POS) resellers. The price varies slightly depending on where you purchase and whether or not they are running any current promotions. The range we have seen has generally been anywhere from $260 to $380.
Zebra offers a one year manufacturer's warranty. It further offers an extended service and support plan, Zebra OneCare, that offers on-site support, plus coverage for accidental damage. You'll need to contact Zebra or an authorized Zebra reseller for pricing information.
Zebra ZD410 Features
The ZD410 is pretty compact. With a height of 6 inches, a width of 4.5 inches, and length of 8 inches, it is smaller than a shoebox. It is a direct thermal printer and doesn't need ink cartridges or ribbons. You can also add an optional cutter or peel and present label sensor to speed your processes.
Printer type: Direct thermal
Connectivity: The ZD410 can connect to a computer or a tablet via Wi-Fi, USB, Ethernet, or Bluetooth.
Power source: The default for the ZD410 is an electrical power cord, and it is ENERGY STAR rated. You also have the option to run the printer from a 2750 mAh battery if you choose.
Resolution: The ZD410 has two resolution settings, 203 dpi, which allows for fast printing, and 300 dpi, which allows for printing small, detailed barcodes like butterfly tags for jewelry.
Print Speed: The ZD410 prints 6 inches per minute at the 203 dpi resolution. At 300 dpi, the printing is slower.
Support: Zebra has active online user support forums where you can download printer drivers and software updates. It also offers a support and extended warranty program called Zebra One Care, at an additional, quoted price.
Zebra printers, and the ZD410 in particular, are also popular in healthcare settings. So, there is a version of the ZD410 that is designed to withstand frequent cleaning and sanitizing. This makes the ZD410 a good fit for food and beverage businesses that must adhere to high sanitation standards as well.
What the Zebra ZD410 Is Missing
The ZD410 is a real workhorse of a label printer that can handle tiny jewelry tags, wristbands, and small shipping labels. Since the maximum printing width is only 2.36 inches, however, this printer cannot print standard 4-inch x 6-inch shipping labels. While user reviews are positive across the board, some users note that the ZD410 is prone to paper jams. Because of its narrower print width, the ZD410 does not directly integrate with ecommerce shipping platforms.
Rollo: Best Ecommerce Barcode Label Printer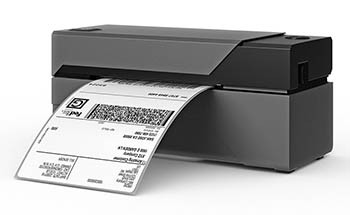 If you are running an ecommerce business, you may need to print shipping labels alongside bar code labels. The Rollo Label Printer is a direct thermal printer that is able to print labels at a speed of more than 5 inches per second. The Rollo prints on rolls or fan-folded stacks of label paper from 1.57 inches to 4.1 inches wide. There are no restrictions on the height of the label. This printer is great for 4-inch x 6-inch shipping labels, as well as warehouse labels, barcode and ID labels, or bulk mailing labels.
| Rollo Strengths | Rollo Weaknesses |
| --- | --- |
| Super fast | Not the most durable labels |
| Easy to use | Roll holder is sold separately |
| Prints on a wide range of labels; including free USPS labels | Only connects via USB |
Rollo Printer Pricing
The Rollo printer retails for $179.99, which is less than the Zebra ZD410 and higher-priced than our top-rated low-cost option. You can use any label that falls between 1.57 inches and 4.1 inches wide, even the free labels available through the Postal Service. The Rollo printer does not have any ribbons or batteries that need replacing. The printer can be purchased through the Rollo website.
Printer Features
Rollo works with desktop publishing applications (Word, Pages, Excel, and Adobe Acrobat) or an ecommerce site's barcode label generators (Shopify, Etsy, eBay, and Amazon). The companion platform, Rollo Ship Manager, allows you to create shipping labels and packing slips in 4-inch x 6-inch format, securely track, manage, and print shipping labels for your ecommerce orders.
Printer type: Direct thermal
Connectivity: Rollo's printer connects to Mac and Windows computers via a USB cable. There are no options for Wi-Fi or Bluetooth connections.
Power source: This printer only works when plugged into a traditional electrical outlet. There are currently no rechargeable or battery operated options.
Resolution: The Rollo has one resolution setting, 203 dpi.
Print speed: The Rollo is super-fast, handling up to 238 labels per minute.
Support: Rollo's customer support is wildly well-reviewed. The brand's website also features tons of how-to resources for Rollo users.
Warranty: One year manufacturer's warranty is provided.
What the Rollo Is Missing
If you want to print lots of barcode labels of various sizes fast, Rollo is your best bet. The printer does have a few limitations. It must be plugged into work, there are no battery options, which limits this printer's mobility. The Rollo also only connects to your computer via USB. There are currently no options for Bluetooth or Wi-Fi connectivity.
Zebra ZQ630: Best RFID Barcode Label Printer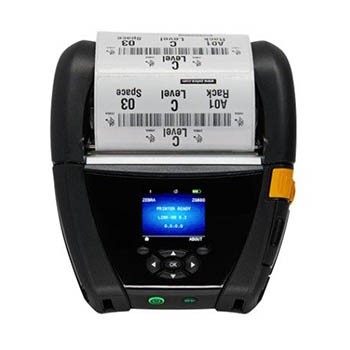 The Zebra ZQ630 is a fast, mobile-optional printer that can print barcodes on labels that are encoded with radio-frequency identification (RFID) tags. RFID tags use electromagnetic fields to identify and track tags attached to objects. Using barcode labels encoded with RFID tags can help stores prevent theft or, like Amazon Go, build a fully automated checkout system. All this technology comes at a slightly higher cost: The ZQ630 retails for anywhere from $860 to $1,200.
| Zebra ZQ630 Strengths | Zebra ZQ630 Weaknesses |
| --- | --- |
| Prints RFID-encoded labels | Pricey |
| Can be fully mobile | More machine than some small retailers need |
| Rechargeable | Label refills are pricey |
Zebra ZQ630 Pricing
The Zebra ZQ630 is available from several third-party sellers that support the retail industry, so pricing may vary. The Zebra ZQ630 is made by an industry leader in the barcode printing arena and comes with a ton of features, so pricing tends to reflect that. The lowest price we have seen offered for the ZQ630 is $859. Refurbished models retail for about $200 less.
Zebra ZQ630 Features
This feature-rich printer combines RFID encoding with mobile printing. The unit is small enough to sling over your shoulder in a shop or warehouse setting. You can print quickly over Wi-Fi or Bluetooth. This printer enters sleep mode when it is idle and automatically wakes up the moment the user sends a print job, which extends the life of the battery. The ZQ630 prints on die-cut labels, receipt paper, RFID-encoded labels, and black mark sensing labels.
Printer type: Direct thermal printing of barcodes, text, and graphics
Connectivity: Apple iOS, Android and Windows Mobile connectivity, Bluetooth pairing with smart mobile devices
Power source: High-capacity 6800 mAh rechargeable battery
Resolution: 203 dpi
Print speed: Up to 4.5 inches per second
Support: In addition to Zebra's online customer support forums, ZQ630 users can access web-based help pages through any Near Field Communication (NFC)-enabled devices.
Warranty: This printer comes with a one-year manufacturer's warranty. You can also opt in to a service and support contract through Zebra's One Care program, which comes at a custom quoted price.
The printer is set up with a smart sensor feature that allows you to insert the RFID media into the ZQ630 and auto-calibrate. The ZQ630's screen changes color when the printer is paused or in an error state such as out of labels or the latch is open, so it is easy to tell what the printer needs to get going.
What the Zebra ZQ630 Is Missing
This printer is on the pricey side and also uses Zebra proprietary labels. If you're drawn to the mobility factor, which is nice, but don't need RFID capabilities, the Brother QL810W might be a better fit. Unless you need to produce a high volume of RFID encoded labels, the ZQ630 is probably more machine than you need.
Cardinal Detecto DL1030P: Best Scale-connected Barcode Label Printer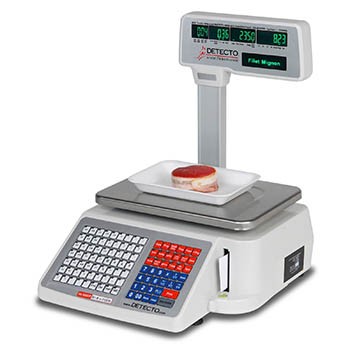 Shops that sell items by weight—like delis, candy stores, or bulk goods stores—need a barcode printer to print personalized barcode labels for individual items. Products that are sold by weight must legally be weighed by a scale that has been designated as legal for trade. Typically, these scales will be tested for proper calibration during regular inspections by local consumer protection agencies.
Key Term: Legal for Trade—This term describes a scale that has been tested by the National Type Evaluation Program (NTEP), a program that was developed by the National Conference on Weights and Measures (NCWM) to ensure it is sufficiently accurate for commercial sales. Legal for Trade scales are usually labeled "NTEP Certified."
| Cardinal Detecto DL1030P Strengths | Cardinal Detecto DL1030P Weaknesses |
| --- | --- |
| Prints labels with barcodes, ingredients, and sell-by dates | The minimum weight limit is 3.2 ounces |
| Built to withstand food preparation environments | Uses Detecto's proprietary label sizes |
| Lots of customer support resources | May be pricey for very small businesses |
Cardinal Detecto DL1030P Pricing
Since the Cardinal Detecto DL1030P is both a scale and a barcode label printer, it is pricey. At $649, it is one of the highest-priced printers on this list. That price, however, is low-to mid-price range for a Legal for Trade scale with integrated barcode label printing. Costs for this type of equipment can go up to thousands of dollars.
The printer is powered solely via electricity, so there are no batteries to replace. It only prints on Detecto's proprietary labels, however. There are 50 available styles for this printer model, though, so you won't have any trouble finding the right size label for your shop. They are readily available for purchase from most food and beverage mainline distributors.
Cardinal Detecto DL1030P Features
The Cardinal Detecto DL 1030P prints barcode labels for weighted items—like deli meat— at the time of purchase. You can also use it to batch print labels for freshly packaged items that are sold by weight or quantity like freshly baked cookies that are individually packaged. Labels include required health code information like the packaged on date and sell-by date, as well as information like the unit price and unit quantity to ensure accuracy at the point-of-sale.
Printer type: Direct thermal
Connectivity: Can connect via USB orRS232 serial cables. Also has a port to connect to a cash drawer.
Power source: The Cardinal Dectectt DL 1030P needs to connected to a standard electrical outlet to work.
Resolution: 203 dpi
Print speed: Cardinal Detecto does not list a print speed, but several user videos show labels printing in only a few seconds.
Support: User manuals are available online via Detecto's website and retailers that sell Cardinal Detecto equipment. There is also a direct 866 phone number and online customer support that is monitored from 7 a.m. to 6 p.m. Central time.
The Cardinal Detecto DL1030P stores 5990 PLU codes, so you can maintain a vast inventory of items sold by weight or quantity. The scale itself also features 63 "speed keys" to speed up the label printing process for popular items. Its stainless steel platform and durable plastic body protect the printer from cold, damp, and frequently sanitized environments like fish counters or other food packaging areas. It also comes with a two-year manufacturer's warranty.
The Cardinal Detector DL 1030P prints labels with barcodes, QR codes, safe handling images, ingredients, weights, date formats with month/day or time, nutritional facts, discounts, and custom logos. There are 50 label types available. The scale's USB port allows you to bulk download PLUs, shortcut keys, and other setup information, including custom labels, to the scale via an Excel sheet.
Cardinal Detecto DL1030P Is Missing
Since the printer is attached to the scale, this system is not incredibly mobile. The whole setup weighs a little over 15 pounds, so you won't want to move it around much. This printer only prints barcode labels for items with a relatively short shelf life, so the labels may not be long-lasting.
Dymo LabelWriter 450: Best Low-Cost Barcode Label Printer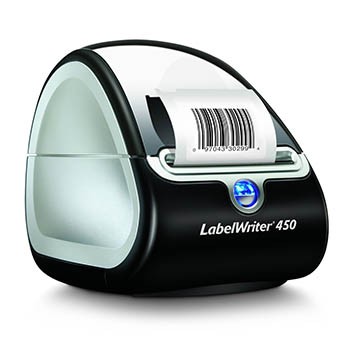 The Dymo LabelWriter 450 is a dynamic thermal label printer that is available for around $80. This petite powerhouse offers simple setup, minimal maintenance, broad compatibility, and many label printing options. The LabelWriter 450 can process 51 labels per minute and labels in 18 different sizes, though 2.25 inches is the maximum width. The printer and labels are available through a variety of retailers—from Staples to Amazon.
| Dymo LabelWriter 450 Strengths | Dymo LabelWriter 450 Weaknesses |
| --- | --- |
| Low cost | No Wi-Fi connectivity |
| High resolution | Not great for high volume |
| Integrates with Square and Shopify | Using third-party labels voids the warranty |
Dymo LabelWriter 450 Pricing
The Dymo LabelWriter is super affordable at $80. It is available from many retailers, like Office Depot, Staples, and Amazon. Dymo labels are also readily available through the same stores. Since the LabelWriter 450 is a direct thermal printer, it does not require ink cartridge replacements. Since it is not battery powered, you won't have to worry about replacing or recharging, but you will need to have electricity available wherever you want to print.
Dymo LabelWriter 450 Features
One of the greatest features of the Dymo LabelWriter 450 is that it integrates with small business favorite Square. If your shop operates with Square for Retail, you can create product barcode labels in the Square dashboard then send them to print directly through the LabelWriter450. Shopify users can also easily transfer their product labels to print via the Dymo LabelWriter.
Printer type: Direct thermal
Connectivity: USB connection to a Mac or Windows computer
Power source: Electrical adapter
Resolution: 203 dpi
Print speed: 51 labels per minute
Support: Customers can visit the Dymo website anytime to download updated printer drivers and label templates. Dymo support is also available over the phone.
Warranty: Dymo offers a two-year limited warranty. The warranty gets voided if you use third-party labels with the printer, though.
The Dymo LabelWriter 450 has been a popular choice for small businesses for several years. Users review the product highly. Customers who are just getting started with the Dymo LabelWriter will find massive amounts of user-generated how-to videos and blog posts about how to get the most out of this well-liked printer.
What the Dymo LabelWriter 450 Is Missing
Like the Rollo printer, the Dymo LabelWriter 450 must be connected directly to a computer to print labels. The 2.25-inch maximum width can also be limiting. For the price, however, this little printer processes a ton of labels at a pretty quick clip. If you need a printer with a bigger width and can afford to pay a little more, you might prefer the Rollo.
Brother QL810W: Best Mobile Barcode Label Printer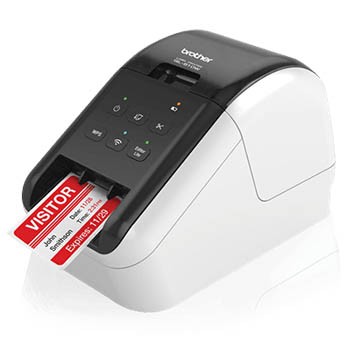 Some businesses need to be able to leave the office to print labels. For those times, the compact Brother QL810W, outfitted with its optional Lithium-Ion battery can assist. This dynamic, Wi-Fi-enabled printer also prints in both red and black, so you can create labels that call attention to sales or promotional pricing. The QL810W is also super-fast, printing up to 110 labels per minute. This printer retails for $129.99 and is available from several retailers like Staples, Amazon, and Best Buy.
| Brother QL810W Strengths | Brother QL810W Weaknesses |
| --- | --- |
| Dual color printing offers lots of label options | Customization can be overwhelming |
| Super fast | Super-small barcodes can bleed |
| Connects via Wi-Fi | Wi-Fi can disconnect |
Brother QL810W Pricing
The QL810W is well-priced at $129.99, which makes it more expensive than the Dymo LabelWriter 450 but less than the Rollo. The printer and its many label options are widely available at major retailers like Office Depot or via the Brother website. To make the printer fully mobile, you will need to purchase the optional rechargeable lithium-ion battery at $99.99.
Brother QL810W Features
The Brother QL810W can print labels from your computer or smart device. It can communicate with multiple devices at the same time to print labels for a whole team or office. The print comes with an automatic cutter to allow the printing of custom size labels.
Printer type: Two color direct thermal printer
Connectivity: Connects via Wi-Fi, allowing users to print from their computers or smart devices via the Brother iPrint and Label app.
Power source: Comes with an electrical adapter. To be fully mobile, users must purchase the optional Lithium-ion battery for $99.99.
Resolution: 300 dpi
Print speed: 110 labels per minute.
Support: The Brother website includes a wealth of how-to information for setting up and troubleshooting your printer. They also host on-demand email and web chat customer support from 9 a.m. to 6 p.m. Eastern time, Monday through Friday.
Warranty: Brother offers a two-year warranty. Like Dymo, the Brother manufacturer's warranty is voided if you use non-Brother approved labels.
Several popular third-party platforms have in-built integration with Brother QL series printers. Shopify, Revel Systems, and Lavu are just a few that should be readily recognizable to retail or restaurant owners.
What the Brother QL810W Is Missing
Some users on the Brother website mention that the number of label customizations available in the QL810W can be overwhelming. A few noted that small barcodes sometimes bled, making it difficult for their scanners to read. Overall, however, reviews of this printer are overwhelmingly positive.
Bottom Line
Barcode labels are a necessary tool for any business that sells products to the public. Most barcode printers nowadays are capable of performing many more tasks than simply printing barcodes. If your business mails packages, sells items by weight, or wants to track items with RFID, you can find a printer to support your business goals.
If you plan to print barcodes for warehouse or retail settings and don't yet have an inventory management program, be sure to check out Square for Retail. It integrates with the Dymo LabelWriter 450 and Zebra ZD410 barcode printers listed above, so you can quickly create barcode labels for all types of stock tracking needs. Plus, it helps you manage your sales, payments, staff, and overall business. To check it out for yourself, visit Square for a free trial.