Cannabis Insurance: Cost, Coverage & Providers
Cannabis insurance refers to a group of business policies that cover risks inherent in the marijuana industry. However, different operations require different kinds of marijuana insurance policies. Most cannabis businesses, including dispensaries, cultivators, and testing labs, need at least general liability insurance, which they can usually get for $700 – $3,000 annually.
Embroker makes it easier for business owners in the marijuana industry to get business insurance. They have an easy-to-use online application that takes less than 10 minutes to complete and matches you to multiple carriers in just seconds. Once you apply, you can manage your quotes and policies online for free.
How Marijuana Insurance Works
While there isn't a cannabis insurance policy, marijuana business owners can select policies that cover their operations. For instance, general liability is a fundamental policy for most businesses because it covers customer injuries and property damage. From there, cannabis business owners may also need commercial property, crop insurance, and commercial auto, depending on their operations.
Top Cannabis Insurance Companies
Marijuana insurance is mainly sold through non-admitted carriers. These carriers are not licensed with the state, so they can often cover riskier businesses and emerging industries. Because availability is somewhat limited, we've focused our list on business insurance brokers that work with multiple carriers so owners can compare offers.
Top Cannabis Insurance Companies
| Provider | Best For |
| --- | --- |
| | Business owners looking for fast quotes and easy online policy management |
| | Marijuana business owners who want help reducing risks |
| | Business owners who want one policy to cover all transportation risk |
| | Cannabis business owners who want a comprehensive insurance plan without any paperwork |
| | Physicians who prescribe medical marijuana and need malpractice coverage |
| | Marijuana business owners who want to simplify their workers' compensation insurance payments |
Some top hemp insurance providers include:
Embroker is a relatively new online broker that pairs technology and insurance expertise to bring coverage to small business owners, including startups and emerging industries. For marijuana businesses, Embrokers works with top carriers that can offer a full lineup of key business coverages, such as product liability, property insurance, and general liability.
Business owners who need fast quotes should consider working with Embroker. The company's online application takes just minutes to complete, and business owners can use Embroker's platform to then track offers and manage policies they've purchased through Embroker or another broker.
HUB International is a large international property and casualty broker with solid financial backing and partnerships with both state-licensed and non-admitted carriers. Recently, they added a division dedicated to specialty practices that can offer a number of cannabis insurance policies including general liability, workers' compensation, crop, and employment practices liability.
The real standout for HUB, however, is its risk management assistance. HUB brokers help their hemp insurance clients with regulatory compliance, US/Canada cross-border business challenges, worker safety, and emergency response planning. This makes HUB ideal for business owners who want assistance in risk reduction.
Cannabis Insurance Associates is a division of Brown & Brown, one of the largest independent insurance brokers in the U.S., so its agents can offer coverage in all 50 states. The company's sole focus is insurance for cannabis dispensaries, grow operations, transporters, and manufactures, as well as a large selection of ancillary businesses, such as landlords and hydroponic stores.
Business owners who have multiple transportation and stock exposures, such as growers who sell seedlings to other cultivators and transport plants to manufacturers and retailers, may want to work with Cannabis Insurance Associates. They're one of the few marijuana insurance providers with a stock throughput policy that covers the transport of raw materials, unfinished stock, and finished product. Purchasing stock throughput insurance minimizes the chance of duplicate coverage while also simplifying policy management.
Heffernan Insurance Brokers is a national insurance agency with a reputation for providing comprehensive insurance solutions to niche industries. The company has been in business for over 30 years and has been the exclusive broker for the California Growers Association since 2017.
Heffernan Insurance Brokers is a good choice for cannabis-based businesses that want to get their coverage quickly. While applying for marijuana insurance usually takes longer than it does in other industries, Heffernan offers a paperless quoting and a direct line to business insurance producers that can speed up the process.
Cannasure Insurance Services is unique in that they are both an insurance carrier and insurance agency. As a carrier, Cannasure can write its own policies in some states, but they also work with other insurers to get cannabis business owners coverage.
Cannasure started as a response to poor coverage options in the medical marijuana industry, and they've maintained a strong presence in that industry. This makes them the ideal choice for physicians and other healthcare providers who prescribe marijuana. Not only does Cannasure have deep knowledge of the cannabis industry, but it offers tailor-made policies that includes medical malpractice coverage.
Praxis Insurance Associates is a new insurance broker. However, its focus on workers' compensation and the cannabis industry makes it a top choice for cultivators, lab tech, and retailers. The company can offer workers' comp insurance to cannabis businesses in 27 states.
Business owners who need workers' compensation insurance should consider Praxis Insurance Associated for the firm's pay-as-you-go plan. By charging a monthly rather than yearly premium, Praxis helps business owners minimize sudden expense after their workers' comp audit.
Types of Marijuana Insurance
When business owners talk about hemp insurance, they're actually talking about a group of insurance policy cannabis dispensaries, cultivators, and manufacturers used to protect their assets. Each policy covers a different risk, such as general liability for third-party injuries and property damage and commercial property for damage to business-owned property.
Most Common Types of Marijuana Insurance
General Liability Insurance
General liability insurance covers costs associated with third-party claims of physical injury, property damage, and reputational harm. These costs typically include the injured party's repair bills or medical expenses and your legal fees if they sue. Most policies also include coverage for harm caused by defective products.
Some examples of costs covered by general liability for a cannabis business include:
A customer's medical bills after ingesting aflatoxins traced back to your buds
Your legal fees if a competitor sues for defamation after you tweet about their inferior product
A neighbor's repair costs after a fire in your head shop causes smoke damage in their building
General liability is a fundamental business coverage because it covers claims that are common across many industries.
Commercial Property Insurance
Commercial property insurance covers your business-owned property, paying the insured value minus your deductible when items are damaged in a covered event. Cannabis business owners can opt to insure their property for its full replacement cost or its actual cash value, which deducts depreciation.
Common events covered by property insurance include:
Theft
Vandalism
Fire
Hail
Windstorms
Cannabis business that don't own much property, have fewer than 100 employees, or earn less than $1 million in revenue may qualify for a business owner's policy. BOPs combine commercial property with general liability insurance for a reduced premium.
Errors and Omissions Insurance
Errors and omissions insurance (E&O), also called professional liability, covers your defense when third parties accuse your business of making mistakes that result in financial loss. Insurers typically cover costs such as attorney's fees, court costs, and settlements or judgments even if the lawsuit has no merit.
Perhaps the businesses with the greatest risk of negligence claims are those who work in the medical marijuana industry. Healthcare providers who either prescribe or recommend cannabis use may be sued if the product does not perform as intended. For instance, if a patient has an allergic reaction to medical marijuana that sends them to the emergency room, they may sue the prescribing doctor for malpractice. The doctor's E&O insurance would most likely cover the cost of the lawsuit.
Commercial Crime Insurance
As a largely cash industry, cannabis business owners should consider getting commercial crime insurance to cover financial losses due to illegal activities. Policies typically pay for stolen money and securities whether the crime is committed by employees or outside actors.
Illegal activities covered by commercial crime typically include:
Employee dishonesty
Forgery
Computer fraud
Illegal electronic funds transfer
Ransom, kidnapping, and extortion
False money order schemes
Workers' Compensation Insurance
Every state except Texas requires employers to carry workers' compensation insurance to cover their employees' work-related injuries and illnesses. Policies typically pay injured employees' medical bills and replacement wages or death benefits to their families.
Injuries and illnesses often covered by workers' comp include:
Sudden traumatic injury, such as those suffered in an explosion at your edible manufacturing facility
Repetitive stress injury, such as back strain caused by long hours harvesting crops
Occupational illness, such as lung disease suffered by employees in a testing lab
Inland Marine Insurance
Inland marine insurance is a type of property coverage that moves with the items it insures. Commercial property insurance usually only covers business property when it's at the location listed on the policy. As a result, cannabis businesses that transport their products to different places may need inland marine insurance to pay for items that are stolen, lost, or destroyed.
Some examples of when a cannabis business may need inland marine insurance include:
A cultivator delivering crops to a manufacturer
A dispensary owner offering delivery services
A manufacturer shipping edibles to a dispensary
An online marijuana delivery platform supplying consumers with cannabis-related products
If items are destroyed by a covered event while being moved between locations, inland marine covers the insured amount minus your deductible.
Commercial Auto Insurance
Commercial auto insurance covers first- and third-party damage stemming from a business's use of cars, trucks, and other vehicles. Most states require a minimum amount of liability to pay for damage you and your insured drivers cause other people, but cannabis business owners may want to cover damage to their autos, too.
Additional auto coverages business owners can purchase include:
Collision: Damage to your business-owned vehicles caused by auto accidents
Comprehensive: Damage to your business-owned vehicles caused by something other than auto accidents
Hired & non-owned auto: Damage to and caused by vehicles hired, leased, or borrowed by your business
Cannabis business owners who drive their own cars for work-related trips may be uninsured because most personal auto insurance policies exclude business driving.
Additional Types of Cannabis Insurance
While most cannabis businesses need the marijuana insurance listed above, some may require additional coverage because of their operations. This is often due to common exclusions found in cannabis insurance policies.
Business Owner's Policy
A business owner's policy (BOP) combines general liability and commercial property insurance into a single package, often allowing small business owners to purchase these fundamental coverages at a lower rate. For instance, dispensaries spend about $350 – $750 per year for general liability. Depending on the amount of property they own, they might spend another $200 – $1000 annually. However, most marijuana dispensaries pay between $600 – $1,500 for BOPs.
Crop Insurance
Commercial property insurance usually excludes crops, which means marijuana cultivators need crop insurance to cover costs when their seeds, seedlings, and plants are damaged. Most crop insurance pays for damage caused by theft, vandalism, fire, and equipment breakdown. Some insurers only cover marijuana crops when they are grown indoors or in a greenhouse.
Product Liability Insurance
General liability insurance has product liability coverage, called products-completed operations, to pay for consumers' property damage or bodily injury due to defective products. However, it may not be enough for businesses that manufacture products in the cannabis industry. Business owners who design or manufacture accessories or consumable products may want a standalone product liability policy.
Product Recall Insurance
While the products-completed operations coverage in general liability pays for harm caused by defective products, it does not cover the costs of pulling them from the market. For that, cannabis businesses need product recall insurance to pay for customer notification, retrieval and disposal expenses, and replacements products.
Event Insurance
Most general liability insurance provides limited coverage for special events; cannabis business owners who want to host a large 4/20 event may need a standalone event insurance policy. Moreover, they may need an additional marijuana endorsement if they want attendees to be able to smoke.
Dispensary Insurance Costs
Cannabis business insurance costs depend largely on industry segment. For instance, outdoor growers often spend $20,000 – $30,000 annually on all of their insurance because they tend to have lots of business property and need crop insurance. Dispensary insurance costs are often much lower, around $700 – $3,000 per year for general liability.
Dispensary Insurance Costs & Deductibles by Policy
| Insurance Type | Premium Cost | Coverage Amount | Deductible |
| --- | --- | --- | --- |
| General liability insurance | $700 - $2,000 | $1 million per occurrence / $2 million aggregate | $0 |
| Commercial property insurance | $100 - $600 | $10,000 - $20,000 | $500 - $1,000 |
| Commercial auto liability insurance | $750 - $1,200 | $1 million | $0 |
| Inland marine insurance | $300 - $1,000 | $100 - $500 | $500 - $1,000 |
Altogether, cannabis insurance for dispensaries costs around $800 – $4,500 per year, assuming the business offers delivery services. Businesses with other operations often pay more.
For example, a small, indoor cultivation facility may pay between $4,000 – $10,000 per year for general liability and commercial property. Crop coverage might increase the annual cost by $5,000 – $8,000.
Manufacturers of infused products or edibles can also have higher cannabis business insurance rates, in part because they need to insure against equipment damage, liability lawsuits, and cannabis stock. Their yearly insurance costs are around $5,000 – $12,000.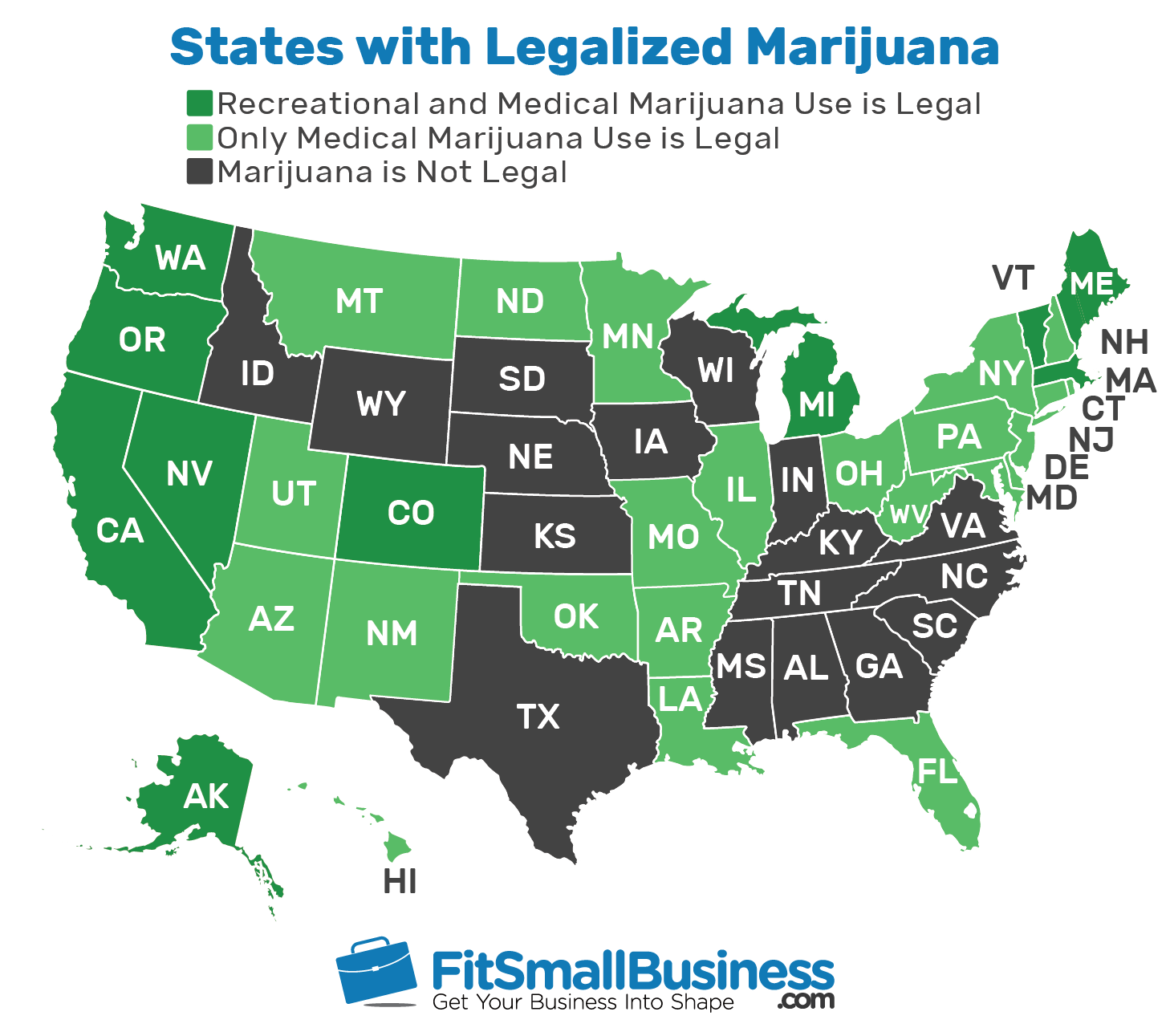 Tips on Getting Cannabis Insurance
Business owners typically need insurance that's tailored to their operations, but that is especially true in the medical and recreational marijuana industry. The combination of state regulations, federal illegality, and consumable products, means navigating marijuana insurance can be tricky.
Here are three tips to help you get the appropriate insurance for your cannabis business:
Plan Ahead
Because cannabis is classified as a schedule one controlled substance, the application for marijuana insurance often takes longer than it does for other businesses. This means entrepreneurs who want to open a cannabis-based business needs to think about coverage sooner rather than later. Startups in particular should have a business plan in place to increase their chances at getting covered.
Research Marijuana Insurance Companies
The majority of cannabis insurance is sold through non-admitted carriers that aren't licensed by the state. This doesn't mean they aren't regulated or that they are fly-by-night companies, but it does mean they don't receive assistance from their state if they fail. As a result, cannabis business owners should look into the financial ratings of any company that offers coverage.
Know Your State's Insurance Requirements
Most business owners have few state insurance requirements to meet. Typically, they need workers' compensation if they have employees and some amount of commercial auto liability coverage if they use vehicles. However, many states and municipalities have additional requirements that vary by policy and coverage amounts. Cannabis owners should know these before they shop for coverage to ensure they meet their obligations.
Consider Getting Accidental Death Insurance
Many small business owners get life insurance to protect both their families and their employees. However, insurance agent Jeff Root says that's not an option if you own a cannabis business.
"If you grow or distribute marijuana or have any ownership in a company that does any of that, you can't qualify for life insurance to cover your business. There's not a single life insurance company in the industry that will cover it. That means you can't fund a buy-sell or have any key man life insurance policies. I always recommend at least buying an accidental death policy. These cover accidents, but not illnesses and are very inexpensive. Also, there are specialty insurance companies like Lloyd's of London or Peterson International that can structure a policy for them, but they're much more expensive and don't have the guarantees associated with traditional life insurance policies."

— Jeff Root, Founder, Root Insurance Agency
Hemp Insurance Frequently Asked Questions (FAQs)
Whether you run a head shop or grow marijuana plants, cannabis insurance can be hazy. The information we've provided applies to many cannabis-based businesses, but those with unique operations may have more questions. Below are the answers to some frequently asked ones.
Do I need insurance for my cannabis business?
Insurance requirements for the cannabis industry vary by state. Some states require certain policies and coverage amounts and surety bonds, while others only mandate one or the other or neither. Your best bet is to contact the government agency that regulates the marijuana industry in your state to find out.
Does workers' compensation cover medical marijuana?
Some state boards have ruled that workers' compensation insurers must pay for medical marijuana, but these rulings are rare. Moreover, certain states have workers' compensation laws that let insurers deny medical marijuana claims.
Does health insurance cover medical marijuana costs?
Currently, no health insurance providers cover the cost of medical marijuana because federal law classifies cannabis as an illegal drug. Most health insurers require medical treatments have FDA approval, and marijuana's legal status prohibits that from happening. However, some carriers offer coverage for a legal alternative, such as synthetic marijuana.
Bottom Line
As an emerging industry, medical and recreational marijuana presents a lot of challenges to traditional insurers. While more admitted carriers are starting to offer hemp insurance, most business owners need to look to non-admitted insurers. These carriers can offer quality coverage, but cannabis business owners should compare quotes, policy terms, and the insurer's financial ratings before they buy.
Working with a broker can make it a lot easier to find and compare marijuana insurance costs and coverage options. Embroker goes one step further by offering cannabis businesses an online application that is easy to complete and returns quotes fast.