2023 CardX Review: Pricing, Features & Alternatives
This article is part of a larger series on Payments.
CardX is a merchant account services provider that offers credit card surcharging for qualified businesses. Recently acquired by Stax, CardX had spent years developing not only the technology but also its working relationship with state lawmakers to provide automated surcharging tools with the strictest compliance to surcharging regulations. It is this expertise that made CardX Mastercard's exclusive surcharging partner.
CardX is available to small businesses in 48 states including New York and Maine Additional disclosures required for surcharging compliance. , plus the District of Columbia. Monthly fees start at $29.
CardX at a Glance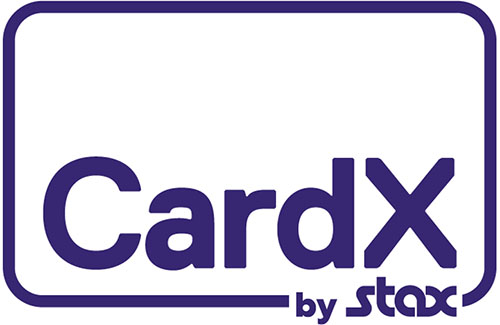 Pros
Auto surcharging
Upfront pricing
Provides signages and merchant training
Cons
Card terminals can be expensive
Lacks accounting integrations
No card-present point-of-sale integration
Supported Business Types

Flexible

Ecommerce, professional services, general purpose

Standout Features

Monthly Software Fees

Competitive

Merchant account fee: From $29/month

Setup and Installation Fees

$0, 2–4 business days

Processing Fees

Competitive

Surcharge fee: 3% (passed on to customer)
Debit transaction fee (virtual terminal): 2.91%
Debit transaction fee (card-present): Varies

Contract Length

Month-to-Month

Hardware Options

Limited

Customer Support

Business hours phone, email, and live chat support
Merchant training
Best For

Flexible free credit card processing

Businesses that require POS integration

High-risk merchants

Monthly Fee

$0

From $25

From $10

Non-credit Card Transaction Fee

0.5% + 25 cents (ACH)

Debit card fee not disclosed

Custom rates

Surcharging Features

Automated zero-cost program
Toggle-enabled setting
Requires ACH payment processing

Surcharging via MX merchant virtual terminal
Free card terminal and reprogramming

Zero-cost processing for high-risk merchants
Free card terminal reprogramming
Is It Worth Switching to CardX?
Compliance and automation are what make CardX one of the best turnkey solutions for credit card surcharging. Once merchants are approved, CardX takes care of everything so merchants do not need to worry about complicated setups. There are no long-term contracts or cancellation fees, but note that CardX charges a small monthly fee, so this provider is particularly ideal for regular merchants (not for occasional sellers).
Feature-wise, CardX offers easy-to-use billing and recurring payment tools, along with secure card-vault functionality, which I find useful for businesses that accept payments via invoice and offer subscriptions. CardX also has excellent tools for accepting payments online (via Lightbox integration) and via email, messaging, or phone (virtual terminal).
While it also works for in-person payments, CardX may not be for everyone. For one, CardX currently does not have a card terminal POS integration, so it's not my first choice for retailers and restaurants. You will also likely get charged a higher debit transaction fee for in-person payments compared to when using CardX's virtual terminal.
The payment terminals are also somewhat expensive (although this is not unusual for free credit card processors). CardX provides you with the option to pay a monthly plan that includes terminal protection instead of purchasing the hardware outright. Businesses that accept card-present payments should consider these additional charges when making their decision.
CardX Fees
CardX charges a monthly fee, which starts at $29 per month, based on annual sales volume. This gives merchants access to both card-present and card-not-present payment processing. Merchants do not have to worry about credit card transaction fees, as is the nature of credit card surcharging. However, merchants will still have to shoulder acceptance fees when customers opt for their debit cards.
Payment Processing
Note that CardX fees support unlimited sales volume transactions with accompanying higher monthly fees so it is compatible with any business size.
Hardware
Outright purchase: $540

Monthly plan option: $39/month

 

Features

4G Mobile, wireless, Android
Touchscreen w/ PIN Pad
1D and 2D barcode scanner
Built-in camera
Thermal printer

Outright purchase: $375

Monthly plan option: $29/month

 

Features

Countertop Android
Ethernet and Wi-Fi
Touch screen w/ PIN Pad
1D and 2D barcode scanner
Built-in camera
Thermal printer
CardX's monthly plan for hardware comes with a terminal protection feature. This means free replacement and hardware tech support so merchants will not have to worry about extra costs if there are any issues with the device.
If you currently use the same Dejavoo hardware, don't hesitate to ask CardX if it is possible to reprogram your device instead of purchasing a new one.
CardX Requirements for Signing Up
Like any other traditional merchant account services providers, CardX has an application, underwriting, and approval process in place. A quick online sign-up form is available but you can also reach CardX account specialists by phone, email, or via the live chat on its website. The CardX sales team is very responsive and you can expect a response within 24 hours.
Application
Click on the "Get Started" button on the CardX website to begin your merchant account application with CardX. This will take you to a quiz-type page that will ask you to answer eight questions such as business location, how you want to accept payments, and contact details. Once complete, a CardX accounts representative will reach out to you to continue the application process.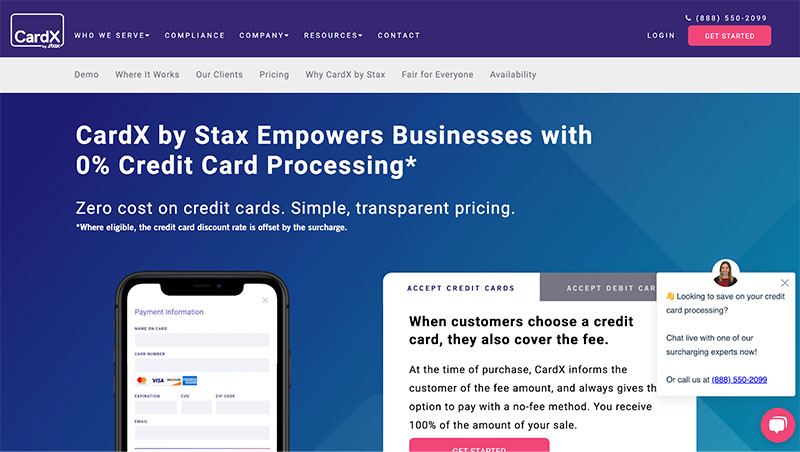 ---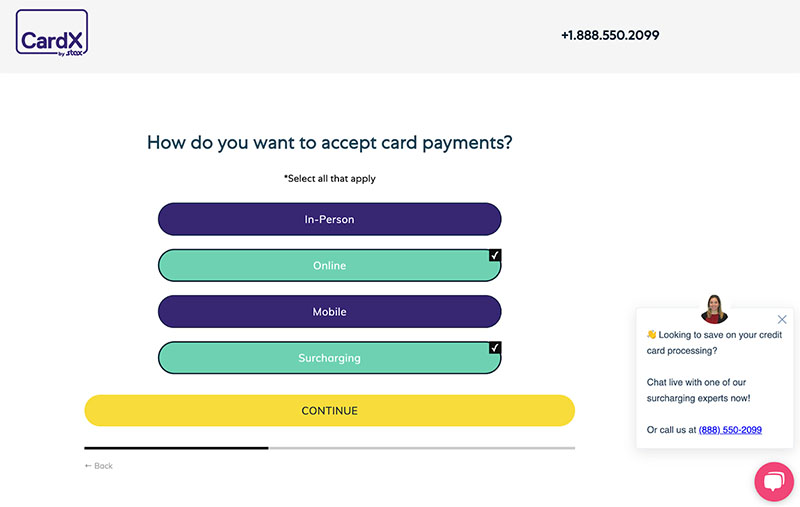 ---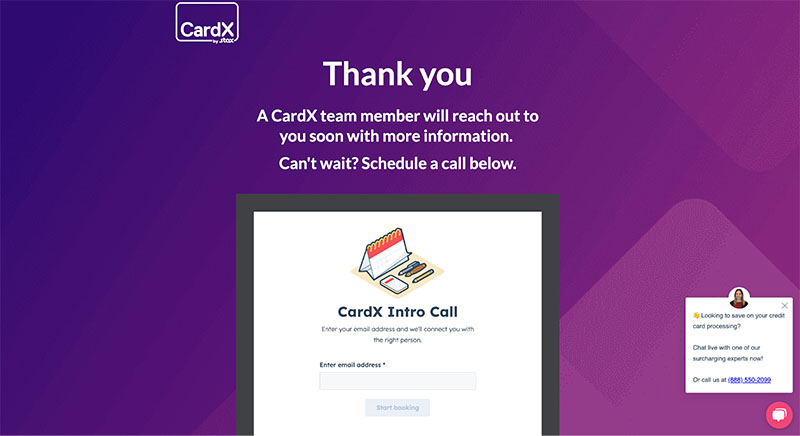 ---
Note that while CardX's subscription plans support annual sales volumes from $0–$120,000, the ideal applicant merchants are expected to have at least $5,000 in monthly sales ($60,000 annual) for the purpose of underwriting. Your CardX representative will provide you with options if your sales volume falls below this threshold.
Contract
CardX offers month-to-month contracts. There are no cancellation fees even if you are paying a monthly fee for the card terminal. You will only need to provide CardX with a 30-day written advanced notice if you wish to discontinue the service.
You can review CardX Client Terms of Service below.
CardX Compliance
For businesses, CardX is available in 48 US states and in the District of Columbia. It also serves New York and Maine but with some additional disclosure requirements. CardX covers every card network rule on credit card surcharging and is Mastercard's official surcharging partner.
Onboarding
Once approved, CardX will register your business for credit surcharging with the card networks on your behalf. It will then provide you with a new Merchant ID. Note that you can have multiple merchant IDs if your business operates in more than one location and you can manage all your accounts in a single dashboard.
If you signed up for a card terminal, you will receive the device already programmed for CardX surcharging. You will also receive compliant signages (if applicable). Finally, CardX will schedule a merchant training session with you and your employees not just to learn the system, but to also go through the protocols required when offering credit surcharging to customers.
Software
CardX's software is built around strong compliance, with the system constantly updated with any change in state regulations. This ensures merchants are always up to standards wherever they operate—from the amount of surcharge rate being passed on to customers, to how the fees are added to the purchase to process as one transaction and disclosed as a line item on the receipt.
CardX payment technology is also designed to automatically detect debit and credit transactions based on card numbers indicated upon checkout. This means your online checkout page, virtual terminal checkout, and card terminal device know when to apply a surcharge or when to impose a debit transaction fee.
Online Payments
CardX offers a number of ways to accept remote payments. You can add a CardX API checkout page integration to your website, send out payment links, or run payments straight from the merchant portal. In all these methods, CardX' surcharging compliant payment technology automatically detects when debit or credit cards are used and applies the proper surcharge when needed.
Ecommerce
Lightbox is CardX's secure online payment platform. It can generate a payment button that leads to a checkout page linked to your website. You can choose between a ready-made code that you can copy and to add your website, or click on the link for additional Lighthouse integration options available in the guide.
Did you know? CardX's customer-facing payment platforms come with Mastercard Click-to-pay, which works like a Mastercard-encrypted digital wallet that allows customers to safely pay anywhere online where Mastercard Click-to-pay is available.
Payment Links
Lightbox can also be used to create a payment platform with a unique URL. CardX generates a unique payment link you can send to customers via email or instant messaging and even share/embed on your social media posts. There are no coding skills required to generate payment links. All you need to do is copy the URL and share when needed.
Unlike on a website, you can't customize the fields in a payment link. But from a compliance perspective—CardX covers it all from the automated card detection feature, to the disclosures that customers see at the checkout page before confirming payment.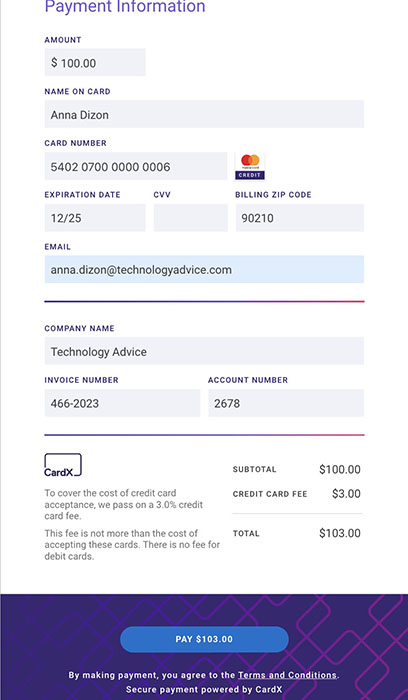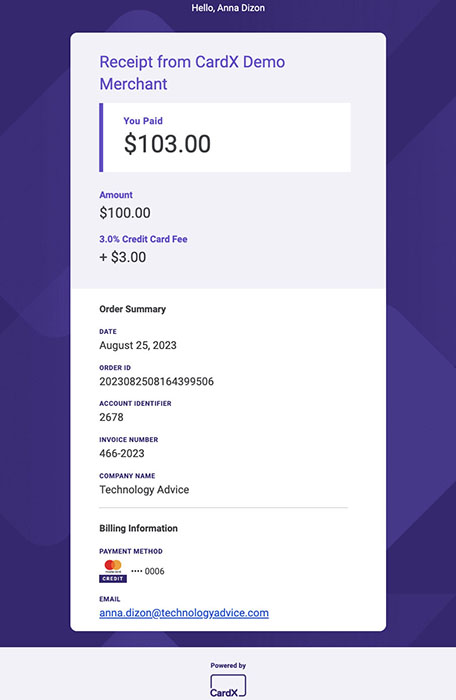 Virtual Terminal
The same secure payment platform is also available on your virtual terminal. You can use it to run a single payment for new customers. Once a payment is completed, a transaction record is created and a receipt is sent to your customer. CardX shows the transaction details and provides you with the option to save/create a customer profile.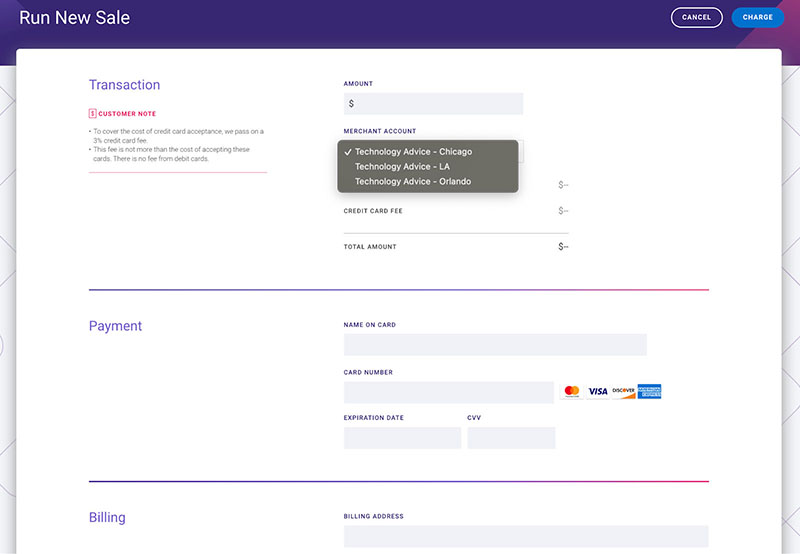 ---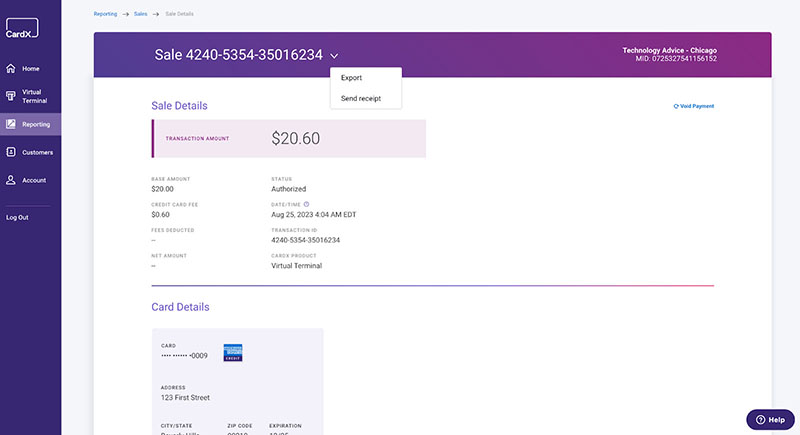 ---
Billing and Invoicing
Merchants can create and send one-time and recurring invoices from the customer profile. The system opens a new window where you can specify the amount, billing cycle, and number of payments. It also lets you set when the first payment will be collected.
Once you save the new billing plan, CardX sends you a confirmation email and the new billing shows up under the customer profile. Receipts are sent to the customer every time their card is charged for this specific bill.
---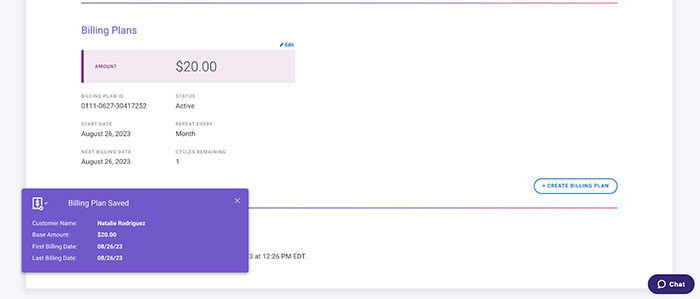 ---
The whole process is simple and easy to complete, although it could use a product catalog component and the ability to create line items as an alternative to keying in the total amount. This way merchants can review itemized costs including any taxes within the merchant portal before confirming the new plan.
Card-Present Payments
CardX recently switched to Dejavoo payment terminals for accepting in-person payments. At the moment, however, there are no ready POS integrations available, so merchants that run their business with a retail or restaurant POS will have to request custom integrations in order to set up the system.
This potentially slows down the setup process for retailers and restaurant merchants. And while using the card terminal without the POS integration is possible, not having this feature negatively affects the omnichannel payment processing experience.
Customer Management
The CardX customer directory is straightforward and allows you to search by customer name, company, email, phone number, last four digits of the card number, and billing status. The names are clickable and will take you to the customer profile. From there you can edit customer details, add, and edit credit card information It will also show any transaction completed by the customer.
Reporting
The CardX reporting feature provides merchants with sales and deposit records. It comes with a number of functionalities as well as sorting and filtering tools. This has to be my favorite of all CardX merchant platform features because the interface is clean—not overwhelming and still allows you to perform a wide range of tasks.
Sales
Under the sales tab, merchants can filter their search using different identifiers or sort according to their preferred column headers. I particularly like how you can search transactions by card terminal ID. Note that CardX does not support any accounting integration but you can easily export records in a CSV and Excel format to use in a separate software.
From the sales records, merchants have the option to void the transaction if the status indicates "Authorized" and not "Funded." The transaction record view provides merchants with detailed information which includes any fees deducted, which platform was used to process the payment, and the card verification tools to authorize the payment.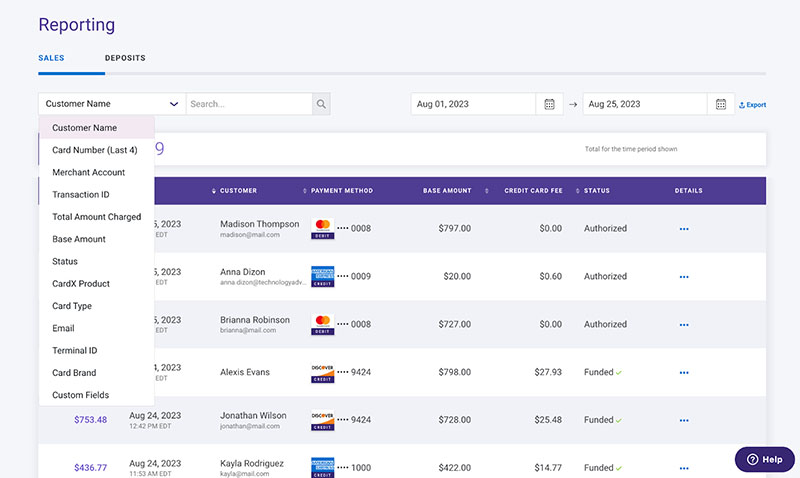 ---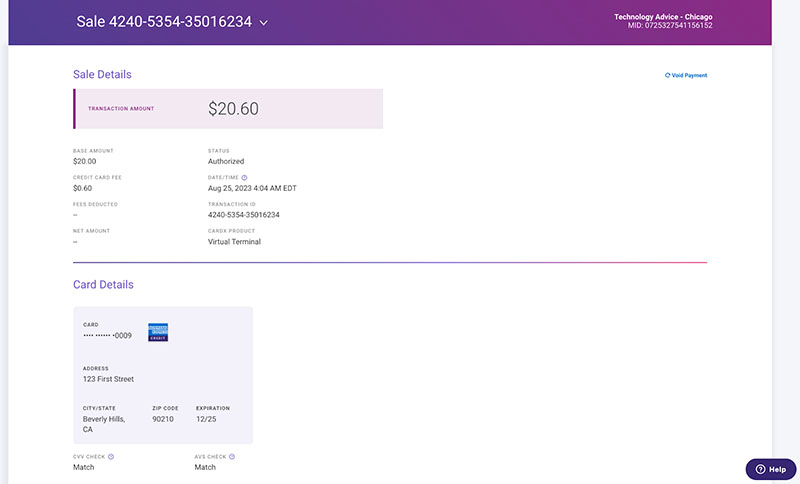 ---
Deposits
The filtering and sorting functions in the deposit tab are similar to what you get in the sales tab, except that the records are composed of daily batch deposits instead of transactions. If you click on the details, CardX will give you a list of all the transactions included in the particular batch date.
Aside from transaction records, the deposit details view also displays the gross deposit amount, merchant fees, and net deposit amount. It also provides you with a deposit ID and merchant ID to help easily track the deposits with your bank.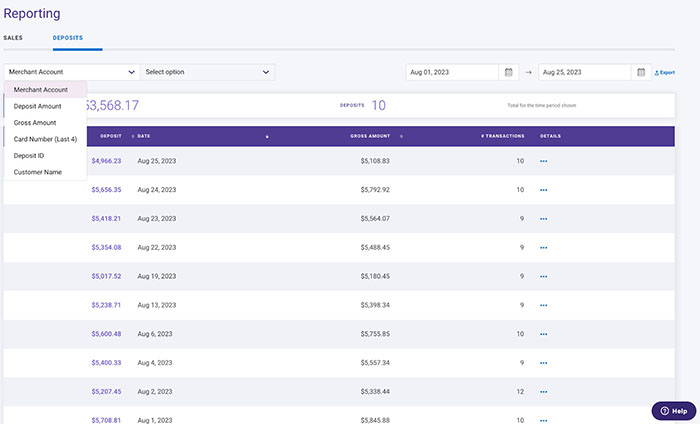 ---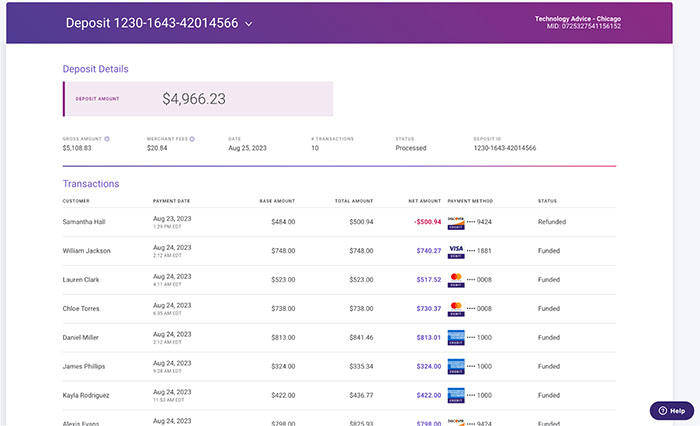 ---
Fraud Protection
Fraud is a serious concern, particularly for card-not-present heavy payments that CardX supports. This makes having fraud protection tools significant. You can choose one or multiple options that let you decline a transaction if certain information is missing during the payment process.
The interface is very simple compared to major competitors like Stripe, but I find this level of control sufficient from a small business standpoint. For growing businesses, however, a more fine-tuned control may be needed to make sure they don't miss out on legitimate sales.
CardX Ease of Use
I signed up for a demo account with CardX and had the chance to test out the system. Overall, I find the merchant portal interface very professional, clean, and easy to use. Processing a transaction takes a few seconds from hitting the "Charge" button, and loading the customer list lags at times but this may just well be from using a demo version.
The dashboard provides quick access to reports and the virtual terminal, while the Account menu gives you access to account information, email notification, user management, fraud protection, and Lightbox platform settings. CardX does not have its own chargeback management tool but provides its merchants with access to the Elavon chargeback platform.
One thing that I feel CardX is hugely missing out on is its invoicing and billing management tools—especially since it caters mostly to card-not-present payments. At the moment, the merchant portal does not have built-in functionality to create detailed invoices and billing statements. There is no way to add line items or preview the document that customers receive before sending out that statement. This is something that businesses would be looking for as they grow.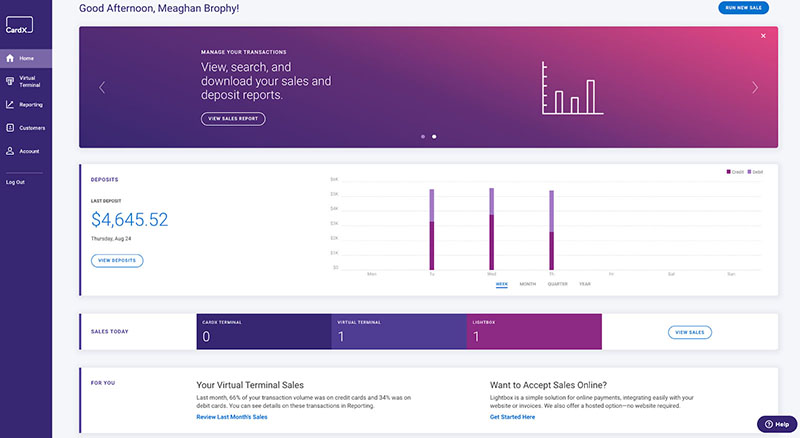 ---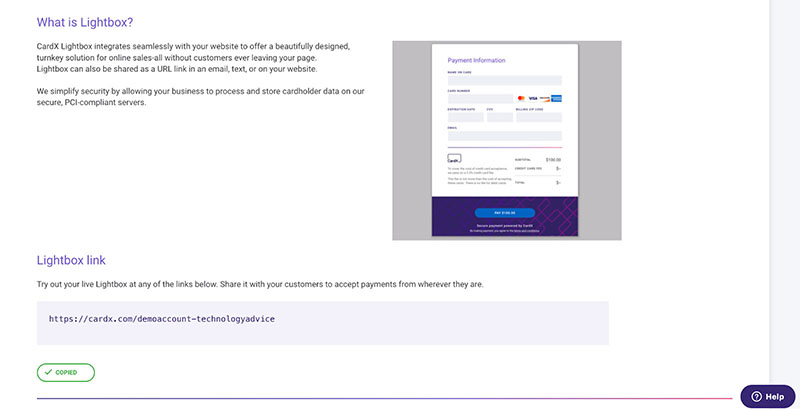 ---
Deposit Speed
CardX offers next-business-day funding with automated batch settlements so merchants no longer have to worry about batch closing at the end of the day. There is no option for same-day funding. This is the same policy adopted by Stax and Payment Depot.
Customer Support
Customer phone support is available during business hours–Monday to Friday, 8 a.m. – 6 p.m. Central time. A live chat feature is also available within the merchant portal. Leave your merchant account information and wait for someone from CardX to respond.
What Users Say in CardX Reviews
It's interesting that after nine years in the industry, there are no available real-life user reviews online for CardX. The same goes for Better Business Bureau where CardX received A+ rating. The lack of online reviews makes it hard to gauge how merchants feel about the service, although some may interpret the lack of online reviews as a positive sign for a payment processor that has been operating for nearly a decade.
Bottom Line
It comes as no surprise that CardX is now Stax's compliance engine. In terms of compliance and automation, CardX stands out from all other credit surcharging platforms we have reviewed. Small ecommerce and service professionals looking for an easy-to-use and reliable credit surcharging platform cannot go wrong with CardX. The CardX fees are reasonable and are true value for money.
As with every merchant processor, there is always room for improvement but we learned while doing this CardX review that Stax already has a roadmap in place to expand CardX and its features.