How to Accept Credit Card Payments in 5 Steps
This article is part of a larger series on Payments.
It's vital for businesses today to accept credit card payments. To do this, you need a merchant account. If you're selling in person, you'll also need to select hardware. Here, we break down the process so you can get set up in no time.
Step 1: Choose a Payment Processor
Figuring out your credit card processing needs ahead of time can help you narrow choices down and prioritize features. For example, an online store with dropshipping needs a different system than a small boutique in the tourist district. If your business is multichannel, you're better off choosing a payment processor that can handle all kinds of transactions rather than one that specializes in a certain type. Be sure to have a good idea of your cash flow so you can properly compare different processor charges.
To get you started, we've highlighted some of the best all-around merchant services for small businesses:
Best All-around Payment Processors
| | Best for | Monthly fees | Card-present rates | Online rates | Chargeback fees |
| --- | --- | --- | --- | --- | --- |
| | New and small businesses | $0 | 2.6% + 10 cents | 2.9% + 30 cents | $0 |
| | Membership-style pricing | $59+ | Interchange + 8 cents | Interchange + 15 cents | $0 |
| | Established, low-risk businesses | $0 | Interchange plus 0.3% + 8 cents | Interchange plus 0.5% + 25 cents | $0–$15 |
| | Online businesses | $0 | 2.7% + 5 cents | 2.9% + 30 cents | $15 |
| | Managing high-volumes and subscriptions | $99 | Interchange + 8 cents | Interchange + 15 cents | $25 |
Get a Personalized Recommendation
If you're not sure what you need, take our four-question quiz below. It looks at the most important payment processing concerns and offers a personalized recommendation without being redirected to another page.
Answer a few questions about your business, and we'll give you a personalized product match.
Explore Industry-specific Solutions
If you run a business that requires other software—like a point-of-sale (POS) system, ecommerce platform, and appointment booking—you may want to use the payment processor that is already built into that system or at least one compatible with it. So, when choosing your payment processor, you need to know what other software you will be using. Streamlining your payments with other checkout and management tools helps reduce manual entry and human error and makes a system a lot easier to troubleshoot if something goes wrong.
Read our industry-specific guides to learn more.
Questions to Help Determine Your Payment Processing Needs
Approximately how much will you process in a month? If you process over $10,000 a month regularly, then an interchange-plus provider may be more cost effective. On the other hand, if you process credit cards infrequently, an option with no monthly fees or obligations would suit your needs better.
Will you process most of your credit card payments in-store or online? While many credit card processors can handle both, most focus on one area. Sometimes, processors will charge additional monthly fees to access certain features like online payments or invoicing.
Will you take payments at the table, curbside, or off-site locations? Credit card processors with mobile processing apps and tools are best for taking payments on the go.
Do you have subscription-based products or services or recurring billing? Some services offer special rates for invoicing, while others have tools for recurring payments. Some process ACH transfers (which are cheaper for invoicing) and incorporate payments straight into your accounting software.
How worried are you about chargebacks? While all merchant services provide some fraud protection, many waive chargeback fees or offer additional chargeback services.
Do you need POS hardware? Most services charge extra for POS systems. Others offer hardware free with certain conditions.
Do you process international sales? Not every merchant service works in every country. However, some handle 100+ currencies.
Do your customers want financing? Some customers may want financing options such as buy now, pay later (BNPL) or installments.
Do you need other services? Some merchant accounts offer other services like inventory management, business funding, or money management.
---
How to Find the Cheapest Credit Card Processing For Your Business
The lowest-cost merchant services for your business depend on how often you process credit cards, how much you process in a month, and whether you need hardware. For example, if you process less than $10,000 a month, then flat-rate processors with no monthly fees that give you free POS software, like Square, may prove the most cost-effective.
If you process over $10,000 a month, then look for interchange-plus pricing. Interchange-rate processors charge only the specific interchange rate plus a small per-transaction markup. This makes a big difference when you have larger transactions. In our table, Payment Depot, Helcim, and Stax provide this pricing. See our guide on the cheapest credit card processing companies for more details.
Another way to keep credit card processing fees down is to limit chargebacks due to fraud or errors. Learn more in our article on how to prevent chargebacks.
---
Step 2: Open a Merchant Services Account
To process credit card payments, you'll need to apply for and open a merchant services account (unless the payment processor includes a merchant services account as part of its service, like Chase, or doesn't need one to be set up separately, like with payment service providers such as Square).
Merchant Account vs Payment Service Provider vs Payment Gateway
The terms "merchant account provider" and "payment service provider" are often used interchangeably, but while they perform similar services, their behind-the-scenes processes are different.
With a merchant account provider (also called a merchant service), like Chase, you get your own account with the provider. This means a more stable account but a longer setup process. It's best for high-earning and high-risk businesses.
A payment service provider, such as Square, has a group account for all its users. This means a quick setup but a greater risk of withheld payouts or being dropped if you are deemed high-risk. It's the more popular choice for small businesses that don't have very high sales.
A payment gateway does not provide accounts and is simply the tool used to process the transaction. You still need a merchant account or payment service provider; most merchant and payment providers already give you a gateway. Authorize.net is an example of a payment gateway.
If the credit card processing service you've chosen is a payment service provider, you may simply need to sign up with your contact information. However, if you are a high-volume business wanting interchange-plus pricing or a high-risk business needing a more specialized processor, then you need a few more steps to get your merchant account.
To get a merchant account through a bank, you'll need to prove you're a legitimate business. Each bank has its own paperwork requirements, which generally include:
Business bank account details
Financial statements
Business license
A physical business address
Employer identification number
Articles of incorporation
PCI compliance
Other supporting documents such as business plans, marketing materials, and more
With the documents in place, you'll be ready to shop around for accounts that best serve your business.
Did You Know?
According to the 2021 Diary of Consumer Payment Choice, consumers used cash for only 19% of payments in 2020, down 7% from 2019. Further, the total spending of non-in-person, not-a-bill payments increased for grocery stores, restaurants, and retailers. Accepting credit card payments is a must-have in today's consumer environment, whether you are a small business owner with a brick-and-mortar store, a stall at the farmers market, or an online shop.
Step 3: Set Up Your Software
This step depends on whether you are integrating your credit card payment processor into a POS system or website you already have or using tools provided by the merchant or card processor service. (Some, like Shopify, will charge you extra if you use a different payment processor.)
In general, merchant services like Chase or Payment Depot already have integrations with popular POS systems, even those that may provide payment processing themselves. In these cases, there's probably an extension you can download and activate. Alternatively, some may provide you with integration services. If not, then you will need an API.
Be sure to check integrations before committing to a credit card payment service. For the best online integration capability, we recommend Stripe, which integrates with over 600 other programs.
If the credit card processor you choose offers you software for POS, invoicing, or virtual terminals, you'll need to follow their setup directions. In general, you'll need to set up
An account for receiving funds
Locations
Employees/permissions
Taxes
Inventory
In some cases, you can also designate coupons, discounts, or even loyalty programs.
Inventory can take a long time, depending on how much you have. If a payment provider offers POS software, it may provide inventory onboarding with higher plans or for additional costs.
Step 4: Set Up Your Hardware
If you've chosen to go with a payment processor that provides hardware for your in-person POS system, then you will have to set it all up. This step depends entirely on which type of system you purchase, but many work in a similar way. We'll use Square's POS hardware as an example.
For small NFC card readers, you'll only need to connect the reader itself to your smartphone via Bluetooth and open its app, and then use the POS app to start processing payments. (Very few card readers are plug-ins, but Square's free stripe reader does plug into your smartphone's audio jack.)
To set up the Square Terminal (and most other standard card terminals), you'll need to turn it on, connect it to your internet via Wi-Fi or ethernet cable, and then load your receipt paper.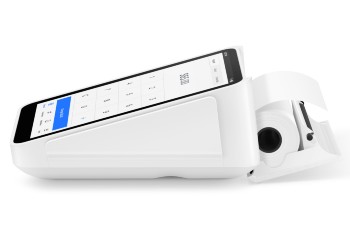 From there, you'll need to sign in to your account (either on the terminal itself or on the connected POS for other terminal providers).
Setting Up Other Hardware
The example above is the simplest of situations. However, there are many kinds of hardware in a POS system. Some may need professional installation, whereas others work by simply switching them on, connecting to the Wi-Fi or Bluetooth, and pairing to the terminal or POS system.
POS terminals: These replace the traditional cash register and sit on the counter. They typically have a cash drawer for processing cash sales, too, and are pretty much the standard for any brick-and-mortar establishment.
Tablet-based terminals: Load the mobile app onto an iPad or tablet and use it instead of a bulkier POS system. Many payment processors offer peripheral hardware to go with them, and you can use them on the counter or carry it with you. They work just as well in most small stores and are good for traveling venues like food trucks.
Handheld terminals: Similar in size to the Square terminal above, they are small POS systems where you can ring up sales and process payments anywhere. They're great for restaurants, large stores, offsite work (like repair or sales), or trade shows.
Mobile apps: These are phone apps with a card reader and best for the hobbyist or solopreneur, but you can have employees download the app for short-term use like at a trade show.
Self-checkouts: These are usually complex systems that you have someone else set up, but are growing in popularity—and not just for grocery stores.
Peripherals: Peripherals usually apply to a full POS system but can include cash drawers, kitchen display systems, self-service ordering kiosks, and even gas pump card readers.
How many terminals do you need?
In a brick-and-mortar store, you typically do not want more than three customers in a line at any given time. This allows for speedy checkout and a positive shopping experience. So, if you typically have 12 customers at once, you may want to have four checkout terminals (and employees to operate them). Depending on the type of store you have, this can be any combination of stationary and mobile terminals.
Also, consider your typical checkout time. If you run a coffee shop where the order taking and payment process only takes a minute or two, you may not need as many registers as you are able to keep lines moving quickly. However, if you run a boutique that does a lot of custom orders or tailoring, you may need more registers as the average checkout time would be much longer.
---
Learn more about payment processing hardware with our guides on:
Step 5: Test Your System
It's important to test the integration to make sure it provides an easy experience for the customer and handles the transaction properly. You'll also want to be sure that the information, like the card name and number, is transmitted correctly and that the system will reject an expired card or a wrong CVV number—and that it sends an alert if so.
In the case of Square (and many others), there isn't a training mode or live preview you can use to see if your system is running correctly. With other more traditional terminals and POS systems, you can usually check that the connections are all functioning within the terminal settings. In these cases, you can process a small transaction, such as $1, and refund the amount after the test is completed. Just be aware that you may not be able to recover transaction fees with some providers.
Online providers such as Shopify, are usually easier to test in that they specifically offer test modes, have a "bogus gateway," or offer preset "dummy cards" to test their system.
How to Accept Credit Cards Frequently Asked Questions (FAQs)
Do all credit card processors accept contactless payments?
NFC payments (or contactless payments) are pretty much a standard. Don't use a credit card processor that doesn't accept contactless payments; Raydiant's State of Contactless Payments 2021 Report found that 80% of US consumers used contactless payments in the last 12 months. Card readers that accept contactless payments may be a little more expensive, however.
---
How can I accept credit card payments for free?
Every credit card transaction costs you money. However, many credit card payment processors do not charge monthly fees or have contracts. They only take a small percentage per transaction. Check out our best free merchant accounts for small businesses to learn more.
---
Can I accept credit cards for personal use or without a registered business?
Yes! If you are a hobbyist who sells your works only occasionally, credit card processors like Square or PayPal Zettle let you accept credit card payments using only your phone. They have no monthly fees or minimums, so can use them rarely without penalty.
---
How do I accept credit card payments on my phone?
Most credit card processors have an app that you can download and link to your account. Read our guide to the best mobile credit card processors to find one that fits your business's needs.
---
Can I accept credit card payments without a machine?
Yes. You can accept credit card payments online through your website, a virtual terminal, QR codes, or a phone app. However, if you do not use any hardware but simply key in the numbers, you often pay a higher fee. The way to avoid the higher fee without paying for expensive POS hardware is to use the mobile app with a card reader that links to your phone.
---
Can high-risk businesses accept credit card payments?
Yes. There are several credit card processors that cater to high-risk companies. These companies may charge you slightly higher rates to compensate for the risk, although some, like PaymentCloud, may work with back-end processors to find you the lowest possible rates. They should also provide you with chargeback protection and fraud prevention tools.
---
Do I need a special credit card processor for QR code payments?
Nearly 30% of all consumers will be using QR codes by 2025, per a study by Juniper Research. QR code payments let you set up a QR code your customer can scan with their phone for easy contactless payments. Not every credit card processor has kept up with this trend, but the major players have. The fees usually run more than for in-person but lower than for online payment.
---
Bottom Line
The ability to accept credit cards is a must for every business, whether you need to accept payments in person, online, or over a virtual terminal. Getting set up to accept credit cards can be easy. The hard part is knowing you are getting a good rate and signing up with a company that offers support you can rely on.
If you're a new business, Square offers an affordable and immediate way to accept credit card payments in person through Square's POS app, online through Square Online's free store, or through Square Invoices. Square's flat-rate fees are transparent and offer good value for new businesses or occasional sellers. Create a free account today.