How to Accept Credit Card Payments in 6 Steps
This article is part of a larger series on Payments.
To determine the best way to accept credit card payments for your business, you need to account for your payment processing needs—this will help you decide if you need to use a merchant account, a payment service provider (PSP), or an app. Then, it's a matter of opening a credit card processing account with your chosen provider and setting up and testing your system. We break down the process into six simple steps below.
Step 1: Determine Your Payment Processing Needs
Determine if your business needs to accept credit card payments in-store, online, through mobile, or in the field, and whether you charge one-time, recurring, or subscription payments. Figuring out your credit card processing needs ahead of time helps you narrow down choices and prioritize features.
For example, an online store with dropshipping needs a different system than a small boutique in the tourist district. Click to expand the following section for more considerations.
Questions to Help You Determine Your Payment Processing Needs
How much will you process in a month? If you process over $10,000 a month regularly, then an interchange-plus provider may be more cost-effective. But, if you process credit cards infrequently, an option with no monthly fees or minimum sales obligations would suit your needs better.
Will you process most of your credit card payments in-store or online? While many credit card processors can handle both, most focus on one area. Some processors charge additional monthly fees to access certain features like online payments or invoicing.
Will you take payments at the table, curbside, or off-site locations? Credit card processors with mobile processing apps and tools are best for taking payments on the go.
Do you have subscription-based products or services or recurring billing? Some services offer special rates for invoicing, while others have tools for recurring payments. Some process ACH transfers (which are cheaper for invoicing) and incorporate payments straight into your accounting software.
How worried are you about chargebacks? While all merchant services provide some fraud protection, some waive chargeback fees or offer additional chargeback services.
Do you need POS hardware? Most services charge extra for POS systems. Others offer hardware free with certain conditions (like higher processing rates).
Do you process international sales? Not every merchant service works in every country. However, some handle 100+ currencies.
Do your customers want financing? Some customers may want financing options such as buy now, pay later (BNPL) or installments.
Do you need other services? Some merchant accounts offer services like inventory management, business funding, or money management.
---
Step 2: Select a Payment Processor
If you run a business that requires other software—like a point-of-sale (POS) system, ecommerce platform, and appointment booking—you'll want to use a payment processor that is compatible. Streamlining your payments with other checkout and management tools reduces manual entry and human error and makes your system easier to troubleshoot. Many POS systems come with a built-in processor, so you may already have this step done for you.
We discuss the pros and cons of each option for accepting credit card payments below:
What is a merchant account?
A merchant account is a bank account where digital credit, debit, and mobile wallet providers send payments from their customers to your business
How do I get one?
You need to contact a merchant services provider and submit an application.
Examples: Chase, Helcim, PaymentCloud, Stax Pay by Fattmerchant
Typical processing rates: Interchange + 15–30 cents (Rates vary based on provider and your business type)
Who it's best for: Established, high-earning, or high-risk businesses
PROS

CONS

Processing rates tend to be lower, interchange-plus rates
Requires an application and lead time to enroll
Merchant services providers offer excellent customer service
Rates vary based on credit history and sales volume
Accounts are supported by detailed reporting that assists with taxes and other business needs
New, unproven businesses tend to pay higher rates
Established brands have been operating for decades
May be more elaborate than micro-businesses need
For more information, download our free step-by-step guide to applying for a merchant account (including tips for getting the best rates).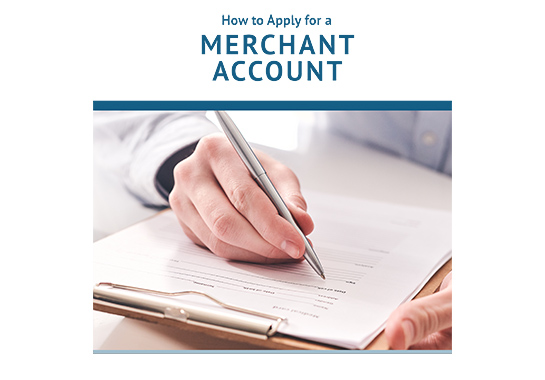 What is a payment service provider?
This is a third-party company that acts as a middleman to connect small businesses with consumer digital payments.
How do I enroll with one?
You open an account at the provider's website and connect a business bank account
Examples: Square, Stripe, PayPal
Typical processing rates: 2.5%–3% + 10–30 cents per transaction
Best for: Small businesses with lower sales volume, businesses that process mostly online payments, mobile vendors
PROS

CONS

Flat-rate processing fees make it easy to budget
Some PSPs do not have strong in-person payment tools
Can open an account and accept payments on the same day
High-volume or established businesses can typically find lower processing rates through a merchant account provider
Most have strong online payment tools
Risk of being dropped from the service or having payments withheld
What is a payment app or digital wallet?
A payment app or digital wallet is a software program that accepts digital payments from one person via the internet or smartphone and sends the funds to another person or business.
How do I get one?
You open an account at the provider's website or in their smartphone app. Some, like Zelle, may require you to sign up through your bank. Read the terms of service closely; some apps expressly prohibit using their app for business transactions or have a separate version of their app specifically for businesses.
Examples: Venmo, CashApp, Zelle
Typical processing rates: 0%–4%; on some apps, these fees are paid by the sender; on others, they are paid by the receiver when you transfer the funds to a bank account
Best for: Accepting occasional or infrequent payments, accepting tips as a solo service provider, low-volume mobile vendors
PROS

CONS

Flat-rate processing fees make it easy to budget
No in-person card readers; payments typically require smartphones
Can open an account and accept payments on the same day
Using personal accounts for business transactions may be against Terms of Use
Little to no wait time to receive funds
Usually have no business supporting reports or fraud protection tools
Quiz: Which Payment Processor Is Right for You?
Need help deciding the best fit? We've provided a quick four-question quiz that looks at the most important payment processing concerns and shows you which provider might best suit your situation. (You won't be redirected to another page.)
Answer a few questions about your business, and we'll give you a personalized product match.
Step 3: Open a Credit Card Processing Account
If the credit card processing service you've chosen is a payment service provider, you may only need to sign up on its website with your contact and banking information. However, if you are a high-volume business wanting interchange-plus pricing, or a high-risk business needing a more specialized processor, then you need a merchant account, which requires a few more steps.
To get a merchant account, you generally go through a bank, though many point-of-sale (POS) brands provide a built-in merchant account. In either case, you'll need to prove you're a legitimate business. Each merchant account provider has its own paperwork requirements, which generally include:
Business bank account details
Financial statements
Business license
A physical business address
Employer identification number
Articles of incorporation
PCI compliance
Other supporting documents such as business plans, marketing materials, and more
With the documents in place, you'll be ready to shop around for accounts that best serve your business. These five processors have strong all-around features that support online and in-person sales. They are a good place to start looking at processing rates and options for all types of small businesses.
Best All-around Payment Processors
| | Best for | Monthly fees | Card-present rates | Online rates | Chargeback fees |
| --- | --- | --- | --- | --- | --- |
| | New and small businesses | $0 | 2.6% + 10 cents | 2.9% + 30 cents | $0 |
| | Membership-style pricing; high-risk businesses | $59+ | Interchange + 8 cents | Interchange + 15 cents | $0 |
| | Established, low-risk businesses | $0 | Interchange + 0.30% + 8 cents | Interchange + 0.5% + 25 cents | $0–$15 |
| | Online businesses | $0 | 2.7% + 5 cents | 2.9 + 30 cents | $15 |
| | High-volume businesses; subscriptions | $99 | Interchange + 8 cents | Interchange + 15 cents | $25 |
Step 4: Set Up Your Payment Software
With your processor selected and an active account, you'll next need to get familiar with the software. This step depends on whether you are integrating your credit card payment processor into a POS system or website you already have or using tools provided by the merchant or card processor service.
If you are accepting online payments via your website, there will typically be a plugin to install in your website dashboard. Once installed, the plugin will guide you through the necessary steps to input the required information.
If you plan to use software for POS, invoicing, or virtual terminals that your payment processor provides, you'll need to follow the setup directions. Typically, it involves inputting unique "keys" of alphanumeric codes unique to your merchant account somewhere into your payment processing software.
Merchant services like Chase or Payment Depot integrate with popular POS systems, even those that may provide payment processing themselves. In these cases, you'll enter your processor's information in your POS system's back office dashboard.
Step 5: Set Up Your Hardware
If you are accepting in-person payments in-store or off-site, you'll need card readers. These could be as small as a dongle that syncs to your smartphone or as elaborate as an entire POS system. This step depends entirely on which type of system you purchase, but many work in a similar way. We'll use Square's POS hardware as an example.
For small NFC card readers, you'll only need to connect the reader to your smartphone via Bluetooth and open its app, and then use the POS app to start processing payments. If you are using a swipe or dip card reader, it may connect to your phone or tablet via an audio jack or lightning connection.
To set up the Square Terminal (and most other standard card terminals), you'll need to turn it on, connect it to your internet via Wi-Fi or ethernet cable, and then load your receipt paper.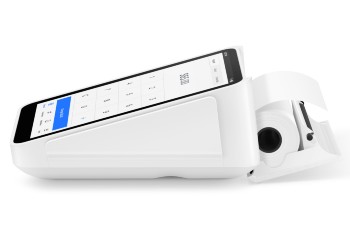 From there, you'll need to sign into your account (either on the terminal itself or in the back office dashboard).
Learn more about payment processing hardware with our guides on
Step 6: Test Your System
It's important to test the payment process to make sure it provides an easy experience for the customer and handles the transaction properly. You'll also want to be sure that the information, like the card name and number, is transmitted correctly, that the system will reject an expired card or a wrong CVV number, and that it sends an alert if so.
In the case of Square (and many others), there isn't a training mode or live preview you can use to see if your system is running correctly. With other more traditional terminals and POS systems, you can usually check that the connections are all functioning within the terminal settings.
In these cases, you can process a small transaction, such as $1, and refund the amount after the test is completed. Just be aware that you may not be able to recover transaction fees with some providers.
Online payment processors, such as Shopify, are usually easier to test because they specifically offer test modes, have a "bogus gateway," or offer preset "dummy cards" to test their system.
Accepting Mobile, Online & Invoice Credit Card Payments
Your payment processing provider can help you accept payments in many different ways. You can process credit card and other digital payments online, off-site, or via digital invoices. The support you need to accept payments beyond the traditional in-person card swipe will vary.
To accept online payments, all you need is a payment processor that operates online, or a payment service provider. A PSP like Square can support online payments for virtually any small business you can think of, from hair stylists to florists and even restaurants. If your online sales volume is higher than $250,000 annually, you can usually also get a custom quote for lower flat-rate payments.
You'll want to keep in mind, however, that online payments are more prone to fraud. According to a recent study, the cost of online payment fraud is expected to exceed $343 billion between 2023 and 2027. Physical goods account for nearly 50% of all fraudulent online payments. So, small retailers that sell physical goods online should be sure they have excellent fraud protection in place.
Learn more in our guide on how to accept credit cards online.
To receive credit card payments on digital invoices, you have two options. You can take a credit card number in person or over the phone and manually key the card information into your card reader or POS. This will incur card-not-present fees, which tend to be higher than payments that are tapped, dipped, or swiped in person.
Alternatively, some payment processors offer a virtual terminal or invoicing tool that allows you to send and receive digital invoices. These invoices are connected to your payment processor and essentially enable your customers to pay their invoices online.
In addition to credit card payments, many online invoicing tools allow your customers to pay via ACH, electronic check, or bank payment, which typically have much lower transaction fees.
Square Invoices is a good example of this type of processor. Virtual terminals or invoicing modules are a great fit for service businesses like repair businesses. Providers like therapists and coaches also often use these tools to send invoices to patients and clients.
Learn more:
If you want to accept payments outside of a physical storefront location, you need mobile payment tools. You can accept mobile payments via Bluetooth-enabled card readers that sync with a smartphone, or you can use a mobile POS device like a Square Terminal. Mobile terminals are popular for small businesses that sell at farmers markets and for restaurants that process tableside or curbside orders and payments.
Learn more:
Small Business Credit Card Processing Fees
The actual processing fees you pay will depend on your business type, sales volume, and the types of cards you accept. So, there is no one-size-fits-all fee. But, if you budget from 1% to 4% for processing fees, you'll rarely be surprised.
You can get a deeper understanding of the different types of fees by checking out our guide to credit card processing fees.
How to Accept Credit Cards Frequently Asked Questions (FAQs)
How do I accept credit card payments?
You can accept credit card payments via a merchant account, a payment service provider, or—sometimes—even a payment app. How you accept credit card payments will vary depending on your business type, sales volume, and the location where most of your sales take place.
Learn more:
---
Do I need a merchant services account to accept credit card payments?
You do not need a merchant services account to accept credit card payments. If you want to start accepting credit card payments right away, payment service providers tend to have the shortest turnaround time. All you need to do is sign up on their website and connect an active bank account.
Tip: The terminology around payment processors is confusing and often used interchangeably. Even though payment service providers are not technically merchant accounts, they do provide merchant services. For example, we include both in our guide to the best merchant services for small businesses.
---
Can I use my existing gift cards with a new merchant services provider?
Typically, gift cards are supported via an integration with your POS or merchant account. Even if you originally added gift cards via your merchant account provider (or POS with built-in processing), there is a chance the actual gift cards are subcontracted through a third-party vendor. You'll need to inquire with your current processor to find out exactly what network your gift cards operate on. Popular gift card providers include Customer Connect, and National Gift Cards.
Most payment gateways—such as First Data and Worldpay—have their own internal gift card processing solution. So, whether or not you can use your current gift cards when you switch processors will depend entirely on what network your new processor and old processor used. If they operate on the same network, then you can likely keep your current gift cards.
---
Can I accept credit card payments online for free?
You can typically accept online credit card payments with no upfront cost via a payment service provider like Square or Stripe. The provider will retain their processing fees from the transaction and send the remaining funds to your business bank account.
---
What is the cheapest way to accept credit card payments?
The cheapest way for your business to accept credit card payments will depend on your business type. For example, if you process less than $10,000 a month, then flat-rate processors with no monthly fees that give you free POS software, like Square, may prove the most cost-effective.
If you process over $10,000 a month, then look for interchange-plus pricing. Merchant banks like Visa charge a percentage for accepting credit cards, which can vary by type of credit card (Visa Rewards vs Visa Rewards Signature, for example). Flat-rate processors include this in what they charge you.
Meanwhile, interchange-rate processors charge only the specific rate plus a small per-transaction markup. This makes a big difference when you have larger transactions. In our table, Payment Depot, Helcim, and Stax provide this pricing. See our guide on the cheapest credit card processing companies and how to accept credit cards online for free for more details.
Another way to keep credit card processing fees down is to limit chargebacks due to fraud or errors. Learn more in our article on how to prevent chargebacks.
---
What is the best way to accept credit card payments?
The best way to accept credit card payments will vary depending on your business needs. If you process mostly in-person payments, you'll want a traditional merchant account provider with user-friendly card readers that accept a wide range of payments. Subscription-based businesses are also best served by traditional, all-in-one merchant account providers like Helcim.
If most of your sales are online, however, you could use a traditional merchant account provider or a payment service provider that specializes in online payments.
For service-based businesses that operate in the field, like landscapers, repair people, mobile beauty service providers, or farmers market vendors, a payment app or a payment service provider are the best choices.
Explore industry-specific payment processors to learn more.
---
Bottom Line
The ability to accept credit cards is a must for every business, whether you need to accept payments in-person, online, or over a virtual terminal. Getting set up to accept credit cards can be easy. The hard part is knowing you are getting a good rate and signing up with a company that offers the support you can rely on.
If you're a new business, Square offers an affordable and immediate way to accept credit card payments in-person through Square's POS app, online through Square Online's free store, or through Square Invoices. Square's flat-rate fees are transparent and offer good value for new businesses or occasional sellers. Create a free account today.
You May Also Like: