To accept credit card payments, you'll need to determine your specific payment processing needs, understand the costs behind credit card payments, and then choose a processor and merchant account. If you're selling in person, you'll also need to select hardware. Here we break down the process into six steps so you can get set up in no time:
Step 1: Determine Your Payment Processing Needs
One of the first steps to consider when deciding to accept credit card payments is figuring out what your payment processing needs actually are. The best processor for your business will depend on how you want to accept online payments, which tools and systems you already have in place (think about integrations with your current website or other tools like accounting or CRM software), and the size of your business.
Below we walk through some scenarios where you can accept credit cards and contactless payments:
In-Store
Accepting credit card payments comes with a fee, which varies depending on your choice of processor.
It's easy to see credit card processing as an unnecessary expense. However, credit and debit cards were the preferred in-store payment method of more than two-thirds of North Americans in 2020. So going cash-only significantly shrinks your pool of potential customers.
If you have a brick-and-mortar store, the first thing you'll need is a merchant account—a type of business bank account—that's equipped to grow with your business and handle your payment processing volume.
If you're a brand-new business, aggregate payment service providers can work well. But once you're an established business processing over $5,000 monthly, choose a merchant account for the best value and stability. We have a list of the best free merchant accounts to help you choose, and you can also check out our guide to the best merchant services providers for more options. We'll cover some payment service providers in detail further down, but here are our top recommendations:
Square: Best for new and mobile businesses and individuals
Payment Depot: Cheapest credit card processor for established businesses
Mobile
If your business is generally on the go, selling at markets, events, and pop-ups, you'll want to consider processors that have a companion mobile app. As a bonus, many processors that offer a mobile POS (mPOS) also accept digital payments other than credit cards from mobile devices.
Digital and mobile wallet payments were the leading POS payment methods globally in 2020 and are set to become even more popular by 2024. So, it's worth considering a processor that can also accept NFC (near-field communication) payments or even QR code payments alongside your standard chip cards.
Mobile payment processors will offer small mobile card readers that are usually much more flexible and affordable than traditional countertop terminals. Some will even offer a basic magstripe processor free, but you'll still want a chip and EMV contactless reader for better security.
The best mobile payment processors include:
Square: Best overall mobile payment processor
PayPal: Best for occasional sales
Clover: Best for connecting an existing merchant account
Online
Accepting credit cards in-store and through a mobile app and credit card reader is pretty straightforward. But when it comes to accepting credit card transactions online, there are about a million different ways to do that—online store or ecommerce platform checkout, invoices, and payment forms are probably the most popular. You'll also need to consider options like curbside pickup, where a customer can order and pay online but receives the product at your location.
In the next four years, digital wallets like Apple Pay are set to make up more than half of online purchases. Some of the best online payment processors include:
Stripe: Best overall online payment processor
PayPal: Best for accepting PayPal payments and offering one-click checkouts
Shopify: Best online store and offers Shop Pay
Other Considerations
Whether you want to primarily focus on in-store, mobile, or online purchases, there are a few other points to consider when processing card payments.
Chargebacks: Chargebacks occur when the customer's credit card company sides with the customer in a charge dispute (such as fraud claims, nonarrival of goods, damaged goods, etc.) and deducts money from your merchant account to refund the charge. If you have a lot of chargebacks, you risk paying higher processing fees or complete suspension of your merchant account.
Recurring payments: If you have a subscription-based business model, memberships, or a corporate billing schedule, you may need recurring billing. Setting up recurring payments can mitigate hassle and human error. You also may be able to set up recurring ACH payments instead of credit cards, which will save you a lot in processing fees. Double-check that your payment processor has this feature.
Offer customer financing options: Even if you accept credit card payments, some customers would prefer to also use financing options such as buy-now-pay-later (BNPL) or installments, which you can set up through companies such as Klarna, PayPal, and AfterPay. Processing financing payments typically have similar transaction fees to those of credit cards, but can help increase your conversion rate and average order value.
Step 2: Understand Credit Card Payment Processing Fees
Credit card processors use the following pricing structures: interchange-plus, flat-rate, tiered, and subscriptions. Here we're talking about fees relating to the interchange and different payment structures; we'll go over company-specific processing fees in the following section when discussing their pros and cons.
Interchange-Plus Pricing
Interchange fees refer to the fees a merchant bank account charges for accepting card payments. This fee is dependent on the type of card and transaction being processed.
In this sense, the interchange-plus pricing model is the margin percentage your payment processor will charge for each transaction on top of the variable interchange rate.
It might seem a little confusing at first, but this pricing structure because can save high-volume business money thanks to payments that are eligible for a lower interchange rate.
Flat-Rate Pricing
Flat-rate pricing is a set processing fee for all payments—the fee amount remains the same regardless of the transaction amount. Many small businesses like the simple and predictable nature of flat-rate pricing.
For example, a company might charge a flat 3% on all of your transactions—this 3% will include the interchange fee, the processor's margin, plus branding and other miscellaneous services.
It's easy to understand, and there aren't any surprises when you see your statements since you know the exact fee. But simplicity comes at a cost. If your processor charges a flat fee, you lose out on any potential savings from transactions that are eligible for lower interchange fees. Plus, flat fees can add up if you have high-ticket purchases.
Tiered Pricing
Tiered pricing is very common in the US and involves having lower qualified rates for certain cards or transactions and higher non-qualified rates for others.
A lot of small businesses will sign up for a contract with a processor with these low fees in mind, but end up paying more than they thought because of the small number of qualified major credit cards and associations (like American Express, Visa, and MasterCard). With tiered pricing, you're largely at the mercy of the processor—they can determine what makes a qualified and non-qualified purchase and choose whatever rates they want to set for each. Debit cards typically have the lowest fees in this pricing structure, while high rewards credit cards have higher processing rates.
A tiered approach can work in your favor if you have a good grasp on what types of cards your customers most typically use. However, we don't typically recommend this model for most small businesses as it can be too unpredictable.
Subscriptions
In more recent years, payment processing companies have also started offering a monthly fee subscription-based model.
This type of pricing structure often includes other services on top of simple payment processing, such as software, tax services, affiliate systems, and mailing list functionality. Most importantly, some of these services come with zero transaction fees if you pay a higher monthly subscription.
It would be up to you whether you felt the added services and feeless transactions are worth the recurring expense vs having no added expense but transaction fees from one of the other pricing models.
As an added note, the vast majority of payment processors will include a payment gateway service. It's very unlikely that you'll need a separate subscription or fee to pay for one, but it's always best to check.
Step 3: Choose Your Payment Processor
Now we're on to the fun part: picking a payment processor. Below we've included a quiz to help you find your best fit. However, we also cover the best all-around options.
Take our four-question quiz below to see which provider might suit your situation best.
Answer a few questions about your business, and we'll give you a personalized product match.
Best All-Around Payment Processors
If your business is multichannel, you may be better off choosing a payment processor that can handle all kinds of transactions rather than one that specializes in a certain type. Be sure to have a good idea of your cash flow so you can properly compare different processor charges.
The best all-around options include:
Square: Best overall merchant services for small businesses
Payment Depot: Cheapest merchant services for established businesses
Read through the tabs below for more details.
With Square, you can process credit card payments in person and online with no monthly, cancellation, or setup fees (unless you want to buy a card reader). Because of this, it tops our list as the best merchant services for small businesses.
The transaction fees range from 2.6% plus 10 cents to 3.5% plus 15 cents. Or specifically for online transactions, 1% with a minimum of $1 per transaction for ACH bank transfers (via invoices only). It's one of the best options for new and small businesses.
Square also has a cheap card reader available at $49 and a portable terminal (which prints receipts) at $299. Alternatively, you can also buy a full POS register setup starting at $1,349.
Square's full suite of business management tools are also included—customer management, online store, virtual terminal, invoicing software, reporting, and more.
Learn more about all of Square's features or read our Square Payments review.
If your business processes more than $10,000/month in sales, Payment Depot is one of the cheapest credit card processors on the market.
Its transaction fees are Interchange plus 5 cents–10 cents depending on your plan, alongside a $49–$199 monthly fee. One feature that sets Payment Depot apart is that these fees are the same online and in person, whereas most other companies charge more for online transactions.
One membership with Payment Depot includes interchange-plus pricing for card-present, online, virtual terminal, and mobile payments.
Payment Depot has similar terminals available for in-person payments starting from $99.
Read our Payment Depot review to learn more.
Explore industry-specific payment processors:
Step 4: Open a Merchant Services Account
To process credit card payments, you'll need to apply for and open a merchant services account (unless the payment processor includes a merchant services account as part of its service like Chase, or doesn't need one to be set up separately like Square).
A merchant account is essentially the liaison between your business account and the customer's bank account, where money is first transferred before the payment is authorized and moved over to the business account for withdrawal.
To get a merchant account through a bank, you'll need to prove you're a legitimate business and generally provide the following documents as part of your application:
Business bank account details
Financial statements
Business license
A physical address
Employer identification number
Articles of incorporation
PCI compliance
Other supporting documents including business plans, marketing materials, and more
With the documents in place, you'll be ready to shop around for accounts that best serve your business.
Did You Know?
According to the Cash Product Office of the Federal Reserve, consumers used cash for only 26% of all payments in 2019, with the rest being made up of debit cards, credit cards, prepaid cards, and electronic payments (such as Apple Pay). Accepting credit card payments is a must-have in today's consumer environment, whether you're a small business owner with a brick-and-mortar store, a stall at the farmers market, or an online shop.
Step 5: Set Up Your Hardware
If you've chosen to go with a payment processor that provides hardware for your in-person POS system, then at this point you'll want to set it all up.
This step depends entirely on which type of system you purchase, but many work in a similar way. We'll use Square's POS hardware as an example here.
For small NFC card readers, you'll only need to connect the reader itself to your smartphone via Bluetooth and open its app; then use the POS app to start processing payments.
To set up the Square Terminal (and most other standard card terminals) you'll need to turn it on, connect it to your internet via Wi-Fi or ethernet cable, and then load your receipt paper.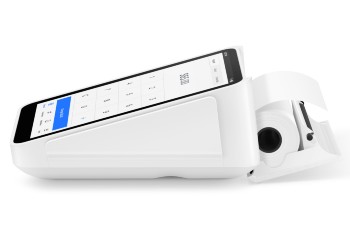 From there, you'll need to sign into your account (either on the terminal itself or on the connected POS for other terminal providers). If you haven't already, you'll also want to create your inventory items for them to appear on your terminal, which you can do either in-app or online.
Once you've set up your inventory, you're ready to start selling!
Step 6: Test Your System
In the case of Square (and many others), there isn't a form of training mode or live preview you can use to see if your system is running correctly. With other more traditional terminals and POS systems, you can usually check that the connections are all functioning within the terminal settings.
With Square and others that don't specifically offer training modes, you can process a small transaction, such as $1, and refund the amount after the test is completed. Just be aware that you may not be able to recover transaction fees with some providers.
Online providers, such as Shopify, are usually easier to test in that they specifically offer test modes, have a "bogus gateway," or offer preset "dummy cards" to test their system.
Bottom Line
The ability to accept credit cards is a must for every business, whether you need to accept payments in person, online, or over a virtual terminal. Getting set up to accept credit cards can be easy. The hard part is knowing you are getting a good rate and signing up with a company that offers support you can rely on.
If you're a new business, Square offers an affordable and immediate way to accept credit card payments in person through Square's POS app, online through Square Online's free store, or through Square Invoices. Square's flat-rate fees are transparent and offer good value for new businesses or occasional sellers. Visit Square to create a free account.