2022 Helcim Review: Is Helcim Payments Right for Your Business?
This article is part of a larger series on Payments.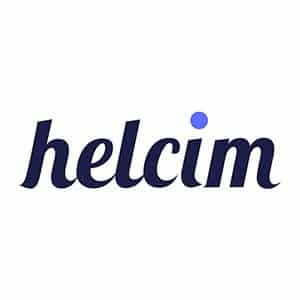 When to Use Helcim Payments
After spending years reviewing merchant services, I can say Helcim offers a fairly extensive set of tools for businesses of all sizes, spanning a wide range of industries for a very competitive price. That being said, Helcim is a particularly great payment processor for retailers because of its competitive interchange-plus pricing, free ecommerce and point-of-sale tools, and month-to-month billing.
Helcim also offers 24/7 phone and email support, which is a refreshing find not typical of payment processors.
In particular, Helcim is best for:
Low-cost payment processing: Helcim's interchange-plus pricing model comes with no monthly fee, which is a rare find. This, combined with Helcim's free tools and automated discounts as you grow, make it one of the lowest-cost processors for small businesses.
Multichannel payment processing: Helcim has a fairly extensive list of features and tools suitable for both online and in-person selling, including point-of-sale software and a fully hosted online store.
High-volume sales: With zero monthly fees, Helcim makes our roundup of the best free merchant accounts on the market. This, combined with automated volume discounts that lower transaction fees as your monthly sales volume increases, makes Helcim ideal for high-volume sales and growing businesses.
When Helcim May Not Be a Good Fit
Helcim Overview
PROS

CONS

Interchange-plus (cost-plus) pricing and low account fees
Expensive for businesses processing under $5,000 each month
No long-term contracts
Doesn't accept high-risk merchants
Excellent 24/7 customer service
Reports of poor customer support
Free invoicing and ecommerce tools
Limited back office integration
Guided chargeback dispute resolution
Since Our Last Update:
Helcim rolled out major updates on their system in 2020. The upgraded platform provides new hardware and software tools, including the ability to accept multiple currency payments on its virtual terminal and an improved guided chargeback dispute resolution. We took a closer look at Helcim's pricing, payment functionalities, and built-in tools, plus some highlights on its billing and terms of service.
Getting started with Helcim is relatively easy, and it promises that the process takes only a few minutes. Click on the "Get Started" button on Helcim's website and complete the signup form that will ask you for basic personal and business information. You can use your account to accept payments immediately—as soon as you have provided all the necessary information. However, Helcim may request additional documentation at any time to verify your identity and/or assess risk.
Helcim doesn't require any minimum contract length, and you can pause your account at any time. You can access your monthly billing statement from your Helcim merchant dashboard by going to the Back Office Tools > My Business > Monthly Statements.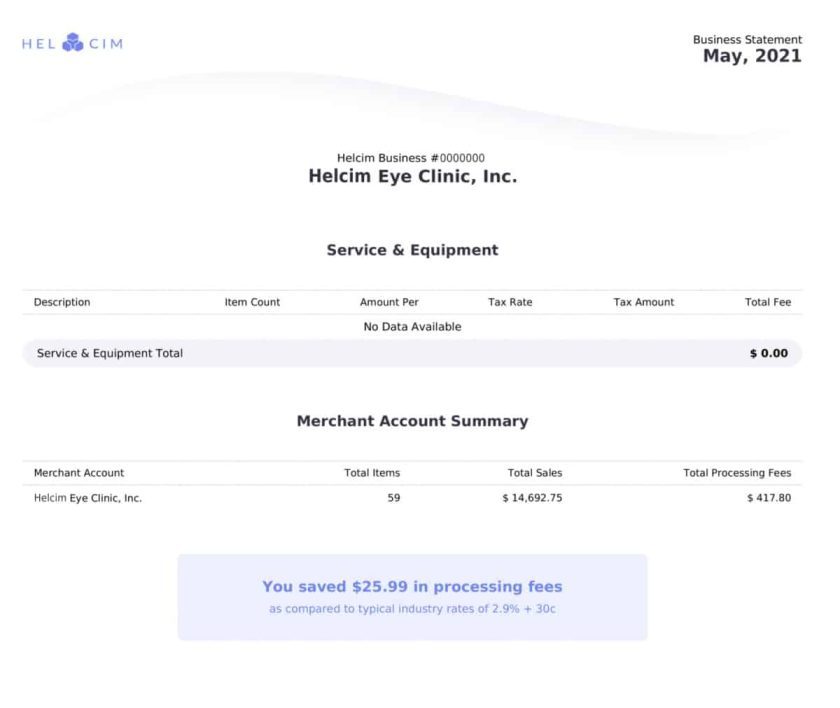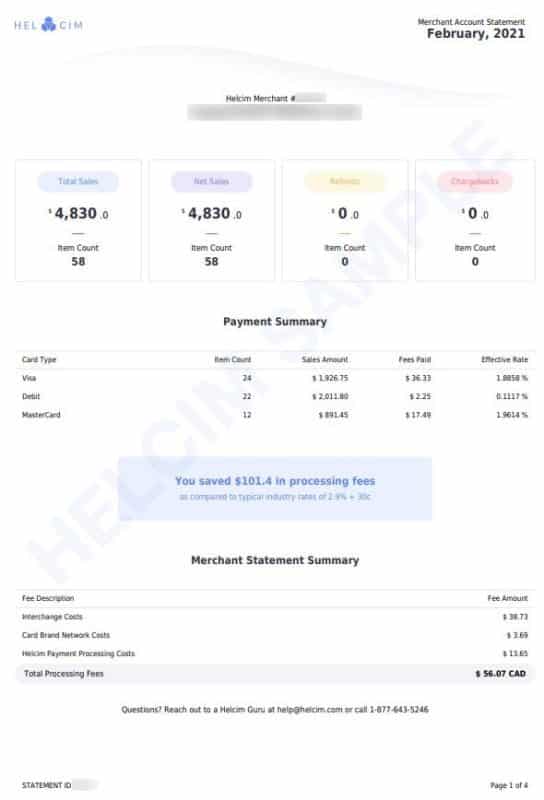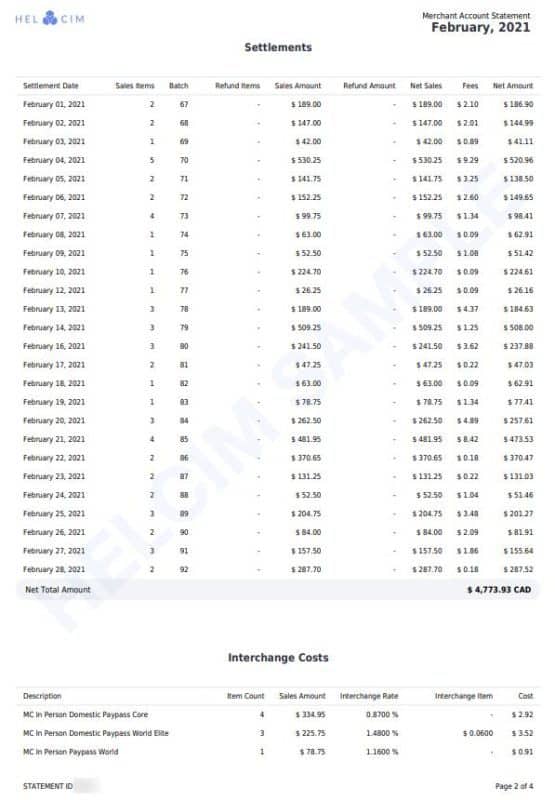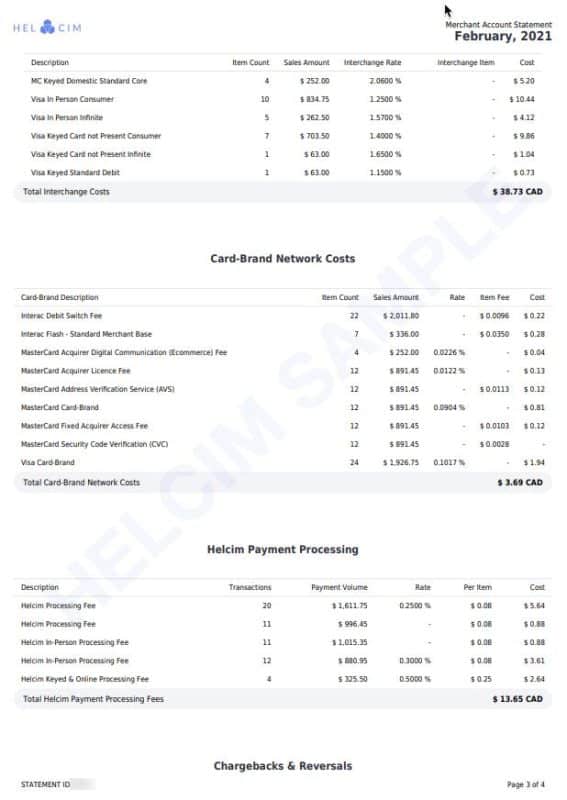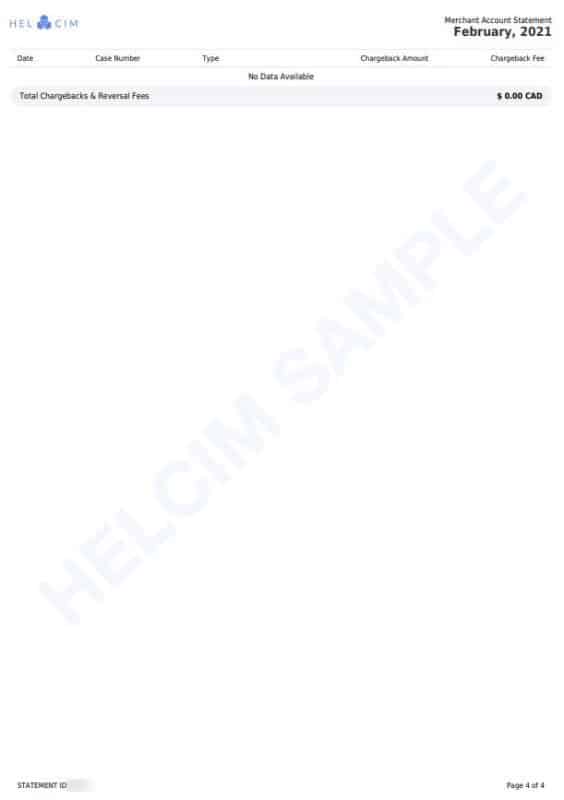 Helcim Deciding Factors
Monthly fee: $0
Pricing method: Volume-based interchange plus
Card-present fee: 0.10% + 5 cents to 0.30% + 8 cents
Card-not-present fee: 0.20% + 10 cents to 0.50% + 25 cents
ACH payment: 0.5% + 25 cents per approved transaction
NSF / Reject / Return fee: $5 USD per transaction
Chargeback fee: $15 USD, refunded if dispute is decided in your favor
Currency Conversion fee: 1% above the daily 5 p.m. Eastern time market rate
Card reader: $109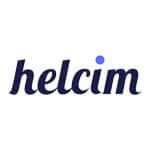 Helcim Payments Calculator
Enter your current in-store and/or online sales volumes and average order values for an estimate on the monthly fees you would pay using Helcim.
Helcim Alternatives & Fees Comparison
| | | | | |
| --- | --- | --- | --- | --- |
| | | | | |
| Best for | Businesses processing $10,000+ monthly | High-volume sales ($20,000+ monthly) | Small businesses, especially those with low sales | Infrequent and online businesses |
| Monthly fee | $79–$199 | $99–$199 | $0 | $0 |
| Card-present transaction fee | | Interchange + 8 cents | 2.6% + 10 cents | 2.29% + 9 cents |
| Keyed transaction fee | | Interchange + 15 cents | 3.5% + 15 cents | 3.5% + 49 cents |
| Ecommerce transaction fee | | Interchange + 15 cents | 2.9% + 30 cents | starts at 2.59% + 49 cents |
| | | | | |
Looking for the lowest rates? Leading merchant service providers offer custom payment processing rates based on your business size, type, and average order value. To find the most affordable option for you and compare multiple processing rates, read our guide on the cheapest credit card processing.
Helcim Pricing
Helcim has interchange-plus pricing, with rates broken up into seven tiers, adjusted based on a three-month rolling processing average of all your card processing volume. Higher volume businesses will automatically get lower rates. This is ideal for scaling businesses, as you don't have to renegotiate with your payment processor on a regular basis to ensure you're getting the best rates for your current stage of growth.
There are no setup, monthly, PCI and non-compliance, cancellation, bank deposit, or customer service fees. Chargeback fees are $15, and Helcim will reimburse you if you win the dispute. Deposits are made in one to two days.
Monthly Sales Volume

Card-Present Rate

Interchange plus

Keyed and Online Rate

Interchange plus

$0–$25,000

0.3% + 8 cents

0.50% + 25 cents

$25,001–$50,000

0.25% + 7 cents

0.45% + 20 cents

$50,001–$100,000

0.20% + 7 cents

0.40% + 20 cents

$100,001–$250,000

0.18% + 6 cents

0.35% + 15 cents

$250,001–$1,000,000

0.15% + 6 cents

0.30% + 15 cents

$1,000,001–$5,000,000

0.12% + 5 cents

0.25% + 10 cents

$5,000,001+

0.10% + 5 cents

0.20% + 10 cents
According to Helcim, the average processing fee for card-present transactions is 1.92% + 8 cents, while the average processing fee for card-not-present transactions is 2.38% + 25 cents.
Helcim Hardware
Helcim users who signed up after June 2020 will be using Helcim's new card reader instead of getting integrated Ingenico and Poynt smart terminals. The Helcim card reader costs $109 per unit and allows merchants to accept swipe, chip, tap, and keyed-in card payments. It holistically integrates with your Helcim account to centralize all your data.
The Helcim card reader connects to your smartphone, tablet, or computer, along with Helcim's payments app to create a fully functional POS system. This is helpful because you can bring your own devices. It also comes with a dock that connects to a countertop POS for storefront use.
| | | | |
| --- | --- | --- | --- |
| | | | |
| Chip & PIN | Interac Debit & PIN | Tap & Go | Contactless |
Helcim Features
Contract & Merchant Agreement
Helcim does not have long-term contracts, so you won't have to worry about being locked into pricing and fees. However, it does have terms of service as with any pay-as-you-go merchant services provider. It mentions that while you can immediately gain access to your merchant account, Helcim has the right to request additional information about your business from you or third parties such as credit reporting agencies and cancel your account at any time.
Other stipulations include right and responsibility over account access, payment services chargebacks, establishment of reserves (in some cases), and data security among others.
---
Helcim Merchant Platform Dashboard
Helcim's dashboard for its all-in-one merchant account lets you set up your payment processing tools to start automation, set security measures, and establish your merchant account profile. These tools can be found on the left-hand side of the dashboard, which includes options to link your bank account, set acceptable payment risks, manage employee access, and more.
All payment processors are responsible for generating and filing (if your business exceeds the filing threshold) your Form 1099-K (Payment Card and Third Party Network Transactions) to the IRS. You can find this on Helcim's back office tools under the My Business tab. Tax forms will be listed and status for each will be indicated on the list.
---
International Payment Processing
With a borderless payment processing feature, Helcim is a strong platform for global businesses. It provides the tools for accepting international credit card payments online. Your customers will be charged and you will receive payments in your local currency so you don't have to maintain a foreign currency account to expand your business.
It's important to note that the 1%–3% international service fee is a bank fee and not a Helcim charge. However, not all issuing banks apply these fees, so if your sales are composed primarily of international transactions, contact your bank to find out the possibility of removing this fee, or search for an issuing bank that does not apply this fee. See our recommended small business checking accounts to find one that suits your needs.
---
ACH Processing
Helcim Bank Payments or ACH payments allow you to collect payments directly from your customer's bank account. Helcim will let you accept ACH payments through online and recurring invoicing, subscription management, payment requests, and virtual terminals. You can accept ACH payments for up to $25,000 per transaction; they will be deposited into your bank within four business days.
---
Virtual Terminal
Haven't received your card reader yet? Helcim lets you accept payments over the phone by logging on to the virtual terminal platform from any computer, tablet, or smartphone without sacrificing security. You can manually key in your customer's card information or (for frequent customers) search for their profile in your system. Virtual terminals can be set up for accepting one-time and recurring payments. For businesses selling globally, you can configure your virtual terminal to accept multiple currencies.
---
Online Invoicing
Helcim invoicing provides tools for creating and managing online payments. It is fully integrated with your merchant account, making it easy to send out and keep track of outstanding invoices. It also gives a wide range of customization options from designing templates, providing multiple payment options for your customers, and setting up alerts. An invoice theme designer lets you customize the content of your template and add branding that suits your business.
Considering the available invoicing functionalities for its customers, Helcim's invoicing features are comparable to top payment processors like Stripe, but have the advantage of being more affordable (Stripe charges 0.4%–0.5% per paid invoice, while there's no extra charge for Helcim). It lets you create estimates and quotes, and can automatically reconcile your accounts receivables. You can also add a payment button for customers who would like to immediately make payments.
---
Recurring Billing Payments & Subscriptions
If you run a subscription retail business Helcim's recurring billing payments feature will allow you to set up unlimited subscription plans and customize your pricing with add-ons and free trials. You can then add or edit an existing recurring invoice and track those changes from your merchant platform.
Like Stripe, Helcim also offers a customer portal feature where subscribers can log in to sign up and manage their own subscriptions. You can also provide customers with a customized quote from your website or send it via email with a Subscribe button that takes them to the portal. This feature is included in Helcim's merchant account subscription at no extra cost.
For comparison, Stripe will charge you 0.5%–0.8% per paid invoice for its subscription billing and payment services. Fattmerchant's billing and subscription software is only available for an additional monthly fee. Square offers a free invoicing tool with recurring options, but no subscription management or customer-facing portal.
---
Ecommerce
Helcim provides a built-in website builder to set up your own online store. It's fully hosted by Helcim and very customizable with templates and a drag-and-drop interface so you can have your website designed in minutes. You can upload your existing product catalog, add a blog, and integrate Helcim's payment processing tools so you get faster access to your funds. On top of a website builder, Helcim also offers a fully hosted online food ordering app for restaurant businesses.
Not many payment processors and merchant account services providers include built-in ecommerce tools with options for Facebook and Instagram integration—and at no extra cost. You may find ones with multiple ecommerce integration options such as PaymentDepot and Stripe but chances are, some would require separate fees. Square is our only other recommended payment processor that comes with free online sales tools.
---
Hosted Payment Pages
Helcim's hosted payment pages are highly customizable without being too complicated to set up. You don't need any coding skills to build a great-looking checkout because Helcim provides a payment page wizard tool that lets you build from templates with simple customization options and add more functionality for better checkout experience such as shipping and additional payment options.
You can also embed your custom checkout page with a Buy Now button on existing websites, or even as QR codes you can share via email or social media.
Leading providers like Square and Stripe also provide these features free of charge but Helcim manages to combine the easy setup of Square with Stripe's robust features. Like Stripe, Helcim's payment pages can be customized to adapt languages, currencies, and local taxes but does not require complex coding skills to complete.
However, also like Stripe, Helcim is better suited for businesses with large-volume sales and not small merchants. Square is our highly recommended alternative for small businesses looking for free ecommerce features.
---
POS System
Helcim includes a fully integrated free POS software that you can run on any countertop, tablet, or smartphone. You can connect Helcim's card reader to start accepting payments. This software includes features that let you upload, track and manage inventory; store customer information with its customer relationship management tools; and manage employees.
When integrated with Helcim's ecommerce and online ordering system that includes social media selling and shipping tools, it creates a complete multichannel sales platform with no extra cost.
Not a lot of merchant services providers include built-in free POS software. Square stands out but caters to small businesses, whereas Helcim is best for larger sales volume. More importantly, the POS system also includes an inventory management feature that can handle large volumes of inventory and automatically syncs your data on all platforms.
---
Mobile Payment App
The payment app and card reader are both part of the recent Helcim upgrade. The payment app can be downloaded to a desktop or Android or iOS mobile device and accessed from the Helcim card reader. It's easy to download and install, with guides available on the Helcim website and within the app itself. However, it's not compatible with Chromebook or Windows 7 operating software.
---
Customer Management
Helcim's online customer management features provide you with tools for enhancing customer experience. It keeps you in touch with customers from the moment they make a payment or sign up for a subscription. You can build customer profiles to use for faster payments, creating customized campaigns, and analyzing purchasing habits for building loyalty programs. You can also bulk upload customer lists for faster setup.
Most payment processors include a built-in customer management feature, but not all of them include a hosted customer portal, which is something that large businesses need to effectively manage their client list. Like Stripe, Helcim's customer portal tracks customer profiles and purchase history, but Stripe requires the use of its Billing system, which imposes extra cost per transaction.
---
Fraud Protection
Fraud protection is important for merchant service providers, especially those that cater to large businesses with global customers. Helcim has ecommerce automatic protection settings that void transactions based on your acceptable address verification and risk assessment settings.
The Fraud Defender is a program that estimates transaction risk and scores it using a number of criteria such as IP address, shipping and billing location, and card security code, among others. A tokenized and encrypted card vault lets you store your customer's credit card and bank information and use it to securely complete transactions.
Helcim's fraud protection tools are comparable to Stripe, mainly because they cater to similar clientele. However, Stripe's security measures are highly customizable because it provides a lot of developer-friendly features.
That said, Helcim also supports JavaScript-based payment security functionality alongside the Helcim API, which allows you to securely embed payment pages on your website. It comes with a code-generator tool so creating the lines of code will be easier; data is stored on Helcim's servers so you don't have to worry about PCI compliance.
---
Helcim Ease of Use
Helcim is a user-friendly system that's easy to get up and running. It has lots of features but isn't so complicated that it's intimidating. You can use it to take in-person payments and build an online store.
Customizable Dashboard
Helcim's merchant account dashboard allows you to customize your profile settings with a few simple clicks. It also lets you customize the look and feel of your dashboard by having the option to pin the tools that you use the most on the screen.
Integrations
One of Helcim's downsides has been limited integration but it has since developed a number of built-in add-on features such as its POS system, customer management, and ecommerce tools. You can also still access ecommerce platforms like Magento, Rezgo, WooCommerce, WHMCS, and Ecwid for ecommerce and Vend for POS.
QuickBooks is also available for preparing financial records and automating your payroll process. It integrated seamlessly with Helcim's POS system, which includes an employee management feature. That said, Helcim can still benefit with more back office business integration options in the future.
Developer APIs
Developer-friendly APIs go beyond payments. They also let you integrate the Helcim features in your account with your choice of POS system or develop a fully customizable and flexible platform with Helcim's payment gateway to improve security and boost authentication tools. You can also add more payment options and even design customized report generation functions to support your business.
Dispute Resolution Management
Improved chargeback management is also included in Helcim's upgraded system. You can find a dispute resolution management system under the My Business tab in your Helcim account. This will show you any chargeback raised against your transactions, such as the amount, description, type, chargeback date, response due date, and the status of the dispute.
Customer Support
If you hit a snag, Helcim's support center is stocked with a comprehensive library of troubleshooting content. If you need more hands-on help, you can reach out to a customer service representative via phone and email.
What Users Think of Helcim
Overall, Helcim users are pleased with the payment processor. The majority of reviews praise the platform's customer service.
Trustpilot: On Trustpilot, Helcim earned a 4.4 out of 5 stars based on about 90 reviews. Users mostly comment on the helpful customer support; however, there are some complaints about bugs with the system.
G2: While there are only 13 current user reviews, Helcim is rated 4.4 out of 5 stars on G2. There are conflicting opinions about the customer support team here, with one user mentioning they were unhelpful in resolving technical issues.
Capterra: Helcim's user rating in Capterra went down from 5 out of 5 to 4.6 out of 5 from around 20 reviews. Some find the interface somewhat confusing, but again, people love Helcim's customer service.
Bottom Line
Overall, Helcim is an easy-to-use payment processing platform that has powerful business features; it has made a lot of improvements in its recent system upgrade. You can use it to process payments online and in person. There are no monthly fees, Helcim reimburses chargeback fees for won disputes, and payment processing rates automatically decrease as transaction volume increases. Helcim is a great payment processor for growing businesses in many industries.