CareerBuilder is a job marketplace and recruitment platform that lets you post jobs, view resumes, track and screen applicants, and manage candidates. Its platform, which has a monthly fee starting at $349, uses artificial intelligence (AI) and machine learning technology to help you post jobs and find qualified candidates faster. It's optimal for businesses wanting intelligent job postings and applicant matching tools.
CareerBuilder Overview

Pros
AI-powered job posting and candidate matching tools
Wide range of recruiting tools with advanced search options
Multiple plans, including a "Pay As You Go" pay-per-job tier
Cons
"Pay As You Go" plan is pricey for businesses that require only one job posting
Resume views are limited (500 views monthly with a daily limit of 50)
Some features (like applicant tracking and career sites) cost extra
Deciding Factors
Generally simple to use
Mobile friendly
Plans are expensive compared to similar providers
Has salary research module
Customer service could be improved based on user review ratings
What We Recommend CareerBuilder For
CareerBuilder does more than just let you post jobs. It has a massive database of job seekers and smart tools to help you find qualified candidates faster. Given its mobile-optimized career sites, AI-powered candidate matching, and targeted recruiting emails, CareerBuilder even made our list of top job posting sites for employers.
Overall, CareerBuilder is best for:
Scaling businesses that need help advertising their jobs: CareerBuilder has an AI job posting solution that helps you write job responsibilities, enabling you to quickly create and post listings. It also offers recommendations on how you can improve postings to increase their appeal. Meanwhile, its AI-powered candidate matching tool can deliver up to 40 profiles a day and for each job listing.
Recruiters and staffing agencies posting jobs for multiple clients: CareerBuilder's "Talent Network" solution lets you build career sites for clients and personalize job postings based on your clients' branding requirements through its "job skin" tool.
Companies looking to hire qualified candidates for niche jobs: If you need to hire employees from specific industries (such as oil and gas, healthcare, and information technology), CareerBuilder lets you run candidate searches from its niche resume databases.
Federal contractor and subcontractor employers who require Office of Federal Contract Compliance Programs (OFCCP) compliance when posting jobs: With CareerBuilder's OFCCP Compliance – Mandatory Job Listings and Reporting tool, all of your job listings are automatically distributed to the appropriate state workforce agencies. It also comes with on-demand reports that you can easily run and export into Excel files.
When CareerBuilder Would Not Be a Good Fit
Employers looking for more flexible plans: CareerBuilder's Pay As You Go Plan lets you purchase as many jobs you need and keeps your job posts for a month. However, some employers may be looking to fill jobs quickly. Unlike CareerBuilder, ZipRecruiter offers daily pricing, which can be beneficial for more popular jobs that can be filled in a few days.
Small businesses with limited hiring budgets: CareerBuilder doesn't offer a free plan, so if you want to post jobs for free, we recommend Indeed. Also, the lowest tier of CareerBuilder's "Value" plans costs $349 monthly—and this can be pricey, especially for small businesses. Even its "Pay As You Go" option—which follows a pay-per-job post scheme—can be expensive, costing $449 for a single job listing. If you want budget-friendly options, check out our list of free job posting sites.
Looking for something different?
Read our guide to the best recruitment software to find a service or software that's right for your business.
CareerBuilder Alternatives & Comparison
| | | | |
| --- | --- | --- | --- |
|   | | | |
| Best for | Businesses looking for free job posting and applicant tracking tools | Small businesses that have an average of four open positions at any time | Companies with fewer than 50 employees that need to streamline complex hiring processes |
| Monthly fees from | $0 to post jobs; $120 for contacting passive candidates; $5 for sponsored jobs | $299; daily pricing starts at $16 | $71 + $1.20 per employee |
| | | | |
CareerBuilder Pricing
CareerBuilder offers a "Pay As You Go" option and three "Value" plans (Lite, Standard, and Pro). The main differences between these include the number of jobs that you can post and access to targeted recruitment emails.
Pay As You Go
This option follows a pay-per-job post scheme, where you pay $425 for a single job posting. You can also purchase additional job postings, which cost $250 if you purchase at least six jobs. If you get fewer than six, the cost goes higher. All job listings can be used for up to 12 months from the date that you purchased the plan. This is great for businesses that don't hire often and would only need to fill up one or two job vacancies at a time.
The features are similar to the Value plan features and include the ability to search and contact candidates and instant notifications when new resumes are added that match your search criteria. Job boost also lets you automatically send targeted emails to candidates that match your job description.
Unlike CareerBuilder's Value plans, this option doesn't renew on a monthly basis. If you need to post a new job and have already consumed your job posting credits, you have to purchase another "Build Your Plan" option.
| Features | Pay As You Go |
| --- | --- |
| Pricing | $425 for a single job post |
| Additional job postings* | $250 each when you buy at least six jobs |
| Resumes and Social Profiles Search | 10 resume actions per day |
| Resume Match Notification | 10 per day |
| Job Boost Emails | 35 maximum candidates |
*The maximum number of job posts that you can purchase online is 36. For those requiring more, contact CareerBuilder to request a quote.
Value Plans
CareerBuilder's "Value" plans are ideal for businesses growing their workforce and recruiters who need to fill up their clients' open jobs. Its features are similar to the "Pay As You Go" option.
Features

Lite

Standard

Pro

Monthly Pricing

($/Month)

$349

$449

$749

Numbers of Job Postings*

1 per month

3 per month

5 per month

Resumes and Social Profiles Search

10 resume actions daily

30 resume actions daily

50 resume actions daily

Resume Match Notification (daily limit)

10

30

40

Job Boost Emails (maximum candidates)

35

100

150
*Unused job posting and targeted recruitment email credits at the end of the month will not roll over to the next month.
Paid Add-ons
While many of its job posting and candidate search tools are included in its "Pay As You Go" and "Value" plans, you have to pay extra if you need applicant tracking, mobile-optimized career sites, and international job postings. It offers a "Talent Network" solution that you can use to take snapshots of applicant resumes at recruiting events in which the software converts the information into searchable keyword text.
CareerBuilder also offers an "In-Take Tool," which provides a pre-sourcing workflow you can use during your intake meetings. It works to ensure that your hiring process is efficient and aligned with your hiring goals and expectations.
However, CareerBuilder's pricing for these products isn't readily available on its website. You have to contact the provider to request pricing details.
CareerBuilder Features
CareerBuilder's suite of talent acquisition solutions is designed to streamline and manage recruitment processes, enabling you to efficiently find and hire qualified candidates. Let's look at some of CareerBuilder's features to help you determine if it fits your requirements.
With CareerBuilder's "Talent Network" solution, you can create a mobile-optimized career site to improve employer branding and candidate engagement. Aside from promoting job posts, it can help you create an online community of candidates who are interested to join your company and apply to an open position that fits their qualifications. However, you have to pay extra (custom priced) for this product.
---
Posting jobs on CareerBuilder is a straightforward process. You can create a single job post from your CareerBuilder dashboard and even save templates of commonly used job listings.
This AI-powered tool can help you create job responsibilities for your postings, providing real-time recommendations on how to improve listings. This saves you time when writing job descriptions for your postings. It even shows the salaries your local competitors are offering for similar jobs in the same area. You can also opt to add auto-response letters that will be sent to applicants.
All job ads will be posted on CareerBuilder's site and mobile apps (for iOS and Android devices) and will remain live for 30 days. It will also be sent via email to its candidate network and shared across partner job boards and sites (like Google and Facebook).
If you're a recruiter handling the career sites of customers, CareerBuilder's "job skin" helps you easily add branded job postings to each site. When creating job posts, you can select the "job skin" for a specific client and the branding elements associated with that customer will be automatically applied to the job listing.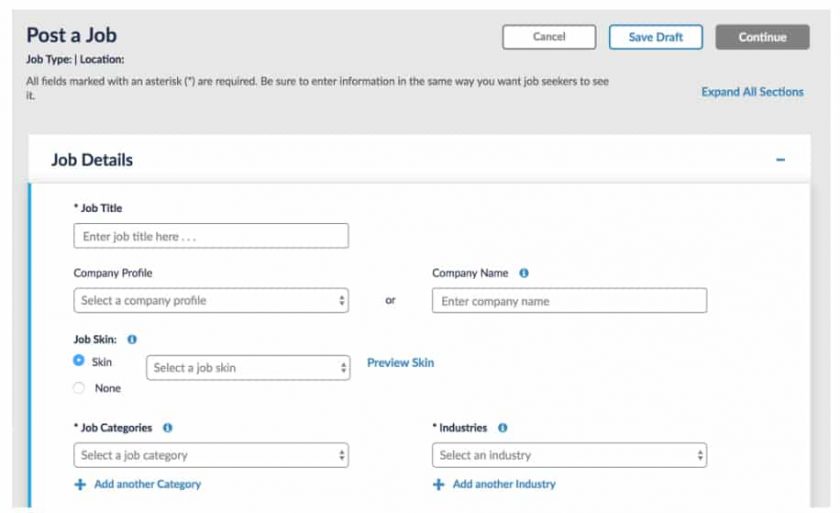 ---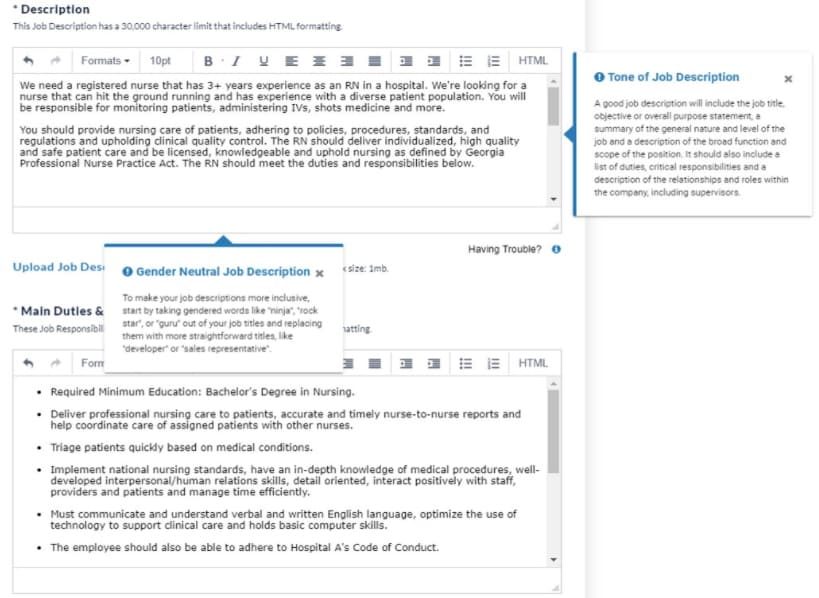 ---
---
CareerBuilder offers several question types that you can add to your job postings. These include free form text, free form numeric, multiple-choice, multiple-choice with scoring, and questions that require date format answers (i.e., entering a minimum and maximum year).
---
CareerBuilder has a centralized database with over 140 million candidate resumes and social profiles. It also comes with more than 15 filter options (such as industry, years of experience, salary, education, location, and resume freshness) to help narrow search results down.
You can also search CareerBuilder's niche resume databases to find qualified candidates for your open jobs. Setting up resume alerts will even automate candidate searches since its system will send you emails containing a list of candidates who meet your resume search requirements.

---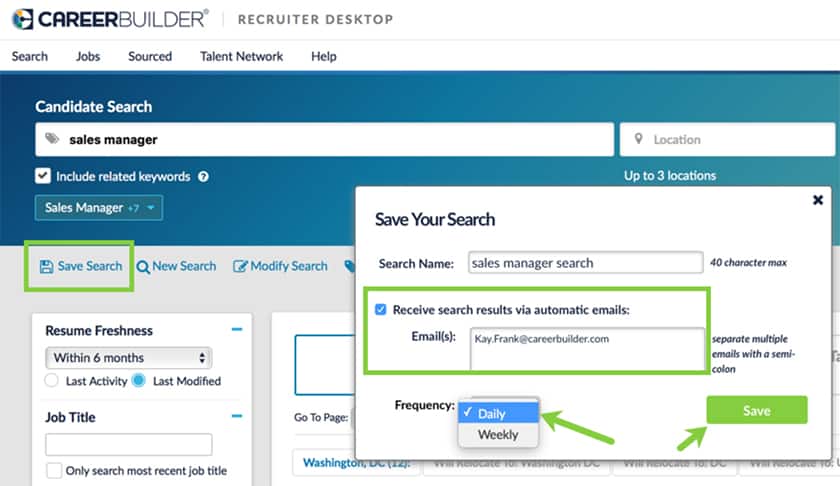 ---
---
With its automatic candidate matching, you can get up to 25 applicant profiles for each of your job posts per day. Aside from that, you'll receive email notifications that include a list of applicants.
---
Designed to help you attract and engage active and passive candidates, this feature lets you advertise job postings via targeted recruitment emails. Aside from creating campaign templates and tracking the performance of each email campaign, you can message candidates (up to 10 at a time) directly from CareerBuilder.
---
Aside from sorting and ranking candidates, you can add notes to capture comments about the applicants. You can also create custom lists of qualified candidates that you can share with the hiring team for their assessment or for pipelining purposes.
---
For companies that employ federal contractors and subcontractors, CareerBuilder can help ensure that you meet all the job posting regulations in case there's an OFCCP audit. Its services include automatic job post distribution to appropriate state workforce agencies, comprehensive record-keeping, compliance alerts, and on-demand reports.
---
CareerBuilder can integrate with 40 applicant tracking systems (ATSes). Here are some of its partner solutions:
ApplicantStack
ApplicantPro
Avature
Bullhorn
CEIPAL
Erecruit
Greenhouse
iCIMS
JazzHR
JobDiva
IBM Kenexa
PeopleSoft
SilkRoad
SmartRecruiters
Taleo
Ultimate Software
Vultus
Workday
---
CareerBuilder Ease of Use
Intuitive interface
Online chatbot and live phone support
FAQs, video tutorials, and help articles
User groups connecting you with fellow users and CareerBuilder experts
With a user-friendly and intuitive interface, CareerBuilder makes posting jobs and searching candidate resumes easy for users. While it lacks a library of job description templates that similar recruiting solutions like Monster and ZipRecruiter offer, its AI job posting tools are helpful—providing recommendations on how to improve job ads to make them more appealing to candidates.
In case you need assistance on how to use its features, you can either contact CareerBuilder's live phone support, access its online chatbot, or click the "submit a case" link on its website. You can also post your questions on its "User Groups," an online community of CareerBuilder users and experts who can provide answers to your queries.
In addition to FAQs and video tutorials, CareerBuilder has a knowledge base with extensive help articles. However, the knowledge base is glitchy, and searching for specific articles can be difficult. As of this writing, it doesn't display all of the article topics, and running a "post a job" search shows zero results.
What Users Think About CareerBuilder
PROS

CONS

Ease of posting jobs
Candidate resumes sometimes have missing contact information
Efficient search filter options and applicant tracking tools
Resume searches occasionally show inaccurate results
There are very few CareerBuilder reviews online as of this writing. Those who left positive feedback like how easy it is to create post jobs. Some users appreciate its efficient applicant tracking and candidate management tools.
On the other hand, several reviewers said that while its resume search filter options are robust, its search results can show inaccurate data at times. For example, a resume search for IT candidates sometimes includes non-IT applicants. A few users also complained about having received resumes with incomplete details (such as missing contact information).
At the time of publication, CareerBuilder earned the following scores on popular user review sites:
CareerBuilder Frequently Asked Questions (FAQs)
There is no contract period. You can cancel your monthly plan any time and your access will remain at the end of the subscription period and you won't be billed again.
---
You'll be billed once for Pay As You Go. Monthly plans are renewed monthly until you decide to cancel.
---
No, products don't roll over to the next month.
---
You can pay via Mastercard, Visa, Discover, and American Express.
---
Bottom Line
If you're looking for a recruiting solution that lets you post jobs, track applicants, and comply with OFCCP job listing regulations, then CareerBuilder is a great choice. It has a database of 140 million candidate resumes and comes with targeted email campaigns to help boost your job ads. Creating job posts and looking for candidates who match your hiring requirements are also made easy given its machine-learning platform and AI-powered tools.
Sign up for a CareerBuilder free demo today to learn more about its functionalities and how it can help streamline your recruitment processes.