ZipRecruiter is an online employment marketplace and recruitment platform that allows you to post job listings to more than 100 job sites with just one submission. In addition to its database of 31 million+ resumes, it has an artificial intelligence (AI)-driven applicant matching technology to help you find the best candidates for your vacancies. These features make ZipRecruiter a big time saver for business owners, people managers, and HR professionals who want to improve job fill rates and hire the right talent for their companies.
If you want to test ZipRecruiter's functionalities and navigate through its intuitive interface yourself, sign up for its free trial today. ZipRecruiter is even offering a special, limited-time offer for Fit Small Business readers to help your job postings stand out.
ZipRecruiter Features
ZipRecruiter can serve as a one-stop shop where you can advertise job ads and find quality candidates. To give you a better idea of what ZipRecruier is and how it can help you improve hiring timelines, take a look at its most essential features in the drop down menu below and watch the video for quick information on how to start posting your first job for free.
ZipRecruiter Pricing
ZipRecruiter's pricing scheme is based on the numbers of active job ads, resume views, and user seats that you need, including your business' location and preferred job distribution level. It doesn't publish its fees online, so you'll have to contact the provider to discuss your requirements and request a quote. The customer service agent we chatted with shared that ZipRecruiter has Usage and Monthly plans, wherein each has sub-levels and package options.
Usage Plans
With Usage, you can post as many active job ads as you need. It follows a per-job post, per-day pricing in which you will be billed either on a monthly basis, when your account reaches $500, or upon cancellation, whichever comes first. There are two options:
Standard: For $16 per job post daily, you get one reusable job slot and unlimited candidate applications. In addition to letting you distribute job ads across ZipRecruiter's partner job boards, you are granted access to its smart dashboard where you can create job posts, rate candidates, and view online applications that you received.
Premium: Priced at $24 per job post daily, you get all of Standard's features plus premium job ad distribution and access to ZipRecruiter's resume bank with 25 resume views per month.
Note that resume access and views are unavailable as paid add-ons for the Usage Standard plan. You also can't purchase additional resume views even if you subscribe to ZipRecruiter's Usage Premium option. If your resume viewing requirement exceeds 25 views per month, then you have to upgrade to its Monthly plans.
Monthly Packages
Compared to the Usage plans, ZipRecruiter's Monthly packages are a bit more complicated as they have sub-tier and sub-level options.
Sub-tiers
These are based on the number of active job slots and include:
Simple: One slot
Starter: Three slots
Team: Four to 10 slots
Company: 11 to 20 slots
Enterprise (highest sub-tier): Monthly slot limits start at 50
Sub-levels
Its sub-levels have three options based on the level of job distribution needed.
Standard: This is for easier-to-fill and entry-level jobs with a low level of urgency in non-competitive markets in which job ads naturally fall down quicker in search results. Similar to the Usage Standard plan, this includes one-click postings across ZipRecruiter's 100+ partner job boards.
Premium: This is good for jobs with semi-urgent hiring levels in semi-competitive markets. It provides better reach and higher priority placement than standard plans. Aside from one-click job postings, you are granted access to ZipRecruiter's AI candidate matching tools and resume bank with up to 25 views monthly.
Pro: Best for fast hiring, this gives you dominant placements on job boards for urgent and hard-to-fill roles in competitive markets. In addition to Premium's features, you get three "TrafficBoost" credits and seamless integrations with ZipRecruiter's partner applicant tracking systems (ATSes), such as Greenhouse, Bullhorn, ZohoRecruit, and ApplicantPro.
For Monthly packages, you have to choose the sub-tier and sub-level based on your business' hiring requirements. Let's say you need one active job slot per month with a standard job distribution level, then you should select the Simple Standard plan on a Monthly subscription. If you require a premium or pro distribution level for one reusable job slot, then your Monthly package will be Simple Premium or Simple Pro, respectively.
To give you an idea of how much a Simple tier costs, here's a breakdown of ZipRecruiter's pricing and some of the plans' essential features.
Simple Tier (With One Active Job Slot Per Month)

Distribution Level

Standard

Premium

Pro

Monthly Fees

$299

$419

$719

User Seats

1

2

8

One-Click Job Postings Across 100+ Job Boards

✔

✔

✔

Smart Dashboard Access

✔

✔

✔

Unlimited Candidates

✔

✔

✔

Resume Bank Access

✔

✔

✔

Monthly Resume Views

0

25

200

"TrafficBoost" Credits

0

0

3

Recruit for Multiple Companies

N/A

N/A

✔
Unlike the Usage Premium option, you can purchase additional resume views ($1 per resume view) for the Monthly Premium, including the Pro plan. You can also add extra user seats for $15 per seat monthly.
While ZipRecruiter has flexible subscriptions, its plans may be a bit confusing, mainly because of the many options. We strongly suggest that you call ZipRecruiter's sales team instead of making pricing inquiries through its live chat. This way, you get more clarity about plan restrictions and feature inclusions.
Plan Upgrades/Downgrades and Auto-Renewals
With ZipRecruiter, you can easily change your subscription at any time. If you need additional job slots, you can upgrade to your chosen tier (e.g., Starter, Team, Company) directly through your ZipRecruiter online account. However, if you want to downgrade your plan, the system will automatically close and remove open jobs over the allowed job slots in the order of oldest to newest.
For example, if you downgrade from a Team plan (with 10 job slots) to a Starter option (with three job slots), then the seven oldest jobs will be closed automatically on your plan's monthly renewal date. In order to avoid having the wrong jobs from being closed, we suggest that you manually close any excess jobs before downgrading your plan.
All of ZipRecruiter's pricing options are set to automatically renew at the end of each billing period. However, you can turn this off through your ZipRecruiter "My Account" settings, specifically via the "Subscription" button and by selecting the "Cancel Auto-Renewal" option.
How Job Posting Works in ZipRecruiter
When hiring employees, posting open jobs easily across multiple job boards and quickly finding the best candidates are two important objectives. In this section, we'll walk you through ZipRecruiter's job posting and candidate search process step-by-step so that you can see what it is like before you sign up.
Step 1: Go to ZipRecruiter, Select Jobs and Begin Your Job Posting
Go to ZipRecruiter's website and click on the "Post a Job" button located on the upper right of your screen. A popup will prompt you to create an account where you can input your business' name and select the number of employees your company has via a drop-down menu. After choosing your company's employee headcount, follow the onscreen instructions on how to create a ZipRecruiter account.
Once you create an account, you'll see your dashboard. You can create and post your first job under the "Jobs" menu. ZipRecruiter allows you to post most job types—except domestic and home/residential-based roles such as housekeepers and nannies.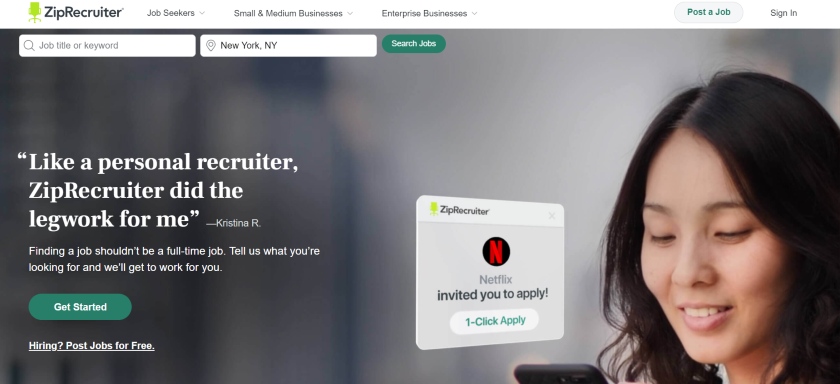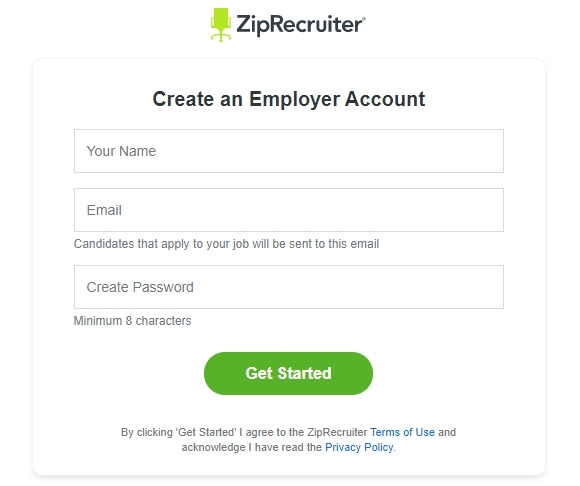 Step 2: Enter Basic Information About the Job
Input the job title, job location, and type of employment. If the job is remote, you'll still need to list a company location, but you can add the word "remote" to the job title and as the work address on your post.
Step 3: Add a Good Job Description and List Benefits Offered
Writing a good job description is important to attract the best candidates and keep those who do not qualify from applying. What's key is to make your job description short, informative, and interesting. Use clear section headings and bulleted details that list job functions and any required education or work-related certifications.
Similar to remote jobs, if your open position is a commission-only job, the words "commission only" need to be included in the job description section. If not, ZipRecruiter will flag the posting because it doesn't want candidates to think they're applying for a salaried or hourly paid job when it's actually not.
If you're lucky, ZipRecruiter will already have a similar job description for you to start with. You can use the template and customize it to your specific job opening. You can even save previous templates in case you need to recruit for the same position multiple times.
Most job applicants don't read past the first page, so try not to fit the entire job description in the job ad. Look for key attributes to the job, and leave out parts that can be addressed during the interview process.
ZipRecruiter also lets you select which benefits your company offers to potential employees. You don't have to type in the information manually since its benefits options have checkboxes that you can easily select.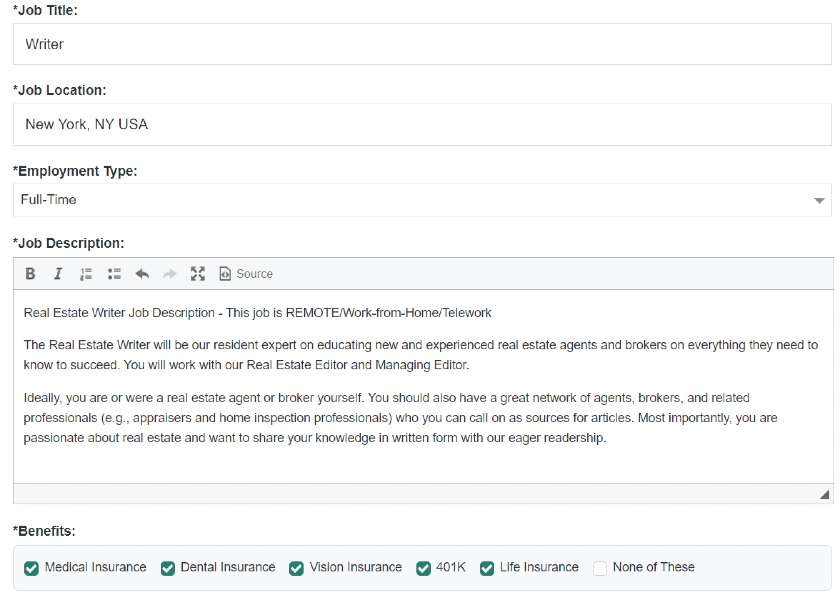 Step 4: Finish Your Job Posting With Salary Info and Required Skills
Many employers decide to provide a salary range or rate of pay for job roles. One of ZipRecruiter's features is that it allows you to put in a compensation range for your job posting. Although entering a pay rate is optional, you get better results if you include at least a range.
After you have entered the compensation details, you can add skill keywords to help you target the job seekers you want. ZipRecruiter even provides recommended skills based on your job description. You can either use its suggestions or manually type in the skills specific to the job.
Step 5: Provide Information About Your Company
Next, you'll come to a section about the hiring company. This is where you can input information about your business that will entice job seekers to want to join your company. Aside from providing a little background and company history, you can share what it's like to work at your company and if flextime or remote work is an option.
Step 6: Start Your Free Trial or Opt for a Paid Plan
Before your job post goes live, you need to choose whether you want to try ZipRecruiter's free trial or purchase a paid plan. If you choose the former, keep in mind it's free only for four days and you need to provide your credit card information. You can sign up for a free trial of its Standard plan that includes only one reusable job slot or its Premium tier that comes with premium job placements and access to ZipRecruiter's resume bank.
Step 7: Post the Job
Before you can post your job, you have to click the little box beside the name of the user who will receive the system's new applicant email alerts. Note that this defaults to the system administrator, but you can easily add new users into the system—provided your plan allows multiple seats. Once you do that, choose the "Save & Post Now" button and ZipRecruiter will automatically distribute your open jobs to its network of more than 100 job boards.
Step 8: Maximize Your Job Posting Results (Optional)
ZipRecruiter has several online tools to help increase traffic to your job post and encourage passive job candidates to apply to your job ads. Here are some of the options.
Optimizing Job Postings
Right after you post your job, you'll see a small note encouraging you to optimize your job listing. One of the options include a "TrafficBoost," which is an additional advertising service that keeps your job post at the top of the job boards and promotes it to job seekers via daily email alerts.
Note that you only get "TrafficBoost" credits if you subscribe to a Monthly Pro plan. You can also buy credits if you select the Monthly Premium plan.
Adding Screening Questions to Job Posts
ZipRecruiter supports these screening question formats:
Free-form text
Multiple choice
Date-specific
Number-specific
Yes/No
File upload answers
While it offers a list of common screening questions that you can choose from, ZipRecruiter allows you to create your own. You can even input possible answers that you can mark as correct choices. This helps you screen out unqualified applicants so you aren't looking through resumes of job seekers unlikely to be a good fit.
Posting on Social Networks and via Email
You can share ZipRecruiter job postings through your business' social media accounts (like Facebook and Twitter) and via email. These options don't require additional fees, plus you can easily do this through the "Jobs" menu on your ZipRecruiter dashboard.
Reviewing Resumes and Contacting Passive Applicants
Looking for and contacting passive job seekers with active resumes is a great way to encourage qualified applicants to apply. With ZipRecruiter, you can search through its database of over 31 million resumes as many times as you want (except for Standard subscribers who don't have access to this feature). However, you're granted a specific number of resume views per month, depending on your plan.
To help narrow search results, ZipRecruiter lets you screen thousands of resumes in several ways, such as looking for candidates with the specific skill keywords that you added to a job description. You can also search for qualified candidates by:
Location: You can choose to find candidates within commuting distance from your office.
Prior job title: This is helpful if you want someone who has already held a specific job.
Prior company: Use this option if you're actively recruiting from a specific company that you know has great talent.
Freshness: You can select only those with recently updated resumes so that you get job seekers who are more likely to respond.
Step 9: Start Receiving and Tracking Applications
After you have successfully posted your open position on ZipRecruiter, interested applicants can start applying to your job ad. The system also sends you candidate emails for the job post, though you can view applicant details on your ZipRecruiter dashboard through the "Candidates" menu. You can even see candidates who are applying in real time.
Send Automated Emails to Candidates
Responding to each applicant via email (even the ones you reject) is a great way to promote your employer brand. It also feels more personal than a standard applicant rejection letter. With ZipRecruiter, you can create custom email messages or use its template for replying to those who applied to your job post. It also has an auto-reply feature that sends automated emails to candidates.
Track Applicants Throughout the Process
If you opt for a paid ZipRecruiter plan, then you get features similar to a full-blown ATS that lets you rate, sort, and track candidates throughout the hiring process. You can monitor the status of applicants by using drop-down options like "reviewed," "rejected," "phone screen," "interview," "offer extended," and "hired." In addition to adding custom labels and notes, you can rate applicants to distinguish between the ones you're interested in, not interested in, and unsure about.
However, if you have an existing ATS, ZipRecruiter supports integration with third-party software. Its ATS partners include:
ApplicantPro
Avature
Breezy HR
Bullhorn
ClearCompany
Everhire
Greenhouse
JazzHR
JobScore
MightyRecruiter
Zoho Recruit
Step 10: Monitor Your Job Posting Results
ZipRecruiter has a comprehensive job performance report. If your job posting doesn't get many results, then you may need to modify your job description to make it more specific or pay extra to boost traffic to your job ad.
ZipRecruiter Drawbacks
ZipRecruiter is a great time-saving tool for employers who regularly recruit employees and don't want to spend time posting job ads to dozens of job boards. However, it isn't perfect, so we'll share some of the downsides.
By default, ZipRecruiter doesn't post to the largest job boards like Indeed, CareerBuilder, and Monster.
If you want access to specialty job boards like veteran job boards, there will be an accompanying upcharge (the rates vary depending on the site).
You can't post domestic or home/residential-based jobs (such as a babysitter, nanny, or personal assistant) on ZipRecruiter. For those vacancies, you may want to consider using Snagajob.
All your applications come into one viewing area, so if you have more than one job, you have to sort them by job post.
Similar to many job posting providers, ZipRecruiter auto-renews your plan from one billing period to the next, so you need to monitor that if you don't want to keep being charged.
Its free trial period is only four days. This may not be enough time for you to assess whether or not it has all the tools you need to find employees who fit your hiring requirements.
Bottom Line
If you want an efficient recruiting platform for sourcing qualified candidates, posting job openings to multiple job boards, and tracking the status of applicants, then ZipRecruiter is a good option. Aside from its easy one-click job postings, smart AI candidate matches, and intuitive interface, it has flexible plans that charge you either on a monthly or a per-job post, per-day basis. This is helpful for employers who have varied hiring needs, including small businesses that are ready to scale their workforce.
You can try ZipRecruiter's online tools by signing up for its free trial today.