ZipRecruiter is a job aggregator that automatically updates job advertisements from multiple internet sources and consolidates it in one place for easy viewing. ZipRecruiter also is a prolific resume search tool, and job search engine. Once an employer posts a job on ZipRecruiter, it's pushed to 100+ different job boards. These features make ZipRecruiter a big time saver for managers and HR professionals as they only have to post a single job advertisement to get it broadcast to hundreds of job sites.
Throughout this article, we'll show you how to use ZipRecruiter, as a small business, to simplify your recruiting process for maximum results. We'll showcase its rich features, and give you step-by-step instructions showing how to successfully post a job on the site. You can test ZipRecruiter's job postings, interface, and features by signing up for the ZipRecruiter Free Trial.
According to data from ZipRecruiter, 40% of small business owners report that filling open jobs is more challenging than expected. ZipRecruiter is more expensive than many other job sites, but the value is you can easily post to multiple job sites quickly and efficiently. We'll also provide pricing information, for you to determine whether ZipRecruiter is a better option for you rather than posting your open positions directly on some of the top job search sites like Indeed, Monster, or CareerBuilder.
ZipRecruiter Features
ZipRecruiter provides access to over 12 million job seeker resumes and posts to more than 100 job boards, so it can be a one-stop-shop for your recruiting and hiring process.
Here are the basic features of ZipRecruiter which we'll highlight as we go through the step-by-step process below:
Post to 100+ Job Boards With One Submission
When you post a job on ZipRecruiter, it also gets automatically posted on over 100 job boards. Most of these are smaller or niche boards, such as resume.com, job.com, medjobbers.com, truckerswanted.com, and many more. While each of these sites may not get a lot of traffic individually, when added up, you can get a lot of eyes on your job posting.
Unfortunately, ZipRecruiter doesn't post to the biggest job boards like Monster, Indeed, or CareerBuilder. It's an extra charge to have your job posted on LinkedIn. You can also post your ZipRecruiter job postings on your business' social media pages such as Facebook, Twitter, and Instagram. Also note that successfully advertising or recruiting for candidates requires multiple tools and applications, which ZipRecruiter is equipped to help you with (we'll get into the tools in this article).
Resume Search
ZipRecruiter has a resume bank of over 12 million resumes, and it allows you to do unlimited resume searches by every kind of criteria you can think of, including keywords, education, and location. Using a resume search helps you find job seekers who are passive candidates, meaning they haven't applied to your position, but might if you contact them. The search is free, but if you want to contact an individual through ZipRecruiter, you have to pay for an account that provides you access to job seeker contact info. We provide more on the resume search feature below.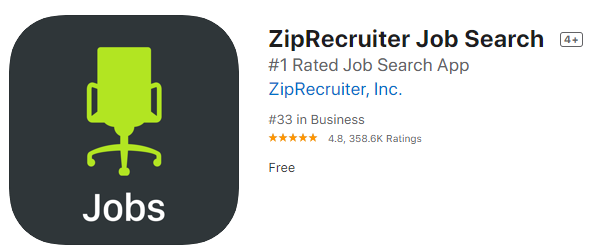 ZipRecruiter Mobile App for Job Seekers & Employers
ZipRecruiter has a mobile app, making it easy for job seekers to apply for jobs, which benefits you as you'll get more applications. Employers also can use the ZipRecruiter app to view, rate and contact candidates from a smartphone. On ZipRecruiter, you can even see where candidates applied from— did they apply via a social media site, a smartphone, or from a website?
Widget to Get Job Posts on Your Website
This is a new feature ZipRecruiter recently added that allows you to quickly post all your open jobs to your website without programming skills or big website changes. If you have a business website, you can promote your open positions using the embeddable ZipRecruiter widget. Just copy the code directly to your webpage and voila, your website has a recruiting page.
Shareable Recruiting Account
You can set up a ZipRecruiter business recruiting account to be used by more than one person in your office. For example, let's say you give your office manager access to post and review resumes on ZipRecruiter, but don't want her to see that you're posting a higher level job that she may end up reporting to. You can limit her view to see only the jobs postings you allow.
ZipRecruiter Cost
The cost of ZipRecruiter ranges between $249 per month to $375 per month based on how many job slots you need. ZipRecruiter has multiple pricing tiers and with each tier you get extra features such as the ability to add additional users to help you post jobs and review resumes, or the ability to contact more candidates.
ZipRecruiter Cost and Plans
SIMPLE

(Free Trial)

TEAM4

(Free Trial to Start)

ENTERPRISE

Price

$0

$249/per month

$339/per month

Number of Candidates

Unlimited Candidates

Unlimited Candidates

Unlimited Candidates

Number of Users Per Account

1

1

2

Active Job Slots*

1

4

Customizable

Follow-up Emails to Candidates

0

0

25
Caption: * Note that ZipRecruiter's term "Active Job Slots" refers to the maximum number of ads you can have posted simultaneously. There is NO limit on job postings per month and NO limit on the number of candidates you receive or review.
Different Pricing Opportunities—Call to Get More Details
ZipRecruiter offers different packages depending on the size of your company. For example, if a company with 50 employees signs up for the free trial, it's offered a price of $349 for three job slots. Note, though, that there is a possibility to get as many as 10 job slots for $375. Due to these subtle price differences, we encourage you to do a free trial for your exact size company just to see what ZipRecruiter will offer before you sign up for their paid service.
How Cancellation Fees Are Managed
Also note that ZipRecruiter doesn't pro-rate cancellation fees, so if you cancel one day after your free trial (which is only four days long), or one day after the end of the billing cycle, you'll have to pay for the whole month.
Posting to Specific Websites
Also, if you want to post to a specific job site that's not included, like LinkedIn Recruiter, there's an upcharge of $300-$500 that depends on the location. For instance, if you want to post a job in New York City to LinkedIn, the charge appears to be $499 for a 30-day posting. You can also pay about that much extra to boost your job posting which we'll discuss more below.
ZipRecruiter Free Trial
As we've already mentioned, ZipRecruiter does provide a free trial, with a caveat. It advertises the free trial as a 30-day trial, but you need to cancel within four days to avoid your credit card from getting charged. As long as you cancel by the fourth day, you avoid the first month's charges and you can still access your account for the remaining period.
With the free trial you get the full package features, and can keep any applicant information from job seekers who apply during the trial period.
To cancel a free trial on ZipRecruiter, you have to:
Go to ZipRecruiter
Select "My Account"
Select "Subscription"
Select "Cancel Free Trial"
Posting Your Job on ZipRecruiter in 10 Easy Steps
Quickly and easily posting employment opportunities and locating the best candidates when you're hiring, are two important objectives. In this section, we'll walk you step-by-step through ZipRecruiter's job posting process so you can see what it is like before you sign up. To keep names confidential, we've masked out candidate information on the screenshots.
Step 1: Go to ZipRecruiter, Select Jobs & Begin Your Job Posting
Go to ZipRecruiter.com, and click "Post a Job" on the upper, right-hand side of your screen. A popup will appear prompting you to create an account. You will then be asked to select the number of employees your company has via a drop-down menu.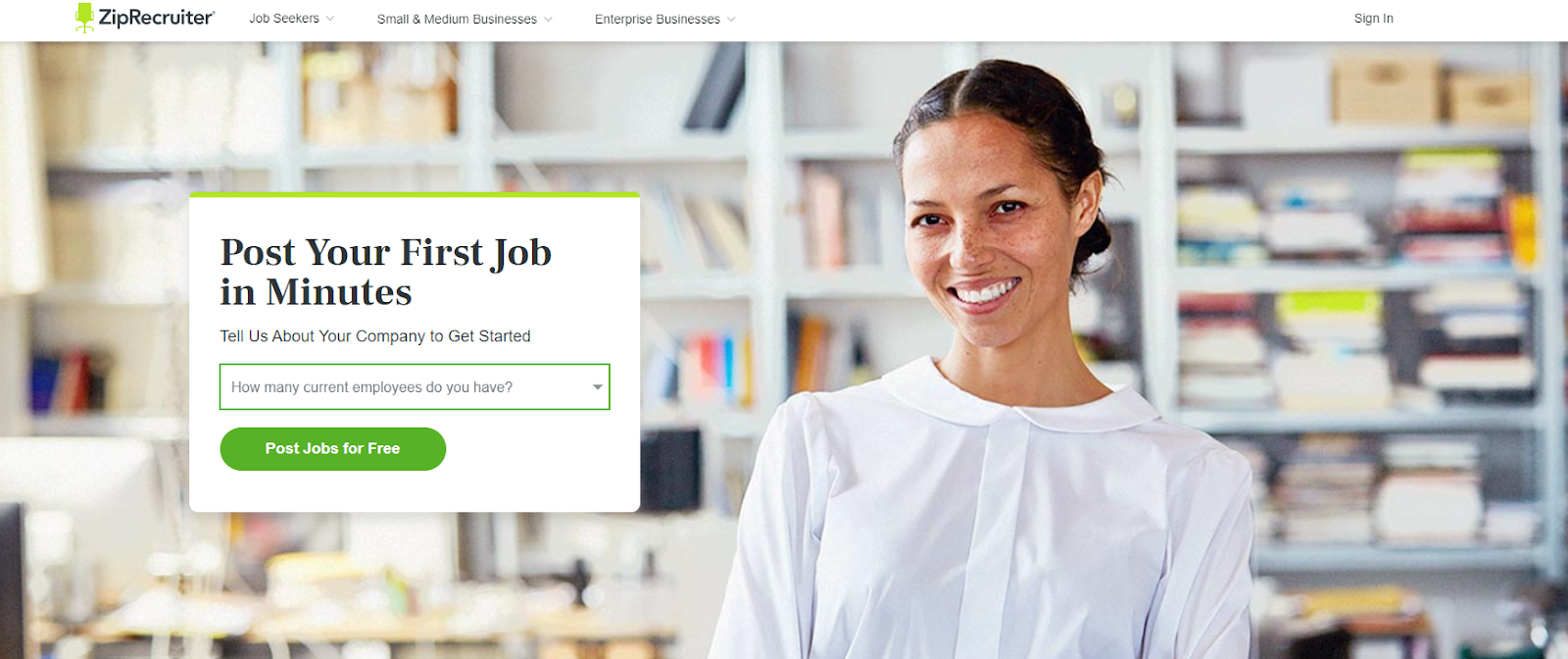 Follow the onscreen instructions to create a ZipRecruiter account.
Once you create an account, you'll see a dashboard, and you can post your first job under the "Jobs" menu. ZipRecruiter allows you to post most jobs except domestic or home/residential-based roles such as housekeeper, nanny, or personal assistant. For domestic or home/residential-based jobs, you might consider using SnagaJob instead.
Step 2: Input Basic Information About the Job
Input the job title, job location, job category, and type of employment. As far as location, you can put in a full address, or just a ZIP code, either will work. If the job will be remote, you still need to list a company location, but you can add the word "remote" to the job title on your post and put in "remote" as the work address on your post.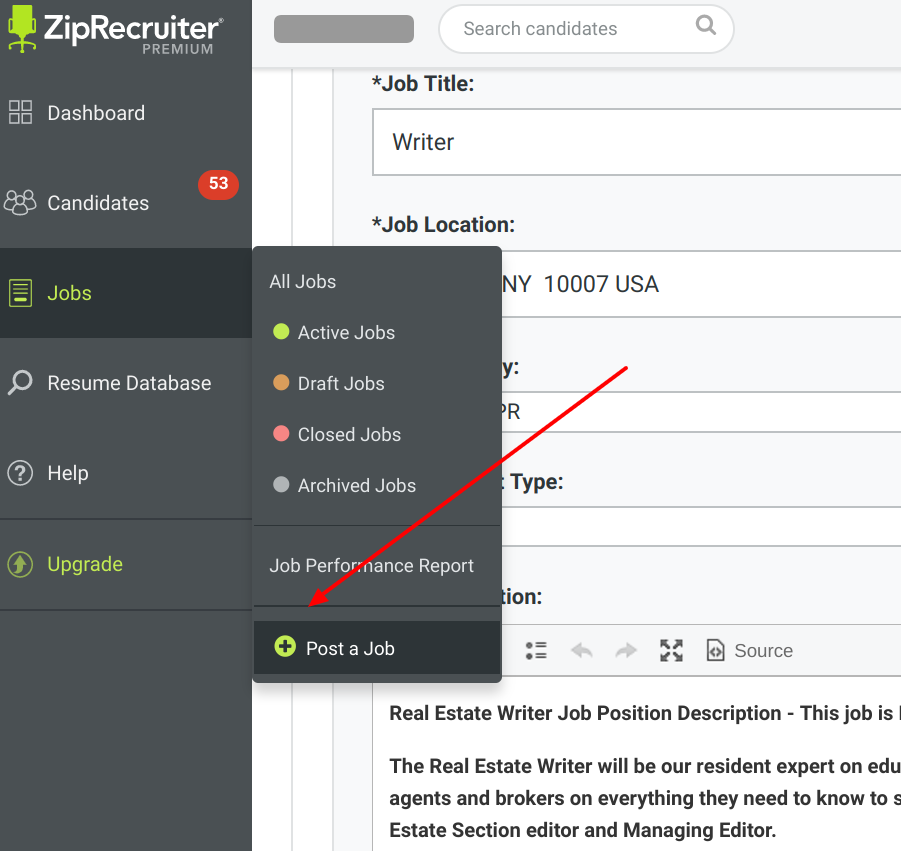 If you can't think of the appropriate job title, read our article on how to come up with a good job title. It's equally important to choose a title that will get clicked on, as it is to choose a title that is descriptive of the person's responsibilities.
Step 3: Input a Good Job Description and List Benefits Offered
Writing a good job description is important to attract the best candidates and to keep others, who do not qualify, from applying. Keep your job description short, informative, and interesting: list job functions, job requirements, and any required education or certification. But keep it simple, with short paragraphs, clear section headings and bulleted details. Most job applicants don't read past the first page. Also consider not trying to fit in the entire job description in the ad. Look for key attributes to the job and leave out lengthier parts of the job description that can be addressed during the interview process.
In addition, ZipRecruiter lets you select which benefits your company offers. Note that you don't have to type that information in manually; just choose from the checkboxes as shown in the screenshot below. Further along in the process, you'll also get to add company info and even your company logo.
Be aware that if it's a "commission only" job, those words "commission only" need to be included in the job description section, or ZipRecruiter will flag the posting because it doesn't want candidates to think they're applying for a salaried or hourly paid job, when it's a "commission only" job.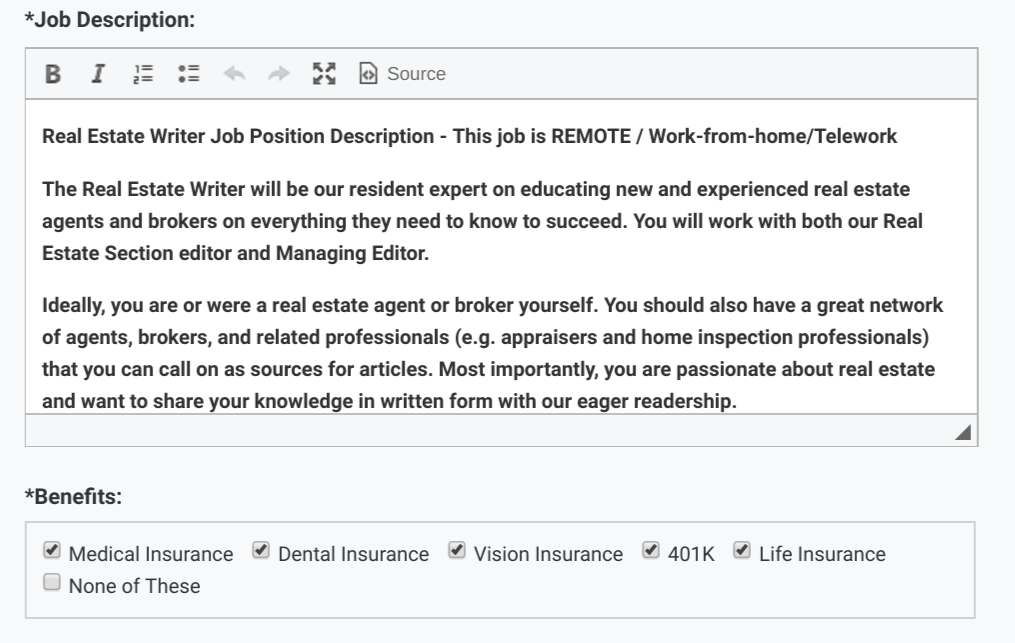 If you're lucky, ZipRecruiter will already have a similar job description for you to start with as you can see in the screenshot below for a second job we posted. You can accept the template and modify it to customize the posting to fit the specific job opening. Note that you can save previous templates in the event that you recruit for the same position multiple times.

Step 4: Finish Your Job Posting With Salary Info & Required Skills
Many employers decide to provide a salary range or rate of pay for their position, the work address (city name, ZIP code, or just a general description such as "Ohio" or "remote"), and then start choosing required skills the candidate should have. One of ZipRecruiters features is that it allows you to put in a salary range.
Step 5: Provide Information About Your Company
Next, you'll come to a section about your company, and this is where you can input information about your firm that will entice job seekers to want to join your company. Provide a little background and company history, share what it's like to work at your company, and if flex-time or remote work is an option, and so on. There is no one way to create this part of your company's profile. This information is posted on every job you'll post on ZipRecruiter, so you only have to fill it in once.
Step 6: Start Your Free Trial or Opt for a Paid Plan
Before your job goes live, you'll need to choose a free trial or paid plan. If you choose the free trial, keep in mind it's only free for four days. You must input your credit card information (even if you choose the free trial), or you won't have the ability to post your job. The free trial is for the Standard Plan, which only includes one reusable job slot. If you are planning to post multiple jobs at the same time, you'll need to sign up for a Premium Plan.
Once you input your credit card and finish registering, you'll get an email confirmation that will tell you exactly how long the trial period is, as well as the exact date and time it ends. Save that email, and if you don't want to be charged for the monthly subscription, cancel it before your trial period ends. Cancellation instructions have been provided above.
Step 7: Post the Job
The job won't post until you select the little check box at the bottom. Once you do that, choose the "Post My Job Now" button, and that's all it takes. Your job will be posted and you'll see this posted with a short wait time.


Step 8: Maximize Your Job Posting Results (Optional)
ZipRecruiter gives you lots of options to increase traffic to your job post, or to encourage passive job candidates to apply to your job.
Options include:
Optimizing Your Job Posting
Adding Screening Questions
Posting on Social Networks
Reviewing Resumes and Contacting Passive Applicants
Let's review each of these options in a bit more detail:
Optimize Your Job Posting
Right after you post your job, you'll see something like this encouraging you to optimize your job description.

These options include things like posting your job opening on LinkedIn for an upcharge, or TrafficBoost, which is an additional advertising service that keeps your job post at the top of the job boards and promotes your job in daily email alerts to job seekers. Traffic boost costs $300-$500 depending on competition in your local area, i.e., it costs more to boost a job in New York than Peoria.
Add Screening Questions
Unlike other job posting sites that let you choose only from a bank of standard questions, ZipRecruiter allows you to add custom questions.
If you're looking for a candidate with a very specific set of skills, you can post the question and make the answer required. This helps you screen out unqualified applicants and saves you time looking through resumes of job seekers who aren't likely to be a good fit for the job.
Post on Social Networks
ZipRecruiter lets you share your job opening on your business social media accounts, like LinkedIn, Facebook, Google Plus. Why not? The more people that see it, the more who might apply. There is no additional cost for this option.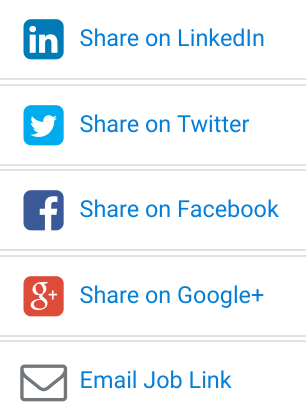 View Resumes & Contact Passive Applicants
ZipRecruiter has a resume bank of over 12 million resumes. They give you unlimited resume views, but depending on your plan, you'll be limited in the number of job seekers you can contact. Looking at and contacting job passive job seekers with active resumes is a great way to encourage qualified applicants to apply to your job.
You can screen thousands of resumes in lots of ways to narrow down the results. An example is shown below searching for candidates with specific skill keywords of "SEO" and "website." You could also searching by:
Location: Choose to find candidates within commuting distance from your office
Prior job title: Helpful if you want someone who has already held a specific job
Prior company: Useful if you're actively recruiting from a specific company that you know has great talent
Freshness: Choose only those with recently updated resumes so you get job seekers who are more likely to respond
Step 9: Start Receiving & Tracking Applications
Below is an example of the email you receive once applicants start applying for your open job. This same data will also be available in a searchable format on ZipRecruiter.
Here's a view of how ZipRecruiter shows your job applicants within your account. You can even see applicants in the process of applying. Some options for viewing and contacting candidates are listed below.
Send Automated Emails to Candidates
You can send emails to each candidate using ZipRecruiter's template auto-reply messages, or if you want to customize your response, or you can do that too. Responding to each applicant via email (even the ones you reject) is a great way to promote your employer brand, and feels more personal than a standard applicant rejection letter.
Track Applicants Throughout the Process
If you opt for a paid account, you'll get features similar to a full blown applicant tracking system to do things like rate and sort your candidates, send them automated emails, and track them throughout the process.
You can track the status of applicants from the get-go, such as: "reviewed," "rejected," "phone screen," "interview," "offer extended," "hired." So there's no need to invest in a separate applicant tracking system or maintain a large quantity of applicant data on a spreadsheet.
ZipRecruiter also thought of everything relating to being able to sort through a large batch of applications. For example you can:
rate applicants to distinguish between the ones you're "interested in" or "unsure" about
add your own custom labels like "tech-savvy," "local candidate," or "worked for a top firm"
add your own notes based on your interview and candidate interactions
Run a Background Check
Although running a background check should not be completed until after a contingent job offer is accepted, you can do it right on ZipRecruiter through GoodHire, for an extra fee, which is priced between $29-$79 depending on the number of background checks you need.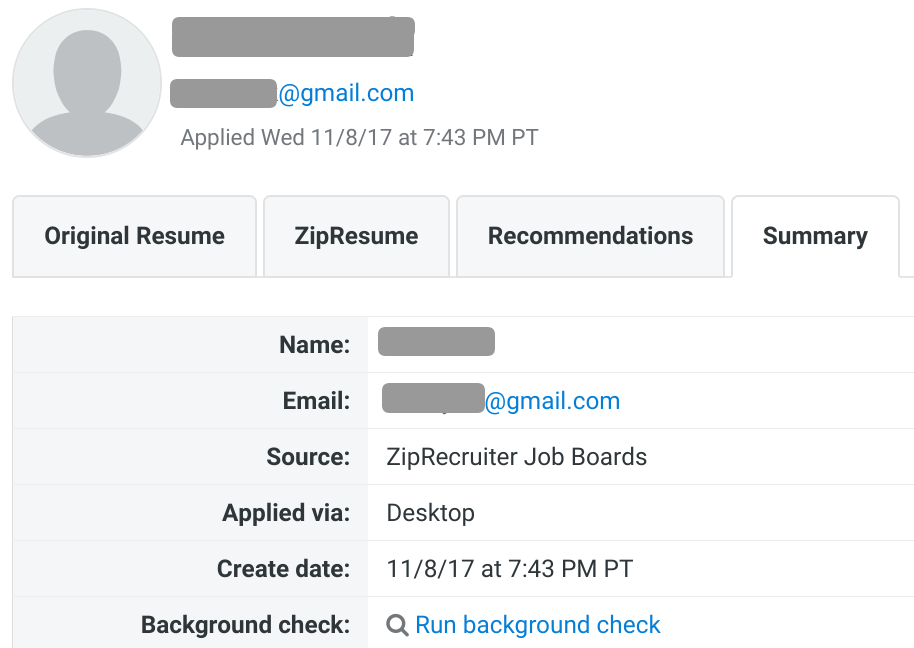 Step 10: Monitor Your Job Posting Results
ZipRecruiter provides a comprehensive Job Performance Report, so you can see how your job posts are performing. For example, in the two jobs we posted, we got plenty of candidates. But if your job posting doesn't get many results, you may need to modify it by getting more specific on your description, paying extra to post the job on LinkedIn, or boosting traffic, in general, to your job ad.
You'll notice on this example, there were lots of applications, without having to pay extra to boost this post. For example, on the SEO Marketing job, 20 people visited the post, and 16 applied. That's 80%. Not bad. Had we chosen to boost the job, we could see the results of that extra spend on this same page.
What ZipRecruiter Is Missing
ZipRecruiter is a great time-saving tool for employers that regularly recruit and don't want to spend time posting to dozens of job boards. However, it isn't perfect so we'll share some of the downsides.
ZipRecruiter doesn't post to the largest job boards, like Indeed, CareerBuilder, or Monster by default.
You can't post domestic jobs on ZipRecruiter, such as a babysitter or personal assistant.
If you want access to specialty job boards like veteran job boards, there will be an accompanying upcharge.
All your applications come into one viewing area, so if you have more than one job, you'll have to sort them by job posting.
As with many job posting providers, ZipRecruiter auto-renews your plan from one billing period to the next.
While there are hundreds of job posting sites that ZipRecruiter links to, there are fewer sites that aggregate job postings as a job search engine, which includes searching for jobs, resumes, and applications across sites like ZipRecruiter does.
Two other job search engines that aggregate jobs are SimplyHired, and LinkUp. Although users have complained that sometimes jobs on those sites are out of date, and both have a smaller network or collective reach (in how many websites they post to) than ZipRecruiter. Otherwise you can choose to post your job on free job posting sites, use recruiting software or post directly on the #1 Job Site, Indeed.
Bottom Line on ZipRecruiter
If you're looking for a holistic aggregated solution to source job candidates, post job openings, track the status of applicants, and give both you and your HR rep access, ZipRecruiter might be a good option for you. There are other free job posting sites like Indeed, and paid sites like Monster, Glassdoor, and CareerBuilder. If you have the budget, the need to post and track a lot of jobs, and want to reach as many job seekers as possible, ZipRecruiter should be your first resource to check out for your all-in-one solution to finding awesome candidates.