A credit card authorization form is a formal document that a customer signs to approve a charge to their credit card. It states that the cardholder agrees to the charges set forth by the merchant. You can use credit card authorization forms as documented proof to validate credit card transactions and protect your business from fraud and chargeback claims.
Download our free standard template below and continue reading for more in-depth information on credit card authorization forms, including additional downloadable templates.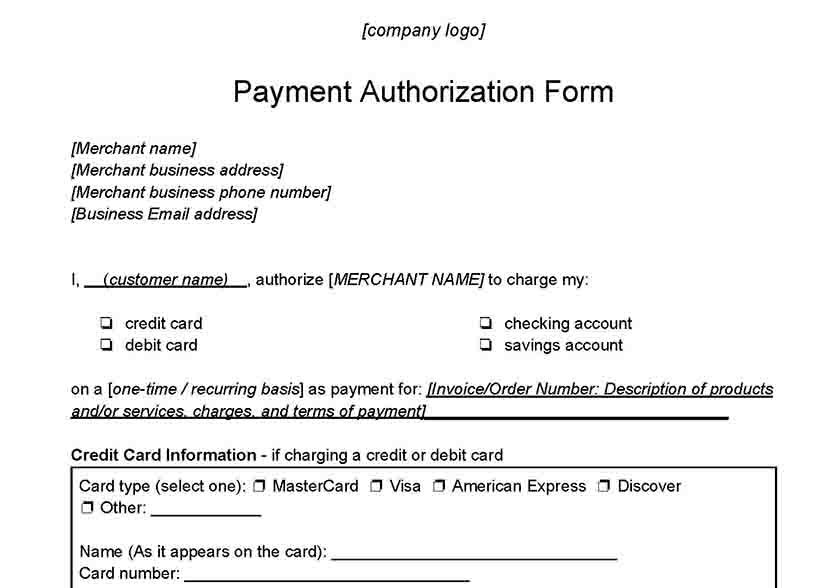 Thank you for downloading!
Want a payment processor with credit card authorization tools and more already built-in? Visit Square to see why it is our top-recommended payment processor.
Visit Square
When to Use a Credit Card Authorization Form
Credit card authorization forms are used for recurring payments and card-not-present (CNP) transactions. A credit card authorization form keeps a customer's card on file so you can charge a credit card at a future date without requiring customer permission every time.
So, you might use these forms if your business:
Sells large-ticket items such as cars, furniture, and computers either one-time or in installments
Provides customers with services in advance, such as gyms and health clubs (memberships), hotels and Airbnbs (incidentals), and rental shops (cars, bikes, equipment)
Lets customers order products in advance, such as custom-made items or special-order spare parts
Provides recurring services such as caterers and event organizers with regular clients
Provides online subscriptions, services, and utilities
If you're still unsure if your business is a fit, you can analyze your transaction types instead. You'll need to have signed credit card authorization forms for:
Recurring payments are required for subscription-based businesses, memberships, and utilities and bills. In a recurring payment business model, customers have to make regular payments to businesses. However, this means they have to remember to make those payments. Learn more about recurring payments.
When you have a credit card authorization form, you can use language that permits you to charge the customer's card without requiring their permission each time. Usually, some form of automation is involved through your point-of-sale (POS), invoicing, or payment software, which helps ensure you receive the payments on time.
Did you know? Some POS systems and payment processors like Square offer free authorization forms and templates you can easily customize and send to your customers. This is just one of the many reasons Square is our recommended payment processor for small businesses. Visit Square to learn more.
---
CNP transactions happen when the physical credit card and the cardholder aren't there at the time and place of the transaction. As such, these transactions are more susceptible to fraud.
A credit card authorization form serves as an extra form of proof for CNP transactions. So, if you fight fraud or chargeback, you have proof of authorization to help make your case.
---
Typically, B2B payments differ slightly from business-to-consumer (B2C) transactions. Payment preferences vary, and more businesses opt for "traditional" payment methods. Although paper checks and ACH deposits are more popular, they're declining and losing ground to credit cards. Learn more about B2B payments.
Credit card authorization forms are especially handy for B2B payments. A few use cases include:
Pre-authorization for company lunches, so anyone can place an order and/or pick it up for the team
Bills sent via mail, such as electric, internet, or business insurance
Software-as-a-service (SaaS) subscriptions
---
Chargebacks happen when your business charges a credit card and the cardholder tells their issuing bank that the charge was not authorized and should therefore be refunded.
Did you know?
It's in every business's best interest to avoid chargebacks. For starters, they cost an average of $240 for every $100 in chargebacks. If you get too many, your business accounts and financial reputation could be at stake. You could get removed from your merchant account and hurt your chance at future loan approvals.
When you use a credit card authorization form, just like in the case of fraud for CNP transactions, it helps validate the legitimacy of the charge. This means that you're more likely to win the case and keep the money—unfortunately, however, there's no way to get your time back. A credit card authorization form may also deter customers from pursuing chargebacks in the first place. Learn more about chargebacks.
---
How to Use a Credit Card Authorization Form
You can use credit card authorization forms in hard copy or digitally. For in-person transactions, it's a good idea to have several hard copies available.
For transactions that don't happen in person, you can mail a physical copy or email a digital copy of the credit card authorization form, so the customer can fill it out and send it back on their own time. They can print it out and sign or sign digitally with a tool like DocuSign or HelloSign.
Now, small business technology is advancing to the point where you can offer digital credit card authorization forms in person, too. If you have tablets set up at your place of business, customers can easily fill out the forms.
What to Include
The information being asked for on credit card authorization forms is more or less the same, but not all information is mandatory. Some include optional fields specific to the product or service. More information offers businesses more security and validation, but bear in mind how collecting this information may impact the customer experience. While someone buying a car may be willing to provide all of this information, it may be overkill for a smaller purchase.
Mandatory Credit Card Authorization Information

Optional Credit Card Authorization Information

Cardholder name
Card number
Card type (Mastercard, Visa, American Express, Discover, etc.)
Expiration date
Cardholder's billing ZIP code
Merchant name
A statement that authorizes the charge(s)
Cardholder signature and signing date

Cardholder's full billing address
Cardholder's phone number
Customer ID number
Merchant address
Merchant phone number
Merchant logo
Purchase amount
Details of purchase
Date of purchase
Invoice and/or purchase order number
Any additional terms and conditions
How to Store It Properly
Every business that accepts noncash transactions is expected to observe Payment Card Industry Data Security Standard (PCI DSS) compliance standards to avoid liability in case of data breach. This includes policies on how to store and manage credit card authorization forms. Note that payment processors and merchant account providers expect businesses to remain PCI-compliant or be assessed for noncompliance fees that start at $19.95 per month.
Here are the PCI guidelines for storing credit card authorization forms:
Do not keep a record of your customers card verification value (CVV) or CVV2. This means you cannot ask for this information on your payment authorization form, or store this information anywhere―on paper or digital―after getting authorization from the customer.
Store completed authorization forms in a secure and restricted area, such as a safe room or filing cabinet. Files should be secured with a lock regardless of where or how it is saved.
Only authorized persons whose job descriptions require use of these completed forms should be allowed to access these records. Make sure to keep a physical log with a detailed record of personnel who go in and out of the secured storage.
Your emails and even the PDF file itself should always be encrypted or password protected (when possible) before sending out a copy to your customer or relevant financial institution. Use a secure file transfer application if you have a client portal.
Do not keep canceled authorization forms for more than three months in anticipation of possible chargebacks
Free Credit Card Authorization Form Templates
There are a few types of credit card authorization forms, and you may want to choose one over the other depending on your business type. We provided our standard payment authorization form above, which you can use if you process both single payment and recurring credit card or ACH (direct-to-bank) transactions.
Click through the sections below for additional free credit card authorization form templates.
Single Payment Card Authorization Form
Use this credit card authorization form template if your business requires future one-time credit card transactions.
Recurring Payment Card Authorization Form
Use this credit card authorization form template if your business needs to hold a card for future payments such as incidental charges, installments, subscriptions, and utilities.
Credit Card Authorization Form Frequently Asked Questions (FAQs)
Any business that accepts remote (card-not-present) payments through credit cards is required to use credit card authorization forms. Your customer's bank will expect a copy of the credit card authorization form when you request payment for validation.
---
Banks look at a merchant's chargeback ratio (frequency of chargeback claims for a certain period) before approving a merchant account. Merchants with a high chargeback ratio will find it difficult to get one because banks consider them high-risk.
Using a credit card authorization form is one of the easiest ways to protect your business from fraudulent chargeback claims and maintain a healthy chargeback ratio. Learn about chargebacks and how to prevent them.
---
In a way, there are. Use of credit card authorization forms is part of PCI Compliance standards. Therefore, if you process card-on-file transactions without a credit card authorization form (or store them improperly), your payment processor may charge you a PCI non-compliance fee. This costs anywhere from $10–$30 per month or up to $10,000 for one to three months for high-volume merchants. In 2022, every $1 lost to fraud cost US retailers $3.75.
Read more about PCI compliance.
---
Yes. The PCI compliance standards enumerates a significant list for storing credit card authorization forms as part of its 12 goals for securing cardholder data. Sensitive information, such as security code and CVV, is never recorded on the form. Also, completed authorization forms should be properly stored in a safe room or filing cabinet with access limited only to employees who require the document to perform their duties.
---
The authorization form should only be valid until the transaction or all payments (for recurring charges) have been completed. Your credit card authorization form will only be accepted specifically for transactions indicated in the document.
---
Card-on-file is card holder information that customers have signed up for recurring payments on your POS platform. It always comes with a credit card authorization form completed by the customer as a form of consent to charge their credit cards for future transactions.
---
Bottom Line
A credit card authorization form might sound unnecessary, but it can come in handy when fighting fraud and chargebacks. This simple step can be the difference between a won or lost chargeback dispute and being approved for a merchant account or better transaction rates.