What Is an ACH Payment & How Does it Work?
This article is part of a larger series on Payments.
Automated clearing house (ACH) payments are simply direct bank transfers of payments between people and businesses. If you process sales online or through invoices, then ACH transfers can save you time and money. The ACH network is overseen by Nacha, which connects all US financial institutions to enable secure movement of money from one bank to another.
How ACH Payment Processing Works
Setting up ACH payments is easy, and most payment processors allow ACH payments. (See below for some of the best.) As a merchant, you provide the transaction total or subscription amount to the customer. The customer in turn shares their banking information, routing number, and account number, and authorizes the charge. The customer's bank, the Originating Depository Financial Institution, or ODFI, releases the charge to your bank, the Receiving Depository Financial Institution, or RDFI.
This process can take one to three days. That's because ACH payments are based on a system of credits and debits, which is tracked by the ACH clearing facilities, the Federal Reserve System, and The Clearing House Association. At the end of each day, all credits and debits are cleared and processed, which is when the transfer of funds happens.
Pros & Cons of ACH Payments
PROS

CONS

Lower processing rates
Customers may be limited by their banks
Great for recurring payments
Can be delays in transfers
Reliable
Some banks charge fees
Preferred by B2B
Some banks don't allow international transfers
Great for customers who prefer to pay by check
Perfect for payroll
ACH payments are an efficient form of payment that is increasing in popularity. According to Nacha, ACH payments increased 8.2% in 2020, with the value ($619 trillion) representing an increase of 10.8%. Nacha says the pandemic and rise of online businesses is responsible for a lot of the growth. In 2020, over 2 billion new payments were added.
ACH Payments Offer Lower Payment Processing Rates
There's no way to accept credit payments online for free, so the best you can do is minimize the cost of payment processing fees. ACH payments usually have lower fees than credit and debit card transactions. For example, Square charges 1% per ACH transfer, but 3.5% + 15 cents per transaction.
---
ACH Payments Are Ideal for Recurring Charges
Many small businesses that bill on a recurring basis prefer ACH payments. Some examples include subscriptions, rent or leases, and monthly retainers for services. It works better because bank account information is less likely to change than credit cards, which expire, get lost, or are canceled. In fact, Mastercard says ACH transfer is the most popular payment method for recurring payments.
---
Many B2B Businesses Use ACH Payments
Businesses use ACH payments more frequently than consumers. In fact, 70% of the Mastercard survey respondents said they're "fine" with using ACH for B2B payments and 75% are satisfied with this payment option for both sending and receiving funds. ACH payments are great for large purchases like wholesale goods or equipment. (Learn more about specific B2B payment solutions.)
---
ACH Payments Offer Contactless & Online Solutions
As the COVID pandemic has accelerated our adoption of digital-first ways of doing business, accepting credit cards online has become critical. However, not every consumer uses credit cards or prefers this method. While there are some payment alternatives like PayPal, ACH transfers offer a great alternative for those who are more comfortable paying outright, as if by handwritten check.
---
Use ACH Payments When Processing Payroll
ACH payments are not just for accepting money. You can use them for making payments yourself, whether for rent on your building, supplies for your store, or payroll for your employees. Many employers issue wages to their employees via ACH direct deposit. This eliminates the paperwork and costs associated with paper paychecks. Plus, it puts funds in workers' pockets a lot more efficiently.
---
Top-Rated Merchant Services With ACH Processing
Square: Best for Retail
Square

What We Like
Free POS
Easy to use
Transparent, flat-rate pricing
No monthly fees or minimums
What's Missing
Only works with Square products
Higher transaction fees
Account stability issues
Square Pricing
Basic POS system: $0
Advanced POS system: $60/month
ACH fees: 1% (minimum $1)
Card-present processing fee: 2.6% + 10 cents per transaction
Keyed-in processing fee: 3.5% + 15 cents per transaction
Instant payout fee: 1.5%
Virtual Terminal: $0
Card readers: From $49 (first one free)
Terminals: From $299
No chargeback fees up to $250/month
30-day free trial for Plus plans
Square invariably ranks high on our lists of the top software for POS, payment processing, restaurants, salons, and more. Charging only payment processing fees, it's a good choice for hobbyists, solopreneurs, or SMBs. Plus, it offers excellent tools for payments, inventory, and appointments, plus native and third-party integrations so it can grow with you.
Free POS software (advanced software $60/month)
Specialty POS for restaurants, salons, services
Free online store
Free virtual terminal
Free invoicing/recurring payments
Free mobile app
Chargeback fees waived to $250/month
Highly rated by users: average of 4.68 out of 5 on third-party software review sites and 4.67 out of 5 for mobile
Authorize.net: Best Payment Gateway
Authorize.net

What We Like
Popular for integrations
Reliable
Discounts for nonprofits
What's Missing
Monthly fee
No POS hardware
Authorize.net Pricing
Monthly fee: $25
ACH fee: 0.75% per transaction
Card-present processing fee: 2.9% + 30 cents per transaction or 10 cents per transaction and 10 cents batch fee
Chargeback fee: $0
POS system: $0
Virtual Terminal: $0
Card readers: $65
Terminals: Third-party
Authorize.net is an extremely popular credit card processor and payment gateway that also has the best rate for ACH transactions. One drawback is the $25 monthly fee, but if you do enough sales, the lower rates may pay for it. Authorize.net integrates into over 140 certified business solutions from accounting to sales kiosks and online shopping carts.
Plans for payment gateway or merchant account + gateway
Free virtual terminal
Integrates with POS systems
Recurring payments/subscriptions
Level 2 and 3 processing
Often pays within 24 hours
Stripe: Best for Online Integrations
Stripe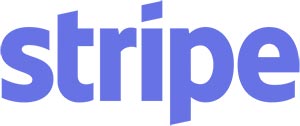 What We Like
Flexible
International currencies
24/7 support
What's Missing
Requires technical expertise
Not for high-risk businesses
Stripe Pricing
Monthly fee: $0
ACH: 0.8% (max $5)
In-person processing fee: 2.7% + 5 cents per transaction
Online fee: 2.9% + 30 cents per transaction
International cards processing fee: + 1% for cards, +1% for currency conversion
Instant payouts: Add 1%, min 50 cents
Discounts for volume sales, multi-products, interchange plus
Chargeback fee: $15
Virtual Terminal: $0
Card readers: $59
Stripe is a leader for online payment processing because it's such a highly integratable service. It takes more technical skill than other ACH processors on this list, but is a favorite among web designers and IT because it is so flexible. It's ACH fee is highly competitive and the $5 cap is excellent.
35 countries, 135 currencies
Easy integrations
Free virtual terminal
Recurring billing/subscriptions
Free POS
Over 700 ready-made integrations
International transactions
QuickBooks Payments: Best for B2B and QuickBooks Users
QuickBooks Payments

What We Like
QuickBooks integrated
Includes invoicing
Affordable plan for freelancers
Discounts for high-volume sales
What's Missing
Must have QuickBooks
Help and support problematic
POS system costs extra
QuickBooks Payments Pricing
Monthly fee: $15–$150 (for QuickBooks)
ACH fees: 1% (Max $10)
In-person processing fee: 2.4% + 25 cents per transaction
Keyed-in processing fee: starting at 3.4% + 25 cents per transaction
Discounted rates for high-volume
Card readers: From $49
Terminals: From $119 for stand (iPad not included)
30-day free trial
QuickBooks Payments requires you to subscribe to QuickBooks Online, so if you need accounting software, this is a good solution. Because its fee maxes out at $10, it's also a great choice for businesses that sell high-ticket items or services, including B2B businesses. It's a great choice for freelancers. QuickBooks in our list for best payroll software, best invoicing software, best time tracking software, best B2B payment solutions, and more.
QuickBooks POS (extra)
Free virtual terminal
Free invoicing/subscriptions
Usually pays next business day
Hundreds of integrations to business software
Can set up deposits to go into different accounts
Mobile app
Payment Depot: Best for High-Volume Sales
Payment Depot

What We Like
Free gateway and virtual terminal
Free mobile app
90-day money-back guarantee
Integrations
What's Missing
US merchants only
Monthly fee
Best only for processing over $10,000 monthly
Payment Depot Pricing
Monthly fee: $59–$99
Transaction fee: Interchange +

8 cents (Card-Present)
15 cents (Card-Not-Present)

Chargeback fee: $15
No setup fees, cancellation fees, or long-term contracts
Free virtual terminal and payment gateway
Most plans include free hardware
$19.99 fee for businesses that fail to be PCI compliant
Payment Depot works best with high-volume businesses processing over $10,000 in credit card or ACH sales. It ranks among our top picks for cheapest credit card processing companies, general merchant services, restaurant payment processing, and others. While it charges a monthly fee, it offers interchange-plus pricing on transactions. Payment Depot does not specify its charges for ACH, but says that banks usually charge 20 cents to $1.50 per transaction, and that it works to get you the lowest rates possible.
Interchange-plus pricing
Level 2 and 3 payment processing
Choice of virtual terminals
Integrates with POS software, may provide it as part of a plan
Mobile app through SwipeSimple
International transactions accepted
Excellent customer support
PaymentCloud: Best for High-Risk Merchants
PaymentCloud

What We Like
Competitive rates
Great customer support
Same-day setup (upon approval)
What's Missing
Non-transparent fees
Limited support for CBD products
PaymentCloud Pricing
PaymentCloud does not list pricing, which is common for high-risk merchant services as the rates will depend on your specific business. PaymentCloud offers multiple options for payment processing, software, and hardware. Contact sales for more information.
Chargeback fee: $25
PaymentCloud focuses on high-risk merchants, whether because of area, industry, or items sold. In fact, it's our top-recommended high-risk payment processor. It does not disclose rates, but Cardpaymentoptions.com lists PaymentCloud at $25 per month, with a transaction rate of 3% to 6.5% per transaction and chargeback fees of $25. This is only an estimate for a specific use case.
High-risk merchants
Works with multiple POS systems
Works with multiple virtual terminals
Recurring payments/subscriptions
Strong chargeback protection
Highly rated by users: average 4.6 out of 5 from third-party user review sites
Bottom Line
While you should still accept credit cards and other payment forms, ACH payment processing can help lower payment processing fees, improve the customer experience, and reduce your risk of credit card fraud. Many of the best merchant services for small businesses have built-in solutions for accepting ACH payments from customers.
You May Also Like …