Top 5 Expired Listing Scripts That Convert (+ Free Download)
Scripts for expired real estate leads are created to gather data from expired leads and develop relationships with them. Effective real estate expired listing lead scripts are conversational, empathetic, and customer-focused—persuading the lead that you are the best person to assist them with their real estate needs. To help you convert expired leads into active listings and sales, we've created a few scripts, including the casual approach, empathic expert, and harder sell scripts.
If you don't want to manually scour MLS (multiple listing services) and go searching for contact information yourself, a service like REDX will do it for you for as low as $59.99 per month. In addition to waiving setup fees (a $149 savings), it also offers free scripts and role-playing assistance for free to help you gain confidence. Click on the button below to get started.
Both new and experienced real estate agents can download and utilize these expired listing scripts to avoid miscommunication and stay focused during phone conversations.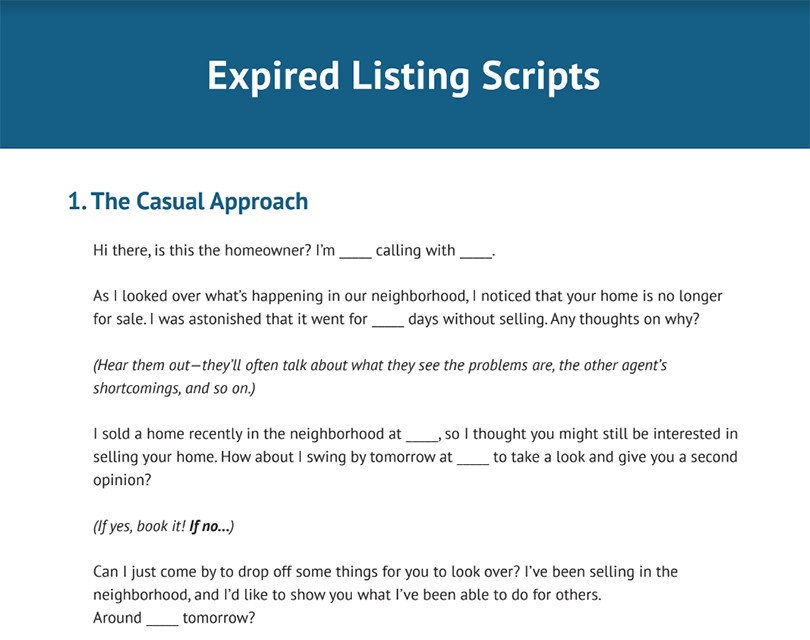 Thank you for downloading!
💡 Quick Tip:
REDX offers high-quality leads, such as expired, FSBO, FRBO, and preforeclosure leads. It provides affordable pricing starting at $39.99 per month. In addition, the REDX system dials as many leads as possible to get you on the phone, and its power dialer maximizes client contact.
Visit REDX
Continue reading through the article for a better understanding of why and how each script works.
1. The Casual Approach
Hi there, is this the homeowner? I'm _____ calling with _____.
As I looked over what's happening in our neighborhood, I noticed that your home is no longer for sale. I was astonished that it went for _____ days without selling. Any thoughts on why?
(Hear them out—they'll often talk about what they see the problems are, the other agent's shortcomings, and so on.)
I sold a home recently in the neighborhood at _____, so I thought you might still be interested in selling your home. How about I swing by tomorrow at _____ to take a look and give you a second opinion?
(If yes, book it! If no…)
Can I just come by to drop off some things for you to look over? I've been selling in the neighborhood, and I'd like to show you what I've been able to do for others. Around _____ tomorrow?
Why This Script Works
Instead of immediately putting the attention on yourself, this script for expired listings starts by hearing the homeowner's perspective. It's very conversational, concentrating on asking questions rather than selling while still controlling the conversation. It slowly leads the seller to accept an appointment, making it a great casual approach to real estate expired script.
This script helps you gauge their point of view and where they need help the most, and opens the door to a natural conversation without making your real estate lead generation efforts seem overly pushy. In addition, by offering to look at their house personally, you are giving them an easy place to get answers.
Pro tip: If this is the first time you're speaking with someone, they may be hesitant to let a stranger enter their home. Instead, you can offer them a Zoom consultation or meet in a public place like a coffee shop or restaurant to introduce yourselves in a more comfortable setting.
2. The Empathetic Expert
Good morning. Is this the homeowner? I'm _____ calling with _____.
I looked at the homes for sale in the area daily and noticed yours was no longer listed. It's a great home, and I was wondering what happened.
(Listen to what they have to say.)
Where were you planning to move to after you sold the house?
(Engage them in conversation a bit around this.)
So, do you have a deadline for when you'd want to sell the house to get there?
(If they say they don't have a deadline or don't need to move…)
I can get you where you want to be. What kind of time and attention did your last agent offer you? How many offers? Do you know what type of marketing they did?
(They likely don't have good stats.)
I know you're probably pretty frustrated and think all agents are the same, but I'd love to show you my approach. I work hard, and I recently sold a home at _____.
How about this Saturday at _____? I won't take much of your time, and you'll likely find it worthwhile to at least get another take.
Why This Script Works
This script for expired listings effectively shows the homeowner that you care about their experience instead of just making a sale by asking many different questions about their home. It also helps you learn more details about the homeowner, the listing, and how you can help it sell.
Another example of an empathetic script similar to the above example is in the #Relentless coaching video by Brendan Bartic, a real estate coach. Brendan demonstrates and explains how to use the script to convert leads into clients. He says you must always stick with the script no matter what your potential leads say because the script has a rhythm that works, and you just have to go straight to it.
3. The Harder Sell
Hi, is this the homeowner? I'm _____ calling with _____.
I was calling because I noticed you recently took your house off the market. It's such a lovely home. What happened?
(Listen to what they have to say.)
I'm so sorry. It seems like you had a terrible experience. Well, I really like your home, and I was wondering if you were considering re-listing it?
(If not, ask why. If so, OK!)
How did you find your last agent?
(Usually a friend or referral.)
Well, I might not be someone you've met previously, but I thought you might be interviewing agents more formally this time, and I'd love to show you what I've been doing in the neighborhood and how I can help get you where you want to be.
Where are you heading when you sell the home?
(Listen and give some encouragement.)
How about I come by this Saturday for 15 minutes—tops—and show you how I sell homes? It's likely a far different approach than you've seen before.
Why This Script Works
This script directly addresses the seller's previous agent. The script demonstrates how you are different from their past agent and that you are truly sincere in helping them to sell or buy their property by offering to meet them and view their home for 15 minutes.
When you visit a seller's home, bring a prelisting package with you that contains a brief professional and personal biography, brokerage introduction, company performance statistics, and marketing and advertising plans. Also, it is a simple way to connect in person and show your value to a potential client.
4. The Neighborhood Expert
Hi, is this the homeowner? I'm _____ with _____.
I work in the neighborhood and noticed that your home was no longer for sale. Are you planning to put it back on the market?
(Listen—they will sometimes say "maybe later" or "not for a while.")
I understand why you might feel discouraged—it's a great house. Any idea why it didn't sell? Any offers?
(Listen to what they have to say.)
I was surprised to see it on the market for ___ days; I assumed it would be gone in a few weeks. What made you all decide to sell? Where are you moving to?
I know you've likely had a few people calling you, but as I said, I've worked in the neighborhood for ___ years, I know this neighborhood, I've sold homes in this neighborhood, and I'd love a chance to sell your home or at least take a tour and see what might be holding it back.
Could I come by this Saturday at _____? I'm happy to give you some feedback.
Why This Script Works
By emphasizing your expertise with their neighborhood, this script helps the homeowner feel you are knowledgeable about their problem, even if you've never actually met. Offering to view their home becomes easier if you are familiar with and already in their neighborhood regularly.
Research the property through multiple listing sites (MLS) before reaching out. This will prepare you with statistics about the property and neighborhood regarding days on market, average list and selling prices, and the number of homes on the market.
5. The Outstanding Agent
Hi, is this the homeowner? I'm _____ calling with _____ about your home.
I noticed it is no longer for sale. I'm sorry to see it didn't sell. It's a great house—I really like the (name some features), and I thought it would be a fantastic fit for a buyer out there.
(Listen for things like "yeah, it didn't sell," or "'it's not the right time," or "'it's a slow market.")
Do you know why the home didn't sell? Hmm…well, do you know what your agent did to help get the home sold?
(Maybe an open house, for example.)
Well, there's a reason I sell homes in this area, and I have a lot of ways that I market homes that might give your home an advantage if you're looking to interview agents in the future. I have a proven track record of closing deals quickly—in fact, over 80% of my listings sell within the first 30 days, often for more than the asking price.
(Plant the seed but keep moving in the script.)
When did you want to move by? Where are you heading? Wow, well, I could certainly help get you there by (date).
I just sold the house at ________. Could I swing by and look at your home this Saturday at ____?
(If yes, book it. If not…)
I'll give you my honest opinion and tell you a little about what I do that's different. You probably feel discouraged now, but not all agents are the same.
How about I swing by on Saturday? We'll chat for 10 minutes, and I'll give you some thoughts.
Why This Script Works
This script focuses primarily on your expertise and ability to sell a client's home even though someone else failed. State your track record of closing deals on how quickly you've been able to sell houses and how well you can achieve or even exceed listing prices.
In addition, include real estate statistics showing pictures and data for comparable properties in the area to display your neighborhood expertise. This will provide value to the seller and show you are knowledgeable in your craft. You can also use these statistics to inform unique ways of marketing homes to pique the homeowner's interest enough to want your feedback and ideas for their home.
How to Find Expired Listings Quickly
These expired listing scripts are designed to convert your expired listing leads into appointments. However, cold calling expired listing leads is a numbers game, and you'll need to find leads first. To get expired listings, use cold call scripts and follow these strategies:
Identify expired listings with the MLS: Manually search the MLS and export or copy and paste each expired listing lead into a contact list or client relationship manager (CRM).
Ask other real estate professionals: Develop and foster relationships with real estate agents who are open to exchanging and referring their expired listings with leads of your own through networking, email, and social media.
Buy expired listing leads: Buy leads from various real estate lead sources like REDX or Landvoice.
Search on your area's public records archive: Visit your city hall or county courthouse to request access to listing records in your area. These records provide valuable information like the purchase price history, divorce proceedings, estate references, and time on the market.
How to Create Your Own Expired Listing Script
While our five expired listing scripts work well, after you gain more experience, you may want to craft your own script to reflect you and your unique personality. Here are items to be sure to include when you create an expired listing script:
Introduction: Be sure to introduce and mention your name, what you do, and your agency.
Acknowledgment: The first step in helping a potential client solve a problem is to get them to acknowledge there is one. Make it clear you know the home is off the market while being sympathetic to the challenges they may be facing.
Periods of listening: Allow the homeowner to speak, feel heard, and explore their perspective.
Statement of expertise: Set yourself up as an area expert and problem-solver.
Unique benefit: Let them know why you are different while making them curious to learn more about your services.
Look to the future: They are likely to be disappointed or frustrated based on their past experience. Use words that inspire optimism and help them refocus on the future.
Call to action: Your goal for cold calling leads using expired listings scripts is to get an appointment. Always ask when they are free to meet you for an appointment before you hang up.
Tips on Using Expired Listing Scripts to Get Appointments
Many people dread making cold calls. However, one way to overcome cold calling reluctance regarding expired listings is to remember that the homeowner shares your goals. They want to sell the home, they want to focus on the future, and they want to solve the problem of selling the house. Therefore, the biggest tip for using expired listing scripts is to give homeowners ample time to be listened to and heard.
Use these additional tips to ensure you communicate effectively on every call:
Be confident: When you have confidence in yourself, your tone of voice changes entirely. A self-assured person is perceived as a well-organized, informative, and trustworthy real estate agent.
Don't push the lead too far during your first interaction: Focus first on making a genuine connection and offering help rather than pushing a real estate agenda on the seller.
Open the door for natural conversation: Try asking, "When you sell this house, where do you want to move?" or "What are your plans for after selling your home?" Giving open-ended questions prompts sellers to continue the conversation with you.
Understand who you're calling and show empathy: These owners may have a reasonably negative perspective on real estate agents and can be frustrated. Use this to relate to their feelings and showcase how you can help them.
Be yourself: Practice your script over and over so it feels natural, and make adjustments to convey your own voice.
Follow up: These may not be the most eager leads, so politely following up is where you can prove your expertise and dedication. You can follow up by sending a handwritten letter or dropping off a package.
Learn more about how one pro, Realtor Jason Wang of Charleston, South Carolina, converted a frustrated homeowner into a happy client by watching the REDX podcast episode on expired leads below. Jason shared some tips, such as how you should memorize, internalize, master, and personalize your scripts, to generate and convert high-quality leads into clients successfully.
Bottom Line
While using real estate scripts for expired listings is probably out of your comfort zone, you actually have many common goals with the sellers. Focus on connecting with homeowners and showing them that you will help them sell their property with your expertise. Though they may be hesitant and need a few follow-ups, being able to sell their home will be a notable success for both you and the seller.