2023 Stax Payments Review: Pros, Cons & Alternatives
This article is part of a larger series on Payments.
Stax (formerly Fattmerchant) is a subscription-based merchant services provider with wholesale interchange-plus pricing rates, advanced invoicing and billing software, and unique add-on tools like SMS text-to-pay and white-label-customer portals.
In our review of merchant service providers, Stax earned an overall score of 3.89 out of 5. Because of its monthly subscription fees, we find Stax is best for businesses that process at least $20,000 in sales per month.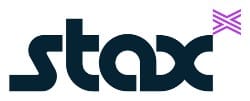 Pros
Wholesale payment processing rates
Effectively month-to-month contract*
All-in-one solution
Cons
High price range for monthly fees
Does not have same-day funding and has fees for next-day funding
Level 2 Processing, ideal for business-to-business (B2B) for card-not-present transactions, is an add-on
*Learn more in our section on contract and terms of service.
Supported Business Types

Flexible

Retail, professional services, nonprofit, subscription, and B2Bs

Standout Features

Wholesale interchange-plus pricing
Subscription-based
One-click shopping cart
Cheap invoicing and recurring billing
Surcharging
Level 2 processing available to all merchants
First month free subscription

Monthly Software Fees

High

$99 to $199

Setup & Installation Fees

$0

Contract Length

Effectively month-to-month

Point-of-Sale (POS) Options

Integrates with most retail POS system and ecommerce shopping carts

Payment Processing Fees

Very competitive

Card-present transaction: Interchange plus 8 cents
Card-not-present transaction: Interchange plus 18 cents

Customer Support

24/7 phone and email support
Extensive user knowledge bases
| | | | | |
| --- | --- | --- | --- | --- |
| Best for | High-volume businesses needing billing or recurring payments | Automated discounts for large-volume retailers | Low-volume merchants with less than $10,000 in monthly transactions | Subscription-pricing with lower monthly fees and processing limit |
| Monthly fees starting at | $99 | $0 | $0 | $79 |
| Card-present transaction fee | Interchange + 8 cents | Interchange plus 0.10% plus 5 cents to 0.30% plus 8 cents | 2.6% plus 10 cents | Interchange plus 8 cents |
| Keyed transaction fee | Interchange + 18 cents | Interchange plus 0.20% plus 10 cents to 0.50% plus 25 cents | 3.5% plus 15 cents | Interchange plus 18 cents |
| Ecommerce transaction fee | Interchange + 18 cents | Interchange plus 0.20% plus 10 cents to 0.50% plus 25 cents | 2.9% plus 30 cents | Interchange plus 18 cents |
| | | | | |
Are you looking for the lowest rates? The payment processing rates you will pay can vary based on your business' size, type, and average order value. To find the most affordable option and compare multiple processing rates, read our guide on the cheapest credit card processing.
When to Use Stax
For fast-growing businesses: Great overall value for growing businesses.
Professional services: Stax offers advanced recurring payments tools.
Subscription-based retailers: Get stored payment and recurring billing tools with Stax
When to Use an Alternative
Stax Overview
Of all the merchant account providers and payment processors I have reviewed over the years, Stax stands out for successfully building its niche around subscription-based merchant services. Its wholesale transaction fees come with invoicing and billing software, recurring and stored payment options, customer relationship management (CRM), and fraud management tools that rival Helcim and Stripe. Stax also offers a custom pricing model for businesses that process more than $500,000 annually.
Meanwhile, Stax's monthly subscription fees, which start at $99, are quite expensive for smaller businesses (top competitors' monthly fees range from $0 to $60). New merchants and businesses with low-volume sales—those that prefer being able to start accepting payments fast—may also find Stax's custom pricing, application, and setup process somewhat overwhelming.
That said, Stax is overall an outstanding choice for merchants, particularly ones that handle a large part of their transactions through invoicing or recurring billing. Wholesale interchange rates and free access to a suite of advanced payment processing tools make this provider one of the best solutions for high-volume businesses.
Stax is also one of our few recommended processors that offers surcharging. Surcharging allows merchants to pass along processing fees to customers. Stax's solution has state-level compliance and can detect debit vs credit payments.
Stax Fees Calculator
Enter your monthly sales volume information to get an estimate of Stax fees.
The scoring system for our Stax (formerly Fattmerchant) pricing category focuses on the provider's affordability to small businesses. So, while Stax offers great value for money, its pricing structure is not as "small-business-friendly" when compared to similar providers like Stripe, Square, and Helcim, which offer zero monthly subscription fees. In general, users will get the most value with Stax if they process larger-volume transactions to make the (minimum) $99 monthly fee sustainable.
Stax claims to be the first flat monthly subscription model that allows you to save up to 40% on credit card processing. Each monthly plan has its own annual processing limit and offers a 0% markup on the direct-cost interchange. This means you pay a monthly membership in exchange for the direct cost of transactions and authorizations by card providers.
Stax Small Business Plans
Small businesses processing up to $250,000/year: $99 per month
Small businesses processing $250,000 to $500,000/year: $199 per month
Small businesses processing over $500,000/year: Custom pricing
All the plans come with full, unlimited access to:
Dashboards and analytics
API key integration capabilities
Digital invoicing
Text2Pay mobile payments
Website-hosted payment links
Stored payments (card-on-file)
Recurring invoices and scheduled payments
Automatic updates for stored cards
One-click shopping cart set-up
Data exports
QuickBooks Online sync
Note that the first month is free for every new merchant account. There are also no additional costs for 24/7 customer service or online reporting.
Optional add-ons to boost your business operations are also available, but you will need to contact Stax for pricing details:
One-click shopping cart
Terminal protection
Custom branding
Next-day funding
Digital gift cards
Level 2 processing
Hardware/terminals
ACH processing
With a subscription plan, you only pay for the direct cost of interchange and authorization determined by each major card brand (Visa, Mastercard, American Express), and cents per transaction.
For businesses processing up to $500,000 annually:
$99 to $199 monthly fee
Interchange plus 8 cents per card-present transaction
Interchange plus 18 cents per card-not-present transaction
Other card types and brands supported by Stax are:
Discover
Pin Debit
JCB Dining
EBT
Health Flex
Wex
Voyager
---
Stax supports several hardware options for in-person payments, including mobile card readers as well as mobile and traditional terminals.
Stax Hardware Update: Stax no longer includes a card reader or terminal for free with the monthly plans. It also does not offer free hardware reprogramming for those who already have card readers or terminals.
Stax offers Clover, Dejavoo, and Swipe Simple devices. Here are the card readers and terminals available for Stax:
Clover POS Terminals are a range of payment processing hardware from Clover, which includes everything from handheld devices to countertops with a customer display.

 

Dejavoo Systems' countertop terminals support swiped, dipped, and tapped in-person payments. The higher-priced models are Wi-Fi-ready and provide contactless payment options.

 

The Swipe Simple B250 Reader is a mobile card reader for iOS and Android. It supports EMV, magnetic stripe card types, contactless tap-to-pay cards, and mobile payments like Apple Pay and Google Pay.

 
---
A closer look at Stax's terms of service, which you'll find when you first access your Stax account dashboard, shows that there is a three-year initial term with a one-year auto-renewal clause. Having said that, Stax does not charge any cancellation fees, so you are free to terminate your use of Stax at any time, provided you give 30 days' notice.
When we reached out to Stax for clarification on this, it confirmed that this clause is required by Stax's back-end processor but is not enforced. Stax stands by its commitment to no long-term contracts. This effectively makes Stax a pay-as-you-go option. No user complaints have been reported around contract terms, which is a good indication that Stax is keeping its word of providing month-to-month use of its payment service.
Other than that, there are just a few other points you need to go over in its TOS, such as a mention of a minimum monthly fee of $25 and a $750 processing deconversion fee, which is a fee you will need to pay if you are transferring to a different processor and require Stax assistance. There are also recent customer complaints reporting other hidden expenses. You also need to be aware of the possibility of being charged even after your account is closed. For these reasons, make sure that you clarify the terms of service and fees involved before you sign an agreement with Stax.
---
Stax's application process requires you to complete a short, step-by-step questionnaire-format onboarding form. This allows Stax to provide you with a payment service that aligns with your current stage of growth, which can be affordable while you scale. Once you finish, you will be redirected back to the Stax website. Expect to be contacted by a payment consultant within 24 hours.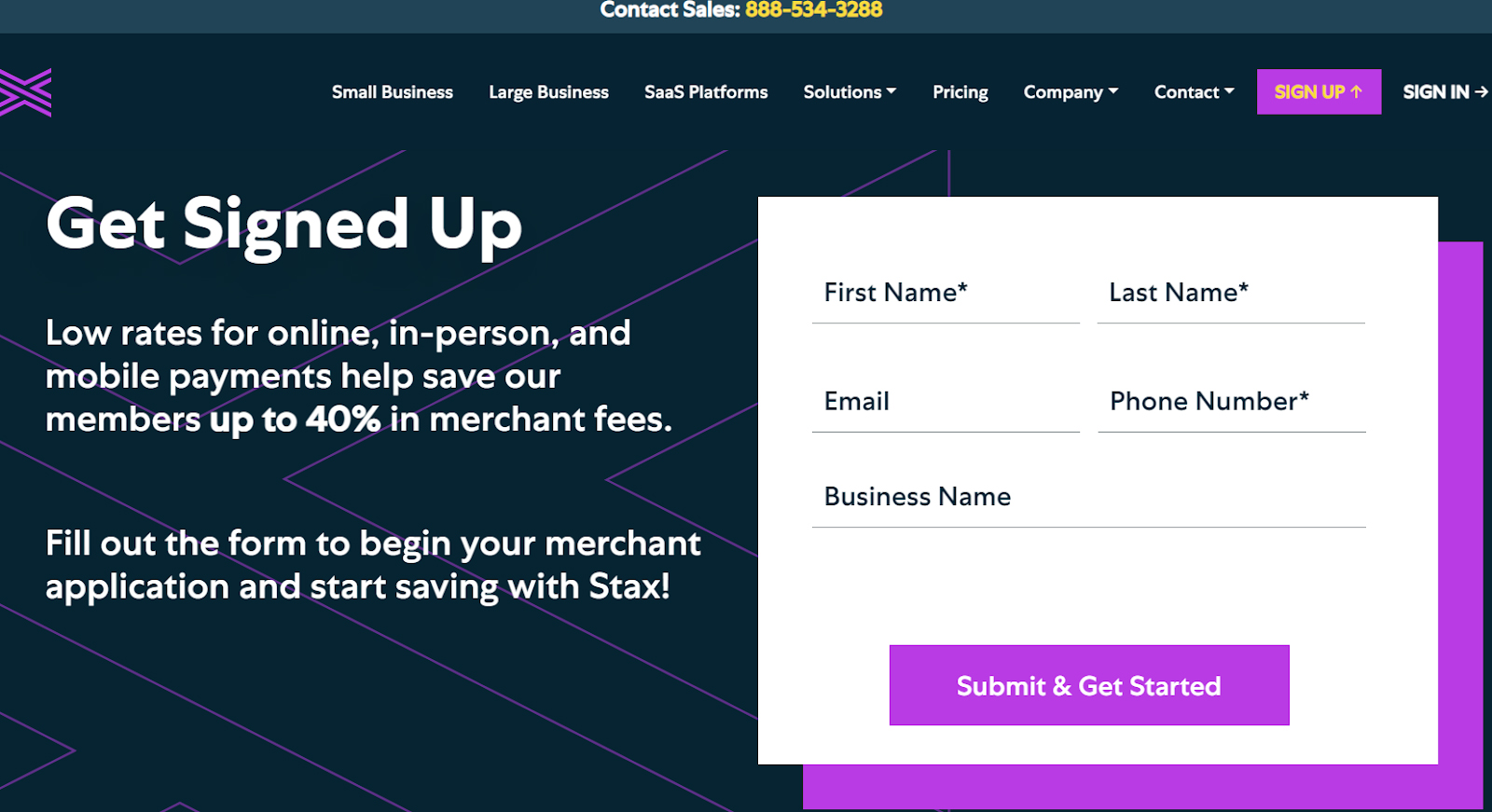 ---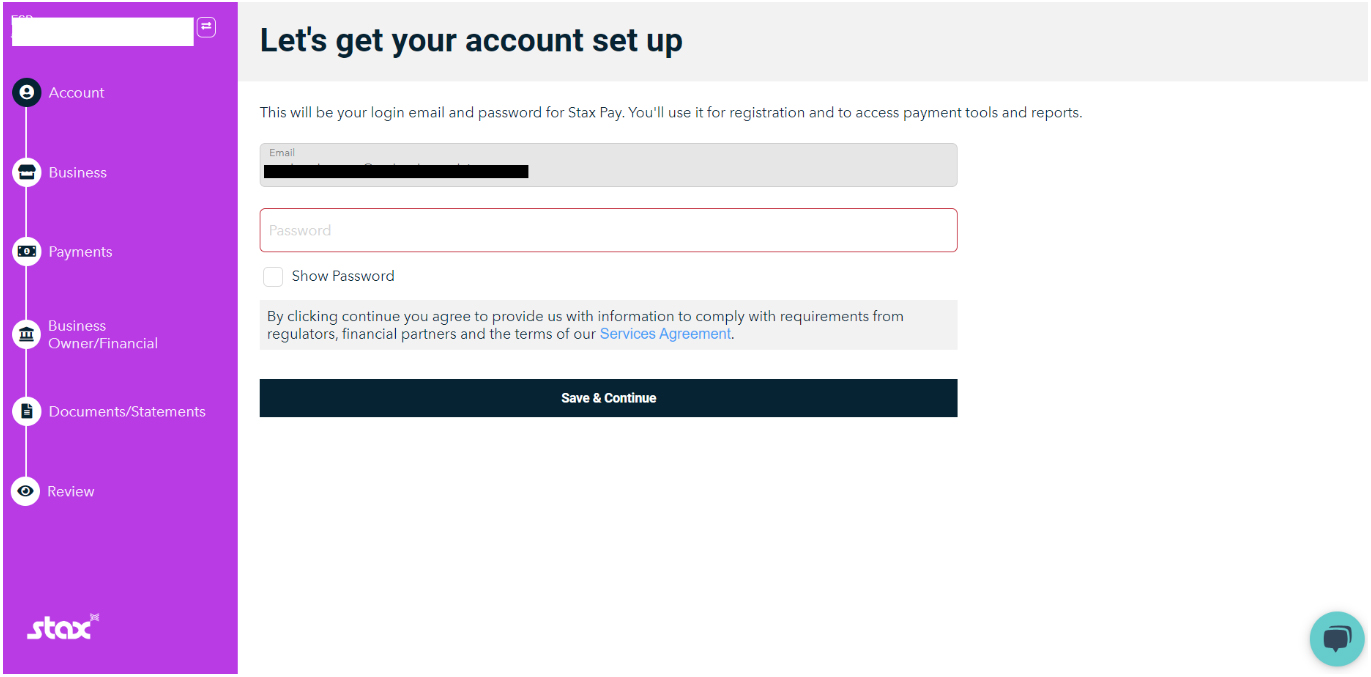 ---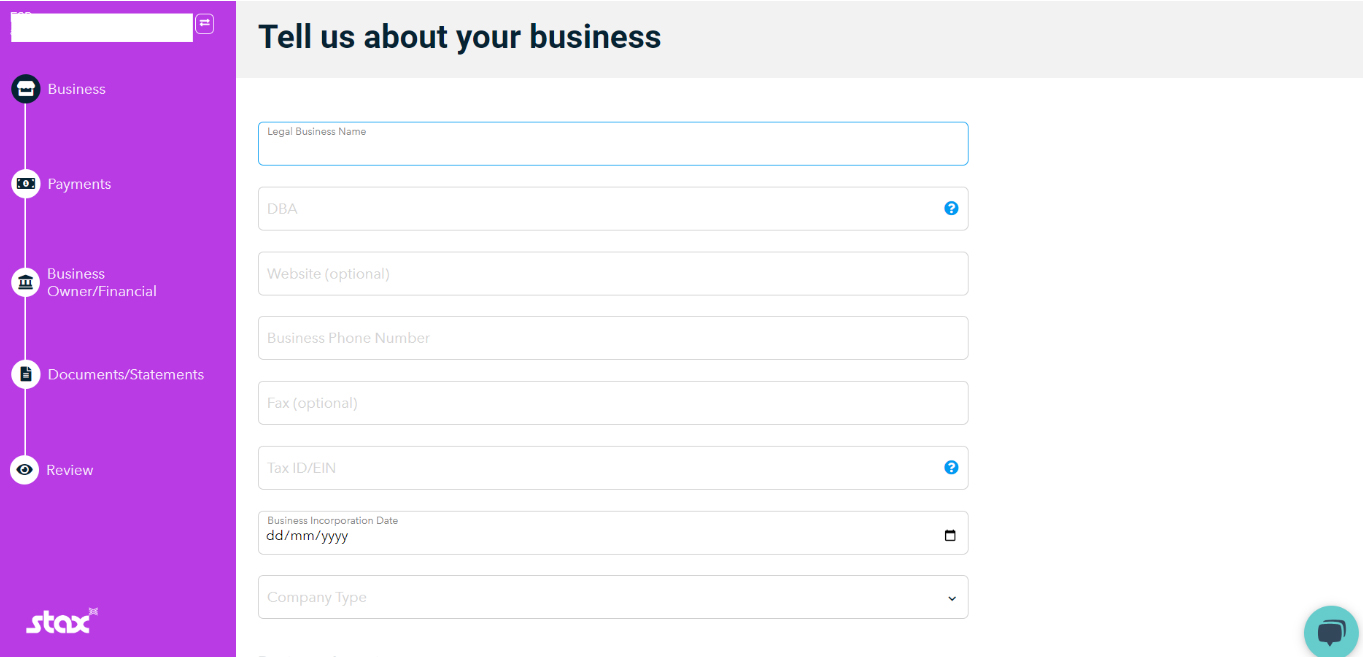 ---
---
Stax Pay is Stax's solution for secure in-person and online credit card processing. It is loaded with tools and features to help small businesses accept a wide variety of payment types. It allows you to accept all major credit and debit cards, ACH payments, invoicing, Text2Pay, virtual terminal, and contactless payments. Stax also works with several payment gateways, such as Authorize.net, NMI, and Priority, to give you access to almost any type of online payment method.
You can easily create and manage digital invoices straight from the Stax platform and send them to customers via email or text message. It also lets you customize your invoice, schedule recurring payments, and set automatic payment reminders. Additionally, you can track the status of every invoice in real time from your desktop or mobile device.
---
The invoicing feature of the Stax Pay platform allows you to schedule recurring billing. Customer profiles may be used to set up invoices to be sent automatically via email or text.
At the end of 2021, Stax launched a more powerful platform for recurring billing and subscription called Stax Bill, automating the management of recurring billing transactions. It provides you with easy-to-use tools for creating, tracking, and managing product and service pricing packages, along with the ability to customize bundled pricing, payment terms, and discounts. It also automates card update functions for expiring cards on file. However, Stax Bill is a separate plan and has a starting fee of $199 per month.
---
ACH processing is available upon request and has no interchange or markup percentage per transaction. This will then give you the ability to provide ACH payment options for single and recurring invoice payments. This feature also allows you to track the status of your outstanding invoices from the Stax Pay Virtual Terminal, while Stax's reporting function will show you all deposits from payments received via ACH.
You can enable ACH payments by selecting the ACH feature from the built-in App marketplace listing in your Stax account.
---
The Stax Pay toolkit includes a free iOS and Android mobile POS app and Bluetooth-enabled card readers. Use your mobile phone or tablet camera to accept credit cards, manage invoices, track products, create catalogs, accept tips, scan barcodes, and send digital receipts. It also allows you to send text payment reminders and accept payments from mobile wallets like Apple Pay and Google Pay.
---
Stax Pay offers customized ecommerce integrations, personalized checkout pages, and easy one-click shopping carts with popular software, such as WooCommerce, Shopify, and BigCommerce. It then connects with top gateways like NMI, Authorize.net, First Data, and TSYS to power your online sales.
---
Another upgrade to Stax's features at the end of 2021 is its new level 2 processing, which provides up to 0.50% in interchange rates reduction. This compliant automatic level 2 processing service is built into Stax's range of payment services: Invoicing, Recurring Billing, and Stax Pay for online and keyed payments.
If you regularly accept a large volume of commercial credit cards, this service is a necessity. Note, however, that this feature is an add-on, which means you may need to pay additional fees every month on top of your current subscription plan to use this service.
Stax consistently lands on our list of best B2B payment solutions in the market.
---
There is no shortage of back-office management tools and integration features in Stax. You can get everything—from built-in CRM, API, and advanced third-party integrations. While most of these are already included in the monthly subscription, plans are gated according to features (unlike Payment Depot), so you may need to pay more every month to scale your business.
Stax Pay allows you to create and save full customer profiles. This function also allows you to offer recurring payments and invoicing payment options. Stax provides a simple customer profile management feature that you can upgrade for a fee. The Advanced Customization app is an add-on feature that allows you to add custom fields to your customer profiles and customize the appearance of invoices, receipts, and website payments.
If you prefer a third-party option, Stax also integrates with more than 90% of CRMs on the market, such as NetSuite, Salesforce, and Keap (formerly Infusionsoft).
---
The Stax Pay dashboard shows sales trends in your business and determines where you have the most potential for growth. You can also use the tools to manage customers, view users and roles permissions, measure your growth, and learn when you're busiest. Stax also provides QuickBooks integration, which will then allow you to send sales receipts automatically to your QuickBooks Online account.
Among the reports you'll find in your dashboard are:
Gross Sales YTD
Net Sales YTD
Refunds YTD
Growth Sales Overview
Average Sales
Number of active customers
Number of transactions
Outstanding Receivables
New vs Returning Customers
Transaction Heatmap
Payment Methods Reports
Users (with Roles and Permissions)
Social Review Management
---
Stax Connect is a Stax product that gives you access to Dispute Manager features. This feature instantly notifies retailers of chargebacks and quickly facilitates an efficient resolution by allowing you to send replies and upload supporting documents from the platform. You'll hear about the chargeback on the same day it's claimed, and you can upload supporting documents through the user portal. Contact the support team to request this feature.
---
In November 2021,
Stax acquired CardX
, an automated credit card surcharge platform. This makes Stax one of the few merchant services providers that offer reliable credit surcharging features where permitted by state and local guidelines. Credit surcharging allows merchants to pass processing fees through to customers.
Find out if this is available for you
.
Stax offers fully compliant surcharging. This feature allows users to process credit cards or ACH and pay 0% in transaction fees by adding a surcharge to a customer's bill to offset the cost of transaction fees.
Note that, at present, surcharging is not available in Colorado, Connecticut, Massachusetts, and Puerto Rico. New legislation is expected to take effect in July of this year permitting surcharging in Colorado. However, it's important to confirm your current state laws to ensure compliance.
---
Stax does not have same-day funding anymore and offers next-day funding as an optional add-on. Its next-day funding schedule includes holidays and weekends. There may be additional fees for this feature.
---
There is no shortage of Stax integration options. The payment processor works with a variety of outside hardware and software platforms. However, access to third-party integrations requires a monthly subscription fee.
---
You can contact Stax customer support via phone or request form on its website. There's also a live chat tool, although it's hard to say during what hours you'll be able to get in touch with a human as opposed to a chatbot. Stax uses Zendesk to manage support tickets, and you can also self-serve with the online knowledge base that has support content. The Ultimate subscription plan includes a dedicated account manager.
---
We gave Stax perfect marks for all subcriteria in this category except for pricing. Merchants will need to process at least $20,000 in monthly sales for Stax subscription fees to be cost-effective. Otherwise, Stax's suite of available integrations, merchant services features, and payment processing methods are among the best in the industry.
What I personally liked is how Stax adjusted its subscription service to include invoicing and billing tools in its basic plan. As both payment methods are largely used by small merchants, Stax is worth considering for actively growing yet not-so-established businesses.
What Users Say in Stax Payments Reviews
Overall, reviews for Stax (formerly Fattmerchant) are somewhat mixed—from as low as 1 star and as high as 5 stars. Those that liked Stax awarded this provider 4- and 5-star ratings across most review platforms, and surprisingly, some come from small and occasional businesses. There are a few recent reviews that complained about the fees.
Trustpilot: Stax received an improved rating of 4 out of 5 from almost 900 reviews.
G2: Ranks Stax with an overall rating of 4.9 out of 5, based on around 10 user reviews.
Meanwhile, Stax Pay for mobile does not get much approval:
Stax Pay for iOS: Stax earned an overall rating of 2.4 out of 5 from around 20 reviews.
Stax Pay for Android: With more than 1,000 downloads in Google Play, Stax currently has a score of 2.7 out of 5 from nearly 30 reviews.
Generally, people love the helpful and responsive customer support team—they're helpful from the moment you sign up. Other feedback to note:
Users Like

Users Don't Like

Excellent onboarding support
Reports of billing errors and hidden fees
Ease of use
Poor after-sales customer tech support
Helpful analytics reporting
Pricey for seasonal businesses
Professional customer service (for billing issues)
Lengthy setup and application process
Methodology—How We Evaluated Stax
We test each merchant account service provider ourselves to ensure an extensive review of the products. We compare pricing methods, identifying providers that offer zero monthly fees, pay-as-you-go terms, and low transaction rates. We then further evaluate according to a range of payment processing features, scalability, and ease of use.
The result is our list of the best overall merchant services. However, we adjust the criteria when looking at specific use cases, such as for different business types and merchant categories. This is why every merchant services provider has multiple scores across our site, depending on the use case you are looking for.
Click through the tabs below for our overall merchant services evaluation criteria:
25% of Overall Score
We awarded points to merchant account providers that don't require contracts and offer month-to-month or pay-as-you-go billing. Additionally, we prioritized providers that don't charge hefty monthly fees, cancellation fees, or chargeback fees and only included providers that offer competitive and predictable flat-rate or interchange-plus pricing. We also awarded points to processors that offer volume discounts, and extra points if those discounts are transparent or automated.
30% of Overall Score
The best merchant accounts can accept various payment types, including POS and card-present transactions, mobile payments, contactless payments, ecommerce transactions, and ACH and echeck payments—and offer free virtual terminal and invoicing solutions for phone orders, recurring billing, and card-on-file payments.
25% of Overall Score
We prioritized merchant accounts with free 24/7 phone and email support. Small businesses also need fast deposits, so payment processors offering free same- or next-day funding earned bonus points. Finally, we considered whether each system has affordable and flexible hardware options and offers any business management tools, like dispute and chargeback management, reporting, or customer management.
20% of Overall Score
We judged each system based on its overall pricing and advertising transparency, ease of use (including account stability), popularity, and reputation among business owners and sites like Better Business Bureau (BBB). Finally, we considered how well each system works with other popular small business software, like accounting, point-of-sale (POS), and ecommerce solutions.
*Percentages of overall score
Stax Frequently Asked Questions (FAQs)
Unlike most of its competitors, Stax does not charge a markup on interchange rates. The payment processing fee for each transaction entirely goes to the card brand. Stax, instead, earns from the monthly subscription fees, which already give users access to advanced payment processing services.
---
Yes. Stax caters to all business sizes. However, to fully maximize the savings you get from its wholesale interchange pricing, you need to consider the monthly fees. If you run an active small (growing) business with at least $20,000 in monthly sales, Stax can be an ideal merchant services provider.
---
Stax requires a lengthier merchant application process. The documents that merchants need to submit for verification and the underwriting process may take a few weeks. Smaller businesses that prefer a simple application process should opt for merchant aggregators like Square and PayPal.
---
According to a Stax representative, while you will find a long-term contract mentioned in its terms of service, this is not enforced. Stax lets you terminate your account at any time with a simple 30-day notice.
---
Bottom Line
Stax offers some of the most transparent and predictable pricing on the market with a subscription pricing model that allows its users to enjoy low transaction fees, making it well-suited to growing businesses. There are also tons of integrations, and its all-in-one platform is easy to use. However, small businesses and those processing less than $20,000 in sales a month may find the monthly fees too expensive. To find out if it is a fit for you, contact Stax for a free savings assessment.