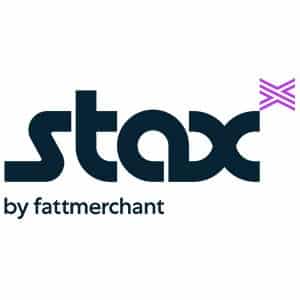 Stax by Fattmerchant is a subscription-based merchant services provider with affordable interchange-plus processing rates for growing businesses. Other features include invoicing and billing software, recurring and stored payment options, customer relationship management (CRM), text-to-pay, and analytics reporting. Stax by Fattmerchant uses a custom pricing model based on your needs and monthly transaction volume.
What We Recommend Stax by Fattmerchant For
After reviewing dozens of merchant account providers over the past several years, I can say Stax by Fattmerchant offers some of the most transparent and predictable pricing on the market. The Stax by Fattmerchant business dashboard and software solutions are very easy to use and are much more robust than what most processors offer. Overall, Stax by Fattmerchant is the best merchant services for growing businesses. Specifically, Stax by Fattmerchant is ideal for:
Small and medium-sized businesses with growth goals:
Small and medium-sized businesses with growth goals:
If you're actively growing your business, Stax by Fattmerchant has tiered custom pricing plans that offer lower transaction fees as your transaction volume increases. Custom pricing plans and powerful software add-ons make Stax by Fattmerchant a great overall value for growing businesses.
Established professional services:
Established professional services:
Stax by Fattmerchant's invoicing and billing software, along with its affordable transaction fees and ACH bank transfer payments make it a great choice for businesses like professional services that process recurring payments
Subscription-based retailers:
Subscription-based retailers:
Stax by Fattmerchant's stored payment and recurring billing options also make it a good choice for subscription-based retailers and storefronts.
When Stax by Fattmerchant Would Not Be a Good Fit
New businesses who need to get up and running: Stax by Fattmerchant uses custom pricing, and requires an application and setup process, so it's not ideal if you need to start accepting payments fast. Instead, look for one of these easier credit card processing options.
Occasional sellers or sole proprietors: While Stax by Fattmerchant does have a flat-rate option for small businesses processing under $80,000 annually, you can find lower rates and more flexibility with these free merchant accounts.
Businesses that take payments over the phone: Because Stax by Fattmerchant requires a separate software subscription for virtual terminal (or keyed-in) transactions, these fees can add up if you take phone orders. Our recommended virtual terminals offer more affordable solutions for phone orders.
Stax by Fattmerchant Overview
| Stax by Fattmerchant Pros | Stax by Fattmerchant Cons |
| --- | --- |
| Transparent pricing | High monthly fee for most plans |
| Omni software and integrated payments | Separate subscriptions for card-present and card-not-present payments |
| Easy to use dashboard and analytics | Expensive for businesses with less than $10,000 in monthly transactions |
| Same-day funding | Not ideal for new businesses |
| Customer support is responsive and helpful | |
| Low-cost ACH processing | |
Stax by Fattmerchant's application process requires you fill out a form on their website so they can assess your needs and provide you with custom pricing options. Other options may get you up and running more quickly, but Stax by Fattmerchant's pricing often aligns with your current stage of growth, which can be affordable while you scale.
Stax by Fattmerchant Pricing
Stax by Fattmerchant Payment Processing Pricing
For businesses processing less than $80,000 annually:
No monthly fee
2.9% flat rate per transaction, all types
For businesses processing $80,000 – $500,000 annually:
$99 monthly fee
Interchange plus 8 cents per card-present transaction
Interchange plus 15 cents per card-not-present transaction
Stax by Fattmerchant Custom Plans
If you process more than $500,000 in transactions each year, Stax by Fattmerchant will have a custom package for you. You'll need to reach out to their representatives to find out what their custom plans look like.
Previously, we have been quoted rates of $199 per month, interchange plus 8 cents for card-present transactions, and interchange plus 15 cents for card-not-present transactions.
Stax by Fattmerchant Omni Software Pricing
Starter Plan

Growth Plan

Pro Plan

$49/month

Lite reporting
Virtual terminal
ACH processing
Facebook and Google review management

$89/month

All Starter features, plus:

Basic reporting
Invoicing
Text2Pay
Hosted checkouts
Stored payments
Basic CRM tools
Dedicated account manager

$129/month

All Growth features, plus:

Premium reporting
Scheduled payments and invoicing
Recurring payments
One-click checkouts
Card-on-file auto-updater
Advanced CRM tools
Catalog management
Add-ons and ala carte options include one-click shopping carts, QuickBooks Online sync, Omni reporting, custom branding, same-day funding, and hardware protection.
Contract Length and Early Terminations
Stax by Fattmerchant's subscription model runs as a month-to-month contract and doesn't charge any early termination fees, but you will need to give them 30 days' notice if you're canceling your subscription.
Stax by Fattmerchant Alternatives and Fees Comparison
| | Square | PayPal | Payment Depot |
| --- | --- | --- | --- |
| Best for | New and small businesses | Online checkout and occasional sales | Cheapest credit card processing |
| Monthly fee | Starts at $0/month | Starts at $0/month | Starts at $49/ month |
| Card-present transaction fee | 2.6% + 10 cents | 2.7% | Interchange + 5-15 cents |
| Keyed transaction fee | 3.5% + 15 cents | 3.5% + fixed fee | Interchange + 5-15 cents |
| Ecommerce transaction fee | 2.9% + 30 cents | starts at 3.4% + 30 cents | Interchange + 5-15 cents |
| | | | |
Looking for the lowest rates? The payment processing rates you will pay can vary based on your business size, type, and average order value. To find the most affordable option for you and compare multiple processing rates, read our guide on the cheapest credit card processing.
Stax by Fattmerchant Features
Stax by Fattmerchant is loaded with features beyond subscription-based payment processing:
Invoicing: Stax by Fattmerchant can send digital invoices to customers via email or text message, along with automatic payment reminders.
CRM: Stax by Fattmerchant's Omni Virtual Terminal creates and saves full customer profiles. If you prefer a third-party option, it also integrates with more than 90% of CRMs on the market.
Payment types: Stax by Fattmerchant accepts all major credit and debit cards, ACH payments, invoicing, Text2Pay, virtual terminal, and contactless payments.
Ecommerce: Stax by Fattmerchant's API enables customers to fully customize payments on their own website or separate custom platforms.
Deposits: Same-day funding is available. In general, customers will be approved for either next day or 48-hour funding. However, Stax by Fattmerchant also offers same-day funding for clients who want to receive deposits on a debit card instead of in a bank account.
Omni software: Omni includes financial reports and analysis, sales trends, deposit management, customer management, user and permission setting, two-way customer communication, and online review management. Omni connects the user's financial reporting, data and analytics, payments, customer management, inventory, and security in one dashboard. The interface is user-friendly and makes tracking clients and invoices easier.
Mobile and contactless payments: Stax by Fattmerchant has a free iOS and Android mobile POS app and Bluetooth-enabled card readers. You can use your mobile phone or tablet camera to accept credit cards, manage invoices, track products, create catalogs, accept tips, scan bar codes, and send digital receipts.
Analytics and reporting: The Omni dashboard shows sales trends in your business and determines where you have the most potential for growth. You can also use the tools to manage customers, measure your growth, and learn about when you're busiest.
Reputation management: Stax by Fattmerchant helps you monitor online reviews for your business and respond to them from the Omni platform.
Dispute management: Stax by Fattmerchant Dispute Manager notifies retailers of chargebacks quickly and facilitates an efficient resolution. You'll hear about the chargeback on the same day it's claimed, and you can upload supporting documents through the user portal.
Stax by Fattmerchant Ease of Use
Grows with you: Stax by Fattmerchant has tiered pricing and also shows analytics reporting with growth in mind.
Advanced third-party integrations: There is no shortage of Stax by Fattmerchant integration options. The payment processor works with a variety of outside hardware and software platforms. However, access to third-party integrations requires a monthly subscription fee.
Excellent customer support: Users find the Stax by Fattmerchant support team to be responsive and helpful.
Predictable pricing: Though you need to get a custom quote for your business, subscription-based pricing makes it easy to understand and forecast payment processing expenses.
Mobile payment: You can use mobile card readers, send text payment reminders, and accept payments from mobile wallets like Apple Pay and Google Pay.
Stax by Fattmerchant offers a collection of proprietary hardware. These options include terminals and mobile card readers. Each piece of hardware comes with both an upfront cost ranging from $100 for mobile readers to $650 for countertop terminals, and a monthly fee for protection plans that ranges from $19 – $39.
While Stax by Fattmerchant itself is a powerful tool, there are added benefits in its wide range of integration options. You can connect it to Zapier, Shopify, Magento, BigCommerce, WooCommerce, Authorize.net, and QuickBooks Online. You can also use the open API to create your own custom integrations.
Stax by Fattmerchant Customer Support
You can reach Stax by Fattmerchant customer support via phone or request form on their website. There's also a live chat tool, though it's hard to say during what hours you'll be able to get in touch with a human as opposed to a chatbot. Stax by Fattmerchant uses Zendesk to manage support tickets, and you can also self-serve with the Stax by Fattmerchant Knowledge Base that has support content. Growth and Pro Omni software subscriptions include a dedicated account manager.
What Users Think of Stax by Fattmerchant
Stax by Fattmerchant has mostly 4- and 5-star ratings across most review platforms. It is rare for merchant accounts to have lots of positive reviews.
Capterra: 18 Capterra reviewers give Stax by Fattmerchant 4.8 out of 5 stars.
Software Advice: Stax by Fattmerchant earns a rating of 4.83 out of 5, also based on 18 user reviews.
G2: Ranks Stax by Fattmerchant with an overall rating of 4.8 out of 5, based on just three user reviews.
People love the helpful and responsive customer support team—they're helpful from the moment you sign up. Other feedback to note:
| Users Like | Users Don't Like |
| --- | --- |
| Straightforward and predictable pricing | Invoicing features and functionality |
| Ease of use | Weak and buggy integrations |
| Helpful analytics reporting | High monthly fees if you have higher monthly processing volumes |
| The ability to send custom payment links to customers | Online payments require invoices |
Bottom Line
Stax by Fattmerchant is a subscription-based payment processor and merchant services provider that uses a custom interchange-plus pricing model that is well-suited to growing businesses. This easy-to-use processor has features like dispute management, CRM, invoicing, saved and recurring payments, and reputation management. There are tons of integrations, and qualifying merchants get next-day funding. To find out if it is a fit for you, contact Stax by Fattmerchant for a free savings assessment.