By using a dedicated B2B payment solution, qualifying businesses can receive significantly lower processing fees. Aside from low, competitive rates, B2B businesses need payment solutions that handle big-ticket sales, invoicing, keyed-in or virtual terminal transactions, and a variety of payment types.
The best B2B payment solutions are:
How We Evaluated B2B Payment Solutions
We searched for merchant services that offer affordable payment processing with transparent fees and minimal contracts. Then, we narrowed our evaluation down to five of the most affordable and reputable payment processors and considered the different types of payments each solution can accommodate.
For example, many B2B businesses accept payments via invoice, ACH, and check instead of a traditional payment terminal or online checkout. So, we prioritized processors that can handle those types of payments and awarded extra points for those that include invoicing or recurring payment software.
We also favored solutions that offer interchange-plus rates for Level 2 and Level 3 processors and processors that offer negotiable rates for high-volume businesses. Next, we looked for specific-use cases, like high-risk businesses. Finally, we considered real user reviews and ease of use.
At the end of our evaluation, Stripe came out on top as the best B2B payment solution for small businesses because of its price point, variety of payment types, and breadth of features. It also works for both international and domestic businesses. Overall, Stripe earned a 4.06 out of 5.
Click through the tabs below for our specific evaluation criteria:
15% of Overall Score
We gave the most points to payment processors that did not require contracts or monthly fees, and did not have cancellation fees.
40% of Overall Score
We assessed whether each solution can process wire transfer, check, echeck, ACH, virtual terminal, payment gateway, and international money transfer payments.
25% of Overall Score
Here, we considered support hours, deposit speed, invoicing and accounting tools, and whether or not high-risk businesses could use the payment service.
20% of Overall Score
This combined our overall evaluation of price and ease-of-use with scores from real-world users on trusted third-party review sites.
*Percentages of overall score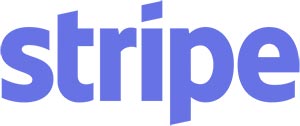 Best B2B Payment Solution for Online Businesses

PROS
135+ currencies
Handles recurring payments, invoicing
24/7 support
450+ integrations

CONS
Does not serve high-risk businesses
Does not process wire transfers
Charges extra for fast deposits into your account
RATING CRITERIA

Pricing & contract
5
OUT OF
5
Payment Types
3.63
OUT OF
5
Features
3.75
OUT OF
5
Expert Score
4.63
OUT OF
5
Stripe is an international payment processor that can take payments as small as 50 cents and as large as $999,999.99, making it a good choice for businesses. Its pricing system is clear, but there are a lot of add-ons for specific tools like fraud protection.
It earned our highest score—4.06 out of 5 stars—because it's easy-to-use, highly regarded, and even processes paper check payments. It lost a few points for its pricing complexity and that it does not serve high-risk businesses. Also, Stripe deposits fund in two days unless you pay an extra fee for faster deposits.
Stripe Pricing
This is just a sample of Stripe's pricing. It also offers add-ons for fraud protection, business data analysis, and more. See Stripe for details.
In-person Transaction: 2.9% + 30 cents
POS transactions: 2.7% + 5 cents
Recurring payments/billing: 0.5%
International transactions: add 1%, add an additional 1% if currency conversion is required
Domestic ACH Transfers: 0.8%, $5 cap
Chargeback: $15
Hardware: Start at $59
Stripe Features
Stripe's strength lies in its versatility, although you may pay a little more for some features. You can integrate Stripe into your POS or webpage, or build your own solution with Stripe (higher fees may apply). With over 450 integrations, some of which are specific for B2B merchants, you can link Stripe into your accounting software, POS, customer relationship management software, and more.
In October 2020, Stripe extended its capabilities by working with Visa Payables Automation to allow payments to suppliers that are unable to accept digital payments through the use of a virtual Visa card.
Moreover, Stripe offers two-day deposits—unless you select instant pay at an additional 1% per transaction. Another great feature of Stripe is 24/7 support, plus the extensive online community of developers and other businesses using Stripe as their payment processor. Visit Stripe to create a free account and get started.

Best for QuickBooks Users and Recurring Payments

PROS
Native integration with QuickBooks
Invoicing and recurring billing
ACH and digital check processing
Discount for high-volume sales

CONS
Not great for small payments
Must have a QuickBooks Online account
RATING CRITERIA

Pricing & contract
5
OUT OF
5
Payment Types
3.75
OUT OF
5
Features
2.5
OUT OF
5
Expert Score
4.69
OUT OF
5
QuickBooks offers a payment processing function that has a lot of strong features and good rates. If you regularly process over $7,500 a month, you can apply for a discount on transactions of up to 40%. However, you must have a QuickBooks account to use this service, which means you will pay at least $25 a month no matter how much you process in sales.
Based on our evaluation criteria, QuickBooks earns a 3.81 out of 5 stars. It handles wire transfers and records paper check payments, which sets it apart from most of the payment processors we considered. However, it does not have international money transfer capabilities and does not work with high-risk businesses. Soon, you will be able to get instant access to your money if you get a QuickBooks Visa debit card (this program is coming later in 2021).
QuickBooks Payments Pricing
You need a QuickBooks Online account, which runs $25 or $40 per month, depending on the plan you choose. Here is how QuickBooks charges for transactions:
ACH transfers: 1% (max $10)
Swiped-card transactions: 2.4% + 25 cents
Invoices: 2.9% + 25 cents
Keyed-in transactions: 3.4% + 25 cents
QuickBooks Payments Features
QuickBooks Payments connects to your QuickBooks account so you get the features of the complete account software, including invoicing, reports, budget tools, and sales tax tracking. You can accept payments online or in person using a mobile device or by sending invoices. It also integrates with many POS and business management systems. Visit QuickBooks to learn more.

Best B2B Payment Solution with POS

PROS
No chargeback fee
Free POS software
Easy-to-use, versatile

CONS
Does not serve high-risk businesses
Live support during business hours only
RATING CRITERIA

Pricing & contract
5
OUT OF
5
Payment Types
2.81
OUT OF
5
Features
3.5
OUT OF
5
Expert Score
5
OUT OF
5
Square offers a free POS system with its payment transactions, making it a great choice for B2B businesses that also have an in-person store, do a lot of trade show sales, or also have a strong B2C market. It's a popular software and payment processing platform that offers straightforward pricing and many additional features for businesses, such as payroll and scheduling.
Though Square typically tops our list for best POS and best merchant services for small B2C businesses, in our evaluation of B2B payment providers Square earned 3.75 out of 5 stars. It got a solid 5 stars on our expert score for features and user feedback. However, it loses some points for not serving high-risk businesses, charging for instant deposits, and offering limited processing for checks and ACH transfers.
Square Pricing
Below is Square's standard transaction rates designed for businesses processing under $250,000 annually, with average tickets below $15. You can negotiate custom rates based on your specific business.
Card-present transaction: 2.6% + 10 cents
Invoices and online payments: 2.9% + 30 cents
Manual key-in: 3.5% + 15 cents
Instant transfer of funds: +1.5%
Chargeback: $0
Hardware: The first reader is free; additional start at $49; terminals start at $299
Square Features
Square has a transaction limit of $50,000, making it a good choice for most small businesses. If you need to get money to your accounts quickly, you can pay an additional fee to get up to $10,000 per day in sales transferred immediately. (Some restrictions apply.)
Square offers a full-featured POS system, ecommerce integrations, invoicing, and more. If you are growing and want scheduling, payroll, time tracking, and other business tools, Square may be able to provide you with a complete solution where everything integrates natively, or you can check out its other integrations. Visit Square to create a free account.

Best International B2B Payment Solution

PROS
Processes payments for over 200 countries
Stored payment information for recurring payments, subscriptions
Accepts cryptocurrency

CONS
Not great for high-risk businesses
Chargeback fees
RATING CRITERIA

Pricing & contract
5
OUT OF
5
Payment Types
2.63
OUT OF
5
Features
4
OUT OF
5
Expert Score
4.63
OUT OF
5
Everyone knows PayPal as a way for people to share money or purchase items, but it also works for small B2B merchants. It has a $10,000 cap on transactions, so it's best for businesses processing lower-ticket sales. However, it works for in-person or online businesses of all types and in multiple nations.
In our evaluation, we gave PayPal 3.73 out of 5 stars. It's a flexible service that continues to grow and is easy to use but does not work with wire transfers or paper checks. It will send ACH transfers in that you can tap your bank account to fund PayPal transactions. It does international payments in multiple currencies, and you can access your money immediately in PayPal or have it transferred to your bank in a day or two. It may accept your high-risk business, but there are restrictions and chargeback fees that can make it less advantageous.
PayPal Pricing
The following prices apply only to US-based businesses, so check PayPal for prices if you are in another country. You can also visit PayPal's merchant fees page for more information.
Online transactions: 2.9% + fixed fee based on currency received
In-store transactions: 2.7% + fixed fee based on currency received
eCheck fee: Same as above; caps on fee ($300 in the US)
PayPal's pay later offers: 2.9% + fixed fee based on currency received
QR code transactions: 1.9% + fixed fee based on currency received
Venmo: 2.9% + fixed fee based on currency received
International Transactions: add 1.5%
Additional charge for high-risk businesses: 5%
Chargeback fees: $20
Dispute fees: $15/$30 for high volume disputes
PayPal Features
PayPal accepts payments online with PayPal or credit cards and allows users to tie a bank account to their PayPal so that they can fund payments through it. (It defaults to the PayPal account first.) PayPal works in 25 currencies in 200 nations.
You can post payment buttons on your website, send invoices using its invoice generator (additional pricing), make use of its mobile and POS applications, and integrate with accounting and POS tools. Reviewers praise PayPal for its user-friendliness. Visit PayPal to apply for a merchant account.

Best B2B Payment Solution for High-Risk Businesses

PROS
Supports high-risk industries
In-person or online payments
Highly rated by users

CONS
Need to call for a quote
No international payments
RATING CRITERIA

Pricing & contract
3.38
OUT OF
5
Payment Types
2.25
OUT OF
5
Features
3.3
OUT OF
5
Expert Score
4.13
OUT OF
5
PaymentCloud specializes in high-risk merchants. It works with multiple banks and says it has a 98% approval rating. It does not consider credit scores, nor does it charge application or setup fees. Its payment processing plans include in-store card readers, POS systems, and online and virtual terminals. It also has a mobile app.
In our evaluation, PaymentCloud earned a 3.06 out of 5 stars. It requires a contract and a monthly sales minimum for high-risk sales. It does not handle wire transfers or international transactions. However, it can process credit cards and digital checks and offers invoicing tools and integrations with accounting software and POS systems. Users rate it 4.9 out of 5 stars on Capterra and TrustRadius.
PaymentCloud Pricing
PaymentCloud does not list its pricing online, so you'll need to call for a quote. Quote-based rates are common practice for high-risk merchant services, and PaymentCloud will work to place you with the backend processor that offers the best rates.
However, PaymentCloud does not charge setup fees, application, or annual fees. Any contract length requirements and monthly minimums or maximums will also vary depending on your specific business.
PaymentCloud Features
PaymentCloud offers POS solutions and hardware as well as ecommerce accounts that let you plug into your shopping cart. It helps high-risk businesses with fraud protection tools and offers dedicated support for every account, including assistance at all stages of the approval process and even after.
One of the other benefits of using PaymentCloud is that it offers free next-day funding for all card payments. Most high-risk merchant accounts don't offer fast deposit times, so PaymentCloud is also a great option for any business needing a speedy cash flow. Visit PaymentCloud to learn more and to start the application process.
Alternative B2B Payment Options
Payment Depot: If you do regular high-volume, high-ticket sales, you may be spending more than you need to on payment transactions. Payment Depot charges a flat monthly or annual membership fee, then processes payments at the credit card company's interchange rate with no mark-ups.
Transferwise: A cheaper alternative to credit card processing for international businesses, Transferwise lets you or your clients move money internationally between bank accounts so that you pay only the conversion rates with no mark-ups. It claims to be up to 19 times cheaper than PayPal and may make a nice addition to a processor.
Dharma Merchant Services: If you do processing in excess of $50,000 a month, then this service is worth considering. It provides interchange-plus pricing and can work to get you lower interchange rates.
Bottom Line
Businesses doing B2B sales have a lot of strong options for payment processors. Start by assessing your own needs: the kind of processing (online, digital check, card swipe, invoicing), and the average amount per sale. Consider if you need hardware or software—and what software you may want to integrate with. Then, look at pricing and contracts.
Overall, we chose Stripe for versatility in features and payment types. It also offers competitive pricing for small businesses. Contact Stripe today to learn more.