Using flyer templates is an easy and affordable way to design attractive, eye-catching flyers. Are you thinking of handing out flyers to create buzz around your small business for a grand opening, sale, or a special event? In this article, we provide 25 flyer templates and tell you what makes them effective.
Want even more flyers that you can personalize from start to finish? PsPrint has a wide range of papers and styles as well as helpful guidelines and free file review for the flyers you create. Click here to start making your flyers.
---
This business flyer template showcases a huge, partially obscured background image, and three smaller inset images. The inset images can show details of the main image, as is the case with the elegant car flyer, or can show different but related options to the main image, such as with the big burger flyer. The translucent shapes break up the monotony. Also, the 25 percent off promotion is an attention grabber. Include a discount or special promotion on your flyers. It's always an irresistible draw.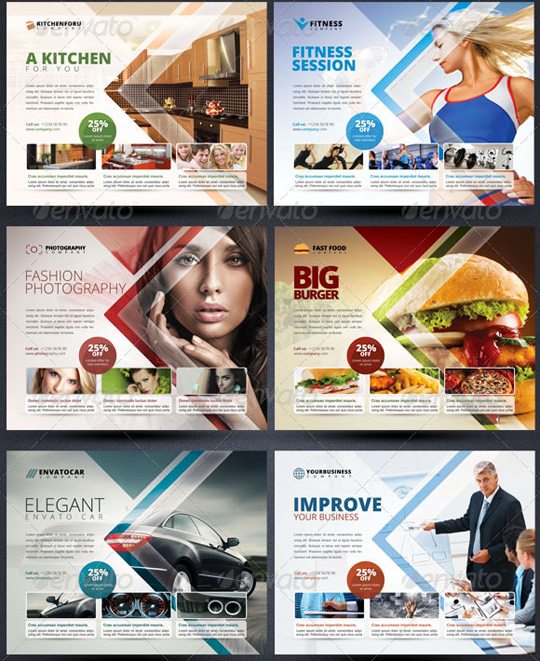 ---
As you can tell, this flyer and the one above share composition in common. Both templates have a centralized promo code toward the lower half of the page as an unmistakable call to action. This multipurpose template gives you more space for written content. However, make sure to not include too much text—you want your pictures to do most of the talking.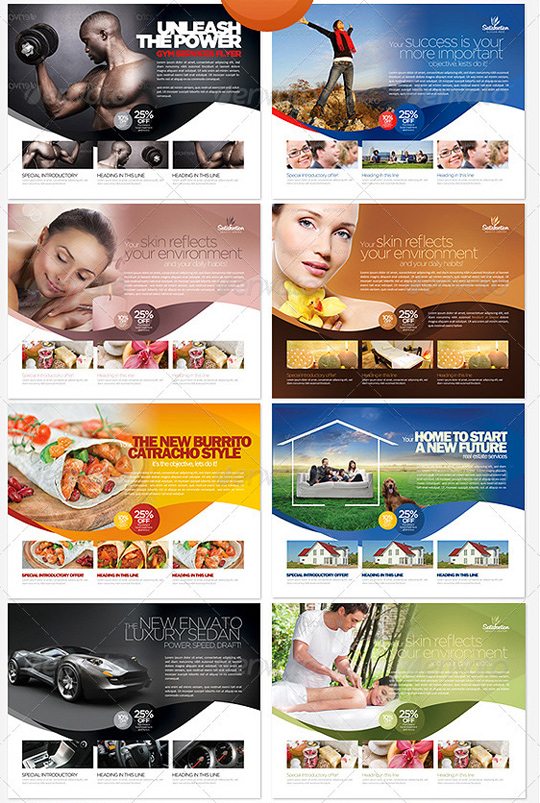 ---
This package includes four different color schemes. Which one strikes you the most? That's probably the one to go with for your business. As a rule of thumb, green conveys money, blue conveys authority, black conveys sophistication, and white conveys simplicity. The pixelated image gives a sense of movement to the flyer. Another nice touch are the three columns at the bottom, which allow you to break information into three unique parts.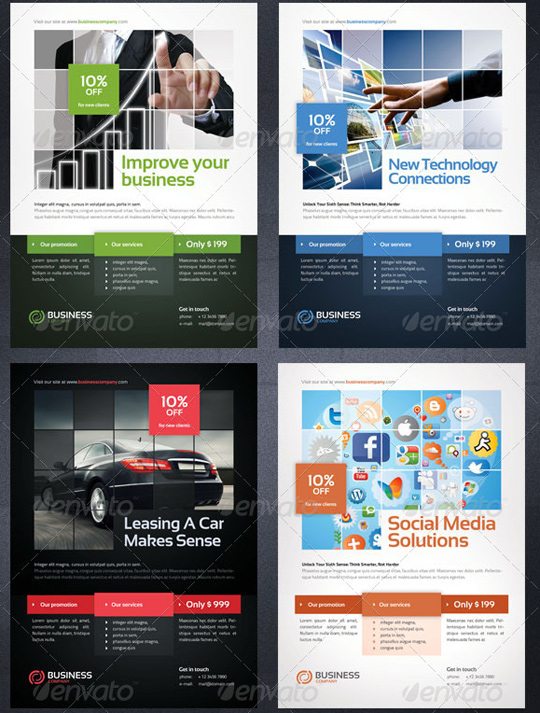 Click here to learn how to turn your flyer into a one-page website for your event.
---
This free template from Microsoft Office is great for a springtime event. Its simple design and easily editable format is perfect if you want a quick and easy way to create a flyer without having to find your own images. The two-color design will also help you save on printing costs.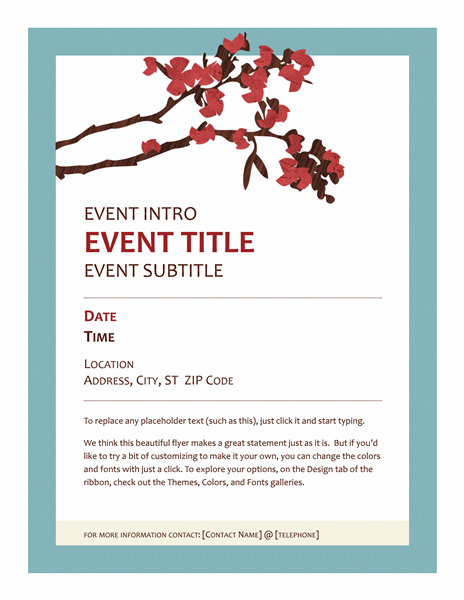 ---
Car care and repair services are great to advertise via flyer. The energetic use of yellow inspires optimism (because we all need that when it comes to car repair). This flyer has a lot of text, but because it's broken up into different areas, the text is not overwhelming.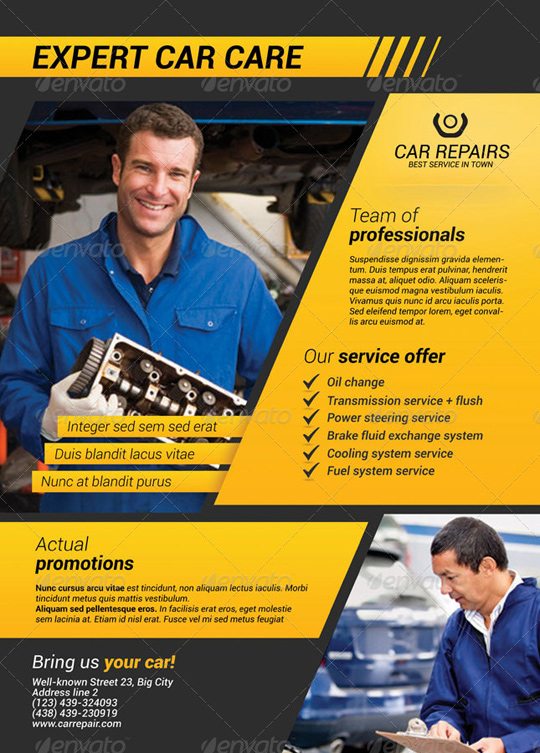 ---
Medical professionals can distribute flyers, too. Whether you're a dentist, an obstetrician, or a family practitioner, you can benefit by distributing flyers and getting the word out about your practice. This flyer template is clean and sleek—which is good when you're promoting a health service. The punches of blue or green help to inspire confidence and reassurance.

---
If you're promoting a photography business, you must include your work on your flyers. It gives readers a chance to get acquainted with your photos, even though it's only a few images. The reason these flyers are so effective is that the background colors are neutral. This allows the photos to shine. Also, don't get too wordy on a flyer about photography—let your pictures do the work.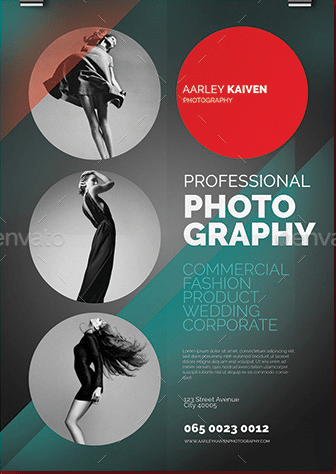 ---
As the title states, this flyer template is well suited for real estate sells. The designer used a very smart combination of photos, making the main house image the largest photo and including smaller images as insets. Another good idea is to add an image of the realtor. It puts a face with the name and adds to a sense of trustworthiness.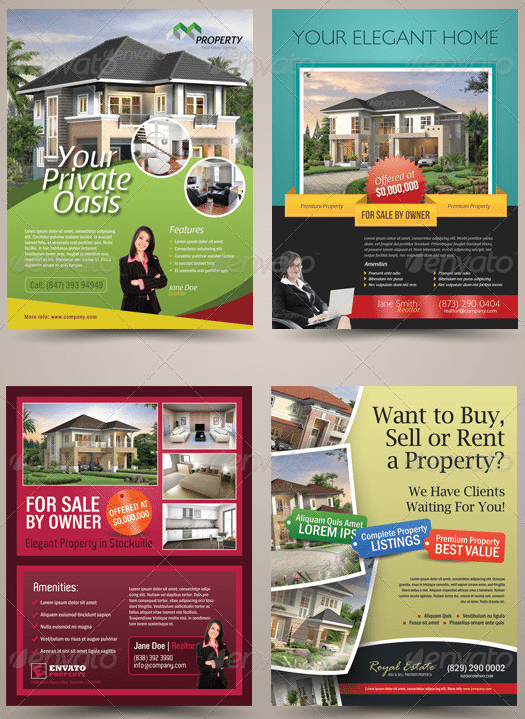 ---
Regardless of the food you offer, this food truck menu flyer is easy to personalize by adding your own information and photos. The eye-catching design and color scheme ensure that your customers are engaged and interested as they line up for your food. The fonts are clear and the background can be changed to suit your theme.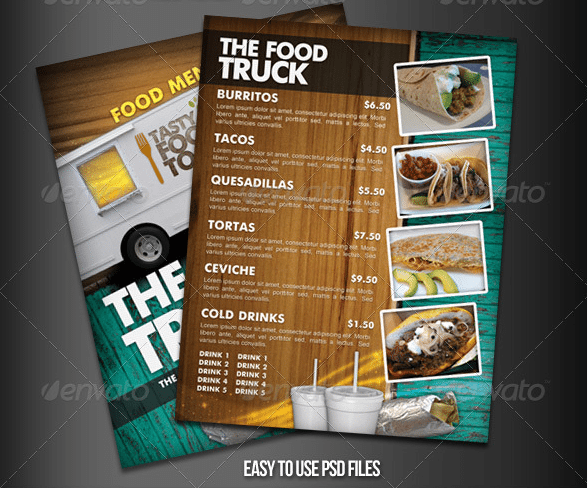 ---
One background image and one bold stripe of information is all it takes to get your point across. I love the way the white text color contrasts with the shadows. Be careful not to overdo this template with unnecessary information. Having a little emptiness calms the eye.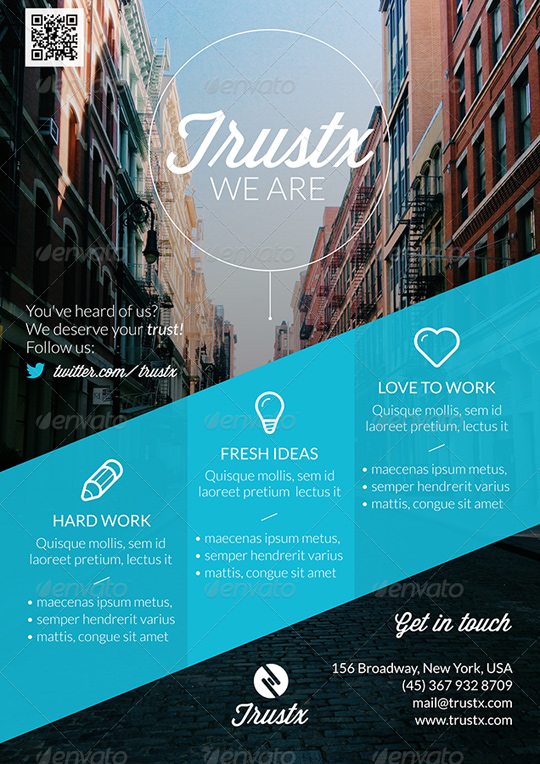 ---
With big bold lettering and the blue accent color, this flyer template draws attention to the most important information. This is a free template that you can easily edit in Microsoft Word. Consider including your logo in one of the corners so that people who receive your flyer immediately attribute it to your brand.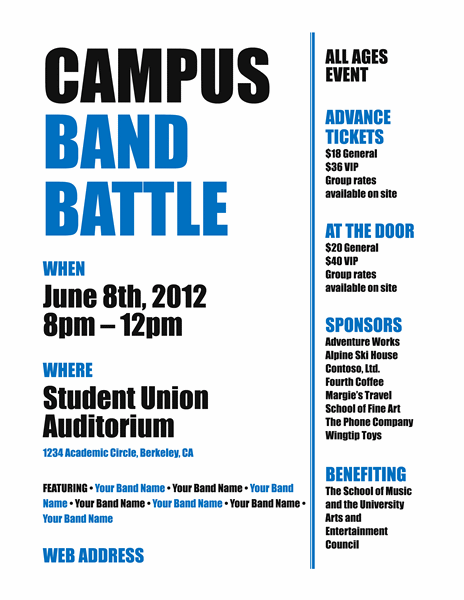 ---
This real estate flyer is effective because it showcases a huge image of the house with three inset images of the interior. The strip of black at the bottom of the page is great for explaining more about your company.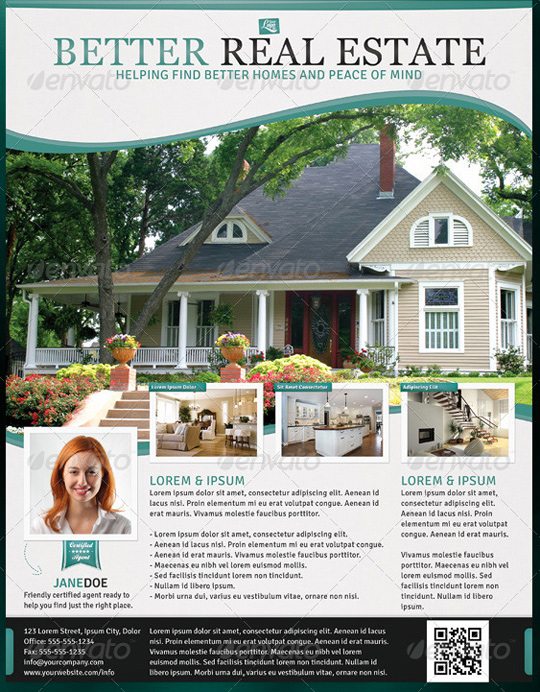 ---
This is an unabashedly vintage flyer. If your business is connected to retro or grunge, like a classic car restoration business or a biker bar, or if you just like the concept, try this flyer.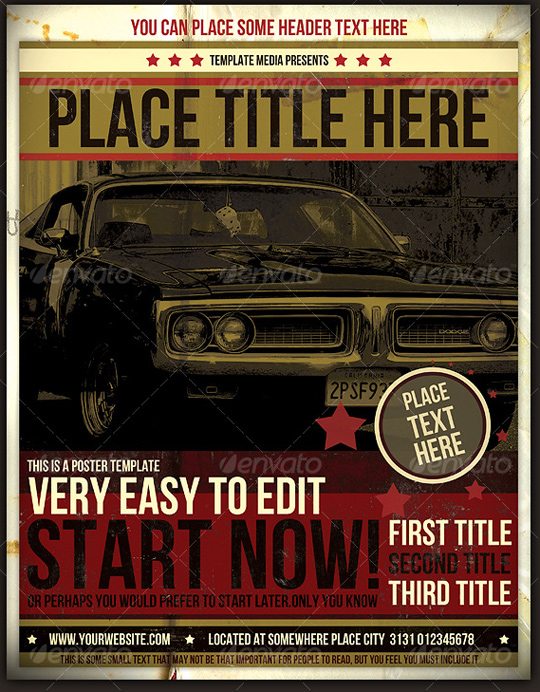 ---
I love this template for creative businesses. It features a large image that draws the reader in and defines the brand. It also includes space for a smaller image, preferably of you, the business owner. The use of purple, blue, and green subtly hints to creativity, professionalism, and growth. The icons help to explain what your business does.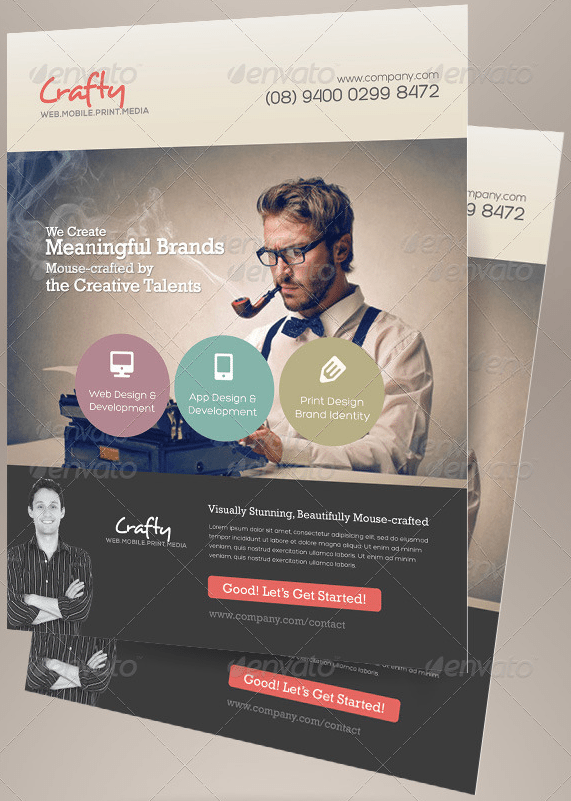 ---
This flyer can be used for a myriad of purposes. Like the one above this, it includes a talk bubble. It's a good idea to combine a talk bubble with your telephone number as a call-to-action. Use this type of flyer when you're interested in speaking to customers directly, and not necessarily for product or food sales.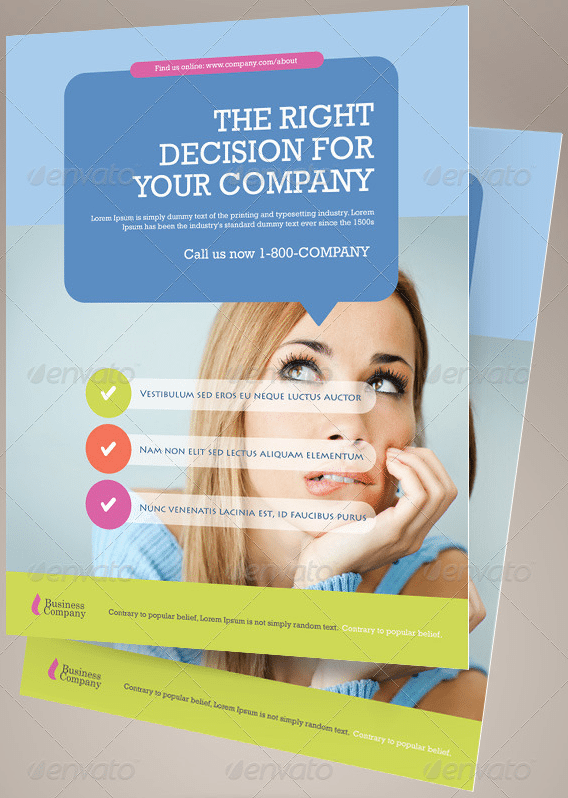 ---
Glow in the dark flyers can be used for events catering to a young or professional audience. The contemporary design with the city in the background makes it eye-catching and effective for pulling in crowds. With this poster design, you are ready to pull in crowds.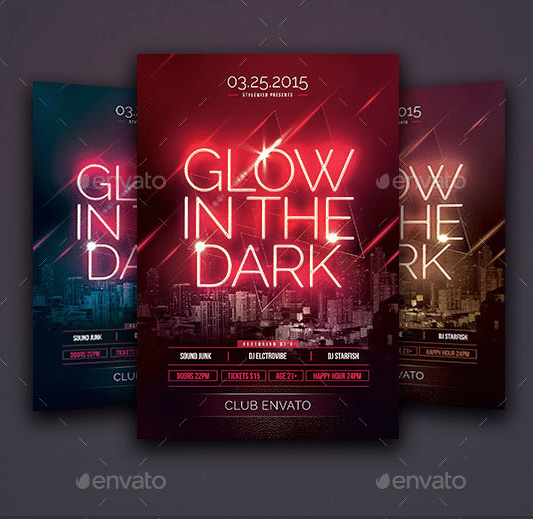 Click here to learn how to turn your flyer into a one-page website for your event.
---
This flyer is colorful and fun, perfect for any children-themed business. Smart objects make it easy to edit text, replace images and adjust the color theme. The design gives you that unmistakable vibe that will let any potential client recognize your brand and business, even from afar.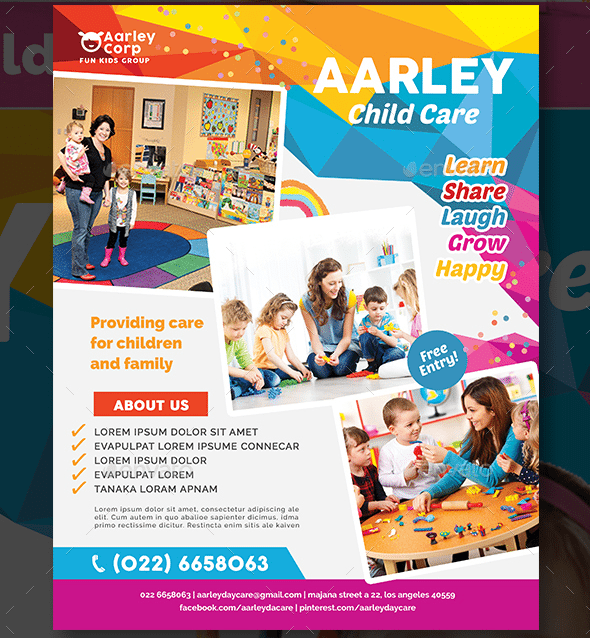 ---
This simple flyer is great for your upcoming small business event. Just pick a picture that is representative of your event and fill in the details. This flyer is good for posting in your shop window or hanging around town. Make sure to include reasons why someone should be interested in attending your event.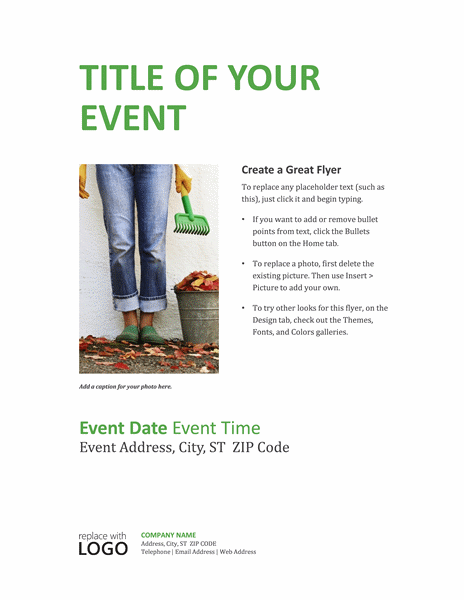 ---
Flyers are great for promoting pizza restaurants. The layout and design make it easy to edit this flyer to reflect your brand and style. It also gives enough space to include a description and photos of your menu to help market your products easier.

---
With a few quick changes, this flyer can be customized to reflect your brand. The layout gives you a clean space to work with photos and enough text to keep customers interested in your products. It also offers four color themes that are easily customizable to your style.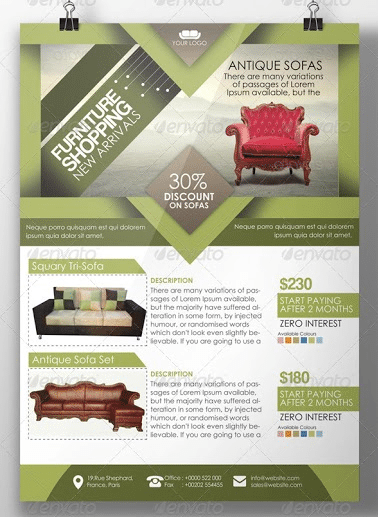 ---
This flyer is perfect for grocery stores and fresh product markets. The layout lets you showcase your products and promotions without making it look too cluttered, while the text can be easily edited to work with your own theme.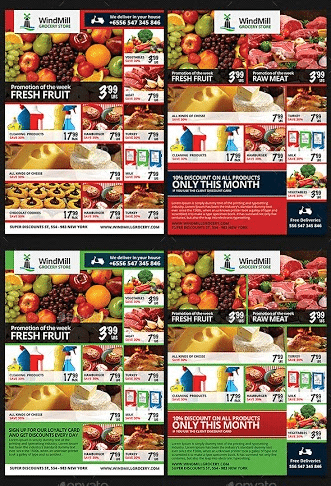 ---
When you're selling products at a special price, use a flyer to indicate that. Be sure to add a price tag. The black and white colors allow the dynamic orange to take center stage. The orange color immediately draws the reader to the watches as well as the text "watch" and "brand new launch" on the top right.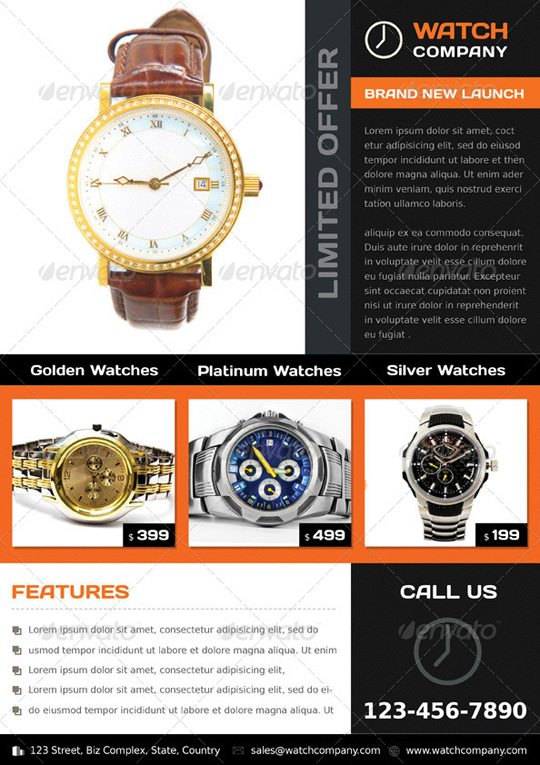 ---
This medical flyer is successful because it uses one color for highlighting. In the case of pink, it's compassion, and in the green flyer, it's health. I like the use of the shapes to show "behind the scenes" snippets. There is also a lot of space for text, which is not usually best practice for flyers, but works well for informative health flyers.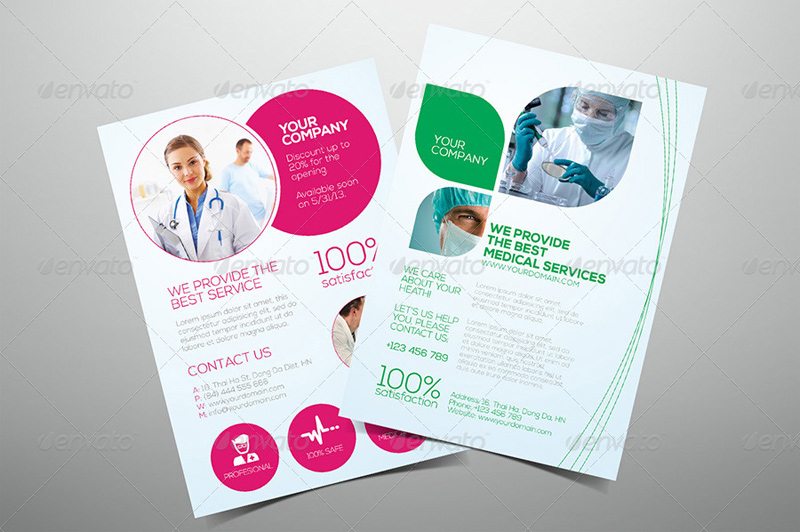 ---
The original design offers colors that reflect summer, but the template can be easily changed to adjust the color scheme to reflect a different theme. This contemporary flyer design uses large text over vibrant colors to easily catch the attention of your target market.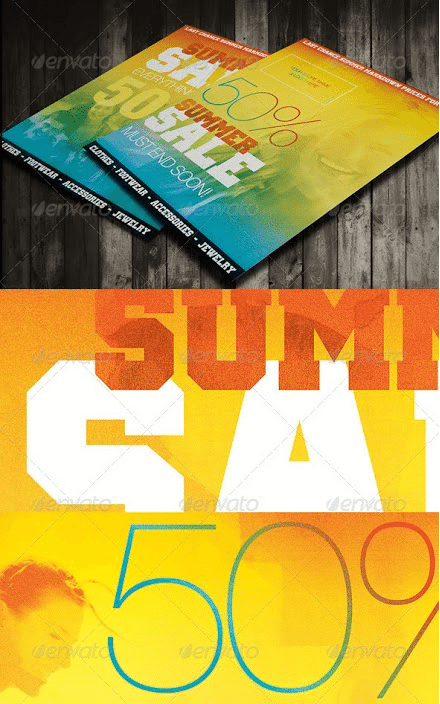 ---
What better way to let your local community know about your services than by handing out flyers. This design is professional but still playful, keeping the colors soft and letting the photos of pets stand out. It gives you enough space to describe your services, which any pet owner would love to know more about.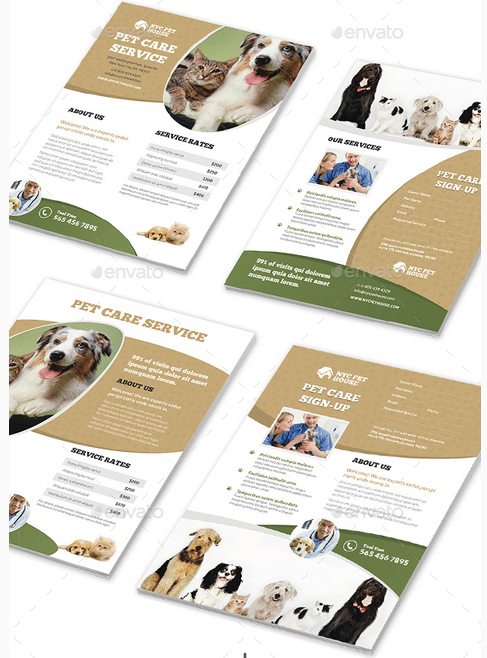 ---
Over to You
Now that you've taken a look at our compilation of 25 awesome flyer templates, let us know which ones are your favorites in the comments section below!
Want to turn your flyer into a one-page website? Click here to learn how.