Top 23 Postcard Examples for Design Inspiration & Marketing Ideas
Postcards are a visual-heavy marketing tool for advertising offers, events, promotions, and news in an affordable, direct mailer. Because they don't have a ton of space, you must be discerning about the content you put in your postcard—and you also have to ensure it's eye-catching. From the dozens of postcard examples below, discover various design and marketing ideas you can use to grow brand awareness and gain new leads and sales.
VistaPrint makes it easy to create marketing postcards to promote your business. Upload your own design or edit any of its hundreds of templates and order in quantities as low as 50. You can also take your postcard mailer from design to delivery with VistaPrint's in-house mailing services.
Before you create your own, get inspired by the business postcard examples below:
1. Restaurant Postcard Examples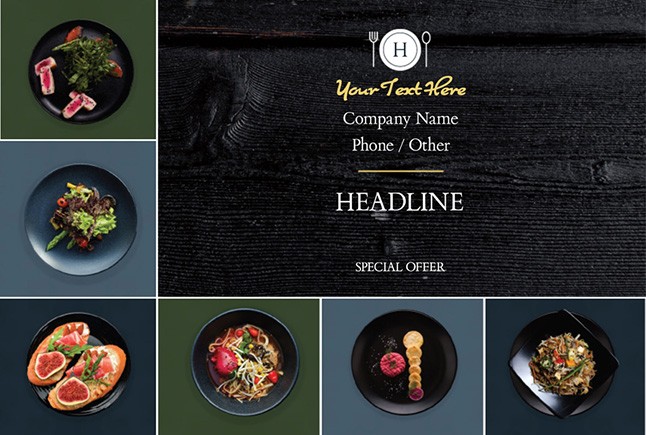 ---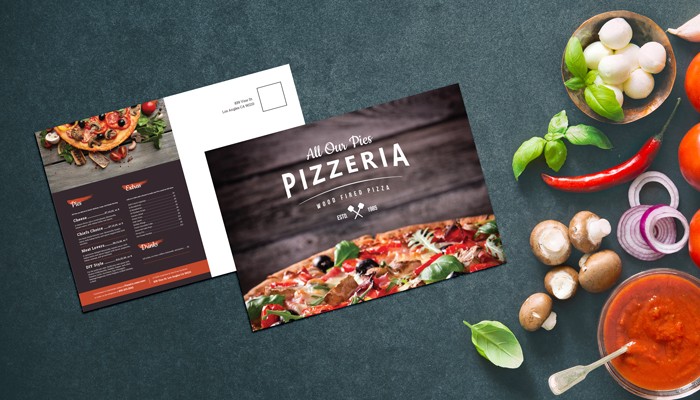 ---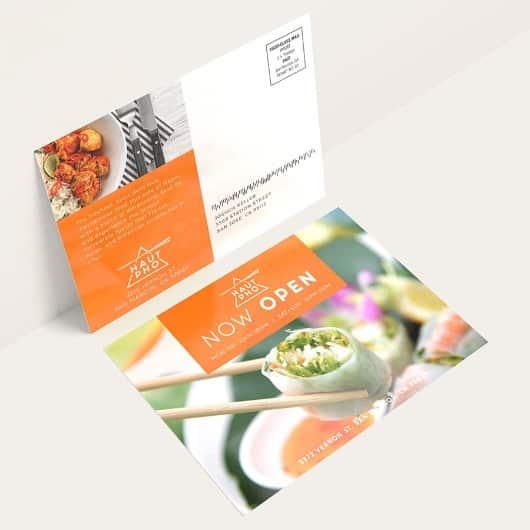 ---
Restaurant postcards are an excellent direct mail campaign format to advertise your newly opened eatery. They're easy to mail, so a new restaurant can send postcards to addresses in their ZIP code without spending too much money. With PostcardMania, for example, you can print and send postcards to the ZIP codes you want to target using Every Door Direct Mailing (EDDM) services at a low cost, and first-time customers often get $50 off or 1,000 postcards free.
Postcards can also be the perfect space to display your menu, contact information, social media pages, and address. If you're a fast food restaurant, you can even include discounts and promotions or use postcards to boost sales of limited-time and seasonal menu offerings. And as in the first example above, showcasing photos of your most popular and delectable menu items is a great way to get customers coming back for more.
2. Real Estate Agents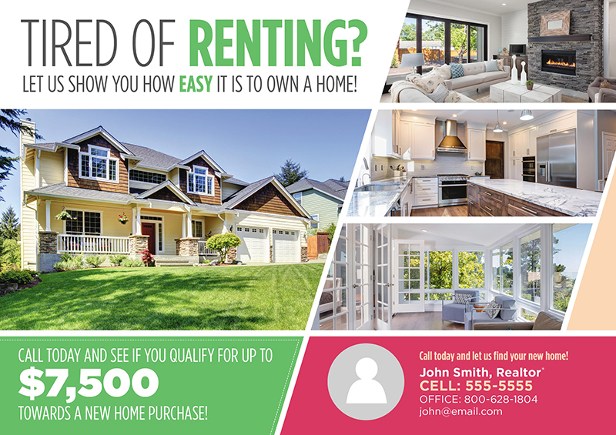 ---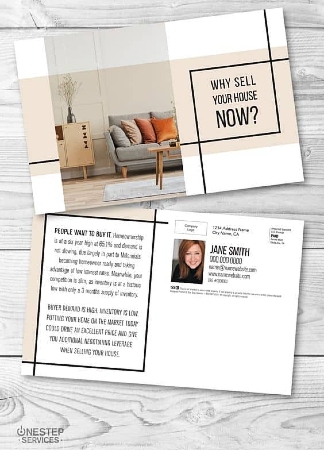 ---
Postcards are an essential tool for real estate agents who want to build brand awareness and stay top of mind in their communities. In fact, many top agents send real estate farming postcards several times throughout the year to be the go-to when someone is ready to buy or sell a property. Thankfully, there are endless real estate postcard design ideas you can use.
Want more real estate postcard design ideas? Check out our roundup of more than two dozen real estate postcard examples. Some agents use the space to introduce themselves and their services, while others feature listed and sold properties to display their portfolios. You can even include the median home values in your area or provide free quotations and consultations for buying and selling.
If you send postcards several times throughout the year or need multiple designs for a marketing campaign, a low-cost monthly subscription to Envato Elements offers a slew of benefits. For $16.50 a month, get unlimited downloads of everything on their site, from postcards to brochures, logos, graphics, images, video and audio files, social post templates, and more.
3. Interior Designers & Home Remodelers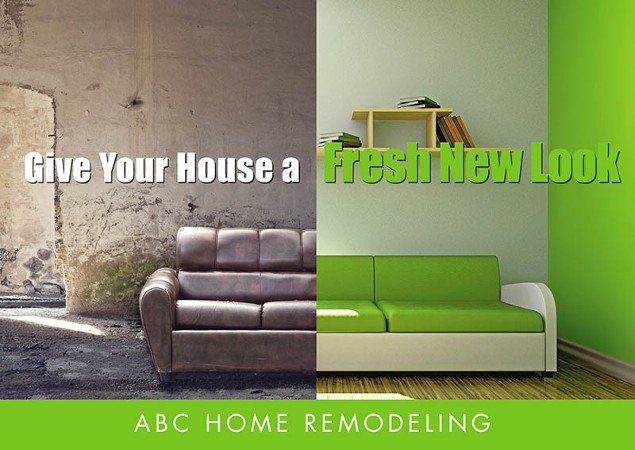 ---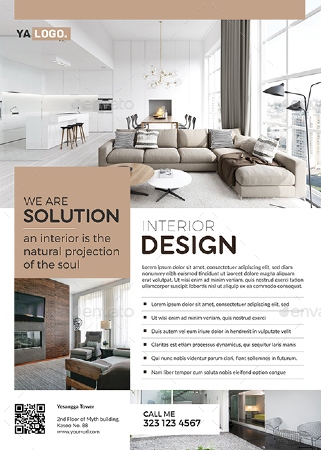 ---
Postcard marketing is a great way to reach out to prospective interior design and home remodeling clients. Plus, with companies like PostcardMania, you can target mailers with EDDM. You can send postcards to every address in specific neighborhoods to reach out to homeowners with older homes vs potentially wasted money spent mailing postcards to newer homes that aren't likely to need updating.
4. Movers & Local Moving Companies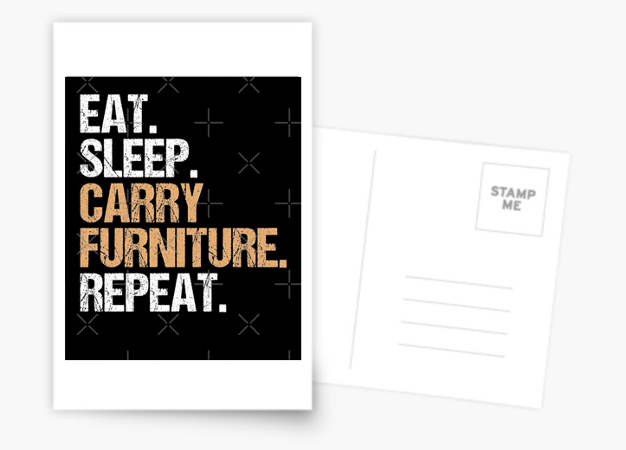 ---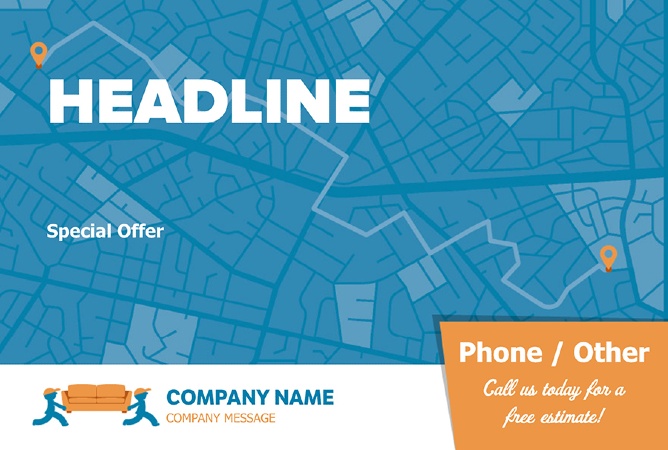 ---
Commercial and residential moving services are always in high demand. Promote your local moving company using direct mail postcards targeting rental properties and mature neighborhoods. In addition, you can partner with local real estate agents and homestagers to cross promote one another's services, bringing new leads and customers to all.
5. Travel & Tourism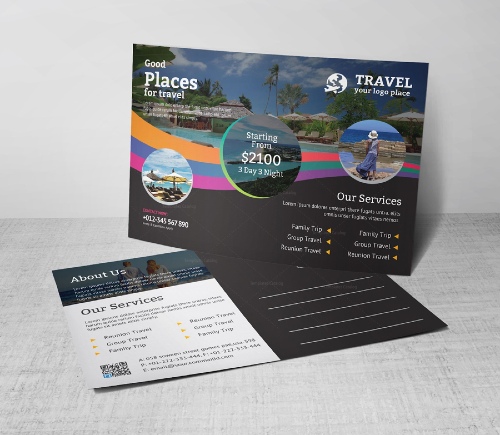 ---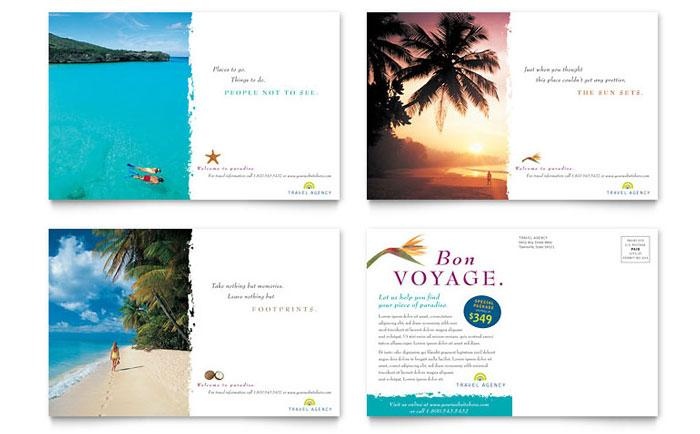 ---
A postcard is one of the best marketing tools for a travel agency. Not only can you use the space to display beautiful travel photos, but a postcard is extremely on-brand as well. Present different vacation destinations on various postcards, and include package prices, must-see spots, travel tips, and your contact information for maximum exposure.
6. Bakeries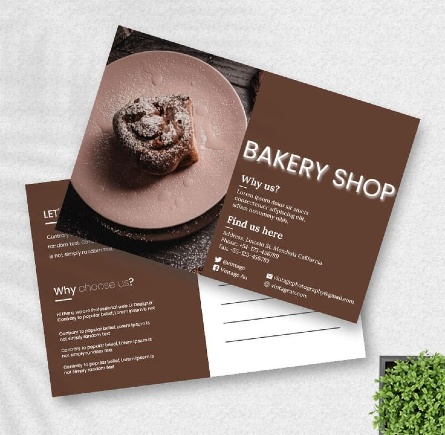 ---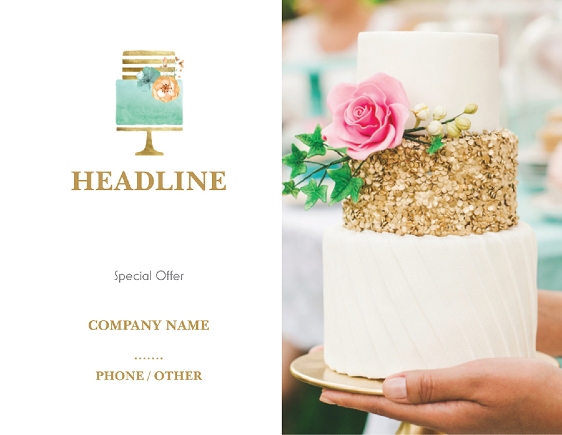 ---
Sending a grand opening or "just opened" postcard can be a wonderful way to spread the word in the community. You can even include a free cup of coffee or a free pastry voucher to get people to stop by. You can send your postcards affordably to every residence near your new location using EDDM through direct mail companies like PsPrint.
You can also use postcards for marketing your cafe or bakery going forward, such as promoting sales of gift certificates near the holidays or specialty items, like wedding cake baking services. Make sure to always include your contact information, address, and maybe even a map of where you're located. Wrap it all up with a few details about what sets your bakery and cafe apart from others to level up your brand presence.
7. Coffee Shops & Coffee Stands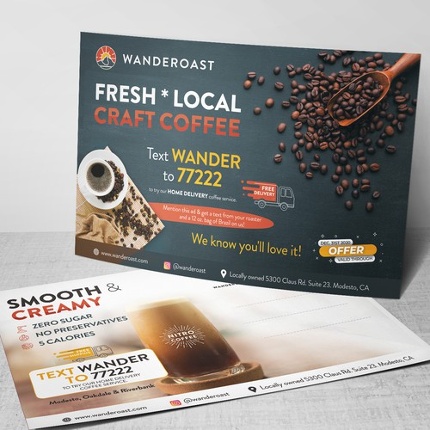 ---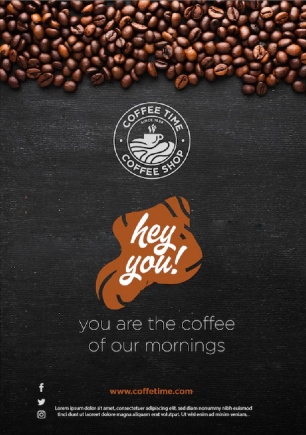 ---
The first coffee postcard design idea above won a design contest. It's a great example of a coffee marketing postcard as it includes a call to action (CTA) that gets the recipient involved and helps the business build a text marketing contact list by offering them a chance to win by texting a code. It's also completely unique, as 99designs allows you to host a contest inviting multiple graphic designers to submit entries—and you only pay when you get a design you like.
Opening up a neighborhood coffee shop or a new coffee stand? Use postcards to spread the word, attract customers, and drive sales. Coffee lovers will take notice, especially if your postcard has visual and verbal appeal, such as a play on words with a coffee-themed quote, as in the second marketing postcard example above.
8. School & Education-related Postcards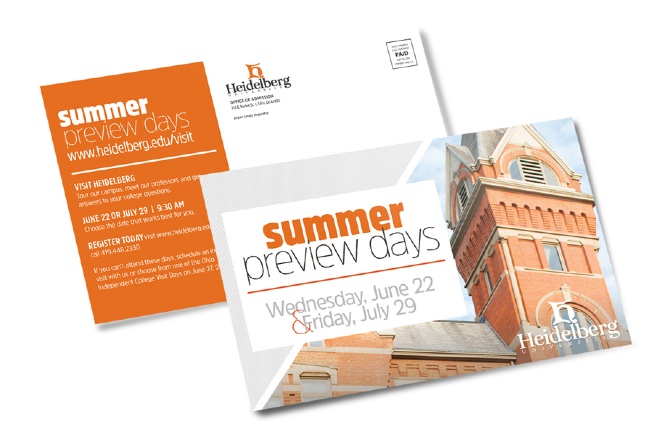 ---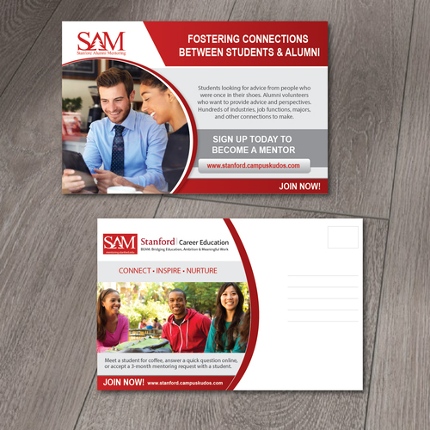 ---
Sending out recruitment postcards is an affordable way to get more visitors onto your campus. Since they're single-page mailers, they're much cheaper than sending recruitment packets to students across the country. You can also use postcards to invite parents and potential students to open houses, campus tours, programs, initiatives, and homecoming events.
9. Spa Postcard Examples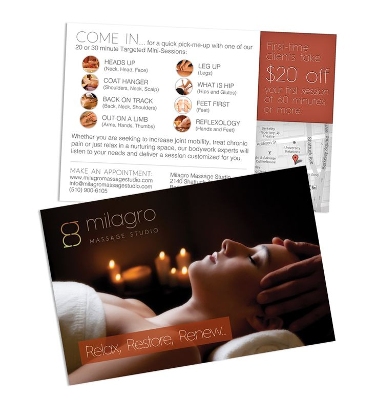 ---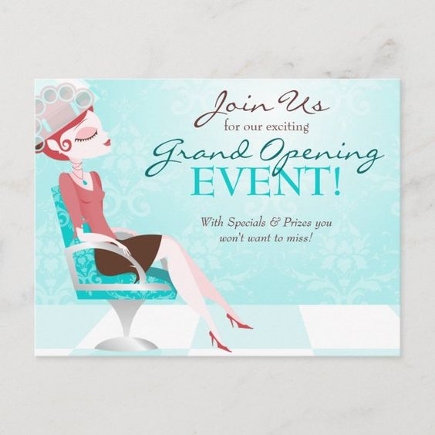 ---
As one of the cheapest marketing materials at your disposal, you can create a host of postcards for your spa to advertise your business, invite customers to try out new services, and display promotional material. One idea to generate excitement is to host a raffle or giveaway. Include the details on the postcard itself and leave it at your front desk. Since postcards are easy to carry, and existing clients can help you expand your clientele by passing these around.
10. Salon Marketing Postcards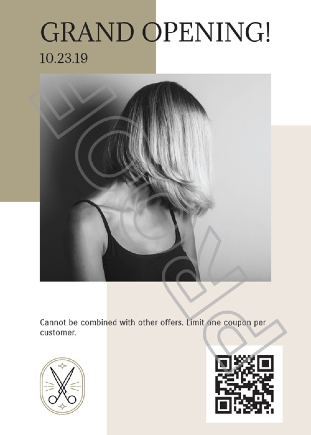 ---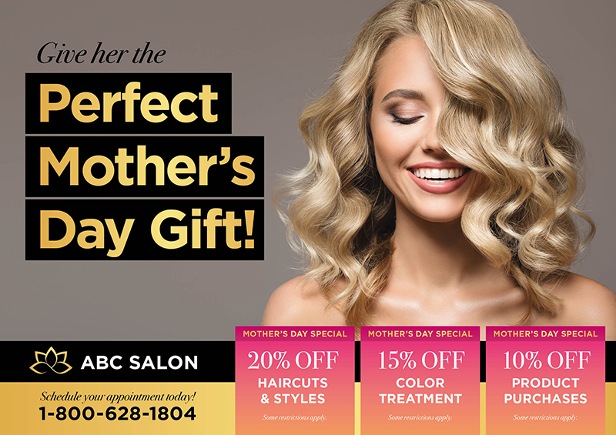 ---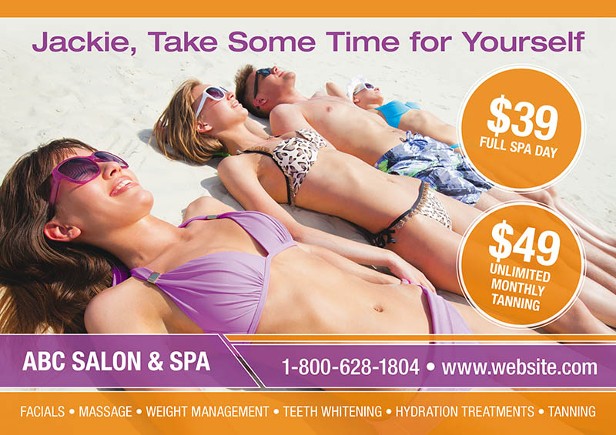 ---
Like spas, postcards are a great marketing tool for salons. They can be used in EDDM campaigns via PostcardMania to build brand awareness and generate sales in neighborhoods, ZIP codes, or throughout a regional area, depending on where your customer personas indicate your ideal client types are most likely to reside.
In addition, similar to the text marketing campaign in the coffee postcard example above, adding QR codes (quick response codes) is an effective way to drive traffic to your website. The recipient simply scans the QR code with the camera on their smartphone and then can click over to your website's landing page, menu, appointment booking tools, or contact page. VistaPrint makes it easy to add QR codes to any postcard design, right in the editing tools, for free.
VistaPrint and PostcardMania both made our list of the best direct mail services. Read the article to learn why, see who else made the list, and find out how much your next postcard mailing campaign will cost.
11. Nonprofit Organizations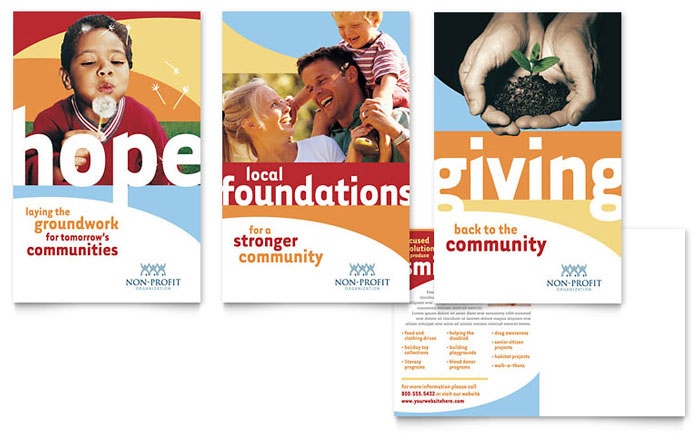 ---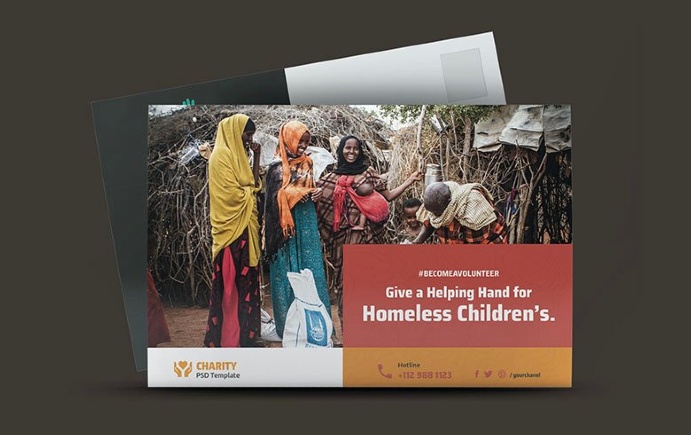 ---
Postcards are an affordable way to reach out to potential donors. As a nonprofit, you can use the space to give light on new causes, tell compelling stories, or give more information to your patrons about where their money goes and what you've done so far. To stay within a limited budget, create your own postcard design with templates on sites like VistaPrint. Or, for more design freedom, leverage the online graphic design tools of Canva, including access to royalty-free graphics and images.
12. Art Galleries & Museums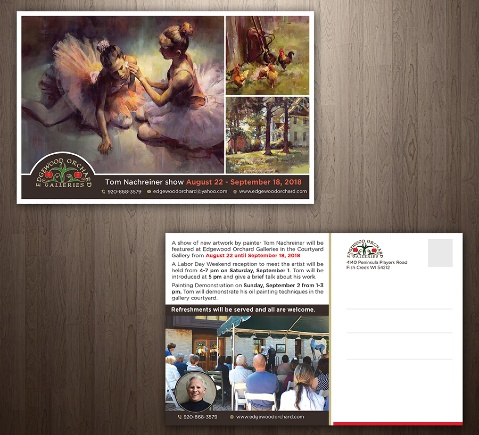 ---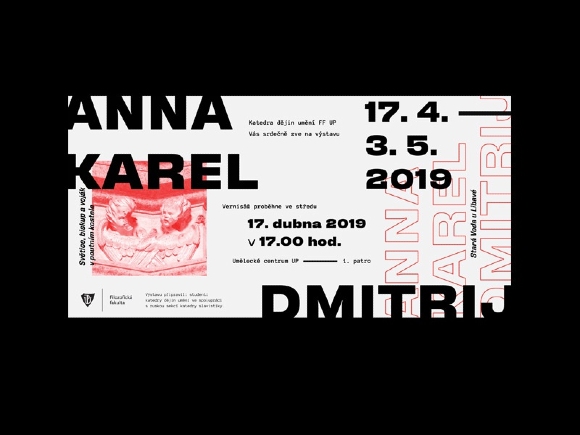 ---
Similar to a nonprofit postcard, you can create a museum postcard to reach out to your members and patrons. More than that, you can also use your postcard as promotional material for a new gallery or as an invitation to an event. Since these types of postcards should look more striking and unique, get in touch with a professional graphic designer on Fiverr to create a postcard design for your business for as low as $5.
13. Gyms & Fitness Postcards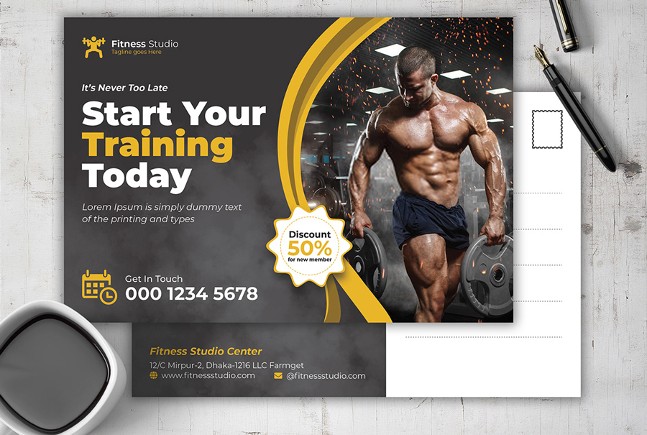 ---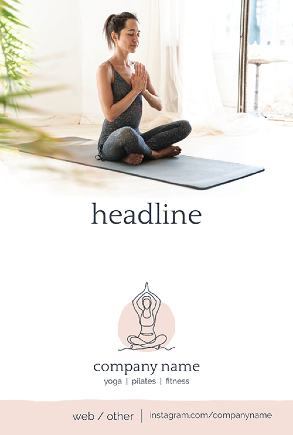 ---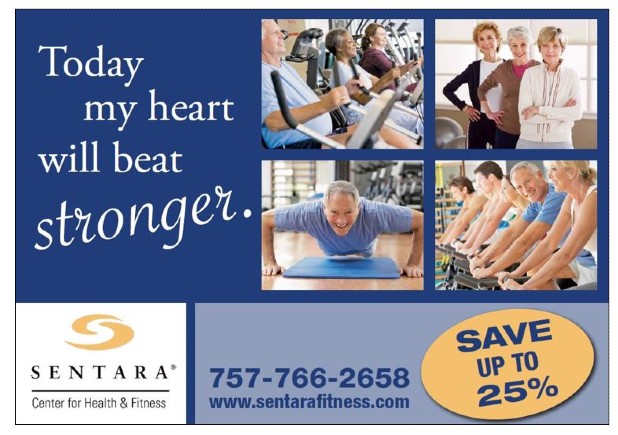 ---
Promote your gym, fitness center, or home-based services to new clients by including a list of services and even trainers they can contact. You don't have to mail these out, either. Like a spa or salon postcard, treat these like brochures and leave them by your front desk so members can pick a few up and pass them around. To make it even more enticing, include free passes on the postcard.
Another way to set you apart is by partnering with other small businesses in your area. For example, you can offer a free coffee or a free smoothie at your local cafe and place that on your postcard. You can even offer discounts to sporting goods stores or athletic stores. That way, you can advertise your business while networking with other businesses at the same time.
14. Examples of Postcards for Clothing Stores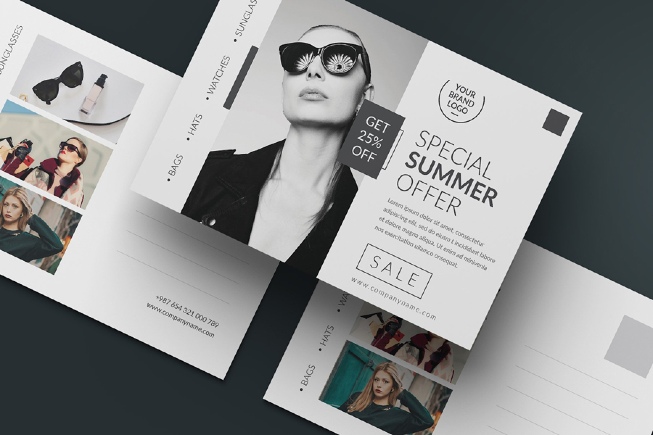 ---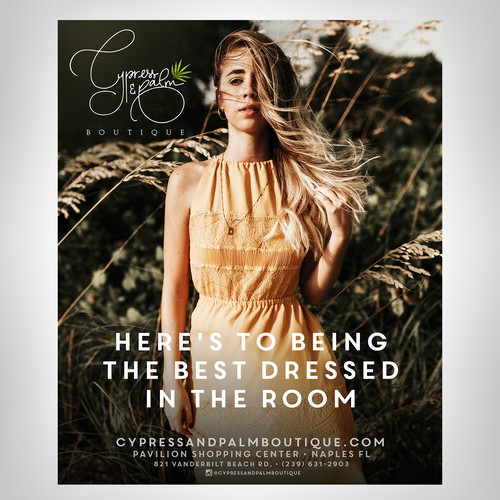 ---
Since postcards are visual mediums, they're the perfect space to introduce a new clothing line or collection. It can essentially be a catalog for your clothes. You can also use postcards for advertising sales or any other promotional material. As a boutique retail clothing store, you're one of a kind, so your marketing materials should be too. Add your own flair to templates on sites like VistaPrint, or use 99designs to get multiple postcard designs to choose from.
15. Plumber Postcard Examples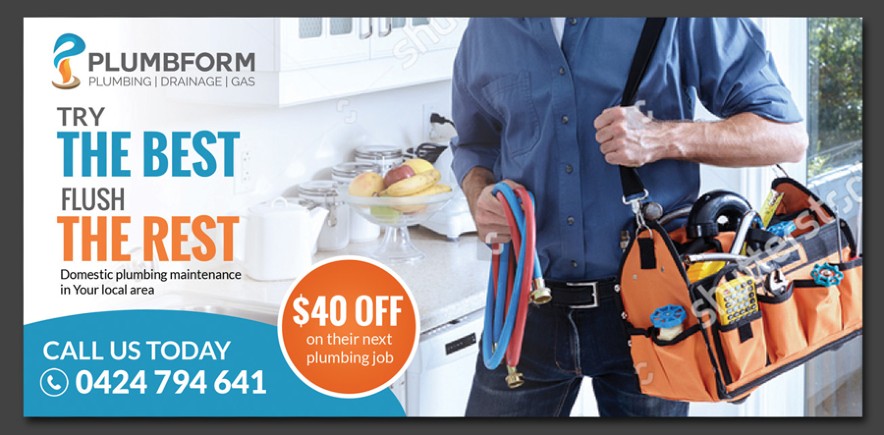 ---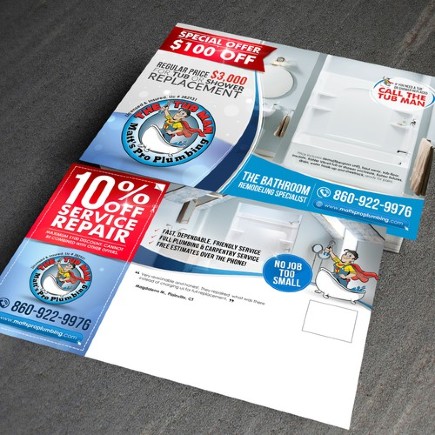 ---
Sending postcards for plumbers and other home services (e.g., electricians, HVAC, remodelers, and so on) increases your business' reputation and name recognition in the community. Furthermore, you can use the mailer to remind your existing customers of their warranty periods for particular services and products. Other ideas you can include in a maintenance business postcard are discounts, promotions, contact information, website link, email address, and a list of services.
16. Wedding Planners & Event Venues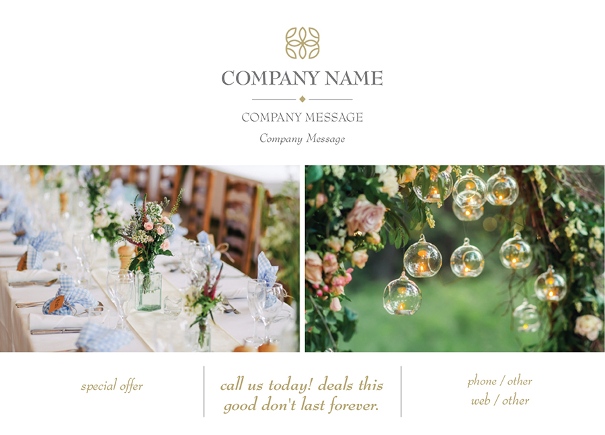 ---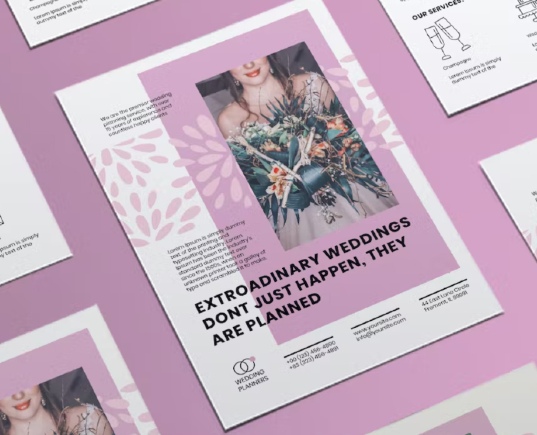 ---
The event industry is big business, and few events garner the level of planning and preparation as weddings. Wedding planners and venues can use this VistaPrint postcard to reach out to people in their areas through direct mail marketing to build brand awareness and get bookings. In addition to postcards, you can create a suite of marketing materials from brochures and menus to business cards to promote your wedding planning services or venue. Make sure everything stays on-brand and consistent.
17. Medical & Dental Practices

---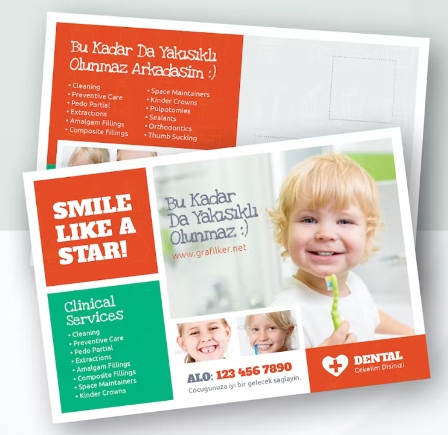 ---
Postcards are an effective way to promote medical and dental services in your community. You can also introduce new staff to personalize your mailers, list insurance that your office accepts, and include any screenings you do for free or your specialties. Medical business postcards can also be used to invite the community to attend a talk or a conference or give information about new healthcare packages and products. Don't forget to include office hours and contact information, especially for your emergency line.
18. Veterinary Services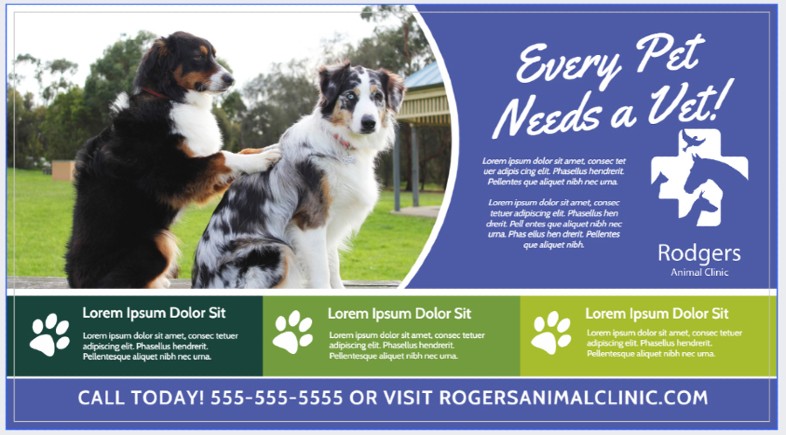 ---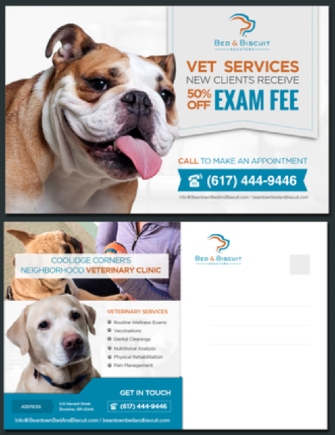 ---
Vet clinics can use postcards as promotional material too. Aside from information about your services, make your postcard more interesting by adding fun pet or animal facts. You can also personalize your postcard. If you have the budget for it, send individual postcards with pictures of your clients to their addresses to remind their owners that they're due for a checkup.
19. Grocery Store or Market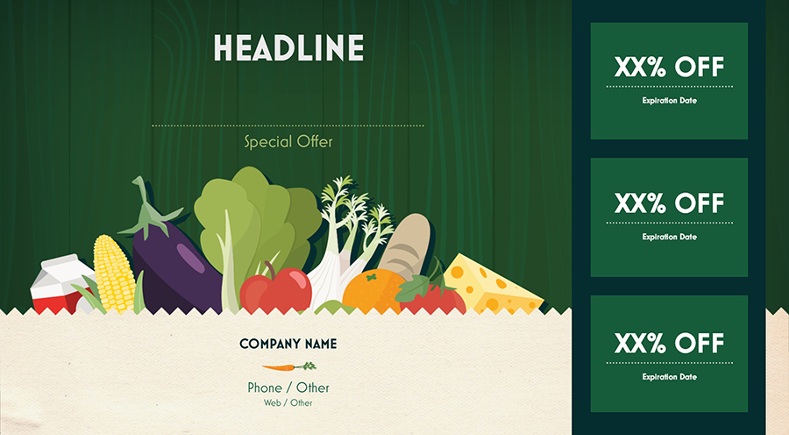 ---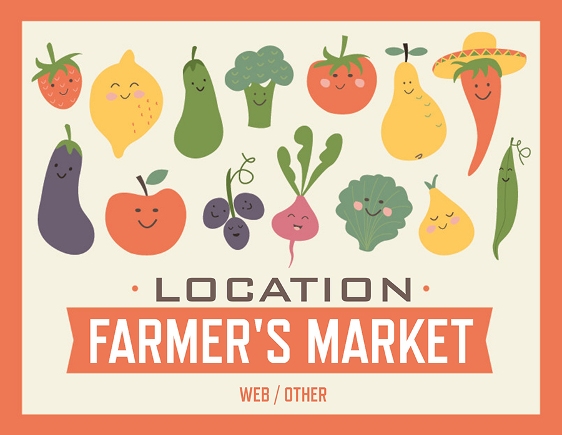 ---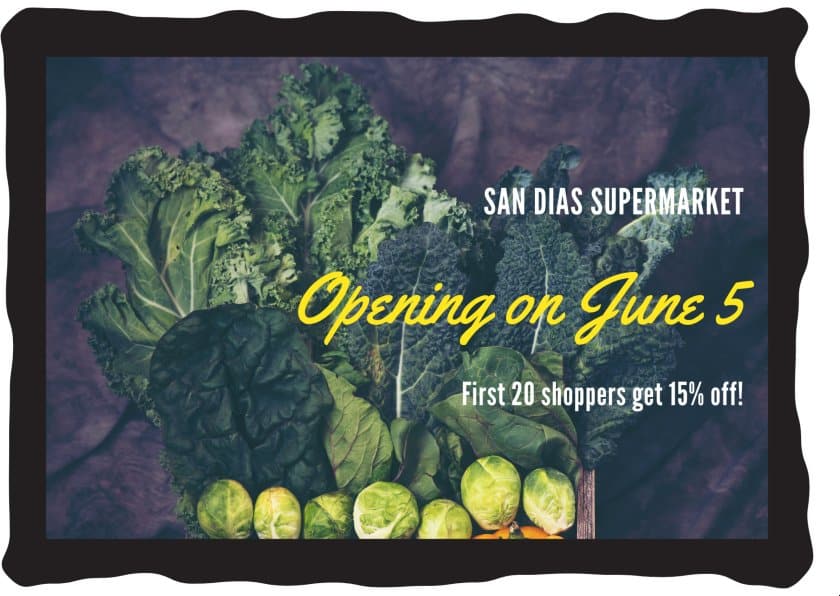 ---
Sending out a postcard is a helpful way to connect with the locals, which is especially useful for the opening of a new supermarket or grocery store. The release of new products and produce or the launch of seasonal sales can also be promoted efficiently with postcards.
Create your own through Canva, a graphic design site with customizable templates and a printing service. To make your postcard more unique, you can use free, high-quality images or purchase premium images through Canva's library as well, like in the example above.
20. Local Delivery Service Postcards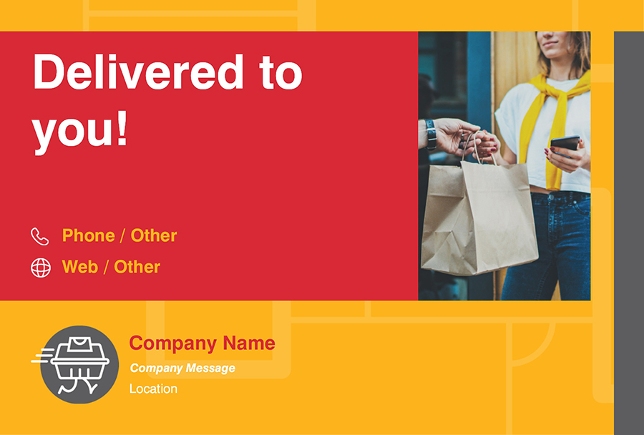 ---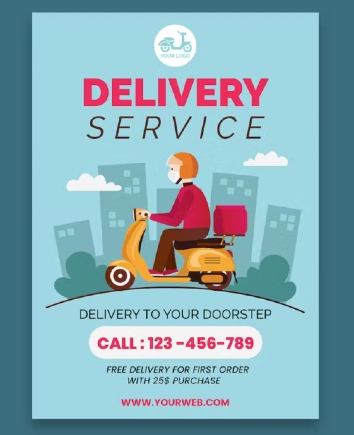 ---
The local delivery services that sprang up during the pandemic have become household staples. Promote your local delivery service business using postcards like the ones above from VistaPrint or Envato Elements. You can partner with local restaurants that don't yet offer meal delivery or promote your services using direct mail.
21. Rideshare Business Marketing Postcards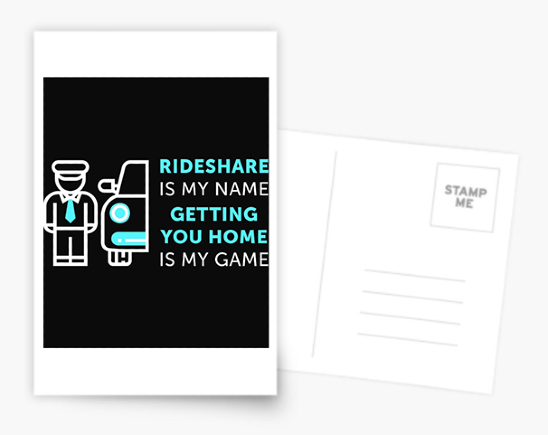 ---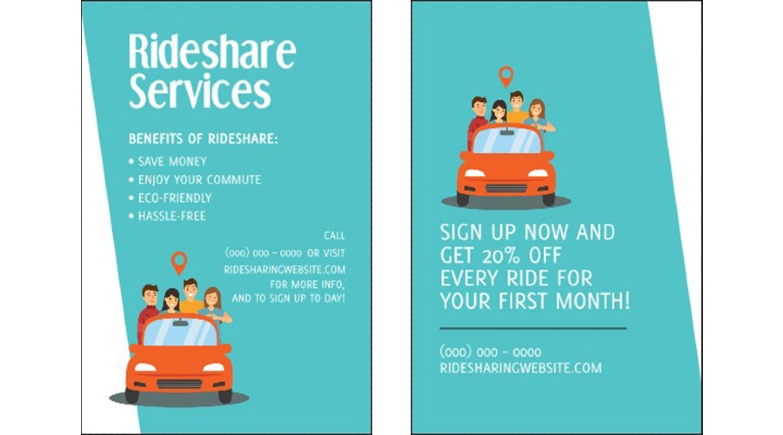 ---
Driving and rideshare services make commuting, trips to the airport, and safe night-out events a breeze. Promote your rideshare services locally using direct mail postcards like the examples above. Offering a discount for the first ride can encourage people to try your service, and you can also institute a loyalty rewards program to reward your best customers.
22. Construction Services Postcard Examples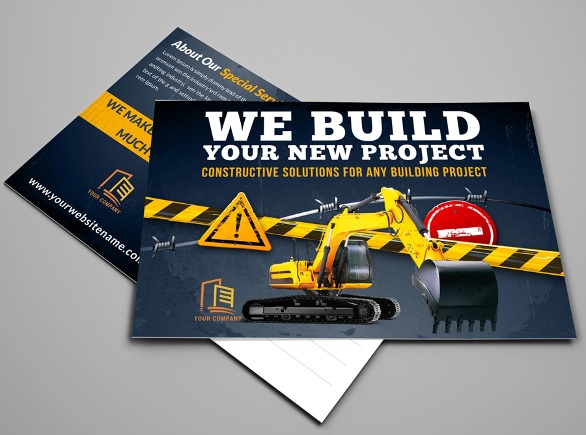 ---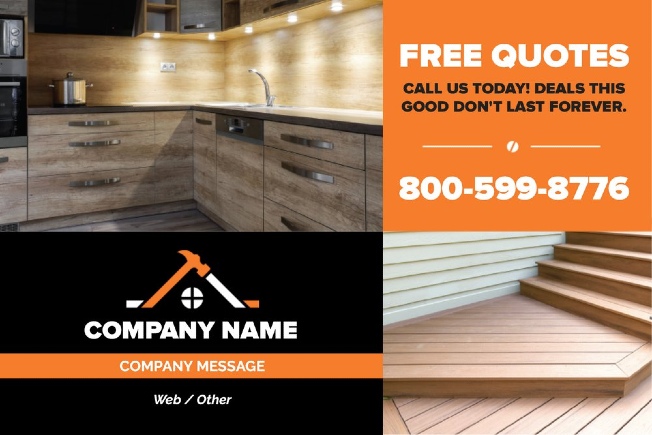 ---
Target potential clients for residential construction services by sending postcards to recent homebuyers. Since postcards are much smaller than brochures, don't feel tempted to stuff information on it, and keep it simple and neat. High-quality images and a strong call to action can often do much more for marketing your business than a cluttered postcard or flyer.
Want more design inspiration for construction marketing materials? Check out our list of more than two dozen construction business card examples.
23. Local Business Consultants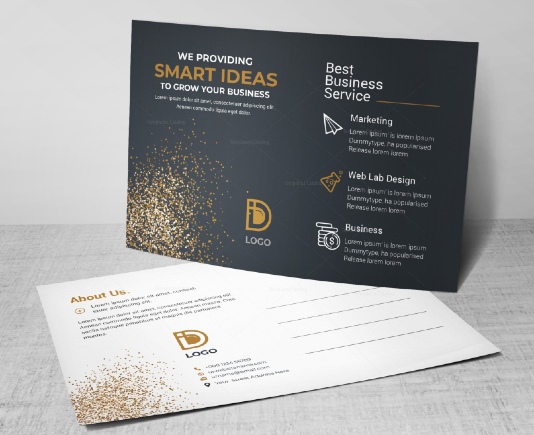 ---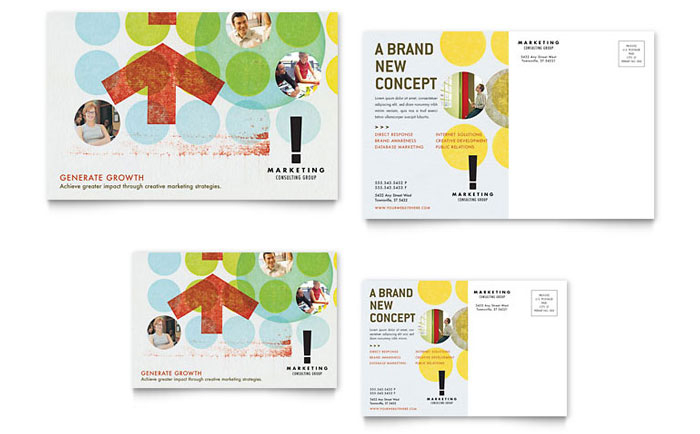 ---
Don't feel constrained by templated postcards. Although they're cheap and readily available on VistaPrint and Canva, a business like a marketing consultancy needs a more creative postcard to stay on-brand and to set the company apart. Instead, spend a little more and hire a professional graphic designer on Fiverr to create a fully customized, high-quality postcard for your business.
Frequently Asked Questions (FAQs)
How do I create my own postcard?
You can easily create your own postcard through a graphic design site like Canva or through template sites like VistaPrint. They have intuitive graphic design and editing tools that allow you to create all sorts of marketing materials through templates you can customize. However, if you want a professionally designed postcard, you can save time and hire a graphic designer through Fiverr for as little as $5.
What information should I include in a postcard?
Every postcard should consist of the basics: your logo, contact information, business hours, and website URL. From there, the information should focus on one main goal, such as introducing your brand and business offerings to potential customers, promoting new products or services, educating prospects, or extending discounts and promotions. And to make it more effective, include a strong call to action (e.g., shop now, visit, book an appointment, call us, and so on).
How can I use QR codes on my postcards?
QR codes are barcode-like hyperlinked images you can add to print and digital marketing materials, including postcards. When someone scans a QR code with their smartphone's camera, it instantly takes them to a web page. You can use them to drive traffic back to a specific product page on your website, a landing page with a lead generation form, your website's home page, your appointment booking software, and more.
Bottom Line
Staying on brand, using high-quality images, and including a clear message and call to action in your postcards can help capture people's attention and keep your business top of mind. Ensure your postcard provides key information like your address, phone number, and website to make it easy for the recipient to do business with you.
To make your postcard marketing design inspiration a reality, turn to a reliable printing service like VistaPrint. Create, edit, and order postcards quickly and affordably, including mailing them to your contact list.