28 Coupon Examples & Advertising Ideas for Small Businesses
Coupon ads are an effective way to reach new customers, boost sales, and increase brand awareness. A good layout and strong copy can make all the difference for someone to decide it's worth using. To help guide your strategy and maximize your return, we rounded up over two dozen coupon examples and explain the advertising ideas behind them to use for business, plus we cover the elements that make a good coupon.
Examples of Print Coupon Ads
Although digital coupons are on the rise, traditional print coupons are redeemed more. Below you'll find coupon examples with marketing ideas you can use as part of your strategy to attract new customers and grow sales using print coupons.
1. Get More Customers Using Postcard Coupons
Send special offers to attract new customers or encourage clients to come back by sending a postcard offering a special deal on their next visit. Not only do physical coupons increase the number of in-person visits, but direct mail postcard ads also have a high probability of being read. Postcards have the second-highest response rate among all types of direct mail.
Unlike digital ads that are easily overlooked, postcards share a message without needing to be opened. For inspiration, check out our list of dozens of postcard examples and ideas, or check out the postcard coupon samples below.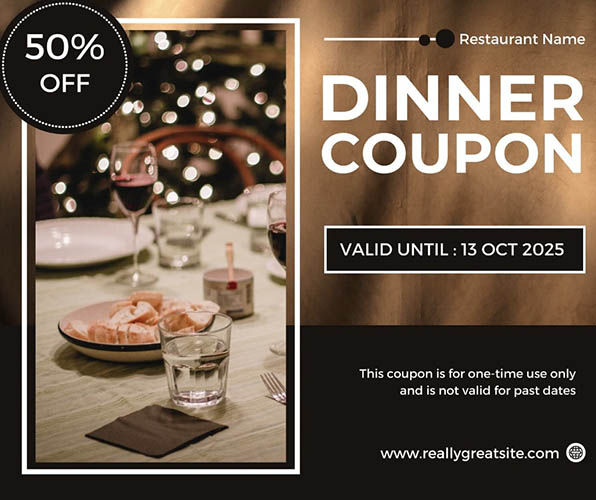 ---

---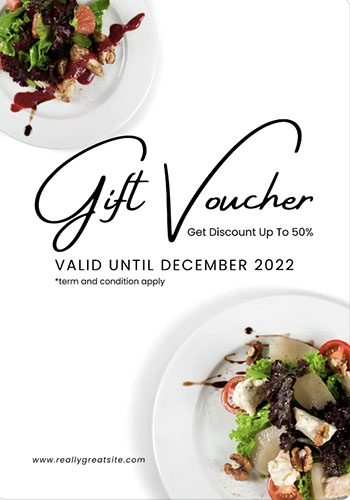 ---
Not sure how to get started? You can design both print and digital coupon ads using Canva's intuitive online graphic design tools. You can even create a whole Brand Kit to make a great first impression and build brand awareness with your target audience. Get started for free today.
2. Use Newspaper Coupon Inserts
One advantage of extending special offers through newspaper inserts is that you'll have a clear idea of your target audience's demographics so that you can tailor your deals. If you are a local business aiming to drive traffic to your brick-and-mortar store, using newspaper inserts can be a solid solution.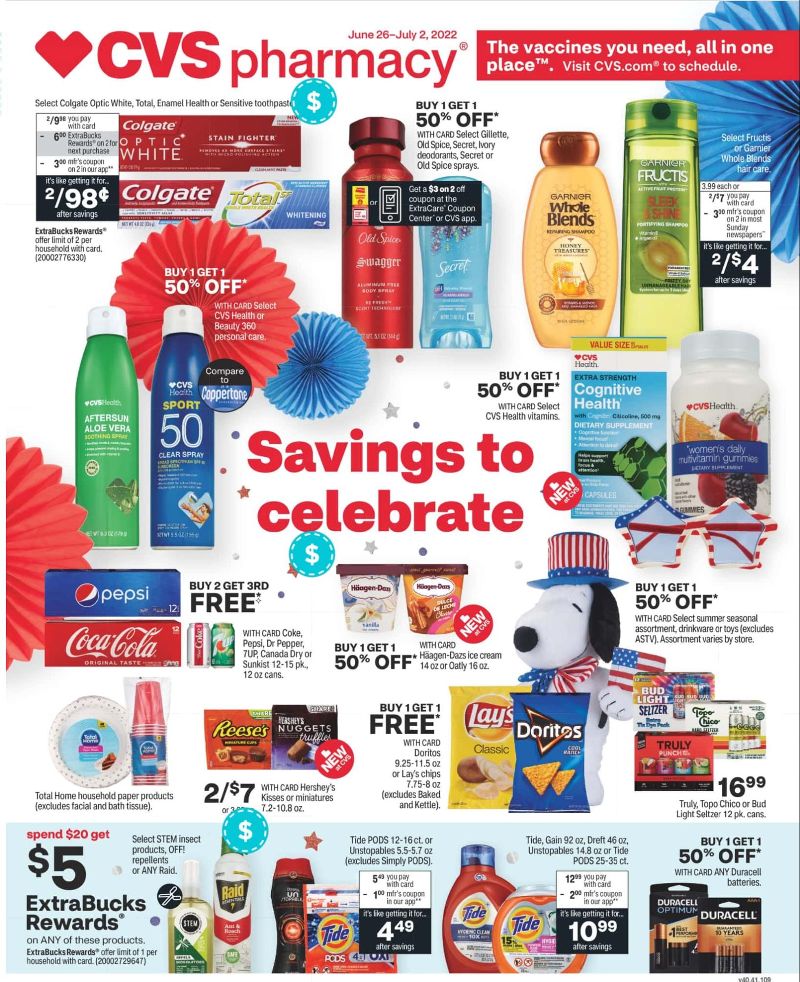 ---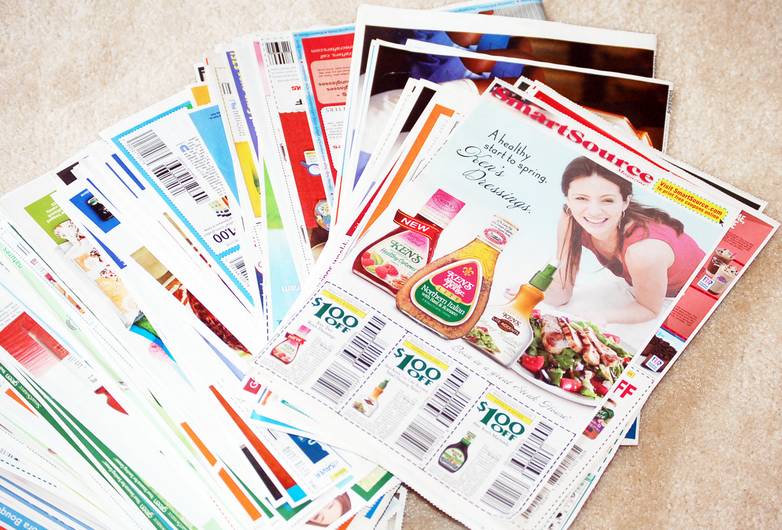 ---
3. Attract More Customers Through Coupon Ad Flyers
Flyers are a direct way to share offers with customers. Depending on your type of business, this could involve leaving flyers near your store's point of sale, handing them out at a location with a lot of foot traffic, or distributing them through marketing partners (e.g., another business that's willing to display or distribute your flyers).
For example, realtors could include your flyers in welcome packets for homebuyers, or a hotel might place them in guests' rooms. Remember to add a special code for your coupons at the bottom of each flyer so that you can note the source when the coupons return to you. Learn more about creating flyers and get instructions on how to create effective marketing materials.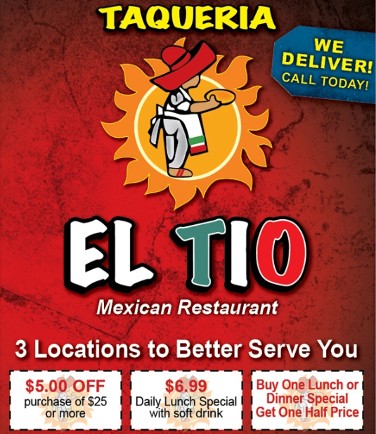 ---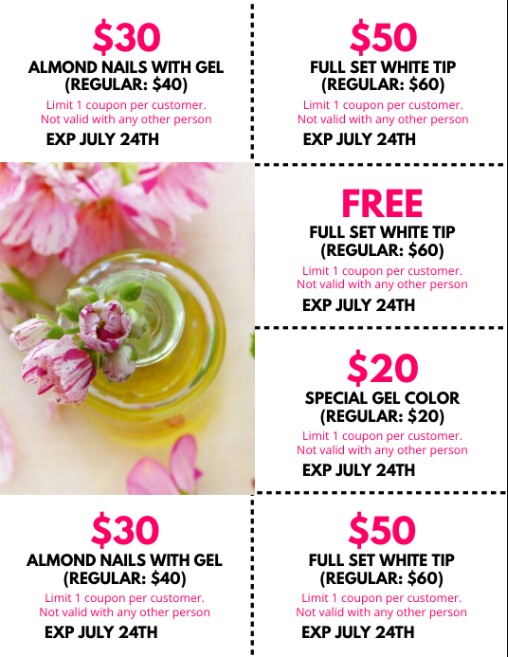 ---
4. Refer to Point-of-sale Coupon Examples for Boosting Repeat Business
One way to capture repeat purchases is to distribute coupon ads when a guest checks out. It gives customers a reason to return, usually within a short period. For example, national retailer Kohl's is known for using this coupon marketing strategy and has even branded their discount ads as "Kohl's Cash." It's an effective way to get customers to return to your store more frequently, which naturally drives up sales.
Another way to do this is through the automatic coupon machines you'll often see at supermarket checkouts. This is called a Catalina. It prints out coupon ads at the register on receipt-like paper after you make a purchase, and the coupons are often related to your purchases. This type of coupon personalization also makes them more effective.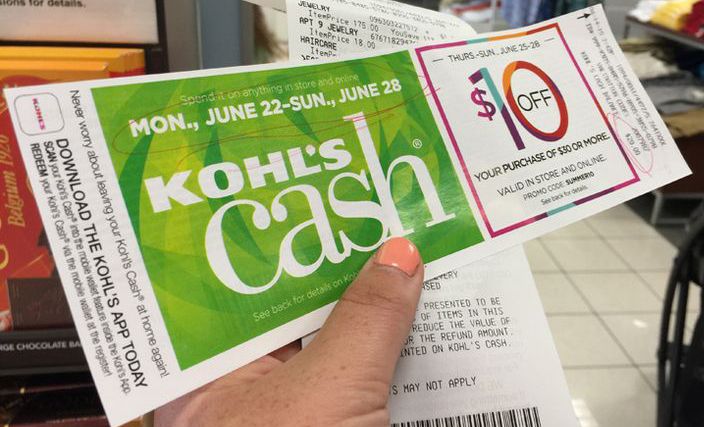 ---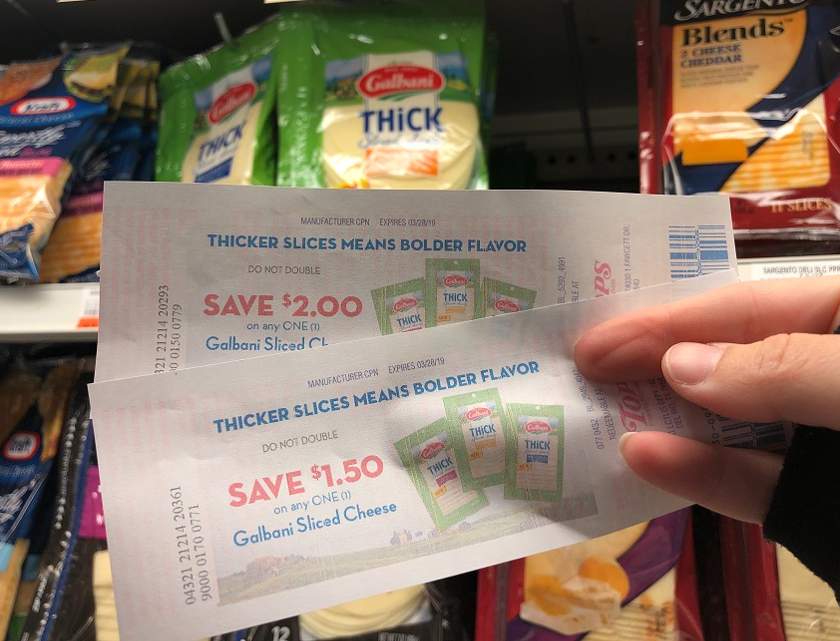 ---
5. Place Coupons in Direct Mailers to Increase Open & Response Rates
Sending coupons by direct mail can attract shoppers looking for a bargain, build brand awareness, and turn passive buyers into active shoppers. You can vary the value of your coupon ads depending on how likely a recipient is to use them.
Including advertising discounts in direct mailer pieces is a great way to increase response rates and return on investment (ROI) for direct mail campaigns. Based on the Coupon Intelligence Report of Valassis, 88% of consumers use paper coupons they receive in the mail.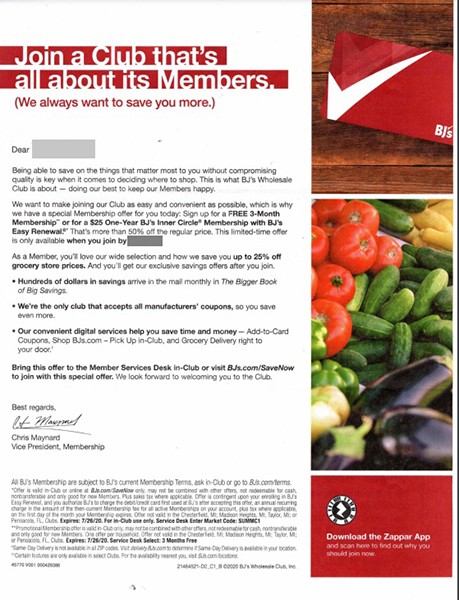 ---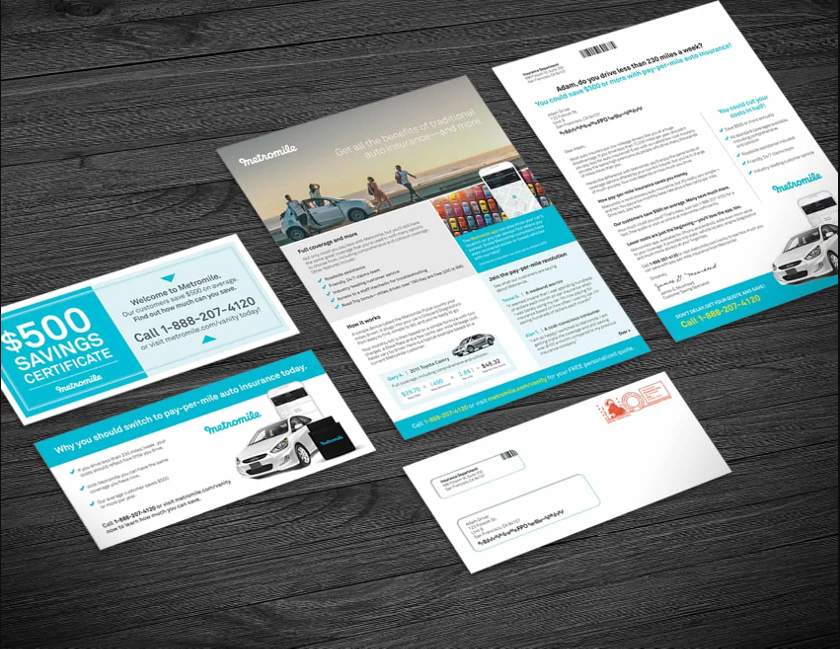 ---
6. Attach Print Coupon Ads to Products Sold In-store
You can also physically attach coupons to specific products you want to promote. For example, hang tag coupons are frequently found attached to the neck of wine bottles. Providing customers with an immediate discount can spark a buying decision and give people a reason to choose your product over another. Stickers are also frequently used in the same way.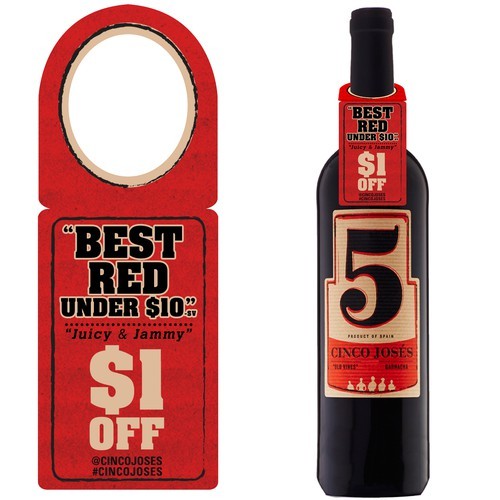 ---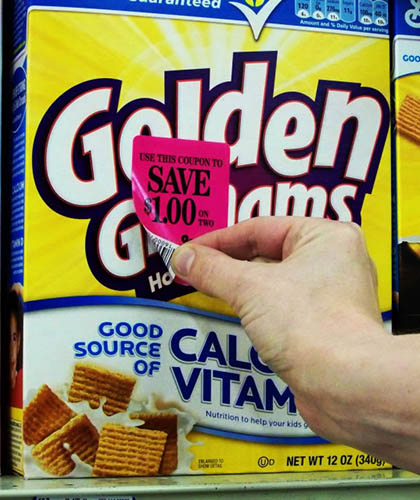 ---
7. Generate Sales With In-store Coupon Machines
Blinkies, or SmartSource Coupon Machines, are coupon dispensers often used to advertise a new product, and encourage purchase from a particular brand over a competitor or increase impulse buying. Shoppers can immediately get coupon ads (also called blinkies) from the little black boxes with a blinking red light.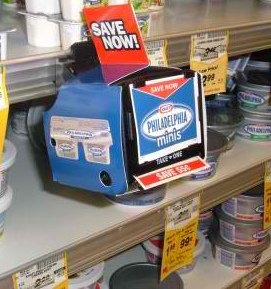 ---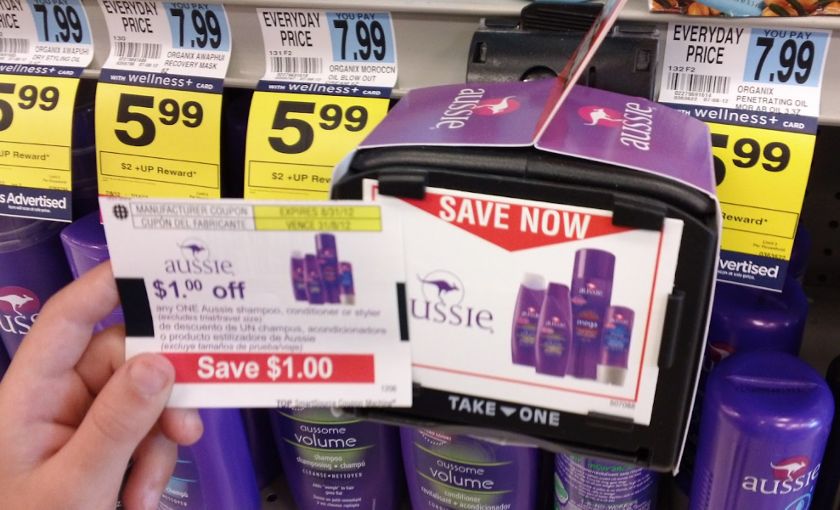 ---
Coupon Examples for Digital Advertising
While printed versions could be the first that come to mind for coupon marketing, digital coupons are used all the time. They also offer great opportunities for audience targeting as the distribution method often dictates the audience. What's more, digital ad distribution on social media and Google retargeting also enable you to proactively target the exact audience you want to reach.
8. Showcase Seasonal Offers in Social Ads & Web Banners
Seasonal promotions are discounts, special offers, or limited edition items tied to a special day or time of year. This includes holidays like Black Friday or Cyber Monday and times of the year like Back-to-School or End of Summer seasons. Holidays and seasons are often critical to retail revenue and represent a significant portion of annual income.
Promoting seasonal and holiday offers with digital coupons and social ads can be memorable for your customers. Plus, it helps boost your business and convert a one-time customer to a loyal patron. It can also help to come up with catchy creative coupon redemption codes that are easy for prospects to remember when checking out online.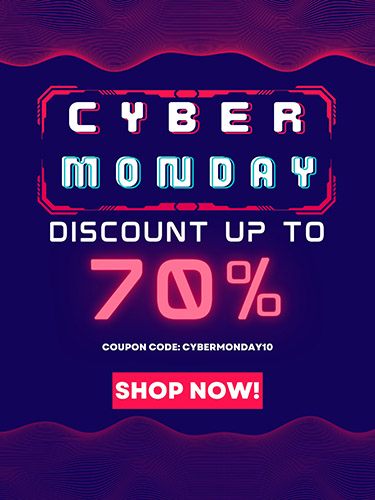 ---

---
9. Create Coupon Ads on Facebook
If you're interested in reaching your target audience over social media, try deploying coupon ads on Facebook. To do so, you should create a Facebook Business Page first, and then you will also need a Facebook Ads Manager account to set up your coupon.
In addition to creating ads to advertise on Facebook directly, there are third-party apps for extending coupons on Facebook. For example, try apps such as Woobox or AgoraPulse Facebook coupon apps.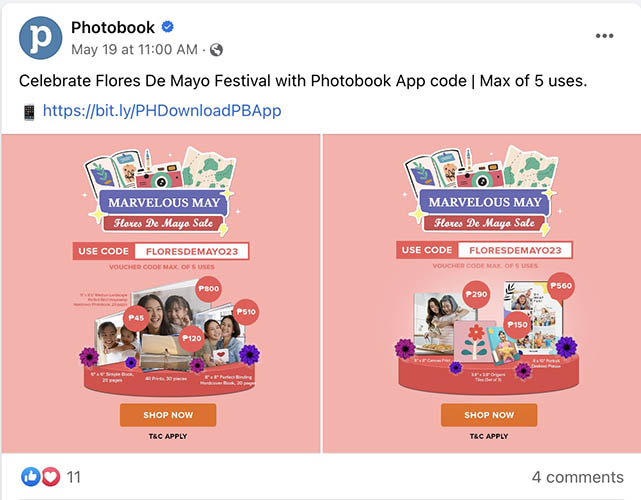 ---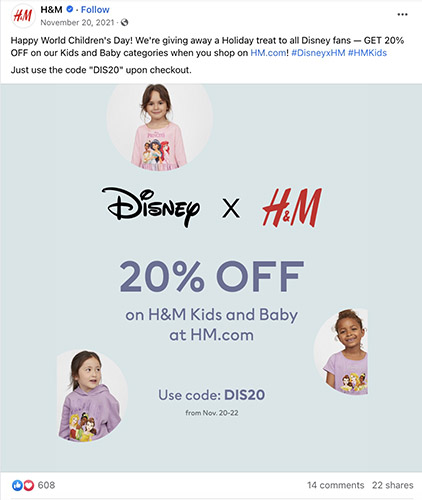 ---
10. Maximize Usage of Twitter Coupons to Drive Sales
Use Twitter to make quick posts, like flash coupons, to promote products or services. If you have an active customer base on Twitter, they will jump at the chance to buy from you at a discounted rate.
This also helps incentivize new followers, as 77% of people follow brands on social media to get special discounts. Keep your coupons time- and quantity-limited (e.g., "the first 50 people" or "limited to stock on hand") to increase scarcity and drive impulse purchases.
11. Customize Special Offers for Social Followers
A strong strategy to retain your followers is by offering special offers to them, so digital promotions can ultimately help your social media marketing campaigns. You can even make it a point to provide your followers with exclusive offers just for them.
As part of your online coupon marketing strategy, offer coupons as an incentive for liking and sharing your social media content or referring others your way. For more ideas, check out other ways to boost sales through social media advertising.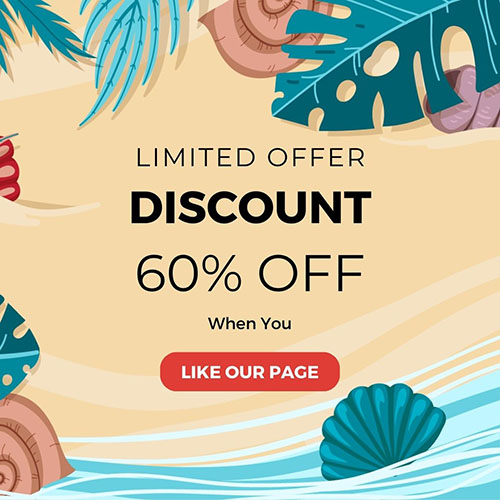 ---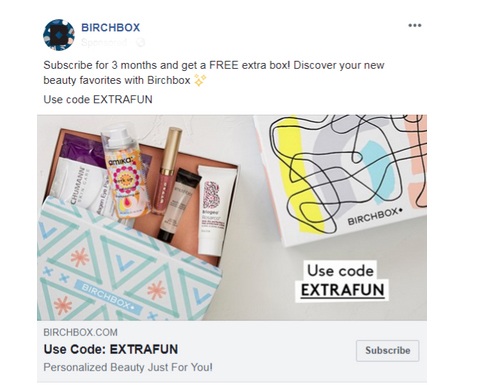 ---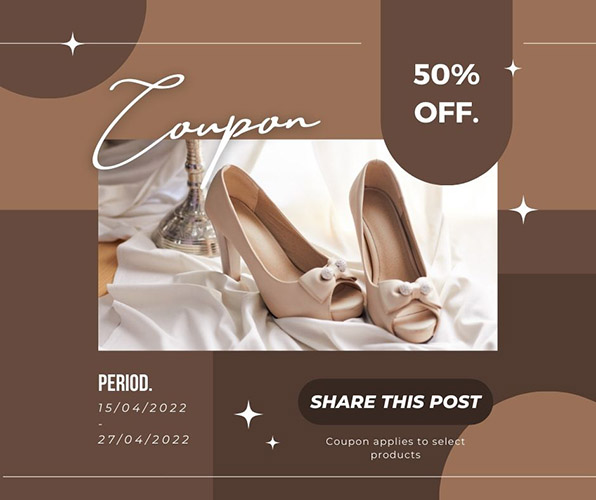 ---
Not sure which are the best social channels for advertising? Read our overview of the best paid social platforms to find the best place to reach your target audience with coupons.
12. Entice a New Audience With Aesthetic Coupons on Instagram
Instagram is a social media marketing platform, especially when targeting millennials—the generation that uses coupons the most when planning their grocery trips. Since Instagram is a visual-heavy platform, posting aesthetic coupon promotions is the best way to get people's attention. You can post them on your business profile, Stories, or Reels.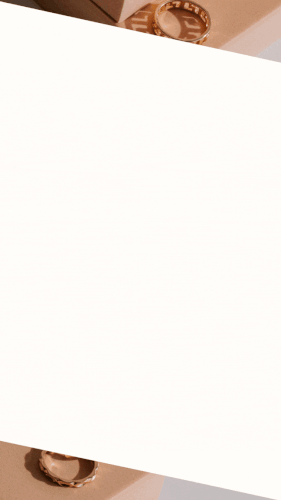 ---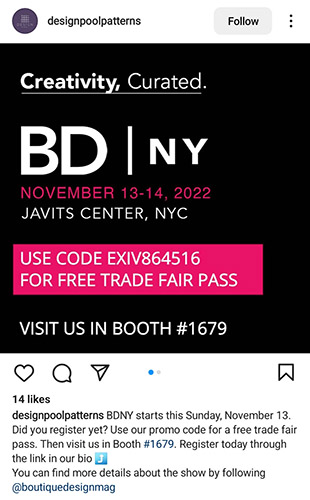 ---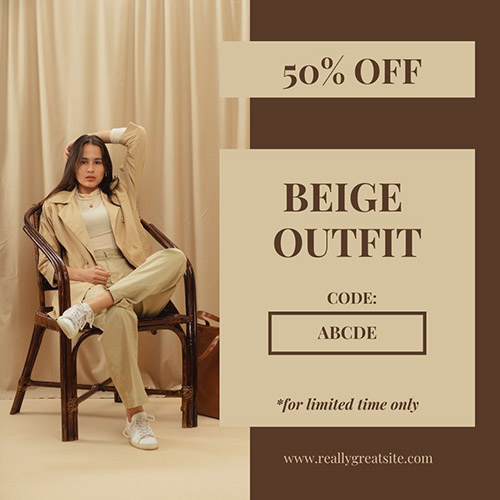 ---
13. Include Coupon Ads in Online Directories (e.g., DoorDash)
Is your business listed on online directory sites like Yelp, DoorDash, or Houzz? Many of these platforms enable businesses to create and promote coupons, special deals, or coupon codes. For example, a local restaurant that uses DoorDash might offer a free dessert with the purchase of an entree to incentivize users to choose their restaurant over alternatives.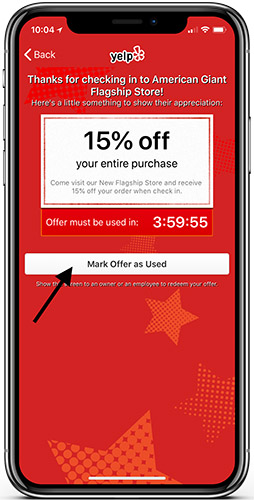 ---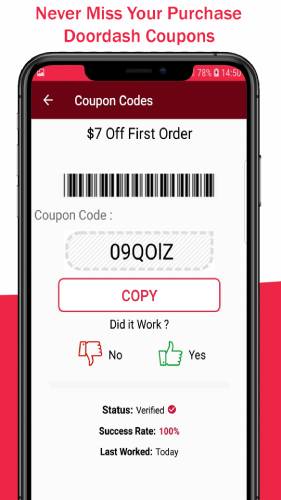 ---
14. Use Coupons to Get More Reviews
When competing with many rivals for customers' attention and purchases, having positive reviews is key in informing purchasing decisions. Whether you're looking to get more reviews on Google to rank higher in local searches or you want more reviews on your Amazon product listings to generate more sales, coupon ads are a great way to do so.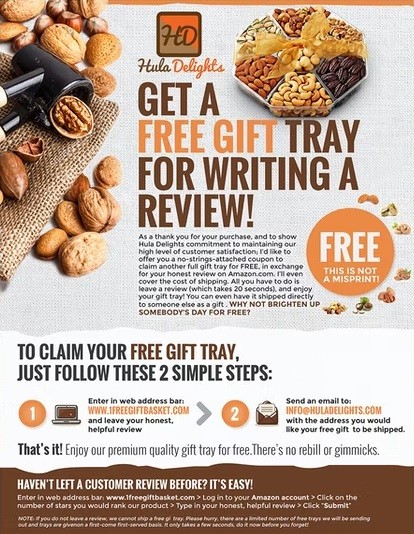 ---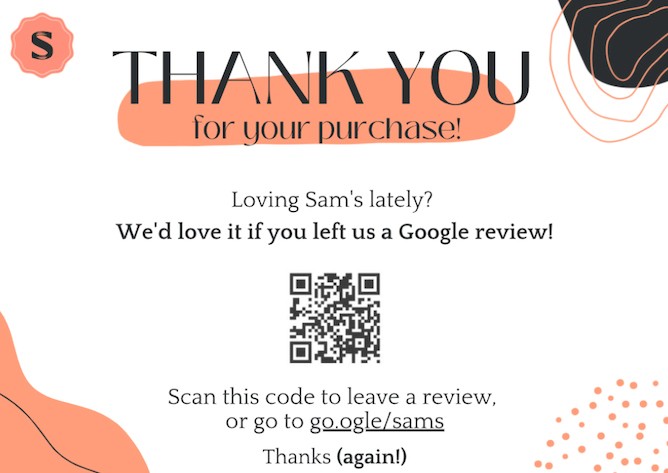 ---
You can even advertise coupon offers directly from your Google business listing. Learn how in our guide on how to set up a Google business profile to promote your business.
15. Introduce Your Site With a Splash Page Coupon
A splash page is a pop-up or landing page that introduces your website, or a section of your website (such as your store) to a visitor. There are several benefits of using splash pages on your website, one of which is extending a special offer the moment someone visits your website. It's impossible to miss, and you'll be targeting people who are already interested in your business.
16. Use Coupons to Strengthen a Landing Page Call to Action (CTA)
Businesses often create a landing page for people who click on their ads or marketing efforts. The main purpose of a landing page is to get the person to perform an action: purchase a product, share their email, book a demo, or take action on other CTAs. Coupons can incentivize users to take action immediately, making the decision easier for them.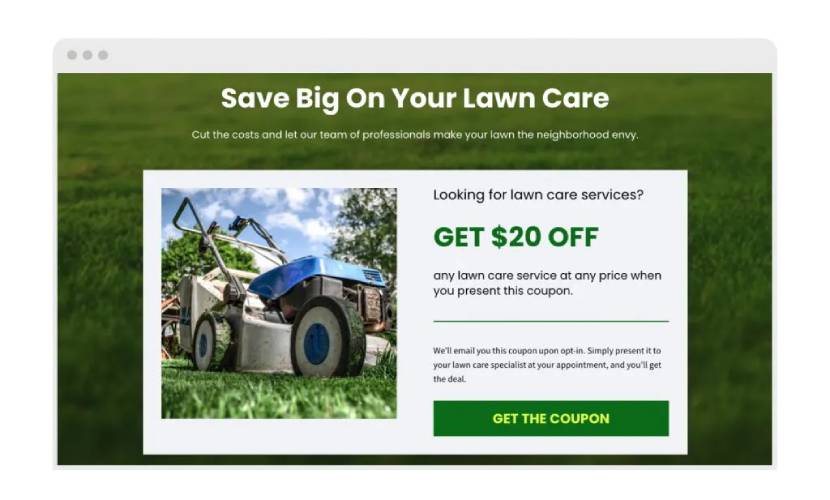 ---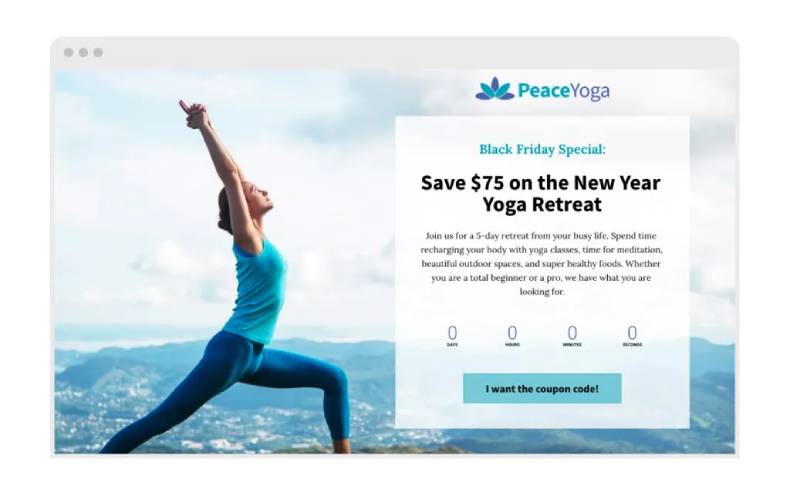 ---
Landing pages can be used for more than just online ads. For example, you can add a QR code to a print coupon or postcard. When the recipient scans it with their smartphone, they'll be redirected to your landing page where you can extend a special offer to increase conversions. Learn more about how this works in our list of the best landing page examples.
17. Share Coupon Codes on RetailMeNot
RetailMeNot is a huge digital coupon marketplace. Unlike the other websites we've listed so far, RetailMeNot is not typically used for local searches. Instead, it's used by retail chains and websites (big and small) to share coupon codes.
A fun thing about RetailMeNot is that users can directly add coupon codes to the site. While most people visiting the site are looking for a coupon for a specific business, it's another way to help increase your brand's visibility.
18. Coupon Examples of Emails for Cart Abandonment
Based on a study by Statista, nearly half of U.S. shoppers (47%) said they received coupons through emails from brands they follow. Not only do consumers subscribe to email lists to get special offers and coupon ads, it's also a great strategy for reducing cart abandonment.
Customers often abandon their carts without the intention of doing so. They either got distracted, forgot about it, or found the process complicated. Deploying abandoned cart email offers like those in the coupon examples below is a powerful tactic to bring these customers back to complete their purchases.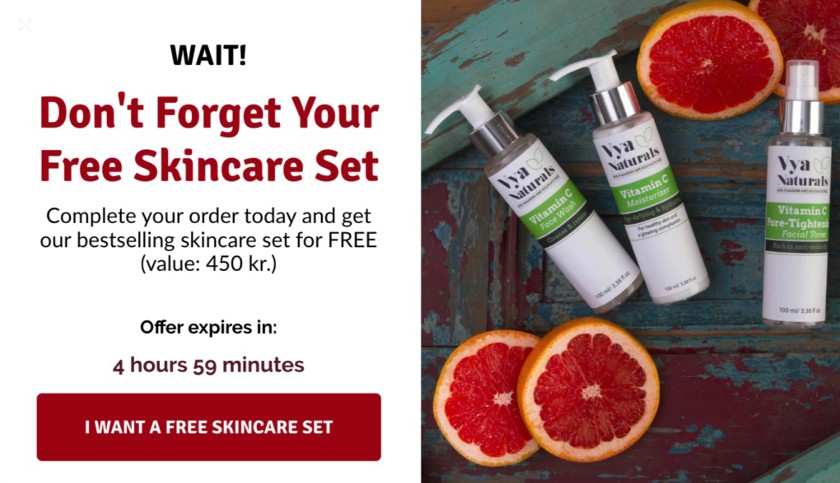 ---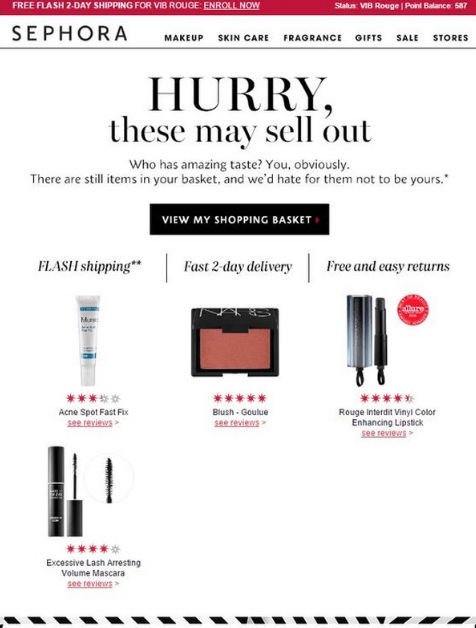 ---
If you do use online coupon codes to increase sales, make sure you keep them updated. Comscore data found that 26% of consumers said they abandoned an online shopping cart because the coupon or promo code they tried to use didn't work.
19. Promote Coupon Ads in Email Marketing
One of the most popular ways to deploy a coupon ad campaign is through permission-based email marketing. It allows you to send emails to your contacts and gives them a reason to open your email. In return, people are happy to see your business' name show up in their inbox, which creates a positive brand image and keeps your business top of mind. Don't forget to include a hint about your offer in your email's subject line to increase open rates.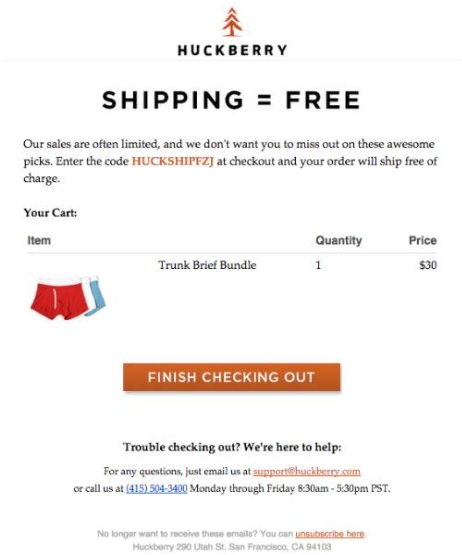 ---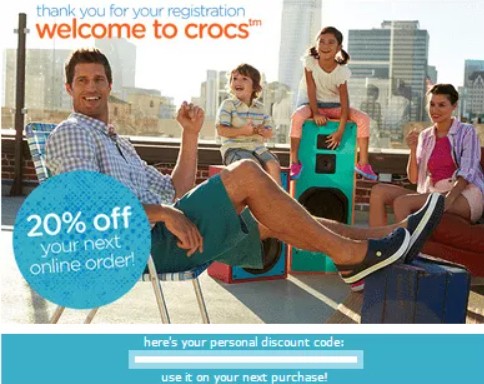 ---
20. Increase New Subscribers With Pop-up Coupon Ads
People visit business websites for different reasons—they may want to know more about your company, read reviews, understand your product, or find a discount. However, regardless of intent, 93% of consumers say they're willing to provide info like their email or mobile number to get coupons and promotions.
Use pop-up ads to feature special offers. Add a discount with an opt-in lightbox, which lets you control exactly when a discount pop-up will appear on your website.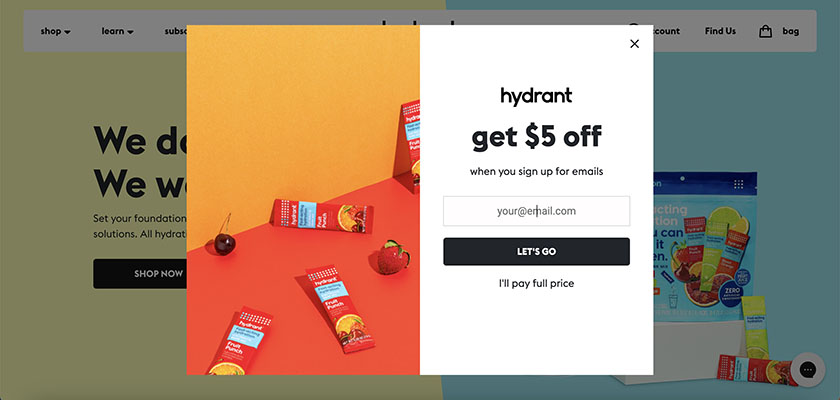 ---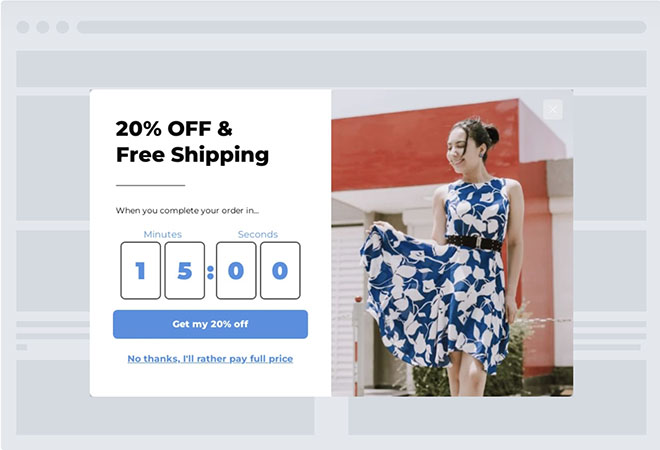 ---
21. Decrease Site Abandonment With Exit-intent Pop-up Coupons
The key to curbing shopping cart abandonment is to nudge the customer to try to get them to follow through on their purchase. As they're about to hit that "X" button to close the tab, suddenly a pop-up appears offering them some discount if they complete their purchase. That extra 20% off may be all the motivation a prospective customer needs to convert.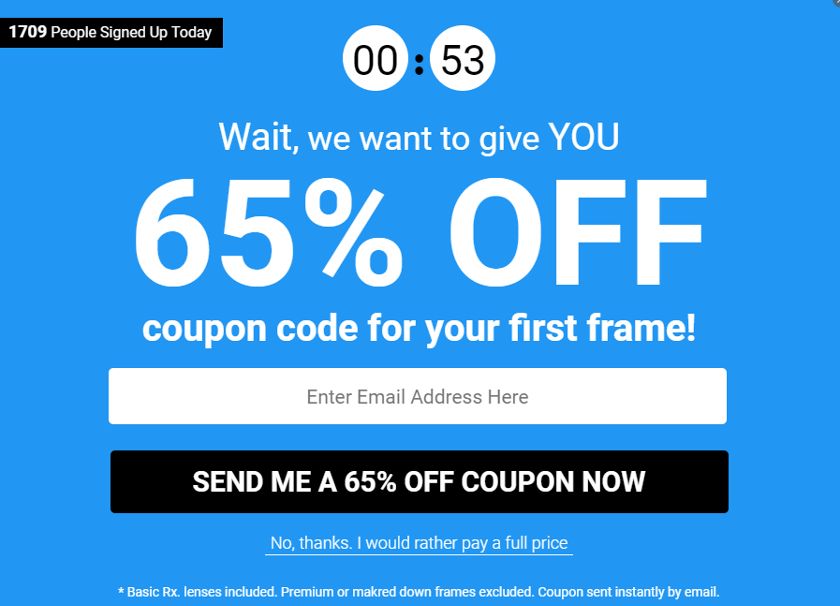 ---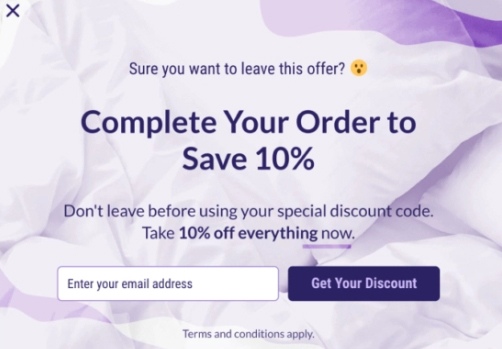 ---
22. Increase Average Sales With Minimum Purchase Discount Coupons
Extending an offer based on the total value of the customer's purchase is an effective upselling technique that encourages your customer to spend more. Minimum purchase discounts increase your average order size. For example, Crocs gives customers a $20 discount for orders over $100. Another common way to do this is to offer free shipping for certain order minimums.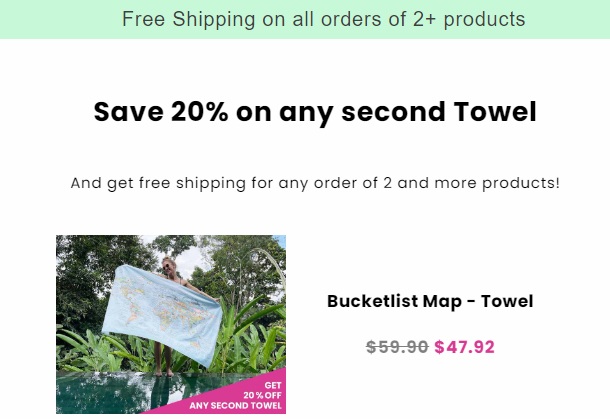 ---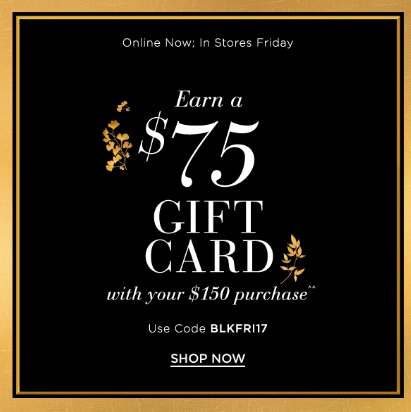 ---
23. Give Your Customers More With BOGO Offers
For some businesses, offering a buy one, get one free (aka BOGO) is a more effective coupon strategy than a percentage or dollar amount discount. Not only is BOGO sometimes more enticing for your audience, but it may also be more cost-effective for your business. In addition to customers simply getting two for the price of one, in some instances, it can help your customers bring you more customers—especially in the food service industry.
---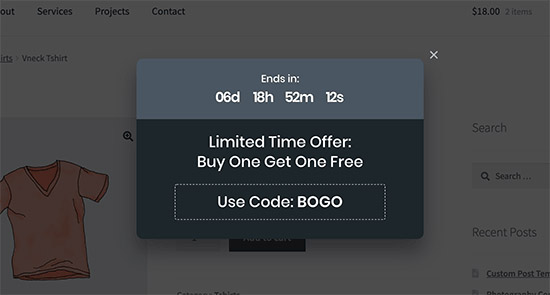 ---
24. Create a Verbal Coupon That Works Like a Secret Handshake
Not all coupons need to be clipped from a newspaper or online. It's possible to get creative with coupon advertising. If your business has a physical location, you can extend verbal coupons that work like a secret handshake.
For example, a local restaurant might have a verbal coupon where those in the know ask for the special deal that's not on the menu or use a catchphrase to get a two-for-one drink special on Thursdays. Like a traditional coupon, it provides an incentive to purchase by sweetening the deal while also creating loyal customers who keep coming back.
25. Reach Local Customers With Geo-targeted Coupon Ads
The examples below show how you can reach people when they're near your business with geo-targeted ads. For example, a florist might target local customers with ads in the days leading up to Mother's Day, reminding them to get mom some flowers, including an incentive to order ahead at a discount. Another example is restaurants sending out geo-targeted ads at lunchtime to boost business on a slow day.
On top of coupon marketing ideas, there are other approaches brick-and-mortar shops can explore. Learn more effective local advertising ideas to bring in more people to your business.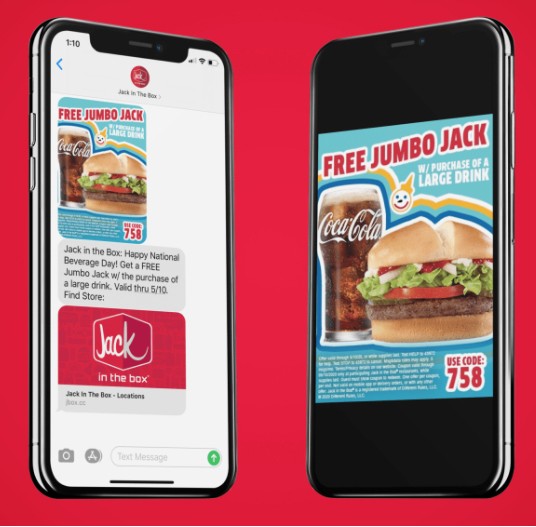 ---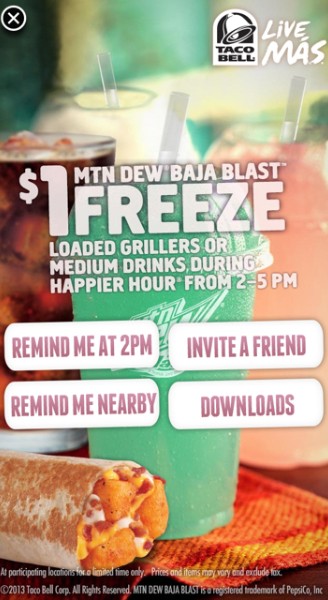 ---
26. Generate More Sales With a Groupon Coupon
By now, pretty much everyone has heard of Groupon. Millions of active users browse the site for great local deals every day. So whether you're a local chocolatier offering a chocolate-making class, a new dental practice getting off the ground, or a salon stylist wanting to build a book of business, Groupon could be a good way to reach a wider audience and build brand visibility.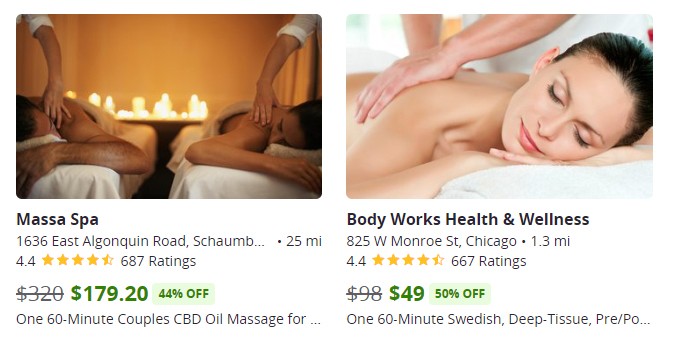 ---

---
27. Coupon Examples for Incentivizing Referrals
Similar to offering ad coupons for reviews, if you're looking to leverage your base of happy customers and gain some word-of-mouth marketing, use coupons in return for referrals. It incentivizes others to spread the word about your business on your behalf in the same way as affiliate marketing.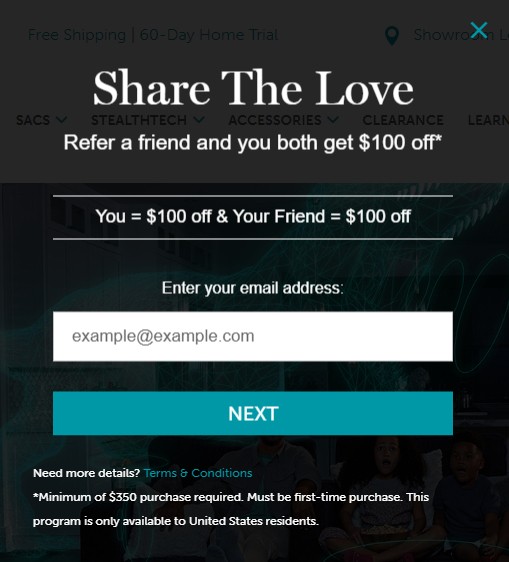 ---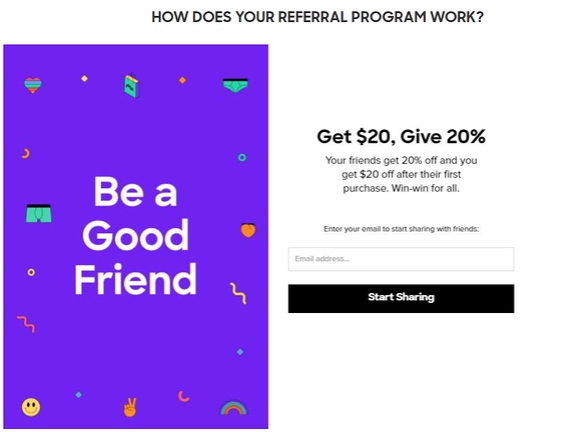 ---
28. Run a Retargeting Campaign With Coupon Ads
Retargeting refers to displaying ads to people who previously visited your website to get them to return and make a purchase. As such, advertising on Google using retargeting web banner ads helps you reach warm leads, which are easier to convert into customers and sales.
Retargeting is done through Google Ads, but costs far less than the text-based ads that show up on search pages. You might also make this part of a larger strategy where you generate brand interest and first-time site visitor traffic through Facebook ads, and then use retargeting to nurture those leads as they surf the web. Find out how to get a free Google Ads promo code to get started.
What Makes a Good Coupon?
Getting your coupon found is the first goal of any coupon marketing strategy. Getting people to use your coupon is a whole other ball game. Although there are no set rules that will guarantee a person will redeem your coupon, you can focus on certain elements to increase your chances of succeeding.
Before everything else, take your target audience and distribution plan into consideration. Their behaviors and values can help guide you in designing your coupon.
Here are the elements that make a good coupon:
Eye-catching visuals (check out more than a dozen places to get free images online)
Business or contact information
Readable text, including a compelling call to action (CTA)
Clear instructions on how and where to redeem
Disclaimer with any limitations or stipulations
Expiration date to create a sense of urgency
If you're not sure what type of offers to extend, using customer profiles can help. Read our instructions on how to create customer personas so that you can hone in on in the call to action that would most interest your ideal prospect type.
Frequently Asked Questions (FAQs)
A coupon code is a text-based word or phrase that someone can use to get a discount on a purchase. Examples of coupon codes used during the winter holiday season include things like CyberMonday or StockingStuffers. Other examples include codes like Free or FreeShipping to receive free shipping on an order or BOGO (buy one, get one) to buy something and get a second item free or at a reduced price.
---
Any element that extends a type of special offer can be considered a coupon. However, the most common types of coupons are print and digital formats. These include things like postcards, newspaper inserts, web banners, pop-ups, and splash pages.
---
A good coupon percentage is compelling to your audience but doesn't destroy your profit margins in the process. When determining what type of savings offer to extend in a coupon, first determine the amount of profit your company can afford to forgo and then use customer personas to find offers that will cause your audience to take action.
---
Bottom Line
As these coupon examples demonstrate, both print coupons and digital coupon ads can drive more sales for small business marketing campaigns. There are plenty of channels and methods that can help you succeed with special offers, and using the tips above will put you in a better position to achieve your sales goals.