How to Make a Press Kit in 8 Steps (+ Template & Examples)
A press kit, also known as a media kit, gives journalists supplemental information about your business, which makes it easier and more likely for them to cover your story. Making a press kit is fairly easy―choose a template, add your information and assets (e.g., logos, corporate headshots, videos, and so on), and then publish and distribute your media kit. Download our free press kit template and follow the steps below as you make one for your small business.
Download Our Free Press Kit Template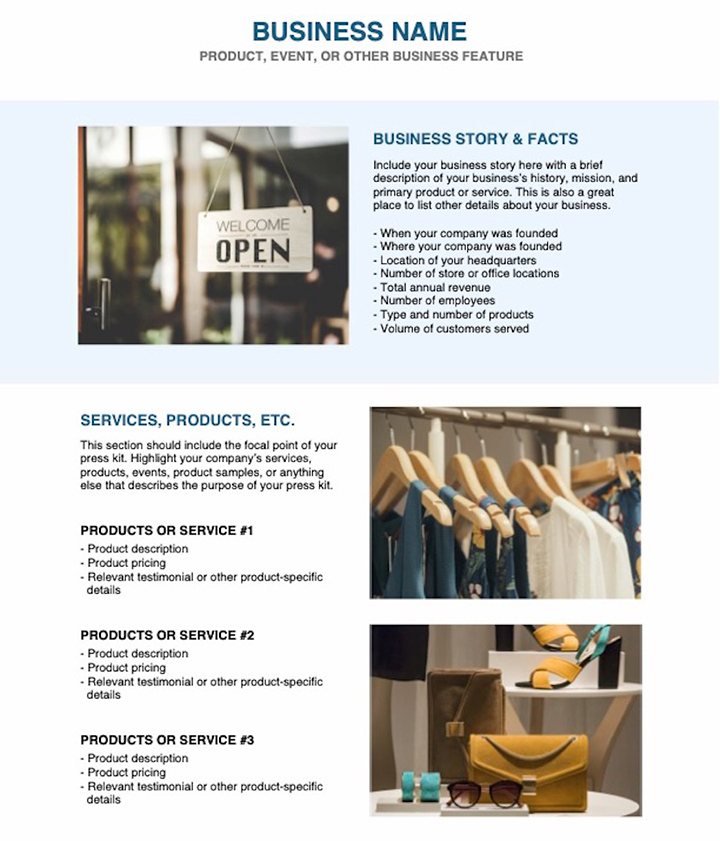 Thank you for downloading!
💡 Quick Tip:
To customize your press kit to your branding and access a library with thousands of stock images, use Canva.
Visit Canva
Here's how to put together a press kit that makes your business shine in eight easy steps:
1. Get a Press Kit Template (or Design Your Own)
The easiest (and often best) way to create a press kit for your business is to use a predesigned template. This makes the process simpler and faster while still ensuring your document is well-designed and professional. There are a few different places to download a template—which is best for your business depends on your brand's priorities, style, budget, and your design and copywriting skills.
Here are some of the best ways to create a media kit:
Free downloads: Download our free press kit template to get started quickly and at no cost.
Canva: Design your own media kit for free with no graphic design experience or software using Canva, starting with one of their prebuilt media kit templates.
Fiverr: Most affordable place to have a professional graphic designer and copywriter create a press kit for your business, starting from $5.
Envato Elements: Get full access to unlimited business template downloadables, including professionally designed media kit templates, through a membership for $16.50 per month.
Creative Market: Buy professionally designed templates for a one-time fee of about $50 to $75 each.
Starting with a premade template is the easiest way to make your kit, but you can also design your own media kit from scratch. Alternatively, you can turn to freelance professionals at Fiverr for professional graphic design and copywriting services to make a media kit for as little as $5.
2. Add Your Company's Information
With your template as a guide, the next step is to add your company's information. This will essentially be the focal content of your press kit and will include all the vital information about your company, including your contact information, business facts, business story, products and services, and more. Open the drop-downs below to learn how to customize your template with your company's information:
The most important feature of your press or media kit is your contact information. Journalists writing a story or covering your business may want to contact you to gather more information. Include the name of your marketing manager or the primary contact person for media inquiries, your website, email address, location, and telephone number to make it easy for journalists to get in touch.
---
Your business story is a brief description of your business' history, mission, and main products or services. It's often referred to as the "company overview," and is usually placed at the top of the front page of your document. Draft a 50- to 150-word description reflecting your business' most essential information the public should know.
For example, if your main objective is to promote the opening of your business, you should include your founding date, locations, and target market. Broadly describe the products and services you offer, and provide any important information about when you're open and any special promotions you'll have to celebrate your new business.
---
Whether you incorporate it as part of your business story or place it in its own section, including your brand's mission statement, or core purpose, is a good way to make your media kit stand out. Your mission statement gives more context about your business, why it exists, and your core objectives. This can help journalists craft more well-rounded and insightful stories about your business.
---
Your fact sheet should list five to 10 data points about your company, product, service, or event. Make facts easily accessible by listing them below the business story and mission statement. Focus your fact sheet on the essential information you want journalists to know.
Some of the points you may want to list in your fact sheet include:
When your company was founded
Where your company was founded
Location of your headquarters
What area or industry your products or services are in
Where your products are made or sourced
Number of stores or office locations
Total annual revenue
Number of employees
Volume of customers served
Names of senior leadership
Notable clients
Media mentions
Historical milestones
---
Depending on the nature of your business and the type of media kit you're creating, discuss some details about your products or services. If you have several product lines, list them all in an easily understandable way. Mention the important details people would need to know about your products or services, such as your prices, product ingredients, and production processes, if applicable.
For example, a skincare brand might list the ingredients used in its products, or a cafe might outline the steps behind coffee production. Think of this section as a more in-depth brochure of what your business offers, with professional journalists as your readers instead of the general public.
---
If they advance the purpose of your media kit, include short bios for officers (CEO, president, founder, and so on) and key team members. Describe their career history and a few facts about their contribution to the company. For more guidance about what to include (and whether including a bio will add to the credibility of your kit), read our article about how to write a new hire press release.
For example, if your media kit aims to promote a new product line at your retail store, highlight team members who specialize in the products or were responsible for bringing them on board. Media kits meant to promote an event could include key contacts for event details or employees responsible for organizing and setting up the event.
---
3. Add Photos
Next, add photos of your products, logo, location, or personnel to make your media kit more informative and visually engaging. Use professional images that feature the best elements of your business.
If your photos are also available for download and publication by the press, note this, and provide a link to high-resolution files on your website's press kit page. If you don't have high-quality photos, consider using stock photos (sparingly) for free from Pexels.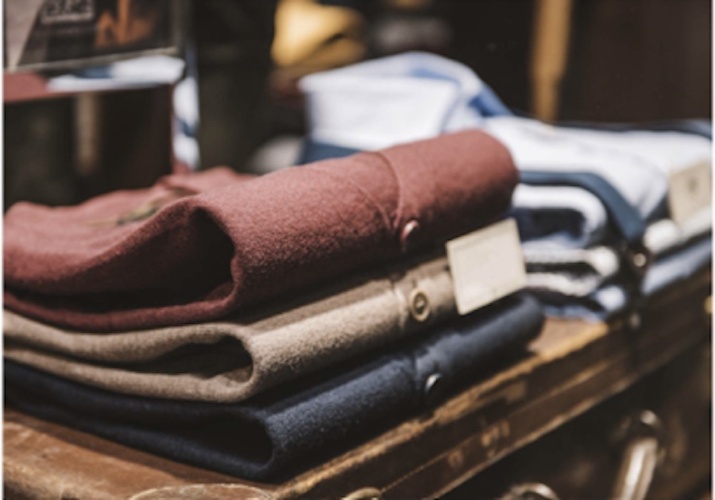 ---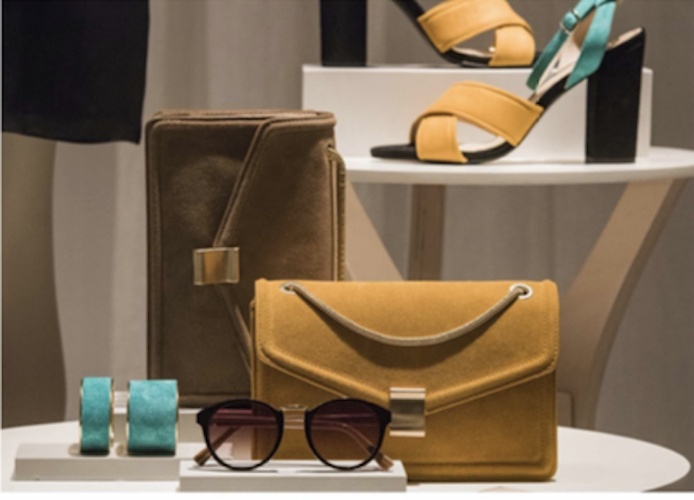 ---
4. Provide Multimedia Assets & Links
If your media kit is digital, make it easy for journalists to download and save a copy for reference. This is especially important for businesses offering products. Take good photos of your products, upload them to an online drive, and include the download link for the original, high-resolution files in your media kit—these photos will appear in press coverage about your business. If your business doesn't offer physical products, include images of your logo or location instead.
As the job of a press kit is to make it easier for journalists to cover news about your business, providing links to original as well as web-friendly versions of photos, logos, headshots, and other assets is ideal. You can also provide them in multiple formats (for example, both JPG and PNG) and include brand style guidelines for multimedia assets describing how and where to use them, copyright information, licensing details, and so on.
5. Link to Past Press Releases
After detailing all the essential information about your company, include links to past press releases to give journalists context and background about your company. Make the most of your digital media kit by linking to these resources on your website's marketing and press release pages. Organize press releases chronologically to illustrate your business' events and milestones.
6. Include Links to Social Media Profiles
In today's digital-centric world, your social media accounts are just as valuable a point of contact as your email address or contact number. To round out your media kit, it's a good idea to include your business' social media links at the bottom of your document, whether it's a portable document file (PDF) or an online webpage.
7. Enhance Your Press Kit With Standout Features
While there are no set rules on what a media kit should and shouldn't have, what's most important is that it's informative and helpful to interested journalists and readers. While the basics above are essential, you can go the extra mile and add more details you want journalists and the world to know about your business and what makes it unique.
Whether it's a list of your business' awards or instructional videos, here are a few additional details you can add to make your press kit stand out:
List of awards and recognition: If your business has noteworthy awards, devote a section of your kit to a list of your awards and accolades.
Social media accounts: Portable document files (PDF) and online media kit versions can include links to your company's social media channels. If you only have a downloadable press kit, you can add these links to your webpage.
Testimonials from customers or clients: Testimonials aren't just a sales tactic; they're a powerful addition to your media kit too. If you use testimonials, include names and photos of those who provided the testimonial (be sure to get their permission in advance).
Case studies: In the same vein as testimonials, you can include a few case studies in your document. Case studies can better illustrate to journalists how your product or service is used in the real world, especially if you have an original product. Be sure to keep your case studies short, clear, and succinct.
Product guide: For businesses that develop or sell a unique product, including a product guide is an excellent idea. Your product guide may include technical specifications, dimensions, capabilities, and other information relevant to people within your target audience.
List of clients: If you are in a client-centric business, include a client list (unless your company has policies against it). This list of clients can help journalists and others know what types and sizes of businesses you work with. Again, always get your client's approval before including their name in public materials.
Interviews: Journalists may be interested in interviewing company leadership or founders. If there are existing video, audio, or print interviews, include links to these in the media kit. Doing so informs journalists about previous interviews and may inspire additional press coverage.
List of patents: Depending on the nature of your business, you may have several patents. Patents set you and your business ahead of the competition and can be an important addition to a media kit.
Product sample: Including product samples is a strong addition to any media kit. Obviously, if you have a physical product and a digital press kit, your options are limited. There are ways, however, to give reporters a feel for some products and services. Videos can help. Guest logins to a web app, for example, may be an option for some businesses. Likewise, if it's practical, you can include a form for journalists to request a sample of your product for their stories.
Advertising collateral: You can also link to PDFs or electronic versions of your company newsletter, flyer, landing pages, or other marketing materials.
Customer or audience demographics: Devote a few paragraphs to discuss details about your company's customers or audience. If you have the data, you can also include charts and graphs about your customers' demographics, characteristics, and behaviors.
Relevant supplemental videos: It's no secret that videos increase engagement, views, and content shares. If you're building a digital media kit, an informational video with an overview of your company, an infomercial, a tutorial, or a product review can be your greatest asset.
Press mentions: If your business or products have been mentioned by other media outlets or by notable figures (such as influencer recommendations), include them too. This boosts your business' credibility and increases your chances of getting media coverage and gaining new customers. Press mentions reflect positively on your company and add social proof that your news is worth publishing.
8. Share Your Press Kit
After creating a press kit, share it so journalists can find it. There are two common ways to do this, which are typically used in conjunction with one another. The first is to publish your media kit on your website. This can be done by creating a "Press" page that you link to in your footer's navigation menu, and under your press page, link to your document. The second is to share a link to your media kit within your press releases—learn how to send your press release effectively in our guide.
Need to order print copies of your press kit? Create your design on a free platform like Canva, then upload it to VistaPrint for affordable printing starting at around $176 for 1,000 copies.
Press Kit Examples & Why They Work
The makeup of your press kit will vary depending on various factors, including the information you want to highlight to its design, the types of media outlets you're looking to appeal to, your target audience, and your brand. For more insights, check out the press and media kit examples below to see how they can vary by brand in terms of information and design.
1. Annemarie Skin Care Digital Press Kit
Annemarie Skin Care's digital press kit includes all the essential parts, customized to highlight the most important details of their skincare brand. It starts with their contact information at the top of the page, then continues with their brand story, core purpose, process, and company culture, all organized into easily accessible PDF documents. It also includes handy product guidelines and media assets, including high-quality product photos and company logos, before ending with its social media links.
This press kit example works as it is essentially a digital version of a traditional kit, but upgraded and customized to showcase the most essential points of their brand. This includes information about their product ingredients and creation process, as well as product guidelines—all neatly organized into visually engaging PDF documents any journalist can easily access.
2. Old Skool Café Press Kit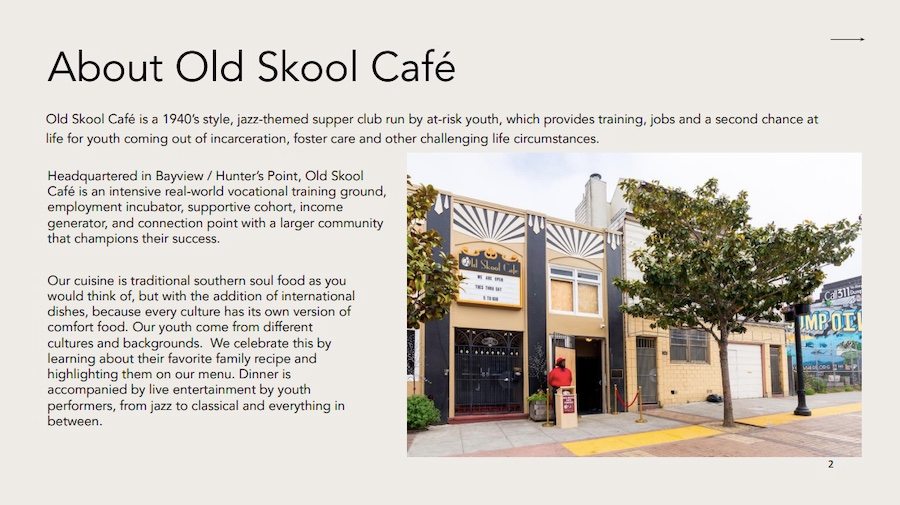 ---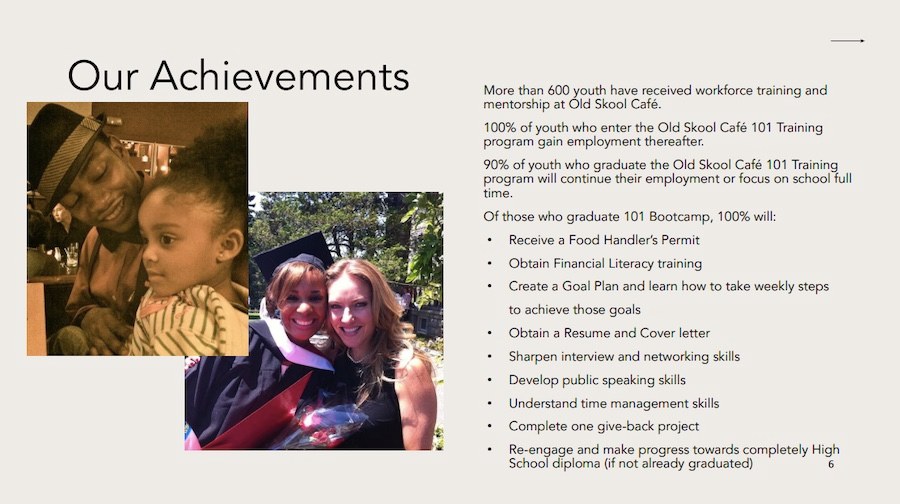 ---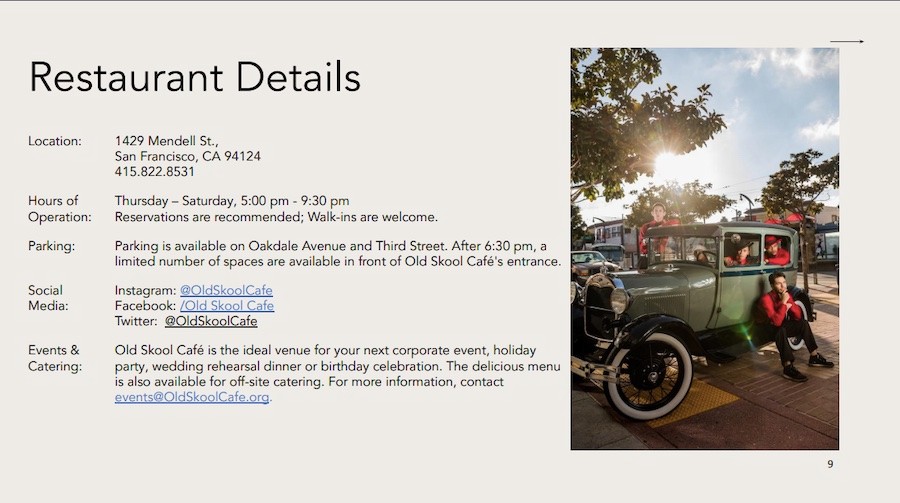 ---
Old Skool Café's press kit follows the more traditional format, with all their information placed in a PDF document. It's simple, clear, and straightforward, providing all the important information about the cafe, its history, and its operations in a way that's easy to read and understand. It also lists notable achievements, as well as a handy one-page fact sheet with the restaurant's address, operating hours, social media handles, and catering and parking information.
3. Kuyichi Press Kit
Kuyichi, a Netherlands-based retail brand, is a good example of a small business media kit. Their kit places their contact details and fact sheet front and center of their page. These are then followed by downloadable collaterals about their business and product, including the brand manifesto, logos, clothing collections, and the latest campaigns.
Kuyichi's digital press kit takes a more modern approach, including only the essential company information, contact details, and downloadable assets about its products. However, it still works as part of the brand's overall website, which also details their company's story and production process in separate pages. That way, Kuyichi's press kit page directs journalists to the most important information they want to be covered by the press: their products and latest campaigns.
Learning how to develop a press kit is just one way to increase your odds of gaining media coverage. For more help getting press coverage, check out our step-by-step guide to increasing your business' visibility.
Looking for more examples or to see what kinds of media kits your competition and favorite brands are using? You'll typically find them by navigating to the footer of a website, and then clicking on "Press" or some variation of press or media (e.g., "Media Room" or "Press Coverage").
Frequently Asked Questions
Are press kits still relevant?
As long as media outlets continue writing news stories about businesses, press kits will remain highly relevant. They give journalists easy access to essential supplemental information for stories and help boost your business' brand presence. They are also a valuable tool to help control your media narrative and shape the public's perception of your brand. Press kits are often journalists' primary source of information about your brand, allowing you to showcase its best features.
What's the difference between a press kit & a media kit?
While press kits and media kits are similar and are often used interchangeably, they have a few key differences, primarily in who they're meant for. Press kits are more traditional and are geared specifically for members of the press to help them craft a timely story about or involving your business. For example, if you were opening a new store location, journalists would use your press kit to get background information about your company and write a more well-rounded news story.
On the other hand, media kits aren't geared exclusively toward journalists—they can have multiple purposes beyond gaining press coverage, such as securing partnerships or other business opportunities. Media kits are usually more comprehensive and are meant as a one-stop resource for anyone from journalists to advertisers. Influencers, for example, often have media kits to attract sponsors that include their follower count, website statistics, rates, and contact details.
What is the quickest & easiest way to make a press kit?
The fastest and easiest way to create a press kit is to start with a template, such as our free press kit template. From there, simply fill in your information, save it as a PDF, and your media kit is ready to share. Journalists aren't necessarily expecting an aesthetic masterpiece, but they are expecting quick facts and easy access to information in a visually appealing layout. If you're not interested in making your own press kit, you can hire a graphic designer to create one for you for as little as $5 on Fiverr.
Bottom Line
A press kit is the standard method of communicating business information to the media. Reporters use press kits to get relevant information quickly, saving them time and effort. Creating your media kit requires collecting and sharing the correct information in an easily accessible place to produce more positive and effective press coverage for your business.
Ensure your press kit gets maximum exposure by using Newswire to distribute your press release. You can include up to six in-text hyperlinks in your release for free, one of which can be to your press kit.