Giggrabbers Review: Is It the Right Freelance Platform for You?
This article is part of a larger series on Hiring.
Giggrabbers is a standout freelance hiring service that offers unique tools for hiring, managing freelancers, and crowdfunding. It's best for startups and businesses on a budget as it allows you to create large-scale projects, engage multiple freelancers, and even launch crowdfunding campaigns to cover their fees. The platform also provides package deals from freelancers and offers free tools without transaction fees. Your only costs are paying freelancers and any optional upgrades purchased.
Giggrabbers landed a spot in our guide to the best freelance websites for small businesses, receiving an overall rating of 3.65 out of 5. It excelled in the pricing category, primarily because it offers a free service for employers, a feature not found on any other platform. However, it scored low on the popularity criterion due to the absence of online reviews. It also took a hit in ease of use for lacking a comprehensive help section, offering only limited FAQs. Support is available solely through email, although they assure users that their team will respond within 24 to 48 hours.

Pros
Free for employers
Gig-based job selection
Full-service Enterprise plans
Clean, intuitive interface
Crowdfunding option for projects
Cons
No mobile app
Enterprise plans costly
Fewer tools for evaluating freelancers
No live phone or chat support
Deciding Factors
Pricing:

Free to post jobs
Enterprise Solutions range from $1,999 to $3,999 monthly

Features

Wide range of freelancers
Skills verification
Ratings and review system
Search and filtering options
Secure payments and escrow
Communication tools

Customer Support
Giggrabbers is highly commendable when it comes to recruiting freelancers. We have discovered it to effectively help users navigate through project management processes. Additionally, it offers crowdfunding tools for businesses looking to raise funds for their projects.
In short, Giggrabbers is best for:
Startups and those looking for a zero-cost platform: It is a cost-friendly solution since it is free for employers to register and post ads. Its project tools even walk you through the important tasks for setting up an online presence.
Businesses needing help in paying freelancers: Giggrabbers is unique in that it can help you crowdfund to finance freelancer payments in your projects.
Businesses needing multiple freelancers for a large project: The platform's project wiki walks you through your needs and lets you set up a team of freelancers for a project.
Businesses wanting someone else to manage their freelance staff for online projects and marketing: Its Enterprise plans, while expensive, provide a representative who works with vetted freelancers for specific design projects, from logos to complete websites. You just provide the parameters.
Finding virtual assistants (VAs): While VAs are listed on Giggrabbers, they are more task-based. For a VA generalist, we recommend the providers on our list of the best VA companies instead.
Recruiting and hiring full-time/long-term employees: Like the name says, Giggrabbers is for gig work only. To find full-time or long-term part-time employees, check out our guides to the leading job posting sites.
Giggrabbers Top Alternatives and Comparison
| | | | | |
| --- | --- | --- | --- | --- |
| | | | | |
| Best for | Businesses needing funding | Companies with mostly remote or freelance employees | Finding international talent | Inexpensive freelance work on a project basis |
| Monthly fees start at | $4.99 to promote job ads and connect with the site's favorite freelancers | 5% transaction fee | 3% transaction fee | Starting at $5/project |
| Average User Rating* | | | | |
| Ease of Use | 1.50 | 4.63 | 4.50 | 4.0 |
| Our Reviews | | | | |
Giggrabbers got 4.13 out of 5 for pricing even though it is affordable and has transparent pricing because you can't quickly see their pricing page. The platform charges its freelancers 9.5% of what they earn on the platform. However, it does not charge employers anything—not even a transaction fee. You can hire freelancers, purchase projects, or post your own job ads without fees. It does offer some upgraded plans, however, which include:
| Giggrabbers Enterprise Plans* | Bronze | Silver | Gold | Platinum |
| --- | --- | --- | --- | --- |
| Monthly Price | $1,999 | $2,499 | $2,999 | $3,499 |
| Number of freelance specialists | 3 | 4 | 5 | 7 |
| 5 custom designs/month | ✓ | ✓ | ✓ | ✓ |
| Digital marketing strategy plan; social media content | ✓ | ✓ | ✓ | ✓ |
| SEO, including keyword research and backend SEO work | ✓ | ✓ | ✓ | ✓ |
| 5 research-based blogs; email marketing | ✕ | ✓ | ✓ | ✓ |
| 4 photo sessions per year | ✕ | ✕ | ✓ | ✓ |
| Website design, development and monthly support; 1 video project per year | ✕ | ✕ | ✕ | ✓ |
*Customized solutions are also available.
Giggrabbers takes a different approach to Enterprise solutions. You pay a huge monthly fee but receive highly personalized support. Also, its packages are premade with specific deliverables, in the area of graphics, website design, and social media. When you sign up for a plan, it will contact you for details and leverage its pool of vetted freelancers to provide the products you need in a timely manner.
Enterprise options are great for busy businesses with a steady demand for specific products, like logos, social media campaigns, SEO-optimized copy, photographs, and website design. However, if none of the plans quite fits your needs, then you can contact Giggrabbers about a personalized solution with customized pricing.
Giggrabbers scored fairly in this criterion because it's easy to sign up and start hiring freelancers with it. It only lost a point because it lacked a mobile app.
With Giggrabbers, you can register for your account after you create an ad, when you are ready to hire a freelancer, or ahead of time. It gathers some basic information, then you can get right to work. You can add in your payment information and other data, like your logo and contact information, through your dashboard later.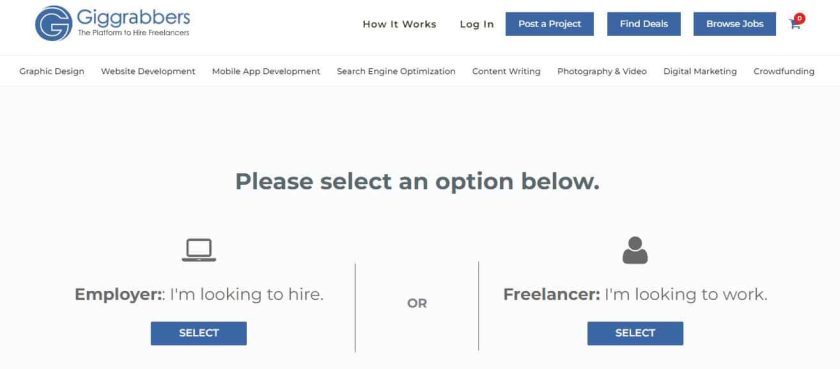 ---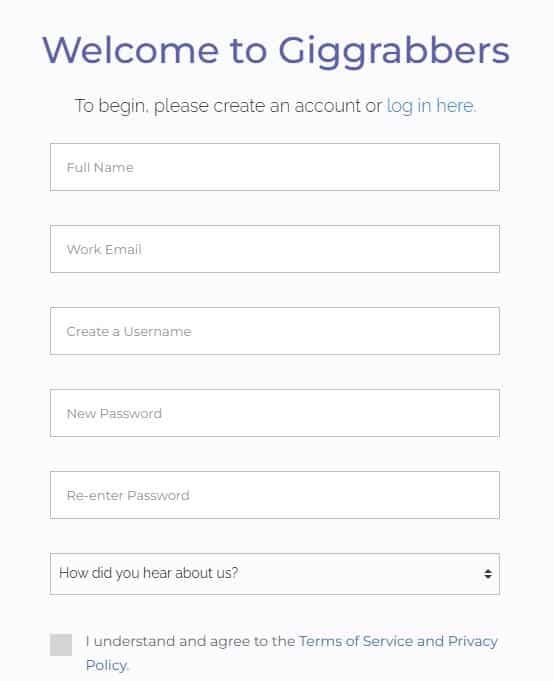 ---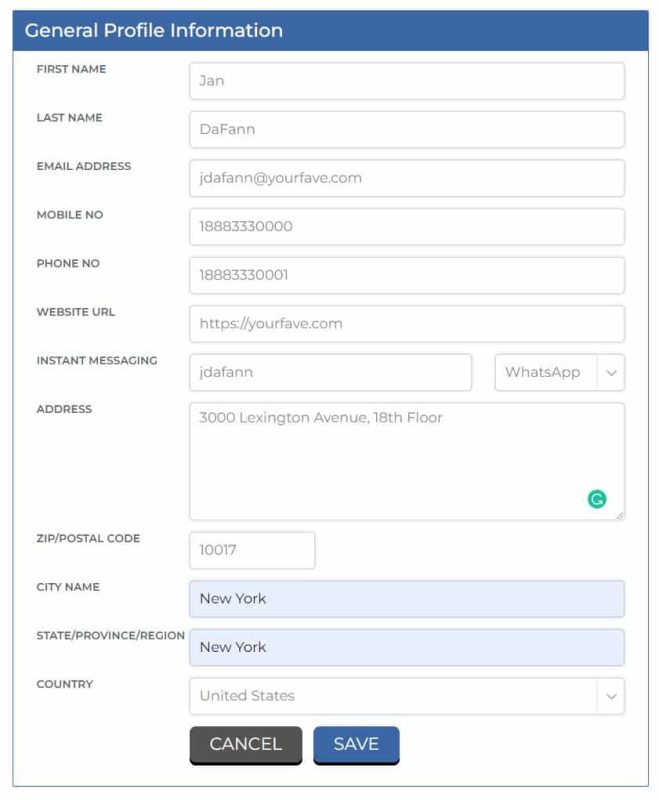 ---
Find Freelancers & Deals
While you can search for freelancers by skill through your account dashboard, the website is closer to Fiverr in that it lets you look for prepackaged deals that freelancers provide. I was impressed by the level of detail the freelancers included in the deals, such as the number of revisions, turnaround time, and deliverables.
The search engine is simple. Begin by setting your maximum price using the slider at the top of the screen, and then select your industry. Then use the bar at the top to choose skills and narrow your price range. One nice feature is that it lets you sort by price.
Expect a delay with each change you make as it sorts through the available freelancers.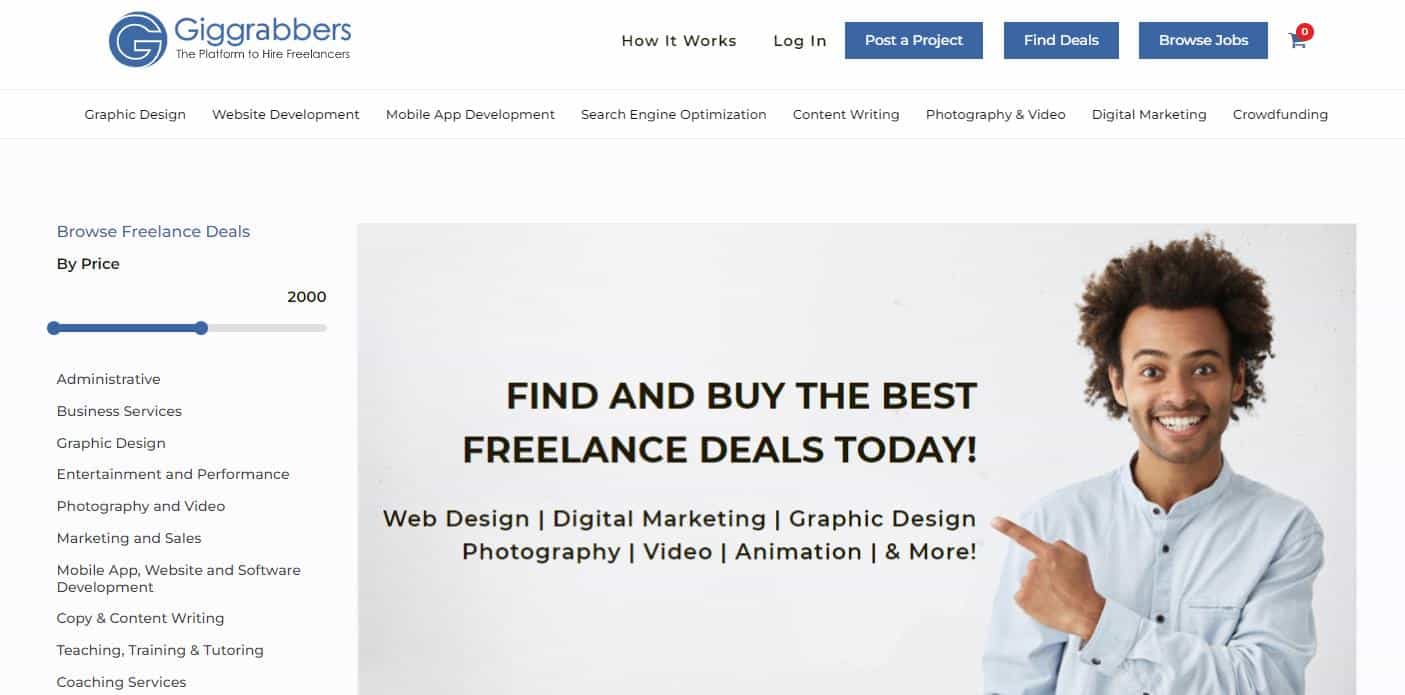 ---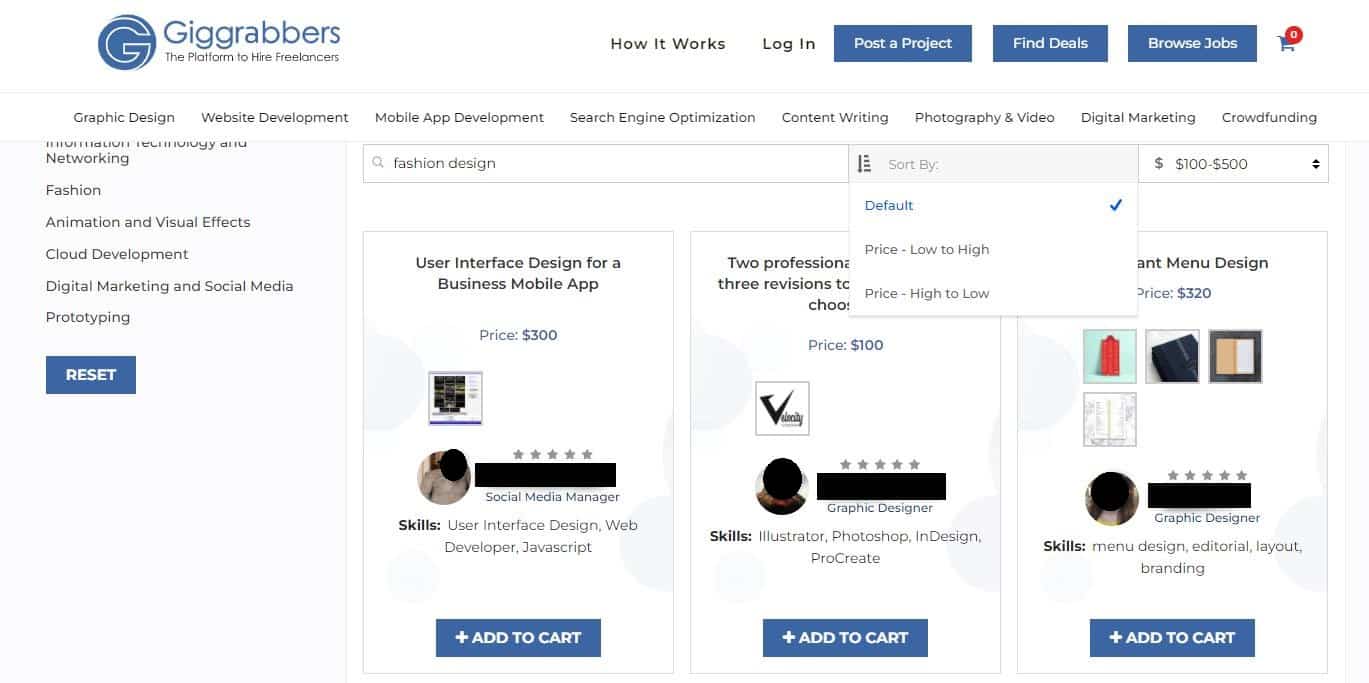 ---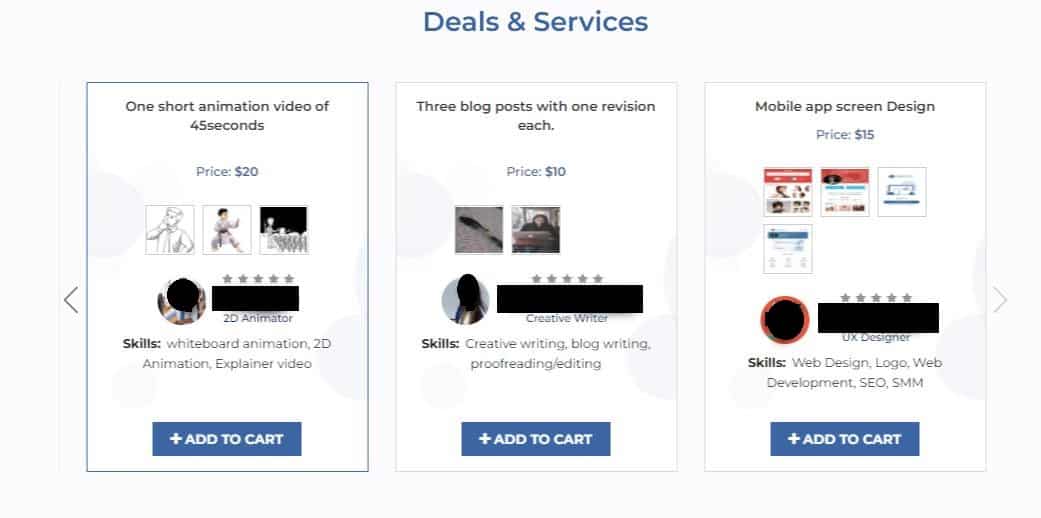 ---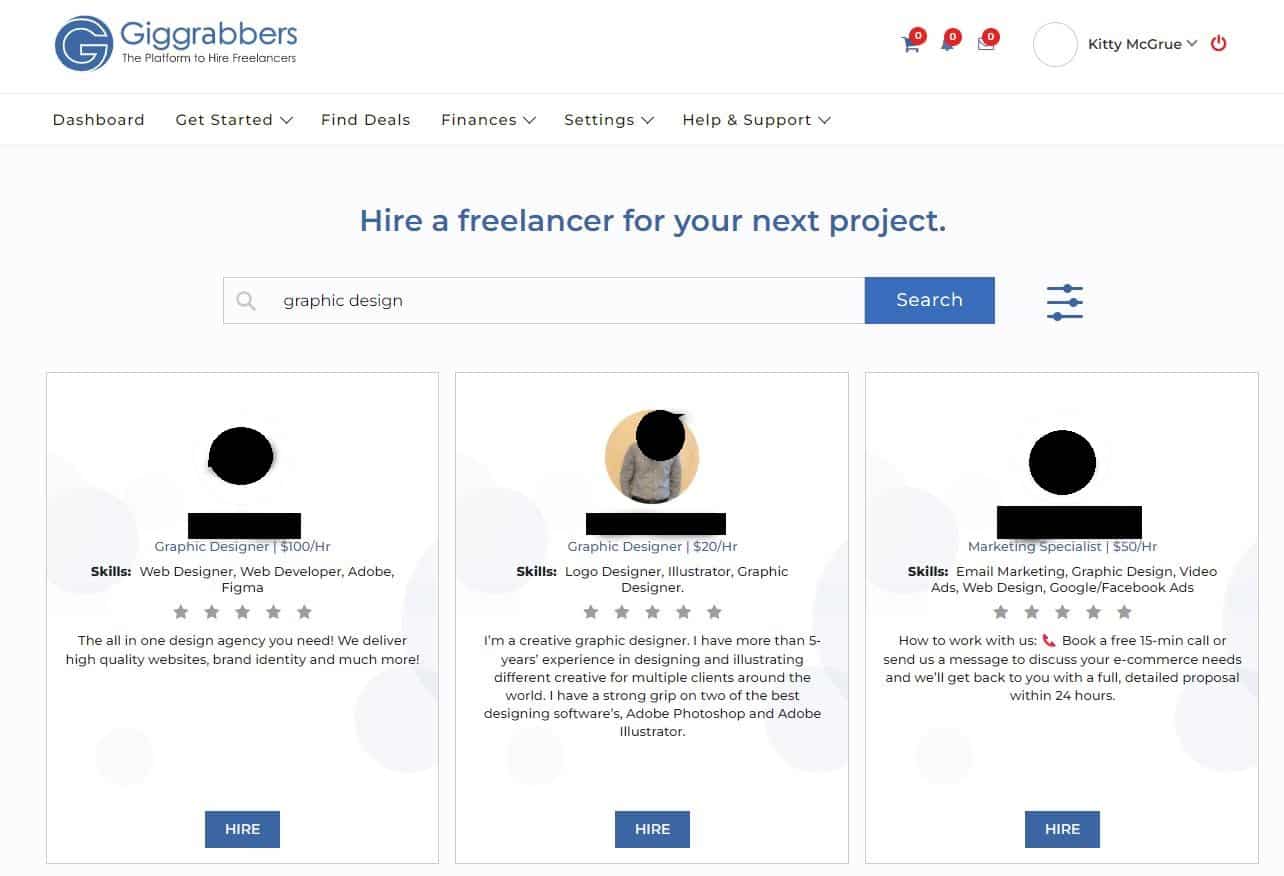 ---
Evaluate Freelancers
Giggrabbers does not offer as many evaluation tools as other freelance hiring sites; Freelancer.com, for example—but it still gives you a few ways to judge a potential hire. However, the package deal ad itself does not give much information—even the stars are all gray rather than showing the rating. You'll need to click on the offer to get to the freelancer profile.
Profiles contain the following information:
Star rating: A standard one- to five-star rating based on employer feedback. However, I did not see any actual reviews in the freelancers' profiles I examined.
Joined date: Speaks to experience on the site as well as how active they are.
Hourly rate: Comparing this to the price of the gig gives you an idea of how fast they work.
Profile link: This takes you to the profile page (If you are on the profile already, it just refreshes the page).
About: A short bio where the freelancer lists experience and education, plus any other pertinent information about their skills or the gigs they offer.
Deals: These are the package deals they offer. There are no levels, like with Fiverr. You can click to add a deal to the cart, but that's about it.
Portfolio: Images of their work.
Service description: Details about what they provide.
Payment description: Details on how they want to be paid, such as by milestones, full payment upon completion, or hourly.
Post a Job
Again, it costs nothing to post a job on Giggrabbers. This is best if you have a specific need but don't want to search for a deal or freelancer. Instead, they come to you. You set the parameters and price you'll pay, and then evaluate bids as they come in.
Naturally, you need to have an account to post a job, but you can create it after you have filled out the project form. Giggrabbers has an easy-to-follow wizard that takes you through designing a job ad. You have the choice of paying by the hour or project. When freelancers bid, you can work out further details like how often you'll pay (weekly, monthly, by milestone) and specific deliverables.
Giggrabbers offers a contest option—but only for web design.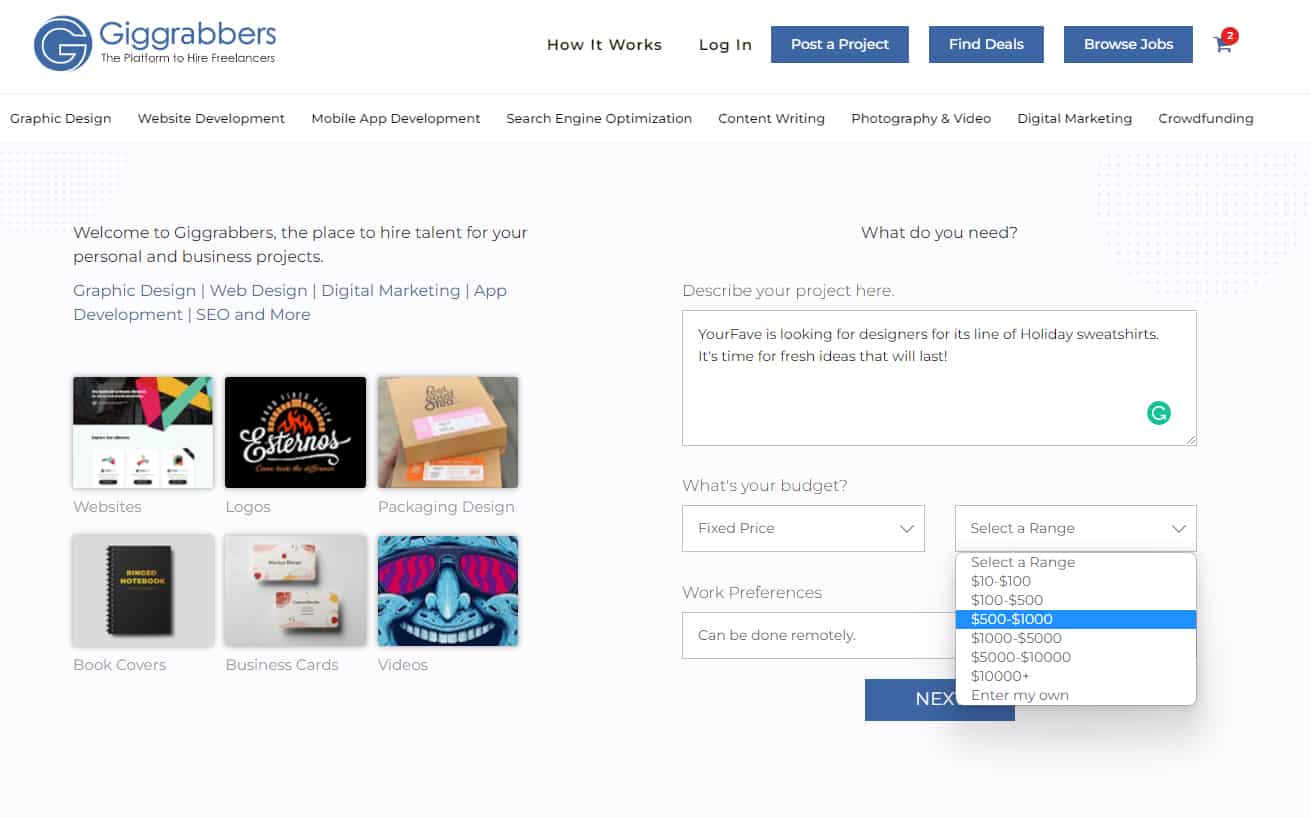 ---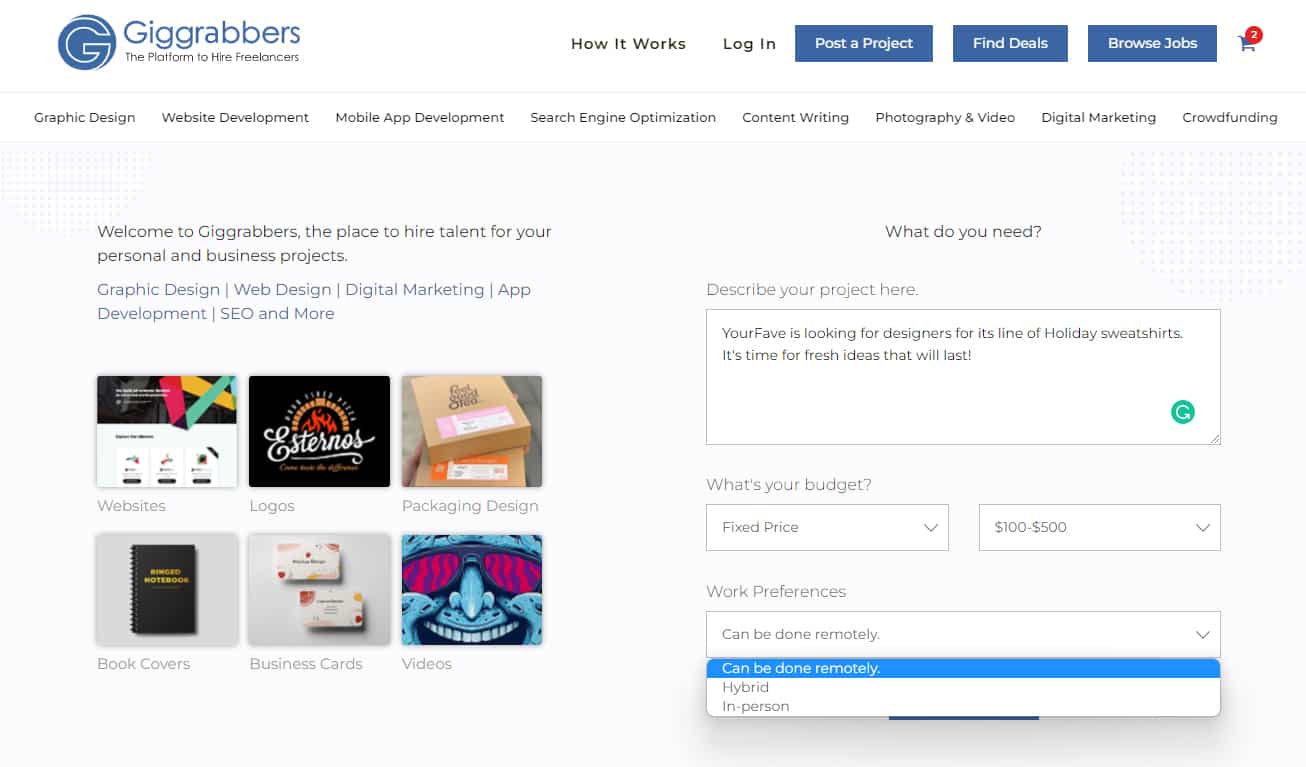 ---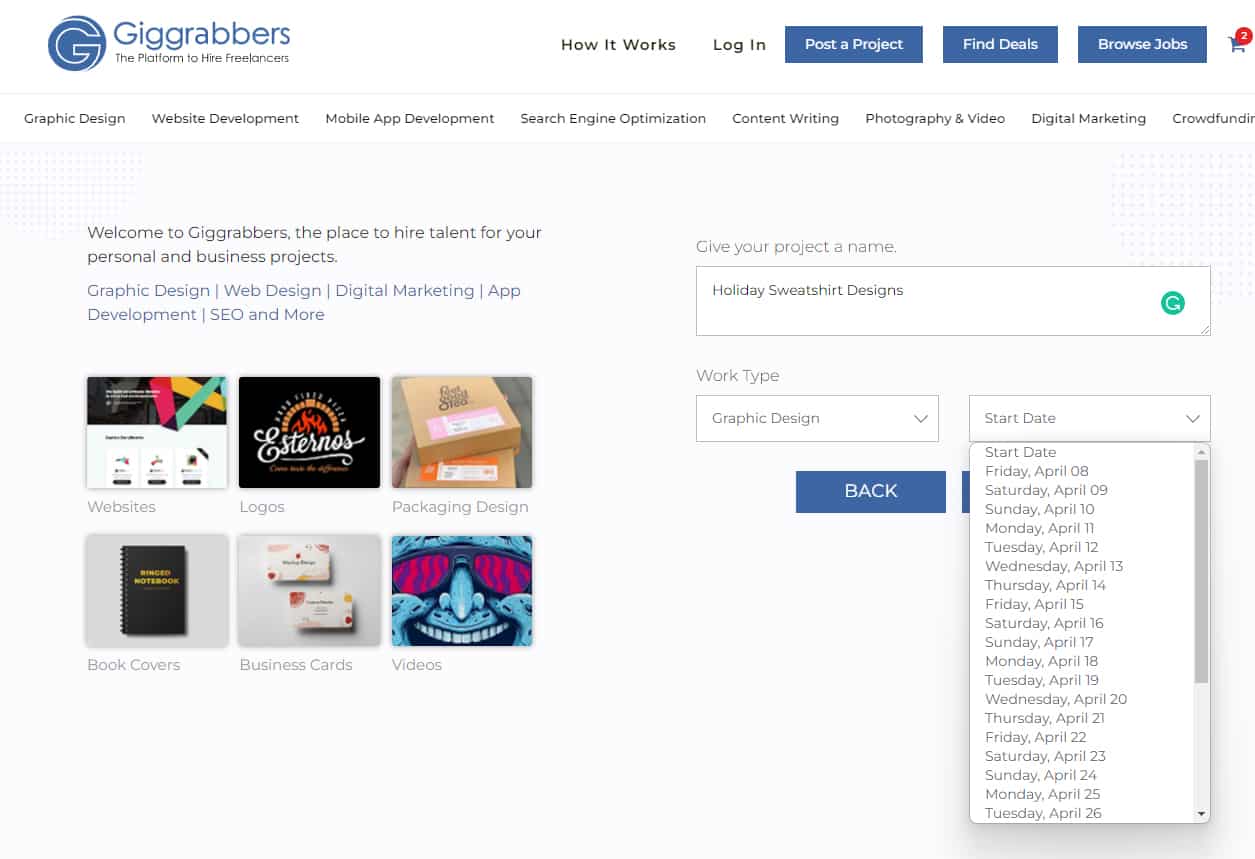 ---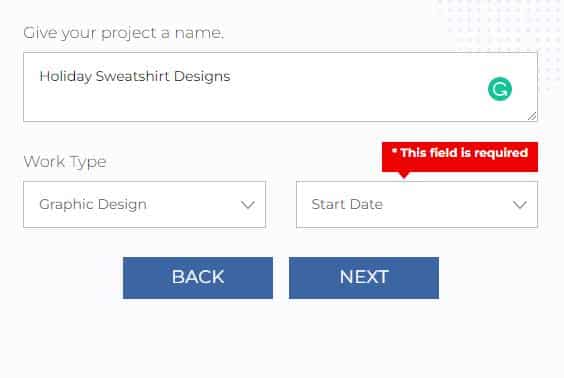 ---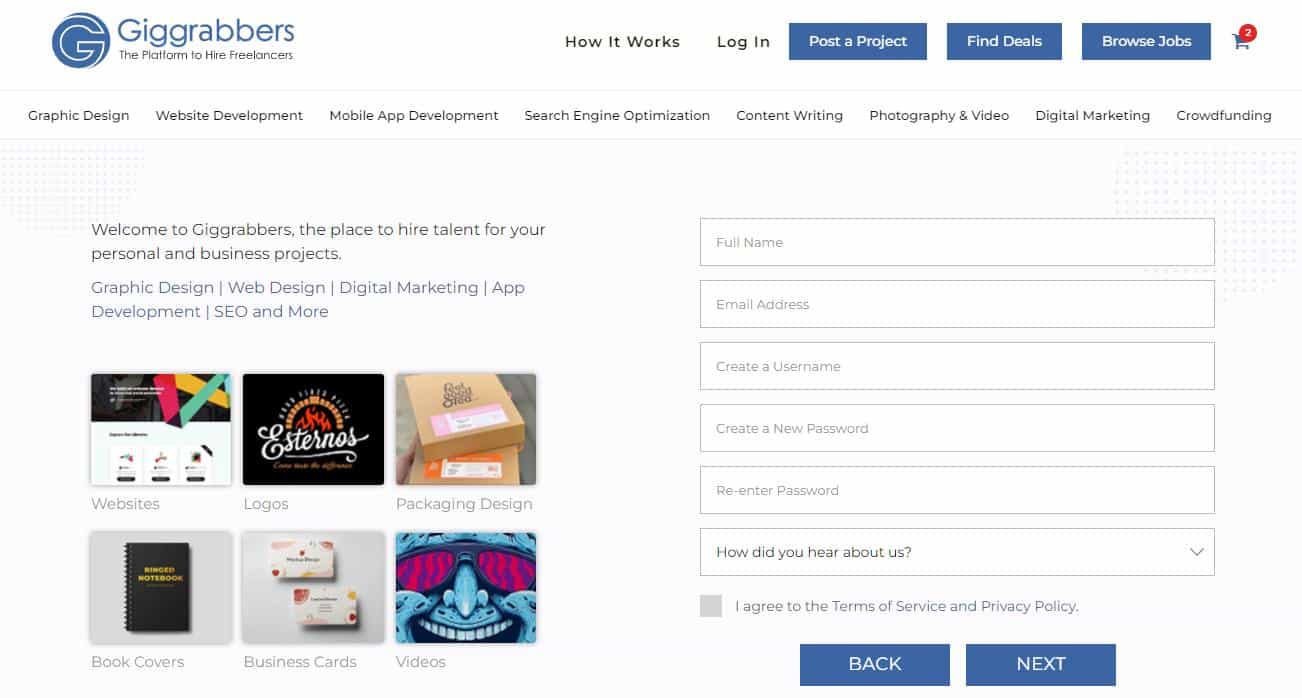 ---
Hiring a Freelancer
There are two ways to hire a freelancer: purchase a deal from them or hire them for a project. If you hire them by purchasing a deal, click on Add to Cart. You can add as many deals as you like, then pay all at once. This is convenient when hiring for multiple tasks or projects at the same time.
Be sure you are logged in before selecting a deal. Otherwise, it may not add a project to your cart.
If you find a freelancer you like, then you can click Hire, and it will lead you to a job ad wizard so you can craft a proposal to send them. Alternatively, you can click on the profile and invite them to apply to a job that you've already posted.
Once you've selected your deals, you can go to the checkout. Even if your freelancer has asked for payments by milestones, you pay for the complete project at once, and they are paid out as they reach certain goals.
Once you've hired a freelancer, you will set up invoices. You'll find the tools for this under your proposal once it's awarded.

---

---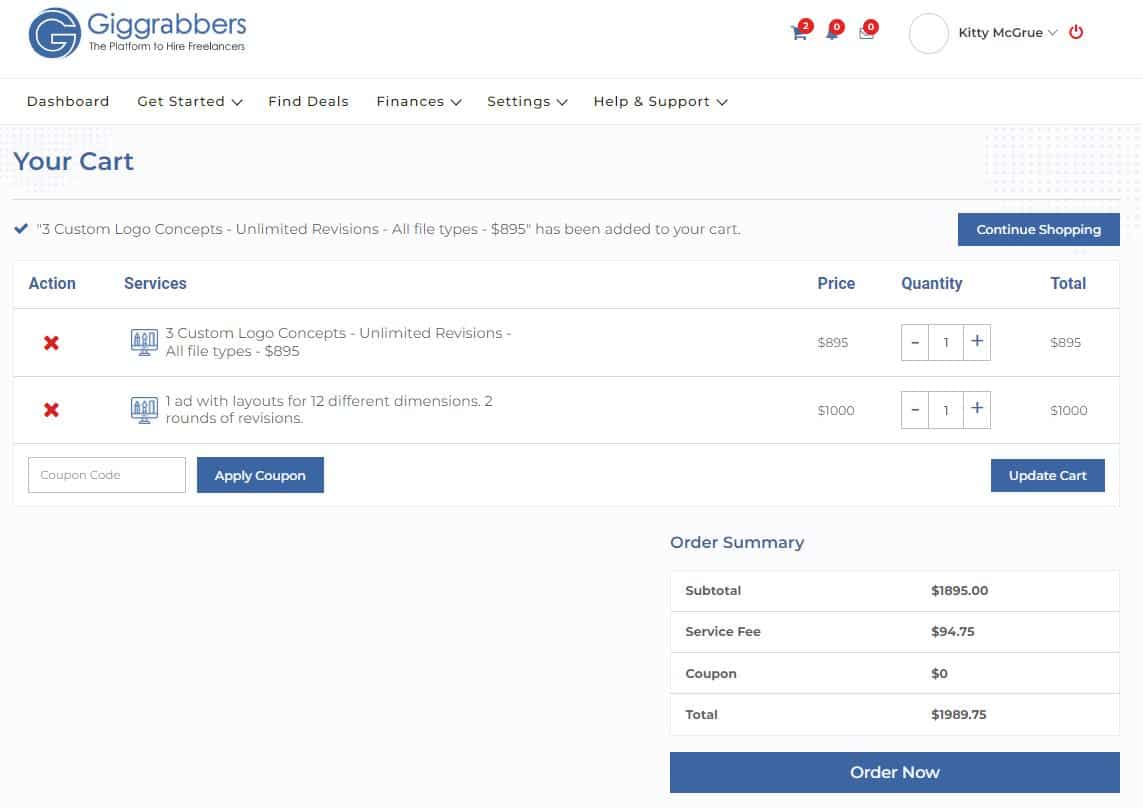 ---
Giggrabbers didn't get a perfect score for functionality because it doesn't provide dedicated account management. It also doesn't let users track time and milestones.
Giggrabbers streamlines collaboration between employers and freelancers with its comprehensive project management and payment features. The platform's tools optimize workflow, enabling efficient task execution, clear communication, and effective project management. Users can create tasks, set deadlines, assign responsibilities, track progress, monitor milestones, and share files—all within a centralized system.
Giggrabbers also ensures secure and convenient payments. Freelancers receive timely and accurate compensation, thanks to the platform's transparent financial transactions. Employers can securely make payments, while freelancers easily track and manage their earnings within their Giggrabbers account. With these reliable payment features, Giggrabbers fosters trust and cultivates a smooth working relationship between employers and freelancers.
Manage Projects
Giggrabbers does not offer as many management tools as other freelance hiring sites, but it does have communications tools for discussing details with your freelancer. Its big strength, however, is in project planning itself, which leads to crowdfunding your project.
Once logged in, your menu gives you multiple options for projects.
Start a Project: Takes you straight to a job ad wizard.
Learn and Hire and Raise Funds: Both of these buttons take you to the same page, where you then choose if you want to start a project (which takes you to the job ad wizard) or plan a project and crowdfund.
Browse Freelancers: Search freelancers by skills only.
Find Deals: Look for gigs much like you can do even when not logged in.
Project Planner
When you create a project, there's a wizard that will take you through the eight most important needs for a startup business or for developing a new online product or service. It starts with a summary of a step and why it's important, then asks if you need to hire a freelancer for that step. If you select Yes, it is added to your planner.
At the end of the questions, it gives you a chance to review. You can move forward or backward using the arrows, but do not click Continue until you are ready to post ads, as it will not let you go back.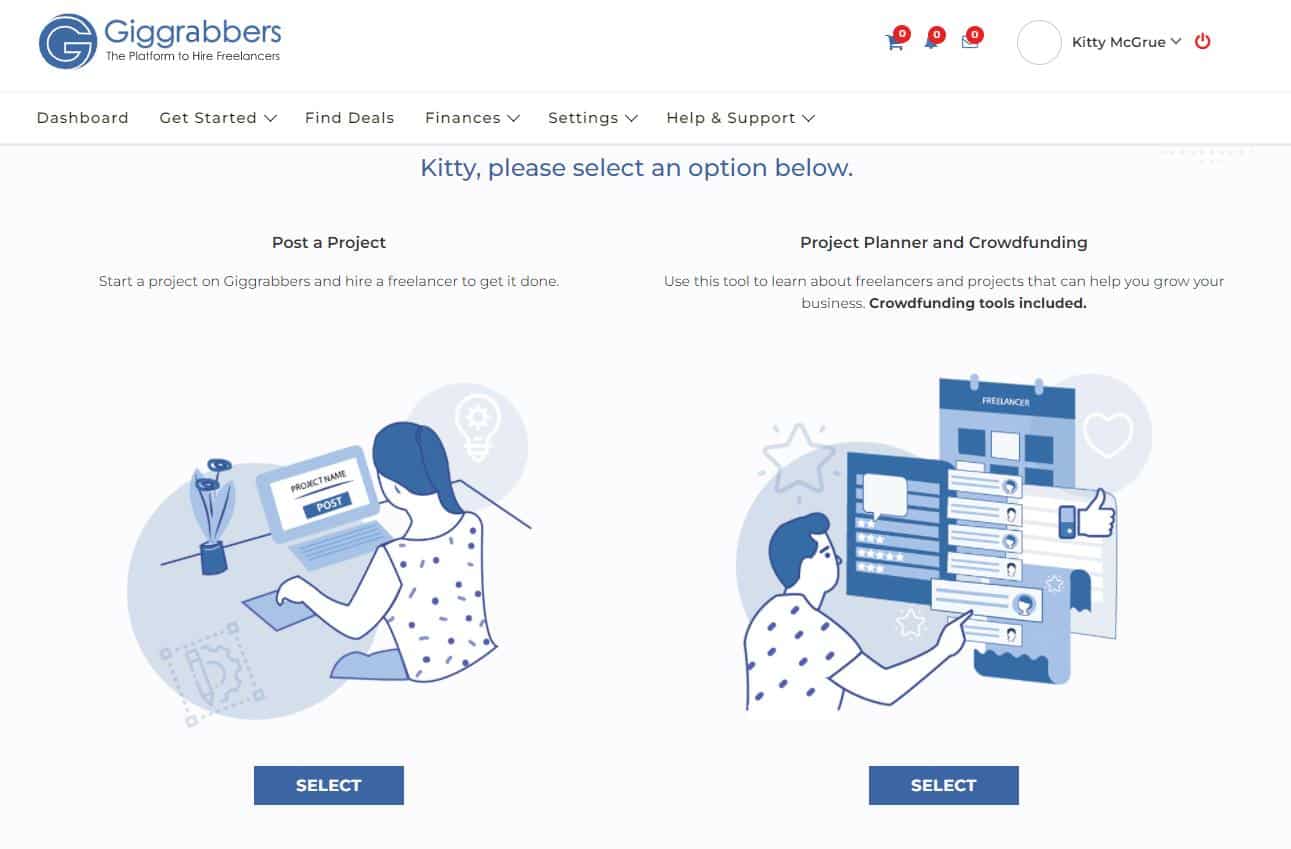 ---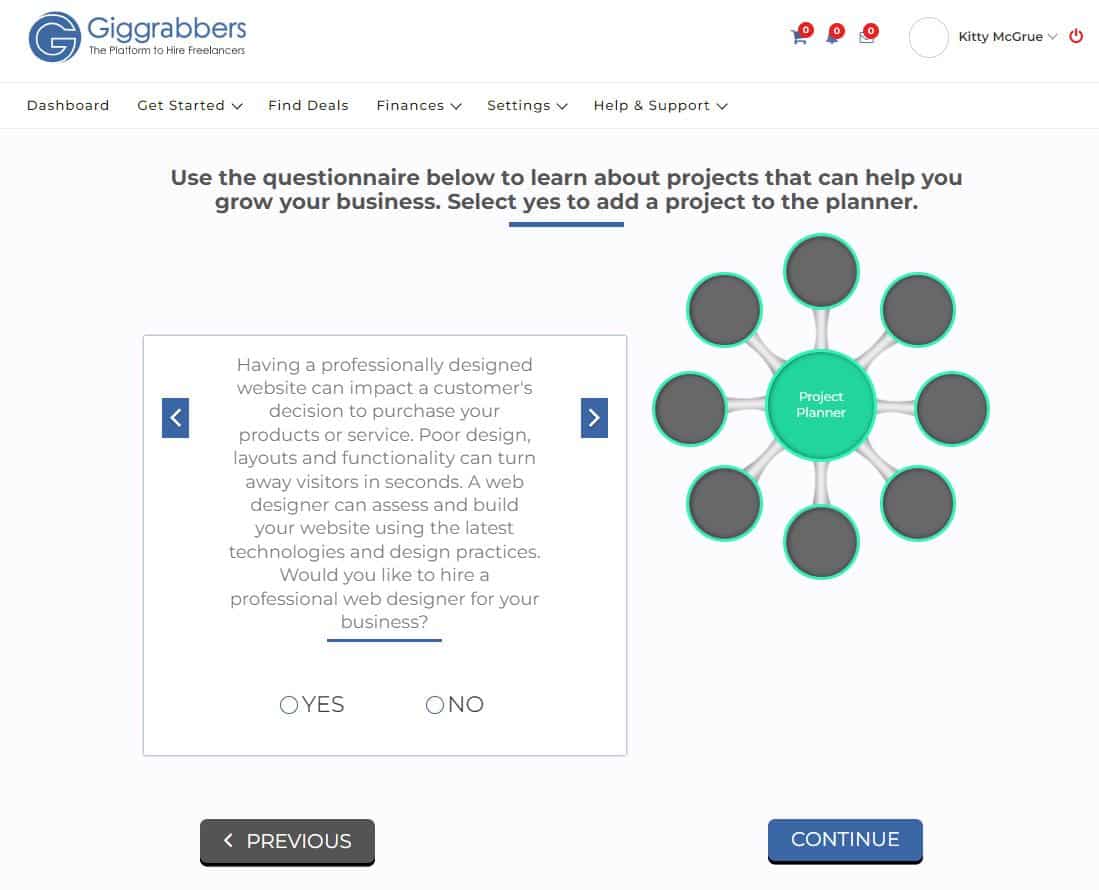 ---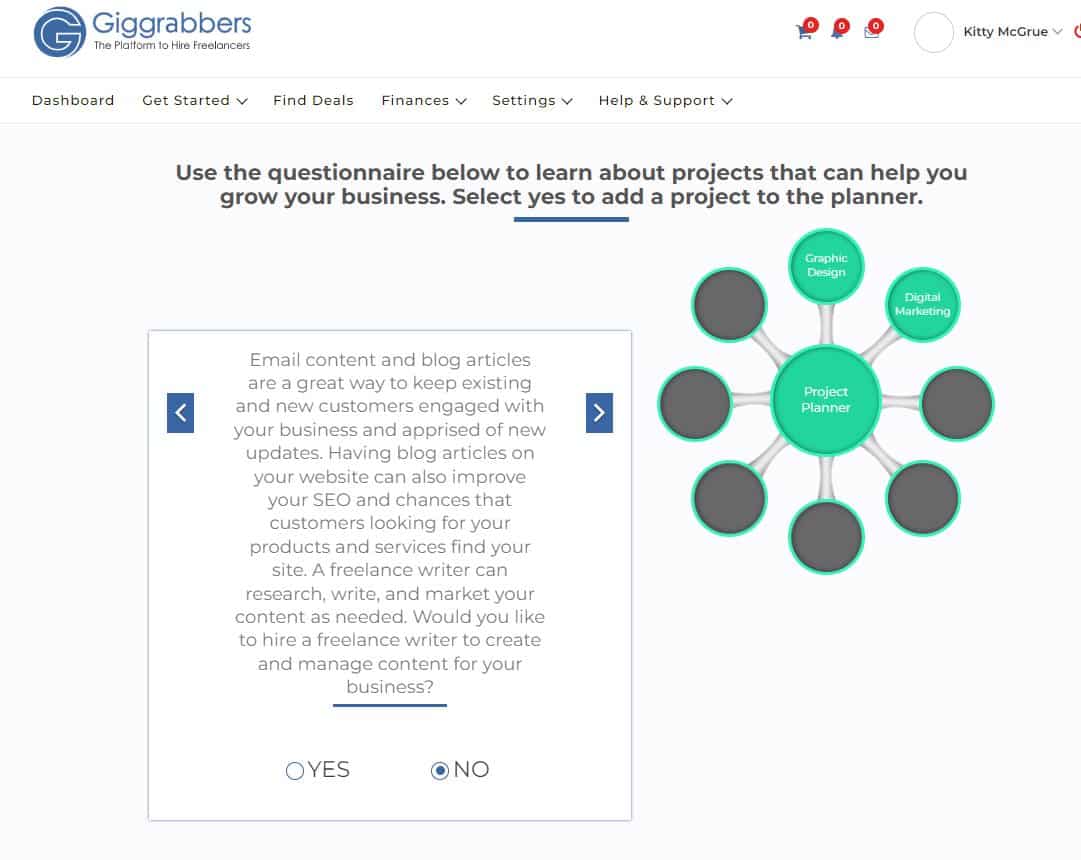 ---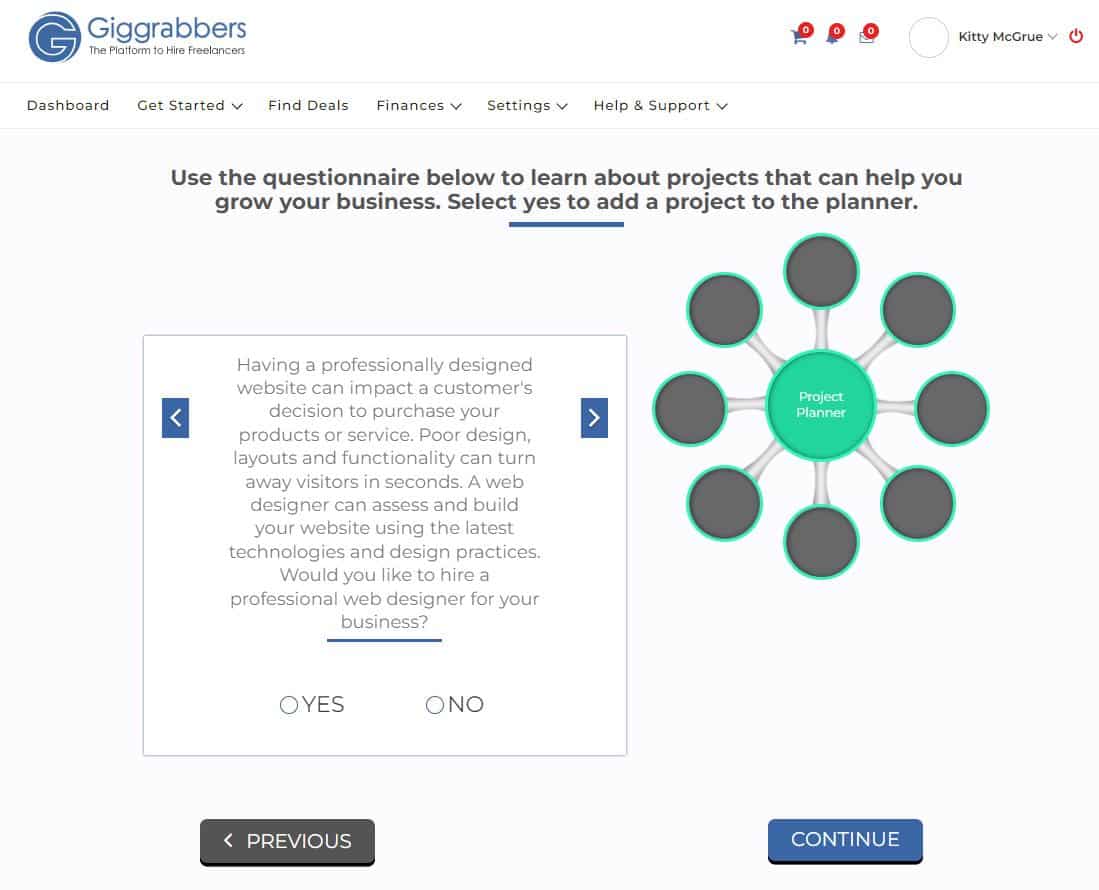 ---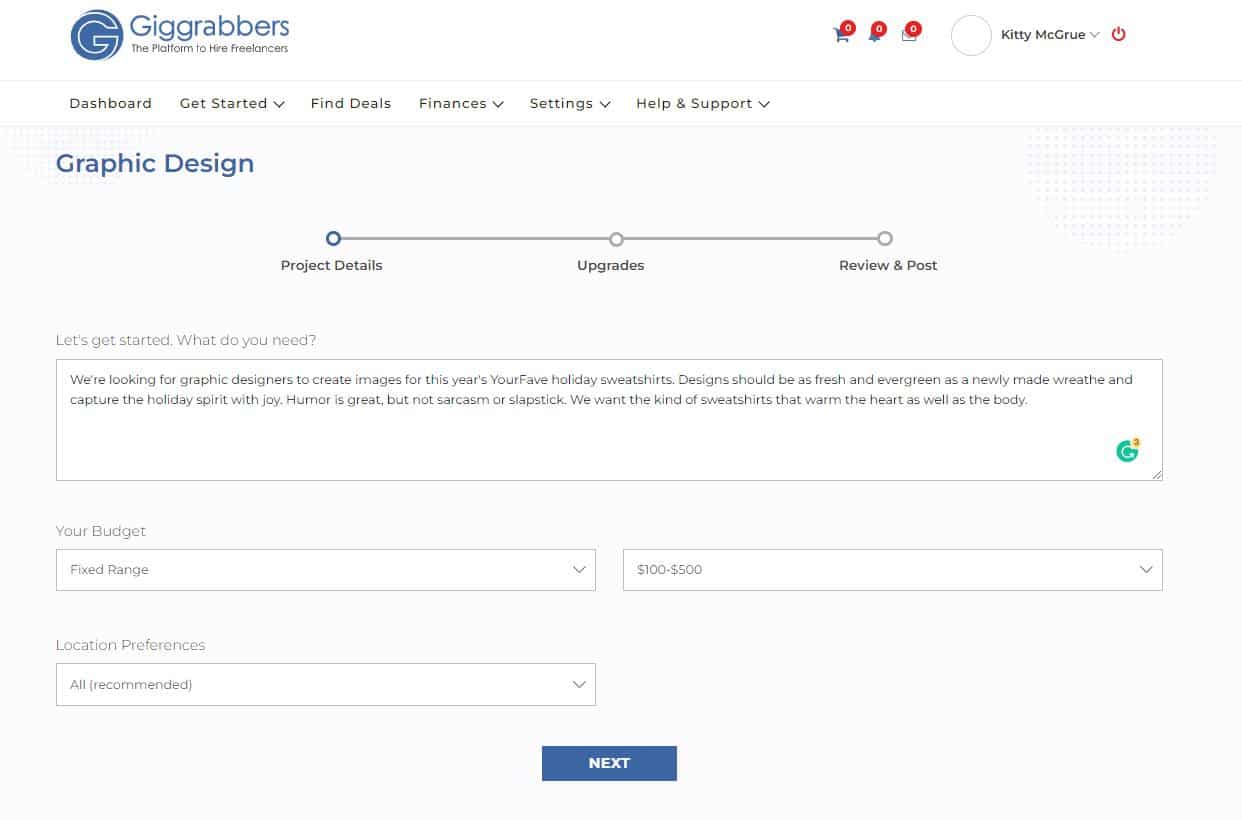 ---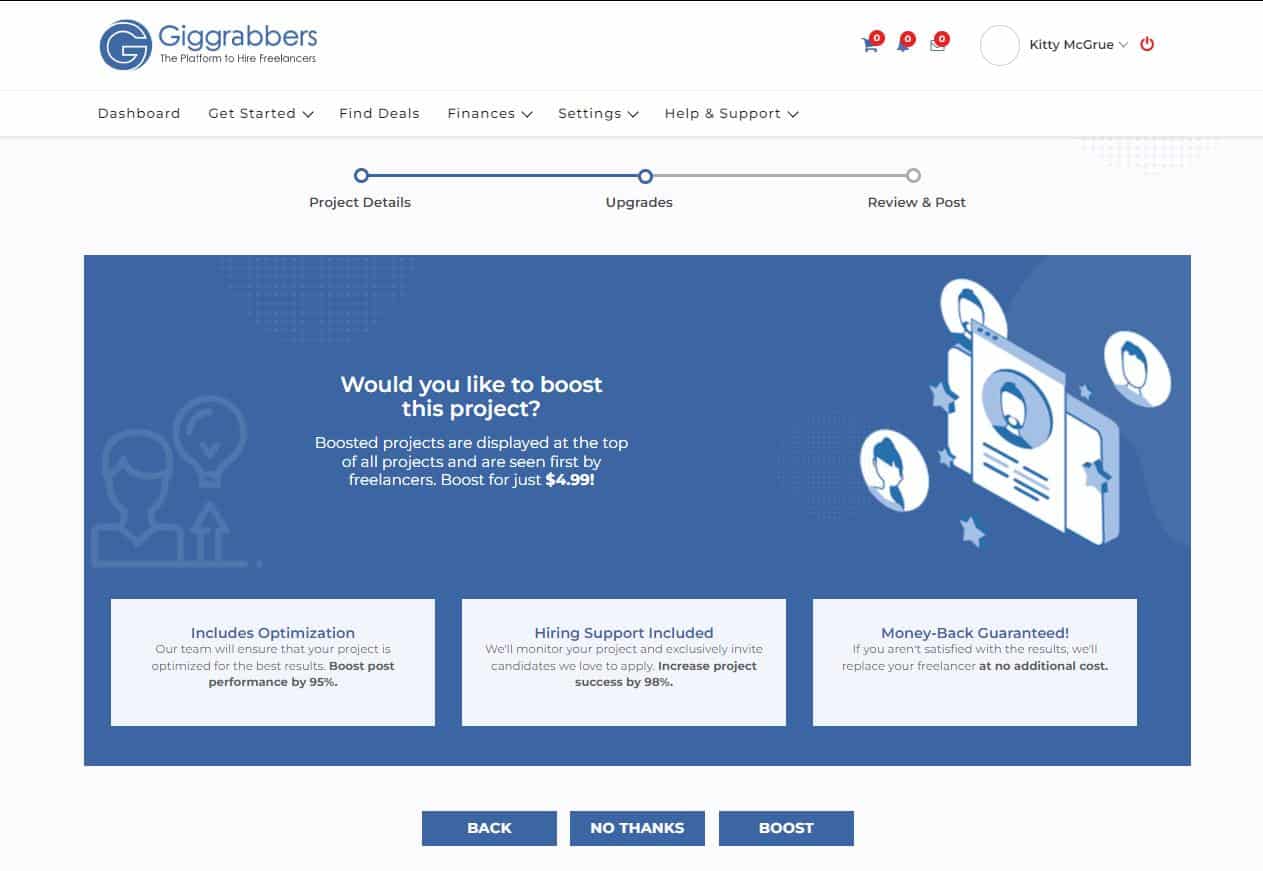 ---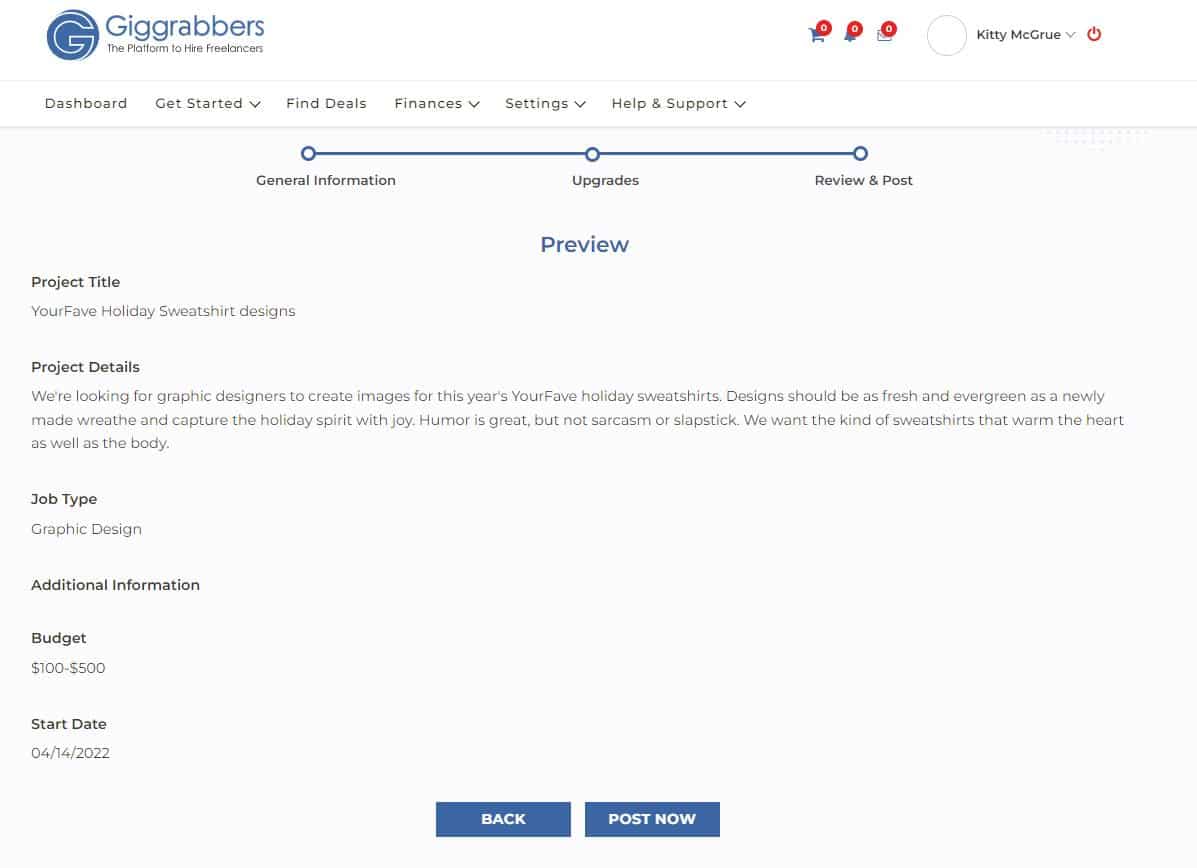 ---
Communication Tools
You can communicate through messages to your dashboard. The envelope icon at the top right leads you to the Inbox. Messages are not just from freelancers but also about your payments, feedback, proposals, and any special discount deals Giggrabbers is offering. Giggrabbers color-codes messages to help you stay organized and prioritize.
There's also a bell icon at the top next to the envelope. This opens up your notifications, which will show up in a column to the right when you click the bell. You can also set up which notifications you want to receive via email.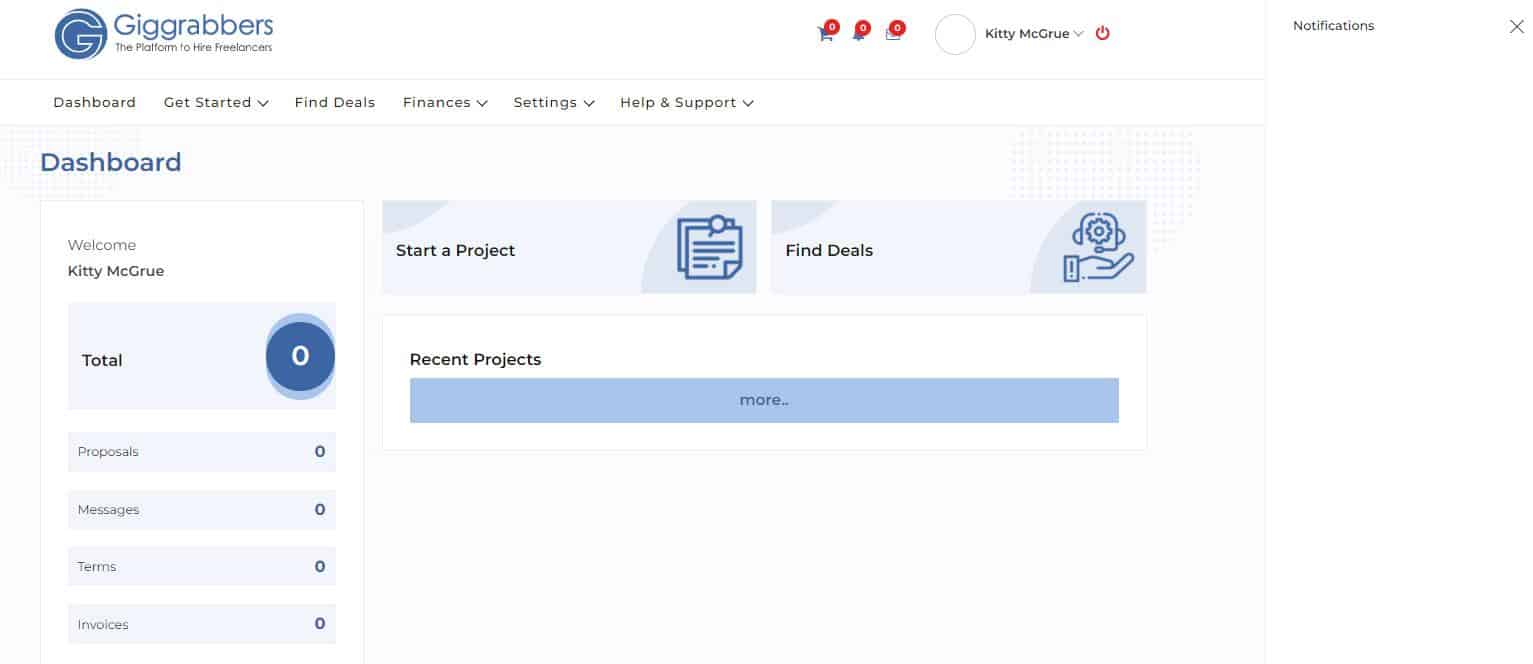 ---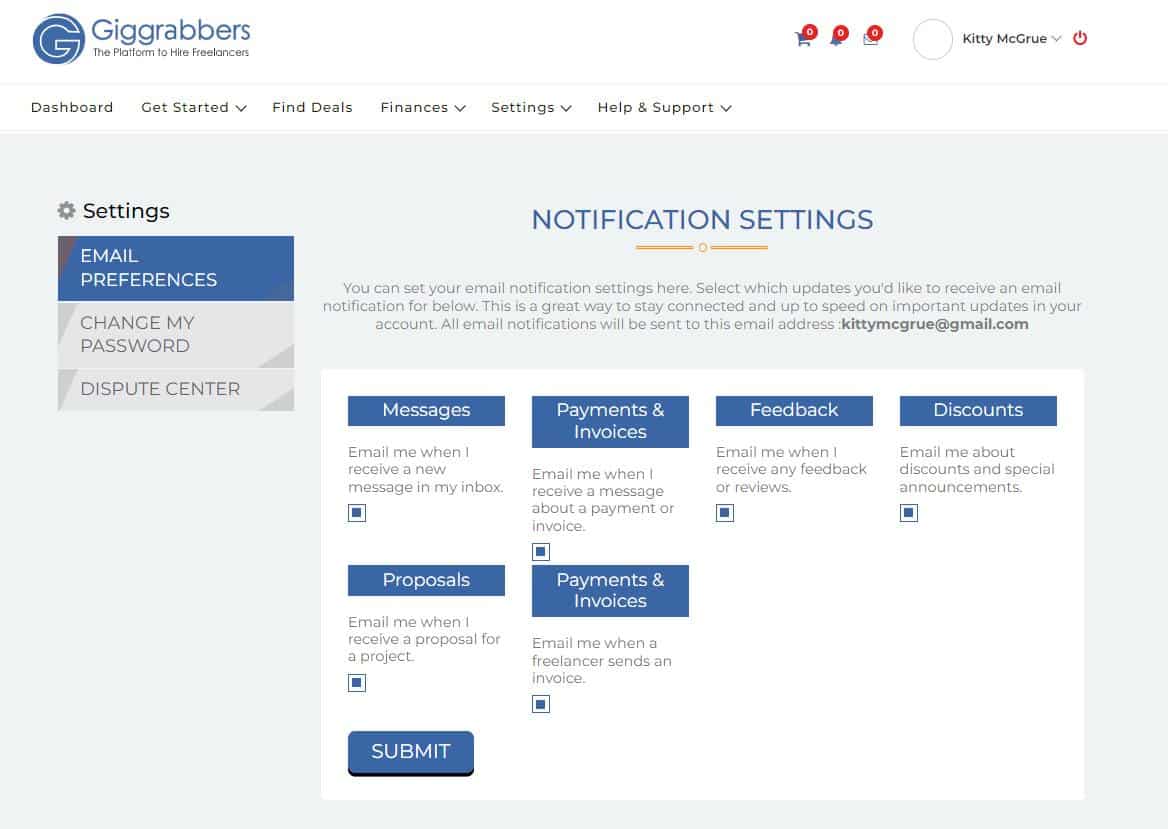 ---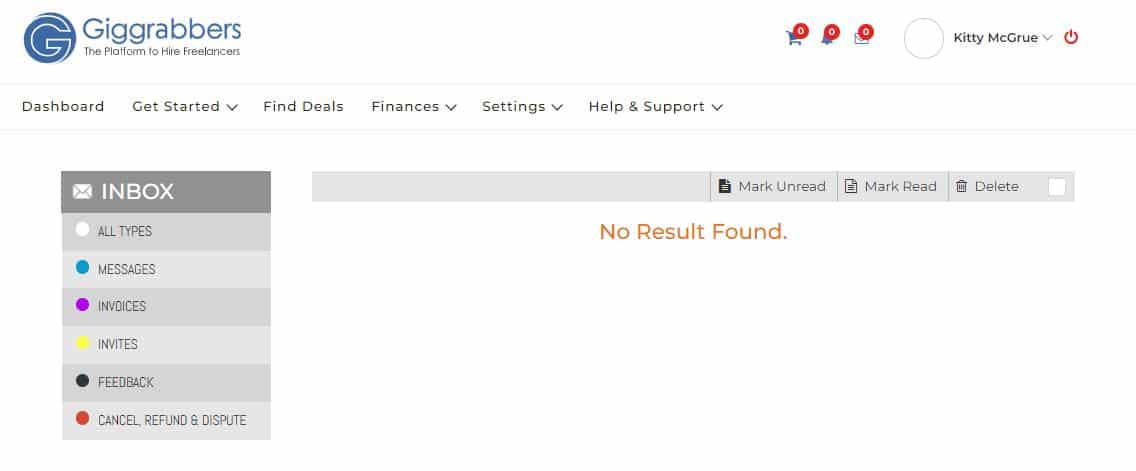 ---
Crowdfunding
Crowdfunding is really part of the project planning feature, but its uniqueness deserves a special callout. No other freelance hiring website we've examined includes the ability to set up crowdfunding to pay your freelancers.
You begin with the project development tool, and once you have the steps you need and the job ads created, it leads you in creating a crowdfunding campaign. You can easily share the project with friends, family, and fans via social media.
The money made can only go into your account for the purpose of paying your freelancers on this platform. Thus, it's not a great crowdfunding platform for complete project financing, such as for the purchase of tools and manufacturing, but it does help allay the costs of your online components like website, graphics, or social media campaigns.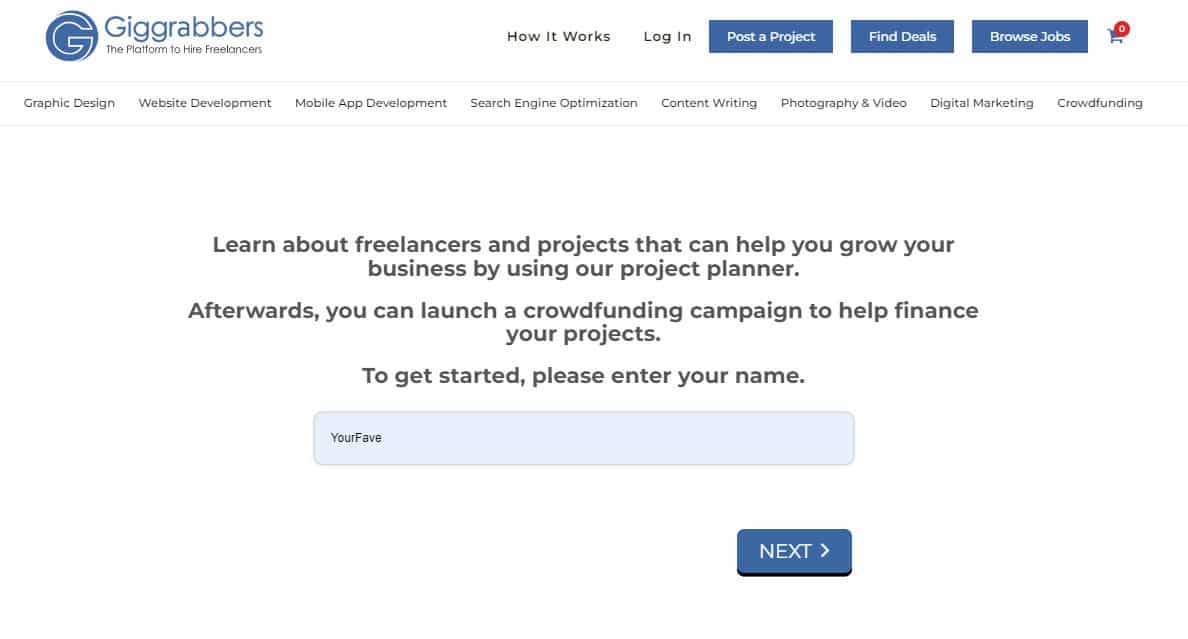 ---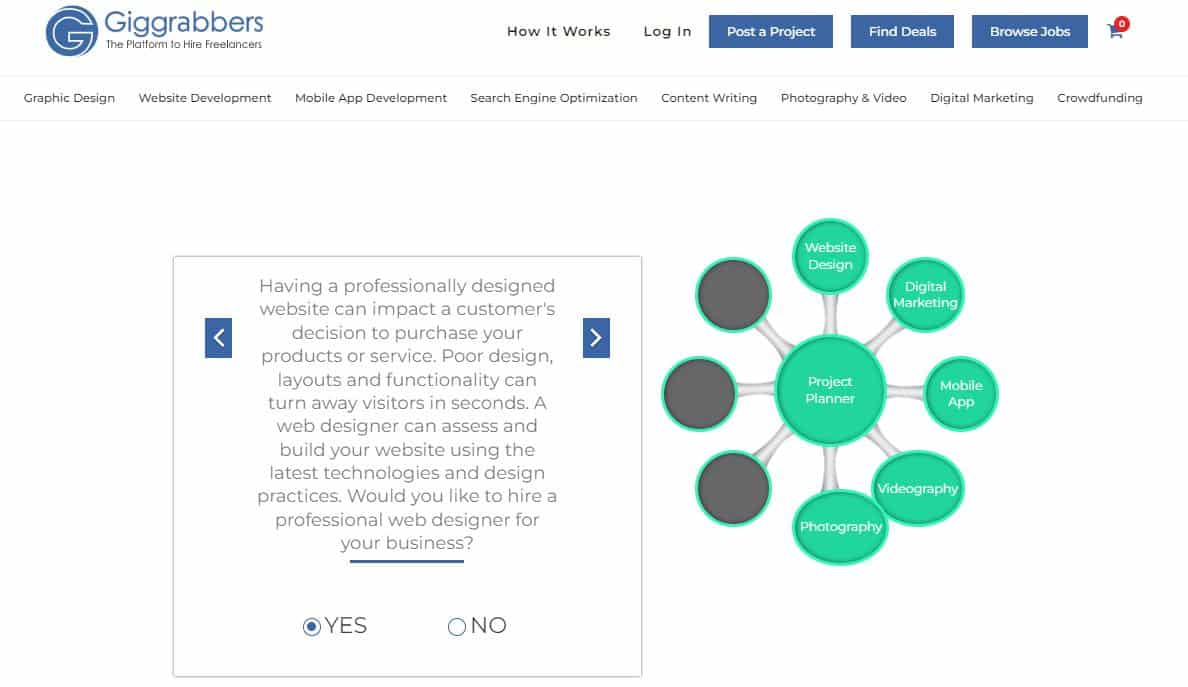 ---
Paying Freelancers
Like other freelance hiring services, Giggrabbers puts project money in escrow to be paid out to the freelancer according to a schedule that you and the freelancer agree on. Thus, the first step to paying freelancers is to link your account to a credit card. Giggrabbers also integrates with PayPal and Venmo, but only for paying out money to freelancers.
When you purchase a deal, you pay in full to Giggrabbers, and the money is put aside to be paid out as needed.
You can set up invoices for a project once it's been awarded to a freelancer. You can even set them up ahead of time when paying hourly or by milestone. Go to Manage on a project, and select Payments and Invoices to create invoices. Then, you can break down the cost into more than one payment. If you are paying hourly, you can create them for estimated hours and adjust as needed.
Once you have invoices set up, you can release payments as needed. Simply go to Payments from the Manage menu, select the invoice, and release the payments.
Disputes
Naturally, if you have problems with a freelancer, your first step should be to try to work it out between yourselves. However, if you're unable to come to a satisfactory resolution, you can file a dispute. Giggrabbers does not list any charges for mediation and says it takes five to seven days to come to a decision.
You'll start by filing your dispute. This will suspend your project's progress. The freelancer is notified about the dispute and given 72 hours to respond. Giggrabbers then reviews the claims and responses, and may ask for additional information. Once it reaches a decision, it notifies both of you. Its decisions are final.
Giggrabbers offers a reporting function that allows users to effectively manage and monitor their activities on the platform. This feature enables users to generate comprehensive reports that provide valuable insights into various aspects of their freelance hiring and project management.
Users can track key metrics such as project progress, freelancer performance, financial data, and more. By utilizing the reporting function, users gain a clear overview of their activities, facilitating informed decision-making and efficient management of projects and freelancers on Giggrabbers. However, you can't customize reports, preventing it from getting a perfect score for this criterion.
Easy to follow wizards for creating ads and projects
Bright, clean interface
Website lags
FAQ only
Projects are not saved as you create them
No save function in projects
Overall, we found Giggrabbers moderately user-friendly. The interface itself is bright, easy to navigate, and intuitive. Giggrabbers provides wizards to walk you through the process of setting up a job or an entire project. It includes clear explanations and direct questions so there's no confusion about what you're doing. Unfortunately, it doesn't have a collection of video tutorials to help new users. It also doesn't have live phone support and also doesn't offer a mobile phone.
This is the only freelance hiring site we've explored to date that has a lag. When clicking among categories or changing a parameter, you may have a wait of up to a second or two. Another thing we did not like is while creating a project, if you accidentally pressed Continue, it would take you to the job ad wizard—and would not let you return to the project. You would have to start over if you need to make edits.
Customers Like

Customers Don't Like

Excellent user interface
Would like more freelancers, choices
High quality of freelancers
There may be an issue with slow customer support
Pleasant workspace
Although there is a limited number of Giggrabbers reviews available on external websites, the feedback provided by employers has been overwhelmingly positive. They not only commended the platform's user-friendly interface but also expressed great satisfaction with the high-quality and skilled freelancers available.
However, it is worth noting that there was one negative review from a freelancer who faced difficulties with receiving payment and mentioned inadequate support from customer service in resolving the issue. On the other hand, other users have spoken highly of the customer support provided by Giggrabbers.
How We Evaluated
In our guide to the best freelance websites, we wanted to present only those that let you find and hire vetted freelancers and provide a means to ensure you're not wasting your money, such as an escrow account and a dispute resolution process. We avoided platforms that tend to attract scammers and focused on those with a strong reputation for solid talent.
For our full evaluation criteria, click through the tabs below:
15% of Overall Score
We looked for the best combination of fee transparency, low transaction rates (or those rates taken by the freelancer), and inexpensive talent-sourcing services.
25% of Overall Score
The best sites provide document sharing, communication, and project tracking tools to keep you and your gig worker in sync. We also evaluated each platform based on its mobile app capabilities.
25% of Overall Score
We ensured the sites we chose have a way for you to protect your investment, such as an escrow payment system based on deliverables. Additionally, a site should have a means to address disputes, such as a project not being completed to specifications or deliverables not being provided.
10% of Overall Score
We evaluated each freelance website based on user feedback (rankings of 4+ and 500+ reviews) and customer service quality trends.
10% of Overall Score
Reporting scores were determined by the capacity and quality of basic reporting and analytics and whether reports were customizable. All websites we reviewed received the same quality score in this area as they provide non-customizable reporting features within their system.
15% of Overall Score
We selected top-rated sites that make it easy to set up an account, find a freelance worker, and process payments online. This score evaluated the implementation of the software and if live phone customer support is available.
*Percentages of overall score
Bottom Line
Giggrabbers is more than a freelance hiring platform. It provides tools for creating projects with multiple online elements, finding freelancers by talent or by product, and even crowdfunding. The website has some quirks but is overall straightforward and easy to use. It has excellent reviews and is worth checking out, especially for startups or businesses that need to grow but are strapped for cash. Sign up for an account and get your projects going today.