Glassdoor is the premier employer review website, with over 114 million employer reviews and some 62 million monthly visitors. It's an excellent place to promote your company culture and reputation, keep a pulse on employee satisfaction, and see how you compare to similar companies for attracting applicants. By using Indeed, your job ads post on your Glassdoor profile page and the pages of your competitors.
Did you know?
Glassdoor and Indeed partnered in late 2021 to use Indeed's job ad and recruiting software for both platforms. You get all the advantages of Indeed's system while still reaching job candidates through Glassdoor. Learn more about the differences between Glassdoor and Indeed in our comparison article.

Pros
Free company page
Free job posting through Indeed
Uses Indeed's job posting and resume screening system
Targeted ads for employer branding
Cons
Smaller candidate pool
Pricing not posted online
Must use Indeed for job ads
Deciding Factors
Company page for providing information, culture, employee reviews is free
Used by 80% of US online job seekers
Job posting populates to Glassdoor and Indeed
Best for manager and higher jobs
Reputation analytics
Mobile app for job seekers
Paid plans include enhancements like video and social media, advanced analytics, and the ability to feature job ads on competitor websites
Paid plans can be expensive (quoted $15,000 for 21–50 jobs ads/month)
What We Recommend Glassdoor For
Glassdoor focuses primarily on promoting your business to potential new employees. It provides a page where you can post important information, populates your job ads from Indeed, and allows employees and former employees to post reviews. Millions of businesses use it to promote their companies.
In short, we find Glassdoor best for:
Attracting future employees: By providing clear information about your company, candid photos of your employees in action, and linking to your social media, you can give interested applicants a deep view into your company's mission and culture.
Managing employer reputation: By analyzing the reviews and visitors to your page, you can get a strong view of the people who are interested in your company and what kind of employer image you present. You can respond to reviews and add content to counter negativity.
Sentiment analysis: Employees and former employees can leave anonymous reviews, ratings, and even notes to the CEO. You can use this information to get a more objective pulse on your employee's work satisfaction and maybe even uncover issues they might be afraid to bring up at work.
When Glassdoor Would Not Be a Good Fit
You are looking for an inexpensive way to reach diversity hires: Glassdoor can allow you to target specific diversity groups with ads, but it charges for this service. If you are trying to hire within specific demographics, check out our top recommended diversity job boards, many of which offer free options.
Blue-collar or hourly work: Glassdoor attracts professional, managerial, and executive job seekers. Fortunately, all ads posted to Glassdoor also post on Indeed, but if that's insufficient, check out our list of best job posting sites.
Heavy recruiting: Glassdoor, even with Indeed, is still a basic hiring system. If you need in-depth hiring and analysis tools, check out our list of the best recruiting software.
Glassdoor Top Alternatives At a Glance
Glassdoor Pricing
Glassdoor has two types of accounts: free and paid.
Free: The free account is primarily geared toward your employer page on Glassdoor, where you can showcase your brand, request and respond to employee reviews, and find out what kind of candidates you are attracting. Also, with a free Indeed account, you can post jobs to Indeed and Glassdoor, view resumes, and track candidates.
Paid (call for quote): Paid accounts give you in-depth reputation management tools. Some examples include:

Custom content
Social media integrations
In-depth analysis of follower demographics and ratings by job function
Expanded insights from Indeed reviews
Industry benchmark reports
Targeted company updates
Glassdoor also has add-ons for either plan. Call for quotes.
Glassdoor Display Ads: Reach targeted audiences on the Glassdoor platform
Employer Branding Ads: One-buy/run-four ad format that reaches your target audience on Glassdoor, Indeed, and elsewhere throughout their day
Review Intelligence: In-depth analytics tool for analyzing your data from Glassdoor and Indeed, including sentiment analysis, competitive benchmarking, exportable insights, and employee polling
Glassdoor also works with Indeed for job posting—we received a quote for the Select Branding Bundle for Indeed and Glassdoor of $15,000 per year for 21–50 jobs. It provides premium branding on the Indeed Company page and Glassdoor's enhanced profile, as well as:
Employer presences on both Indeed and Glassdoor (reach 80% of the online marketplace where job seekers are finding their jobs)
Employer-branded job postings on both mobile and desktop interfaces
Your open jobs on Indeed are automatically pushed to your Glassdoor page
Eliminate competitors from posting their job opportunities on your Glassdoor page
Target competitors to advertise your jobs on their page
Finally, you can pay for advanced recruiting tools on Indeed, such as Indeed Resume ($120–$300 per month), which lets you contact candidates who did not apply to your company but whose resumes you found on Indeed.
Glassdoor Reputation Management Features
While Glassdoor does have job posting and applicant evaluation tools through its partner, Indeed, its main focus is reputation management. Its pages are viewed by millions of serious job seekers each month who are invested in finding a company that they will enjoy working for.
Employer Page
The Employer Page is the showcase of your company. Provide information about your company and culture, answer FAQs, post photos, and even host videos. You can add your social media feeds to increase engagement (with the paid plan). If your company changes brands or is acquired by (or acquires) another company, it's easy to make changes to show your new status.
Advance Tools: With the paid plan, you can add featured reviews, remove competitor jobs from your profile, do competitor analysis for keywords, demographics, and more, create target audience messaging, and sponsor open jobs to appear on competitor profiles.
Tip:
Take extra care of your Glassdoor employer page—it's a great tool for branding initiatives. A well-done page can give a prospective applicant a full picture of your company, and on top of that, employees can post their reviews and information about salaries and benefits. This helps attract better applicants and helps them decide if they are a good fit for your company—meaning you may be spared evaluating people who would not work out well.
Video (Paid Plan)
Video is an excellent way to catch a candidate's attention and convey information and insight into company culture.
Glassdoor offers three ways to add a video to your company profile. First, the Featured Video posts to your company's cover photo and is typically the first thing potential candidates see. Next, you can add up to five videos in the video module and place them in a left or right column. Alternatively, you can link to your YouTube channel.
Sentiment Analysis
Glassdoor encourages employees to leave reviews—in fact, it requires a review for an employee to access its features. It then anonymously posts the scores, reviews, and even a message to the CEO. HR can use this to get a quick pulse on employees' satisfaction and discover issues that employees may not feel comfortable discussing in the workplace.
Glassdoor offers several reports for sentiment analysis as well.
Review Intelligence: this paid feature gives you even greater depth by sifting reviews for management, culture, diversity, and leadership and by looking across job functions and location for hidden insights. It then provides executive summaries, competitor benchmarking, and downloadable in-depth reports.
Interact With Reviews
You can respond to reviews on your company profile or through your Employer Center. Use this not only to correct misleading facts by disgruntled employees but to encourage more details from employees that praised you. This is a feature that even Glassdoor admits is powerful—it says that 76% of users have a better perception of a company that responds to a review.
Responses include your job title; you can edit it for review purposes. Not sure how to respond to a review? Glassdoor has a webinar with best practices.
Did You Know?
Employees can post one review per company per year. Glassdoor will not remove a review simply because it is negative—it evaluates reviews for authenticity but does not fact-check. If you believe a review violates community guidelines, contact Glassdoor.
Glassdoor Recruiting Tools (Via Indeed)
In late 2021, Glassdoor moved completely to Indeed for its job recruiting and management. You'll need to create an account with Indeed and use its platform. Indeed consistently ranks on our lists of best recruiting software, best free job posting sites, best job posting sites, and best free applicant tracking system. Find out more about Indeed in our in-depth Indeed review.
Tip:
Glassdoor attracts employees serious about finding the right company for them. Be sure you're ready to show them the best you by having a smooth recruiting and hiring process. Check out our articles on how to find employees you'd love and how to hire employees.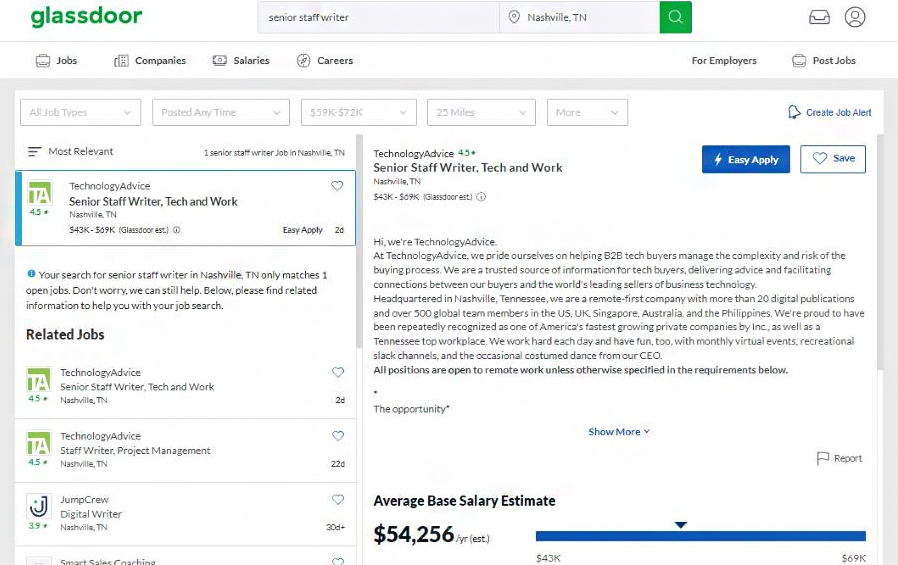 ---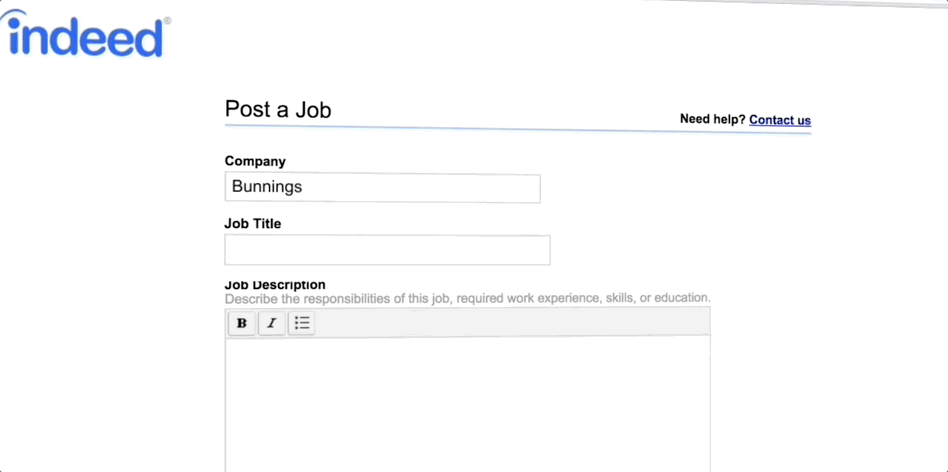 ---
Job posting
Indeed is one of the top recruiting software in the world, and it partners with Glassdoor. Your ads show up on both Indeed and Glassdoor, and you can review resumes on the Indeed platform.
Paid plan: Undercut the competition—with Glassdoor's paid features, you can have your job ads highlighted on competitor profile pages.
Resume search
Through Indeed, you can search over 200 million resumes. There's no limit on viewing resumes, but if you want to use the platform to contact a job seeker who didn't apply, you must pay extra.
Screening questions
You can add screening questions to the job application form to ask about experience, specific qualifications, special circumstances, or assets like security clearances. In addition, you can have candidates complete online exams to verify skills from customer support to computer skills.
Applicant Tracking & Communications
Indeed's ATS is not as complex as others, but it does allow you to contact candidates by email, schedule appointments, and make notes.
Paid ads
Glassdoor offers two kinds of paid advertising which you can use for job ads and general reputation promotion. Display ads reach out to users already on Glassdoor, while Employer branding uses a one-buy, run-four format that reaches out to Glassdoor and Indeed as well as other online venues. Either one lets you target your audience.
Glassdoor Reporting Tools
Glassdoor's reports are limited to reputation management, but they are customizable through filters and can give you insight into who is looking at your company by location, job title, and more. For HR managers wanting to get a pulse of their workforce, there are reports for ratings that are also customizable.
For job-ad and hiring reports, you need to go to Indeed. However, it provides competitive analysis for jobs and industries as well as specific reports on job ad performance.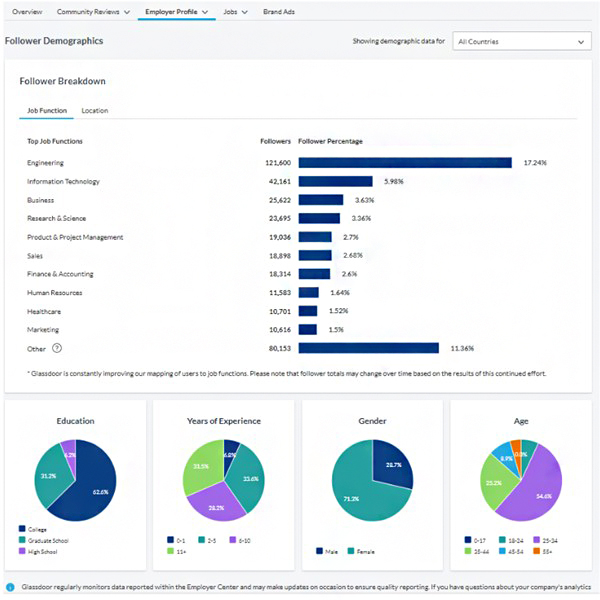 ---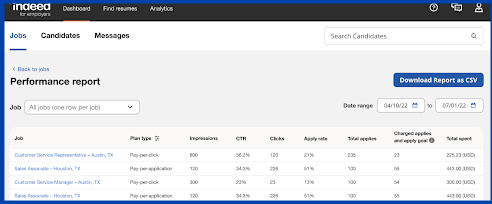 ---
Reputation Reports
Glassdoor's Employer Center Analytics contains nine reports. Depending on the type, reports can be printed, saved as a CSV, or shared with a co-worker, even if the co-worker does not have admin access to Glassdoor. You can filter reports by dates and other factors, depending on the type of report. Reports offer some drill-down capability to get deeper into details.
Ratings Trends (print, CSV)
Follower Demographics (print, CSV)
Follower Engagement (print, CSV)
Ratings by Employee Segment (print, share)
Competitor Comparison (print, share)
Interview Trends (print)
Employer Profile Activity (print)
Candidate Demographics (print)
Ratings by Location (CSV)
Indeed Job Ad Performance and Hiring Reports
While not accessible through Glassdoor, you can use Indeed's hiring insights and reports. Hiring Insights provides competitor information for 27 industries to give you a good view of the salaries and top competitors for the talent you want to hire. You can also create reports on job ad campaigns.
In the News:
Indeed is launching a new version of its analytics program, with more filters and the ability to compare performance between two time periods and access data from multiple advertisers rather than just Indeed. Learn more on Indeed.
Glassdoor Ease of Use
Some help articles contain video
Company pages are easy to navigate
Interface is user-friendly
Need to go to Indeed for job posting and candidate management
Chat support only
Glassdoor has a clean and user-friendly interface, both for its employer pages and the Employer Center where you can make changes to your page, respond to reviews, and add tools like social media integrations. It didn't get a higher score, however, because it does not integrate with other HR and ATS systems, and live support is via chat only.
What Users Think About Glassdoor
Users Like

Users Don't Like

Attracts higher-quality candidates
Employees can leave negative reviews for any reason
Excellent for monitoring your reputation among employees, candidates
Would like more support, how-to direction
Great way to share your company strengths, culture to job seekers
Smaller applicant pool than other recruiting boards
Glassdoor reviews are mostly from candidates using the platform to learn more about companies; they praise the ability to learn the good and bad from employees and get a glimpse into company culture. Employers like that the job boards attract more serious, high-end candidates. Some complained that the pool of candidates is smaller, however. Everyone praised its ease of use and useful information.
Bottom Line
Glassdoor claims over 80% of US job seekers use the platform to learn about companies they are interested in, seek jobs with specific companies, and post reviews on companies they work or worked for. As such, it's an excellent venue for promoting your business as a great place to work and attracting qualified candidates interested in your company for its opportunities and culture.
By partnering with Indeed, you get almost seamless recruiting capabilities as well. (You need to use your Indeed account, but it populates to Glassdoor, and they share data.) Glassdoor has a paid program with extra analysis and employer page tools, but even the free account is robust. Find your company and claim your page or start a new page today.