Glassdoor vs Indeed: Price, Features & What's Best
This article is part of a larger series on Hiring.
Glassdoor and Indeed both aim to help businesses improve recruiting and hiring. However, their platforms are designed to serve slightly different purposes, so we compared the two to help you understand the differences and how you can best use both.
Glassdoor: Best for businesses needing employer branding tools to attract high-quality candidates with a unique skillset
Indeed: Best for budget-conscious companies hiring for common positions they need to fill quickly
Glassdoor vs Indeed: When Neither is a Good Fit
If you're looking for a recruiting solution with robust job posting and applicant matching tools, then you may want to consider an alternative job board. With ZipRecruiter, you can boost your hiring activities through job aggregation—distributing your open jobs to more than 100 job boards with just one click.
ZipRecruiter: Best for growing companies with plans to scale and need a wide job posting reach to find qualified candidates
Glassdoor vs Indeed Side-by-Side Comparison
| Features | | |
| --- | --- | --- |
| Pricing | Free tier available; custom-priced paid plans | Free job postings; optional pay-per-click (PPC) for job ads advertising |
| Job Postings | Unlimited (via Indeed)* | Unlimited |
| Job Ads | Included in paid plans | PPC fees range from 25 cents to $5 |
| Resume Search | N/A | Unlimited resume searches; contacting job seekers who didn't apply costs $100/$250 per month |
| Company Page | ✔ | ✔ |
| Company Reviews | ✔ | ✔ |
| Salary Tools | ✔ | ✔ |
*Given the partnership between Glassdoor and Indeed, clients who want to post jobs on Glassdoor will be redirected to Indeed. Note that Glassdoor clients need to create an account on Indeed to post jobs to Glassdoor.
In 2020, Glassdoor and Indeed formed a partnership. One of its advantages is streamlined job postings, wherein jobs that you post on Indeed will also appear on Glassdoor. Note that clients who want to list open jobs on Glassdoor will be redirected to Indeed.
When to Use Glassdoor and Indeed Together: If you're planning to show off your company or brand, engage job seekers, and reach the right candidates, we recommend using both providers to benefit from their different features and strengths. They're less "competitors" and more "partners" since they joined forces.
When Neither is a Good Fit: If you're looking for a recruiting solution with robust job posting and applicant matching tools, then you may want to consider an alternative like ZipRecruiter. It is ideal for growing companies and allows you to boost your hiring activities through job aggregation—distributing your open jobs to more than 100 job boards with just one click.
Why Glassdoor Is Ideal for Employer Branding
PROS

CONS

Free company page with reviews management
Free plan doesn't include branded job postings and job ads advertising
Free salary tool
No resume search tool
Robust employer branding tools
Lacks an applicant tracking system (ATS)
Glassdoor provides the perfect place to manage your employer brand, allowing you to engage job seekers by letting them know about your company and workplace culture, a necessity when you're hiring for a niche position that's highly sought after.
It has a variety of solutions, from branded job postings to job ad advertising and a customizable company page. However, Glassdoor doesn't have a way to search resumes of passive job seekers and reach out to them as Indeed does.
Why Indeed Is Optimal for Quick & Budget-friendly Hiring
PROS

CONS

Ease of use
Occasional resume parsing inaccuracies
Unlimited job postings
Applicant tracking tools are not robust
Free listings
Expensive to subscribe to all of its add-ons
Indeed lets you post unlimited jobs for free and view applicant resumes online. This is optimal for small employers with open jobs and a need to hire quickly at little cost. You can also advertise jobs by setting your own budget instead of paying for a package as required on Glassdoor.
Your jobs will be seen by a large pool of applicants (it has more than 150 million job seeker resumes), and you can set filters to ensure you find a good fit. However, you are more susceptible to receiving applicants that are just mass applying to numerous jobs, so you'll need to use Indeed's features and establish some internal processes to increase efficiency.
If you need help learning how to advertise your open position, check out our guide on how to post a job ad.
Best for Employers: Tied
Your business' goals ultimately determine whether Glassdoor or Indeed is the best fit. If you want to promote your company and workplace culture to job seekers, Glassdoor is a better option. Its branding tools are more robust—enabling employers to showcase their brand to applicants. With Indeed, you get employer branding solutions, but its platform is more focused on letting you post jobs. Compared to Glassdoor, Indeed's strength is helping you quickly find qualified job seekers to fill vacant positions.
Best for Job Seekers: Indeed
From a job seeker's point of view, Indeed is a better place to look for a job since it makes job hunting easy. So, for employers wanting to get their jobs in front of potential candidates and improve the chances of their applying, this is also the best place. In addition to being a job board, Indeed aggregates jobs from other job posting sites and cross posts them. Even job listings of Glassdoor clients appear on Indeed given the partnership.
When job seekers find a position they're interested in, they can check out the company's reviews on both sites. With Glassdoor, you can view feedback from the business' previous and current employees. You may even get insight into what the company's interview process is like.
Best for Pricing: Tied
| | | |
| --- | --- | --- |
| Free plan | Yes | Yes |
| Free plan inclusions | Free job posting, appear in general search results, accept mobile applications, manage candidates | Posting company info, review requests, employer profile analytics |
| Daily pricing | Starts at $5 for sponsored jobs | None, only fixed monthly subscriptions |
| Paid plan monthly pricing | $100 to $250 | $199 to $699 |
| Paid plans inclusions | Unlimited job postings for 30 to 100 candidates per month; wider candidate reach through desktop, mobile, and job alerts | Paid ads, featured content, keyword analysis, and industry benchmark reports |
| Job posts per month | Unlimited | Unlimited via Indeed |
Glassdoor and Indeed provide slightly different solutions, but they offer a similar value for money. You can sign up for a free employer account on both Indeed and Glassdoor. The free account allows you to claim your company page and online reviews. You can also post jobs and access each platforms' salary tools for free.
However, if you want to advertise your open positions, you have to pay extra regardless of which platform you use. Advertising ensures your job posting is seen by a larger audience, increasing the likelihood that qualified job seekers will apply.
The tools work better when used together, so getting a Glassdoor plan and integrating with Indeed is an awesome idea.
Best Company Page Features: Indeed
While both platforms provide users with similar company page features, Indeed stands out because profile customization is possible even with the free plan. You can claim your company page for free on both Glassdoor and Indeed. You can also use that to share information about your business and workplace culture.
On Glassdoor, former and current employees can post their feedback and reviews on your page. Applicants can even find out more about the interview process with your company. However, if you want customization options, you need to subscribe to Glassdoor's paid plans.
For Indeed, its company page is very similar to Glassdoor's company profiles. It shows current and former employee reviews, open jobs, photos, and a Q&A section where job seekers can ask questions. Applicants can also follow the company by clicking the "Follow" button at the top of the page. This way, job seekers get notified whenever company updates and new jobs are posted.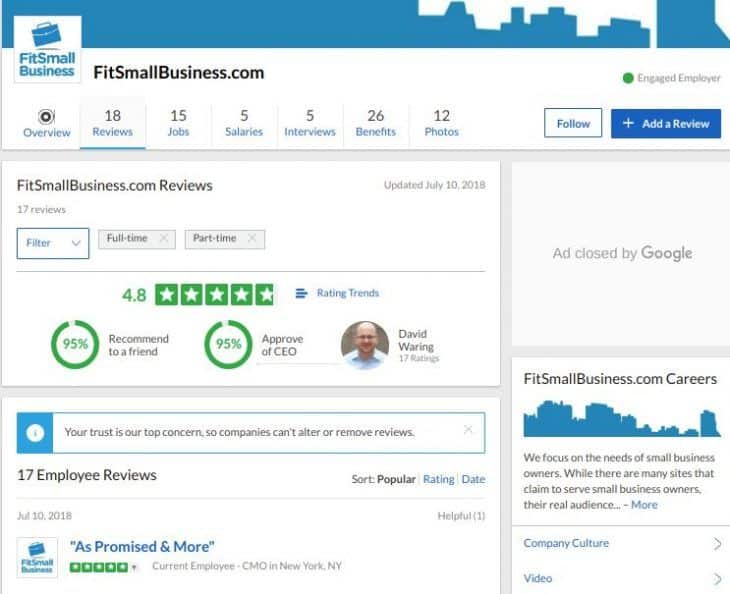 ---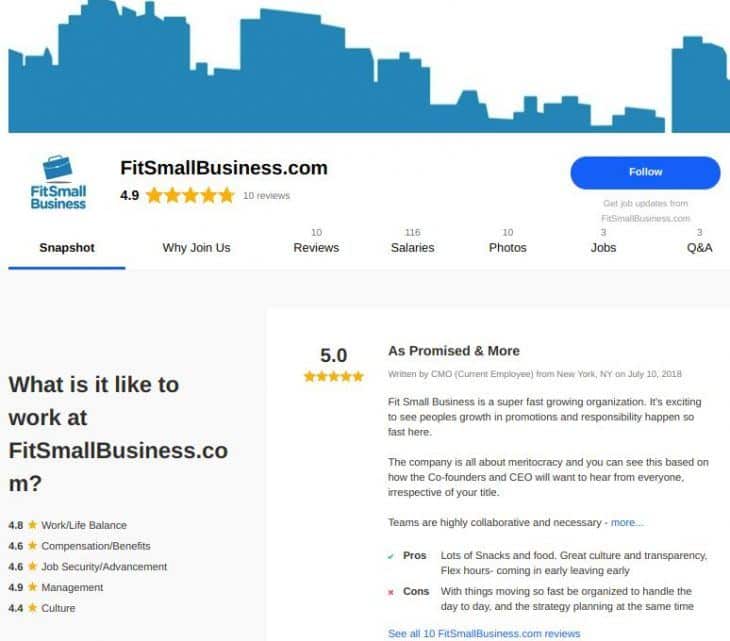 ---
Best "Featured Employer" Ads: Tied
With Indeed, you can pay to become a "featured employer" on its platform. This means your ad is displayed on the sidebar of the webpage that job seekers view when looking at posted job opportunities. It also provides a way to brand your organization with job seekers. In turn, job seekers gain some initial familiarity with your company after having seen your "featured employer" ad.
Glassdoor, on the other hand, provides display advertising that targets individual job seekers based on location, occupation, and other demographics. It can even put your ad on a competitor profile, so job seekers still learn about your brand while researching other companies.
Best Applicant Tracking & Resume Search: Indeed
What sets Indeed apart from most other job boards is the feature that allows you to search and view resumes for free. When you find a candidate you want to contact, you can choose to pay the monthly fee. For $100 per month, you can contact up to 30 job seekers. If you want to contact up to 100 candidates, you have to pay $250 monthly.
Moreover, jobs that you post on Indeed appear in general search results, where job seekers can apply online or via mobile. Similar to an applicant tracking system (ATS), you can manage candidates through the recruiting pipeline—directly from your Indeed dashboard. Moreover, it provides pre-employment screening tests and offers integration with third-party ATSes like Homebase.
Glassdoor doesn't have built-in applicant tracking tools. However, you can integrate its platform with several third-party ATSes such as BambooHR, Greenhouse, and PeopleSoft. You can also view candidate resumes online—after applicants apply to your job postings. Note that you cannot search for candidates and contact them if they haven't applied for your open job.
Best Salary Tools: Indeed
Indeed's salary tools have the same look and feel as that of Glassdoor. Aside from employees' anonymous reporting of their pay details, Indeed's salary data is based on real job ads that employers have posted for the same positions. Indeed also typically uses twice as many data points, likely improving the accuracy of their salary information.
Meanwhile, Glassdoor designed its salary tools based on the need for employees to find out what they can expect to be paid. Its data comes from salaries reported anonymously by workers with the same or similar job titles.
You can use both provider's salary tools for free. They provide employers and job seekers with information about pay estimates on open jobs and salary ranges for specific positions.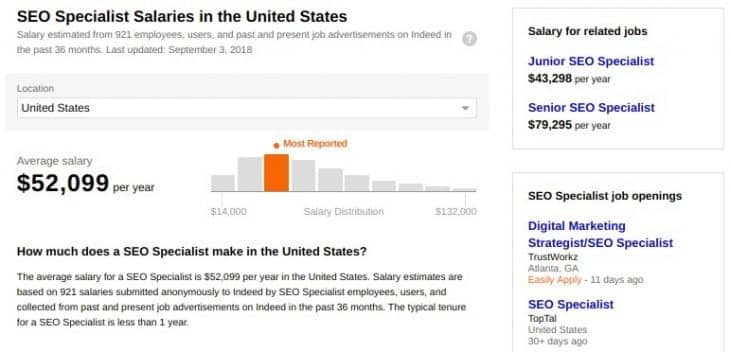 ---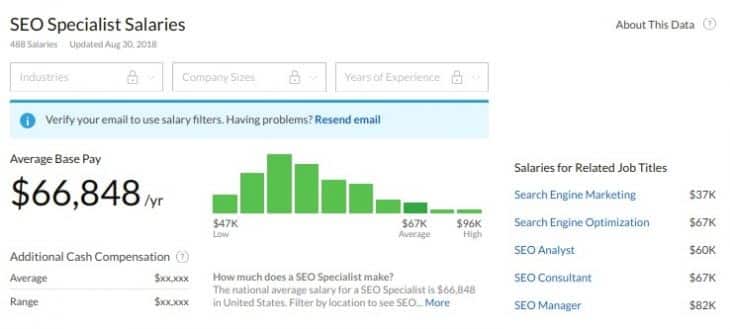 ---
Best Ease of Use & Customer Support: Indeed
| | | |
| --- | --- | --- |
| Ease of Use | Good | Good |
| Mobile app for job seekers | ✔ | ✔ |
| Mobile app for employers | ✔ | ✖ |
| Online form/request | ✔ | ✔ |
| Phone support for employers | ✔ | ✔ |
| Phone support for job seekers | Yes; Mondays through Fridays (8 a.m. to 8 p.m.) | ✖ |
| User Reviews | | |
When it comes to customer support and ease of use, Indeed is a clear winner due to its intuitive interface and immediate support for both job seekers and employers. It also has higher ratings and is more popular among reviewers.
Job seekers and employers can contact Indeed's support team Mondays through Fridays, from 8 a.m. to 8 p.m. Eastern time, or submit a request through its website. Subscribers can also use Twitter to send concerns to @IndeedSupport. Indeed also has a robust Employer Help Center organized by topics such as contacting candidates, posting jobs, and managing company pages.
Glassdoor, on the other hand, provides customer support by having you fill out a form online. Employers can contact its representatives by phone, but job seekers are not provided with an option to call—they have to complete an online form to get a response. If you linger on Glassdoor's "For Employers" page long enough, a chatbot will pop up. However, it can only respond to questions within its programming. Plus, some of its standard responses include setting up a sales call or redirecting you to Glassdoor's website for an answer.
Both Indeed and Glassdoor have user-friendly interfaces for job seekers and employers and mobile apps for iOS and Android devices. While Indeed has separate apps for employers and job seekers, Glassdoor doesn't have an employer app to help manage job postings and candidate applications while on the go.
User Reviews:
Glassdoor: Reviewers who left feedback on G2 and Capterra rated Glassdoor 4.1 and 4.3, respectively. They like that it helps them get insights into a company and its organizational structure, estimated salaries, and interview processes. What they don't appreciate is the lack of resume search and applicant tracking tools.
Indeed: Users rated Indeed 4.2 and 4.5 on G2 and Capterra, respectively. Most of the online reviews are from job seekers who said that it helps them find jobs in a variety of locations. Employers said that its user-friendly tools enable them to efficiently post jobs and track qualified candidates, but some said that its search and applicant filters aren't robust.
How We Evaluated Glassdoor vs Indeed
We evaluated Glassdoor vs Indeed based on these criteria:
Price: We compared pricing structures to check whether or not each provider has transparent fees, free options, and reasonably priced plans for small businesses.
Ease of use: Apart from offering online tools that are simple to learn, the best recruiting and job posting sites should be intuitive—making it easy for job seekers and employers to use.
Job posting: We looked at both providers' job posting functionalities, including their job advertising tools and reach.
Job seekers: Having access to a platform that can attract job seekers is helpful. In addition to job posting tools, we looked at each providers' employer branding solutions like a company page with custom content.
User reviews: We evaluated customer reviews to find the best option for recruiters and job seekers alike.
Bottom Line
Indeed and Glassdoor are both great recruitment software options; each has specific strengths to improve employee branding and hiring activities. What's important is determining your business' talent acquisition strategies and needs to help you identify which of these two is most useful to you. Many companies utilize both of these platforms to cover all their unique employment needs and to target a variety of candidates in today's job market.