5 Best GoTo Connect Alternatives
This article is part of a larger series on VoIP.
GoTo Connect is an affordable unified communications (UC) solution for businesses with a global reach. However, lacking robust integrations, a free plan, and cloud storage, it might not be right for you. The best GoTo Connect alternatives are voice-over-internet-protocol (VoIP) providers offering more team collaboration capabilities, video conferencing tools, and advanced call management features. This guide evaluates the top alternatives based on specific business needs.
Based on our research, here are the five best GoTo Connect alternatives:
GoTo Connect & Best Alternatives at a Glance
GoTo Connect Alternatives

Monthly Starting Price (per User)

VoIP Features

Unified Communications Features

FSB Rating

$27

Unmetered international calling
Unlimited extensions
Hotdesking

Team messaging
Audio conferencing
Up to 250 video participants

N/A

$30 per user

Multilevel auto-attendant
Answering rules
Real-time analytics

Business text messaging
Team messaging
Unlimited audio conferencing

4.19 out of 5

Free or $14.99

Voicemail transcription
Unlimited auto-attendants
Call monitoring

Breakout rooms
Whiteboarding
Automated captions

4.12 out of 5

$30.95

Local and toll-free numbers
Hold music
Professionally recorded greetings

Up to 250 video participants
Team collaboration app
Team presence

4.09 out of 5

$15

Call queues
Call handling
Unlimited international calling

Team messaging
Up to 500 video participants
Breakout rooms

3.99 out of 5

Free or $175 for annual billing

Ring groups
Multilevel interactive voice response (IVR)
Call monitoring

Whiteboarding
Screen sharing
Up to 250 video participants

3.79 out of 5
Learn more about what GoTo Connect offers as a unified communications provider in our comprehensive GoTo Connect review. While at it, get to know GoTo's virtual meeting platform in our GoTo Meeting review.
Take our quiz to find out which GoTo Connect alternative will address your unified communications needs.
Which GoTo Connect alternative is right for you?
RingCentral MVP: Best Overall GoTo Connect Alternative
What We Like
Extensive call management features
Multilevel auto-attendant supports high call volumes
Supports various communication channels like voice, video conferencing, team messaging, fax, and SMS
What's Missing
Features may be too overwhelming for businesses with basic phone system needs
User reviews report unresponsive customer service
No video conferencing feature on entry-level plan
How It Compares to GoTo Connect
RingCentral MVP's analytics functionality is more comprehensive than GoTo Connect's
RingCentral MVP offer more advanced features and customization options for its call management system
Unlike RingCentral MVP, GoTo Connect lacks task management tools to organize content and discussions
RingCentral MVP has up to 200 third-party integrations, while GoTo Connect only has 30 and doesn't support popular CRMs like HubSpot and ServiceNow
RingCentral MVP is the best overall GoTo Connect alternative offering a complete unified communications platform with robust call management and handling tools. Comparing GoTo Connect and RingCentral, RingCentral MVP has plenty of customization options, allowing you to configure your phone system based on your business needs. Some features you won't find in GoTo Connect plans include overflow call queue, multilevel auto-attendant, and call delegation.
Besides its call management capabilities, RingCentral MVP shines as a provider because of its phone system administration and analytics tools. For example, the audit trail feature allows admins to easily track changes made by users within the phone system by providing searchable account history. Meanwhile, real-time analytics and reporting tools provide complete visibility of agent performance metrics and calling patterns.
While RingCentral MVP is regularly praised for its comprehensive features, it doesn't have unlimited international calling. If your company makes frequent calls overseas, consider a provider like 8×8, which allows unmetered calling for up to 48 global territories. Plus, it offers the flexibility of phone number support in over 100 countries, allowing you to establish a local presence in regions where you don't have a physical office.
RingCentral MVP Monthly Pricing at a Glance*
Core: $30 for message and phone functionality for 20 users
Advanced: $35 for an unlimited number of users, unlimited internet fax, audio conferencing, third-party integrations, and video conferencing for up to 24 hours and 100 participants
Ultra: $45 for automatic call recording, real-time analytics, customer relationship management (CRM) integration, devices status reports, and video meetings with up to 200 participants
*Pricing is based on one to five users. Save up to 33% by paying annually.
RingCentral MVP Features
Multilevel auto-attendant: Create powerful call-flow configurations with more menu options. It lets you extend auto-attendant capabilities with connections to voicemail, system extensions, dial-by-name directory, and external phone numbers.
Analytics portal: Gain real-time insights on your company's call performance and usage on any device. It provides enhanced data visualization, allowing access to dashboards with over 30 key performance metrics.
Call flip: Transfer an ongoing call to any device, be it a softphone, mobile phone, or desk phone. It offers flexibility for call handling and reduces the chances of interrupting an ongoing conversation.
For more information, check out our full RingCentral review.
Zoom One: Best for Hosting Interactive Virtual Meetings
What We Like
Up to 1,000 third-party integrations
User-friendly interface
Robust video conferencing tools on the entry-level plan
What's Missing
Most services like audio conferencing and real-time analytics require add-on purchase
Business phone features are available only on high-tier subscriptions
Automated captions only support the English language
How It Compares to GoTo Connect
GoTo Connect offers international calling for over 50 countries, while Zoom One users have to purchase the international calling add-on to make calls to 18 countries
Zoom One has larger meeting capacity and video conferencing tools than GoTo Connect
GoTo Connect has local, toll-free, and vanity, while Zoom One only offers toll-free numbers
Zoom One uses 50% more bandwidth than GoTo Connect when making calls and hosting meetings
Zoom One is the latest unified communications offering from Zoom, the leading video conferencing provider in the market. Its free video conferencing plan with extensive collaboration features differentiates it from GoTo Connect. Subscribing to its base plan lets users host interactive video meetings and access advanced tools, such as whiteboards, automated captions, branding, co-annotation, and livestreaming.
In this new package, Zoom One brings chat, meetings, phone, and whiteboard together within a single platform. This enables users to scale their communications as they grow and allows them the flexibility to support their teams and customers across channels. The Pro and Business plans support unlimited meetings, team chat, whiteboard, and cloud storage. Meanwhile, the Business Plus and Enterprise plans include additional business phone offerings.
Despite being a reliable video conferencing tool, Zoom only offers business phone features on its high-tier plans. If you want the convenience of having a full-featured phone system with the ability to host virtual meetings, choose Nextiva. At its entry-level plan, Nextiva lets you host 250-participant video meetings and access basic calling features like auto-attendant, voicemail, and hold music.
Zoom One Monthly Pricing at a Glance*
Basic: Free for 40-minute video conferencing with up to 100 participants, screen sharing, automated English captions, private and group chat, and virtual background
Pro: $14.99 per user for 30-hour video conferencing with up to 100 participants, 5GB cloud recording, toll-based telephone dial-in, polling, streaming, and usage reports
Business: $19.99 per user for 300-participant video conferencing, admin portal, recording transcripts, branding, and unlimited whiteboards
Business Plus: $25 per user for 10GB cloud recording, translated captions, toll-free numbers, unlimited auto-attendants, unlimited regional calling, and automatic call distribution
Enterprise: Contact sales for a quote, 500-participant video conferencing, unlimited cloud recording, full-featured phone system, and webinar tools
*Get up to a 17% discount by paying yearly.
Zoom One Features
Elevate to meeting: Seamlessly elevate a phone call to a full-featured Zoom meeting. This feature only works if the other user is using an external phone service, Zoom desktop client, or Zoom mobile app.
Whiteboard: Enhance the collaboration experience by providing your teams with a digital space to visually structure their ideas. Online whiteboards let you create visual presentations using sticky notes, shapes, smart connectors, and drag-and-drop images.
Team messaging: Streamline team communications with instant messages integrated into the Zoom platform. Collaborate on files in real time, switch from group chat to meetings, and invite participants to chat channels.
Nextiva: Best GoTo Connect Alternative for Collaborative Teams
What We Like
All plans include a professional greeting
Built-in CRM system
Phone rental options for desk and conference phones
What's Missing
Higher monthly fees than other similar competitors
Fewer integrations than Zoom
Entry-level plan doesn't offer conference calling or text messaging
How It Compares to GoTo Connect
GoTo Connect offers unmetered global calling, whereas Nextiva charges per-minute fees
GoTo Connect allows audio conferencing on its entry-level plan, while Nextiva users have to upgrade to a second-level plan to access conference calling
Nextiva features 21 integrations versus 30 with GoTo Connect
Nextiva provides 1,500 toll-free minutes on its basic plan, while GoTo Connect charges per minute
Nextiva ranks as one of our best business phone systems with dedicated collaboration software. CoSpace is a virtual workspace that enables teams to manage conversations, projects, tasks, and files in one streamlined system. Its signature feature, threaded conversations, syncs and threads messages across various communication channels like voice, text, and email into a unified view.
Nextiva has built-in customer relationship management (CRM) software that includes automation features. It lets you deploy surveys after calls, send automated welcome messages to new leads, and prioritize cases with poor feedback. When answering customer queries, Nextiva's software will detect subjects related to the conversation and make real-time suggestions.
While Nextiva offers comprehensive packages, its higher monthly fees may be too expensive for small businesses on a budget. In this case, consider a provider like 3CX, which offers a free cloud-hosted unified communications system for up to 10 users. The free plan is ideal for users with basic communication needs like team messaging and video meetings.
Nextiva Monthly Pricing at a Glance*
Essential: $30.95 per user for unlimited domestic calling, 45-minute video calls for up to 250 participants, 1,500 toll-free minutes, team messaging, and auto-attendant
Professional: $35.95 per user for 40-participant conference calls, 3,000 toll-free minutes, mobile SMS/MMS, multilevel auto-attendant, and one professionally recorded greeting
Enterprise: $45.95 per user for unlimited participants for conference calls, 12,500 toll-free minutes, call recording, single sign-on, and three professionally recorded greetings
*Pricing is based on one to four users with monthly billing. Save up to 27% with an annual payment and get volume discounts when adding five, 20, or 100 users.
Nextiva Features
Call flow builder: Set up a phone menu and customize the inbound call flow based on your business needs. It lets you build a diagram to experiment with your phone system capabilities.
Selective call acceptance: This feature lets you establish conditions on when a call should come through to your phone line. Set conditions for holidays, specific times or days, and certain phone numbers. When the conditions are not met, you can configure how the call will be rerouted.
Professionally recorded greeting: Record your business greetings in a professional recording studio. Nextiva will let you pick a voice talent to do the voice-over recording for you.
For more information, check out our full Nextiva review.
8×8 X Series: Best GoTo Connect Alternative for Call Center Teams
What We Like
Unlimited international calling to up to 48 countries
Video conferencing services support up to 500 attendees
Allows mix and match of plans for cost savings
What's Missing
No toll-free minutes included
Lacks productivity features like task management
Fewer integrations than other providers
How It Compares to GoTo Connect
8×8 Express, the base tier, costs $12 less than GoTo Connect
GoTo Connect supports four more international countries for its unmetered calling than 8×8
At its highest-level tier, 8×8 doubles the video meeting participant cap of GoTo Connect
Unlike GoTo Connect, 8×8 has more advanced contact center features like auto-dialer and post-call survey
The 8×8 X Series is a communications hub, combining voice, video conferencing, team messaging, contact center, analytics, services, and support into a unified solution. It is a flexible VoIP platform that enables companies to seamlessly scale to a full contact center solution. It goes beyond its business calling and unified communications capabilities by offering tools to manage sales and support agents.
The 8×8 contact center software offers a dedicated agent workspace to effectively handle all customer interactions through a unified interface. Supervisor analytics deliver insights on contact center agents, queues, and channels.
In our guide on the best small business VoIP service, 8×8 stands out for its multinational support for companies with a global consumer base. It provides unlimited calling to 48 countries, making it ideal for businesses with high international call volumes. Plus, it lets you expand your global presence with its international toll-free number service.
Although 8×8 has team messaging, its features are limited to business chat, content sharing, and video meetings. If you need advanced collaboration tools for managing remote teams, try Nextiva, which provides a collaborative workspace for sharing messages, files, links, or workday updates. It also lets you monitor tasks and schedule meetings with reminders, notifications, and due dates.
8×8 X Series Monthly Pricing at a Glance*
Express: $15 per user for up to five users, unlimited domestic calling, auto-attendant, music on hold, voicemail, team messaging, and 100-participant video meetings
X2: $28 per user for unlimited calling to 14 countries, hotdesking, call handling, multilevel auto-attendant, call activity analytics, team messaging, 500-participant video meetings, and voicemail transcription
X4: $57 per user for supervisor analytics, unlimited calling to 48 countries, and call monitoring tools (barge, monitoring, and whisper)
X6: $85 per user for agent workspace, omnichannel routing, skills-based routing, unlimited media storage, post-call survey, and contact center reporting and analytics
X7: $110 per user for co-browsing, enterprise-grade security, 24/7 support, and compliance and certifications
X8: $140 per user for auto-dialer (preview, progressive, and predictive), quality management, and speech analytics
*Choose annual prepayment to save up to 25%.
8×8 X Series Features
Branded video conferencing: 8×8 helps you establish a professional image for your clients with full branded video conferencing. Incorporate your company branding on your virtual background and vanity URL.
Team chat: 8×8 offers a company-wide chat feature to keep all your project and team conversations in one place. Create group chat rooms, share files, and switch communications from chat to live video.
Business hour handling: Set business rules for routing calls to the right destination during business hours. It also lets you route calls to voicemail or alternate resources when no one is available to take the call.
3CX: Best Free Unified Communications Platform
What We Like
Free version is available with basic features like video conferencing and auto-attendant
Supports live chat on your website
Affordable annual fees for cloud-hosted services
What's Missing
Customer support ticket costs an extra $75
Fewest integrations compared to other GoTo Connect alternatives
SMS messaging is not included in the base plan
How It Compares to GoTo Connect
Both 3CX and GoTo Connect offer unlimited extensions
3CX has more communication channels than GoTo Connect
Both providers have a maximum participant cap of 250 for video conferencing
While 3CX bills annually, the per-month cost of its paid plans is less than $12—cheaper than GoTo Connect's $27 base tier
3CX has the lowest fees among GoTo Connect competitors and is the only system that is deployable on-premise or in the cloud. It offers a free license for up to 10 users, including access to team messaging, live chat, and video conferencing. Although its paid plans are billed annually, 3CX offers the lowest per-monthly user fees on the market. Also, it has a separate plan for those wanting the support and control of an on-site VoIP system.
3CX ranks as one of our best softphone providers as it lets you reach out to customers via VoIP calling, Facebook Messenger, live website chat, and SMS without leaving your softphone app. Although it isn't completely omnichannel, it has more out-of-the-box communication channels than GoTo Connect.
On the downside, 3CX has the fewest integrations among the providers in this list. If you want a unified communications platform that integrates with your current business tools, check out Zoom One or RingCentral MVP. Both providers offer a large number of integrations with popular CRMs, productivity tools, and marketing automation.
3CX Annual Pricing at a Glance*
Startup Free: Free for 10 users, phone directory, auto-attendant, call parking, call logging, 25-participant video conferencing, team messaging, and whiteboard
Startup Pro: $175 per year for 10 users, multilevel IVR, SMS/MMS, call queues, call recording, call monitoring, call reports, and holiday and business hours routing
Dedicated Pro: $295 per year for four sim calls, Microsoft 365 integration, unlimited extensions, 100-participant video conferencing, call flow designer, and hotdesking
Dedicated Enterprise: $330 per year for four sim calls, 250-participant video conferencing, skills-based routing, and custom internet protocol (IP) phone logo
*The Startup Pro plan is good for up to 20 users only.
3CX Features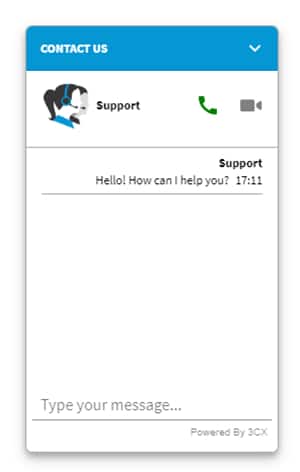 Live chat: 3CX offers a fully customizable live chat solution with voice and video capabilities. It lets you elevate a chat to a call to give website visitors real-time advice as they browse your products or services.
Video conferencing: Host and join video meetings directly from your browser. Accommodate up to 250 participants and use whiteboard or screen sharing for more effective presentations.
Business messaging: Manage SMS, WhatsApp, and live chat messages from a single interface. It lets you store customer information and access reports for insights into text messaging effectiveness.
For more information, check out our full 3CX review.
How We Evaluated the Best GoTo Connect Alternatives
Many GoTo Connect competitors have VoIP and unified communications features. To come up with this list, we search for solutions with capabilities that you won't find with GoTo Connect, such as out-of-the-box integrations, team collaboration tools, and advanced call management features. From there, we evaluated the top providers based on various factors, such as pricing, ease of use, and current feature set.
Here's a breakdown of how we measured each provider:
25% of Overall Score
Since pricing is a major consideration for small businesses, we gave points to providers offering a free plan and the lowest subscription rates. We also checked whether they offer annual or volume discounts.
30% of Overall Score
The best GoTo Connect competitor should include team collaboration tools and robust third-party integrations. We also compared general features, such as virtual numbers, automatic call distribution, and whether it provides 24/7 customer support.
25% of Overall Score
We analyzed which providers offer the most comprehensive list of advanced features, such as unlimited international calling, voicemail transcription, number porting, and cloud storage.
20% of Overall Score
We based our expert score on user reviews and personal use of the platforms. Each provider received points according to its popularity, ease of use, value for money, and standout features.
*Percentages of overall score
Bottom Line
Having a complete unified communications solution is critical for businesses wanting to reach customers in various channels. Although GoTo Connect has flexible offerings, it lacks advanced features for specific business needs.
After evaluating our options, RingCentral MVP is the best overall GoTo Connect alternative, with a total score of 4.19 out of 5. It supports various communication channels and offers several call management features. Plus, it has team collaboration capabilities and rich video conferencing tools to help connect your teams. At higher tiers, RingCentral MVP unlocks real-time analytics and reporting tools to enhance efficiency in both customer and employee experiences.