Unified communications as a service (UCaaS) is a cloud-based solution that combines calling, texting, conferencing, and collaboration tools within a single platform. Adopting a UCaaS solution enables businesses to access a wide range of communication tools from anywhere with minimal upfront costs. In this article, we define "what is UCaaS?" and explore the top providers, benefits, and standout features.
How UCaaS Works
To give you an idea of what UCaaS is, it's crucial to understand how it works. Unified communications as a service consists of two key components: unified communications (UC) and the "as a service" (aaS) segment.
UC refers to the integration of telephony, video conferencing, instant messaging, and team collaboration features. UC as a service indicates that it is delivered as a cloud service, where a provider handles all the implementation, allowing businesses to run from anywhere without needing an IT staff.
UCaaS primarily uses voice-over-internet-protocol (VoIP), which converts sound into data packets and transmits it to a cloud phone service. Phone numbers and notifications operate via the universal session initiation protocol (SIP), a signaling protocol that providers deploy to initiate, run, and terminate real-time communications sessions.
Service providers have their own data centers to host their cloud services, allowing them to handle overall system functionality, including configuration, upgrades, security, and maintenance. End users only need an internet connection to access the provider's cloud service without worrying about infrastructure concerns.
UCaaS at a Glance
Now that you know what is unified communications as a service, let us now look into the pros and cons of this technology:
PROS

CONS

Combines communication and collaboration tools into a single app
Advanced functionalities like analytics might be overkill for smaller teams
Empowers remote teams to access communication tools anywhere on any device
Requires a stable internet connection
Cloud-based solutions are significantly cheaper
Slight learning curve may slow down users' adoption process
System maintenance and upgrades are covered by the provider
Outdated computer systems may not integrate well with UCaaS
Top UCaaS Providers
Businesses have countless options to choose from when searching for a UCaaS provider. However, each provider delivers different features, communication channels, and scalability. We found the following three platforms to be the top UCaaS providers on the market:
RingCentral is a popular unified communications (UC) solution known for its reliability and comprehensive set of features. It empowers businesses with a range of communication channels, including call, text, team message, fax, audio conferencing, and video conferencing.
RingCentral provides businesses with advanced call handling features, team collaboration tools, extensive third-party integrations, and a robust open application programming interface (API). Its entry-level plan starts at $32.99 per user, per month. Learn more about its powerful UC solutions in our full RingCentral review.
Nextiva offers features and channels similar to RingCentral and allows for higher participant caps and improved customer service, but fewer integration capabilities. Threaded conversations are one of the platform's main highlights, which brings together team and customer conversations in one unified view. It has the highest allotment for toll-free minutes, ranging from 1,500 to 2,500 minutes.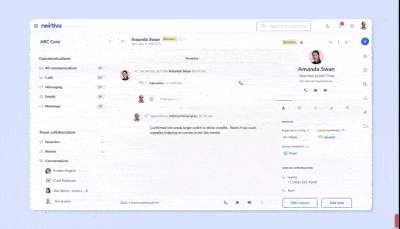 Nextiva users also get unique features like professionally recorded greetings, allowing them to hire a professional voice-over talent to record their phone greetings. Plans start at $30.95 per user, monthly. Our expert Nextiva review offers more insights about what the platform offers by way of UC services.
GoTo Connect is the better option for businesses that make a lot of international calls. Users subscribed to its Standard or Premium plan are able to make and receive calls in over 50 countries. It also provides options for local, toll-free, and vanity phone numbers when you sign up for its plans.
Like Nextiva, GoTo Connect provides base-level users full access to UC capabilities, including team chat, audio conferencing, and video meetings. All Premium users have access to its customizable contact center platform with tools like call analytics and agent monitoring. Check out our GoTo Connect review to learn more about its unique offerings.
If you're managing a startup or a small business on a tight budget, consider other providers offering UCaaS services for free or at a very low cost. Check out our guide on the best free unified communications platforms to discover your options.
Benefits of UCaaS
Now that you have an idea of what is unified communications as a service, it's time to discuss its benefits. UCaaS offers an all-in-one solution to businesses looking for ways to streamline processes, reduce operational costs, increase productivity, and enhance customer service. Here are the reasons why UCaaS should be a part of your business communications strategy:
UCaaS, being a cloud-based service, enables users to skip out on the cost of hardware installation and maintenance, as most on-premise systems require. Everything will be covered by the provider, including IT repairs and system upgrades.
For those using separate apps for video conferencing and team messaging, UCaaS delivers all modern communication tools in a single package, giving you a more streamlined billing with a single provider. With UCaaS, you only pay for the licenses and connectivity, and additional expenses usually only come in the form of optional add-ons.
---
Silos and process bottlenecks develop if employees working in different environments use multiple disconnected tools. This is why recent UCaaS statistics show that 93% of companies agree that collaboration tools are essential for a hybrid work environment.
UCaaS acts as a central hub that provides access to various communication channels and collaboration features. Seamless integrations with third-party apps give employees a one-stop shop for company data and customer information without leaving the platform. Since UCaaS lives in the cloud, it empowers employees to work from desktops, mobile phones, or tablets—anywhere they have an internet connection.
---
UCaaS enables companies to provide customers with different channels to interact with their business, whether via phone, video, SMS, email, live chat, or social media. Being able to support a wide array of communication channels increases customer satisfaction because they get to choose the option most convenient for them. This approach also makes it easy for employees to see previous conversations and be able to pick up where things left off.
---
With UCaaS, you can scale your plan up or down to satisfy your company's changing needs. When you need to grow your teams, purchase additional licenses or add features by moving to a higher-tiered plan. Alternatively, if you need to cut back, simply reduce your license count or move to a lower-tier package if your business isn't using all of a plan's features.
---
Top UCaaS Features
UCaaS offers a broad mix of communication features for optimum productivity. That's why when it comes to finding the right UCaaS provider, it's essential to identify which features will satisfy your business needs.
Here are the top UCaaS features and their functions:
VoIP services are the core components of most UCaaS solutions. Unlike traditional telephone lines, cloud-based telephony allows companies to run their phone system via the internet without the need for specialized equipment for phone lines. UCaaS providers also support a wide range of VoIP features, such as visual voicemail, lower international call rates, intelligent call routing, and advanced call analytics.
---
Video conferencing capabilities enable team members to meet face-to-face without the need to be in the same physical space. In a virtual meeting, participants are able to launch presentations, share files, and annotate shared content from any device. To improve the video meeting experience, many UCaaS providers support background noise reduction and live captions for increased accessibility.
---
Messaging hosted on a collaboration app allows real-time conversations with a single user or group of people. Unlike email, team messaging tools allow users to create a dedicated room for projects or topics, so messages stay organized. For added interactivity, users are able to exchange files, images, animated GIFs, and emojis.
Many unified messaging platforms have a user presence feature, which displays the status of connected users. Indicators include available, busy, away, and do not disturb.
---
UCaaS solutions deliver various collaboration tools designed to facilitate group work and ensure participation in team projects. These include file sharing, project management, and a built-in calendar tool. RingCentral has a unique collaboration feature called personal folders, which lets you organize conversations based on projects, importance, or criteria.
---
One way to get the most out of a UCaaS solution is to check whether it integrates with your existing business tools. Integrations enhance the user experience by putting all the tools and functions you need in one place. Many UCaaS solutions integrate with customer relationship management (CRM) systems, workflow automation, and project management apps.
For example, integrating UCaaS with your CRM enables employees to easily retrieve customer profiles and anticipate their needs in real time once a call comes in. This results in more streamlined efficiency by eliminating the need to switch between apps to find relevant information.
Want to learn more?
Check out our guide on the best unified communication tools and discover other features that make UCaaS stand out from other communication solutions.
---
Alternatives to UCaaS
Now that you've explored the capabilities of UCaaS solutions, you may also want to consider other alternatives that fit your business' specific needs. Here are other leading cloud-based technologies when it comes to improving your company's communication systems:
Voice-over-internet-protocol (VoIP)

Contact Center as a Service (CCaaS)

Communications Platform as a Service (CPaaS)

Best For

Businesses needing a modern phone system to manage inbound and outbound calls

Enterprises wanting to maximize omnichannel tools for sales and customer support

Companies wanting to add real-time communication features to existing applications

Monthly Cost

$10 to $30 per user

$25 to over $100 per user

Pay-as-you-go

Key Features

Auto-attendant
Virtual phone numbers
Call management tools

Interactive voice response (IVR)
Call monitoring
Power dialer

Communication API
Design studio
Programming languages

Learn More
Frequently Asked Questions (FAQs)
Is UCaaS safe from cybersecurity threats?
The answer depends on the provider you choose. The right UCaaS solution should have a robust security protection plan, which includes data encryption, 24/7 network monitoring, 99.999% uptime, and full compliance with regulatory agencies. Read our guide about unified communications security to learn how important encryption is for UCaaS.
What is the difference between UCaaS & VoIP?
VoIP typically refers to business calling services like inbound and outbound calls and audio conferencing. UCaaS expands these communication offerings to include channels like text, chat, video, and file sharing.
What is the difference between UCaaS & CPaaS?
UCaaS platforms house all the communication tools your business uses in a single cloud-based platform. CPaaS is also a cloud-based platform, but instead of delivering a full suite of features and channels, it empowers IT teams to customize the solution with SDK (software development kit) and API integrations to meet a business' specific needs.
Bottom Line
Having answered the question, "what is UCaaS?" it's time to utilize this solution to build and maintain relationships with employees and customers. UCaaS solutions make it easier for internal teams to collaborate, whether they're in-office, remote, or a mix of both. UCaaS' cloud-based advantages make it more affordable, scalable, and flexible compared to on-premise UC or separate communication tools.
Start your UCaaS journey with RingCentral, a leading provider of all-in-one business communications. Sign up for its 14-day free trial to explore its rich feature set and what makes it stand out from other UCaaS providers. Plus, RingCentral provides hundreds of integration capabilities, ensuring your existing applications work seamlessly with its platform.